Poblano Peppers stuffed with quinoa and black beans, smothered in the most flavorful sauce called Mole Negro- a rich, dark and complex Mole Sauce. Vegan-adaptable!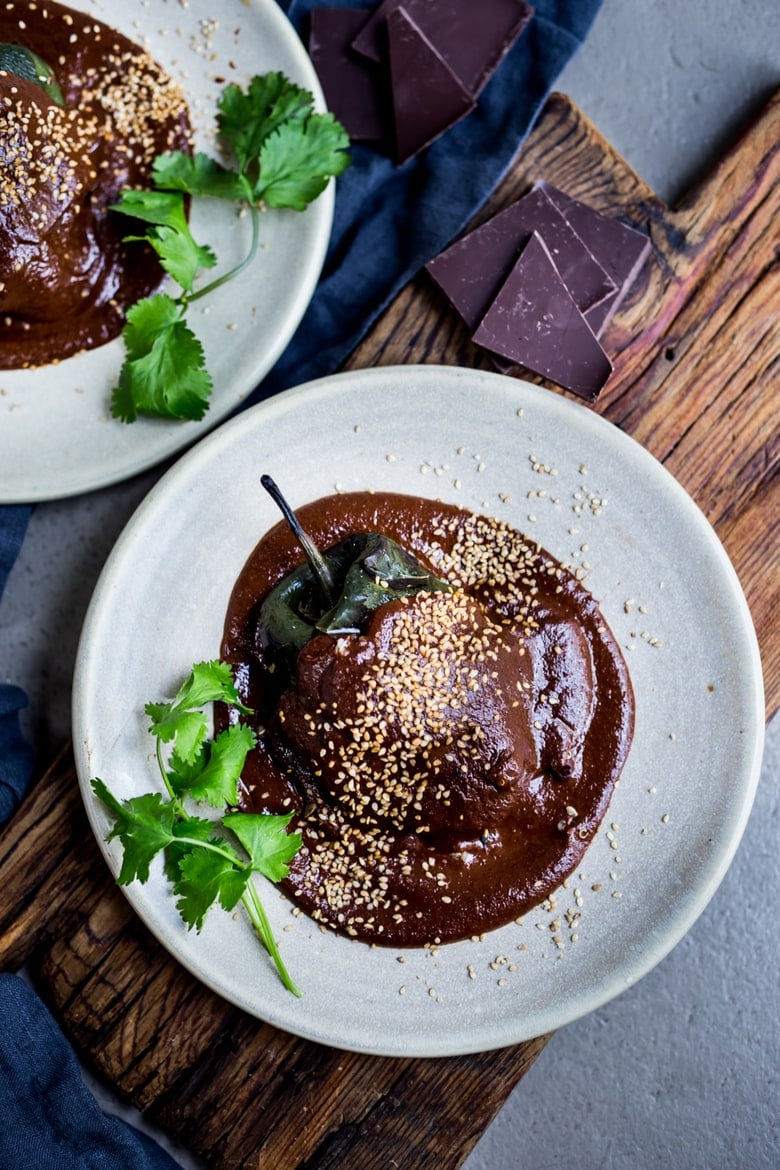 Step into the fire of self-discovery. This fire will not burn you, it will only burn what you are not. ~Mooji ~
Here's a delicious recipe for a vegetarian Stuffed Poblano with Mole Negro Sauce. The sauce is dreamy – deep, complex, spicy, sweet and sensual.
Mole Negro if unfamiliar, originates from Oaxaca and is basically a rich and luscious dried chili sauce, using dark chilies which are blended with prunes, nuts & seeds and a whisper of dark chocolate adding depth and a hint of sweetness.
Poblano chilies are roasted then stuffed with a simple mixture of quinoa, black beans and a little goat cheese (optional), then right before serving, they are topped with the warm Mole Negro Sauce.
It's a special dish that does require a little extra time and a few pots and pans, but it is quite doable, worth it and totally swoon-worthy.
Make this on day you feel like spending time in the kitchen, like on a Sunday. Play your favorite music. Take your time and enjoy the creative process of cooking. Feel love in your heart and infuse it into the sauce – it will, I promise make all the difference.
It's a lovely dish for entertaining and the stuffed poblanos and sauce can both be made ahead. Make sure to read the instructions all the way through before starting.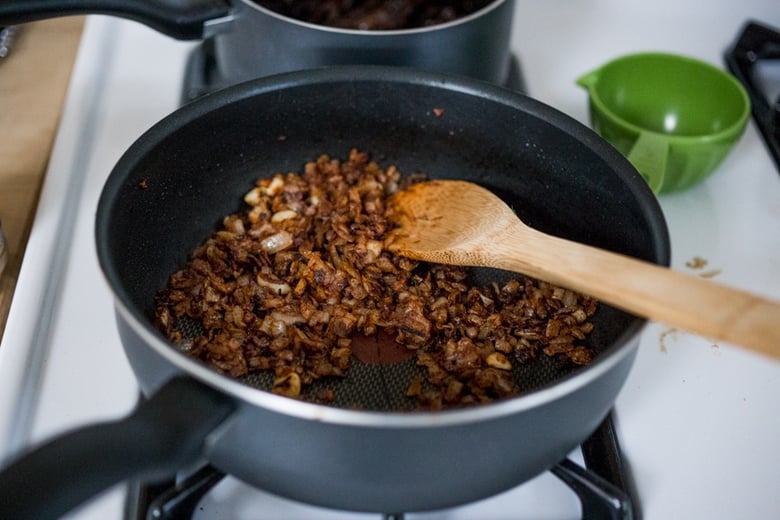 The sauce starts with browning the onions and then browning the spices, giving the sauce delicious depth. Use dried, dark, yet mild chilies like Pasilla Negros or if you can track these harder to find chilies down, Chilhuacle Negros are a great option.
The darker the chilies the darker the sauce, but pay careful attention to heat levels. Using several different chilies creates more complexity in the sauce, but if in a pinch one type is fine.
Stuff the roasted poblanos with a mixture of quinoa (or rice) and black beans and a little goat cheese for creaminess. You can also keep these vegan by leaving the cheese out.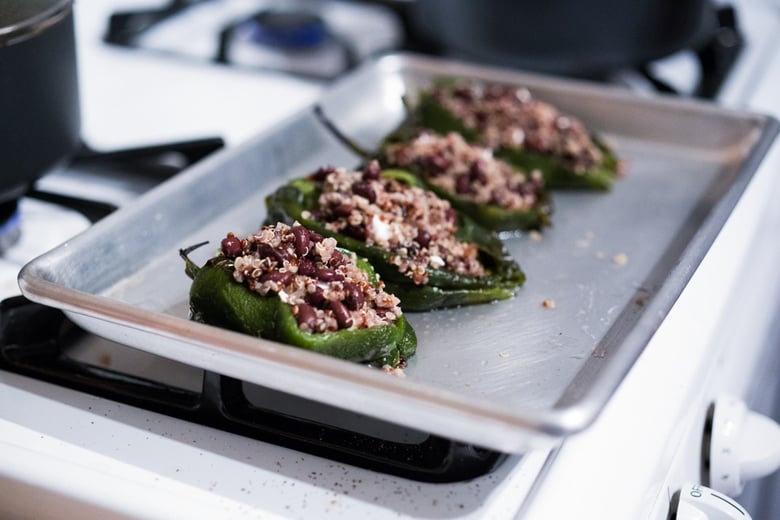 You can stuff the peppers ahead if you like, then refrigerate, and warm before serving. Heat the sauce and pour over top. The sauce tastes even better the next day.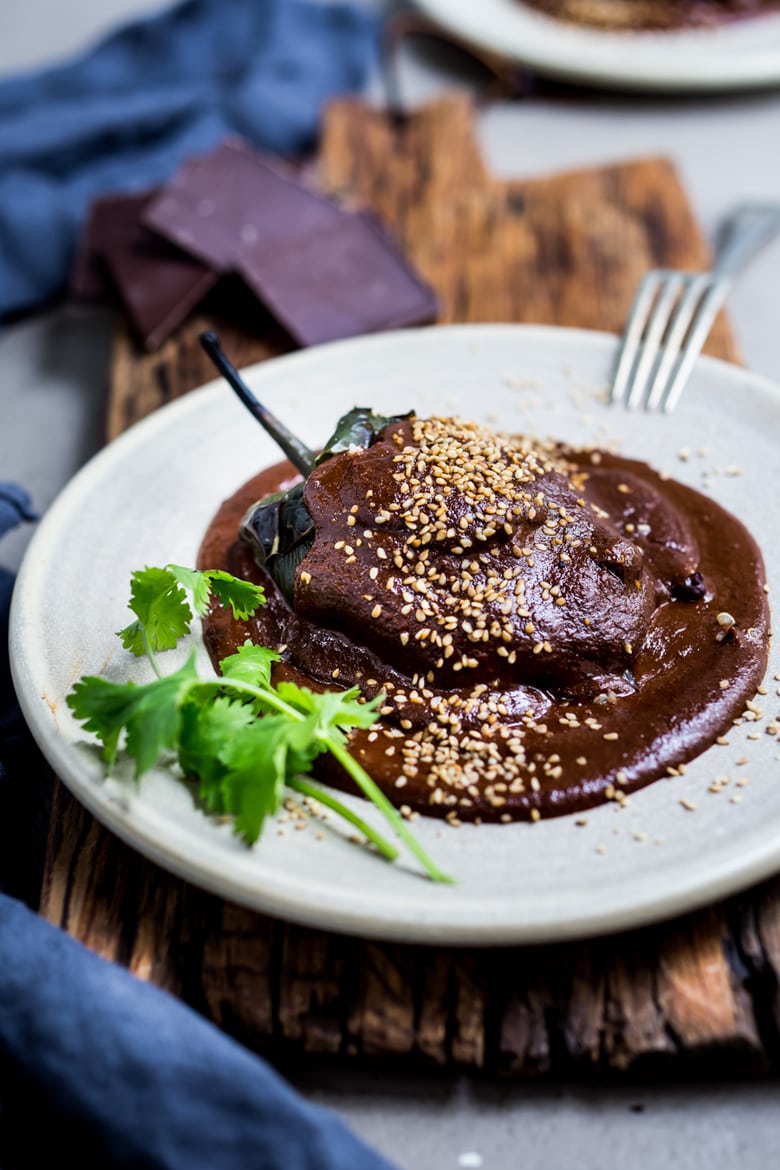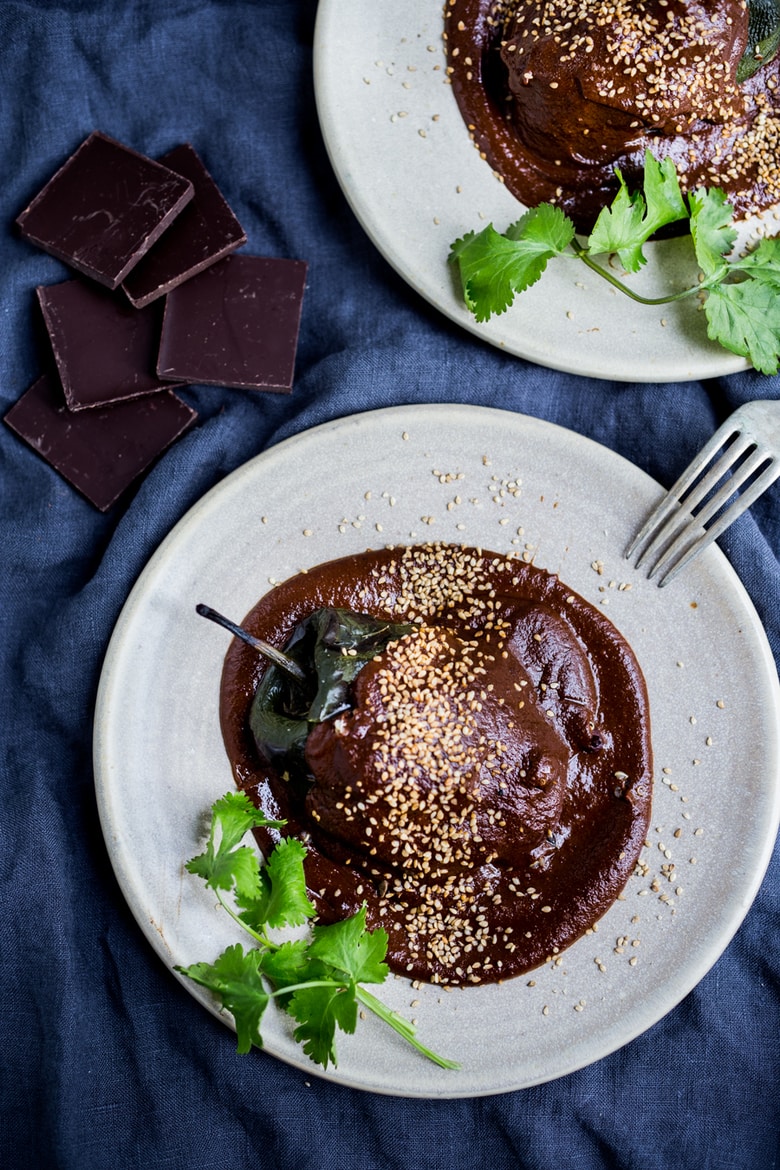 Hope you are having a beautiful week!
Print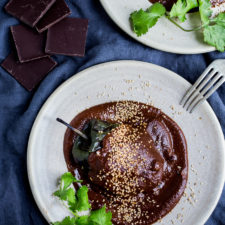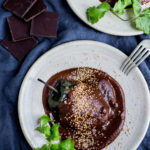 Stuffed Poblano Chili with Mole Negro
Prep Time:

1 hour

Cook Time:

1 hour

Total Time:

2 hours

Yield:

4

Category:

Main

Cuisine:

Mexican
---
Description
A delicious recipe for Stuffed Poblano Peppers with a deep and flavorful Mole Negro Sauce. The Poblanos are stuffed with black beans and quinoa (or rice) and optional goat cheese, making this vegan adaptable and gluten-free.
---
Mole Negro Sauce:
3

dried ancho chilies, seeds and stem removed, crumbled

3

dried pasilla negro chilies, seeds and stem removed, crumbled

3 cups

water

1 cup

seedless prunes

1

large onion- diced

5

garlic cloves- smashed

2 teaspoons

chili powder

2 teaspoons

cumin (ground or seeds)

1 teaspoon

coriander (ground or seeds)

¾ teaspoon

cinnamon

1

–

2

canned chipotle peppers, plus 1 tablespoon adobo sauce ( the "juice" from chipotle can)

1 ½ teaspoons

salt, more to taste

¼ cup

peanut butter (or sub tahini, almond butter, cashew butter)

1 ounce

dark bitter sweet chocolate
4-6 large poblano peppers, roasted, blackened or charred
Stuffed Poblanos- Filling
1 cup

cooked quinoa (or rice)

1 cup

cooked black beans
salt and pepper to taste

4

–

6

tablespoons goat cheese (optional- you can leave this out, but it adds nice creaminess)
Garnish- toasted sesame seeds, cilantro,
---
Instructions
In a small pot, place the crumbled dried chilies and cover with the 3 cups water. Bring to a boil, turn heat down and simmer covered, 10 minutes. Add prunes, stir, cover, simmer 10 more minutes, turn heat off.
At the same time, cook the quinoa and start the sauce. To make the sauce saute the onions and garlic in 2 tablespoons olive oil, over medium high or medium heat, stirring often until deeply golden brown, about 10-15 minutes. Take your time here and let them darken. Add the spices (cumin, coriander, cinnamon, chili powder) and saute 1-2 more minutes, toasting the spices. You can also use whole spices.
Also at the same time, either blacken and blister the fresh poblanos over a gas flame – or broil in the oven, turning often, until skin begins to blister and darken on most sides. Place peppers in a bowl, cover with foil, and let steam 10-15 minutes.
Place the cooked onion mixture in a blender along with the dried chili and prunes, 1-2 chipotles and the adobo sauce, and all the liquid. Blend until smooth, scraping down sides, adding just enough water to get the blender going (you may not need to add more). Once very smooth, pour this back into the pot and heat over low heat, covering. When warm, stir in the salt, peanut butter and chocolate. Once the chocolate is melted, taste and add more salt and pepper to taste. Add more heat of you like. As it simmers on low the flavor will continue to develop. It should taste deep and smokey, slightly salty and sweet. If bland, salt may help bring out the other flavors. Simmer on low 10 minutes.
Gently, run the peppers under cool water and peel skin off being careful to keep the pepper intact. Cut a vertical slit in the pepper and leaving stem intact, remove seeds with your fingers, rinsing the inside Set on a paper towel, pat dry and place on a greased sheet pan.
Preheat oven to 400F
In a small bowl, mix the cooked quinoa and black beans together, seasoning with salt and pepper to taste, adding cumin and coriander.
Fill the peppers halfway with the quinoa-black bean mixture. Add a tablespoon of goat cheese (optional, but delicious) then cover with more quinoa-black bean mixture, so the goat cheese is in the middle, like a sweet surprise.
Heat them in a warm oven (15-20 mins) or microwave. You can also make these ahead and refrigerate at this point. When heated through and goat cheese melts, spoon the flavorful warm mole negro sauce over top.
Sprinkle with sesame seeds and cilantro and serve.
---
Notes
Depending on the size of your Poblanos, you may want to serve 1 per person or 2 person if very small. You will end up with extra sauce, to use later.
Using several different chilies to the MOLE adds complexity- but you can also stick with one. Be mindful of the chili's heat level. I prefer using milder darker chilies, you can always add heat, but it's not as easy to take it away. Dried chilies usually have a heat meter ( 1-10) on the package, so I try to keep this around an average of 5.