It's that time again, back to school season. I know you're busy friends and I feel for you! Yet, I also know you want to eat healthily and still put a good meal on the table! Here my all-time favorite, newly updated, veggie-loaded, globally-inspired, never boring, best-ever FAST & HEALTHY WEEKNIGHT DINNERS to help save your sanity! Pick out a couple to try this week!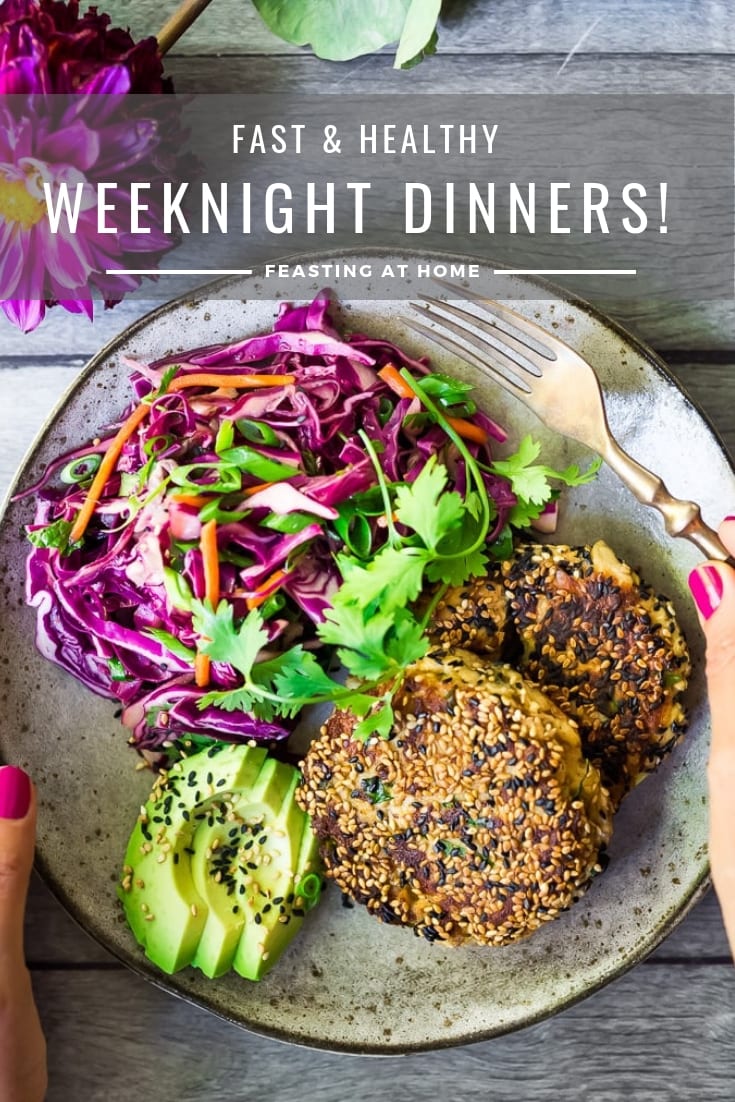 Most can be made in 15-30 minutes, or otherwise have very little hands-on time before going into the oven to bake, allowing you more time to get all the things done.
Many are vegetarian/vegan adaptable. And guess what? Your kids will love them too! You can do this. Put a few on your meal plan this week and let me know your favorites in the comments below!
---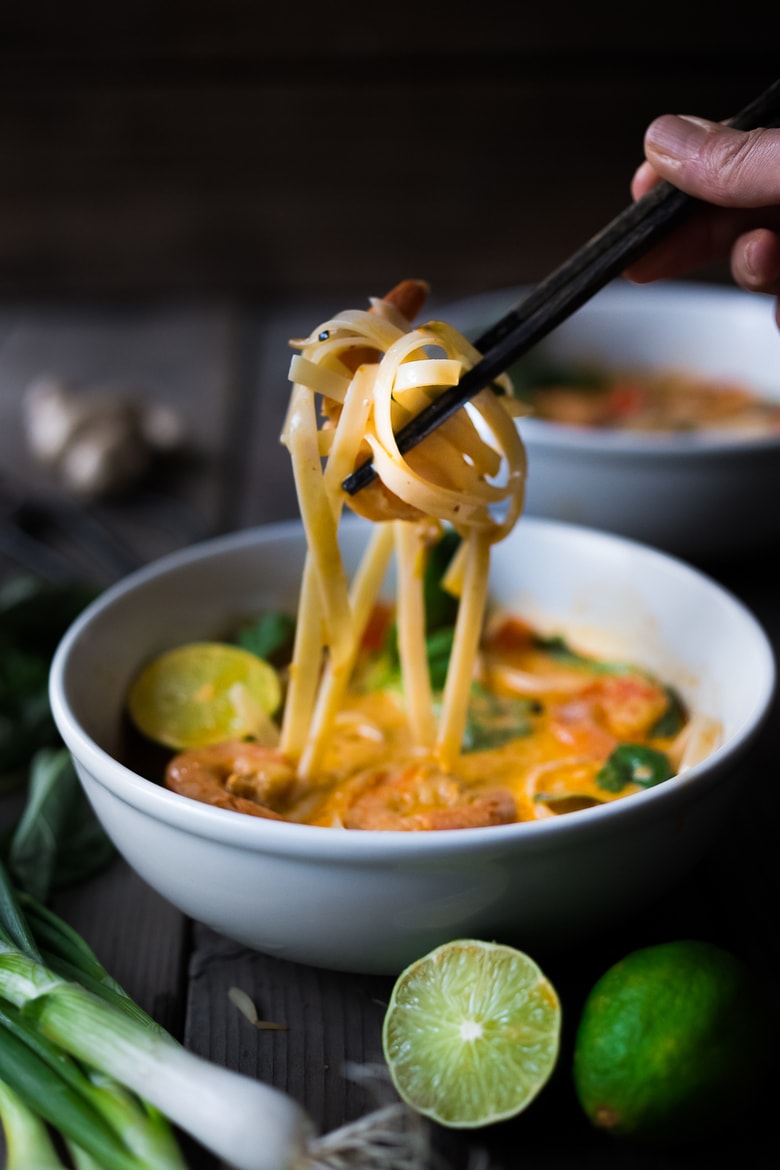 1.) Amazingly delicious, 15 MINUTE THAI CURRY NOODLES (KHAO SOI)! Make this flavorful Northern Thai Stew with tofu and veggies, or sub chicken or shrimp. Flavorful, yet not too spicy – kids loooooooove it too! Super easy and satisfying! Vegan adaptable and GF! A fast and healthy Weeknight Dinner!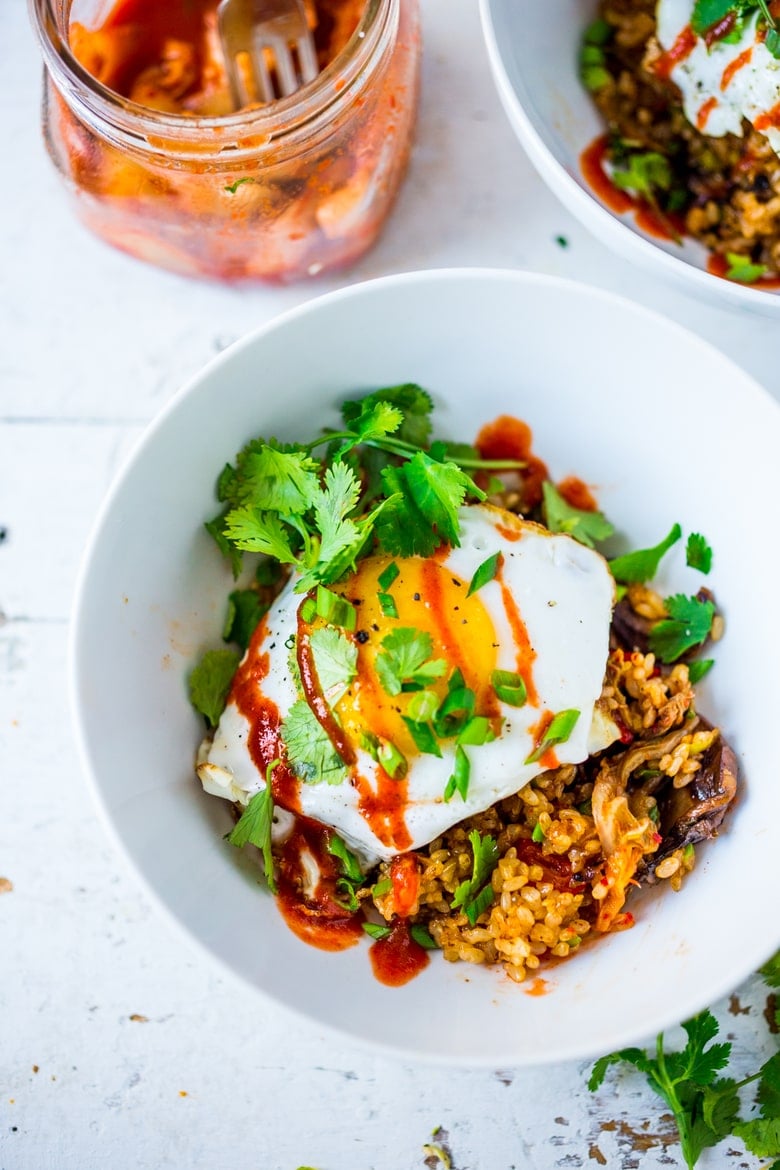 2.) Korean-style Kimchi Fried Rice! A fast and healthy weeknight dinner, packed with flavor & veggies, topped with an optional egg (or crispy tofu). Swap out Cauliflower Rice for low-carb! Healthy and flavorful!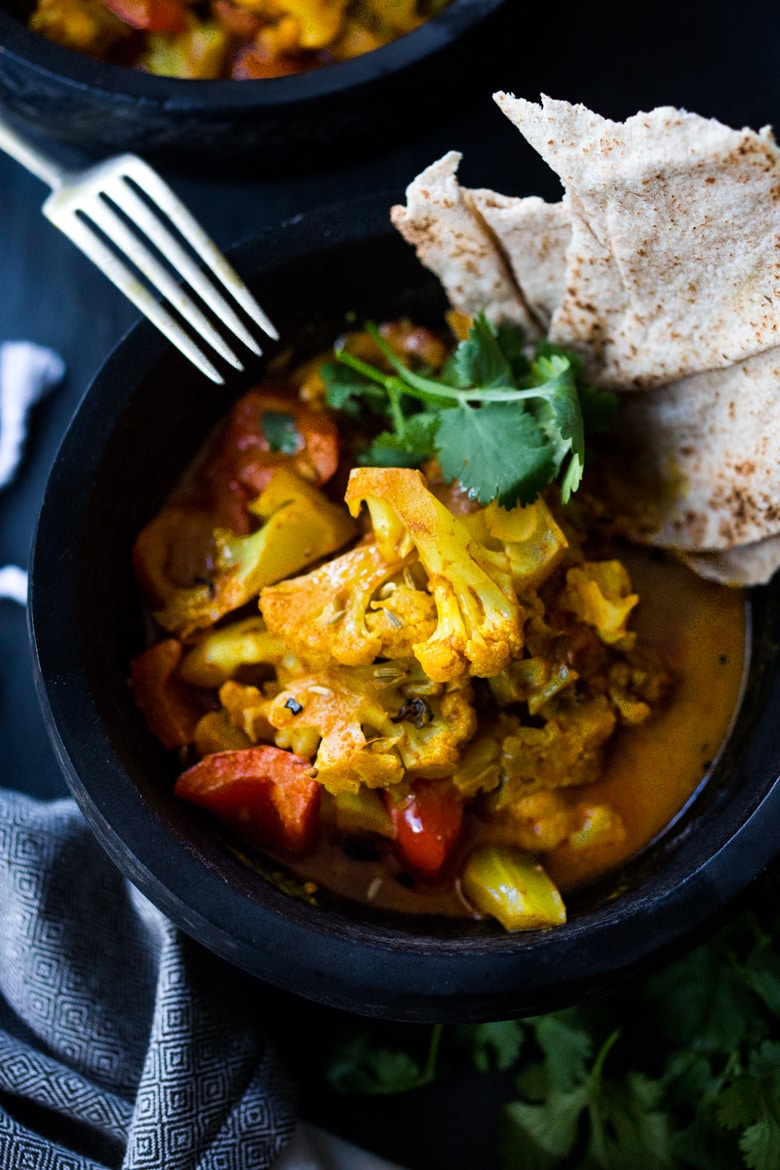 3.) Easy VEGAN Cauliflower Tikka Masala– a simple one-pot vegetarian meal, that can be made in under 25 minutes! Serve with naan or basmati rice. Vegan and delicious, one of my personal favorite Fast and Healthy Weeknight Dinners!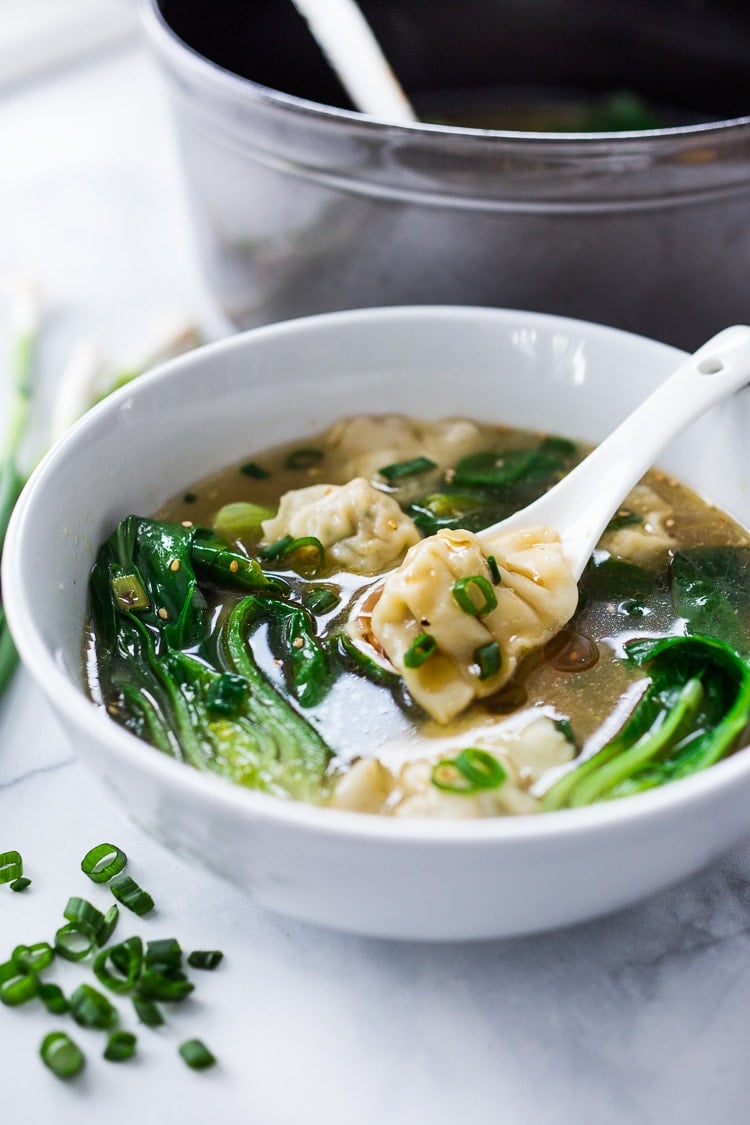 15 Minute Wonton Soup with Lemon Ginger Broth– loaded up with healthy vibrant greens – a fast and easy weeknight dinner!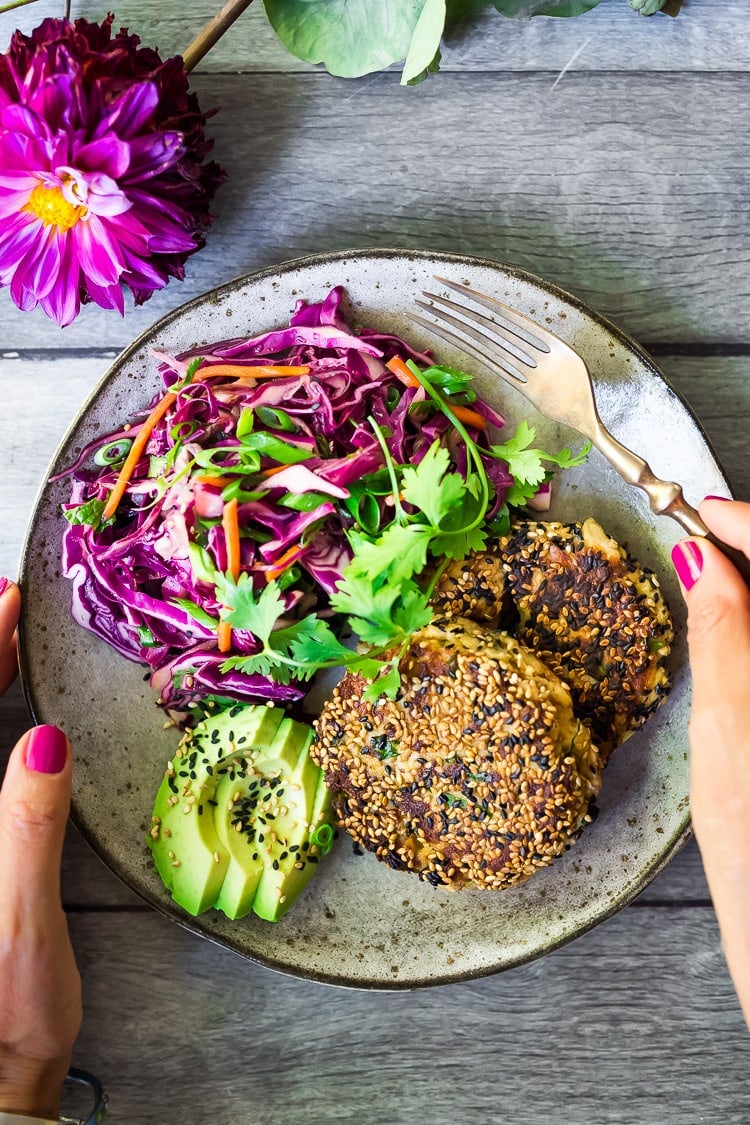 Quick and Easy Salmon Cakes– a simple pantry recipe that can be whipped up in 20 minutes, perfect for midweek meals! Serve with a side of Crunchy Asian Slaw!
[optin-cat id="35124″]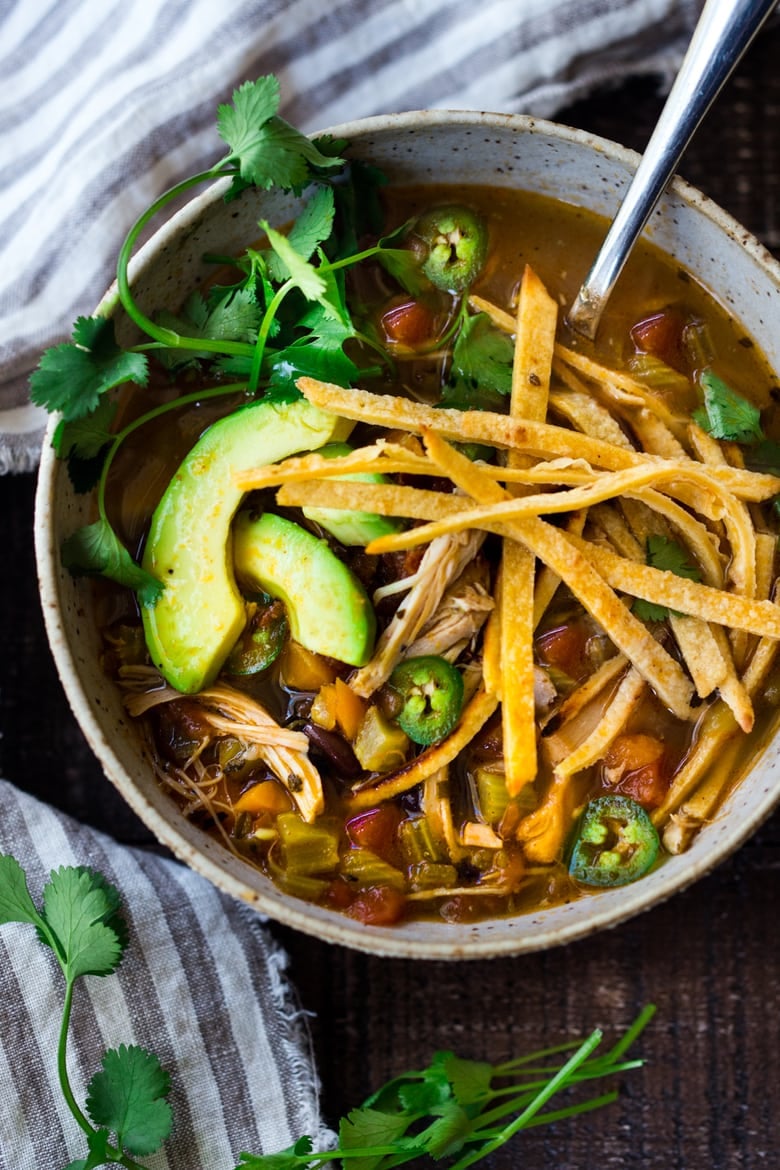 Instant Pot Chicken Tortilla Soup – loaded up with healthy veggies- just 20 minutes of pressure cooking time and dinner is done! A weeknight dinner the whole family will love! You can also make this on the stove-top!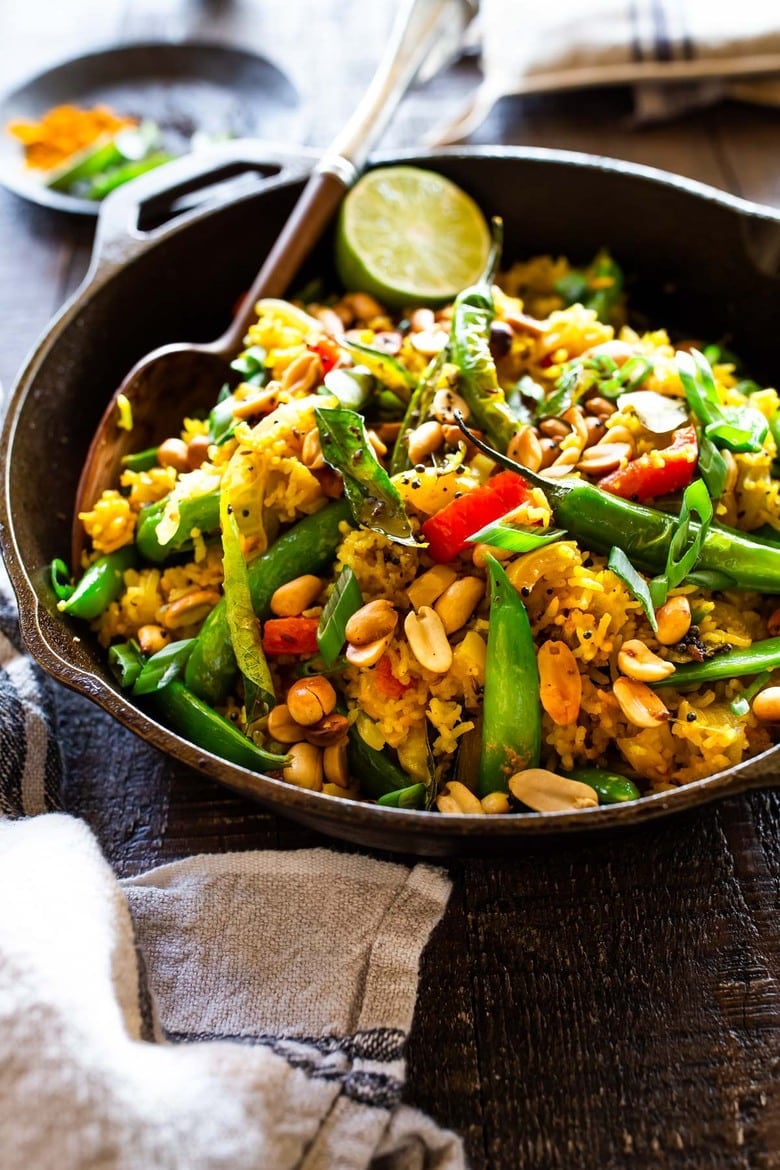 This fragrant Indian Fried Rice is full of healthy veggies and can be made in under 30 minutes. Vegetarian, Gluten-free and Vegan adaptable, it is a fast and easy weeknight meal- great for using up leftover rice and veggies in the fridge.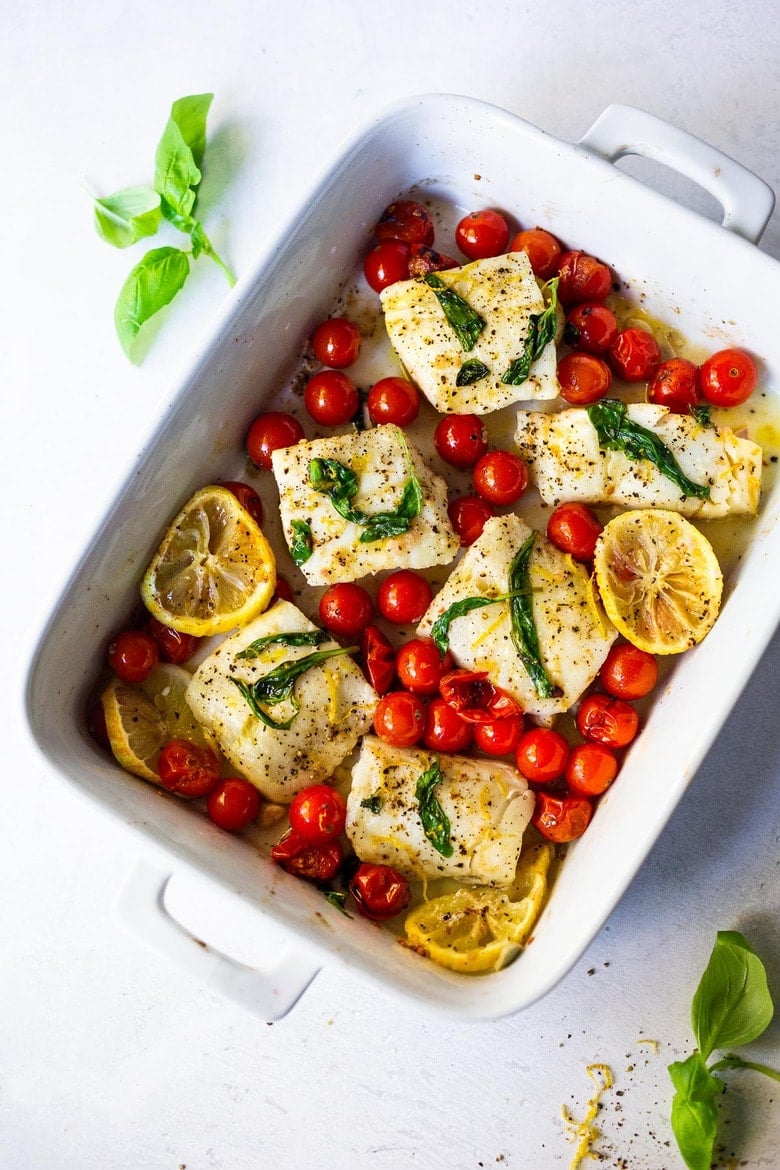 Simple Baked Cod with Tomatoes, Basil, Garlic Lemon- a fast and easy weeknight dinner that is healthy and delicious!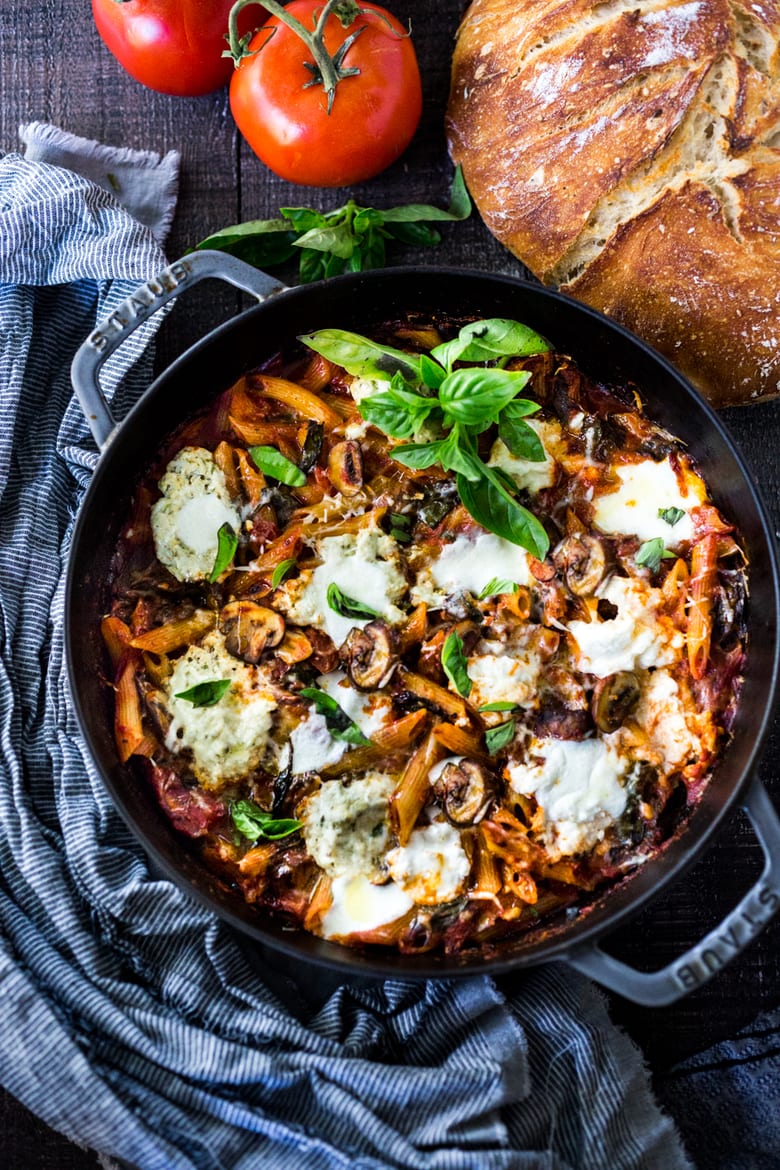 Simple no-boil, Baked Ziti with Spinach, Mushrooms and Ricotta (or sub tofu ricotta) that can be made in one pan and requires no pre-boiling of pasta. 15 minutes of hands-on time before baking! Perfect for weeknight dinners! Vegan-adaptable!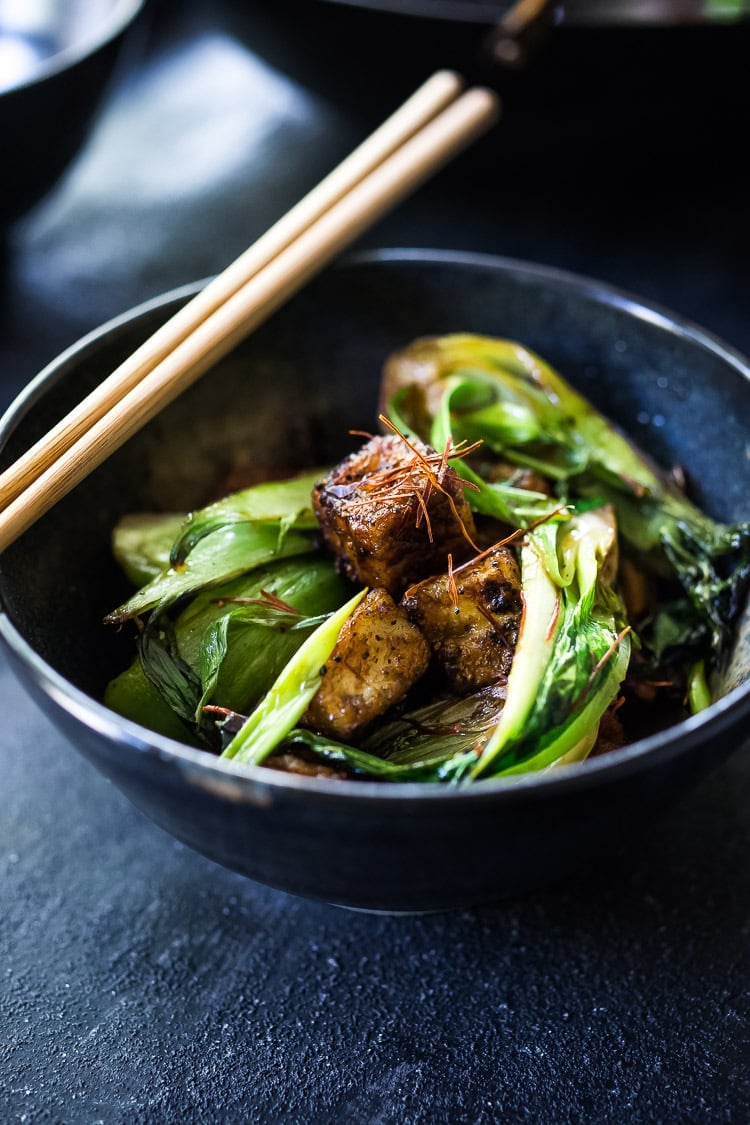 8.) Black Pepper Tofu with Bok Choy – a simple healthy tofu stir fry that is vegan and can be made in under 30 minutes! Vegan and Gluten-Free! Even non-tofu eating people will like this one, I promise!!!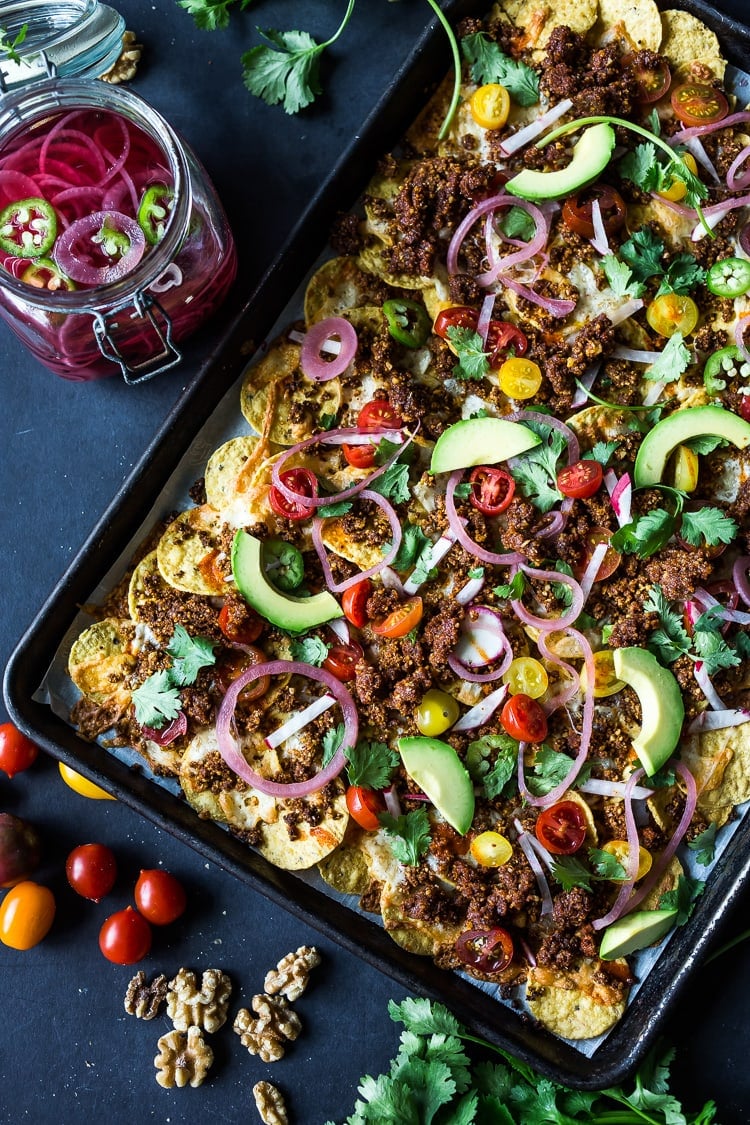 Nachos Supreme with Walnut Chorizo! These veggie- loaded vegetarian nachos are made with flavorful "walnut chorizo"! A healthy, delicious nacho recipe that is baked in the oven. Vegan-adaptable and Gluten free!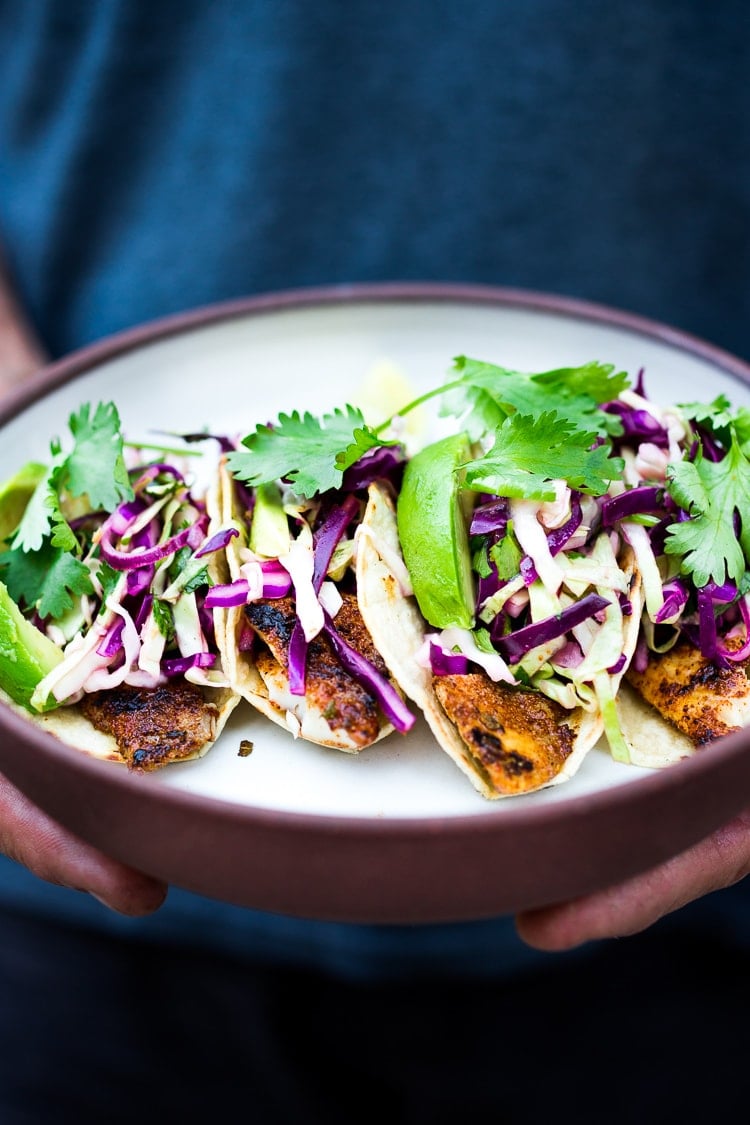 8.) Quick Fish Tacos with Cilantro Lime Cabbage Slaw– a "go-to" healthy weeknight dinner that be made in 30 minutes flat. These can be grilled or roasted and feel free to sub tofu for a vegan option!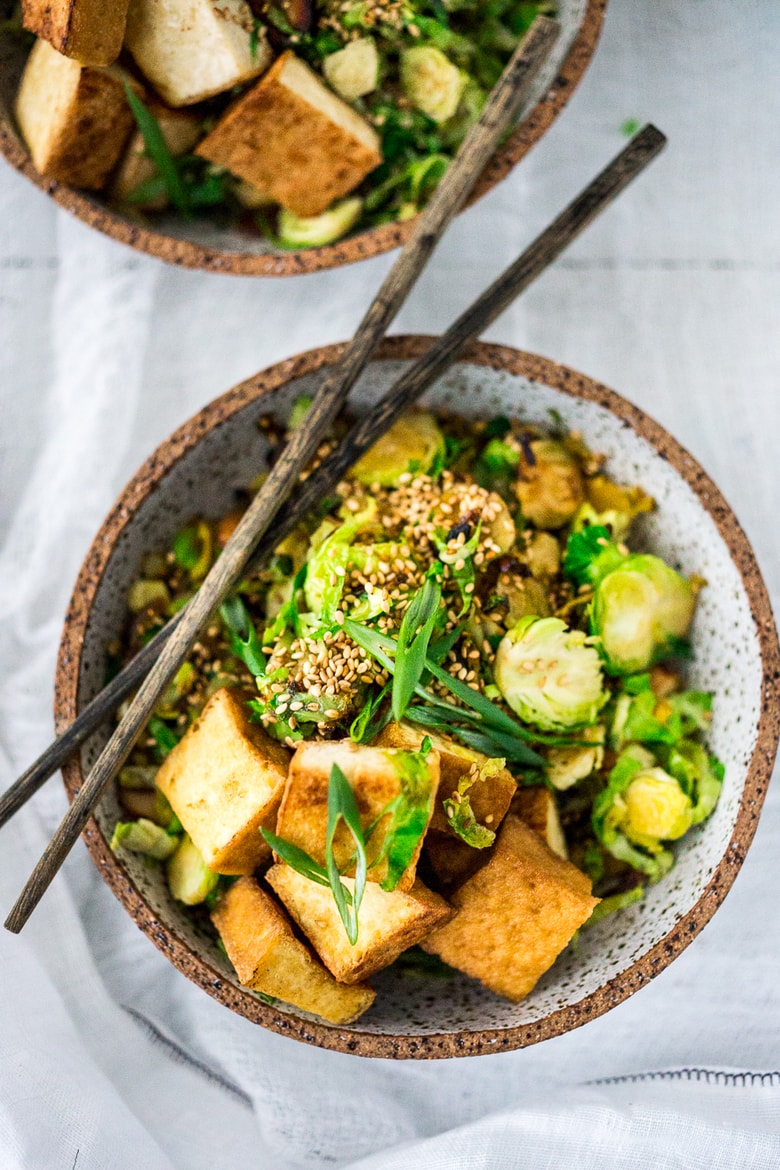 9.) Sesame Brussel Sprouts and Tofu Bowl – A 10-minute weeknight dinner! Detoxing Brussel Sprouts with mushrooms, scallions and toasted sesame seeds. To save time, buy pre-shredded Brussel sprouts! Vegan and Gluten-free.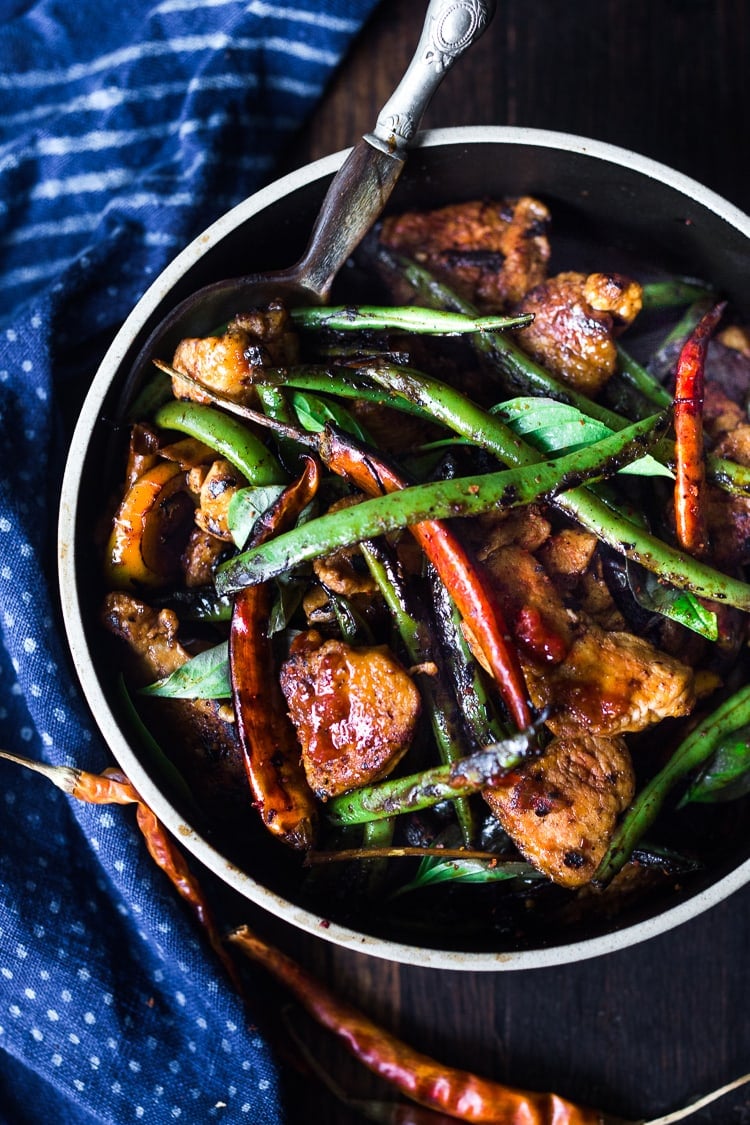 10.) Fiery Burmese Chicken (or Tofu) and Veggies– a fast and full-flavored, Burmese style stir-fry that can be made in 20 minutes flat! Vegan and Gluten-free adaptable, this tasty weeknight dinner is low in carbs.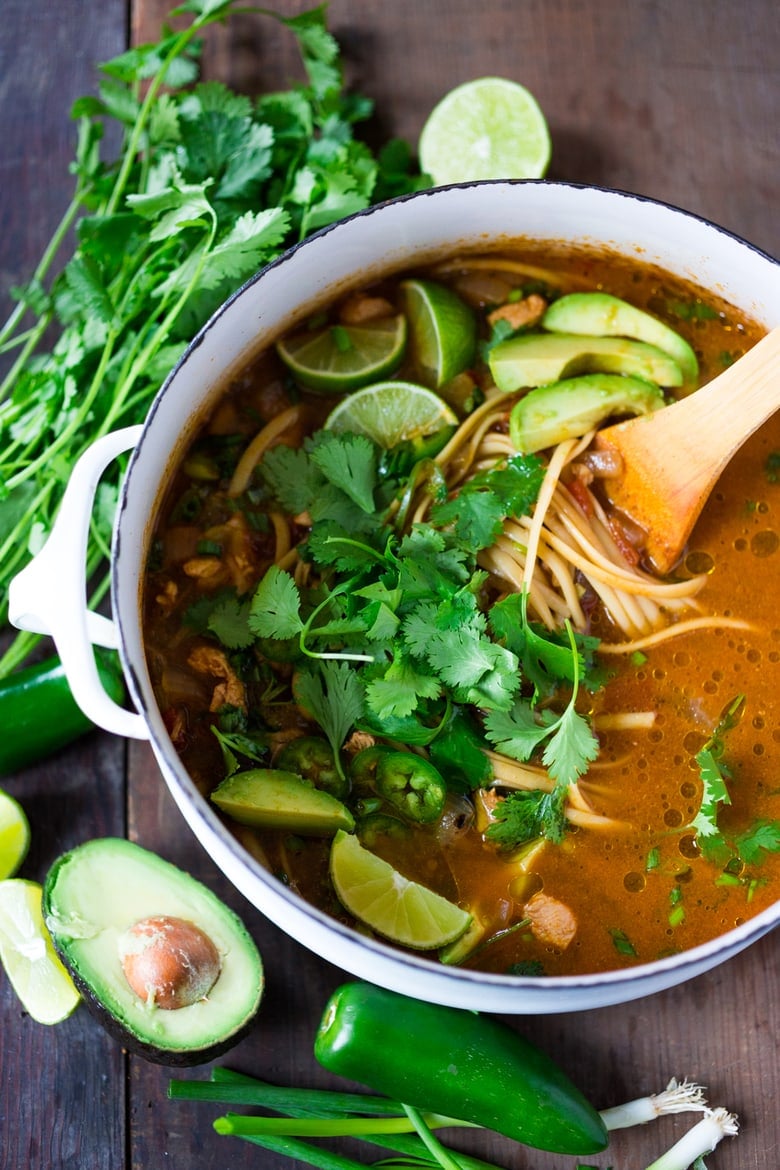 11.) Mexican Noodle Soup – One of my all-time favorite soups- very adaptable! Make it with chicken or keep it vegan with chickpeas ( my favorite! ). Easy and quick to make, full of flavor… this is a weeknight dinner the whole family will love this. I promise!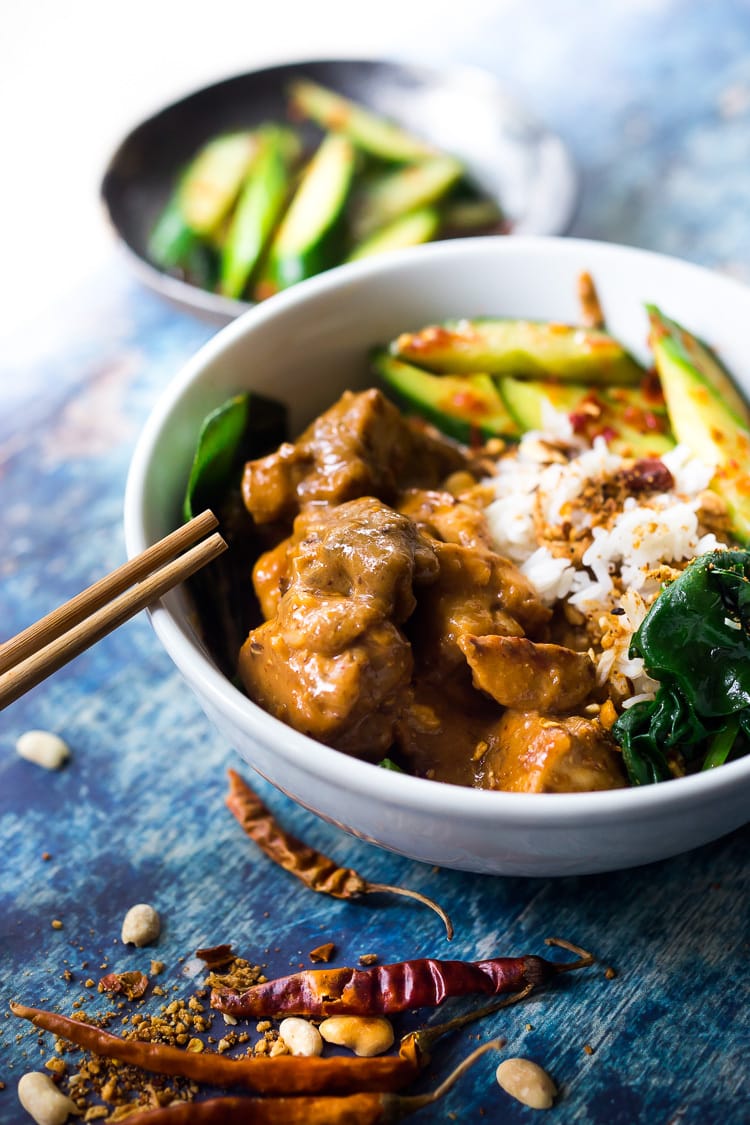 12.) Instant Pot Peanut Chicken can be made in a pressure cooker or on the stovetop! A simple, delicious one-pot meal that can be made in 25 minutes! Paleo and GF adaptable, this delicious weeknight dinner can be prepped ahead, or cooked ahead for the busy work week!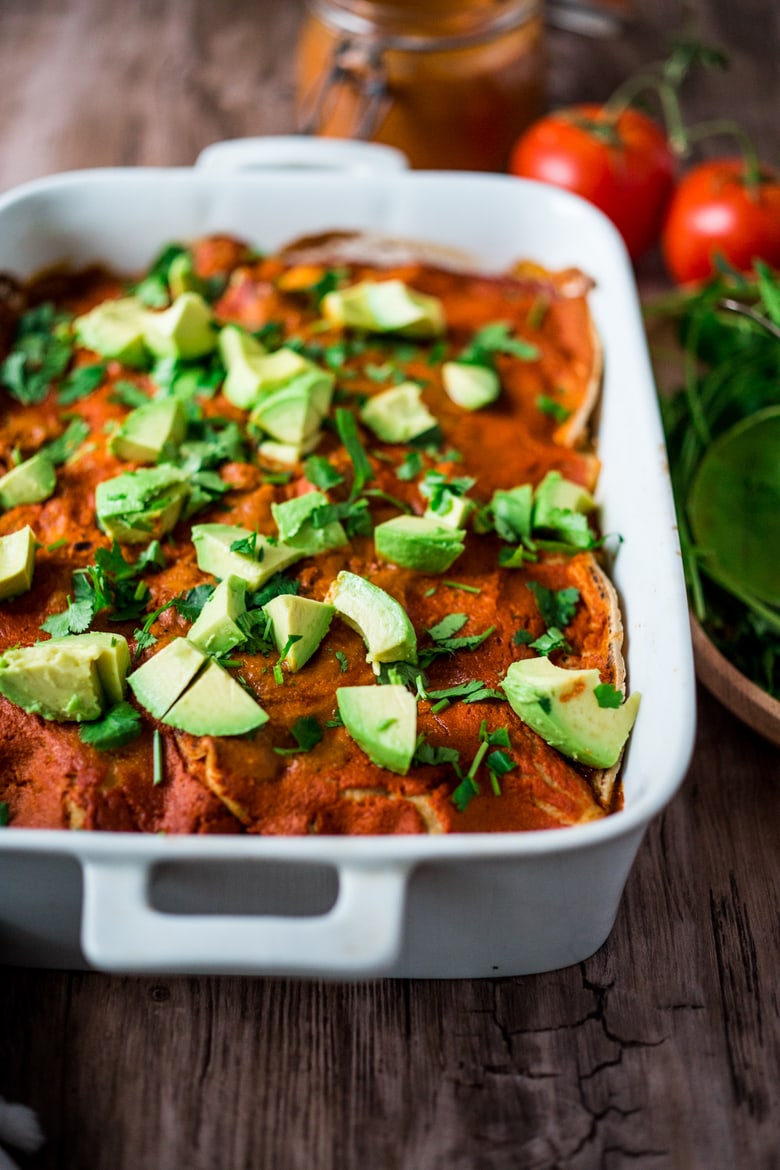 13.) Enchilada Casserole with 5 Minute Enchilada Sauce This weeknight dinner is highly adaptable! Make the 5-minute enchilada sauce in the blender, assemble, and bake. Fill it with sweet potato, corn, and black beans or add ground meat or chicken. Only 25 minutes of "hands-on time" before it goes into the oven to bake!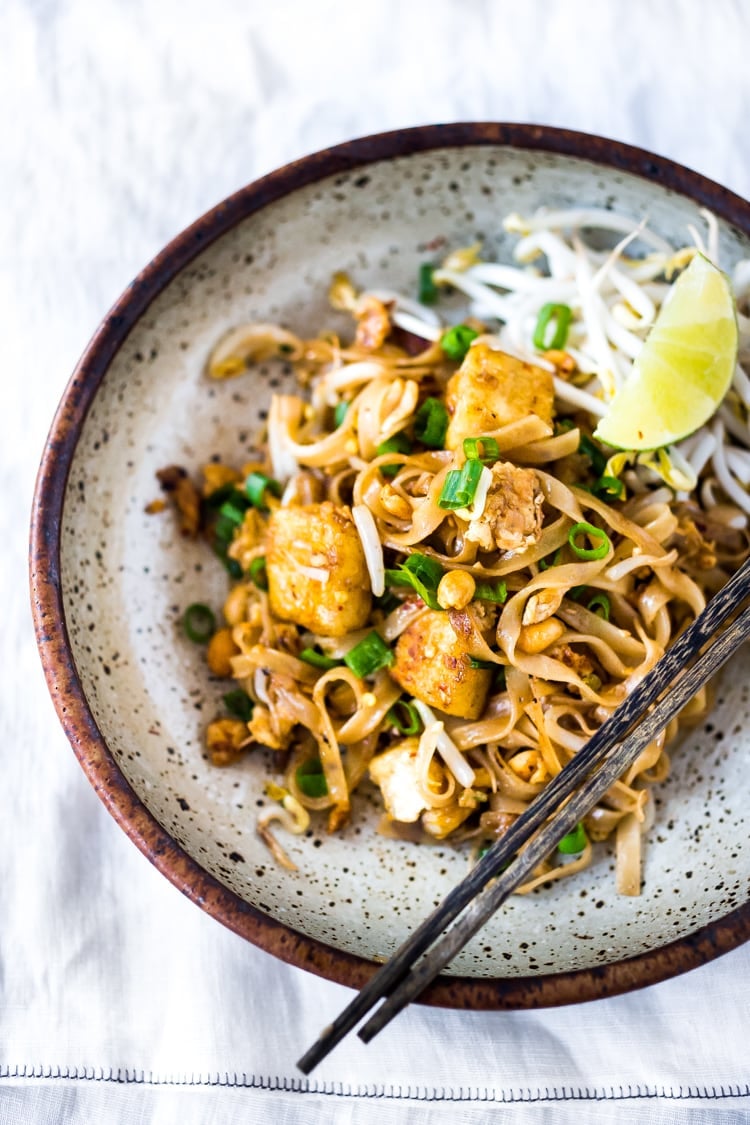 14.) The very BEST Pad Thai – Keep this vegetarian with tofu, or add chicken or shrimp. No hard to find ingredients, this recipe is stripped down to the basics. Super flavorful… and so fast and easy! It's a keeper! Once you have the ingredients gathered, this tasty weeknight dinner cooks in under 15 minutes!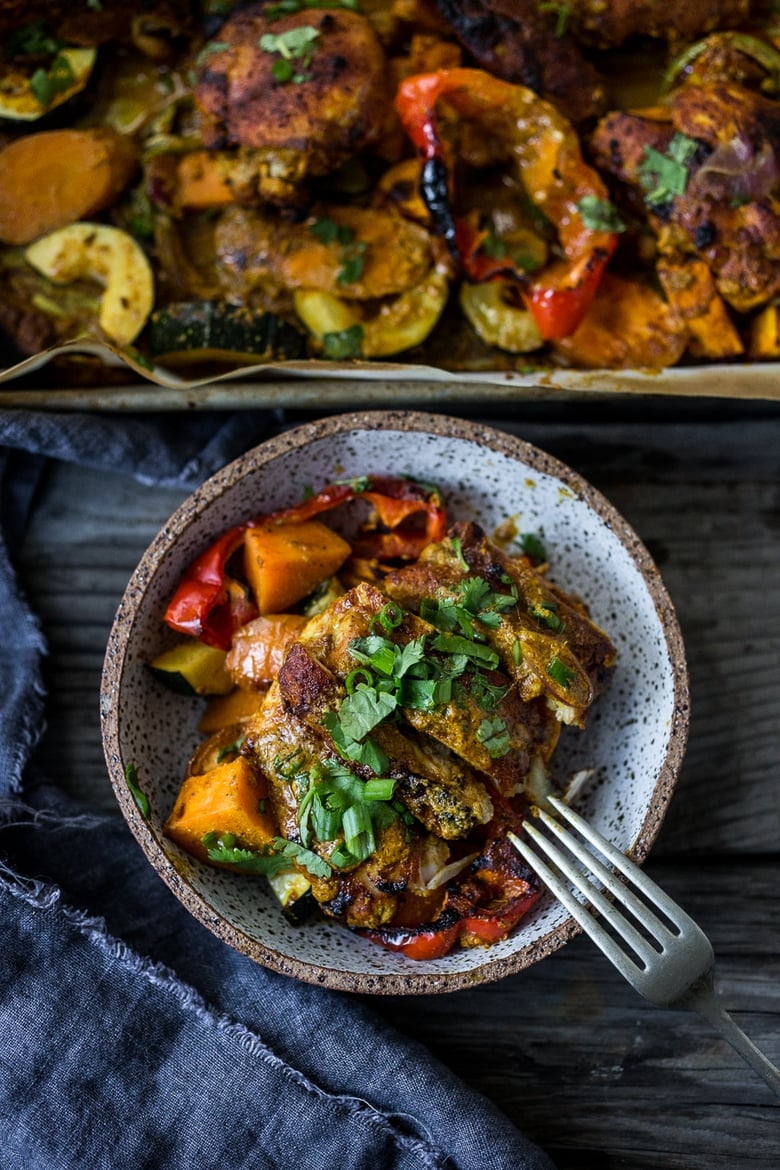 15.) Clean Out Your Fridge Tandoori Bake. Make this with chicken, fish or tofu (or some of each for mixed households) and load it up with healthy veggies. Just 15-20 minutes of hands-on time. So easy and full of soul-satisfying Indian flavors, this weeknight dinner is perfect for all.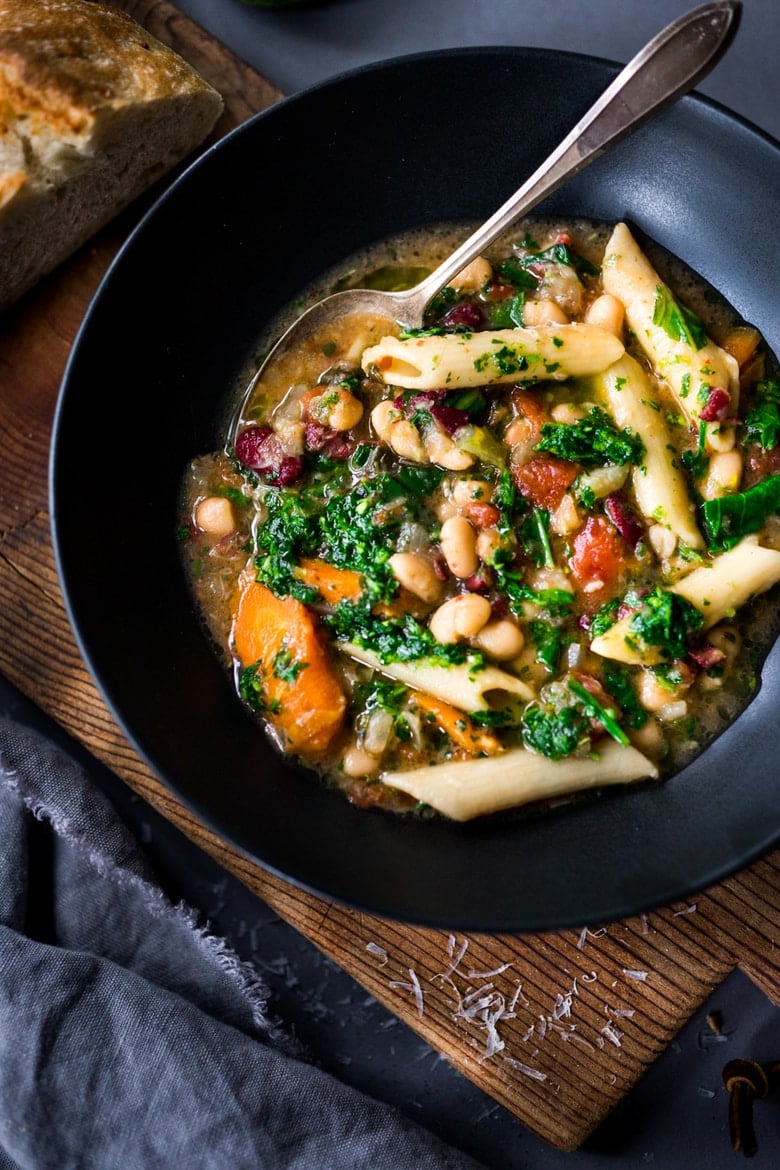 16.) Make life simple, Instant Pot Minestrone Soup – full of healthy veggies and vegan and gluten-free adaptable! Cooks on your stovetop or in an instant pot! A healthy, vegan weeknight dinner the whole family will love!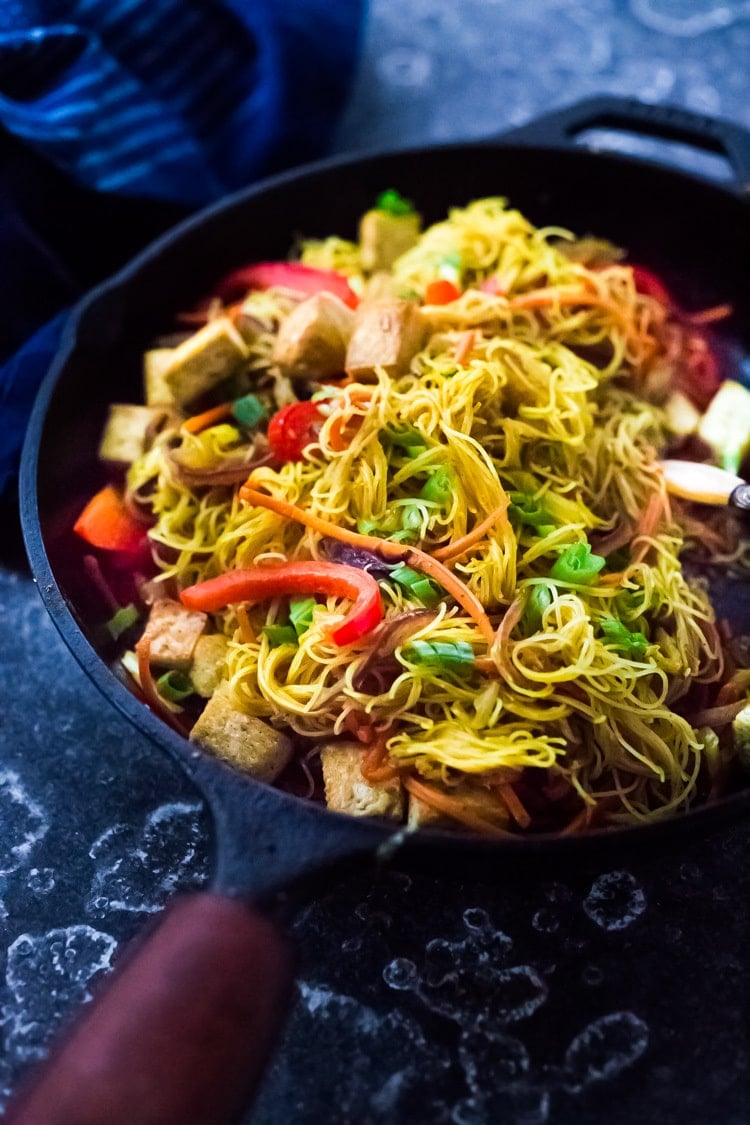 17.) Singapore Noodles! Stir-fried rice noodles with curry, tofu and vegetables—a Chinese take out menu classic – easy recipe, vegetarian and full of authentic flavor!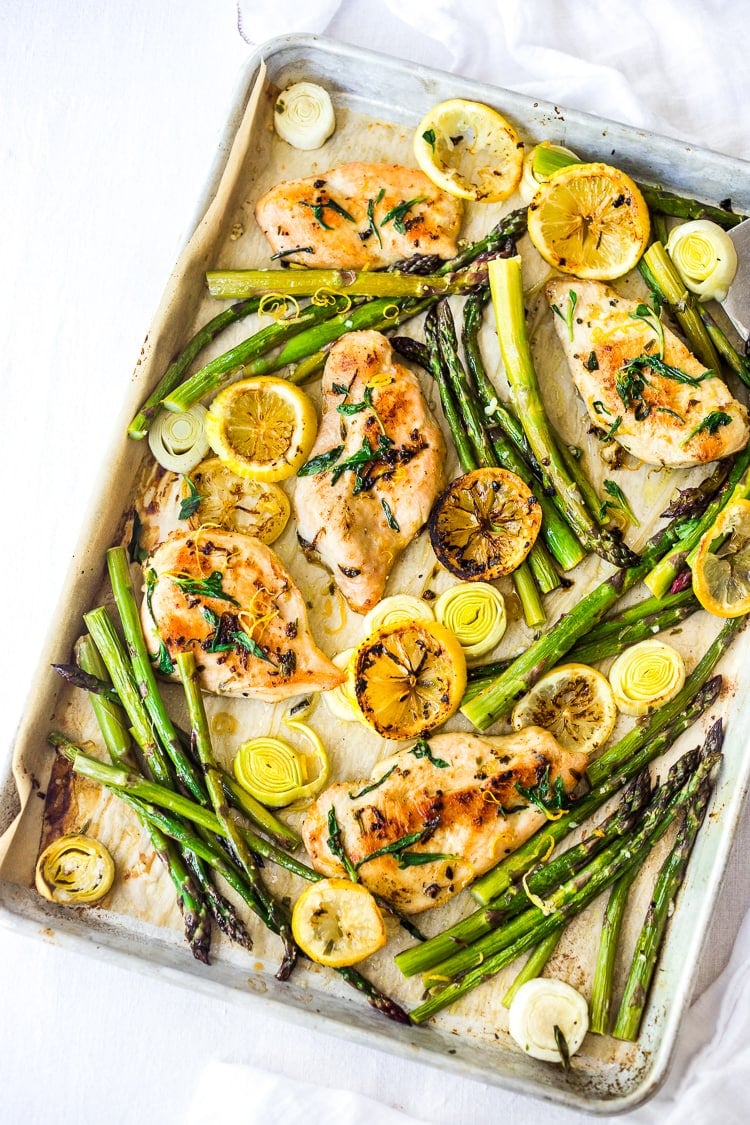 18.) Tarragon Chicken ( or TOFU!) with Asparagus, Lemon and Leeks – all roasted on a sheet pan for minimal cleanup! A delicious healthy weeknight dinner!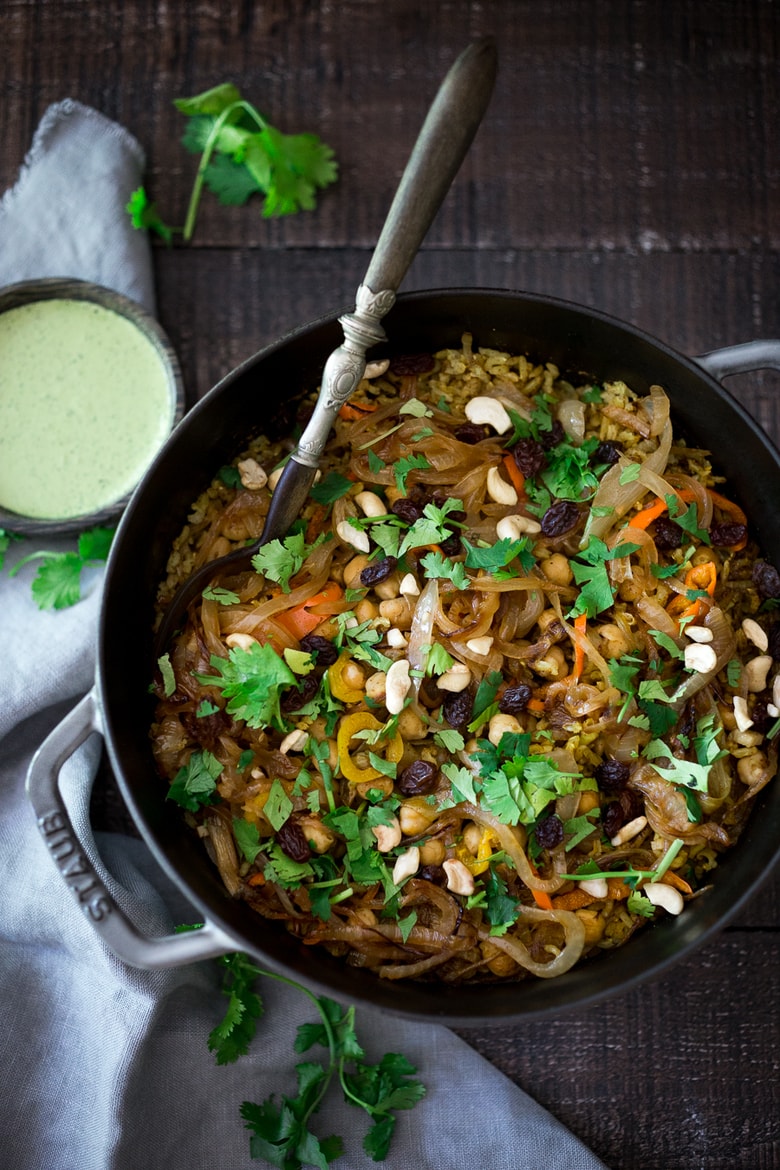 19.) Quick VEGAN Chickpea Biryani with Cilantro Yogurt Sauce. A fragrant rice dish infused with Indian spices – vegan and gluten-free. A quick and easy weeknight meal.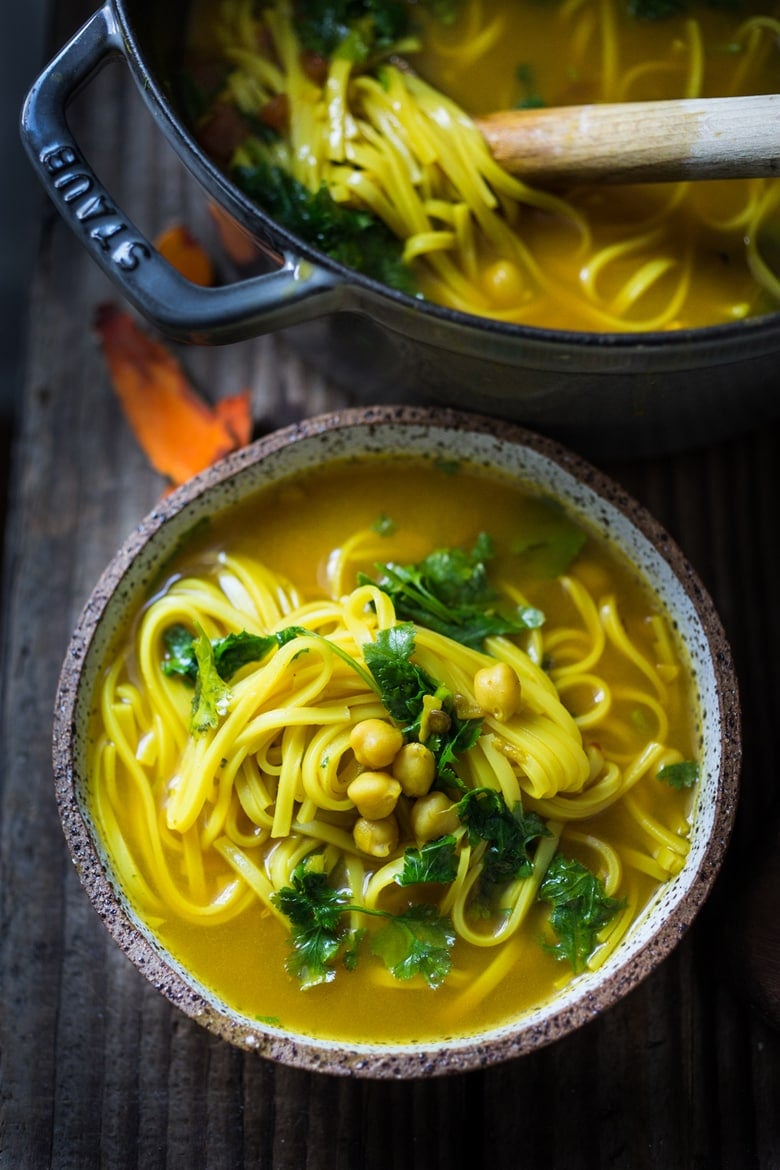 20.) Turmeric Broth Detox Soup Another highly adaptable soup with an addicting and flavorful broth. Use noodles or rice, chicken or chickpeas … and any wilt-able green hiding out in your fridge. Very nutritious and nurturing. Good for the tummy and healing on the soul level. I kid you not.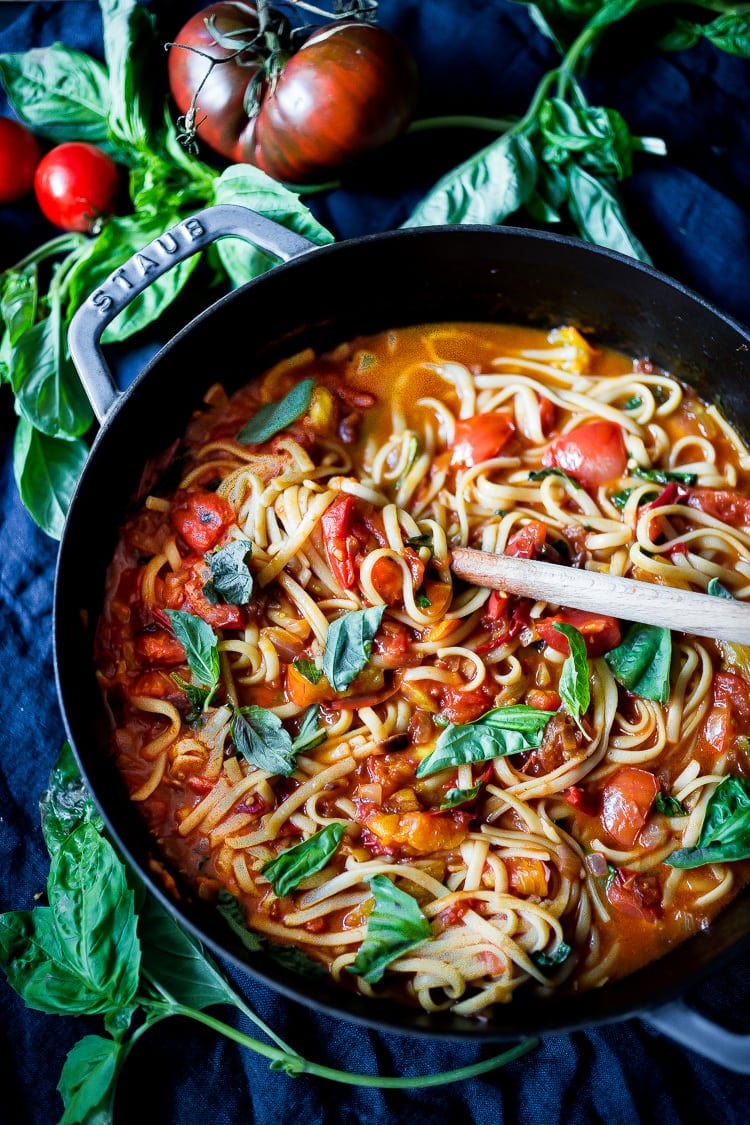 21.) Spaghetti with Fresh Quick Tomato Sauce– Fresh tomatoes are cooked into a Quick Tomato Sauce with garlic and basil. Keep it vegan or add cheese. Seriously one of my ALL TIME FAVORITE recipes on the blog. Simple, easy, so delicious. A great way to use up all your garden tomatoes!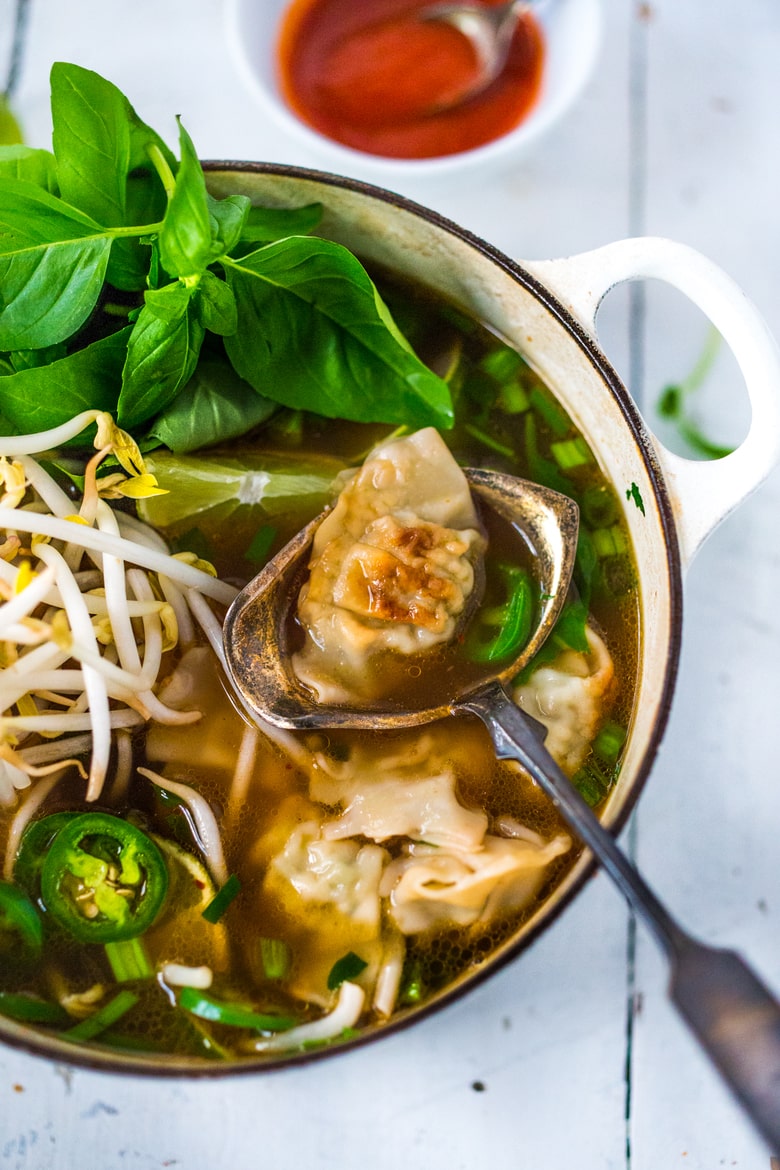 22.) My "go-to" emergency meal… where Vietnamese Pho meets Wonton Soup. 🙂 Lighting Speed Photon Soup– made with a flavorful broth, store-bought frozen wontons and loaded up with greens. Adapt it your way. It's low fat and super satisfying. Give it a whirl! Make this in 15 minutes!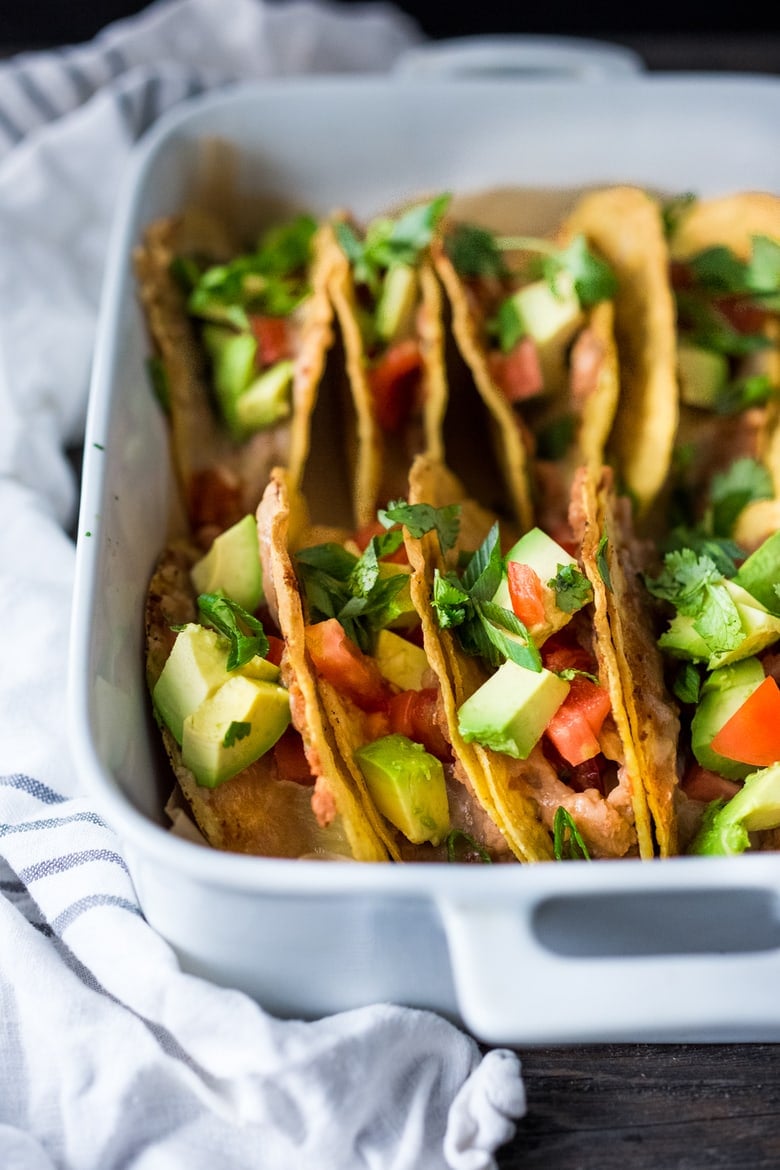 23.) These fast, kid-friendly EASY Baked Tacos are perfect for those of you who have hungry mouths to feed and need to get something on the table ASAP. Not only are they simple and quick to put together, but they are also really adaptable. Keep them vegetarian and affordable by using organic refried beans as the protein, or if so inclined, add left-over rotisserie chicken, or browned, seasoned ground beef. But I will say that even my meat-loving husband loves these, prefers them even, with the refried beans.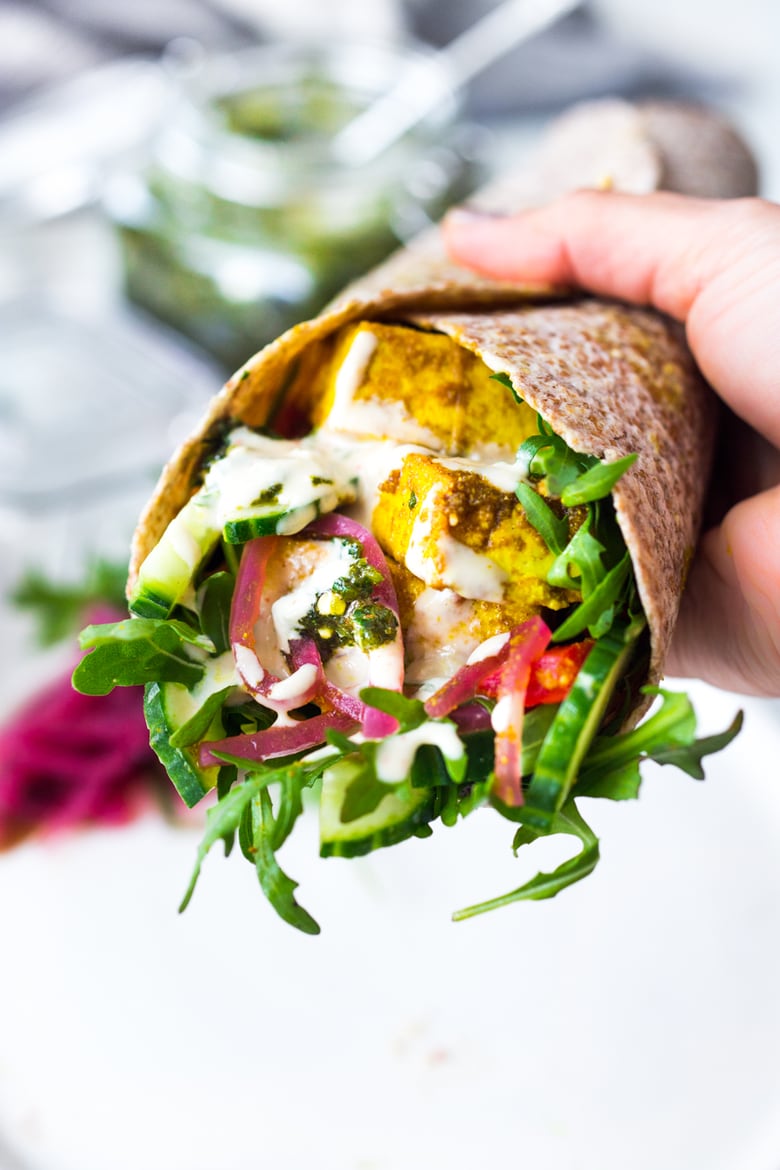 24.) Baked Sheet Pan Shawarma! Quick and flavorful Sheet Pan Shawarma can be made with either chicken or tofu (or both!). Turn them into healthy Shawarma Bowls, then repurpose into Shawarma Wraps. Vegan and gluten free-adaptable! A fast and tasty weeknight dinner recipe!
xoxo
RELATED: Make Life simple, Sheet-Pan Dinners for busy weeknights! Also, Ethnic-Inspired Instant Pot Recipes! and 40 Mouthwatering VEGAN DINNERS!!!
Print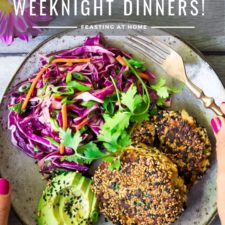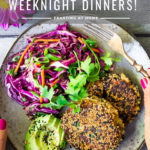 FAST & HEALTHY WEEKNIGHT DINNERS!
Author:

Sylvia Fountaine

Prep Time:

15

Cook Time:

15

Total Time:

30 minutes

Yield:

4

Category:

weeknight dinner recipes, mains

Method:

stovetop

Cuisine:

Global
---
Description
FAST & HEALTHY Weeknight Dinners that take less than 30 minutes to make, or very little hands-on time before baking in the oven. Loaded up with healthy veggies, many are Vegan and GF Adaptable!
---
Instructions
Pick a few of your favorites to make this week. Print them out and make a shopping list!
---
Keywords: healthy dinner recipes, weeknight dinners, weeknight dinner recipes, easy dinner recipes, dinner recipes, vegan dinner recipes, quick dinner recipes, dinner ideas, fast dinners, healthy dinners, fast and healthy dinners
SaveSave
SaveSave