A simple, weeknight recipe for Instant Pot Thai Curry Chicken, that can also be made on the stove top! Bursting with delicious Thai flavors this recipe can be made in 35 minutes!  Serve it over rice, quinoa or rice noodles – and save the amazing leftovers for lunch!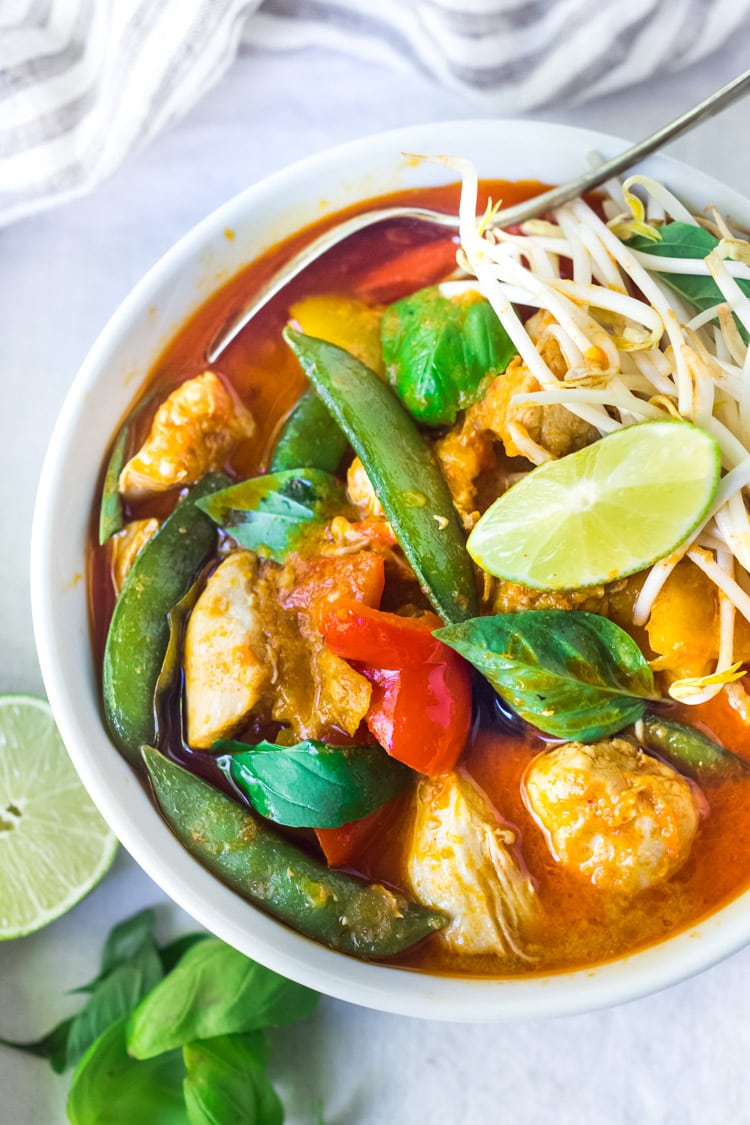 You can be deeply involved with everything, but still not be identified with it any more.~Sadhguru 
Here's a quick Instant Pot recipe that can also be made on your  stovetop – Instant Pot Thai Curry Chicken!  I combed through the fridge and gathered what veggies I could find, and added them to the pot too.  I don't know about you, but this always feels so gratifying, using up all the strays. Things like bell pepper, potatoes, zucchini, snow peas… all work well!
Making this Instant Pot Curry Chicken on the stove top, only adds another 5-7 minutes of cooking time- which honestly, I find just as easy, if not easier, but either way, you'll have a super flavorful meal, full of lean protein and healthy veggies on the table in no time flat.
And the leftovers make for a delicious lunch. 😉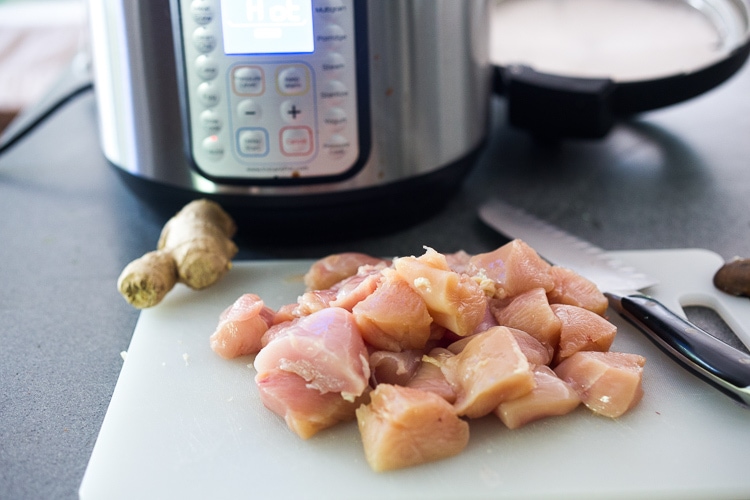 Cut chicken into 1-inch chunks.  Feel free to use boneless, skinless breasts or thighs (see notes for different pressure cooking times).
While this is cooking, I had a small pot of quinoa cooking on the stove.
There is a little sautéing in the beginning, but after that, it's basically dump and go.
A note about red curry paste: Not all brands are the same, and if possible look for this red curry paste brand – available on Amazon or at most Asian Market- it has great flavor!
A note about veggies: some veggies take longer than others to cook! So veggies, like bigger chunks of potatoes, carrots, parsnips, broccoli, or any longer cooking veggies,  I'll pressure cook right along with the chicken.
Shorter cooking veggies like snow peas, cauliflower, asparagus, bell pepper, etc…. I'll add to the instant pot right after the chicken is cooked, cooking on the saute function for just a few minutes- keeping them crisp and vibrant.
Before I start the Instant Pot Curry chicken, I'll usually start a small batch of rice or quinoa, to keep the overall cooking time short.
If using sweet potatoes- I prefer to roast these separately ( in cubes) so they don't disintegrate into the stew. You could do this ahead, refrigerating. The crispy roasted edges are nice here.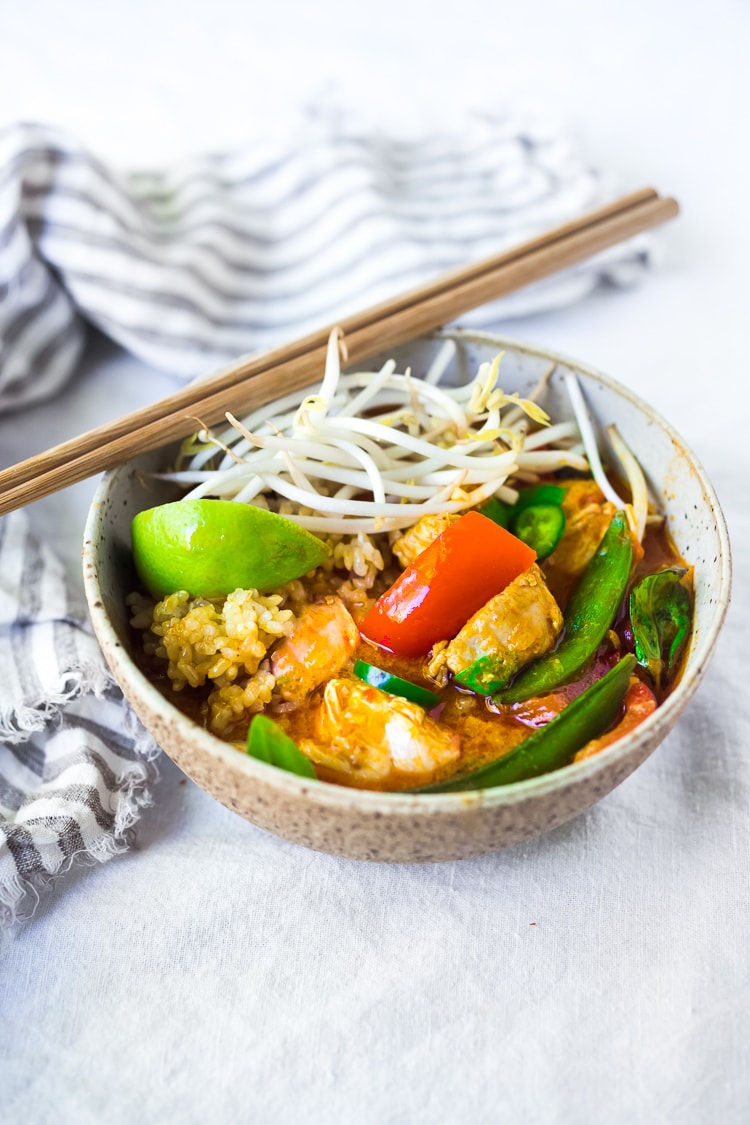 Serve the fragrant and flavorful Instant Pot Curry Chicken up in bowls with lime, bean sprouts and fresh basil. So simple and easy!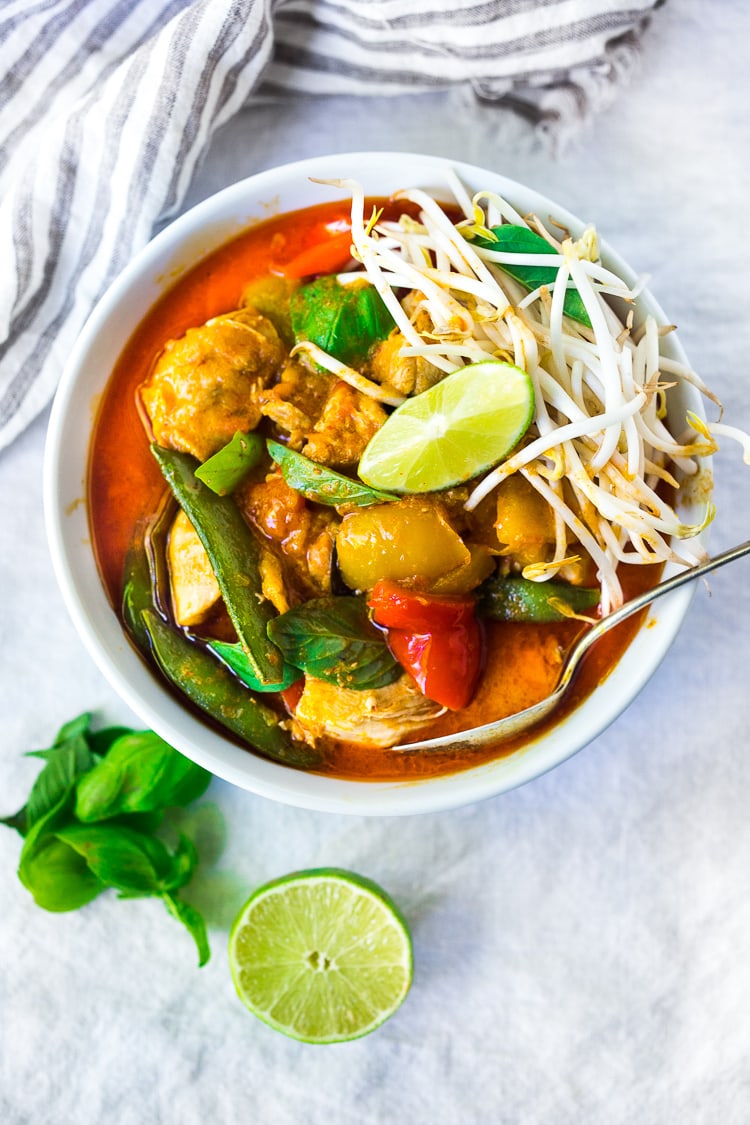 If using chicken breasts- they will need a little time to "re-absorb" the moisture it looses when pressure cooked. So I find this is always better, the next day, perfect for meal prep – making ahead for the busy work week. Make a batch and keep it in your fridge!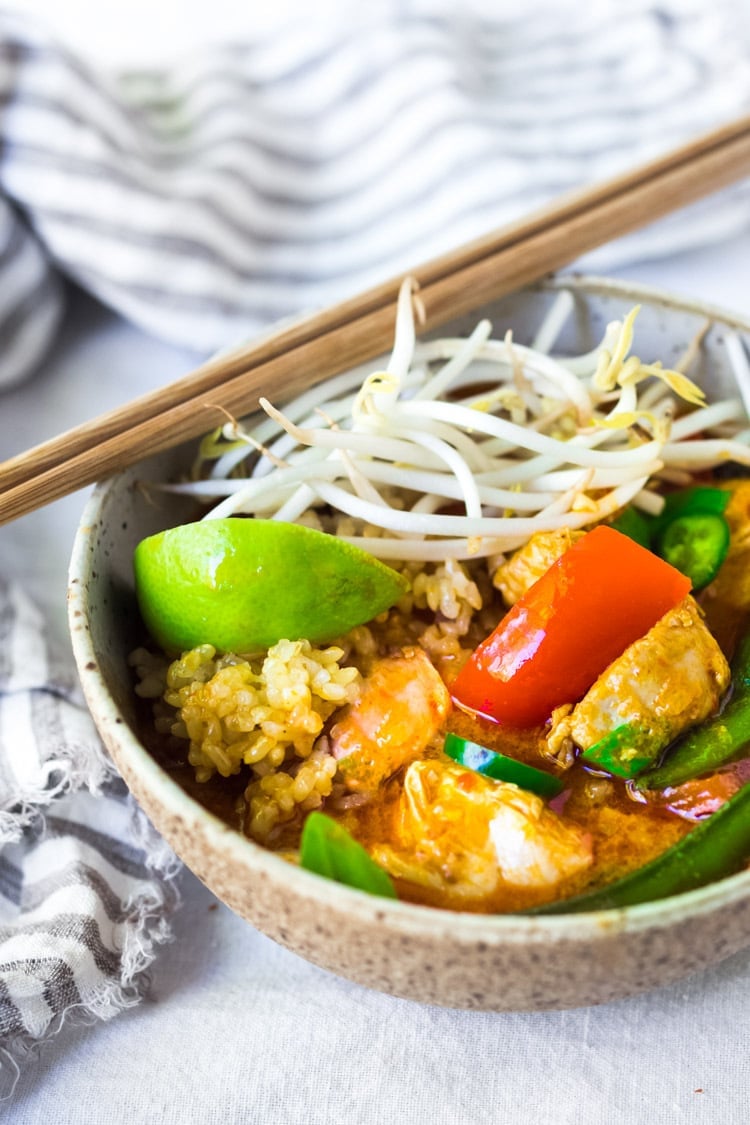 For more easy, ethnic, instant pot recipes….. make sure to visit here!
Read recipe notes for the stovetop version.
If you try it, please rate it and add your comments and adaptions below!
xoxo
Print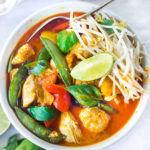 Instant Pot Thai Curry Chicken
Author:

Sylvia Fountaine

Prep Time:

15

Cook Time:

25

Total Time:

40 minutes

Yield:

4

-6

1

x

Category:

Chicken, Instant Pot

Method:

Instant Pot

Cuisine:

Thai
---
Description
A simple delicious recipe for Instant Pot Curry Chicken and veggies that can be made in an Instant Pot or on the stove top!  Fast, healthy and full of incredible Thai flavor!
---
1 tablespoon

oil

2

shallots, chopped ( or

1

onion)

2 teaspoons

fresh ginger, finely chopped ( or use ginger paste)

4

garlic cloves, rough chopped

1 1/2

pounds

boneless, skinless chicken thighs or breasts, cut into one-inch pieces.

2

–

4

tablespoons Thai red curry paste (I like this brand) or use Mae Ploy. (Thai Kitchen will work in a pinch)
1 x

13.5

ounce

can coconut milk

1

cube chicken bouillon (or sub

1/4 teaspoon

salt, or more fish sauce)

2 tablespoons

fish sauce

2 tablespoons

brown sugar, coconut sugar or alternative sweetener ( please don't leave out)

4

kefir lime leaves ( optional- see notes)
optional veggies (4-5 cups) cubed potatoes, carrots, cauliflower, bell peppers, snow peas, peas, green beans, asparagus or even fresh pineapple chunks! ( separate slow-cooking veggies from quick-cooking veggies, see notes )

2 tablespoons

lime juice
garnishes – lime wedge, bean sprouts, 1/4 cup fresh basil (a must) and Thai basil really elevates this!
---
Instructions
Set your grain to cook on the stove. Quinoa is fastest!
Set Instant Pot to saute function. ( Alternatively, you can cook this all on the stove in a heavy bottom pot or dutch oven. See notes!) Heat oil and add shallot, ginger and garlic, and saute until fragrant and golden, about 2-3 minutes.  Add chicken, stir, and just give a quick sear, just 2-3 minutes. Add red curry paste ( I like about 3 tablespoons for medium spicy), cook one minute, then add coconut milk, chicken bouillon cube, fish sauce, brown sugar and optional kefir lime leaves. Give a stir to combine. At this point, add any veggies that need longer cooking– like potatoes, parsnips, carrots, cauliflower (cut into larger, 1 inch chunks).
Pressure Cook breasts on high pressure for 6 minutes (thighs will need 9 minutes). Manually release, open lid and set back to saute function. Simmer sauce down a bit to reduce it, and add any quick-cooking veggies- snow peas, bell peppers, asparagus and simmer for 3-4 minutes or until veggies are just tender, yet still bright and snappy.
Add lime juice. Taste, adjust salt and heat (add more curry paste for more spicy).
Serve over your grain, topping with fresh basil, lime wedge and bean sprouts!
---
Notes
STOVE TOP: If cooking on the stovetop, season chicken with salt and pepper and sear in oil, in a heavy-bottomed pot or dutch oven, over medium heat, until most sides are golden (they will finish cooking in a later step). Set aside. In the same pot, add more oil if necessary, saute the shallot, garlic and ginger until fragrant, about 2-3 minutes. Add the red curry paste (starting light, you can always add more) and fry 1 minute. Add the coconut milk and bouillon cube.
Add your slow cooking veggies and chicken back into the pot, along with the kefir lime leaves. Cover and simmer on low until veggies are tender and chicken is cooked through 7-10 minutes. Add quick-cooking veggies. Season with the fish sauce, sugar and lime juice. Adjust salt. Add more curry paste if you like!  Find a happy balance. It may smell fishy initially, but it will dissipate, and you won't taste it when the right balance is there. Also, keep in mind, the saltiness will mellow substantially when served over the rice. You want this slightly salty and flavorful!
VEGGIES: Not all veggies cook in the same about of time, so just be intentional about when to add. For example potatoes and carrots cook slower, so allow them to pressure cook with the chicken. Cut them a little bigger if using thighs ( longer pressure cooking time). Quick-cooking veggies like Snap peas, asparagus, bell pepper can cook within minutes, so add at these end during saute function, after the chicken has pressure cooked. FYI: Sweet potatoes will disintegrate if overcooked- not pleasant. I like to roast these separately (and roast them ahead) and add at the end of cooking. Roasting gives them better texture in stewy recipes I find. 🙂
Take time here to think about which veggies need longer cooking and what needs shorter. This is only challenging part of this recipe. 🙂
Nutrition
Serving Size:
Calories:

363

Sugar:

7.5 g

Sodium:

706 mg

Fat:

21.5 g

Saturated Fat:

15.2 g

Carbohydrates:

15.3 g

Fiber:

2.7 g

Protein:

28.6 g

Cholesterol:

82.7 mg
Keywords: instant pot chicken recipes, instant pot curry chicken, instant pot chicken curry, red curry chicken, thai red curry, chicken curry, instant pot chicken curry, instant pot thai chicken curry