Polenta with Wild Mushrooms, Garlic and Sage. A simple healthy dinner that can be made in under 30 minutes. Comforting and delicious! Vegan Adaptable and Gluten free.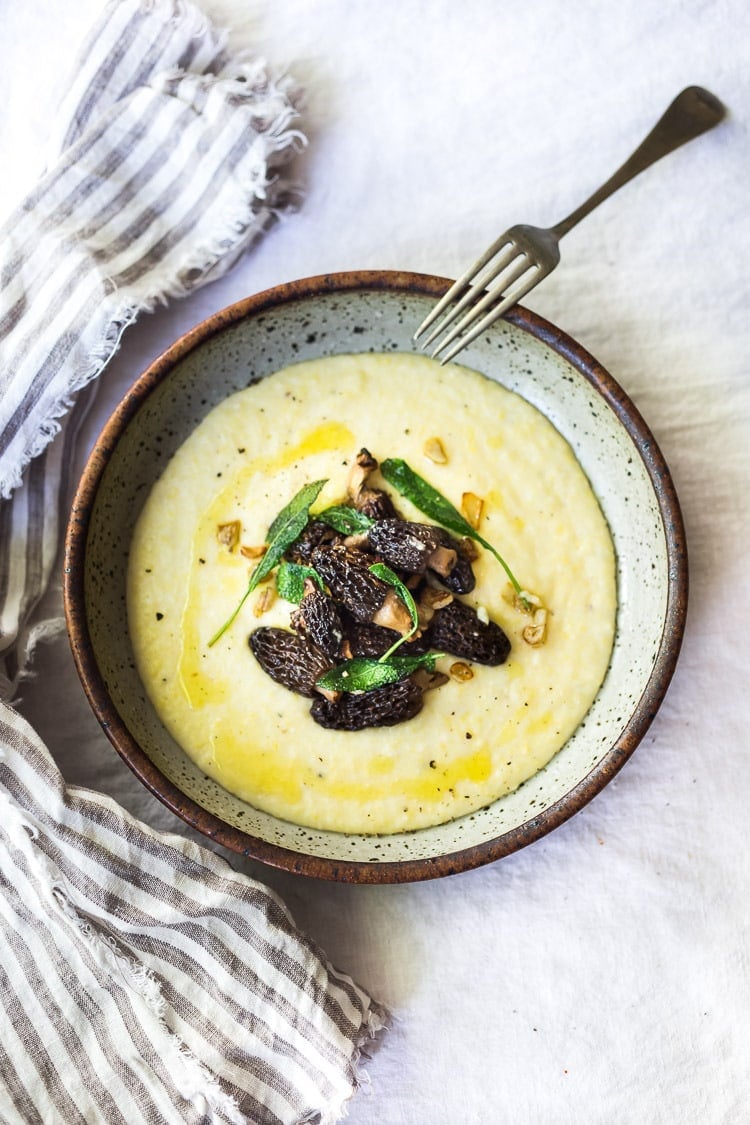 Mmmmmmmmm…..what is better than a comforting bowl of mushroom Polenta?
This recipe for Polenta with Wild Mushrooms, Garlic and Sage is cozy and comforting, perfect for the cooler months of spring or fall, when wild mushrooms are ready for the picking.
This can be made with wild mushrooms like chanterelles or morels if you have access to them –or tame, store-bought mushrooms, like shiitake, miatake, portobello, cremini or even simple button mushrooms. Add cheese for extra richness or keep it vegan!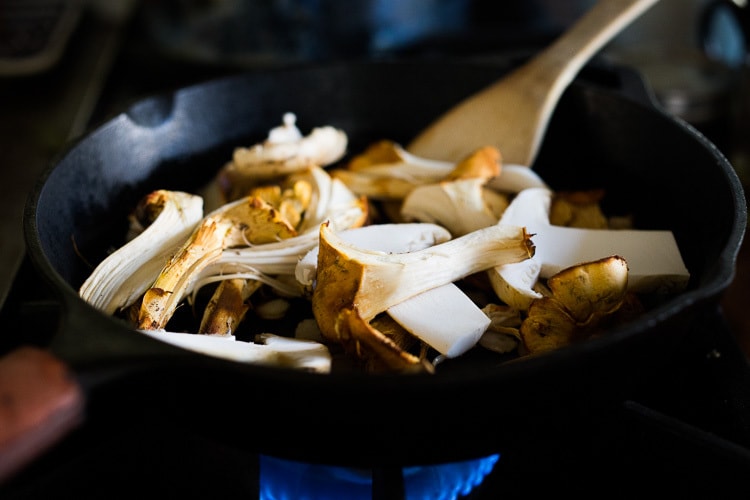 In late spring I seek out morels, and in fall, I opt for Chanterelles.  Both grow wild here in the Pacific Northwest. Chanterelles live among the trees, in the dense and foggy forests of Douglas Firs and Western Hemlocks. Woody and earthy with a hint of fruitiness, their texture is meaty yet tender. Both morels and chanterelles are difficult to cultivate, so most of the fresh chanterelles and morels you see at farmers markets and grocery stores, truly are "wild".
And this is what makes wild mushrooms so special. Somehow you can't help but feel the woody forest they came from.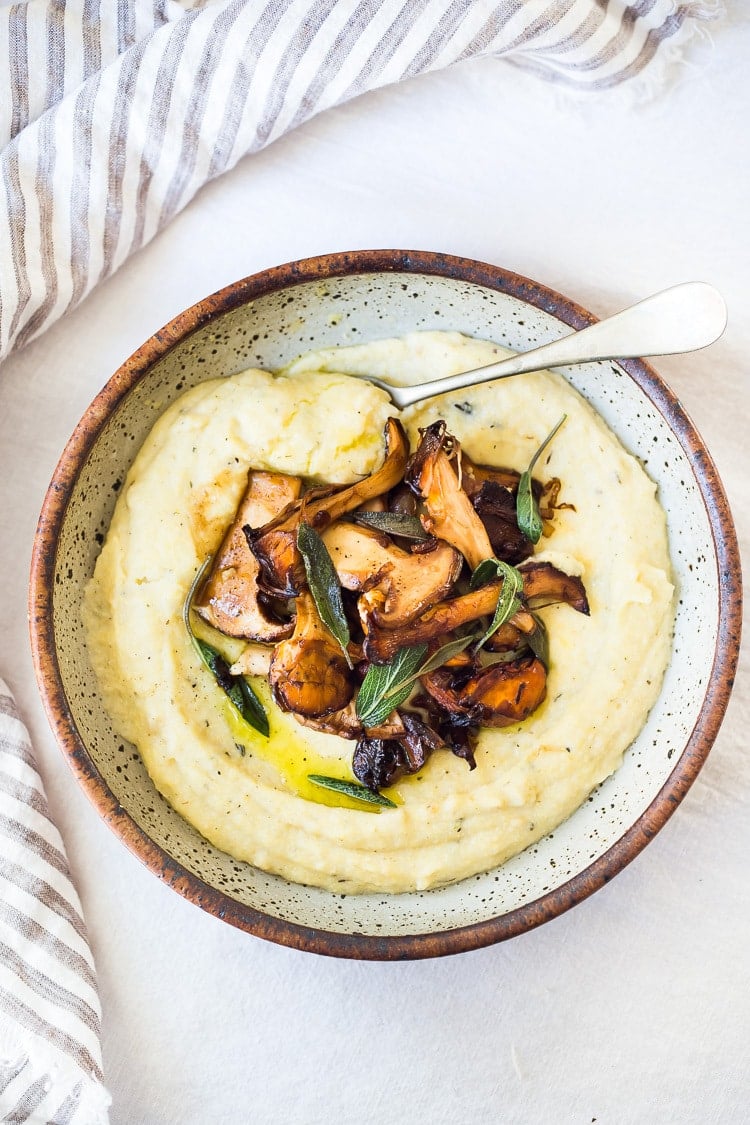 To me there is nothing more comforting than a bowl of mushroom polenta, no matter what the season.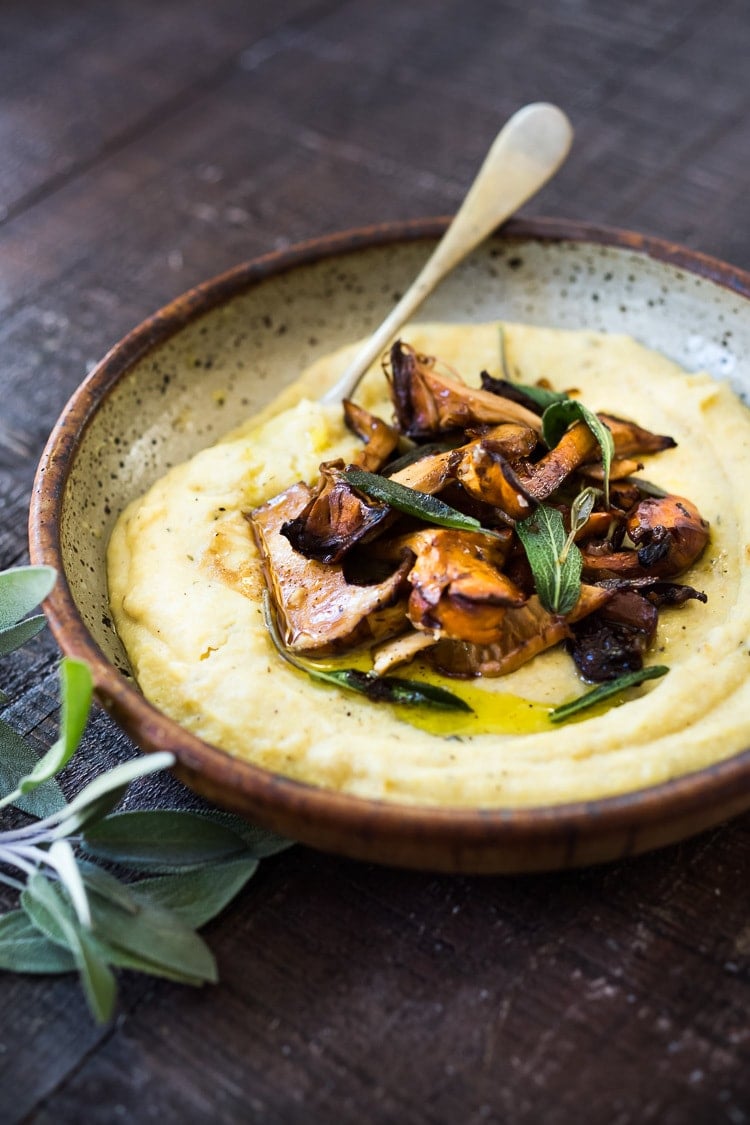 For extra richness you could top it with a poached egg, or shaved parmesan.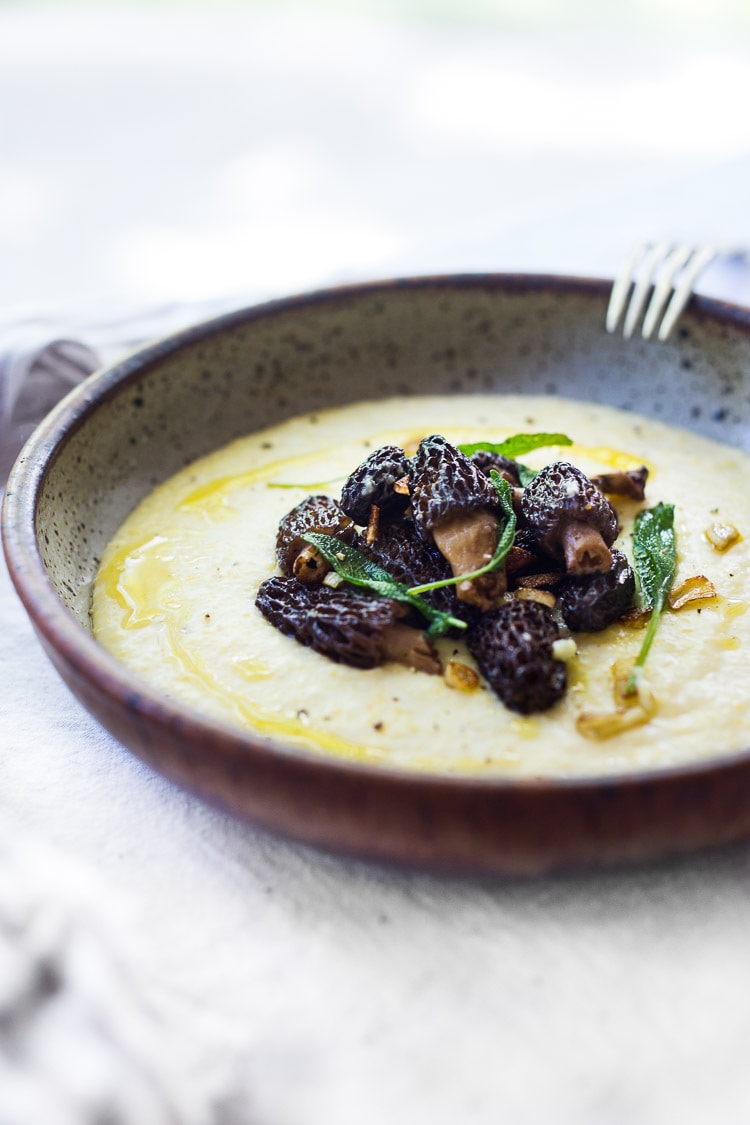 The reason I love this recipe, is the flavors are so simple that it really allows the unique flavor of wild mushrooms to shine.
They are delicious with pasta and risotto, in quiches, omelets or lasagna, where they are not overwhelmed by too many other ingredients. They can get lost easily so I try to make them the focus of whatever I am making with them.
When paired with a creamy bed of soft polenta, to me they are the perfect comfort food. A simple easy weeknight meal that feels so elegant and luxurious.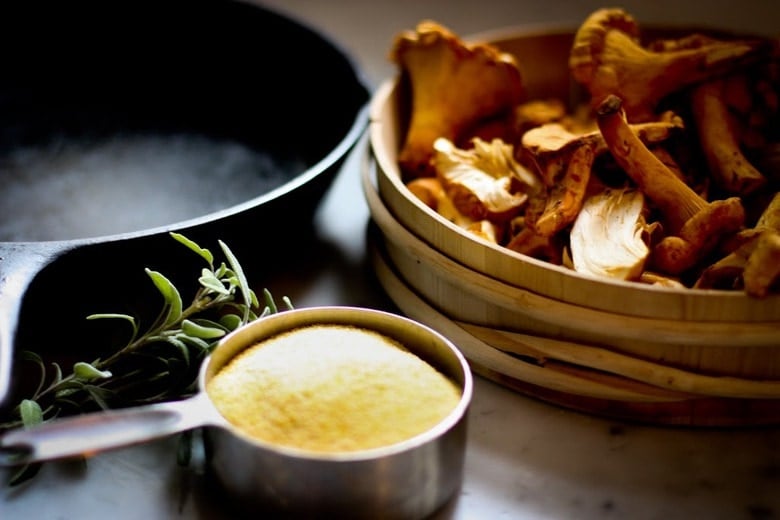 For the fasting cooking I use a finer grain of
corn meal
.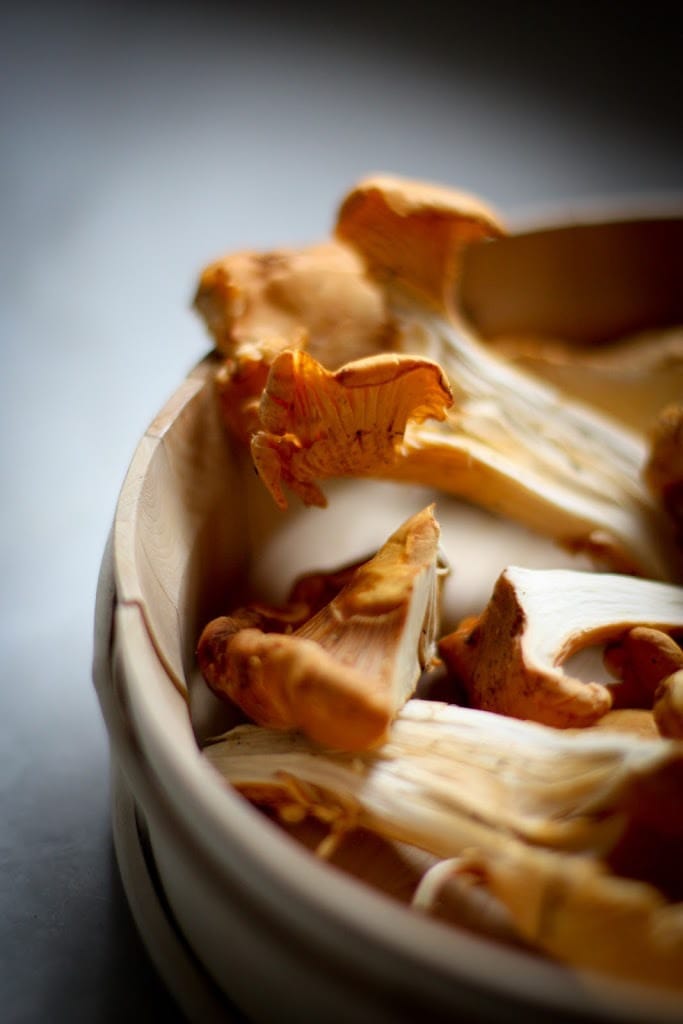 How to cook wild mushrooms:
If using chanterelles…make sure they are a nice golden apricot color. They should be firm to touch and have no dark or wet parts on them.  Their gills should look clean and in tact.
A tip: when buying them, try to pick chantrelles that look clean and that have less of a pocket at the top and this will make your job of cleaning them much easier. Then use a brush ( like a basting brush) to gently brush away any debris. Try not to get them wet.
The nice thing is they are growing in popularity, so they are becoming mush easier to find. They are not inexpensive, but worth a splurge at least once a year.
How to cook polenta:
Polenta is basically an Italian dish made from ground cornmeal. It's cooked into a porridge and seasoned with
olive oil
or butter, cheese and herbs. Below is a basic recipe for Creamy Polenta that you can modify based on your preferences.
Then taste for salt. Because cheeses have different saltiness, the amount of salt you will need will vary. If you used a flavorful stock you may not even need much salt. But most likely you will need a little.
And here is a lovely ingredient that will elevate your polenta.  White Pepper!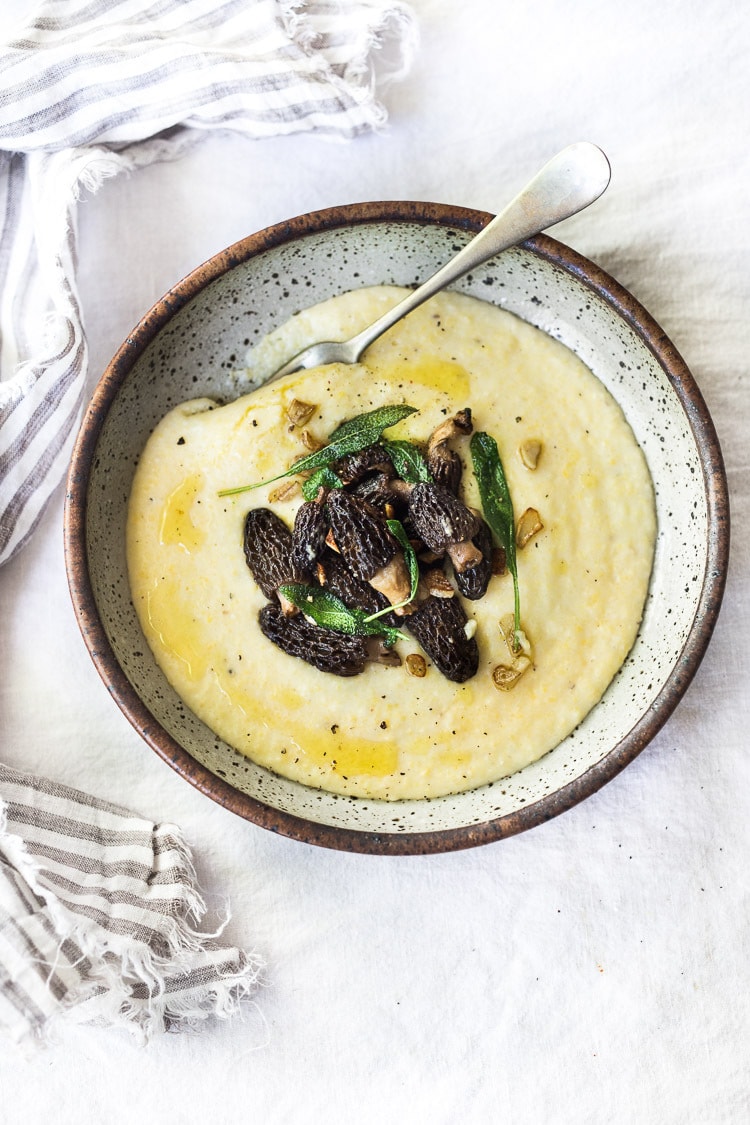 Mushroom Polenta – simple elegant weeknight meal that comes together so easily! I hope you love this as much as I do!
Print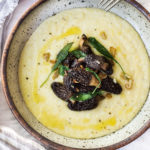 Polenta with Wild Mushrooms, Garlic and Sage
Prep Time:

10 mins

Cook Time:

20 mins

Total Time:

30 mins

Yield:

2

-

3

1

x

Category:

Vegetarian Main, gluten-free,

Method:

stove-top

Cuisine:

Italian
---
Description
Polenta with Wild Mushrooms, Garlic and Sage. A simple EASY dinner that can be made in under 30 minutes. Comfort food that is healthy, vegan adaptable and gluten-free! |
---
Scale
Ingredients
Polenta
4 ½

c veggie or chicken stock ( or sub water with

1 tsp

salt, or sub

2 cups

of the stock with milk)

1 cup

polenta ( ground corn meal)
___
Mushrooms
2 cups

wild mushrooms (chanterelles or morels) or sub button mushrooms, cremini, miatake, shittake or portobellos)

1

–

2

T oil or butter

1

shallot, diced

2

–

3

cloves garlic, rough chopped

1

T fresh sage  ( or sub rosemary or thyme)
Garnish- drizzle of truffle oil ( optional- but worth it! )
---
Instructions
To make the creamy polenta, heat 4 1/2 Cups of flavorful stock (or salted water or use part milk) in a medium pot and bring to a boil. Once it is boiling, turn heat down to low or off to avoid getting splattered. Gradually add 1 C polenta to the hot liqud while whisking vigorously to avoid any clumping. Cover and let cook on very low heat for 20 mins before adding any "fats". Somehow this allows the polenta to "open up" . If you are using a course polenta you could cook longer. You could even cover the pot and stick in a 350F oven for 45 min-1 hour. You can stir every 5- 10 minutes if you want, but I normally just cover it leave it without a stir and it is just fine.
When the polenta has cooked, then add your choice of olive oil, or butter, optional cheese, white pepper, and adjust for salt.
To cook the mushrooms, heat oil over med heat, add shallots, garlic and mushrooms, cook 6-7 minutes until mushrooms release their liquid, lowering heat if necessary. Add the sage leaves right at the end and cook for on minute. Season with salt and white pepper.
Serve atop your bed of delicious creamy polenta.
Drizzle with Truffle oil if you want.
---
Keywords: creamy polenta, creamy polenta with mushrooms, polenta with mushrooms, how tomato creamy polenta, creamy polenta with wild mushrooms, polenta recipes, vegetarian polenta recipes