Quick & Easy Veggie Lo Mein that can be made in under 20 minutes! This vegan Lo Mein noodle recipe is fully loaded with healthy vegetables and the most DELICIOUS  Lo Mein sauce.  Gluten-Free Adaptable! Perfect for busy weeknights!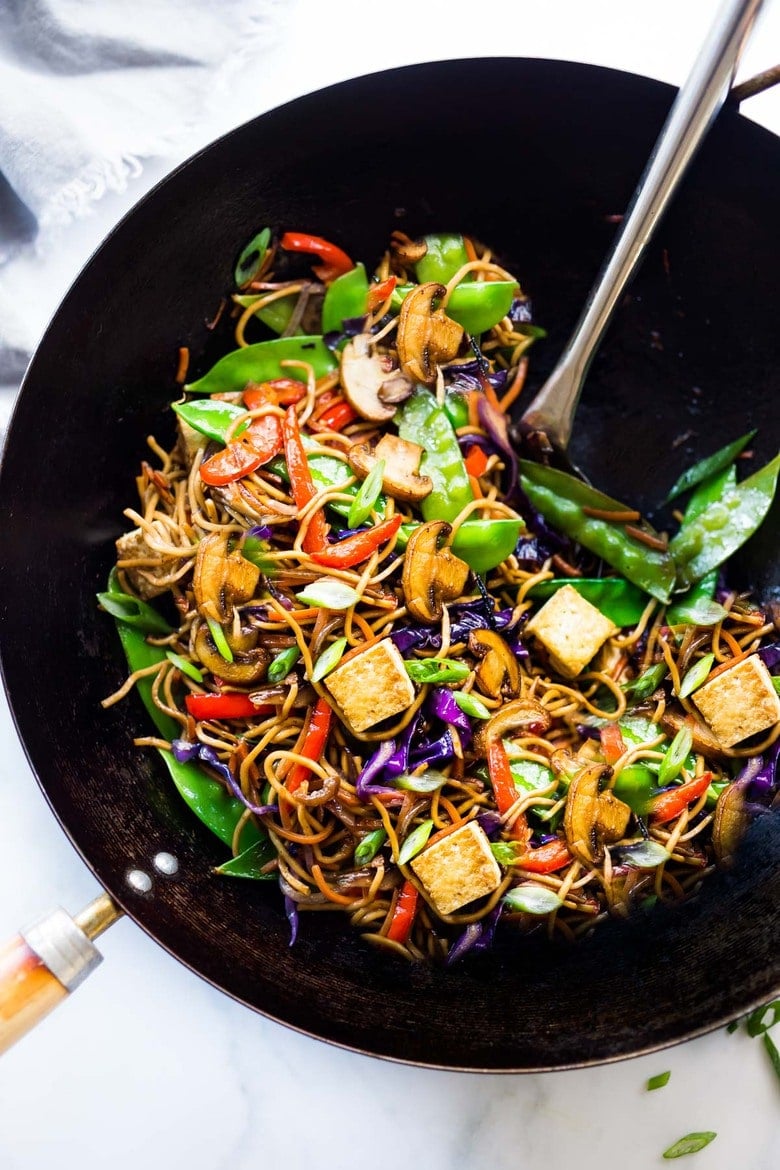 Here's a quick and easy vegan dinner I think you'll like- Veggie Lo Mein Noodles! What I love about this recipe, besides the amazing flavor is how loaded up with fresh vegetables it is! You can adapt these veggies based on the season!
Add mushrooms, shredded cabbage, carrots, snow peas, bell pepper or any other vegetable you feel like chopping up or want to use up. In spring, try adding asparagus. And in winter, this would be good with any leftover roasted veggies you have on hand too! Add crispy tofu (or your choice of protein- see notes) if you like.  Or leave it all out… and opt for a veggie feast! So adaptable and customizable.
The best part? These Lo Mein Noodles can be made in 20 minutes flat!
How to make Veggie Lo Mein! | a 40-second video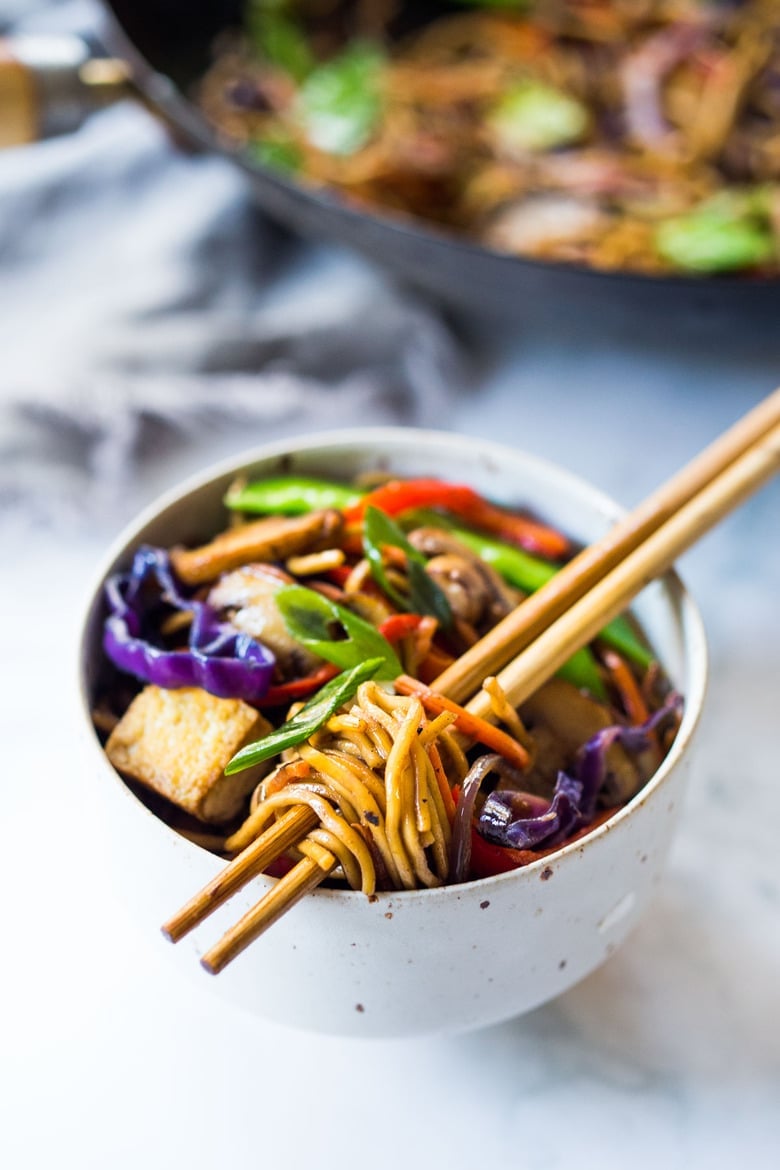 What makes this Lo Mein Recipe so good? THE LO MEIN SAUCE!!! 
I've been testing and adjusting this recipe for months now… after getting a few pointers from our local Chinese Chef.
LO MEIN SAUCE INGREDIENTS: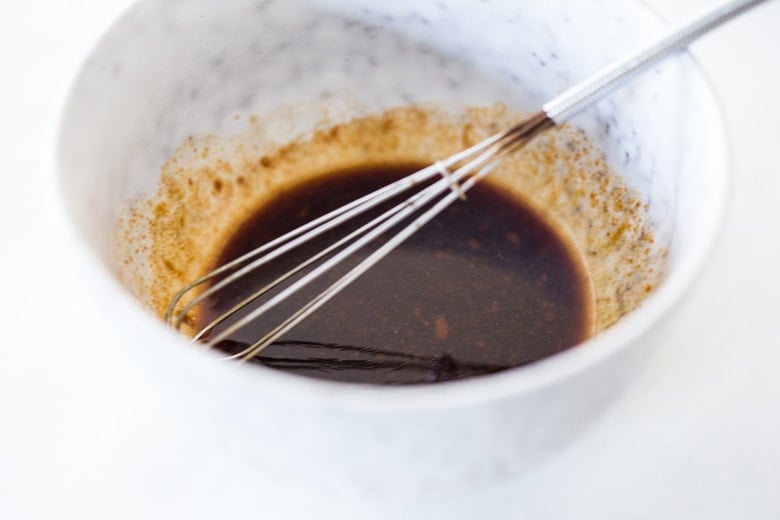 Some of you may be wondering, like my husband….
What is the difference between Lo Mein and Chow Mein?
The main difference between Lo Mein and Chow Mein is in the preparation and oil content – Chow Mein is typically fried with higher oil content and crispy noodles.
Lo Mein is more "saucy" with lower oil content.
Lo Mein tends to be lighter, healthier and lower calories with more veggies than chow mein.
Of course, my husband now wants Chow Mein. The more fattening the better, in his book.  He who burns calories while blinking. 😉
How to Make Lo Mein:
Boil the Loin Mein Noodles according to the directions on the package.
Stir together the Lo Mein Sauce Ingredients together in a bowl.
Prep your vegetables: onion, mushrooms, bell pepper, cabbage, carrots, snow peas or other veggies, etc.
Stir fry the veggies, add the noodles, add the sauce and voila! That is it! Fast and easy!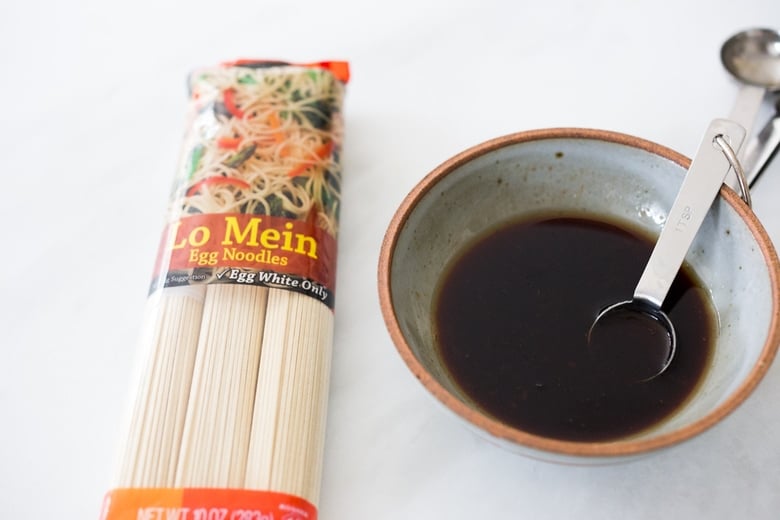 What are Lo Mein Noodles?
Lo mein noodles are generally thin egg noodles. To keep lo mein vegan, use wheat noodles, soba noodles or even linguini.
Cook lo mein in a wok, or an extra-large skillet.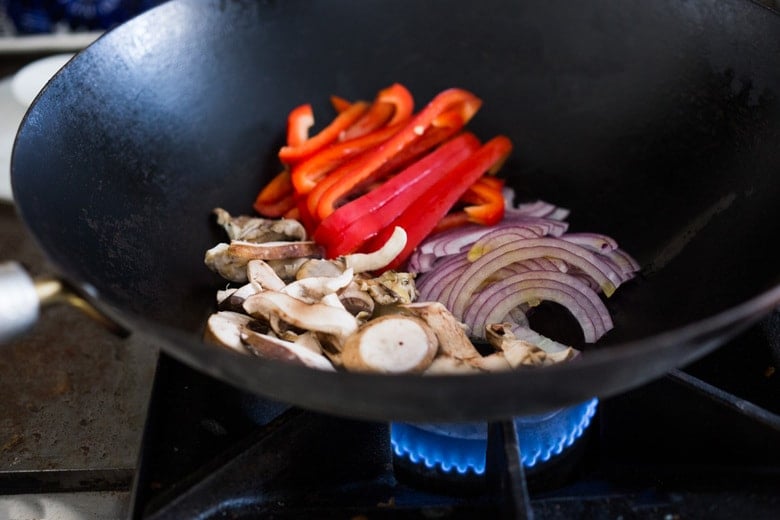 TIP: Once you start the stirfry process, it only takes a few minutes, so make sure everything is prepped and ready to go and sitting near the stove.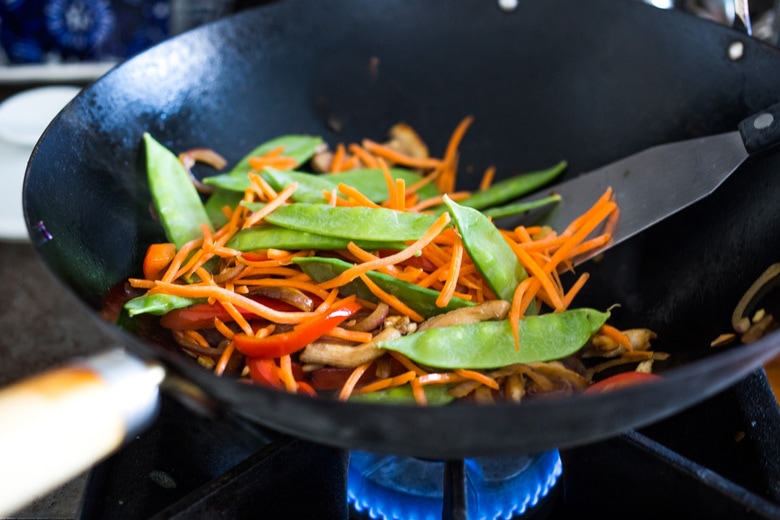 And stir stir stir! And toss and flip.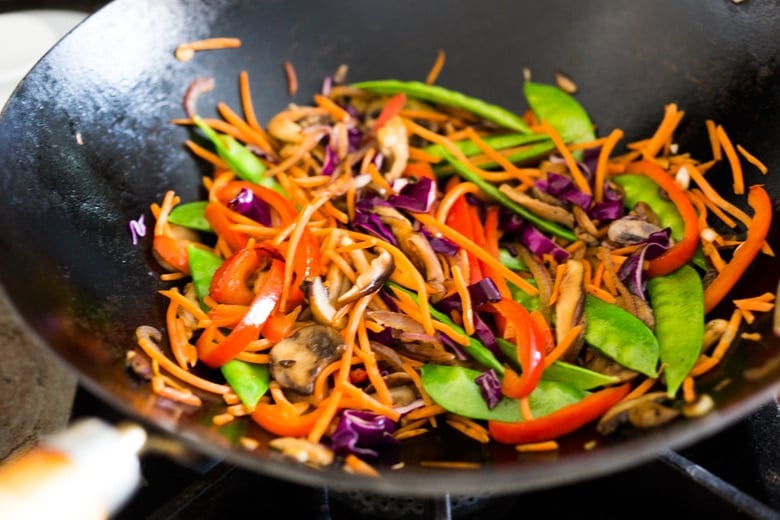 Once the veggies are cooked (yet still crisp) add the noodles.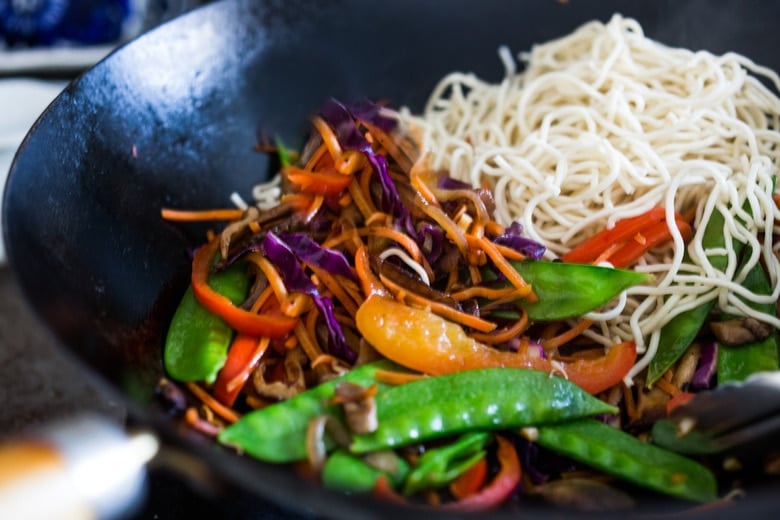 As you can see, this Lo Mein recipe has just as many veggies as it does noodles!
Pour in the flavorful Lo Mein Sauce and toss and stir, for two minutes! If adding tofu or meat, add it in now ( you will have already cooked it- see recipe notes).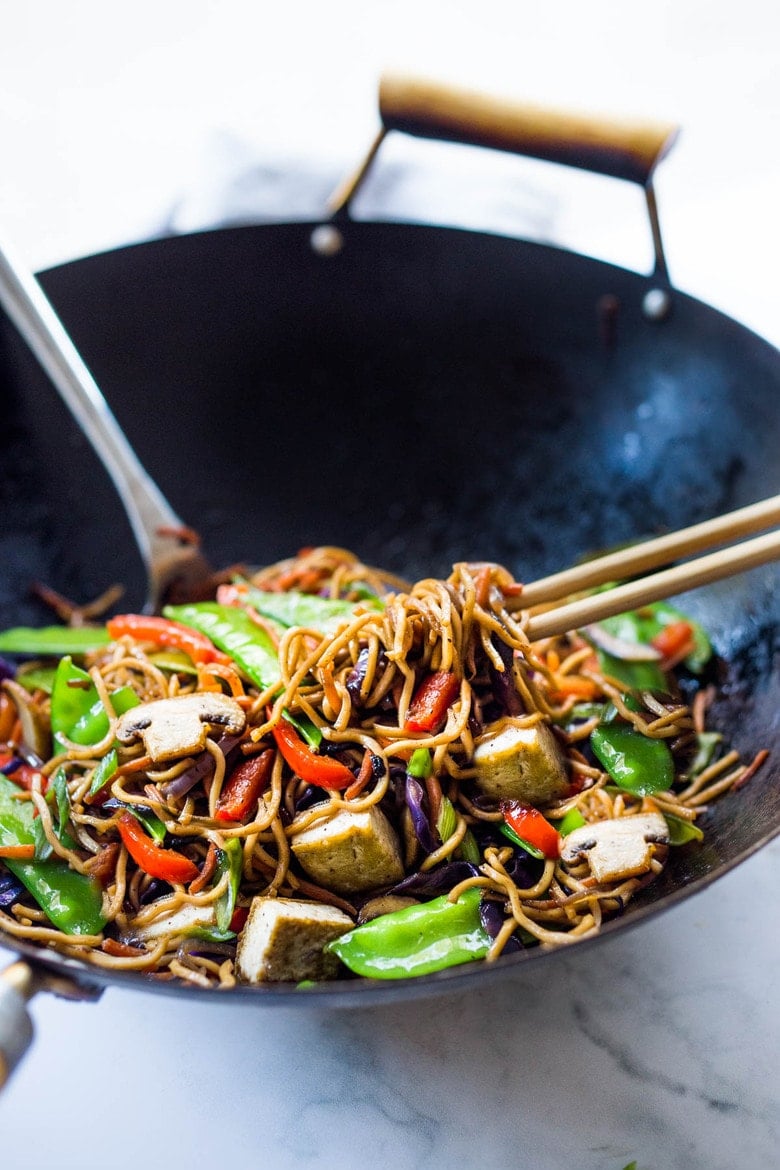 Lo Mein Noodles… so easy, so flavorful! Healthy too.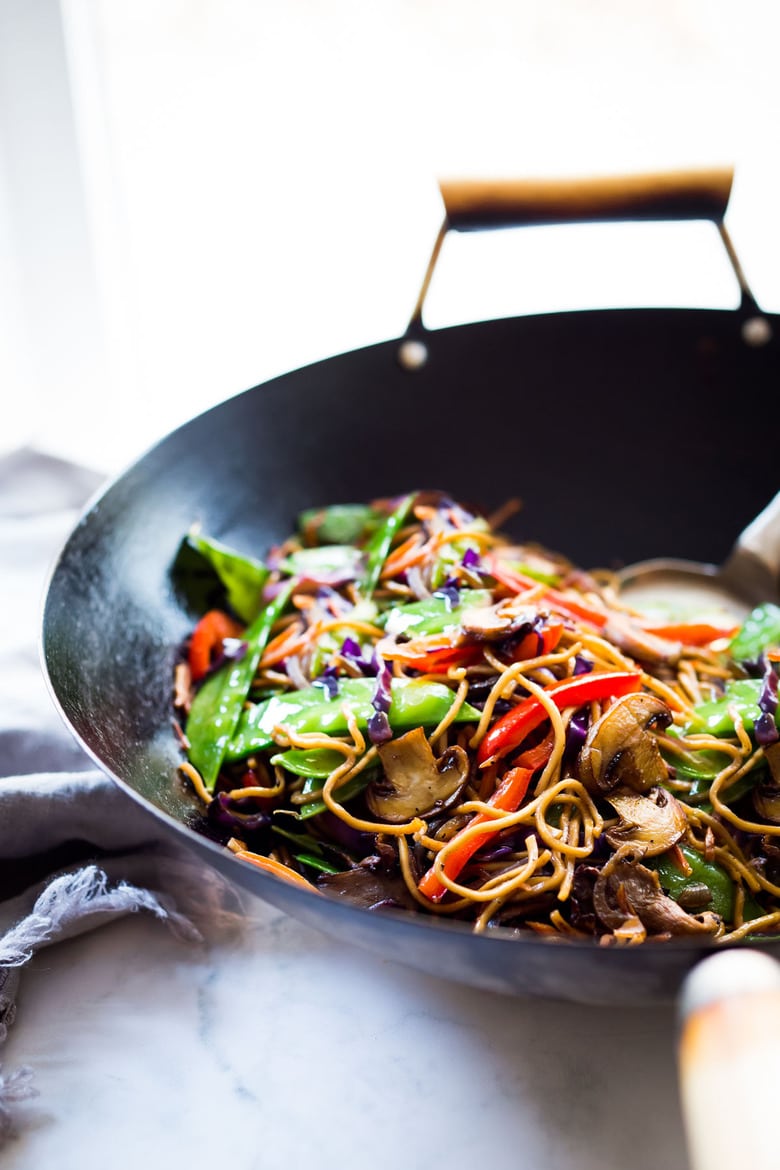 I've been loving this recipe for veggie Lo Mein and I can't wait for you to give it a try! Let me know what you think in the comments below!
Print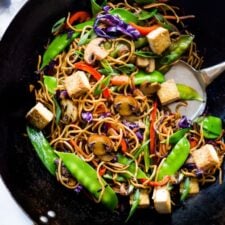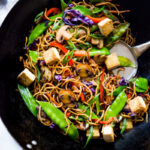 Veggie Lo Mein
Author:

Sylvia Fountaine

Prep Time:

10

Cook Time:

20

Total Time:

30 minutes

Yield:

2

Category:

vegan, weeknight dinner, main

Method:

stove top

Cuisine:

Chinese
---
Description
Fast, easy Veggie Lo Mein that can be made in under 20 minutes. Loaded up with healthy vegetables, this VEGAN dinner recipe is perfect for busy weeknights! Gluten-free adaptable.
---
Ingredients
4-5 ounces dry lo mein noodles – typically thin egg noodles, but sub any noodle you like- soba, GF noodles, whole wheat linguini, etc. If using fresh noodles, weight will be different, basically use enough for two servings.
Lo Mein Sauce:
Lo Mein Stir Fry:
2 tablespoons

wok oil, peanut oil or coconut oil

1/2

an onion, thinly sliced

2 cups

sliced mushrooms

3

garlic cloves, rough chopped

1 teaspoon

ginger, minced

1/2

red bell pepper, thinly sliced

1 cup

matchstick carrots

1 cup

shredded cabbage

1 cup

snow peas
Other options: a handful of baby spinach, bok choy, shredded veggies like brussel sprouts, bean sprouts. In spring, asparagus is nice, in winter, roasted veggies work well too!
Garnish: scallions, sliced
Optional Additions: Crispy Tofu or protein of your choice (chicken, shrimp, beef…etc.)
---
Instructions
Set water to boil and cook the noodles according to directions on the package.
Stir together the Lo mein Sauce ingredients in a small bowl.
Prep any and all veggies and set near the stove.
In a wok or large skillet, heat oil over medium-high heat. Add the onions and mushrooms and saute 3-4 minutes, stirring continuously. Turn heat to medium, add the garlic and ginger and saute 2 minutes. Add the bell pepper, carrots, cabbage and snow peas and stir often, just letting them get tender, but still crisp, 3-4 minutes.
Add the noodles and give a good stir and toss a few times to incorporate.
Add the Lo Mein Sauce and stir and toss continuously 2 minutes. If it gets too dry add a little splash of water to loosen.
Serve in two bowls, garnish with scallions.
---
Notes
Feel free to substitute other veggies, keeping proportions the same.
Classic Lo Mein often includes Oyster sauce, feel free to add or leave it out. Oyster Sauce is not vegan or GF. If leaving out you could, also sub Hoisin Sauce which is usually vegan but not GF.
Classic Lo Mein has a subtle smokiness which is hard to replicate at home. It actually comes from the wok being used over a high-heat restaurant stove. A  few drops of liquid smoke can really mimic this taste. Go light here. I really like it- but up to you. 🙂
If adding tofu, chicken or shrimp or beef, season with salt and pepper and quickly sear in an oiled wok. Set aside. Add at the end with the sauce.
Keywords: lo mein, vegetable lo mein, authentic lo mein, vegan lo mein, best lo mein, vegetable lo mein ingredients, vegetarian lo mein