This is our "go-to" Fish Tacos recipe; fast, easy, and healthy they are topped with a fresh and crunchy fish taco slaw made with cabbage, lime, and cilantro. Video. Vegan-adaptable!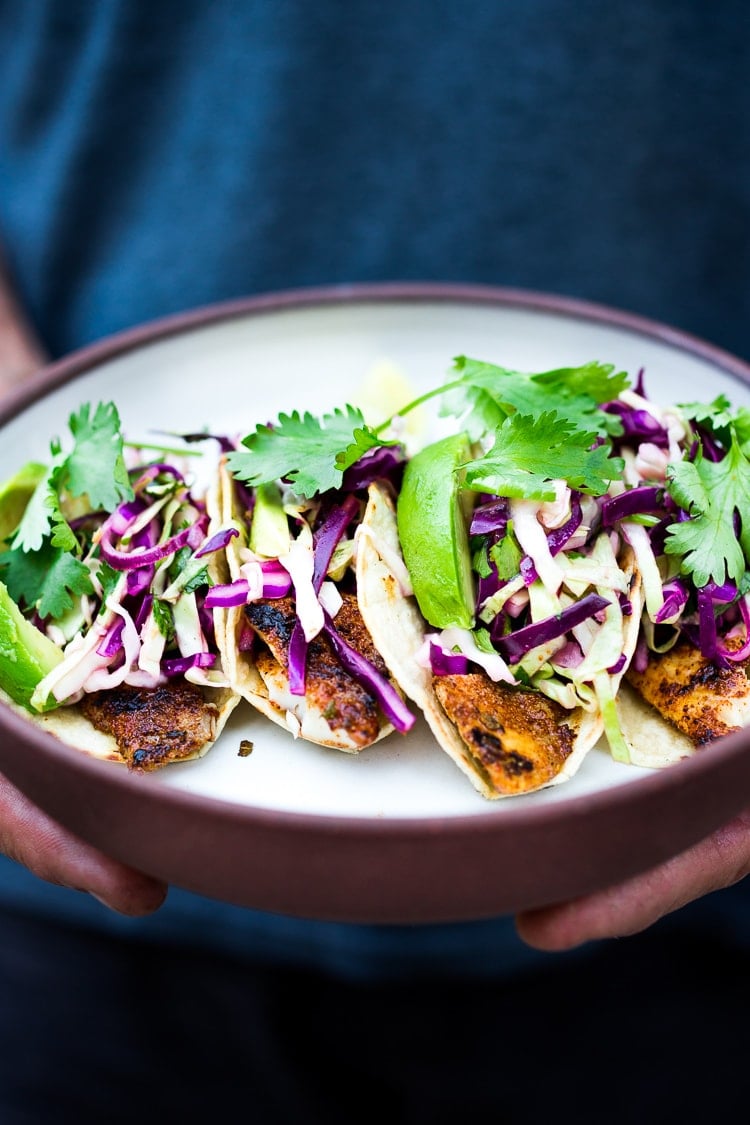 Say hello to one of our favorite meals- Fish Tacos with Cilantro Lime Cabbage Slaw. I kid you not when I tell you we cook these Fish Tacos as often as once a week- they are so tasty and fresh and so darn easy to make. They feel light and healthy too. Give me all the cabbage!
The white fish is perfectly seasoned with blend of Mexican spices, and depending on the season these can be grilled, or baked in the oven or quickly pan-seared on the stovetop.  Paired with the tangy Cilantro Lime Slaw and optional Fish Taco Sauce (Chipotle Mayo) the combination is out of this world! I seriously could eat this every day!
how to make Fish Tacos!| 45-sec video
Why You'll love this!
Fresh, healthy and Flavorful! Full of flavor, and together with the fresh, crunchy fish taco slaw, they are light and healthy too!
Fast and Easy. This meal comes together so fast!
Adaptable! Cook the fish on the grill, on the stovetop or baked in the oven.
Vegan-Adaptable! Make them vegan using TOFU – perfect for mixed households where both vegans and non-vegans live in the same house!
---
Fish Taco Ingredients
White Fish Fillets: tilapia, mahi-mahi, red snapper, black cod, cod, seabass, or even shrimp. Or sub Tofu!
Spice Rub: chili powder, cumin, coriander, garlic powder, chipotle powder, (or smoked paprika and cayenne pepper) salt and a little sugar
Fish Taco Slaw Ingredients: Cabbage, lime, cilantro, fresh jalapeno, salt ( we leave out the mayonnaise here!)
Tortillas: Fish tacos are typically made with flour tortillas, but a blend of flour and corn work well too.
Best Fish Taco Sauce: This Chipotle Mayo is our favorite with fish tacos. Or for something different, try Peruvian Green Sauce (Aji Verde), Vegan Cilantro Crema, Fermented Hot Sauce,
Optional Fish Taco Toppings: Avocado, Cotija Cheese, guacamole, lime crema, sour cream, cilantro, lime, pickled red onions
fish taco INSTRUCTIONS (Step-by-step)
Step 1: Season the fish filets. Stir together the Mexican spices and season the fish generously on both sides. You can also substitute tofu here.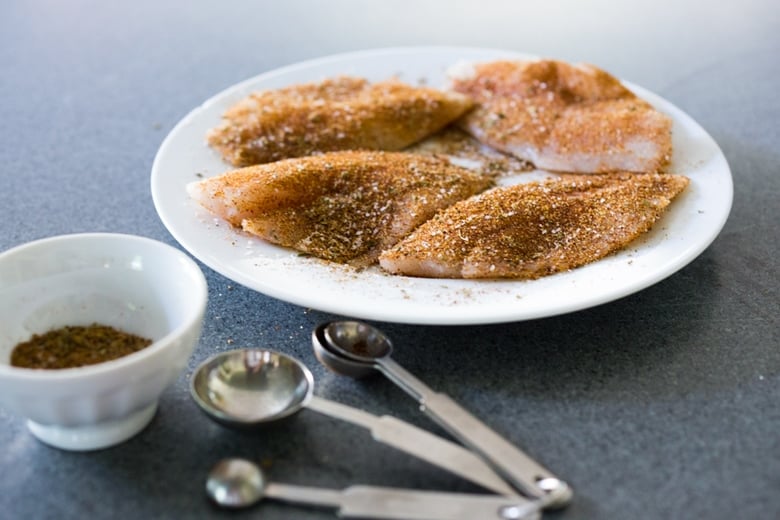 Step 2: Make the Fish Taco Slaw. Either chop the cabbage or buy pre-chopped cabbage in a bag and place this in a medium bowl. Add onion, cilantro, jalapeño, salt, and fresh lime juice and toss well. Store in the refrigerator until ready to serve. The fish taco slaw will last up to 3 days in the fridge, so sometimes I'll make a double batch for other meals.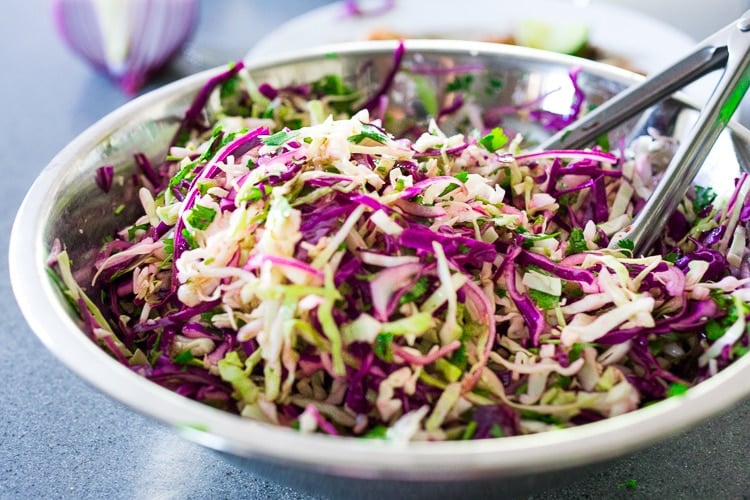 Step 3: Cook the fish. Grill the fish (my favorite), pan-sear it on the stovetop in a cast iron skillet, or bake it in the oven. The sugar in the spice blend helps caramelize it and give it a golden crust.  Squeeze the fish with lime.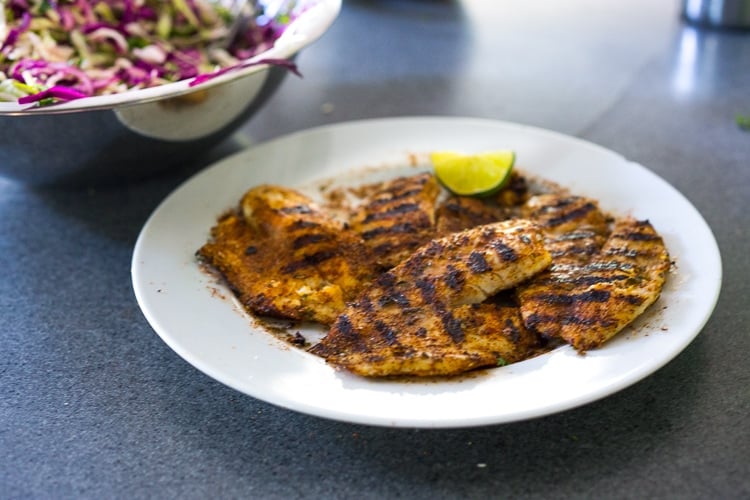 Step 4: Warm the tortillas. If you are grilling, warm the tortillas on the grill, or use the the stovetop, or oven! They are done they start to bubble.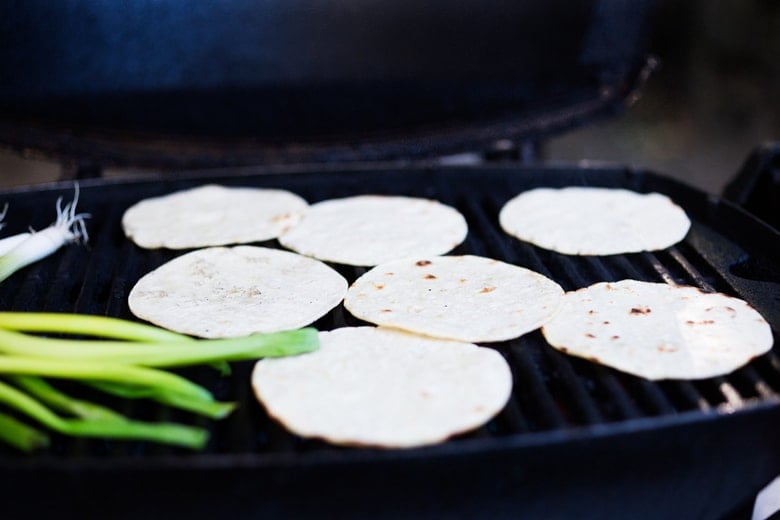 Step 5: Assemble the Tacos. Place the seasoned fish in the warm tortilla, top it with the crunchy, cool taco slaw, drizzle with our Chipotle Mayo, add avocado and cilantro. Serve with lime!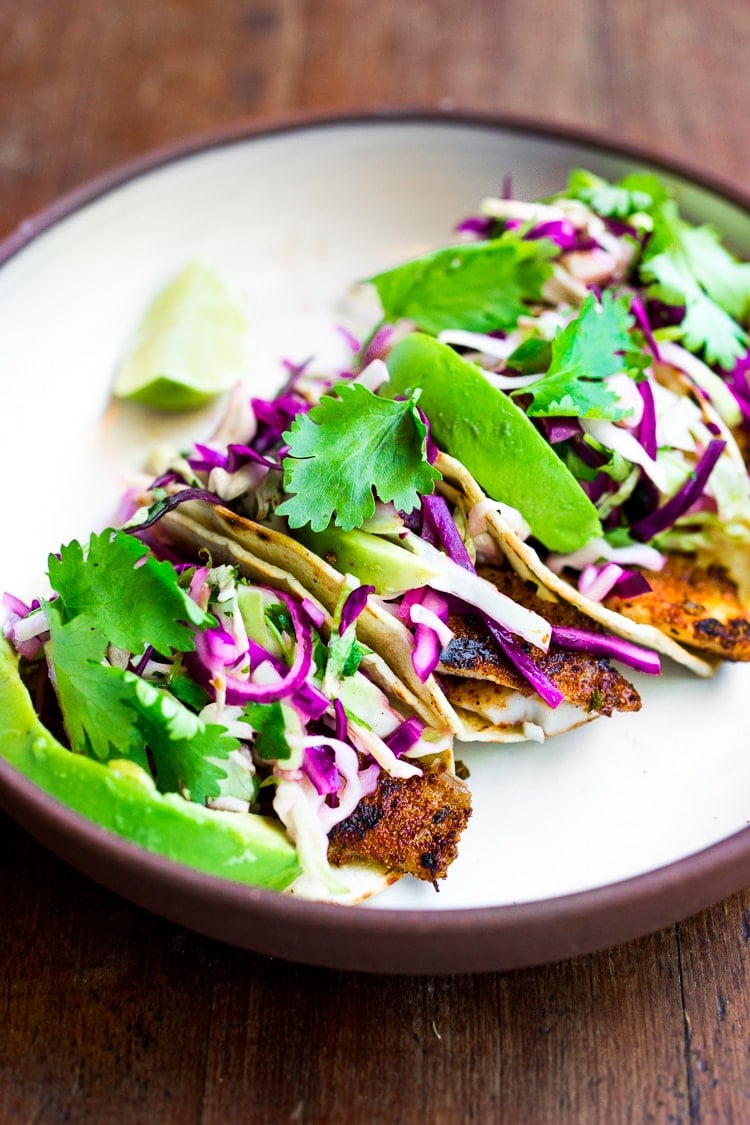 I love how simple and flavorful these fish tacos are while staying clean and lean. And the best thing, the leftovers can be repurposed into lunch or dinner the next day by creating a Buddha Bowl. Add cooked rice or grain to a bowl, and top it with the leftover fish (or tofu) and the Cilantro Lime Cabbage Slaw- which tastes even better the next day!
Fish Taco Toppings
Top Fish Tacos with a fresh fish taco slaw made with shredded cabbage, cilantro, jalapeno and lime. Add avocado, and a creamy Chipotle Mayo or lime crema.
What Sides to Serve with Fish Tacos
Fish tacos are a meal unto themselves but if creating a Mexican Feast, we suggest picking a few side dishes from the list below.
Faqs
What fish is best to use for fish tacos?
Most mild-flavored white-fleshed fish work best in fish tacos. Our favorites include: Tilapia, mahi mahi, red snapper, wild cold, black cod, sea bass, halibut, grouper, and flounder.
What is typically served with fish tacos?
Serve fish tacos with fish taco slaw, chipotle mayo or lime crema, Mexican rice and beans.
Are fish tacos better with corn or flour tortillas?
Fish tacos are typically served with flour tortillas, but using a blend of flour and corn tortillas work well too!
What goes on a fish taco?
Fish tacos are typically topped with a fish taco slaw made with fresh cabbage, cilantro and lime, and a creamy fish taco sauce.
Can these be made vegan?
Yes! Use the same rub on strips of tofu and pan sear!
Types of fish tO use in Fish tacos
When making fish tacos, you can use a variety of fish that have mild flavors and flaky textures. Here are some popular types of fish to consider:
Tilapia: Tilapia is a widely available and affordable option for fish tacos. It has a mild taste and cooks quickly.
Mahi Mahi: Mahi Mahi, also known as dorado, has a firm texture and a slightly sweet flavor. It holds up well on the grill or in the oven.
Red Snapper: Red snapper has a slightly nutty flavor and a medium-firm texture. It can be grilled, pan-seared, or baked for fish tacos.
Wild Cod: Cod is a popular choice for fish tacos due to its delicate flavor and flaky texture. It can be easily grilled, baked, or pan-fried.
Sea Bass: Sea bass has a rich and buttery taste with a firm texture. It works well for grilling or baking in fish tacos.
Black Cod: Black cod, also known as sablefish, has a rich and velvety texture with a mild and buttery flavor. It can be cooked in various ways, including grilling and baking.
Remember, you can always experiment with different types of fish based on your preference and availability. Enjoy your fish tacos!
Enjoy the tacos and please leave your comments and rating below!
Print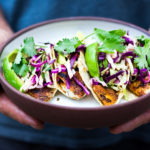 Fish Taco Recipe (with Fish Taco Slaw)
Prep Time:

20

Cook Time:

10

Total Time:

30 minutes

Yield:

8

–

12

tacos

1

x

Category:

main, vegan, fish, tofu

Method:

stovetop, grill, baked

Cuisine:

mexican
---
Description
Our go-to Fish Taco recipe with the best fish taco slaw. Cook on the grill, stove top or oven! Vegan & gluten-free adaptable- sub tofu for the fish! A fast, easy and healthy dinner that comes together in under 30 minutes.
---
1

lb

white fish (tilapia, mahi-mahi, red snapper, halibut, black cod, grouper, flounder) or 1 pound extra firm tofu

8

–

12

x 5-inch flour tortillas (or a blend of flour and corn)
Spice Rub:
Cilantro Lime Cabbage Slaw:
12 ounces shredded cabbage (green and purple is nice) about

6

cups

1/2 teaspoon

kosher salt, more to taste

1/4

cup

thinly sliced red onion, more to taste

1/2

cup

chopped cilantro (packed), 1/2 of a large bunch

1/4

–

1/2

of a jalapeño, finely chopped, more to taste

1/4

cup

fresh lime juice, more to taste

2 tablespoon

olive oil
Sauce options:
Garnishes: Lime wedges, Avocado slices,  Cotija Cheese, Cilantro
---
Instructions
Preheat the grill to medium-high heat or preheat the oven to 400F.
Prep the fish: Pat dry the fish. (See notes for tofu) In a small bowl make the spice rub- stirring the spices and salt together. Sprinkle all sides of the fish lightly with the spice rub (you most likely will not need all). Set aside.
Make the Cilantro Lime Slaw: Place the shredded cabbage in a medium bowl. Toss with the salt. Add the onions, cilantro, jalapeño, lime juice, olive oil and toss well. Adjust lime, salt, and jalapeño,

adding more to taste

– you want this to taste tangy and flavorful.
Make optional Fish Taco Sauce: Make any accompanying sauce. Chipotle Mayo is nice here- feel free to do this ahead. Or sub avocado.
Cook the Fish:  Grill 

Grease the grill well

before placing fish on it. Turn heat to medium. Grill each side for a few minutes, letting grill marks develop and use a metal spatula to flip. Cook until the desired doneness (center is flaky, opaque, roughly 140F)  and squeeze with a little lime juice. OR BAKE: place fish on a parchment-lined sheet pan, bake 6 minutes then flip. Continue baking until cooked through- time will depend on thickness (another 4-6 minutes). Fish is done when opaque in the middle, flakey, and registers 140F in the center. Squeeze with lime juice. Pan-sear: Heat 1-2 tablespoons olive oil in a skillet or grill pan over medium-high heat. Carefully add fish, and sear until golden, 3-4 minutes, flip, lower heat to medium, continue cooking until cooked through- until center is flakey, opaque. Timing will depend on the thickness of the fish. Squeeze with lime.
Heat the tortillas– either quickly grill the tortillas on the grill, in the oven directly on the oven rack, or directly over a gas flame (on the stovetop).
Assemble Tacos: Place fish in the warm tortillas, top with cabbage slaw and any garnishes. Drizzle with the optional (but delicious)  Chipotle Mayo if you like.
Serve immediately!
---
Notes
TIP: To make this recipe a little faster, buy pre-shredded cabbage, and make the spice rub ahead, and any sauces you plan to use, ahead.
TOFU: If using tofu, place a block of firm tofu on paper towels and press down gently to release more liquid, patting dry. Cut into 1-inch thick,  3-inch long strips for easier grilling. Coat strips lightly with spice rub, grill on a well-greased grill, or pan-sear the tofu, in a skillet with olive oil until crispy, or bake the tofu (spray the seasoned tofu with olive oil spray before baking) until golden crispy, approx 30 mins.
The Cilantro Lime Cabbage Slaw is enough for 2 pounds of fish ( feel free to halve) but I like to make a big batch and keep the leftovers – and use it on everything (bowls, sandwiches, wraps, side salad…) during the week. If your slaw tastes bland- add more lime and salt. 😉
Left-over fish will keep up to 3 days in the fridge. Great in bowls, wraps, etc.
Nutrition
Serving Size:

2 tacos (without sauce)

Calories:

233

Sugar:

2.1 g

Sodium:

163.2 mg

Fat:

7.2 g

Saturated Fat:

1.2 g

Carbohydrates:

29.2 g

Fiber:

3.9 g

Protein:

15.5 g

Cholesterol:

29.2 mg
Keywords: fish tacos, fish taco slaw, fish tacos recipe, fish taco recipe, easy fish tacos, grilled fish tacos, fish tacos with taco sauce, fish tacos with cilantro lime sauce, baked fish tacos, pan-seared fish tacos,