An authentic recipe for Birria, a flavorful Mexican Stew made with beef, lamb or goat, that can be cooked in an Instant Pot, Dutch Oven or Slow Cooker. Serve as a stew- in a big bowl or make Birria Tacos – the best! Watch the video below!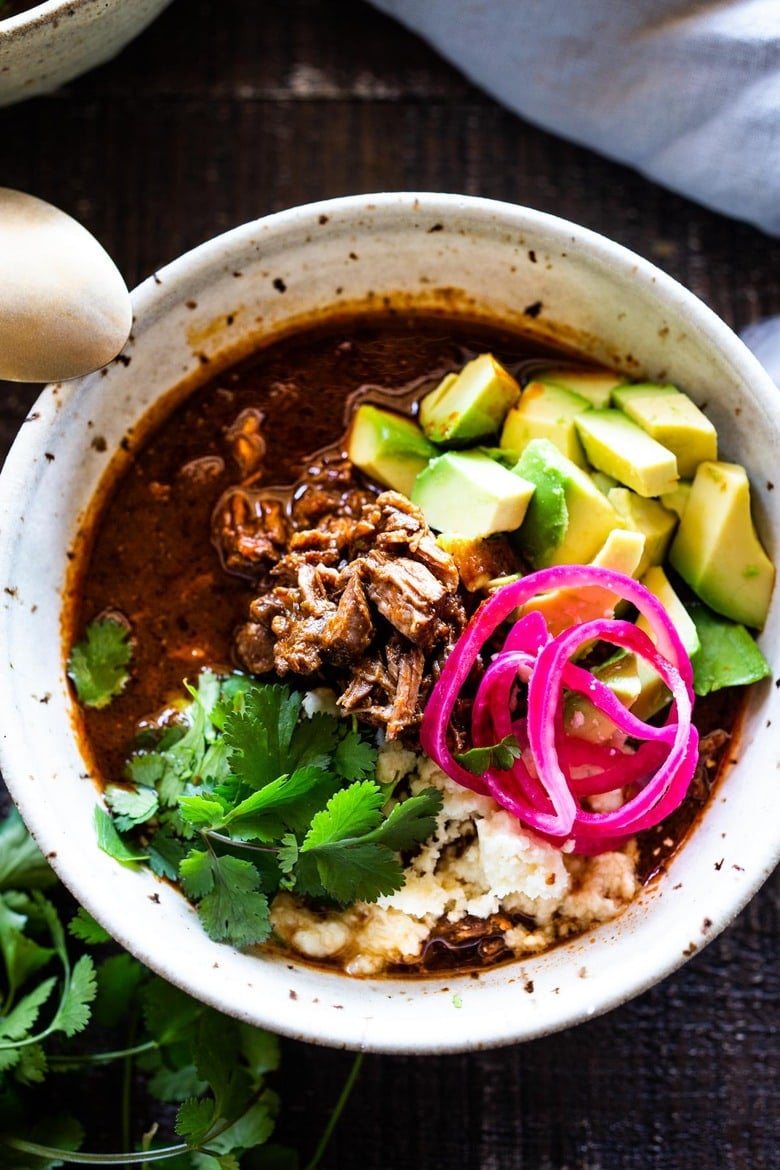 Divine guidance always arises like a whisper. It does not yell and it does not insist. It is a quiet thing. We cannot hear the whispers of divine guidance until we have embraced who we are. ~Adyashanti
Oh hello Birria! (Pronounced "beer-ya" with a lovely rolling rrrrr.) Turns out Birria, though hailing from Mexico, is all the rage down here in Southern California. And it's not hard to see why. Tough cuts of meat are cooked until tender and juicy with flavorful chilies and Mexican spices. Traditionally goat is used, but more often here in the states, we see it with lamb or beef.
Using an Instant Pot takes a third of the time and yields the tenderest of meat in about 45 minutes of pressure cooking time. You can also roast this in a dutch oven or simmer on the stove for about 3 hours. Lastly, you can cook this in your slow cooker for 6-8 hours. Lots of options here friends.
Serve Birria up like a stew, topped with all the good stuff (pickled onions, queso fresco, cilantro, avocado) or make Birria Tacos, also super delicious.
Watch how to Make Birria! |a 60-second Video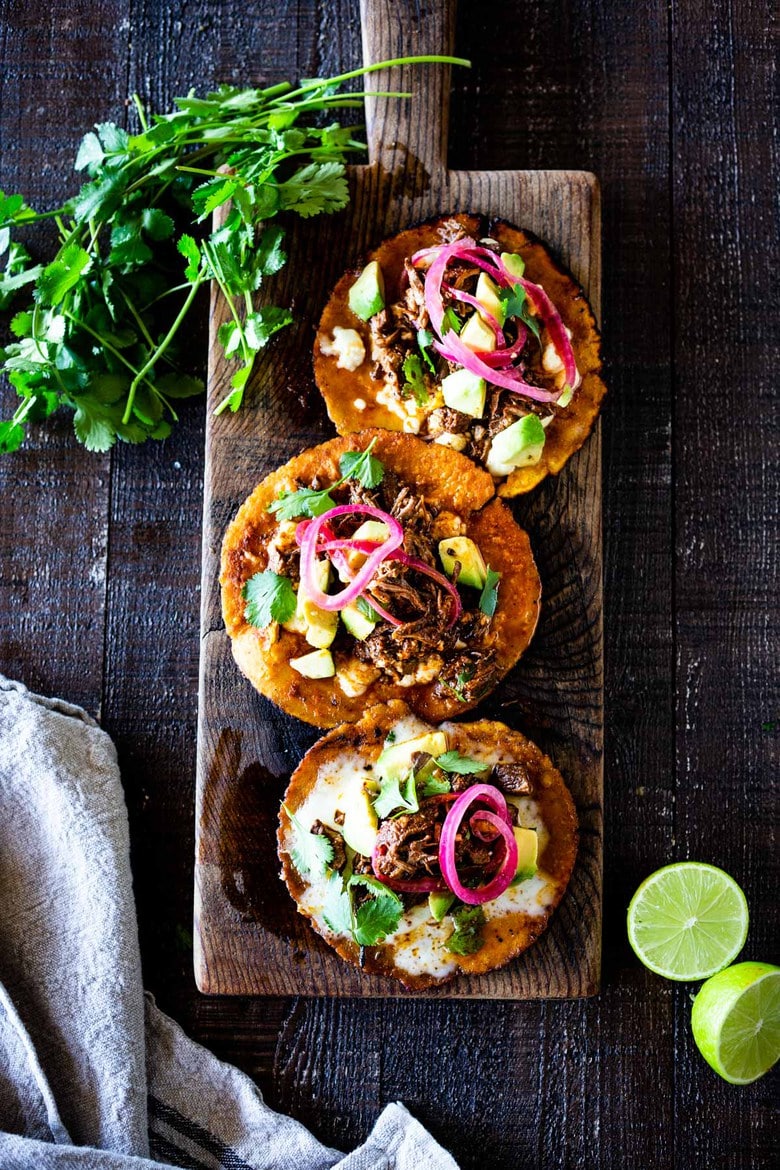 What are Birria Ingredients?
Stew meat (You can use beef, lamb or goat)
chicken or beef broth
dried guajillo chiles
dried Pasilla chilies
onion
garlic
diced tomatoes
vinegar
spices!!!
Optional Garnishes: Cilantro, Lime, chopped onions, radishes, cucumber, pickled onions, Hot Sauce, Mexican cheese, avocado, sour cream. Chipotle Mayo, Fresh Tomatillo Salsa
Serve with: Tortillas, Cilantro Lime Rice, Mexican Pinto Beans, Mexican Slaw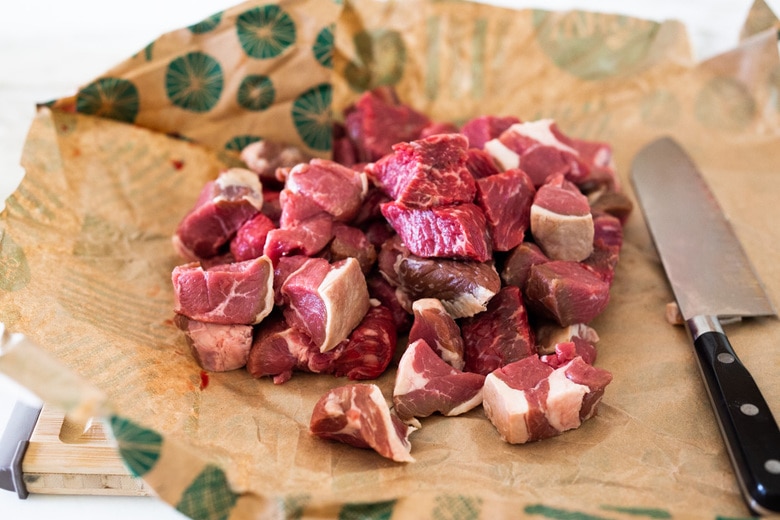 It starts with seasoning the meat with salt. Here I'm using a combo of beef and lamb stew meat. A good rule of thumb is 1 teaspoon salt per pound of meat.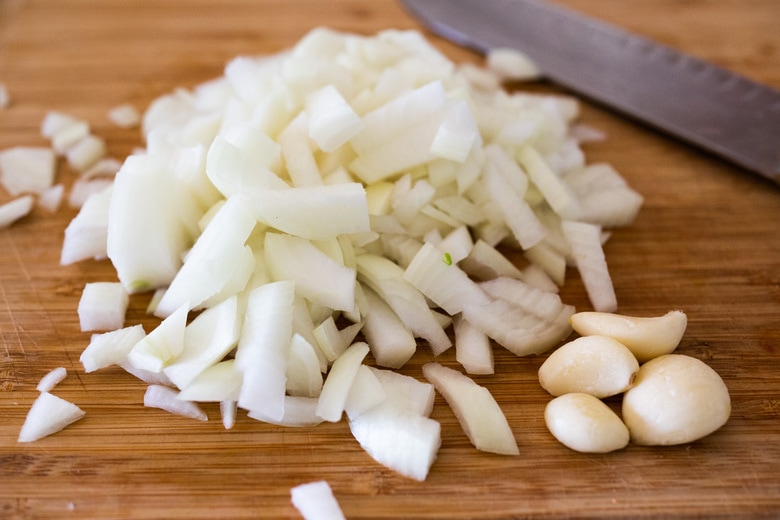 Chop one onion and 4-6 garlic cloves.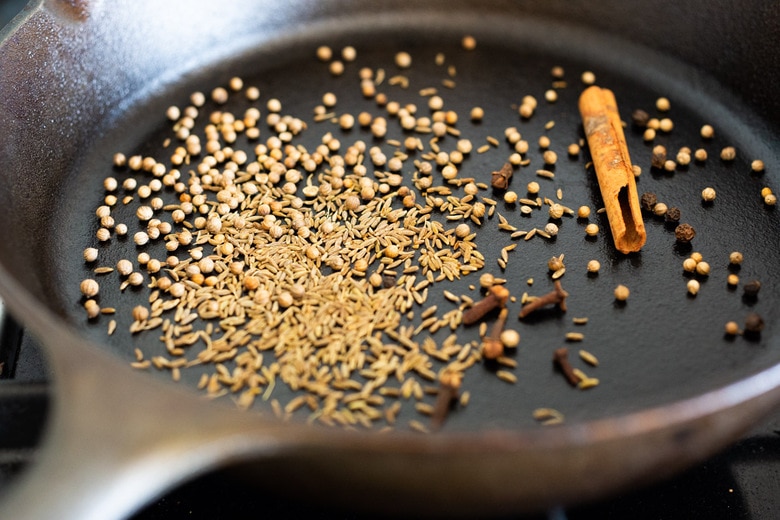 Toast the Spices! Birria has the best flavor when you use whole spices and toast them – cumin, coriander, cloves, and cinnamon. But in a pinch, ground spices work well too.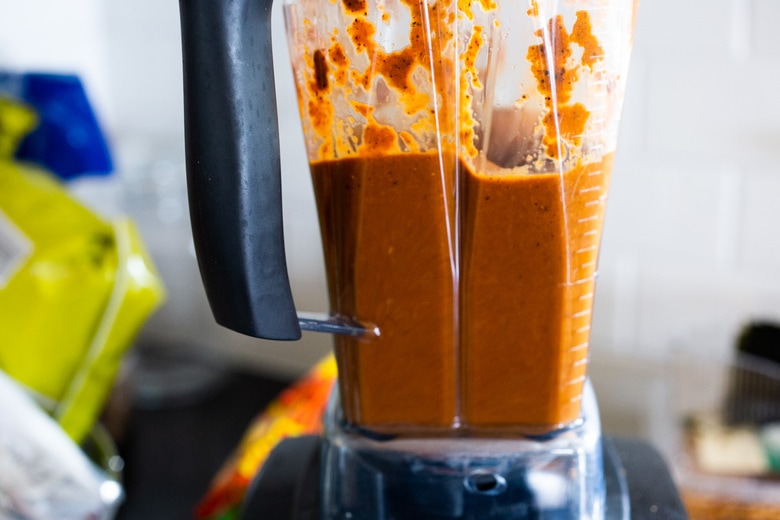 Make a Paste! You'll toast dried chilis, hydrate them in hot broth and blend into a paste for the flavorful broth.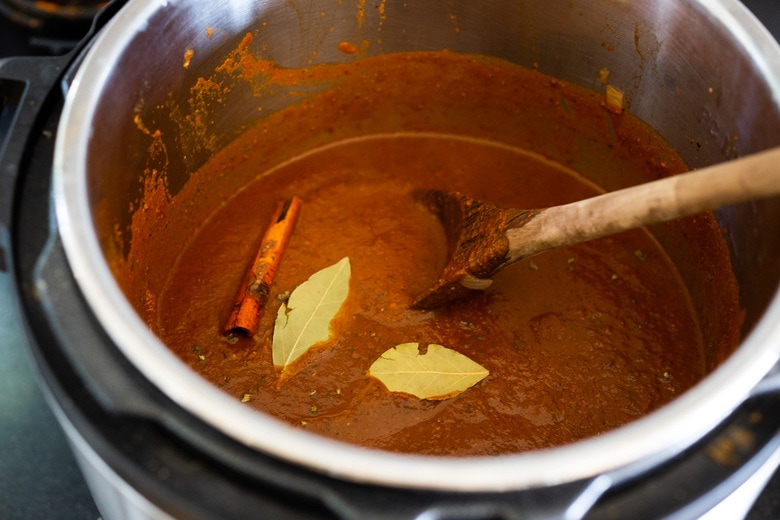 Here I'm cooking everything in an Instant pot– which turned out surprisingly easy and fast! Of course, you can do this on your stovetop in a dutch oven, in the oven or in a slow cooker.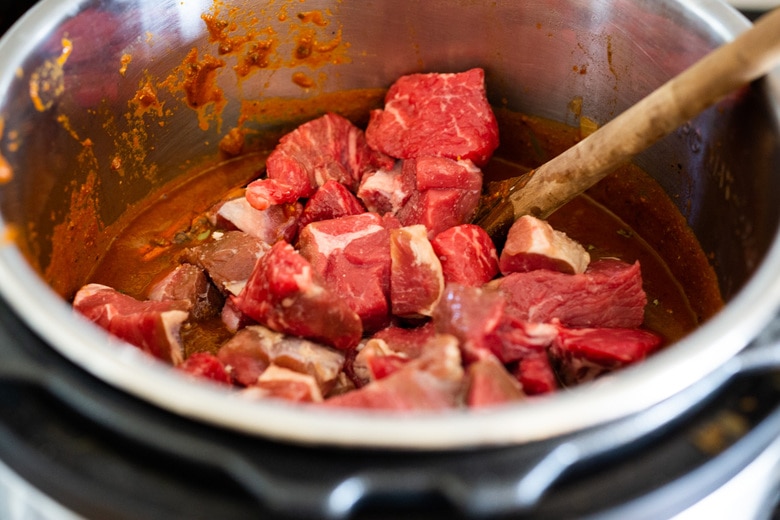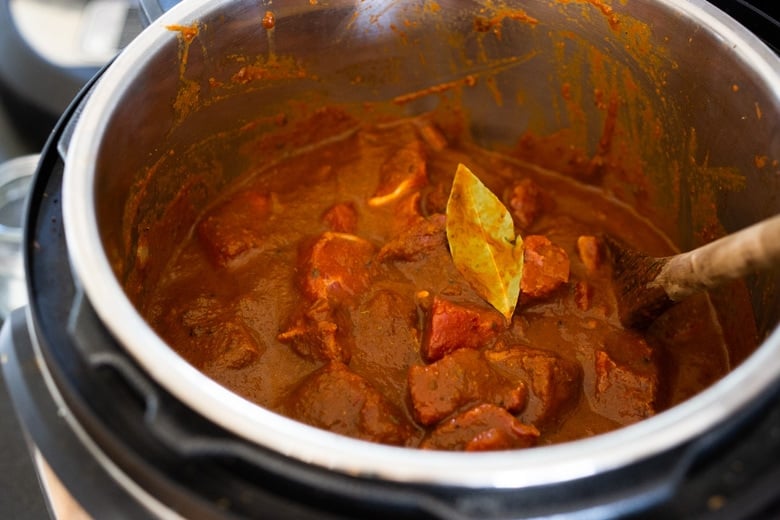 After 45 mins of pressure cooking the meat is tender and easily shreddable.
Shred with two forks and place back into the flavorful juices.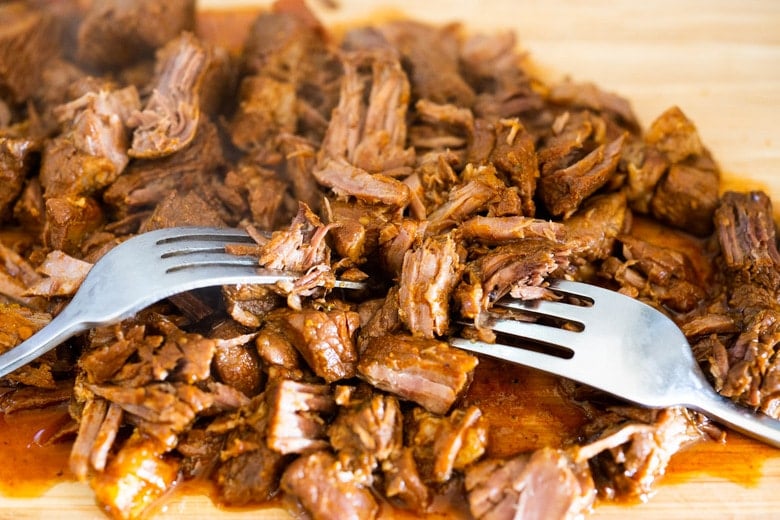 From here, you can simply serve as a stew, dividing among bowls. For a brothier soup, add more chicken stock and season with salt to taste.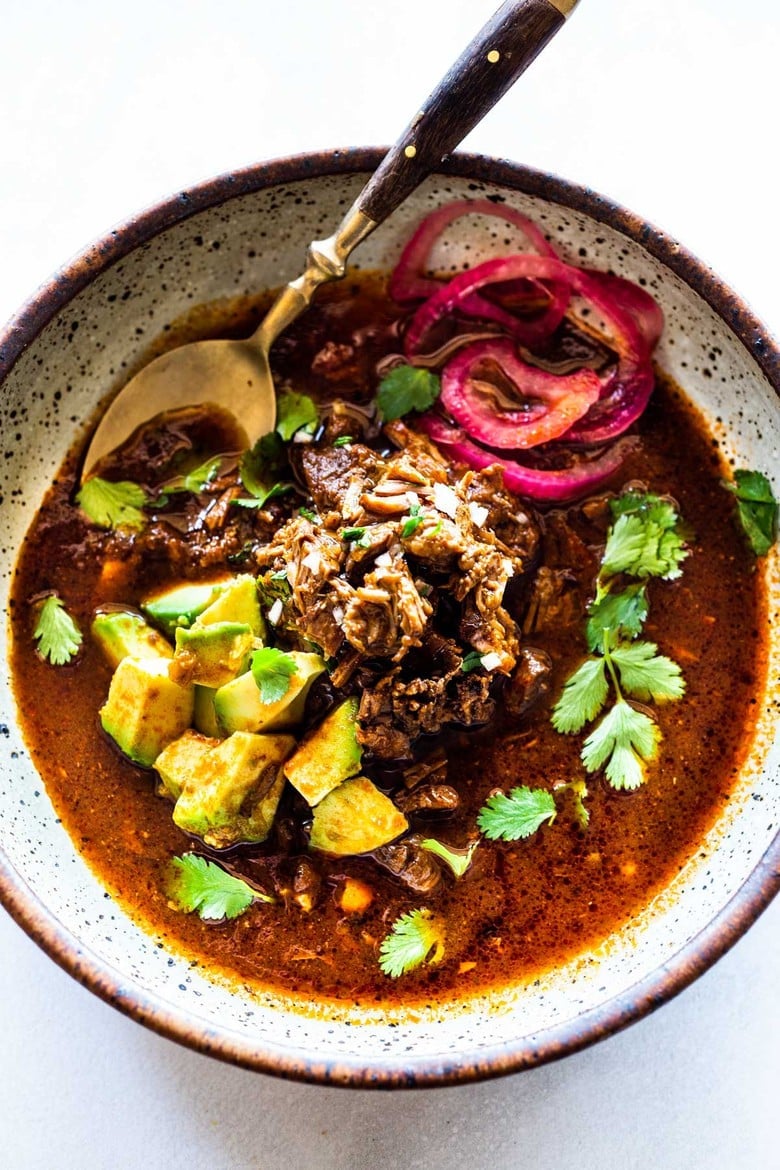 Top with cilantro, onions or pickled onions, queso fresco if you like or sour cream and avocado is nice. Radishes are also a nice touch.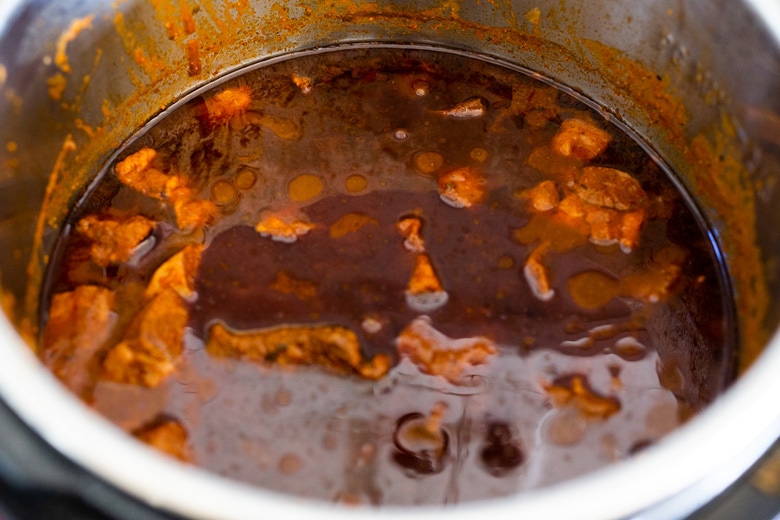 Now to make the traditional Birria Tacos- dip tortillas right into the flavorful fatty broth at the top, then onto a greased griddle, flat top, or skillet. This will also help to skim some of the fat from the stew itself.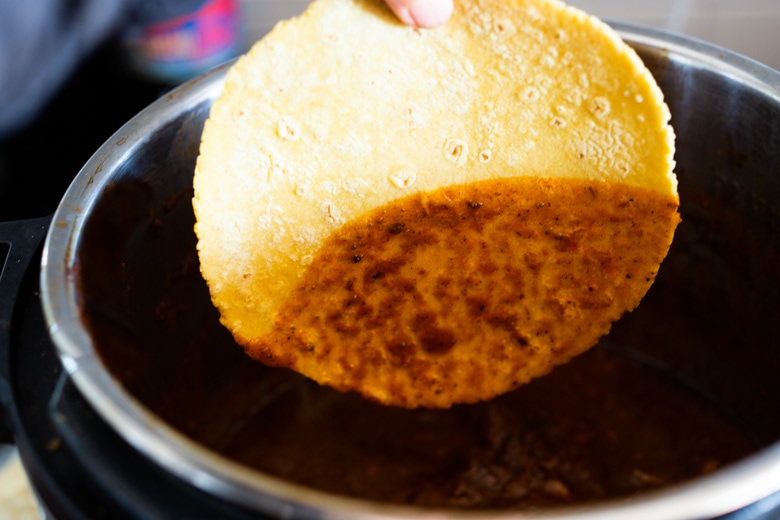 See notes about removing fat.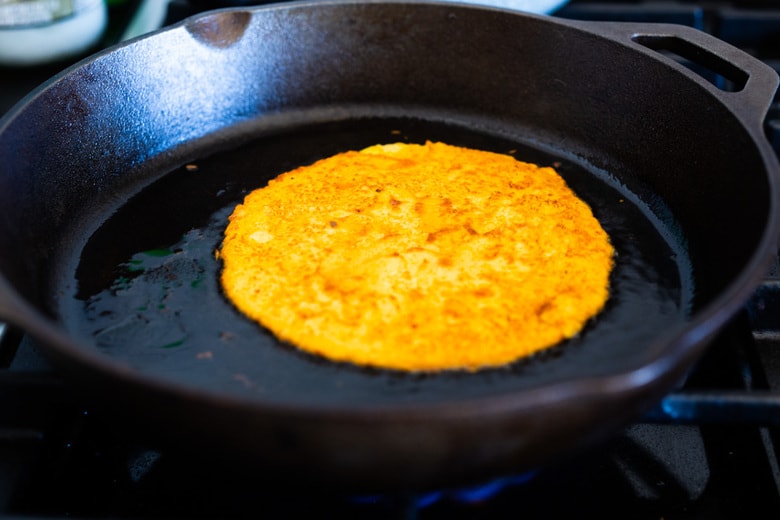 Flip, then top with melty cheese and some Birria. Both queso fresco or Oaxacan string cheese works great here.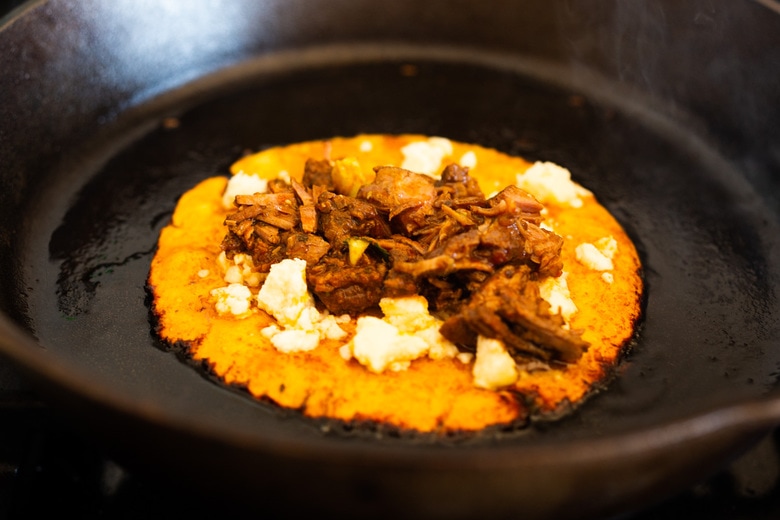 Then top the Birria Tacos with all your favorite fixings.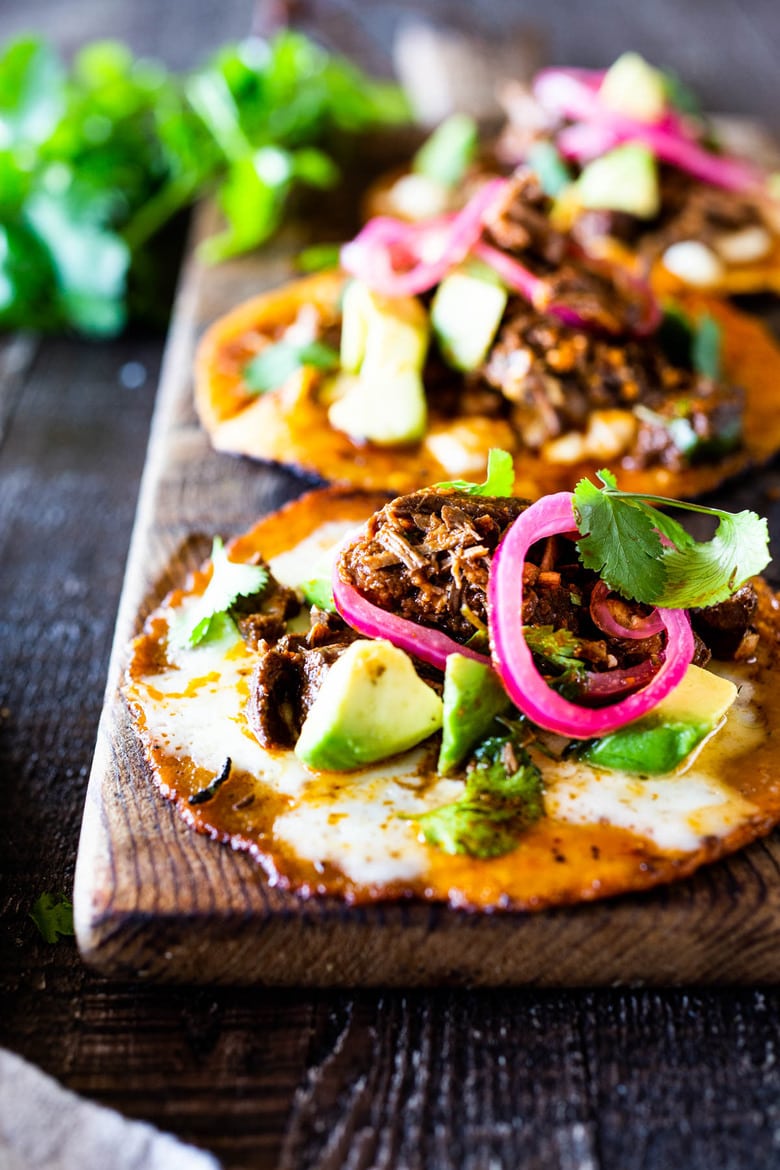 The leftover Birria can be used in enchiladas, quesadillas, nachos, or even frozen for another time.
Serve Birria with any of the following:
I hope you enjoy this Birria Recipe as much as we do! Please let me know what you think in the comments below!
You may also enjoy:
Print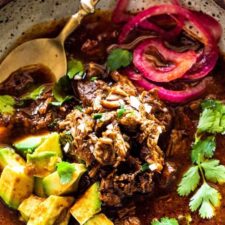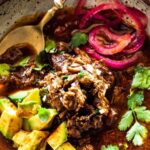 Birria Recipe
Author:

Sylvia Fountaine

Prep Time:

30

Cook Time:

60

Total Time:

1 hour 30 minutes

Yield:

8

Category:

Stew, beef, lamb

Method:

Instant Pot, Baked, Slow Cooker

Cuisine:

Mexican
---
Description
How to Make Birria- a traditional Mexican Stew (with Beef, Lamb, or Goat) in an Instant Pot,  Dutch Oven (Baked or Stovetop), or in a slow cooker. Serve in a bowl as a hearty stew, or use inside tacos. Great for meal prep and freezes well. Serve with Cilantro Lime Rice and Mexican Pinto Beans
---
3

lbs stew meat (beef, lamb or goat) cut into 1- 2 inch pieces

1 tablespoon

salt
pepper to taste
——
2 cups

chicken or beef broth

4

 dried guajillo chile (see notes) 

2

dried Pasilla chilies (optional)
——-

1

–

2

tablespoon olive oil

1

large onion, diced

6

garlic cloves, roughly chopped

1

14-ounce can diced tomatoes, preferably fire-roasted (and juices) or 1 1/2 cups fresh, diced tomatoes

3 tablespoons

vinegar (white or apple cider)

1 tablespoon

 dried Oregano(or thyme)

2

bay leaves

1/2 teaspoon

allspice
optional: 3-inch piece of orange zest ( 1/2 inch wide) use a veggie peeler
optional: (not traditional) 1-2 canned chipotle peppers or 2-3 tablespoons adobo sauce (from the can) for a smoky flavor.
Toasted Whole Spices
Optional Garnishes: Cilantro, Lime, chopped onions, radishes, cucumber, pickled onions, Hot Sauce, Mexican cheese, avocado, sour cream. Chipotle Mayo, Fresh Tomatillo Salsa
Serve with: Tortillas, Cilantro Lime Rice, Mexican Pinto Beans, Mexican Slaw
---
Instructions
Read all the way through before starting. 🙂
Season meat with salt and pepper and set aside.
Toast and rehydrate chilies: Break dry chilies apart, remove stems and most seeds, and toast them in a dry large skillet over medium-low heat until fragrant and slightly darkened (do not burn- or they get bitter!). Place toasted chiles in a small pot with the chicken broth, bring to a simmer, cover, and let stand 20 minutes covered, turning the heat off, until softened.
In the same warm skillet, toast any whole spices you are using-cinnamon stick, cloves, cumin, coriander, peppercorns– until it smells amazing- 1-2 minutes, turn the heat off, set aside.
Saute: Heat oil in Instant pot on SAUTE setting, (or large Dutch oven over medium heat) and add onion and garlic, stirring and sauteing until fragrant, tender and golden. Add tomatoes and their juices,, simmer 2-3 minutes until tomatoes are breaking down, then add vinegar, oregano, the toasted cinnamon stick, (or ground cinnamon) bay leaves and allspice. Stir and scrape up any browned bits (important, to prevent burn error) using a wood spoon. Turn heat off.
Place the rehydrated chilies and broth to the blender along with the toasted spices plus roughly one cup of the tomato mixture from the Instant Pot (leave the rest of the tomatoes in the instant pot).  Place a towel over the blender lid, and hold it firmly down (to prevent a blender explosion!), starting on low, and increasing to high, blending until smooth. Turn blender off.  (At this point you could add the canned chipotle peppers if using. 1-3 peppers will suffice, or for milder, just use the adobo sauce out of the can.) Blend again till very smooth.
Pour this flavorful sauce back into the instant pot or Dutch oven and stir. Add the salted meat and stir to coat well. Feel free to add a piece of orange zest if you like.
INSTANT POT: Set instant pot to 45 minutes on high pressure. Let it naturally release. Shred the meat using two forks. You can skim the fat if you like, or use it for dipping tortillas, before frying them (traditional).
Dutch Oven: If using a dutch oven,  cover tightly, and either simmer on the stove over medium-low heat, 3 hours or bake in a 350F oven, 3 hours.  

Check at hour 2, for dryness

, adding a little more broth if you think necessary.
SLOW COOKER: You could also place this in a slow cooker for 6-8 hours.
Season: After the meat is shredded and mixed back into the cooking liquid, stir in the honey. Taste, adjusting the salt, honey or vinegar to your liking. Sometimes I'll add a little more ground cinnamon or cumin to taste.
Serving Options:  BOWL OF STEW: you could serve this as a hearty stew (feel free to thin this out with a little more broth if you prefer) in a bowl, topped with cilantro, radish, cucumber, chopped onion or pickled onion, cotija cheese or sour cream and lime. (Fresh chopped things add good texture.)
TACOS: You can use Birria as a taco filling. Often you'll see (Food truck versions) the tortillas dipped into the rich broth, before being fried in a skillet, covered in melty cheese (Oaxacan string cheese) then filled with the Birria and all the fixings'.  Decadent, but amazing!
---
Notes
If cooking in a Dutch oven, preheat oven to 350F
SPICES: sub 1 teaspoon cinnamon (for cinnamon stick) and 1/2 teaspoon ground cloves
Use dry mild chilies like Guajillo and Pasilla Chiles, to add flavor and depth – but not too much heat. (Feel free to use other dried chilies, paying attention to heat level.) Add Chipotle for more heat and smoky flavor. If you want a milder stew, I suggest using only Guajillos (like 6). You can always add more spice at the end (cayenne, chili flakes, chipotle powder) if not sure. Using dried chilies really makes this dish. 
If you prefer a brothier stew, you can always add more chicken or beef broth at the end of cooking, seasoning with a little more salt.
MEAT: I used a mixture of lamb and beef. Tougher cuts of meat work great here like stew meat. Shoulder, shank, leg, etc. Goat meat is traditional.
FAT: This can be made ahead; cooled – the fat will solidify, and then can be removed more easily if going for a leaner version.
Keywords: Birria Tacos, Birria Recipe, How to Make Birria, Instant Pot Birria, Slow Cooker Birria, Beef Birria, Lamb Birria