This authentic recipe for Birria has the best flavor. Tender, flavorful Mexican beef or lamb stew is spooned into tortillas with melty cheese, pickled onions, avocado and cilantro. Birria can be cooked in a dutch oven, a slow cooker or in an Instant Pot. Video.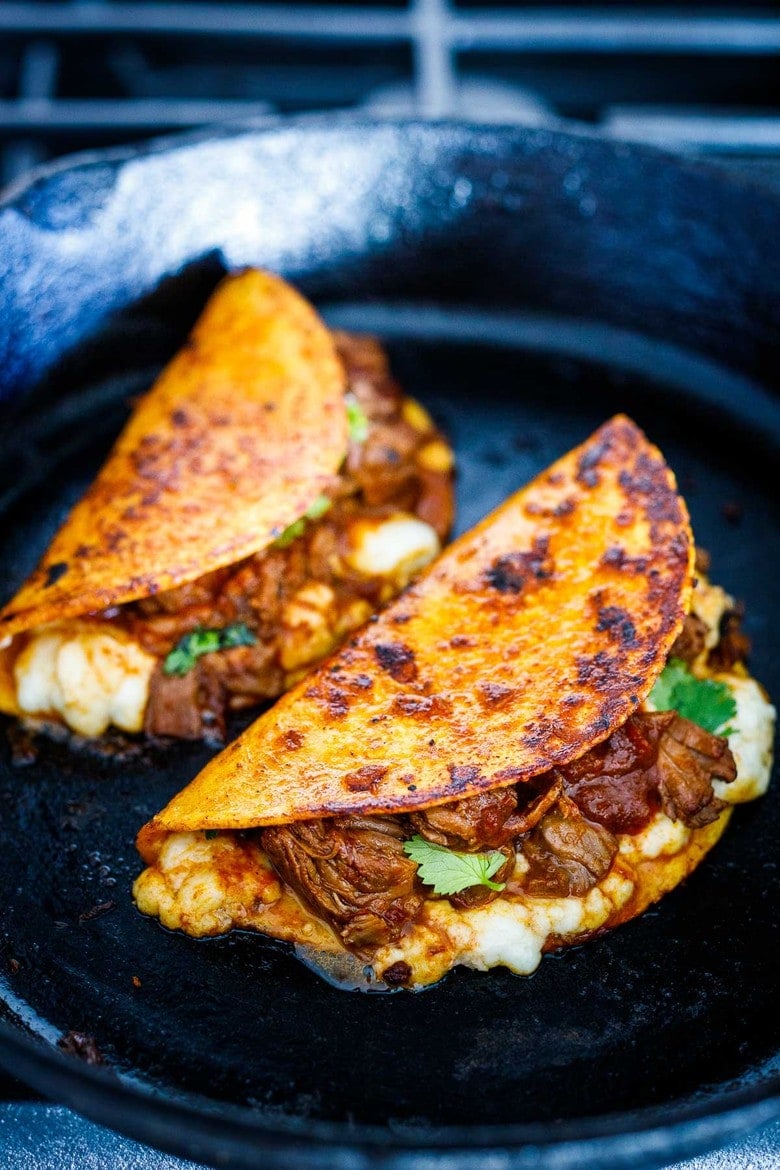 Divine guidance always arises like a whisper. It does not yell and it does not insist. It is a quiet thing. We cannot hear the whispers of divine guidance until we have embraced who we are. ~Adyashanti
What is Birria?
Birria is a Mexican stew, typically made with beef, lamb or sometimes goat. Tough cuts of meat are cooked long and slow until tender and falling off the bone. Infused with Mexican chilies and spices, the stew can be served in bowls or used as the filling for Birria Tacos, where tortillas are dipped in the flavorful stew juices, stuffed with birria meat, melty cheese, pickled onion and cilantro and fried. A total flavor bomb!
Using an Instant Pot takes a third of the time and yields the tenderest of meat in about 45 minutes of pressure cooking time. You can also roast this in a dutch oven or simmer on the stovetop for about 2 1/2 hours. Lastly, you can cook this in your slow cooker for 6-8 hours. Lots of options here friends!
How to Make Birria Tacos | Video

Ingredients in Birria
Beef or Lamb- Tougher cuts of red stew meat work well here and will tenderize in the flavorful sauce. Beef stew meat, chuck roast, or beef shoulder, lamb leg, lamb shoulder,lamb stew meat or goat meat all work great.
beef stock (or sub chicken stock)
Dried Mexican chilies- guajillo chiles or ancho chilies, or Pasilla chilies, chipotles, etc)
onion and garlic
diced tomatoes– canned fire-roasted or fresh.
Mexican Spices: cumin, coriander, oregano, bay leaves, chile powder, chipotle, cinnamon stick
Salt and pepper
Serve with tortillas, melty cheese, pickled onions, cilantro and avocado.
How to make Birria:
Heat oil in a dutch oven and saute the onions and garlic.
Add the all the spices, and saute a few minutes.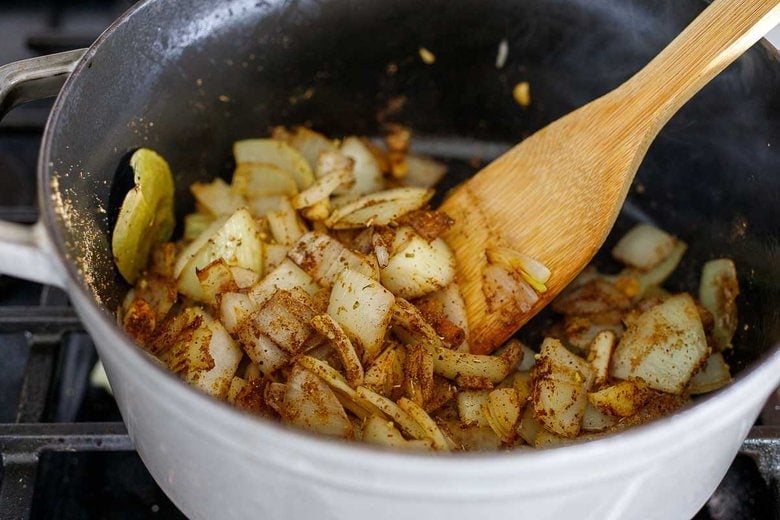 Then add the tomatoes and their juices.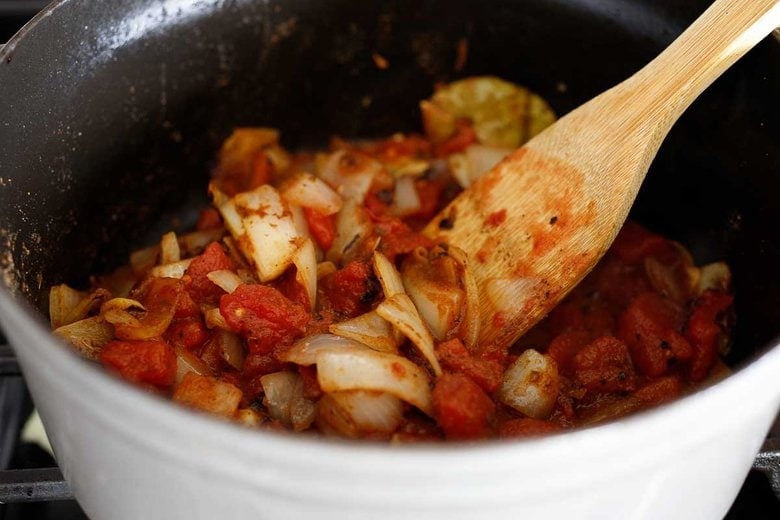 Season the meat with salt and pepper.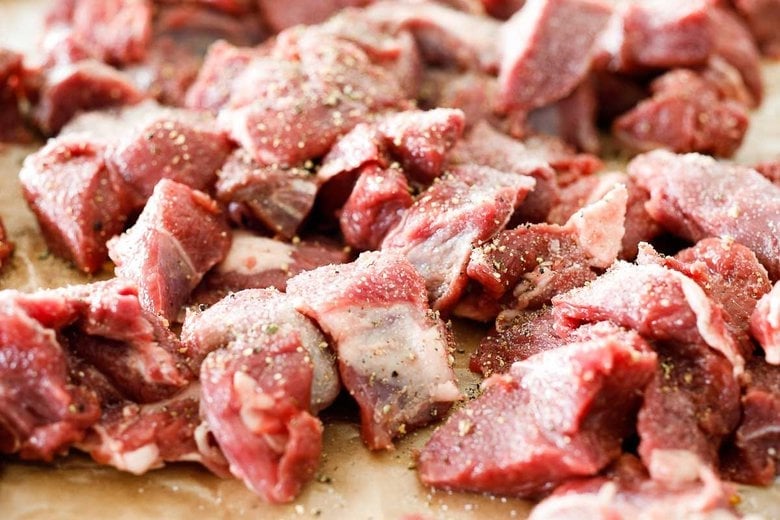 Add the meat to the pot, along with the stock.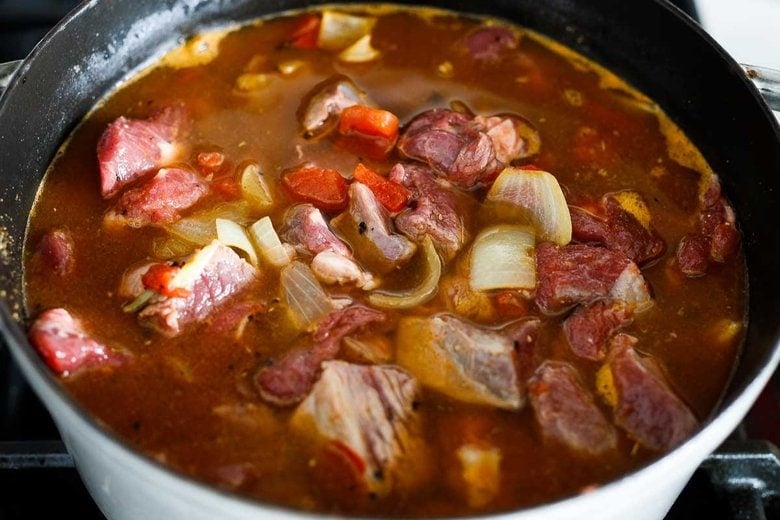 Remove the stems and seed of the chilies, and toast them in a dry skillet until they soften and release their oils, about 1- 2 minutes.
Nestle the toasted chilies in the stew, cover tightly and simmer on low heat for 2 1/2 hours, checking every 45 minutes, adding water ( just enough to cover the meat)(Alternatively, Pressure cook on high for 45 minutes.)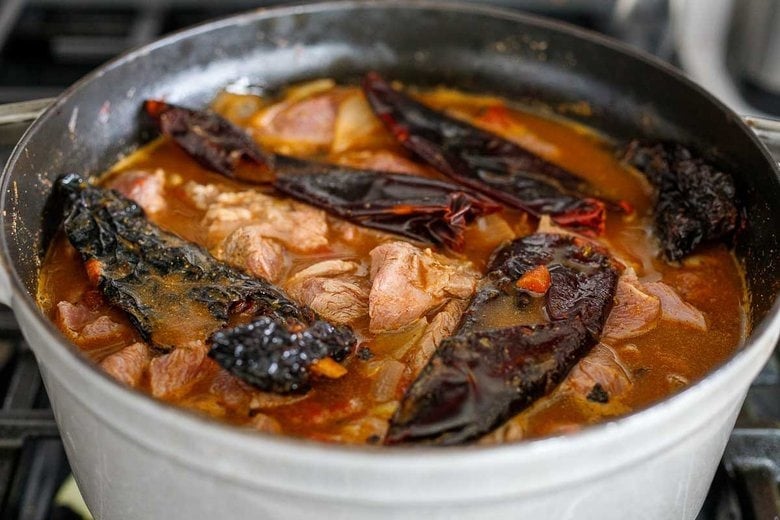 Create a tighter seal by placing a thin kitchen towel between the pot and the lid.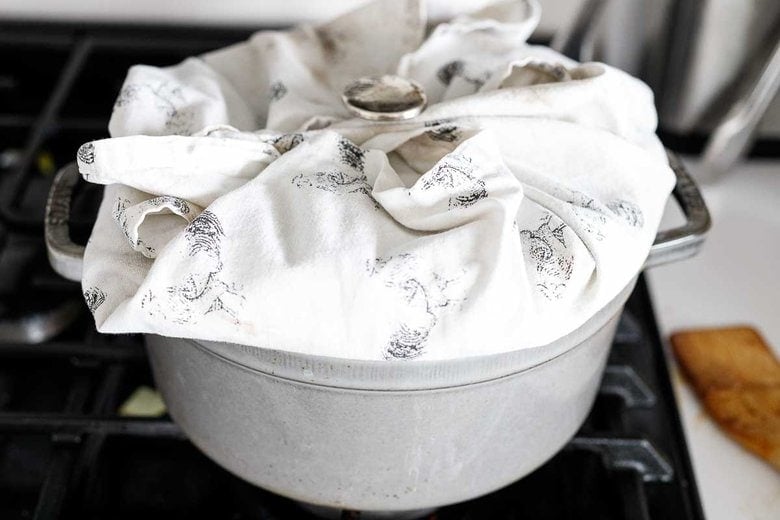 When the meat is tender, remove the chilies and blend with 1 cup of broth from the stew.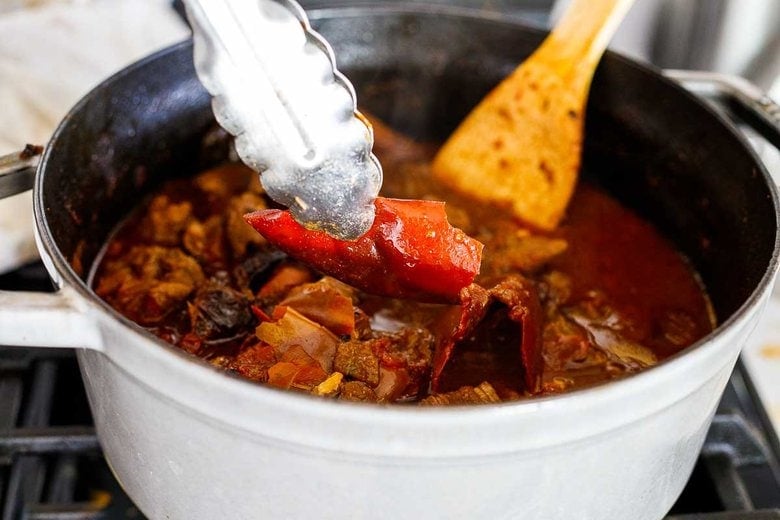 Blend into a smoother puree.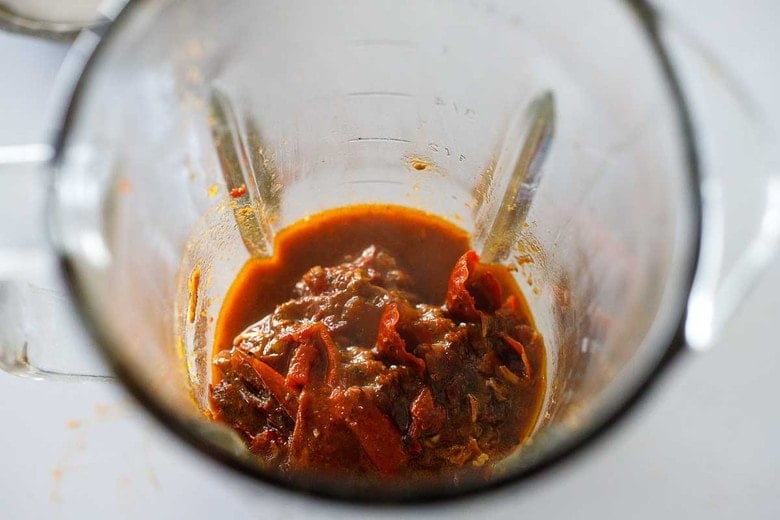 Pour this back into the Birria.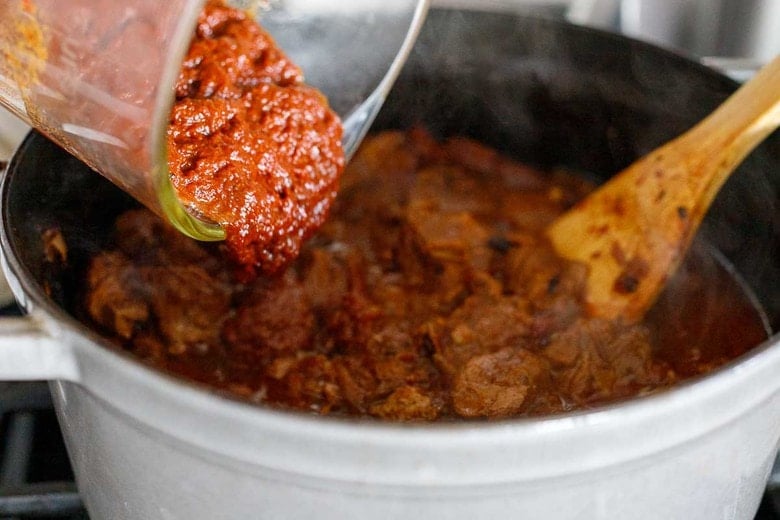 If serving as a stew in bowls, feel free to add more broth or water to loosen it. Or keep it thick for tacos.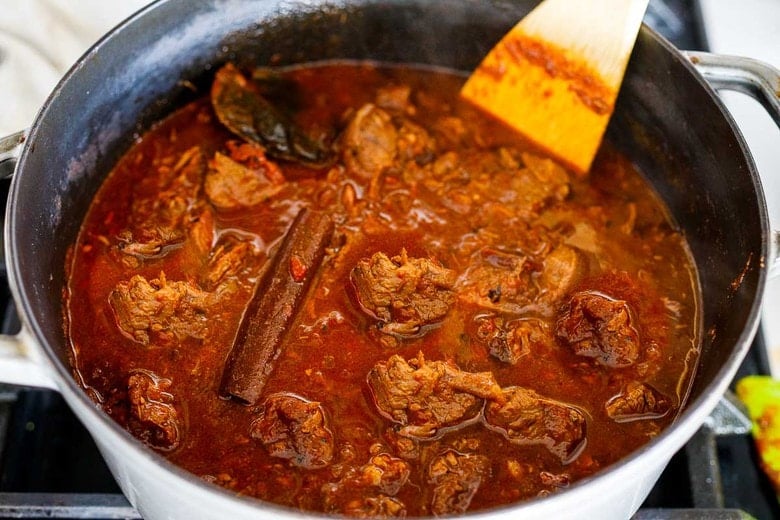 If serving in tacos, shred the flavorful Birria with two forks and place it back into the flavorful juices.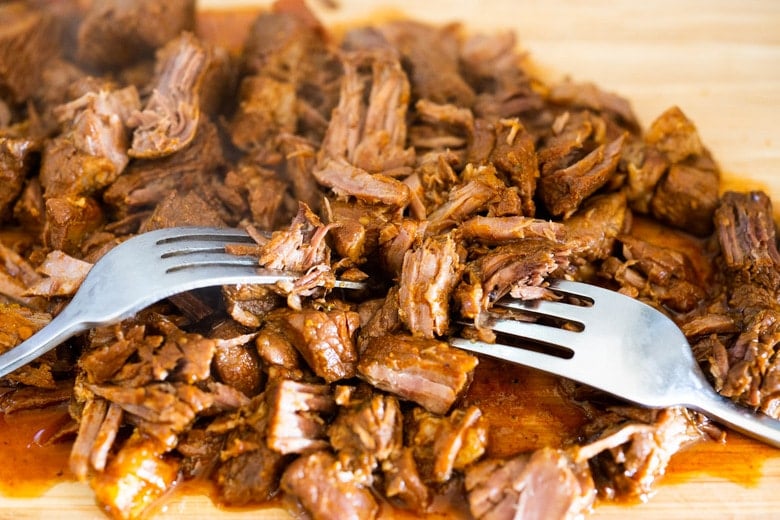 How to make Birria Tacos!
Dip tortillas into the rich Birria broth, then place them onto a greased griddle, flat top, or skillet.
Tip: This will also help to skim some of the fat from the stew itself.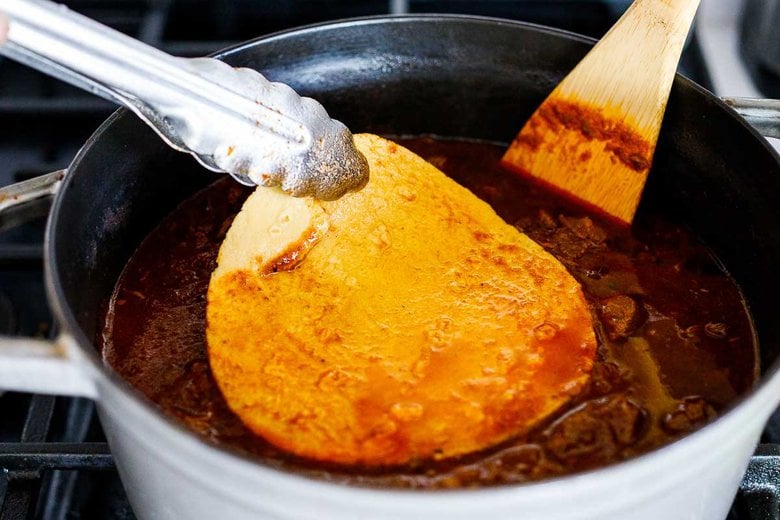 Place the dipped corn tortillas in a hot greased skillet (or griddle or flat top) to crisp them up.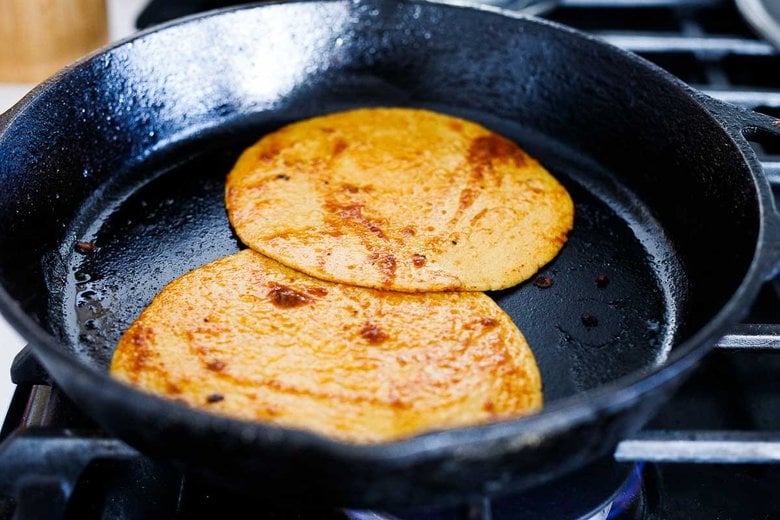 Add melty cheese like queso fresco or Oaxacan string cheese.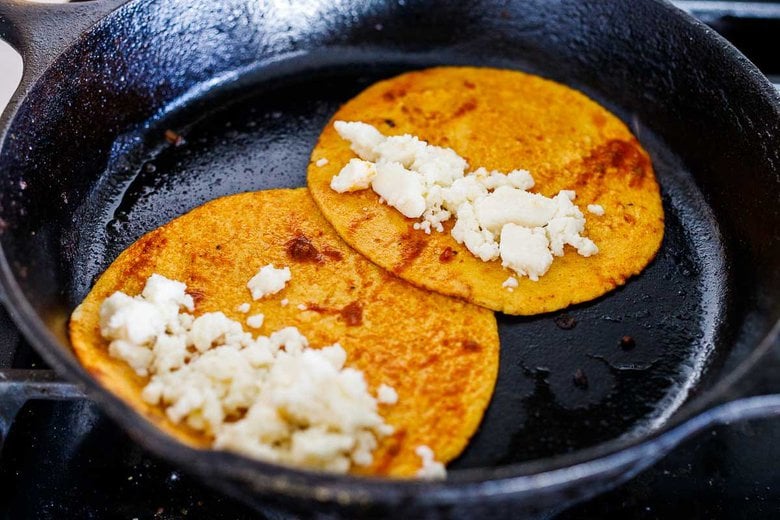 Fill with Birra meat.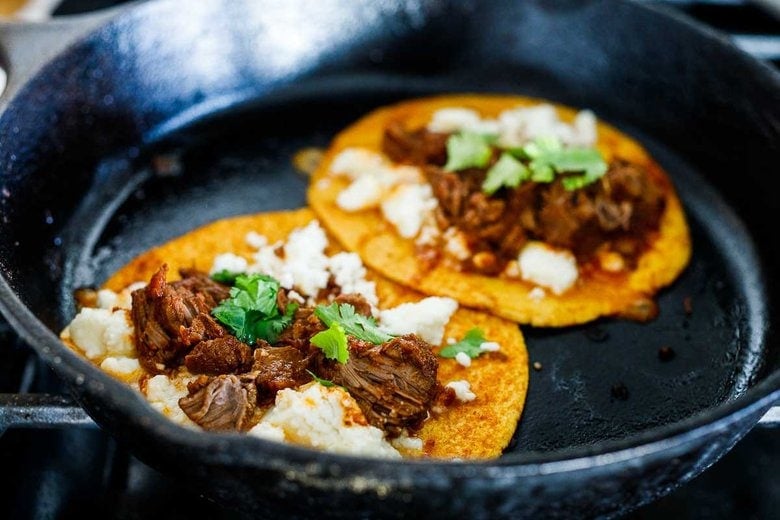 Top with some Birria stew meat and cilantro, fold the tortilla over and pan-sear each side until crispy and melty. Keep in a warm oven until ready to serve.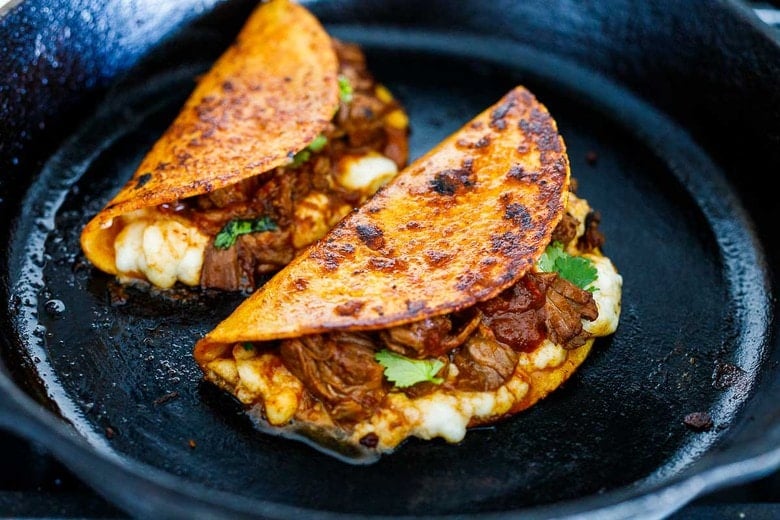 Serve Birria Tacos with your favorite toppings- pickled onions, avocado,or this hot sauce. Mexican Slaw would also work! These turned out so incredibly good- the family loved them!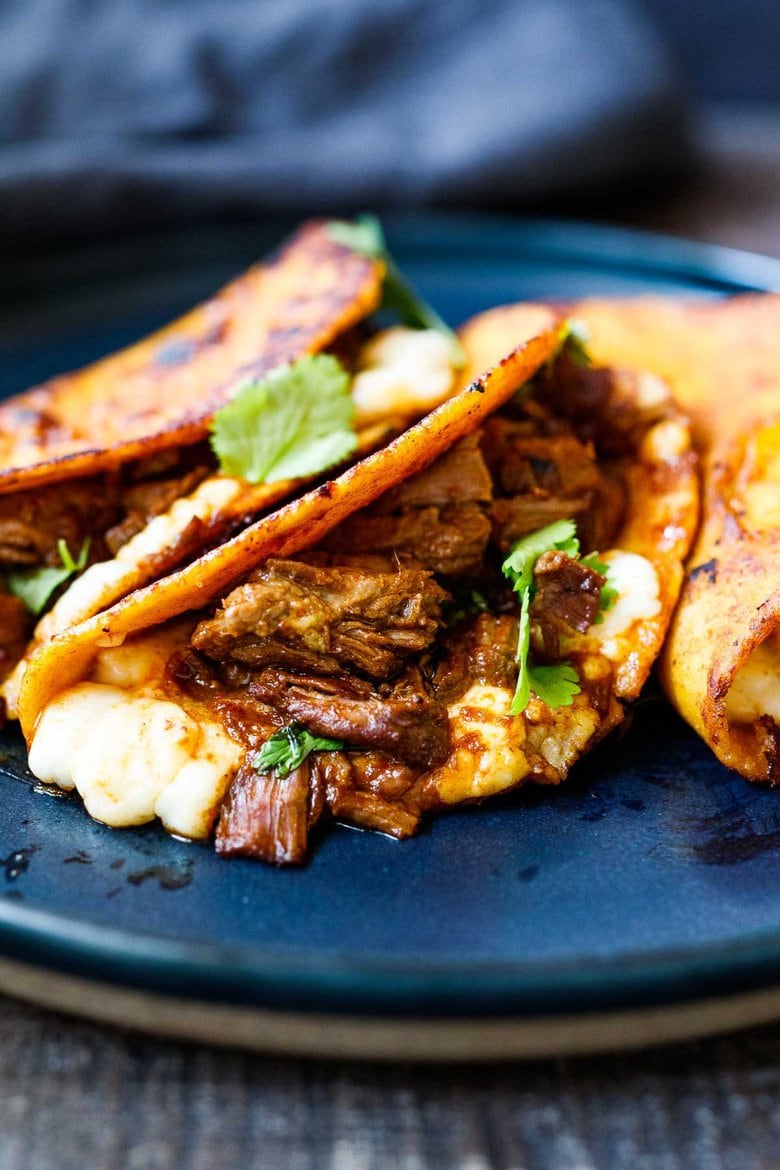 Birria Stew
Birria can also be served in bowls as a stew. Top with cilantro, onions or pickled onions, queso fresco if you like or sour cream and avocado is nice. Crunchy radishes are also a nice touch. The pickled onions really help to cut the richness of the fat here. See recipe notes for removing fat.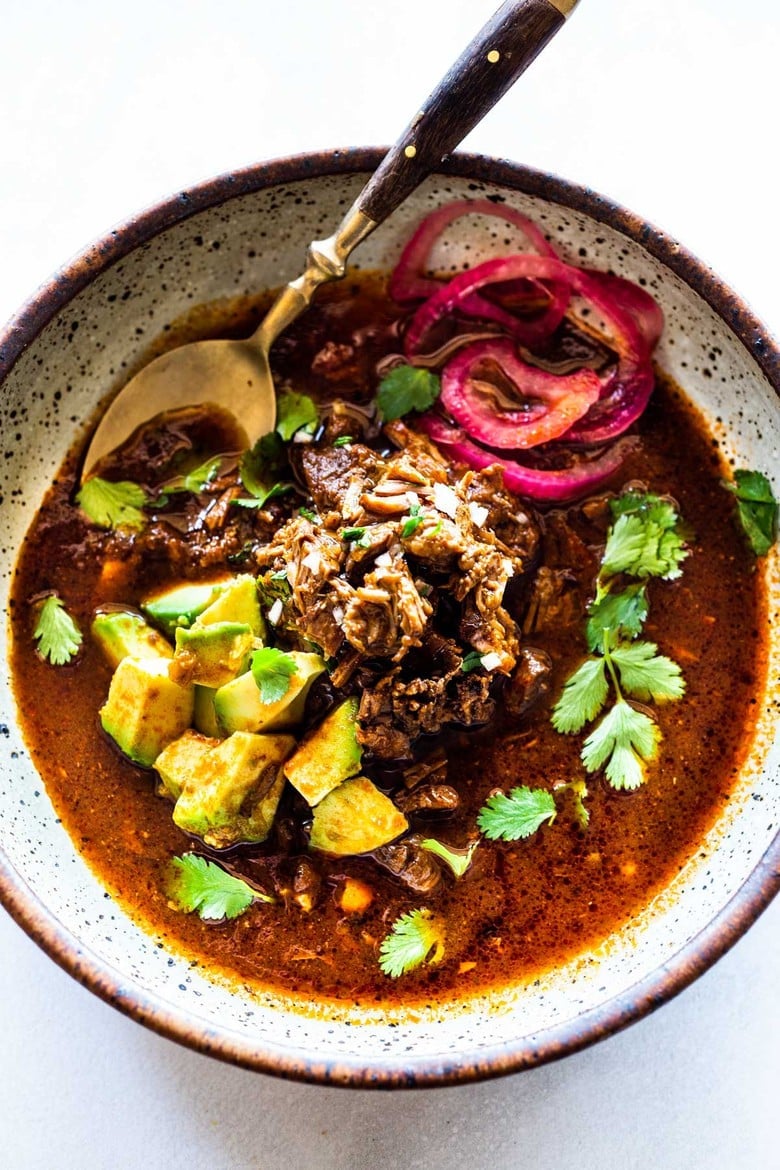 Birria FAQS
What does Birria taste like? Birria is a rich, brothy, flavorful stew, infused with Mexican chilies and tastes slightly spicy, earthy, and full of flavor. The meat is deliciously tender with the perfect amount of heat.
Is Birria goat meat? Authentic Birria is often made with goat meat in Mexico, but beef or lamb are both good substitutes.
What is the difference between Birria and Barbacoa? Birria originates from Jalisco Mexico and is meat braised in a flavorful chili-infused sauce. Barbacoa is the traditional Mexican technique of barbequing the meat- typically placed in a hole in the ground over hot stones.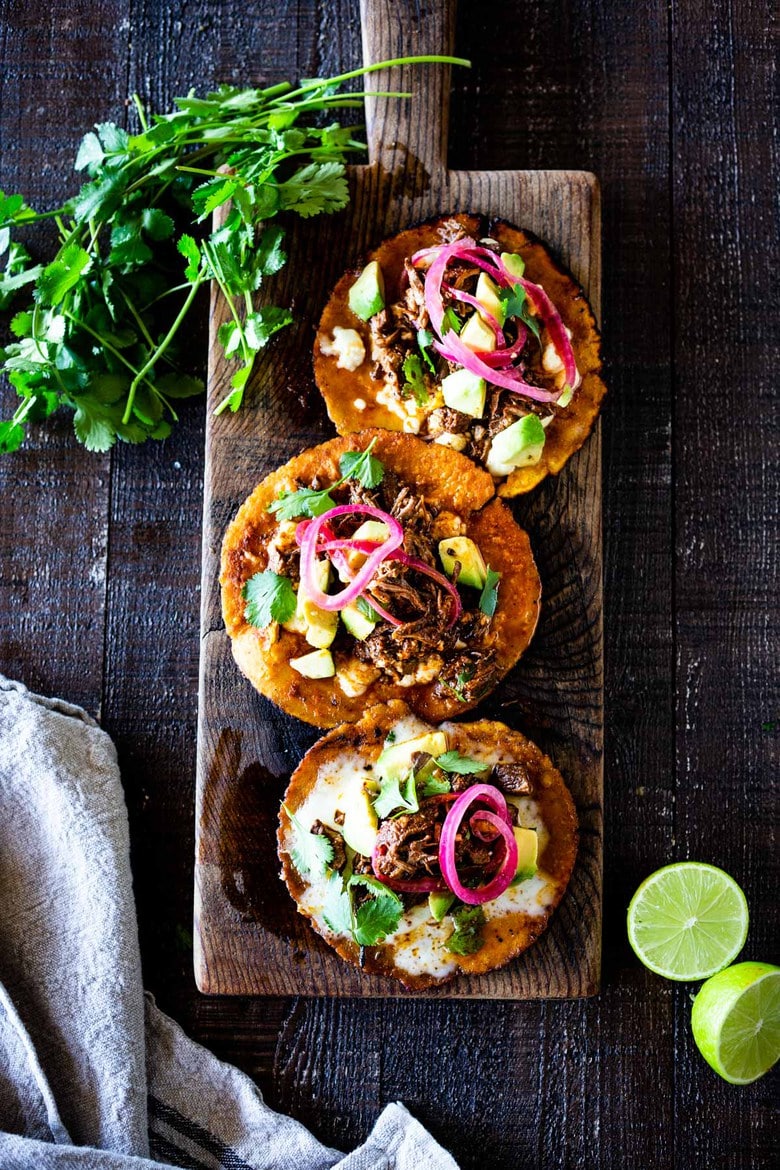 The leftover Birria can be used in enchiladas, tostadas, quesadillas, nachos, or even frozen for another time.
WHAT to Serve with Birria
I hope you enjoy this Birria Recipe as much as we do! Please let me know what you think in the comments below!
Print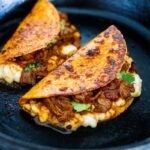 Birria
Prep Time:

30

Cook Time:

60

Total Time:

1 hour 30 minutes

Yield:

8

1

x

Category:

Stew, beef, lamb

Method:

Instant Pot, Baked, Slow Cooker

Cuisine:

Mexican
---
Description
How to Make Birria ( and Birria Tacos)- a traditional Mexican Stew, that can be made in an Instant Pot,  Dutch Oven (Baked or Stovetop), or in a slow cooker. Serve in a bowl as a hearty stew, or use inside Birria tacos. Great for meal prep and freezes well. This recipe has been simplified and updated- but see notes for the link to the original recipe. 
---
1

–

2

tablespoons olive oil

1

large onion, diced

6

garlic cloves, roughly chopped

1/2 teaspoon

ground cloves

1/2 teaspoon

ground allspice

1 teaspoon

ground pepper

1 teaspoon

cumin

2 teaspoons

coriander

1 teaspoon

chili powder

2 teaspoons

dried oregano

2

bay leaves

1

cinnamon stick ( or sub

1/2 teaspoon

cinnamon)

14

-ounce can diced tomatoes, preferably fire-roasted (and juices) or 1 1/2 cups fresh, diced tomatoes

3

cups

beef stock ( or chicken stock)

3

lbs beef stew meat (or lamb or goat) cut into 1 1/2-inch pieces – chuck roast, shoulder, lamb leg, lamb shoulder.

4

–

6

dried chilies- guajillo chiles, pasilla, ancho – see notes.

1

–

3

teaspoons apple cider vinegar, optional

1

–

3

teaspoons honey to taste, optional
Optional additions: 3-inch piece orange zest, 1-2 chipotle chiles (or 2-3 tablespoons adobo sauce sauce from the can)
Serve with: Tortillas, melty cheese, cilantro, chopped onions or pickled onions, Hot Sauce, avocado, sour cream, and radishes.
---
Instructions
Birria Stew
Season meat with salt and pepper and set aside.
Saute: Heat oil in  Instant pot on SAUTE setting, (or large Dutch oven over medium heat) and add onion and garlic, stirring and sauteing until fragrant, tender and golden. Add all the spices, saute 2 minutes, add the bay leaves & tomatoes and their juices and the beef stock. Stir and scrape up any browned bits.
 Add the salted meat and stir.
Toast the chilies in a dry large skillet over medium-low heat until softened, releasing their oils, about 2 minutes. Nestle into the stew. Add optional orange zest.
INSTANT POT: Set instant pot to 45 minutes on high pressure. Let it naturally release.
Dutch Oven: If using a dutch oven,  add one more cups of water, cover tightly, and simmer gently on the stovetop, on low heat (or bake in a 350F oven). Check every 45 minutes, adding more water to keep water level just slightly over the meat for roughly 2 – 2 1/2 hours, until meat is tender and falling part.
SLOW COOKER: You could also place this in a slow cooker on low for 8 hours.
Once the meat is tender, fish out the chilies, and blend with a cup of the warm broth in a blender until pureed. Return to the pot, stirring it in. Shred the meat with two forks.
Serving Options:  
Make Birria Tacos:  Dip tortillas into the rich broth, lightly coating each side and place in a greased skillet, over medium heat, top with cheese, birria stew meat, and any fixings.  Fold the over ( like a quesadilla) and pan-sear each side until crispy. Keep warm in the oven until serving.
BOWL OF STEW: (feel free to thin this out with a little more broth if you prefer) Serve in a bowl, topped with cilantro, radish, cucumber, chopped onion or pickled onion, cotija cheese or sour cream and lime. (Fresh chopped things add good texture.)
---
Notes
Chilies: Use dry mild chilies like Guajillo and Pasilla Chiles to add flavor and depth – but not too much heat. (Feel free to use other dried chilies, paying attention to heat level.) Add Chipotle for more heat and smoky flavor. If you want a milder stew, I suggest using only Guajillos (like 6). You can always add more spice at the end (cayenne, chili flakes, chipotle powder) if not sure. Using dried chilies really makes this dish. 
If you prefer a brothier stew, you can always add more chicken or beef broth at the end of cooking, seasoning with a little more salt.
MEAT: I used a mixture of lamb and beef. Tougher cuts of meat work great here like stew meat. Shoulder, shank, leg, etc. Goat meat is traditional.
To Remove Fat: Make the stew ahead and cool – the fat will solidify at the top and then can be easily removed.
MY ORIGINAL RECIPE: Find it here.
Nutrition
Serving Size:

using beef, and no toppings

Calories:

392

Sugar:

9.3 g

Sodium:

1764.7 mg

Fat:

12.7 g

Saturated Fat:

4.5 g

Carbohydrates:

19.7 g

Fiber:

5.7 g

Protein:

52.9 g

Cholesterol:

151.3 mg
Keywords: Birria Tacos, Birria Recipe, How to Make Birria, Instant Pot Birria, Slow Cooker Birria, Beef Birria, Lamb Birria