Here is a collection of our 25 Best Instant Pot Recipes from around the globe! These "reader favorites" are fast, healthy, and full of flavor! The best thing about these Instant Pot recipes is they can be made in one pot, with little fuss and even less clean up!  Authentic global flavors will delight the palate!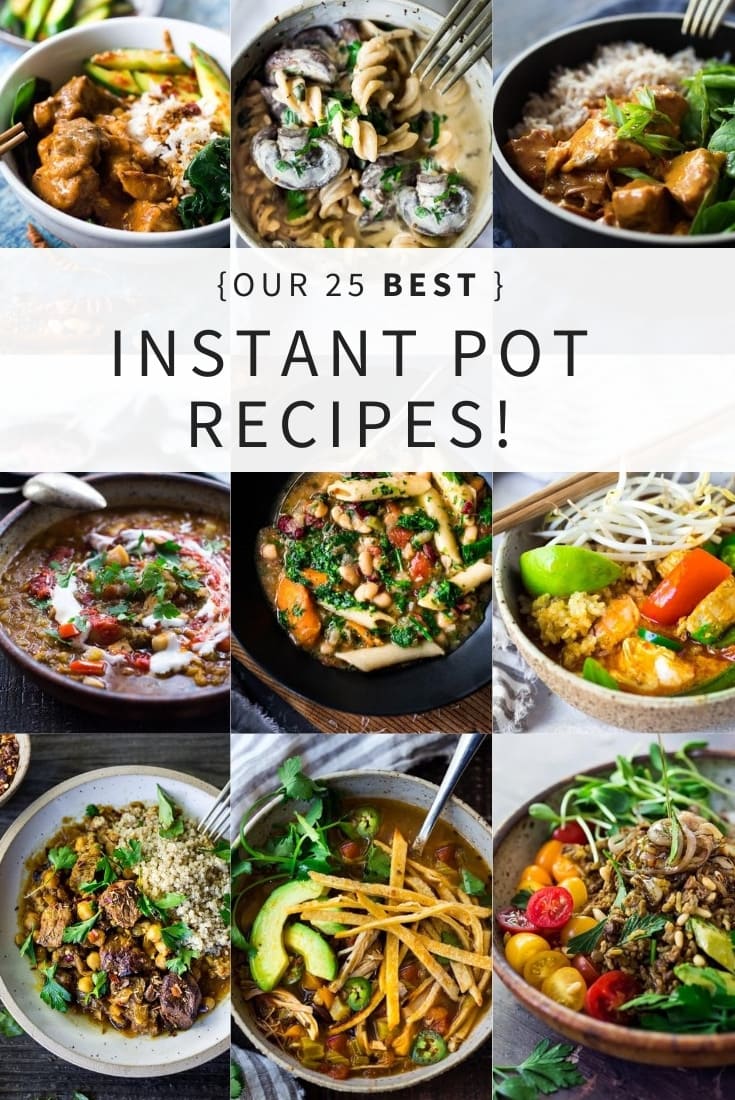 For busy households, using an Instant Pot (or pressure cooker) to make weeknights dinner a little simpler, can be a total lifesaver. Not only do they make cooking FAST AND EASY, but clean up is soooooo much easier too!
With the use of fragrant spices and herbs from around the globe, dinner need not ever be bland or boring. And keep in mind, leftovers often taste better the next day, allowing flavors to meld – perfect for easy delicious lunches! For more, here is our whole list of Instant Pot Recipes!
What is an Instant Pot? 
In a nutshell, an Instant Pot is a "modernized" electric pressure cooker. They work by creating high heat under a very tight seal which creates pressure, helping food cook much more quickly than on the stove or in the oven.
They work particularly well with longer cooking items like beans, legumes, rice and tough cuts of meat.
The difference between a pressure cooker and an Instant Pot is that the Instant pot is electric and is self-contained, whereas a pressure cooker is manually heated on the stovetop.
What are the BEST things to cook in an instant pot?
beans and legumes
meaty stews
brothy soups
chicken
lamb
beef or tough cuts of meat
longer cooking veggies: beets, butternut squash, artichokes, etc.
rice dishes
curries
chili!
What is the point of an Instant Pot? 
The speed in which the Instant Pot can cook dry beans and tougher cuts of meat is much faster than traditional cooking methods.
The handy "saute" function allows you to brown the onions/garlic before throwing everything else in the pot – creating a more flavorful dish.
The slow cooker and steam function.
Easy cleanup. It's just one stainless pot that needs cleaning. Fast and Easy.


---
OUR BEST INSTANT POT RECIPES!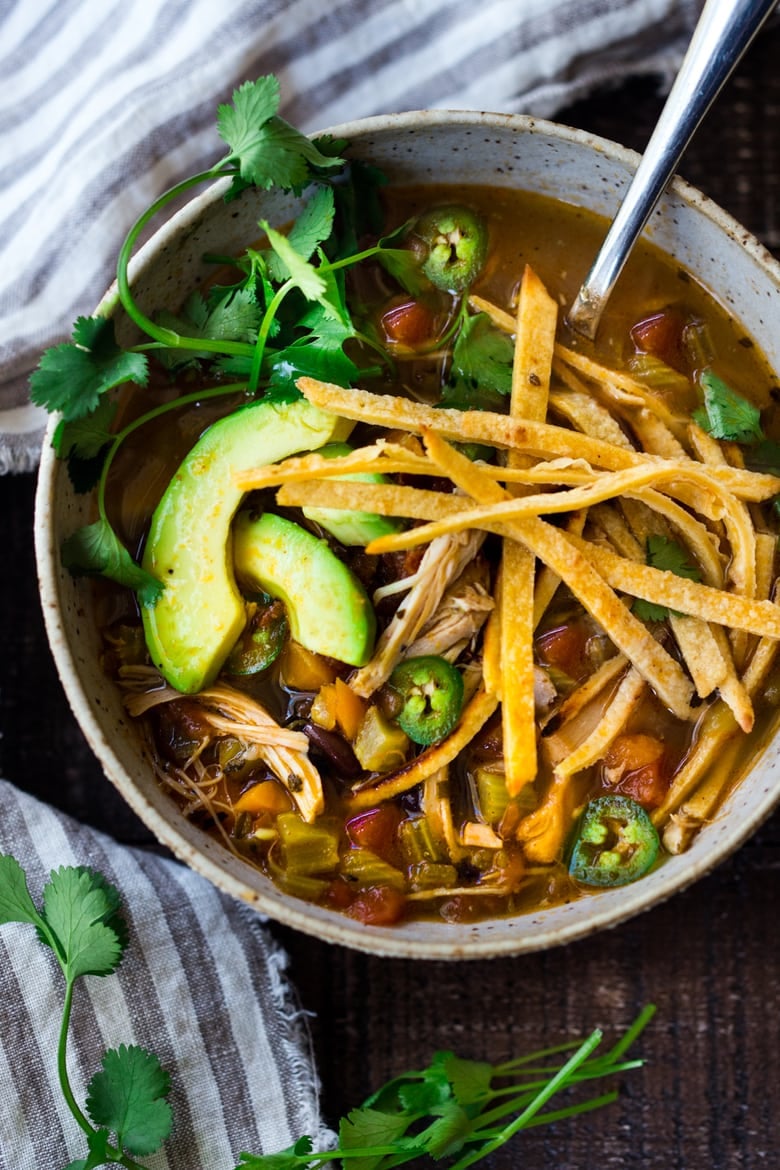 Instant Pot Mexican Chicken Tortilla Soup –  probably our reader's favorite Instant Pot Recipe on the blog with just 25 minutes of pressure cooking and dinner is done! Simple and flavorful, this healthy dinner full of veggies and flavor and will make your tastes buds so happy! Garnish with avocado, lime and cilantro! Yum. Keto-friendly.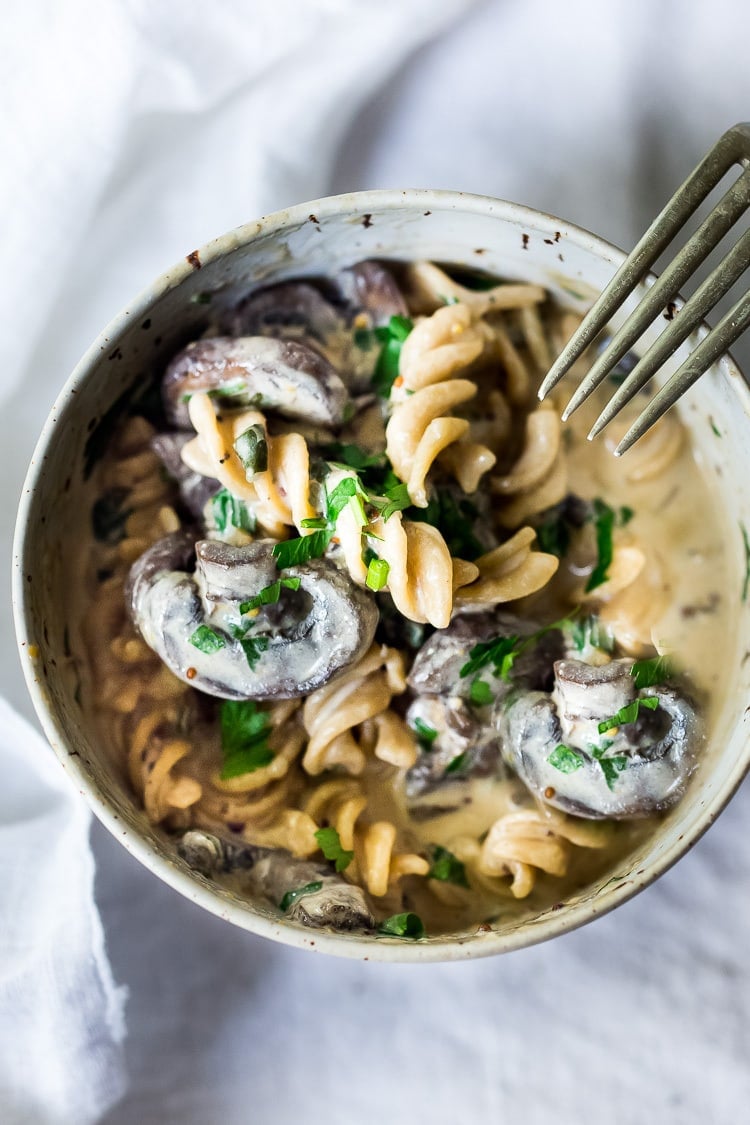 2.) Instant Pot Mushroom Stroganoff-  a Russian-inspired, instant pot dinner recipe that is so easy, yet hearty and full of delicious depth and flavor!  Vegan Adaptable! One of my favorites!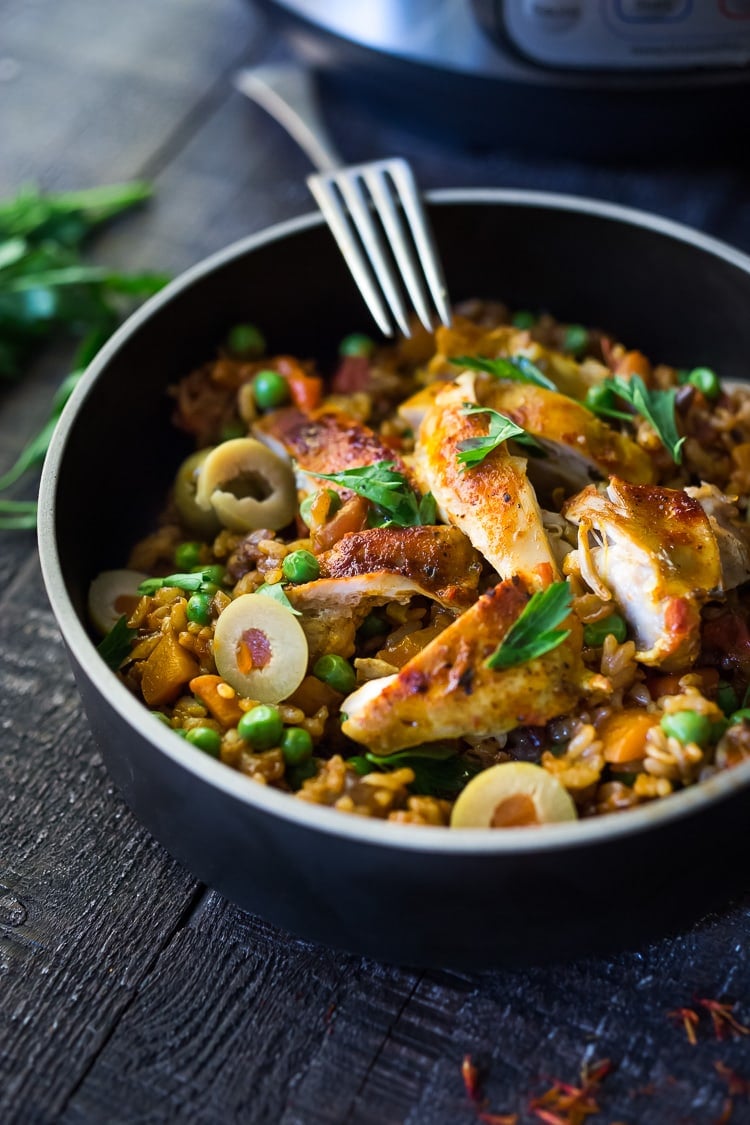 3.) Instant Pot Arroz con Pollo – made in a fraction of the time! This Spanish version is infused with saffron and smoked paprika and full of amazing flavor! A simple delicious Instant Pot recipe!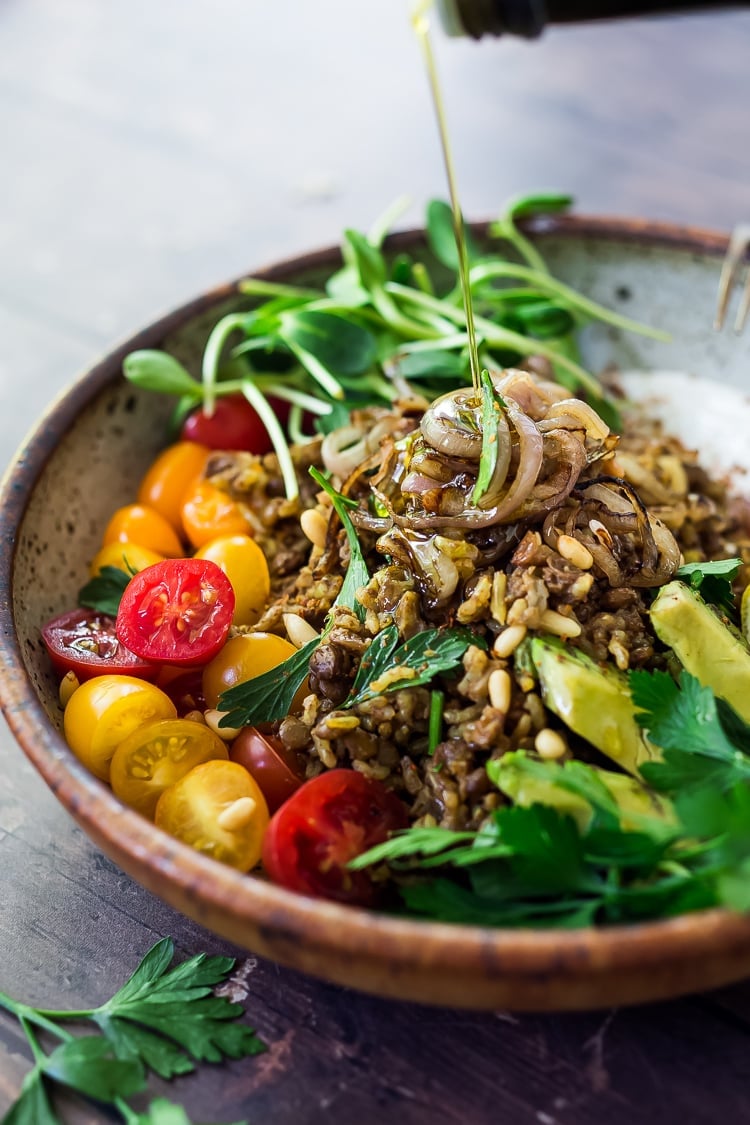 4.) Instant Pot Mujadra  – a comforting and healthy Instant Pot recipe that is made with lentils and rice, and fragrant Moroccan spices, served with caramelized shallots, fresh veggies, pine nuts and optional yogurt. Gluten-free and Vegan adaptable. Think of this as Moroccan comfort food!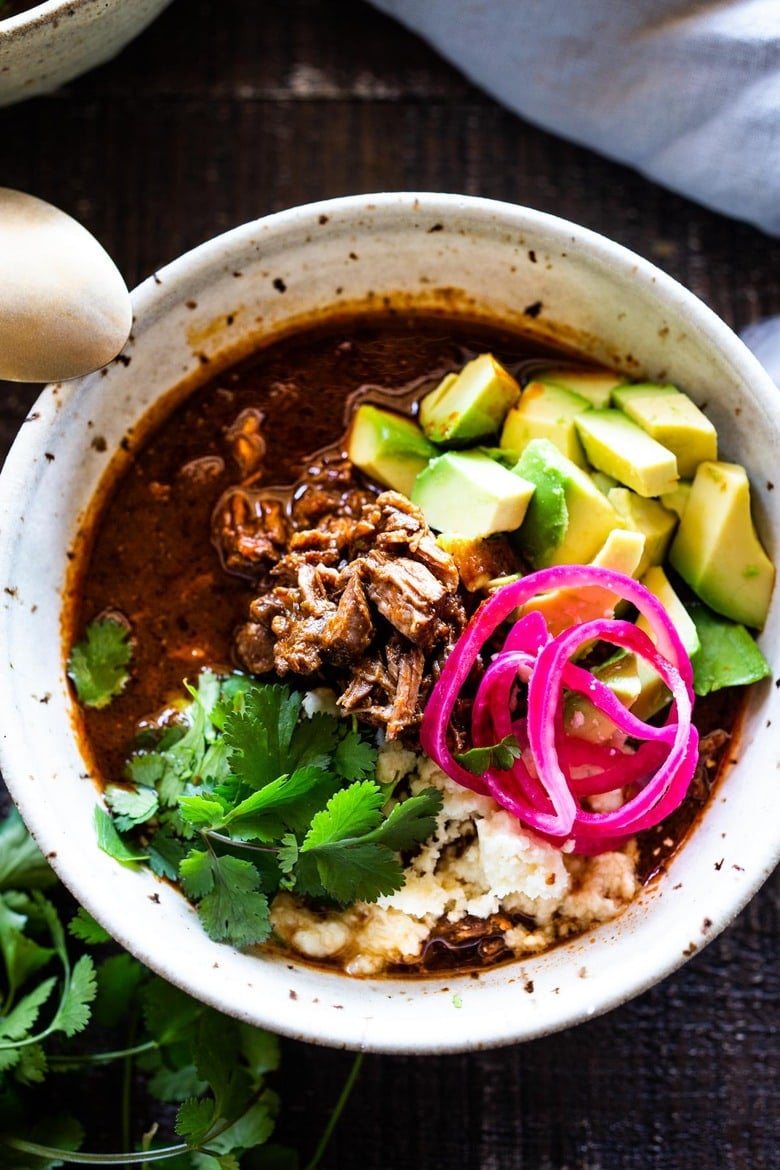 5.) An authentic recipe for Instant Pot Birria, a flavorful Mexican Stew made with beef or lamb  that can be made in an Instant Pot, Dutch Oven or Slow Cooker. Serve this in a big bowl with flavorful toppings or make Birria Tacos – the best!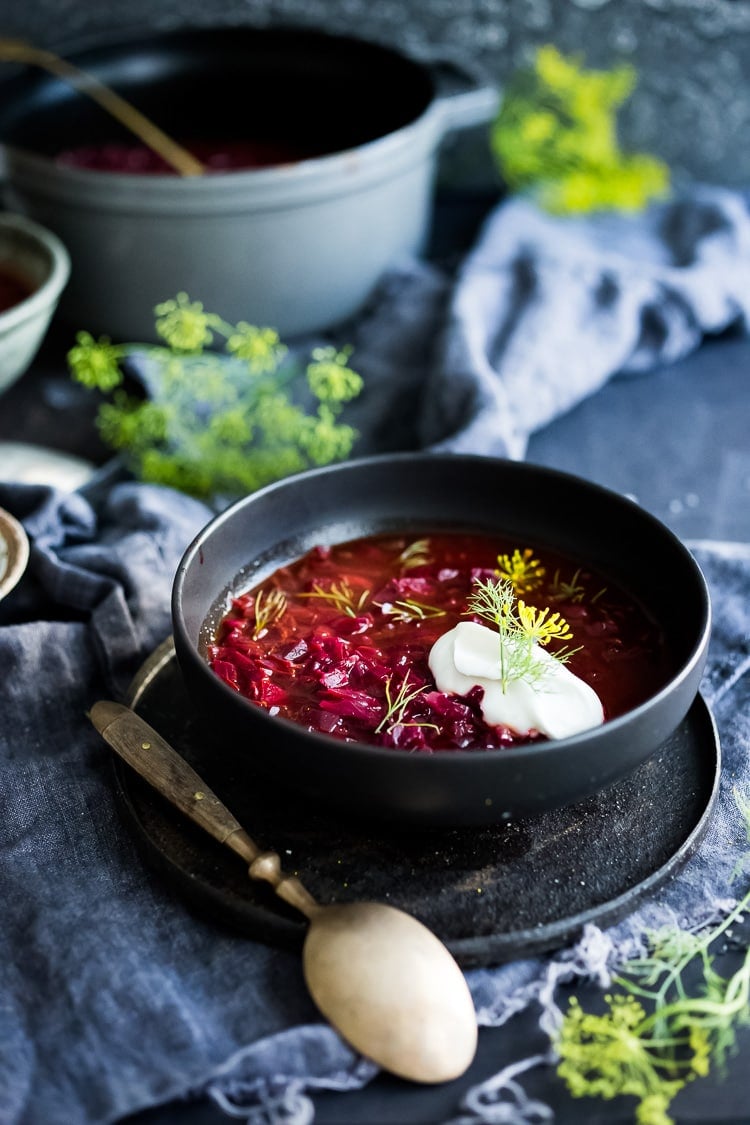 5.) Simple Borscht Recipe – an incredible vegetarian recipe for Russian-style Borscht- a healthy, vegan adaptable, beet and cabbage soup that can be made in an Instant Pot or on the stovetop. Warming and nourishing, Borscht is full of flavor and nutrients!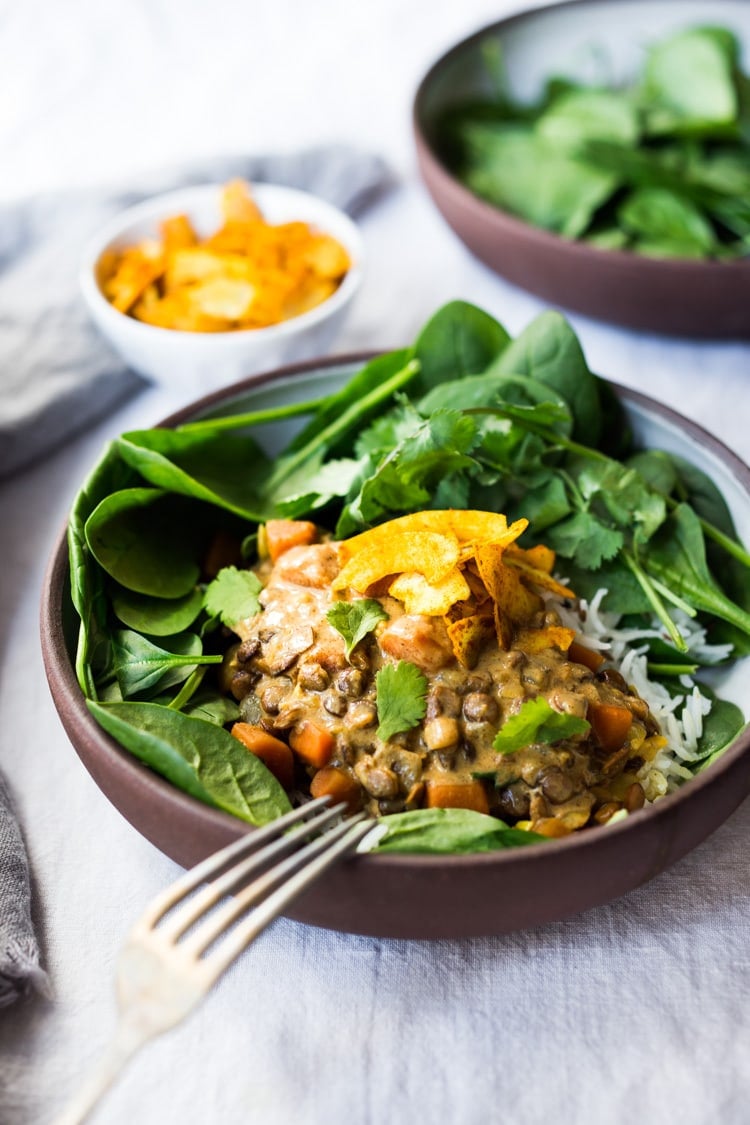 6.) Instant Pot Coconut Lentil Curry can also be made on the stovetop. Infused with fragrant Indian spices, this Instant Pot recipe is not only delicious, it is vegan and gluten-free! Topped with toasted turmeric coconut!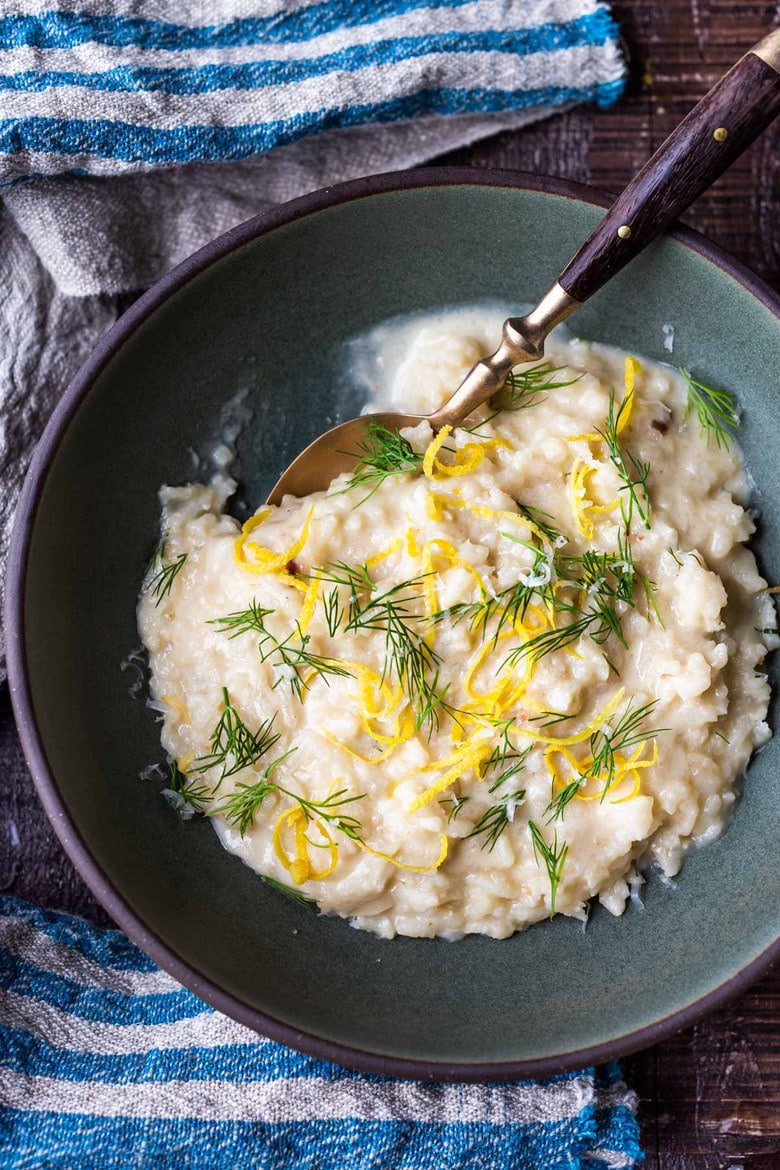 Instant Pot Risotto – the EASIEST risotto recipe made in your Instant Pot! This healthy low-maintenance risotto recipe will become your new favorite weeknight dinner. Fully customizable- add your favorite veggies like mushrooms, spinach, spring peas, asparagus, and have funs with this!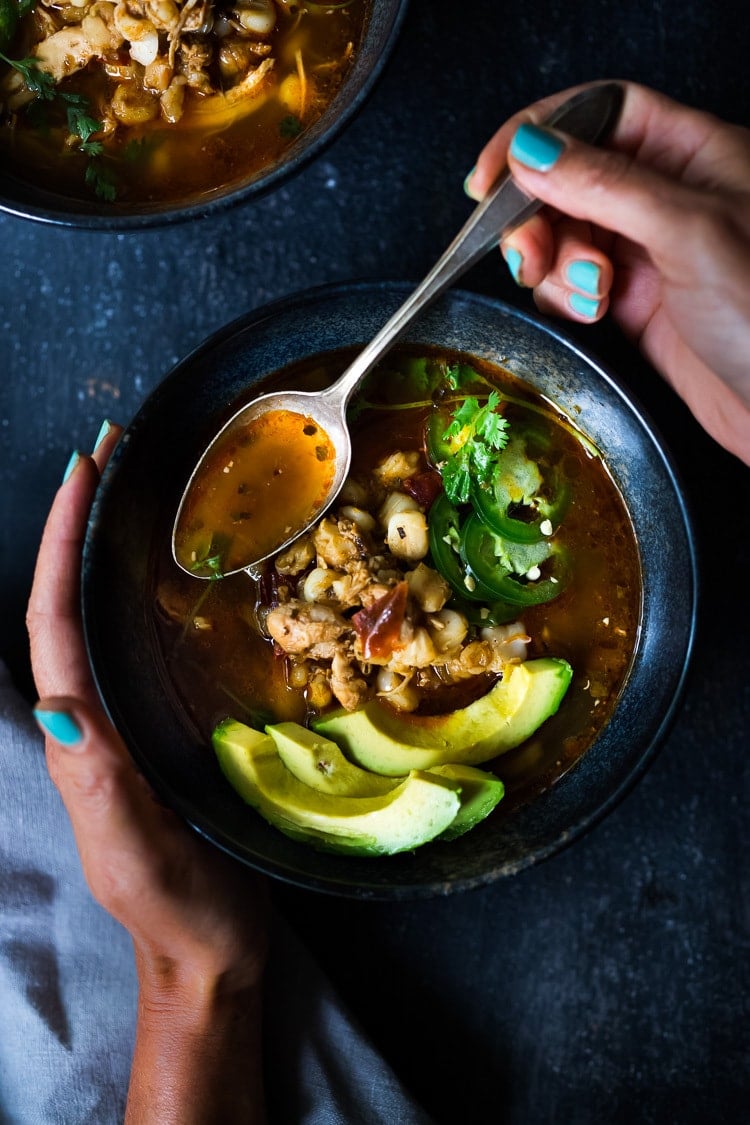 7.) Hearty flavorful, Instant Pot Mexican Chicken Pozole – made with dried Mexican chiles and hominy. A healthy, delicious, Mexican-inspired weeknight dinner that can be made in 30 minutes! Gluten-free!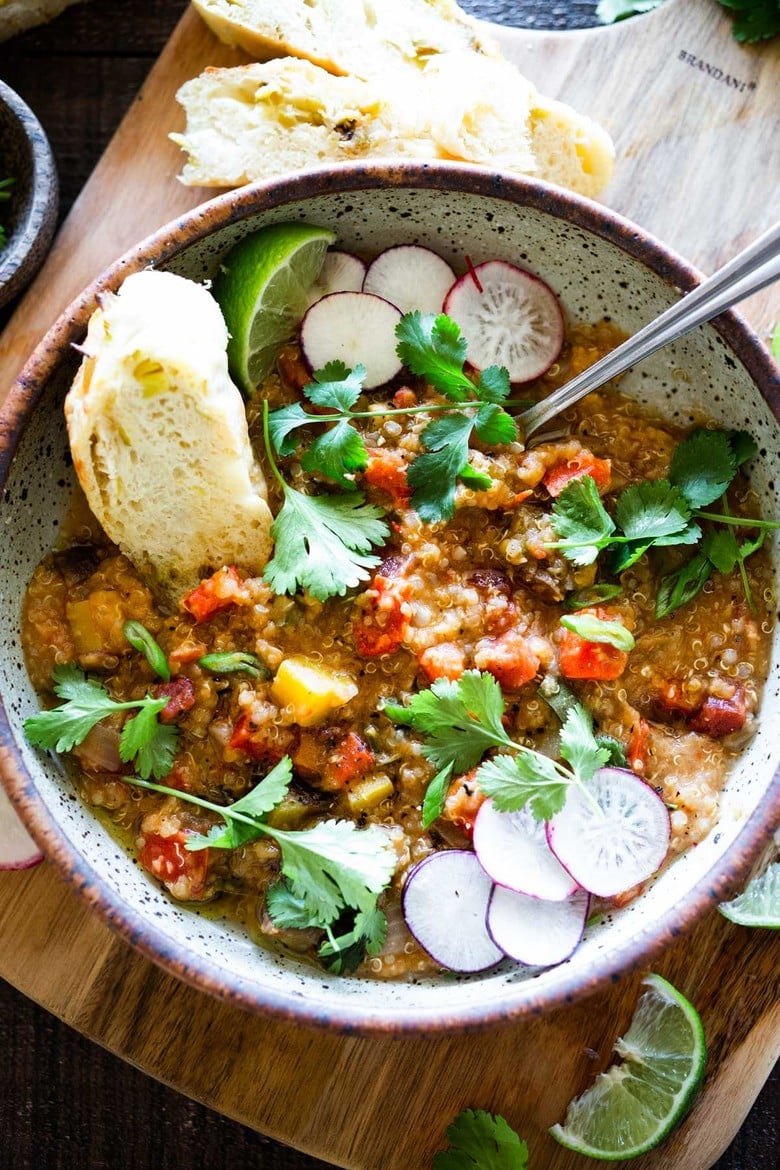 8.) This Instant Pot recipe for  Moroccan Red Lentil Quinoa Soup is made with very simple pantry ingredients you probably have on hand, plus it's easy to make and full of really delicious flavor! Make this in an Instant Pot or stovetop. Great for weekday lunches too!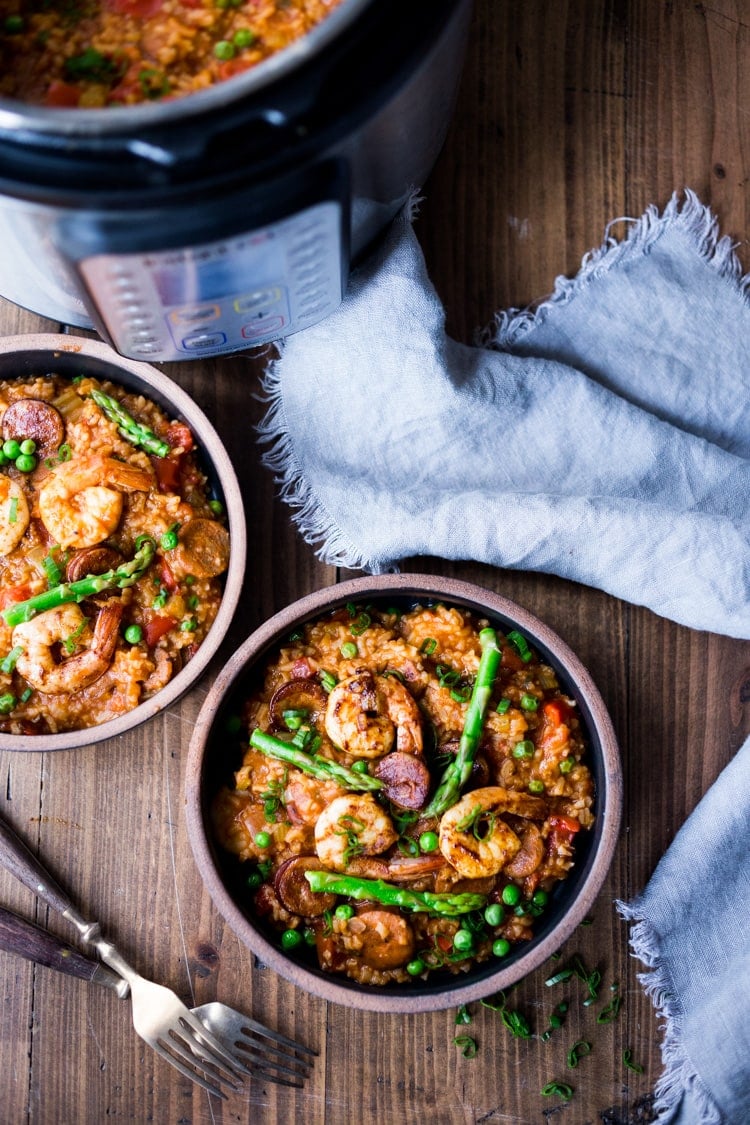 8.) Instant Pot Jambalaya! Delicious and easy, this flavorful jambalaya recipe can be made in an Instant Pot or on the Stove Top. You will love the depth of flavor here….super tasty!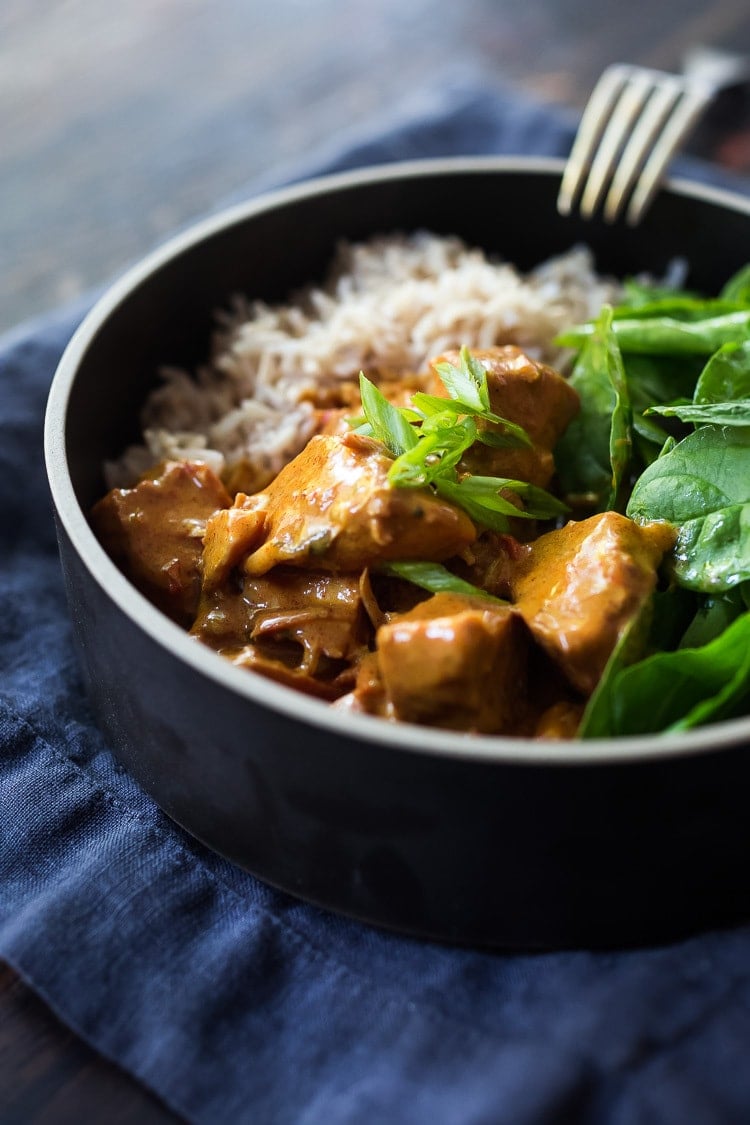 9.) Instant Pot Indian Tikka Masala, made with your choice chicken or chickpeas and veggies. Serve over basmati rice, or, for a low-carb, paleo version, serve it over a bowl of baby spinach!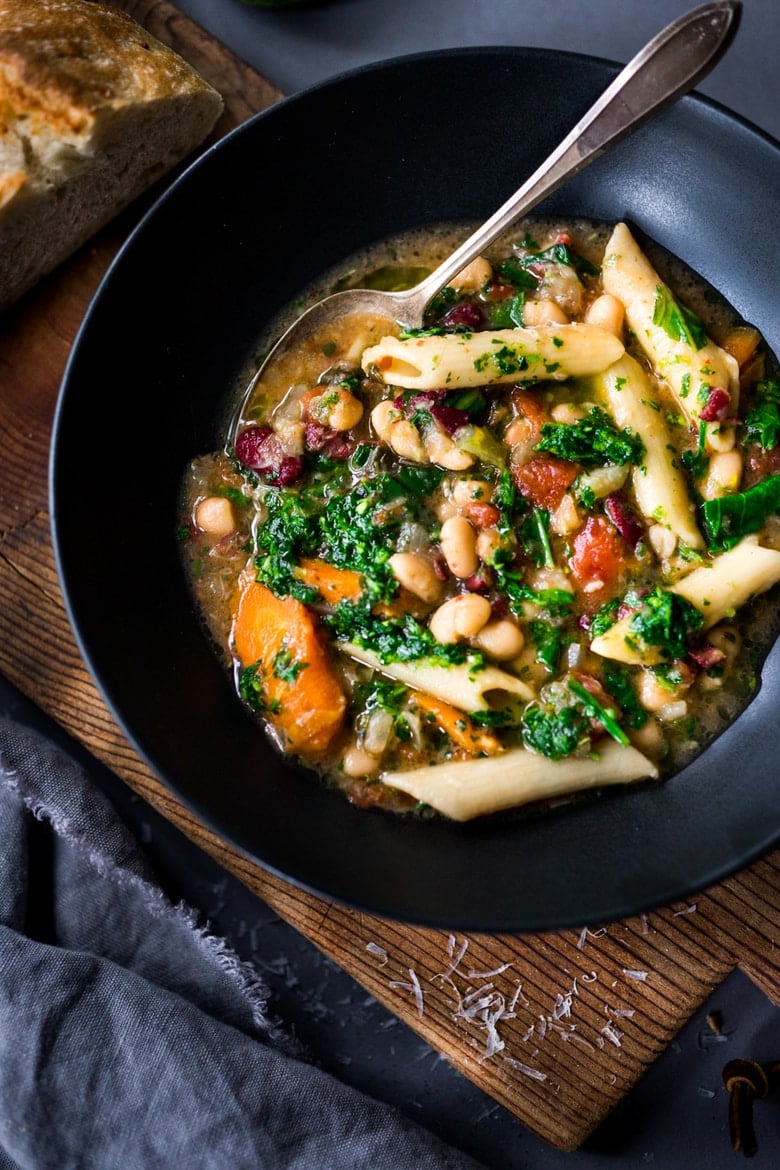 10.) Instant Pot Minestrone Soup – a Tuscan-style recipe that can be made ahead and portioned out for midweek meals. Loaded up with healthy veggies, 2 kinds of beans and pasta, this version is vegan and gluten-free adaptable. But it's the fennel bulb that makes this Minestrone Soup special – giving it a unique and delicious complexity, really elevating it!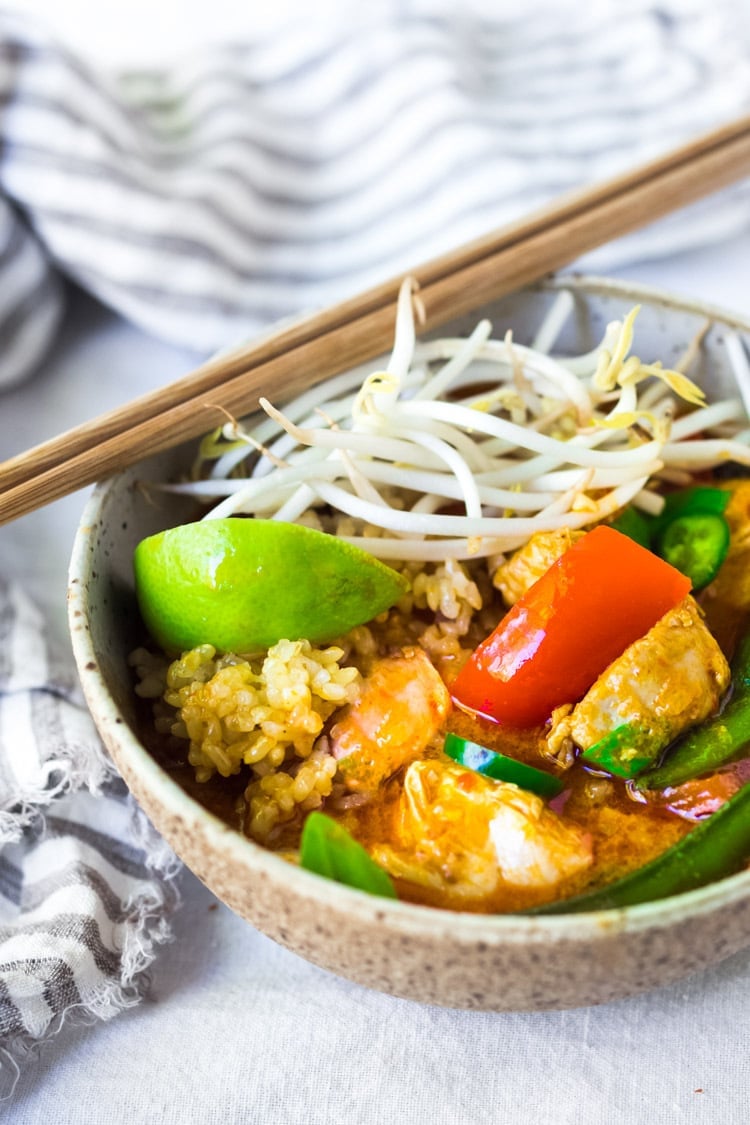 11.) Instant Pot Thai Curry Chicken –that can also be made on the stovetop! This flavorful instant pot meal is full of healthy seasonal veggies and can be made in 25 minutes!  Serve it over rice, quinoa or rice noodles – and save the amazing leftovers for lunch!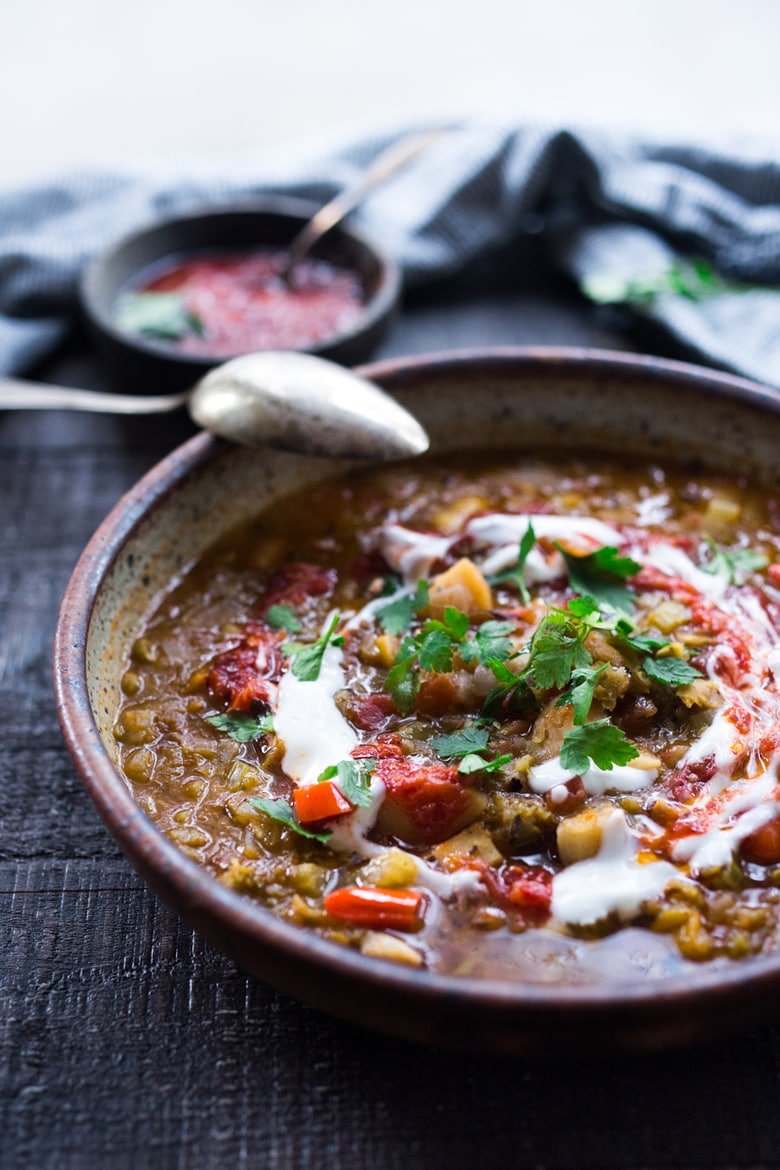 12.) Instant Pot Split Pea Soup with Harissa Paste and North African Spices. Drizzle it with olive oil and keep it vegan, or add a swirl of yogurt for added richness.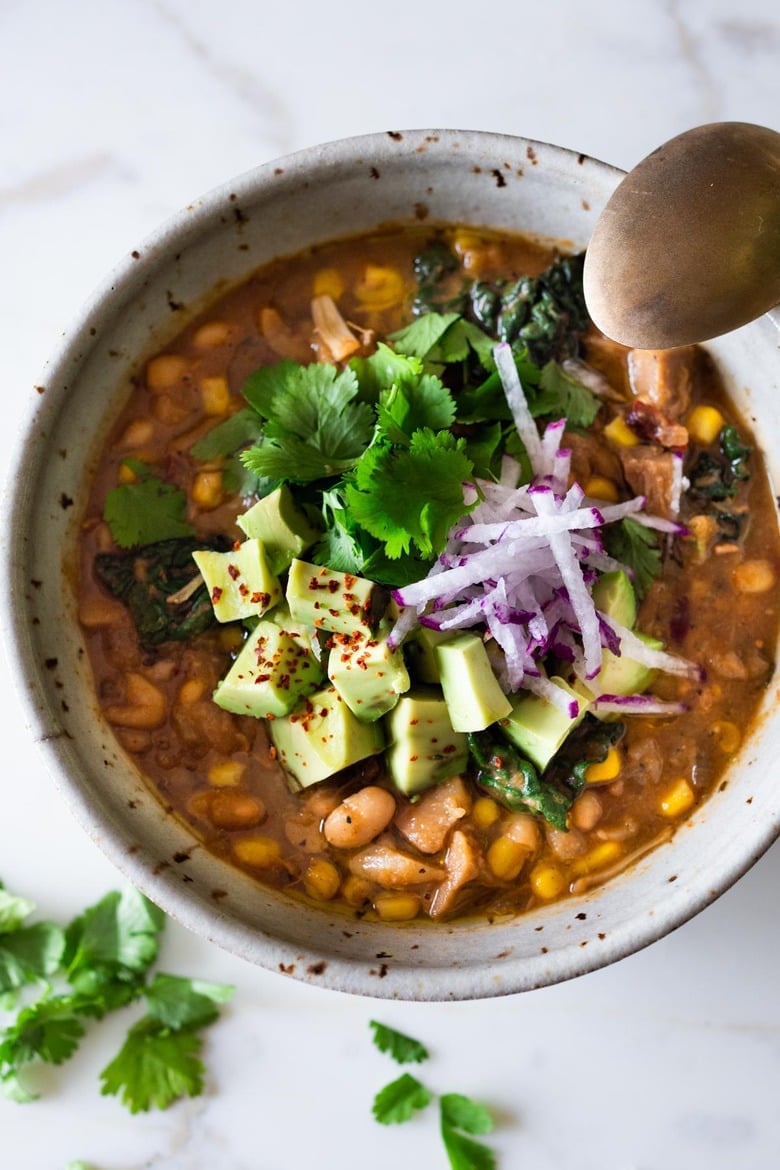 13.) Vegan White Bean Chili with Jackfruit that can be made in an Instant Pot or on the stovetop. Vegan and gluten-free, this fast and easy instant pot dinner recipe can be made in 30 minutes!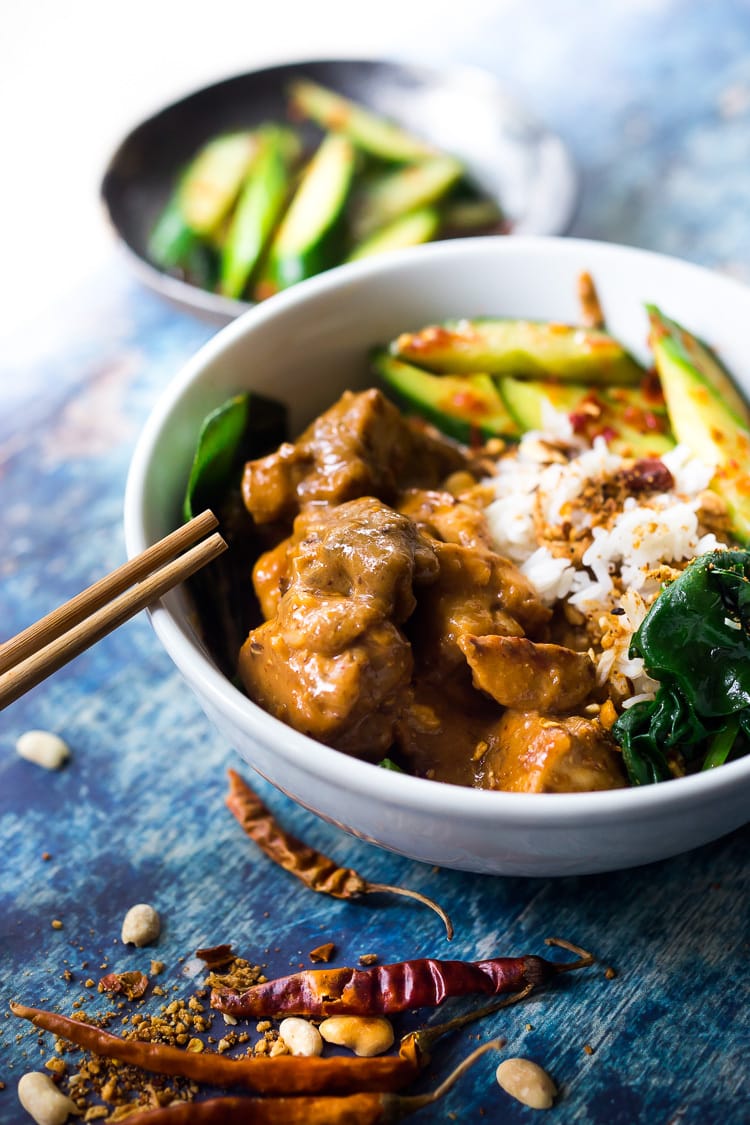 Instant Pot Peanut Chicken  (that can also be made on the stovetop). This delicious recipe hails from Bali, and is perfect for the busy work week! Leftovers make tasty lunches! It is intentionally extra saucy for the rice and veggies you serve with it.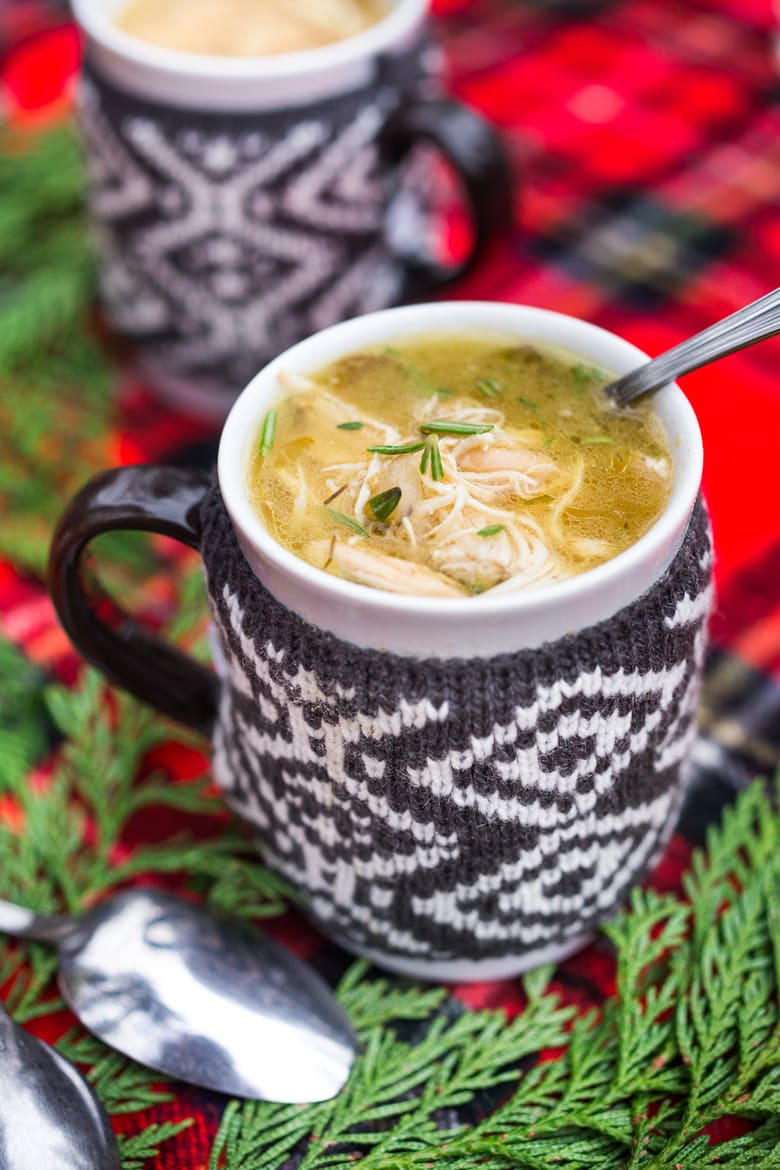 Instant Pot Chicken, White Bean & Rosemary Soup – a healthy, delicious French-style, "country" stew that is simple, easy and flavorful. Lean and clean, it's low in fat and calories while keeping you energized and satisfied all day long. One of my husband's favorites!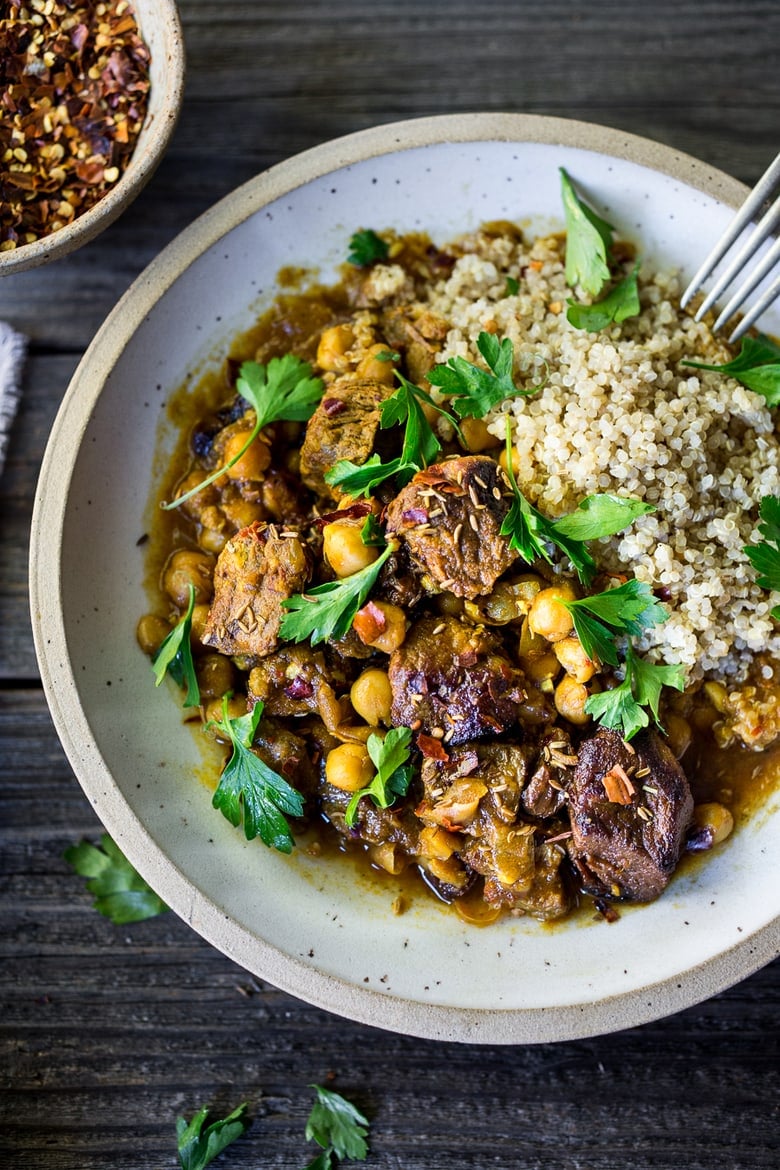 This Instant Pot Middle Eastern Lamb Stew is one of the TOP lamb recipes on the blog. It always turns out. 😉 Made with chickpeas and fragrant spices- it is a flavorful wholesome meal. Serve over quinoa, basmati rice or cauliflower "rice".  One of my favorite recipes on the blog- super tasty and easy. (Can be made with beef as well.)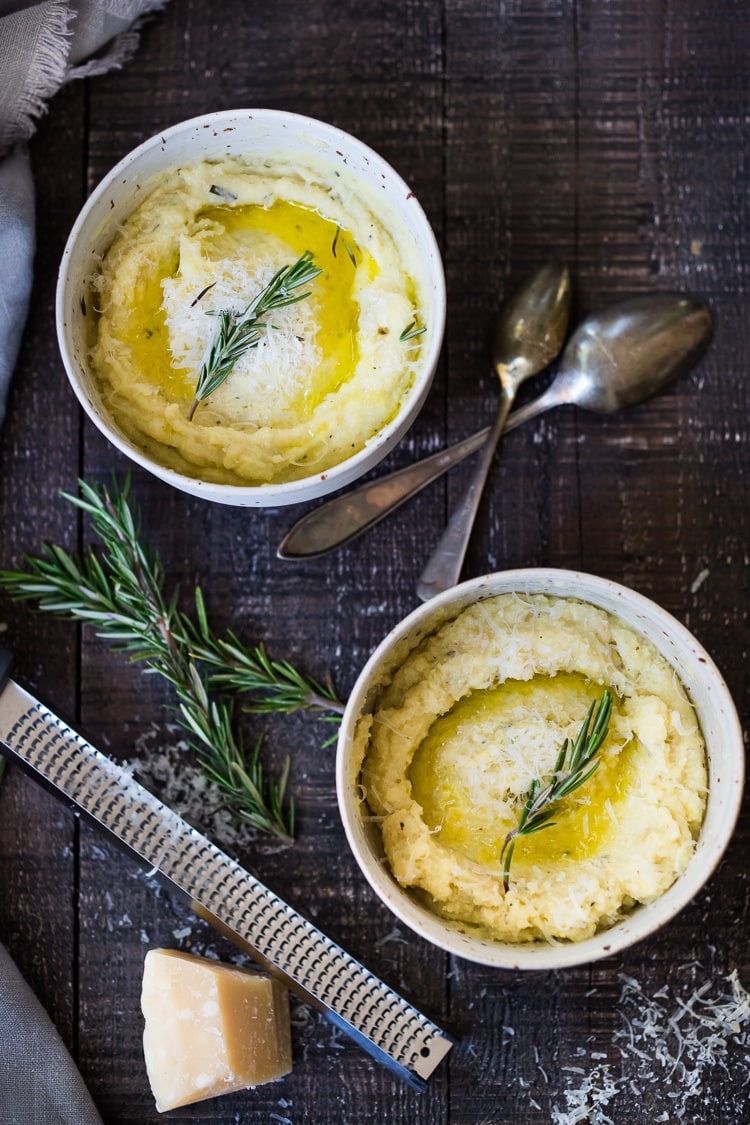 Instant Pot Polenta – a simple Italian recipe and delicious base for oven-roasted veggies,  sautéed mushrooms, smoked mushrooms, or braised meats like short ribs or lamb shanks.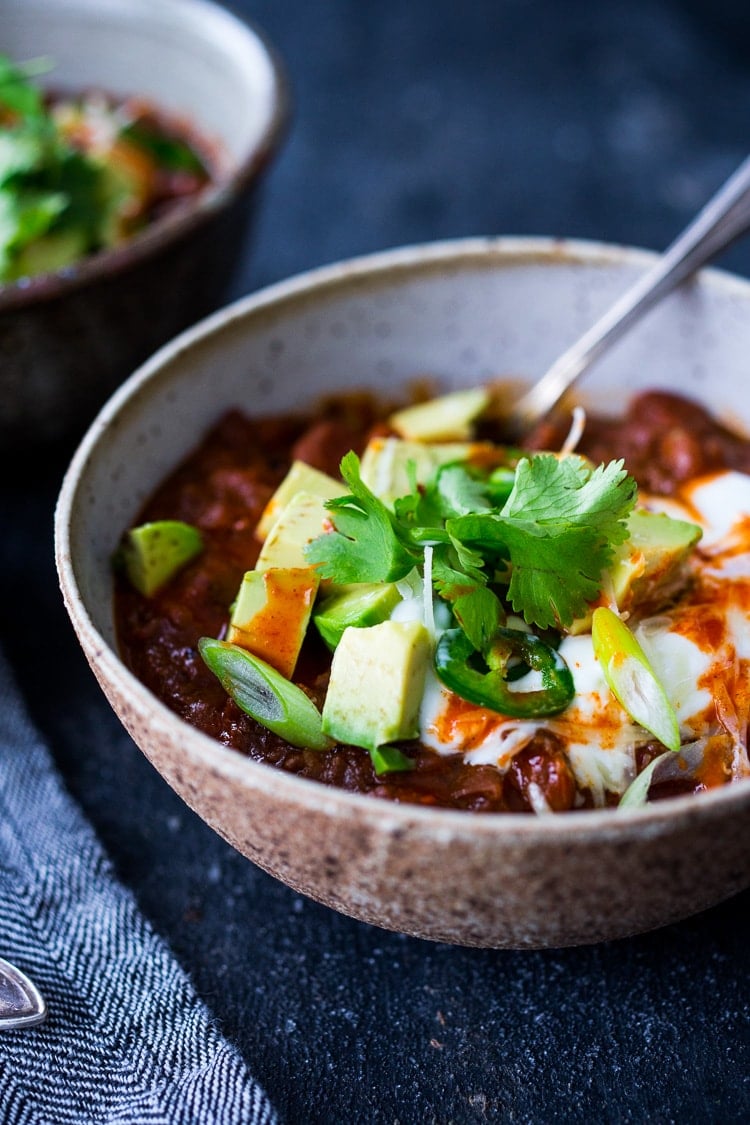 Instant Pot Chili with Dry Beans. A simple easy recipe that can be made with no fuss in an Instant Pot. Super flavorful!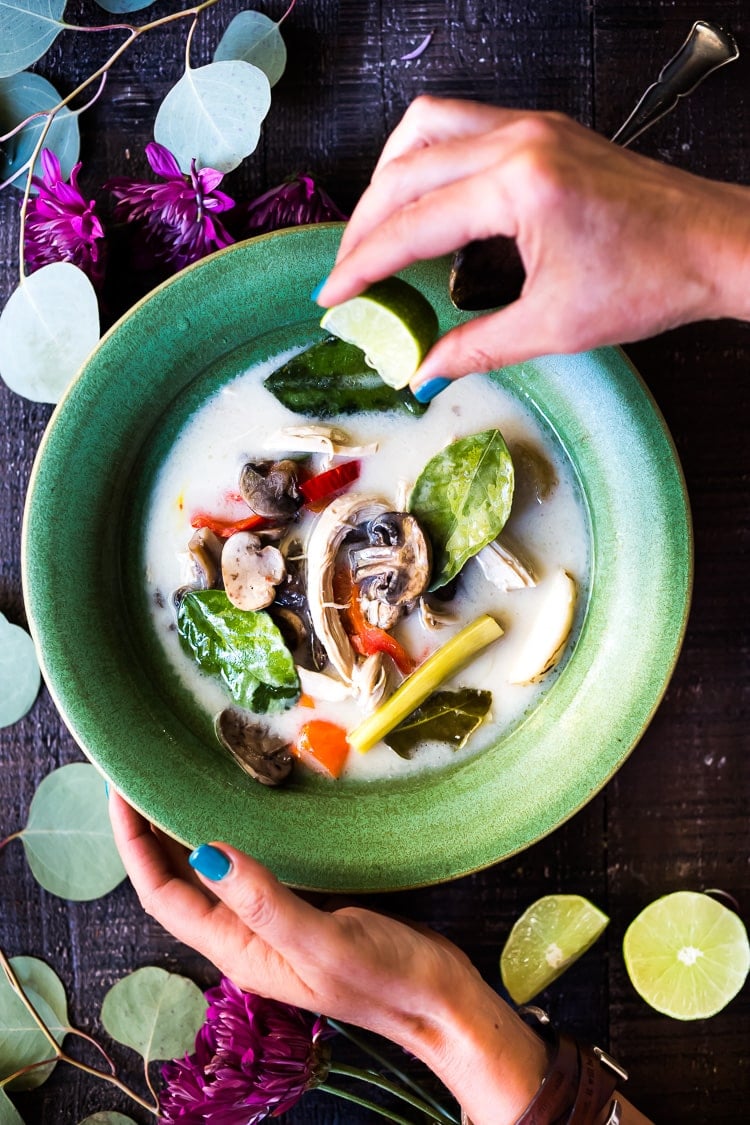 Authentic Tom Kha Gai Soup (Thai Coconut Chicken Soup) – a healthy, delicious and easy dinner recipe that can be made in an Instant Pot or on the stovetop. Vegan Adaptable! One of my favorites!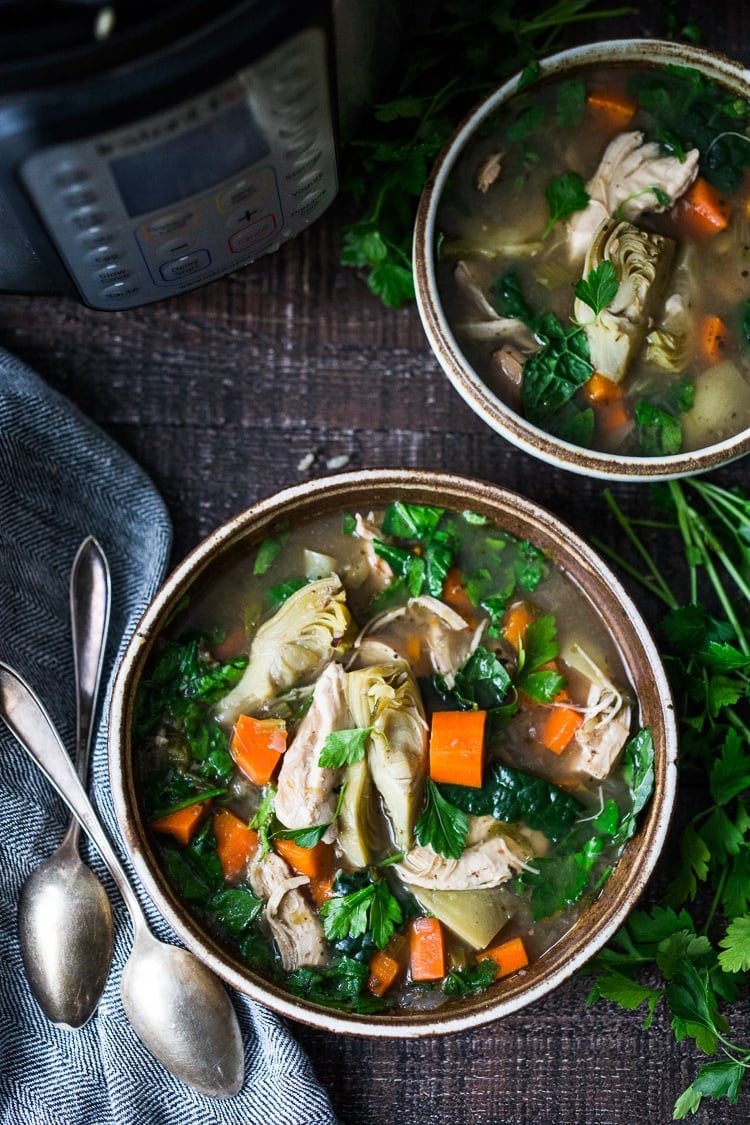 This French-inspired Instant Pot Chicken Artichoke Soup with Wild Rice – a light, healthy and brothy soup with vegetables, wild rice and artichoke hearts with only 15 minutes of hands-on time! A quick and easy Instant Pot dinner recipe!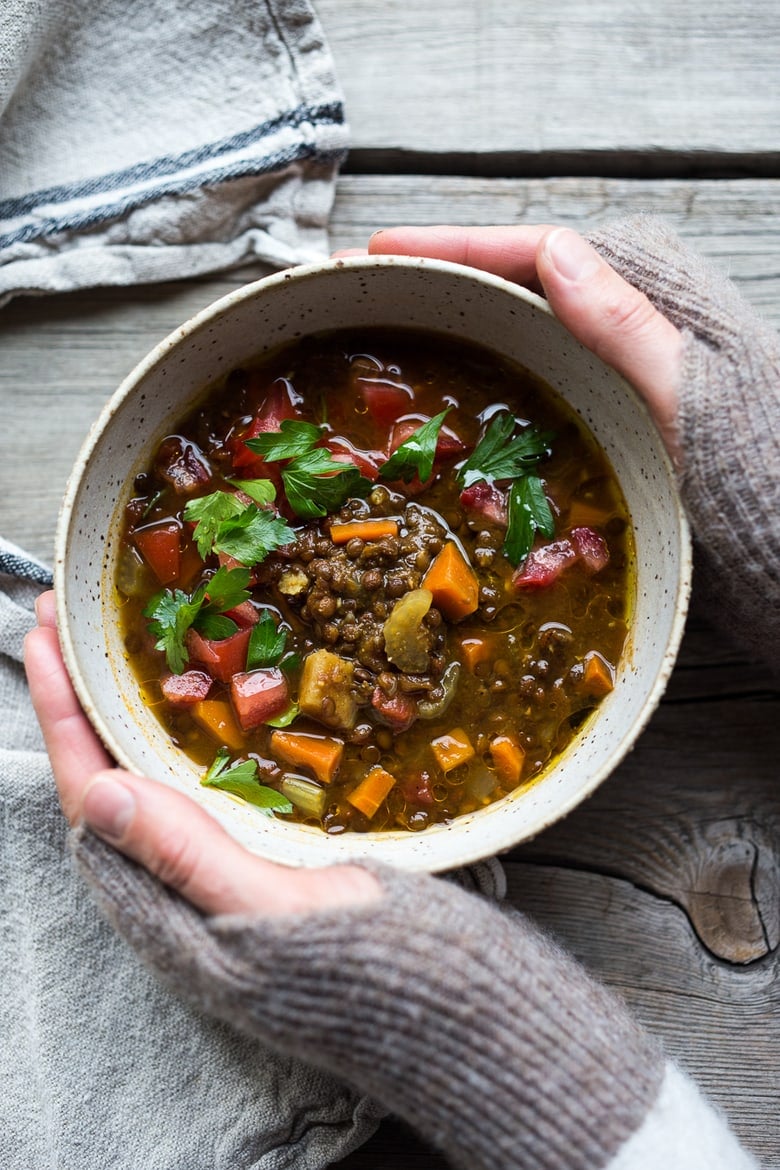 Make-Life Simple, Instant Pot Lentil Soup- w/ healthy veggies and Middle Eastern spices – vegan and gluten-free, this soup cooks in just 12 minutes!
Hope you enjoy a few of these Instant Pot Recipes this week! Let me know your favorites below! xoxo
Print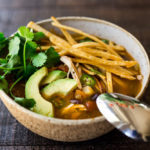 Our 25 BEST Instant Pot Recipes!
Prep Time:

20

Cook Time:

20

Total Time:

40 minutes

Yield:

6

Category:

Instant pot recipes, dinner recipes

Method:

instant pot, pressure cooker

Cuisine:

global
---
Description
Our 25 BEST Instant Pot Recipes from around the Globe! Reader approved! Simple, flavorful and easy Instapot recipes with many vegan, low-carb and gluten-free options!
---
Ingredients
beans
chicken
white beans
pinto beans
black beans
whole grains
lentils 
risotto
pasta
rice
chili
beef
artichokes
whole winter squash
lamb shoulder
chicken thighs
beef short ribs
---
Instructions
Follow each recipe according to directions! Let us know your favorites in the comments below!
---
Notes
Cooking times will vary for each recipe.
Keywords: best instant pot recipes, easy instant pot recipes, instant pot recipes, instant pot recipes healthy, healthy instant pot recipes, vegan instant pot recipes,
(Yes, this site uses affiliate links. And as always, thanks for your support!)