Instant Pot Mujadara – a nourishing vegan meal of lentils and rice, infused with fragrant Moroccan spices, served with caramelized shallots and seasonal veggies. This can also be made on the stovetop! See Recipe notes!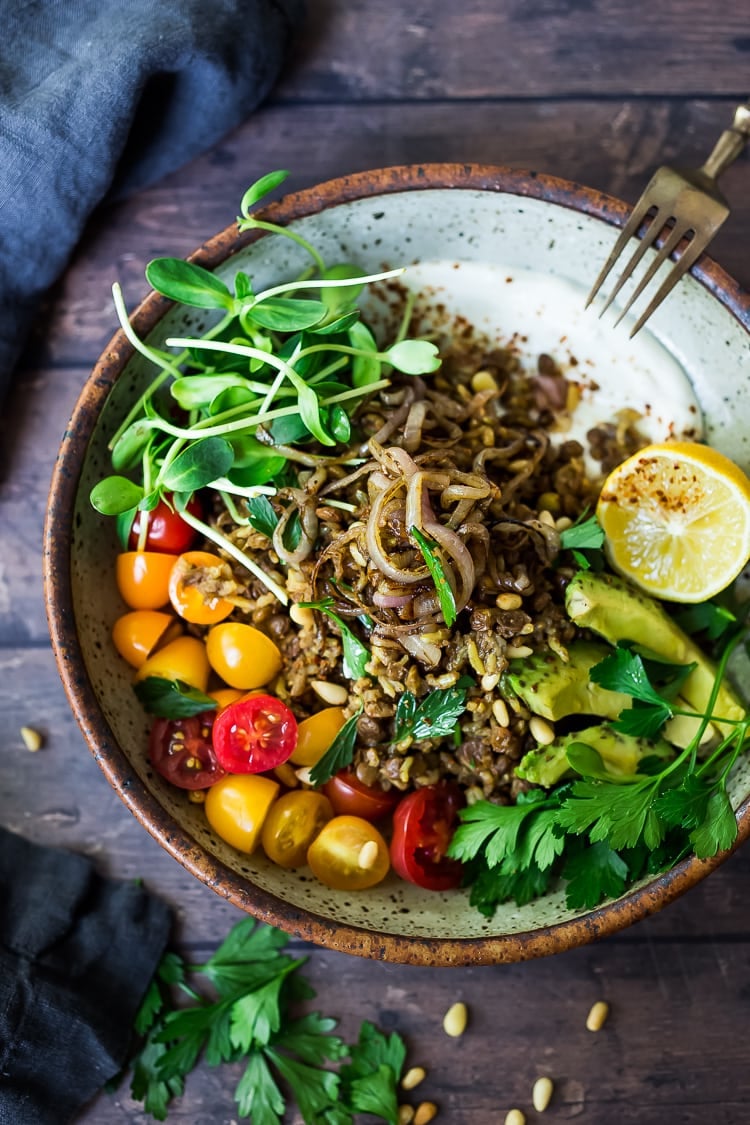 Few desires, happy life. ~Moroccan Proverb
While in Morocco last winter, we hired a guide to take us high up into the Atlas Mountains to visit the beautiful old Berber villages. Our guide, Rachid was not eating meat during this time and would often stop at roadside cafes for a quick bowl of Mujadara- a humble, nourishing meal of lentils and rice, seasoned with flavorful Moroccan Spices. He described it as Moroccan comfort food – filling, nourishing and very affordable.
This meal was very similar to what my Egyptian father used to make, but he called it "Kushari". He would tell me stories of growing up in his tiny village, and how my grandmother, a Copt (old Christian religion) would make this lentil -rice dish for them during their "Holy Great Fast" which lasted almost two months. Years later, after moving to America, my dad would often make his version of lentils and rice, because it reminded him of his mom, and was his comfort food and very affordable when times were lean.
Now that I think about it, this is actually very similar to Khichari, the healing Indian Ayurvedic Bowl I posted about a few years back. It seems many regions of the world have very similar versions of this!
The Mujadara we experienced in Morocco was different from my father's – it was flavored with fragrant Moroccan spices and this recipe here is inspired by the Moroccan version.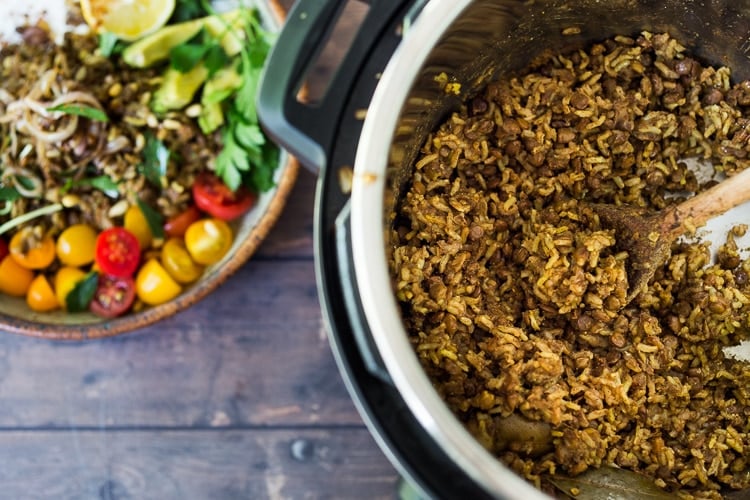 This Mujadara recipe can be made quickly and easily in an Instant Pot. I like to make a batch and have it in the fridge for midweek lunches. I thought my husband Brian would shun the Mujadara, but to my surprise, he happily gobbled it up and wanted seconds – the true test!
The basic recipe is easy and quick, and feel free to add any seasonal veggies you like. Tomatoes are delicious in summer, but roasted root veggies or winter squash would be nice in winter.
The shallots are a must – so don't leave them off.
I added pine nuts but feel free to leave them off or sub other toasted nuts or seeds. A little crunchy texture is nice.
Then simply drizzle with olive oil, and add a squeeze of lemon. You can also serve this with yogurt or tahini sauce.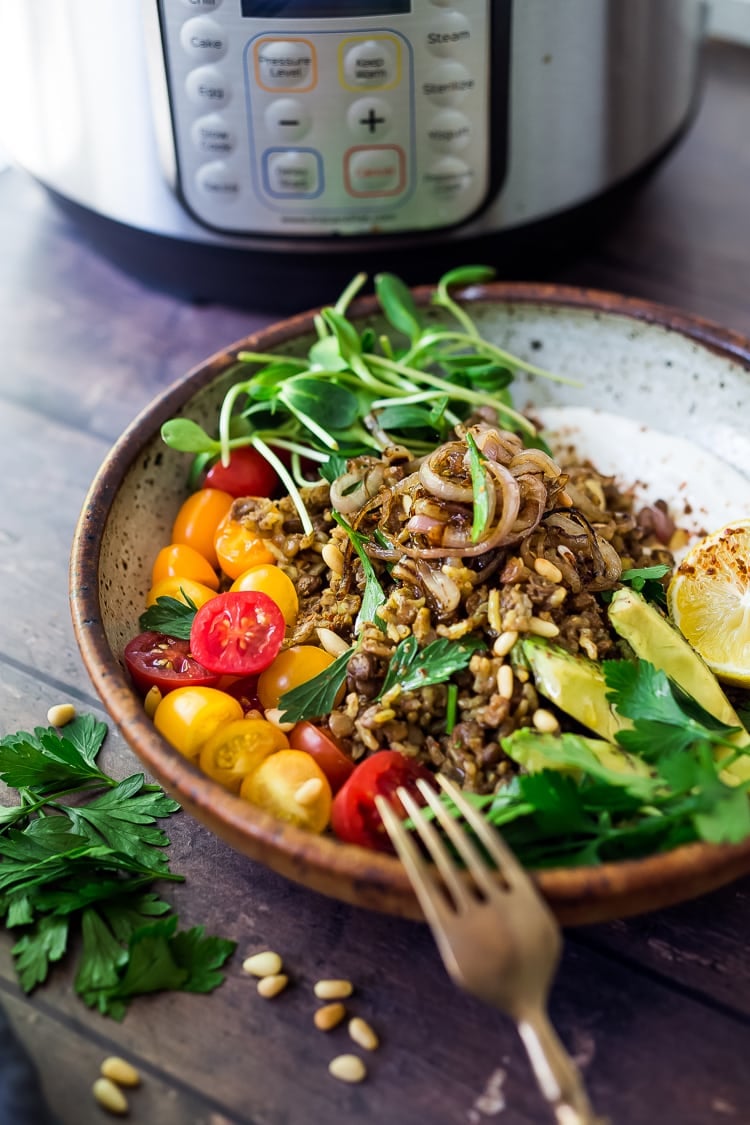 This can be made ahead and reheated for easy healthy midweek meals. A healthy delicious base. To keep this vegan, top with tahini sauce instead of yogurt. Or add avocado!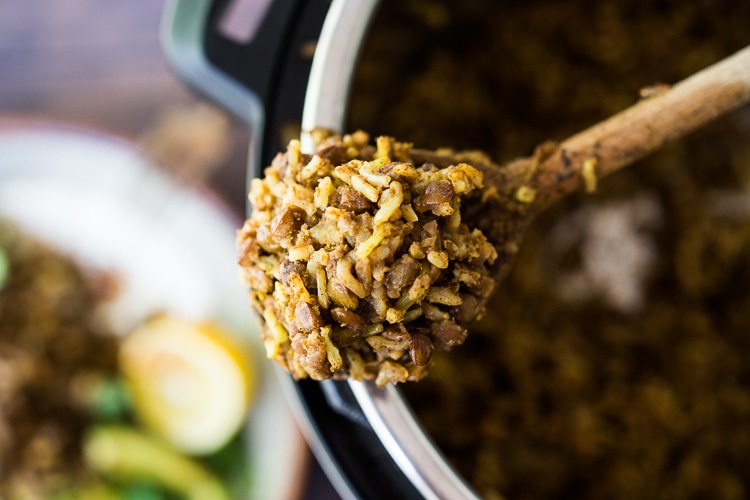 During the colder months, add seasonal roasted veggies, (cauliflower, carrots, parsnips, butternut) instead of tomatoes. You can also add shredded raw veggies like carrots, beets or cabbage.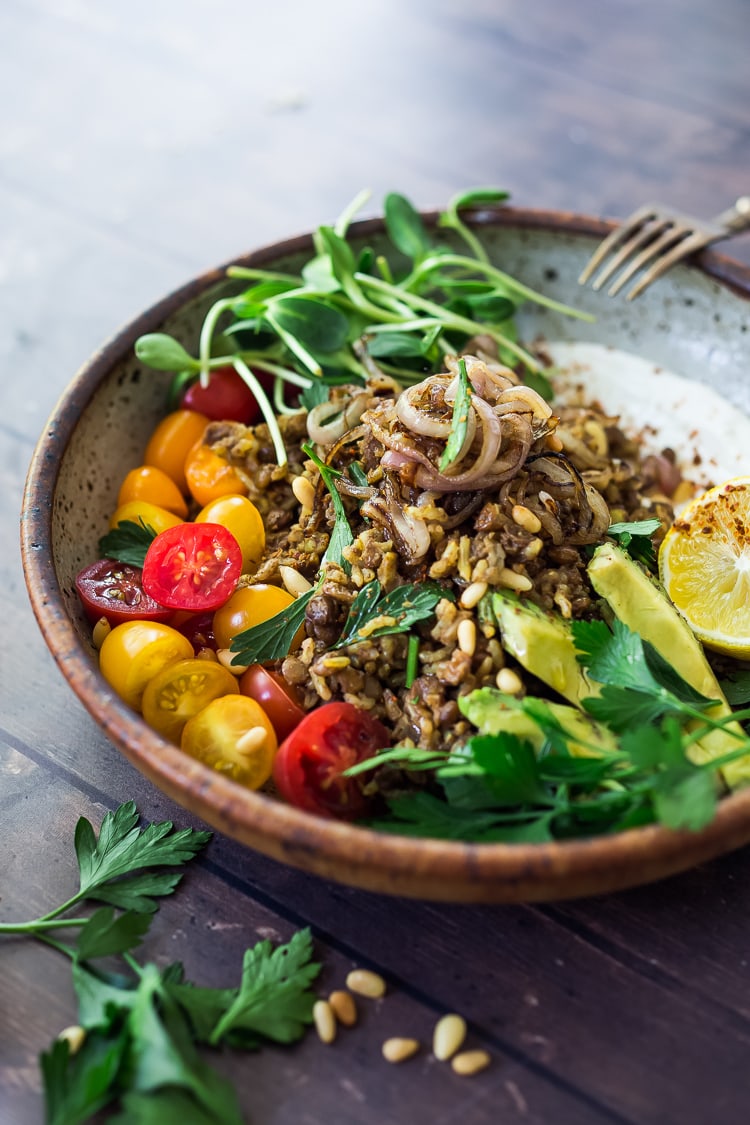 So a warm base of lentils and rice, topped with cool, crunchy raw veggies. Add tahini sauce or tzatziki, plain yogurt or zhoug yogurt! Yes I know these are not "Moroccan sauces", but they taste good here.
An energizing healthy bowl!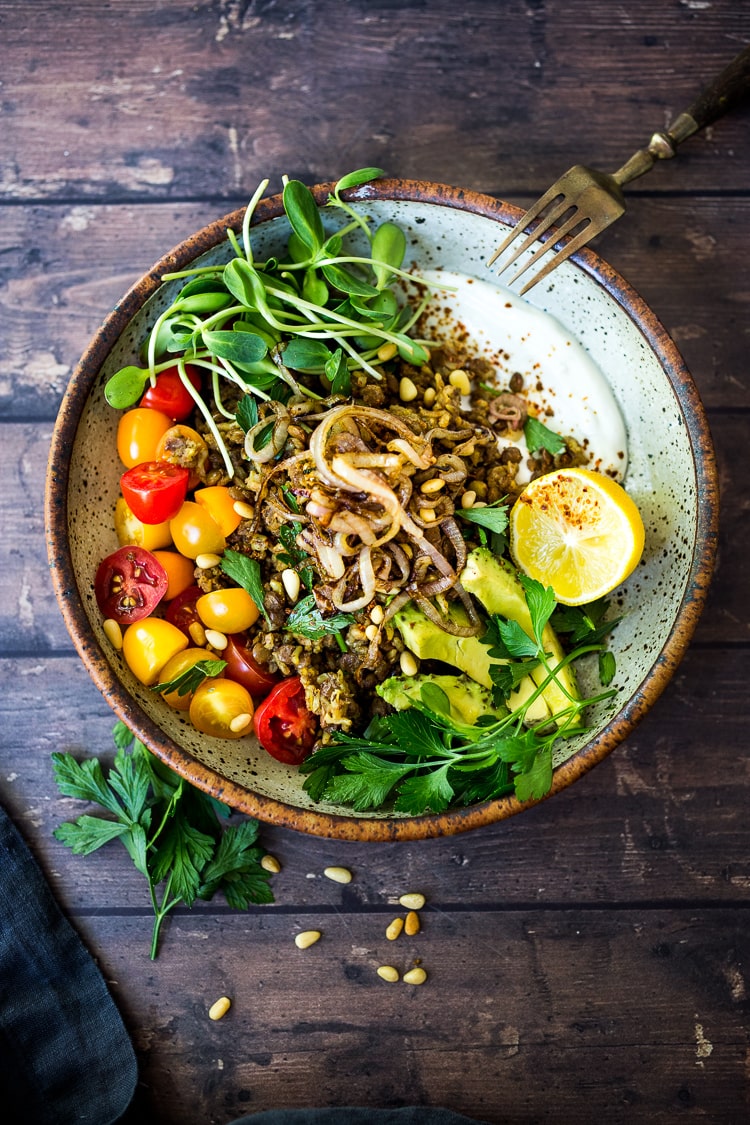 The fresh herbs and olive oil really elevate the Mujadara, so don't skip this step.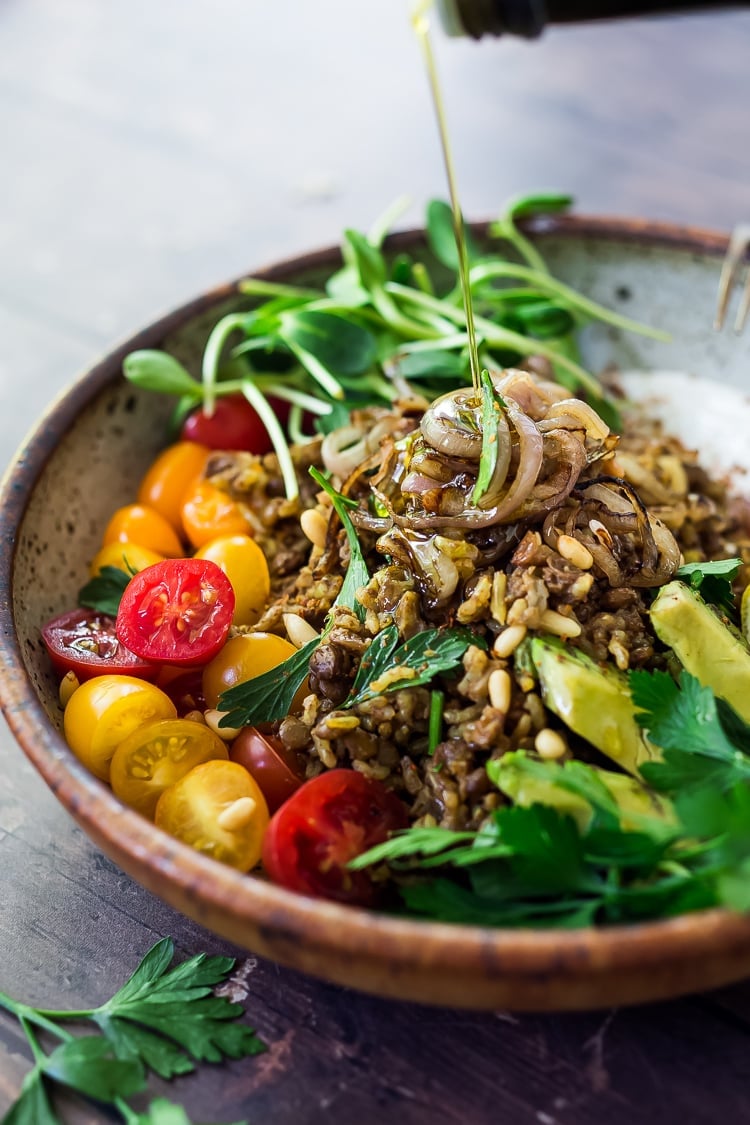 Moroccan Mujadara! A quick and easy vegan meal that can be made in an Instant Pot. You will love this!
You may also like:
Print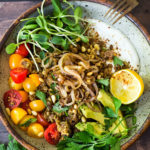 Instant Pot Mujadara
Author:

Sylvia Fountaine

Prep Time:

10

Cook Time:

25

Total Time:

35 minutes

Yield:

5

Category:

Main, vegetarian, vegan, gluten free, instant pot,

Method:

instant pot

Cuisine:

middle eastern

Diet:

Vegan
---
Description
Instant Pot Mujadara – a comforting, healthy vegetarian meal of lentils and rice, with fragrant Moroccan spices, served with caramelized shallots, fresh veggies, pine nuts and optional yogurt. Gluten-free and Vegan adaptable. To make this on the stove top…see recipe notes.
---
1 cup

large brown lentils (do not use split lentils) see notes

1 1/2 tablespoons

 olive oil

2

–

3

fat shallots, thinly sliced ( or

1

red onion)

4

cloves garlic, rough chopped

2 teaspoons

 cumin

1 teaspoons

coriander

1 teaspoon

allspice

½ teaspoon

cinnamon

½ teaspoon

turmeric, optional

¼ teaspoon

ground ginger

1 ½ teaspoons

 kosher salt

1 teaspoon

dried mint or parsley ( or use a tablespoon of fresh)
lemon zest from one small lemon

3 cups

water (updated from 3 1/2 cups-

see notes if using white rice

)

1 cup

brown basmati rice (rinsed and drained-

see notes for white basmati rice)
Garnishes: caramelized shallot or onion, diced tomato, simple roasted veggies, diced avocado, sprouts or greens, sliced cucumber, pine nuts, a drizzle of olive oil, yogurt,  vegan yogurt, zhoug yogurt (amazing),  lemon wedges, fresh parsley, aleppo chili flakes. (In winter, serve with roasted root veggies, shredded kale, carrots, or cabbage or beets!
---
Instructions
Place lentils in a bowl and cover with hot tap water (or boiling water), letting them soak until time to add to the instant pot.
Set Instant Pot to Saute function. Saute shallots in the oil, 4-5 minutes, stirring constantly,  until tender and fragrant and slightly caramelized. Remove half, saving for the topping. Add the garlic and saute until fragrant, about 1-2 minutes. Add all the spices, salt, lemon zest and water. Stir.
Drain the lentils and add them along with the rinsed rice to the instant pot.  Give a good stir.
Cover the instant pot and set to High pressure for 11 minutes. Let naturally release for at least 10 minutes.
In the meantime, prep any garnishes you like.
To serve, gently fluff the Mujadara with a fork (

do not over mix

, or it will get mushy ).  Divide among bowls, drizzle with olive oil, add tomatoes, avocado, caramelized shallots, sprouts, a spoonful of yogurt or zhoug yogurt, or tahini sauce – and fresh parsley or mint.
Feel free to serve with other seasonal veggies ( roasted root veggies, shredded cabbage or carrots, etc).
---
Notes
LENTILS & RICE: If you use different lentils (like small ones) or different rice (like white basmati) you will have to adjust the liquid down a bit. Most Lentils take 9 minutes  (unless they're very small) to cook in the Instant Pot. White Basmati Rice takes 5 minutes in the pressure cooker. That is why we use brown basmati rice here, because they take roughly the same amount to time to cook as the lentils. The goal here is getting both lentils and rice to cook in the same amount of time, so neither is mushy. 🙂
WHITE RICE If using white basmati rice, shorten the cooking time to 9 minutes and reduce water to 2.5 cups. The rice will still get slightly mushy, but not horribly.
This can be made ahead and refrigerated and used as a healthy base for mid-week lunches.
In fall, winter you could serve with roasted winter squash or root veggies.
STOVE TOP: To make this on the stovetop, and if using large brown lentils, par-cook them in boiling water for 15 minutes.  While the lentils are boiling, heat oil in a dutch oven and cook the shallots, stirring often until golden and caramelized. Remove half and continue with the recipe. Drain the lentils and add it along with rice, spices, salt, water to the pot. Bring to a simmer, cover tightly and cook on low heat for 20 minutes. Check to see if lentils and rice are tender. If not, continue to cook a few more minutes, adding more water if necessary. If using small black or green lentils, check cooking directions for cooking time. Adjust par cooking time according to the size of a lentil. For example, tiny black beluga lentils take 20 minutes to cook, so you would not need to par-cook.  Please leave your adjustments below to help other users, thanks!
Keywords: Mujadara, Mujadara recipe, instant pot mujadara, best mujadara recipe, pressure cooker mujadara, authentic Mujadara recipe, Mujadara vegan Mujadara rice, lebanese mujadara recipe, how to make mujadara, what is mujadara,