This authentic Chana Masala Recipe can be made in an Instant pot or on the stovetop. Either way, this quick and easy vegetarian dinner recipe is full of delicious Indian flavors! Serve it over basmati rice with naan bread, or over baked sweet potatoes or like a Sloppy Jo (Masala Jo!).  Scroll down to see what you can do with this!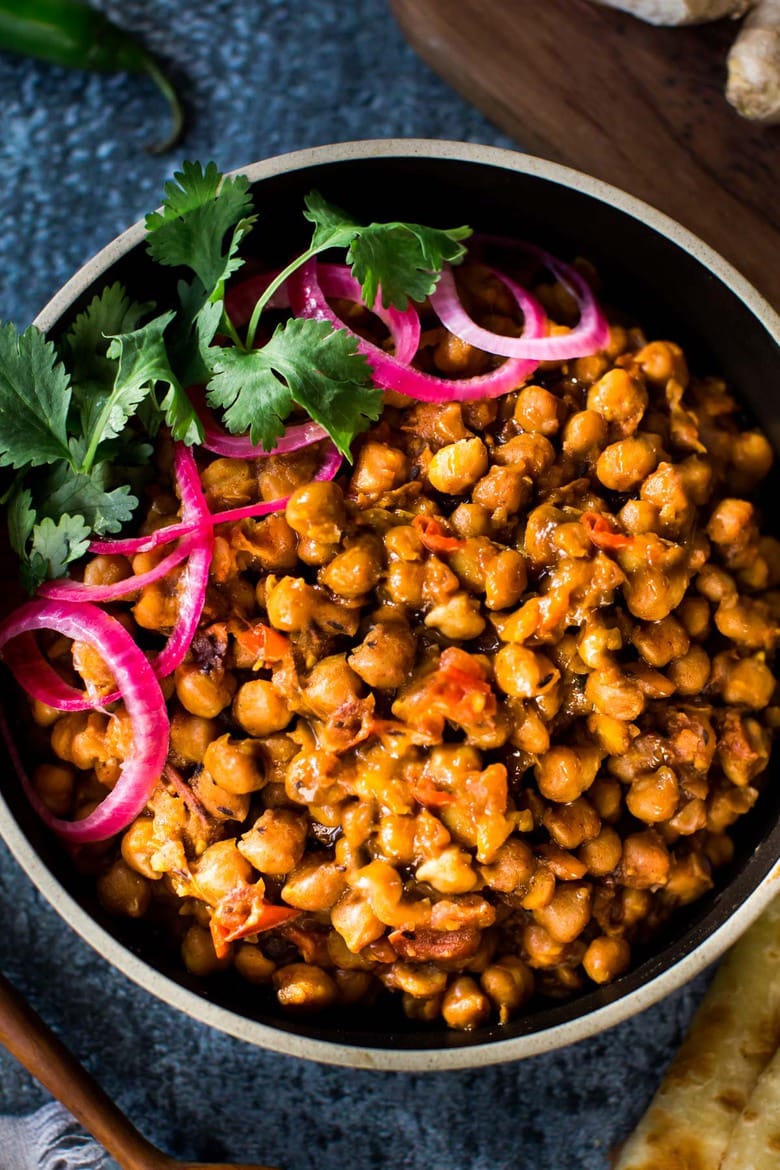 Last week I made a big batch of Instant Pot Chana Masala and served it up three different ways during the busy week.  First we had it over fluffy basmati rice with naan bread, next we served it over roasted sweet potatoes and then lastly piled it in a brioche bun with avocado, and served it like a "Sloppy Jo".  Super Tasty!
If wanting to use dry chickpeas, the easiest way to make this is to use an instant pot!  It turns out great and is fast and easy.
If you rather use canned beans, I much prefer the stove-top method, but take your pick! Either way you will love the flavor here.
What is Chana Masala? 
Chana Masala is an Indian-Style Chickpea dish often served with basmati rice, or naan.
Chana Masala is Hindi for "Spiced Chickpeas".(Chana translates to chickpeas and masala translates to spice.)
If you are wondering what the difference is between Chana Masala and Tikka Masala, Tikka usually refers to "meat"- so spiced meat dish. Get it? 😉
Can you make Chana Masala Vegan? 
Of course!  BUT I really hesitate because it is the use of ghee that gives this Chana Masala its amazing flavor!  That being said, do as you please. Sub coconut oil, or olive oil. 🙂
Can you make Chana Masala in an Instant Pot?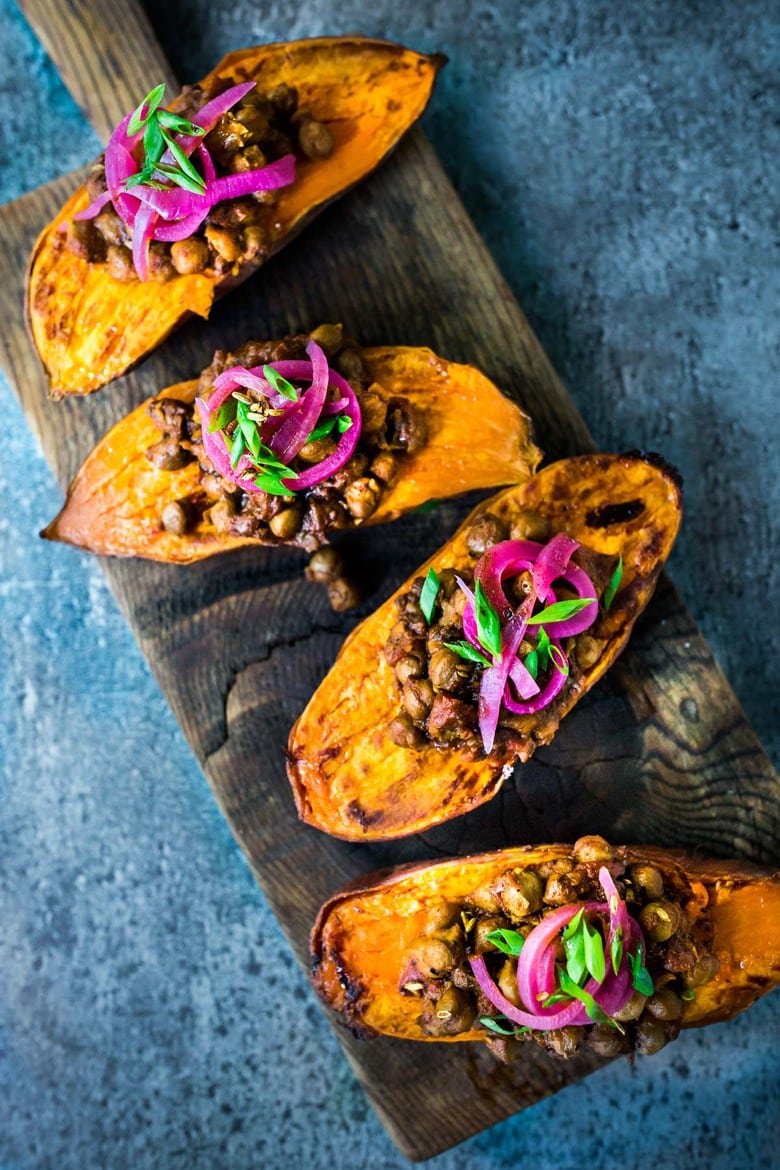 Chana Masala starts with a fragrant mix of spices. Remember, masala means "spice".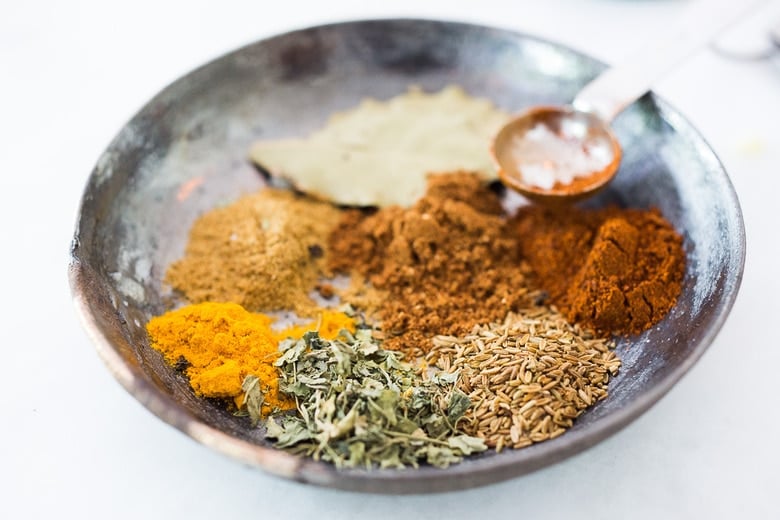 What are Chana Masala Spices?
Chana Masala actually varies greatly in India depending on the area, and even down to the specific household. Each blend is unique. And that is what makes this fun! Here is my favorite blend, but please adapt it to your own tastes!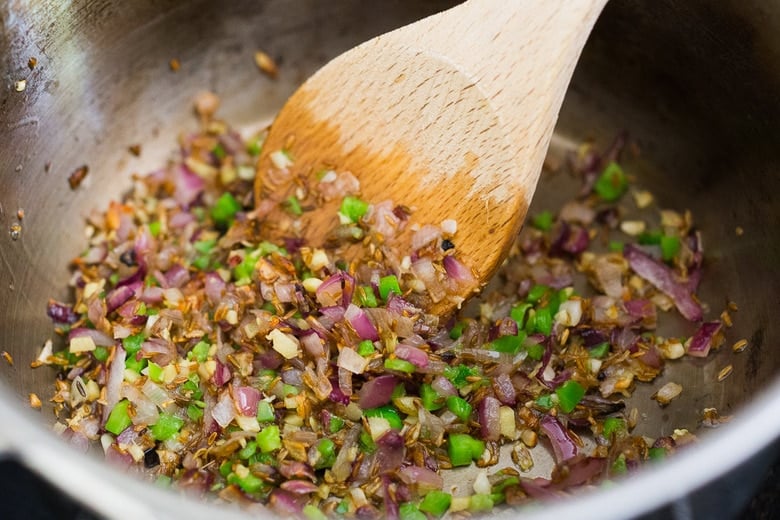 Saute the whole spices in ghee, then add the shallot, garlic and chili.
TIP: Ghee brings this to another level.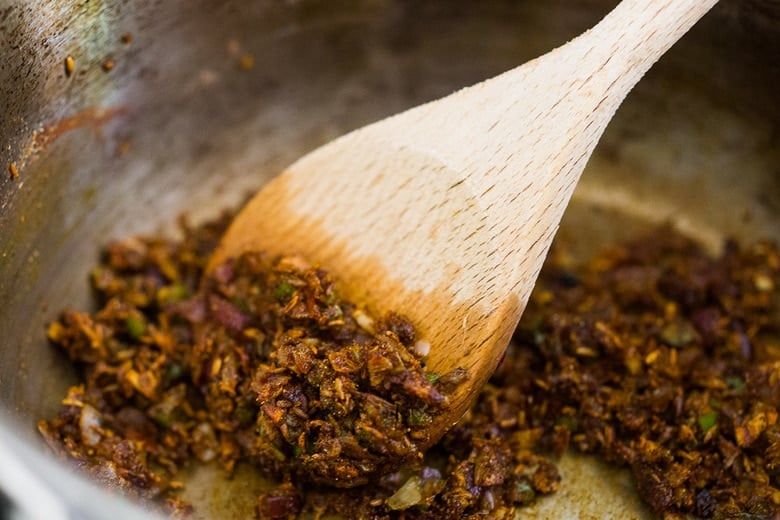 Then add the ground spices… and saute, which will give the final dish delicious depth!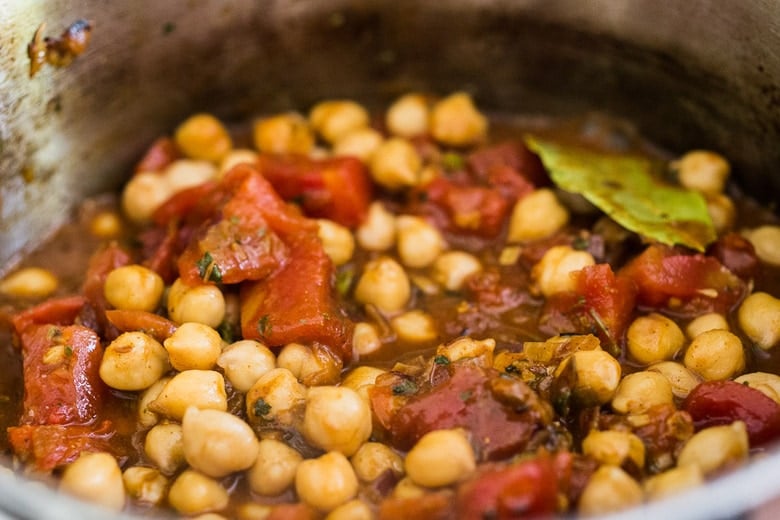 Then add the fresh tomatoes, water, soaked chickpeas and bay leaves, and season with salt. Let this pressure cook for 40 minutes.
TIP: For some reason, using fresh tomatoes tastes way better than canned.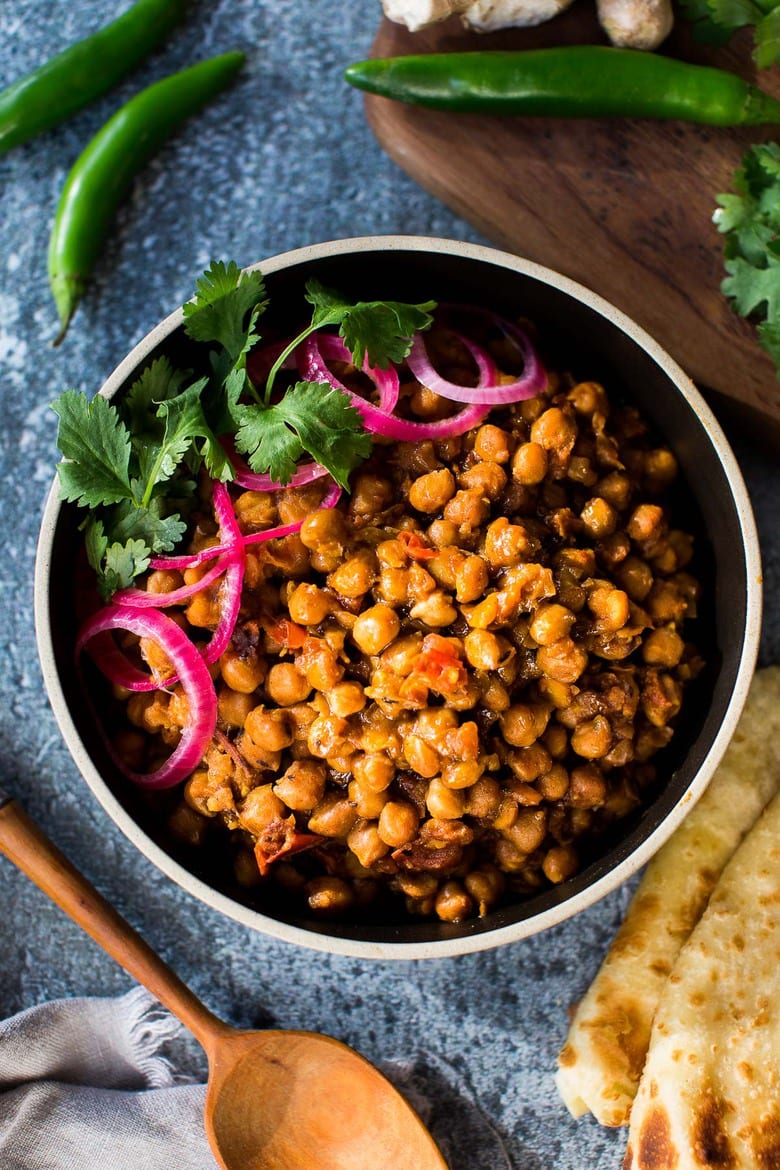 Serve this with pickled onions and cilantro, with basmati rice and/ or naan bread.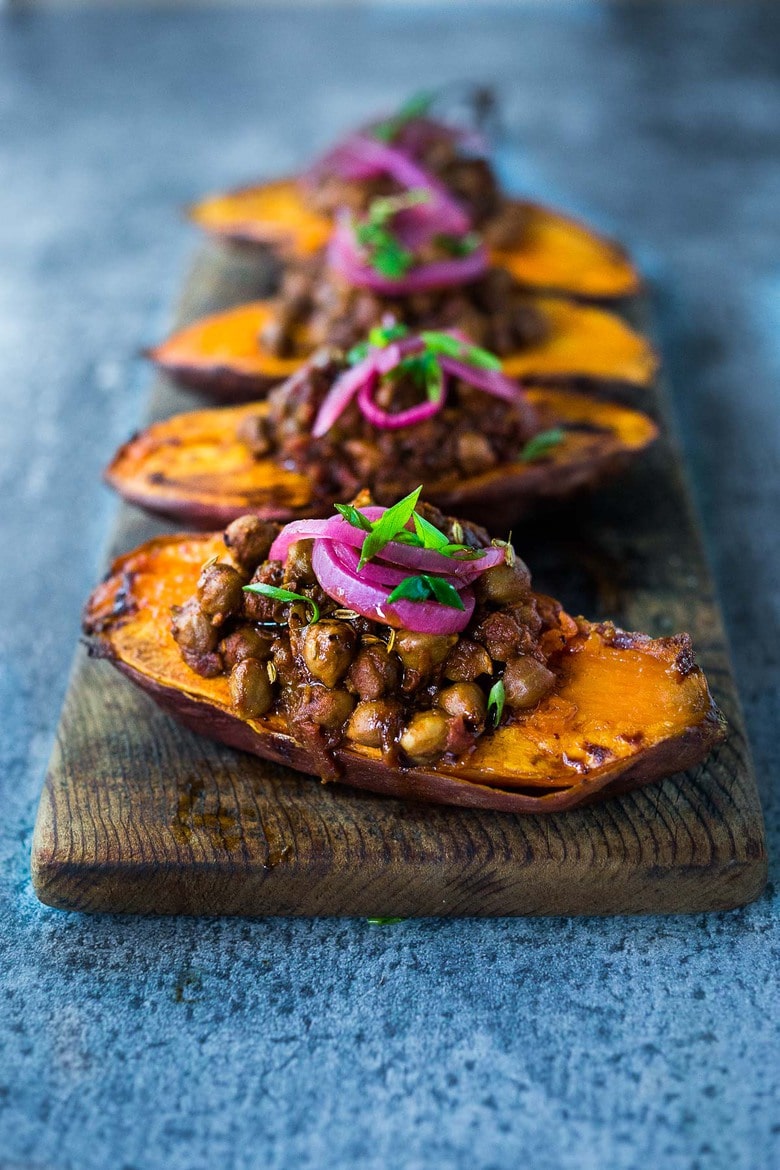 Or for something different, serve it atop a baked sweet potato! So yummy!
We also had it this way, served as a "Sloppy Jo" with Avocado inside a soft Brioche bun. Delish!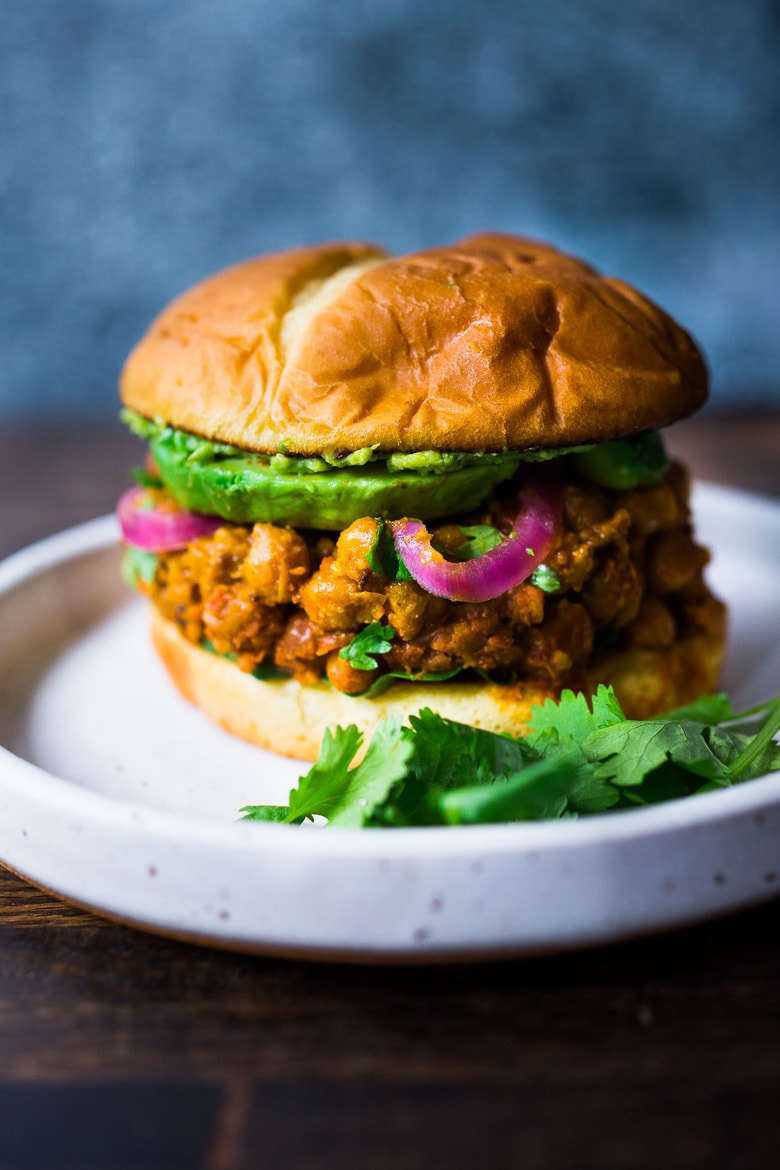 So play around with this, and see how you like it best!
The leftovers can also be frozen!
Hope you enjoy. and let me know how you like it in the comments below!
Also, share how you serve it!
xoxo
Print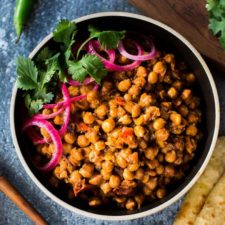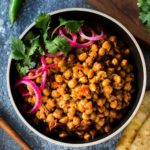 Instant Pot Chana Masala
Author:

Sylvia Fountaine

Prep Time:

30

Cook Time:

60 mins

Total Time:

1 hour 30 minutes

Yield:

6-8

Category:

Vegan, Main

Method:

Instant pot, stove top

Cuisine:

Indian
---
Description
This authentic Chana Masala Recipe can be made in an Instant pot or on the stovetop. A quick and easy Vegetarian dinner recipe that is full of amazing Indian flavor!
---
Ingredients
1 1/2 cups

dry chickpeas, (soaked in water 12-24 hours 

or see notes

)  or sub 4-5 cups cooked or canned chickpeas

2 teaspoons

 cumin seeds ( whole)

1 teaspoon

fennel seeds ( whole)

2

large shallots, diced ( or

one

onion diced)

2

fat garlic cloves, rough chopped

1/2

–

1

jalapeno or

1

serrano chili, finely diced

2 teaspoons

fresh ginger, minced

1 teaspoon

garam masala

1 teaspoon

ground cumin

1 teaspoon

ground coriander

1 teaspoon

chili powder

1 teaspoon

dried fenugreek leaves

1/2 teaspoon

ground turmeric

2

bay leaves

2

medium tomatoes, diced (and their juices) or 14-ounce can diced tomatoes, with juices. (although fresh tastes better here)

1

–

1 1/2

teaspoon salt ( use more if dry chickpeas, less if canned)

2 cups

water if using dry, soaked chickpeas  (or

1/2 cup

water if using if canned or fully cooked chickpeas)
Serve over Basmati Rice or with naan Bread! Or over roasted sweet potatoes, or in a bun like a sloppy Jo!
---
Instructions
If using dry beans, soak chickpeas in a bowl with 6 cups water, for 12 hours on counter, or up to 24 hours in the fridge. Drain. (See notes for quick instant pot "soak")
Set Instant pot to Saute function. Heat ghee and add whole cumin seeds , and fennel seeds, stirring 2-3 minutes until fragrant and golden.
Add shallots. Saute 4 minutes until golden. Add garlic ginger and diced chili, saute 2-3 minutes.
Add all the spices- garam masala, ground cumin, coriander, chili powder, fenugreek, turmeric and bay leaves.
Give a stir then add the tomatoes and their juices, stirring constantly, for about 3 minutes, scraping up any browned bits.
Once the tomatoes start to break down add the water (if using dry chickpeas),  salt and drained chickpeas. Give a good stir, scraping up browned bits ( to prevent burn error).
Set Instant to High Pressure for 25 minutes. (SEE NOTES!!!) Naturally, release for 15 minutes then manually release.
Taste and adjust salt.
---
Notes
Instant Pot Cooking Times:
If using soaked chickpeas (12-hour soaking method-

my prefered method

), pressure cook Chana Masala for 25 minutes.
You can "PRE COOK" chickpeas in the instant pot for 15 mins (high pressure) with 4 cups water and 1/2 teaspoon salt. Drain and follow recipe, pressure cook Chana Masala for 40 minutes.
If using

unsoaked

chickpeas, pressure cook Chana Masala 55 minutes. Naturally release. (If using unsoaked chickpeas- be aware, they may not cook evenly- especially if they are older beans)
How to pre-soak chickpeas in the Instant pot: place 2 cups dry chickpeas, 4 cups water, and 1/2 teaspoon salt. Set to High pressure for 15 minutes. Manual or natural release. Drain, set chickpeas aside and wipe out the Instant Pot.
If using canned chickpeas, set instant pot to 6 minutes, add only 1/2 cup water,  manually release.
*Or, preferably, make this on the stovetop with canned chickpeas, following the same directions, only adding  1/4- 1/2 cup water, simmering on low, for 10-15 minutes.
I really prefer the taste of fresh tomatoes in the recipe, versus canned.
Remember dry chickpeas will need more salt, canned chickpeas perhaps less salt.
Keywords: Instant Pot Chana Masala, Chana Masala recipe in an instant pot, authentic Chana Masala recipe, Chana Masala recipe