How to make Palak Paneer- a popular Indian recipe made with cubes of cheese (paneer) gently simmered in a creamy spinach sauce infused with fragrant Indian spices. Fast and easy, this Keto-friendly, vegetarian meal is also Gluten-free! Video!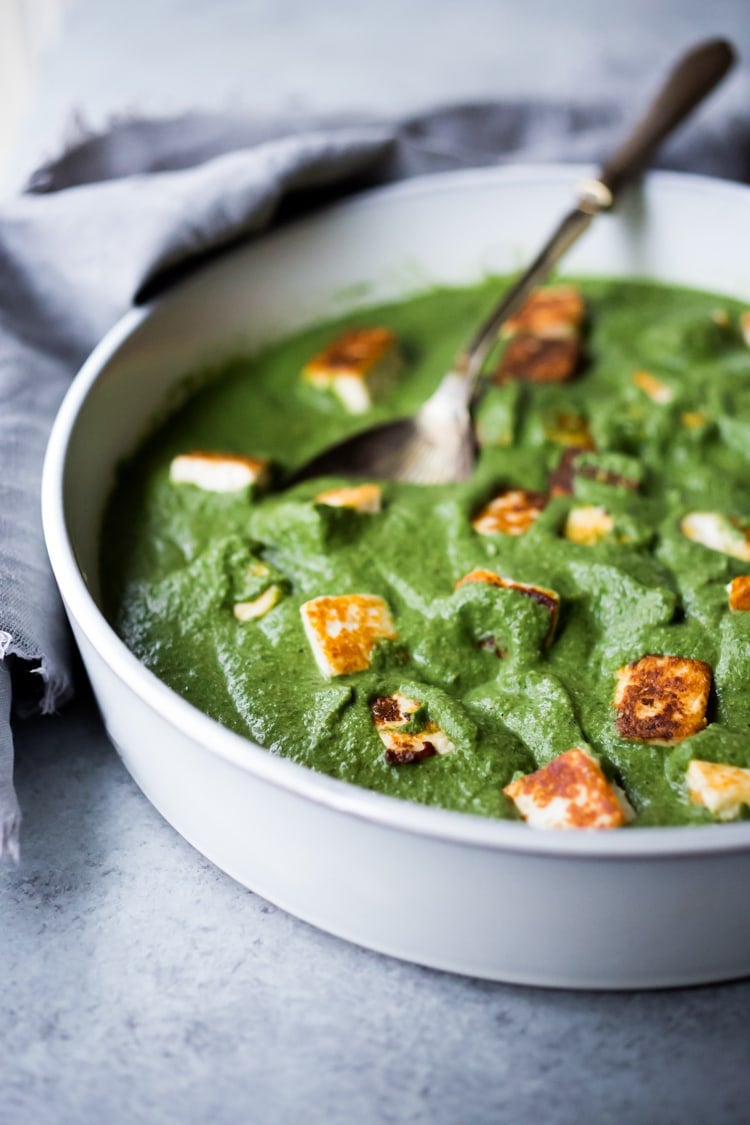 And the wheel goes round and round, and the flame in our souls will never burn out. ~Rosanne Cash~
Palak Paneer is very similar to Saag Paneer, but this recipe is slightly different, or so I was told while in India. In Hindi, palak means spinach, while saag is more general and means "greens" where a variety of different greens can be used.
No matter what you want to call it, you'll love the flavor. The luscious creamy spinach sauce can be a vehicle for so many things. Instead of paneer, pair it with pan-seared tofu, chicken, fish or even roasted veggies! You'll want to lick the bowl.
You'll find a hundred uses, and trust me, you'll want to mop up every single drop. Serve it with fluffy basmati rice or naan bread, or keep it low-carb with cauliflower rice. The best part?
The fragrant Palak Sauce can be made in under 30 minutes!
How to Make Palak Paneer | 60-Sec Video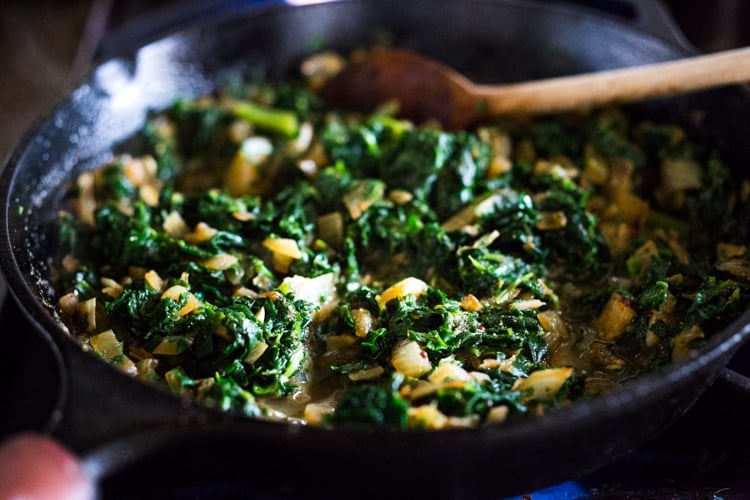 Here, onions, ginger and garlic are sautéed until melting and deeply golden. The spices are added along with frozen spinach and a little water.
You know me, of course, I made this with fresh spinach in the beginning, and yes you can do this too. But it's hard watching a whole pound and a half of baby spinach wilt into practically nothing, and in winter, it just seems more cost-effective in winter to simply use frozen spinach.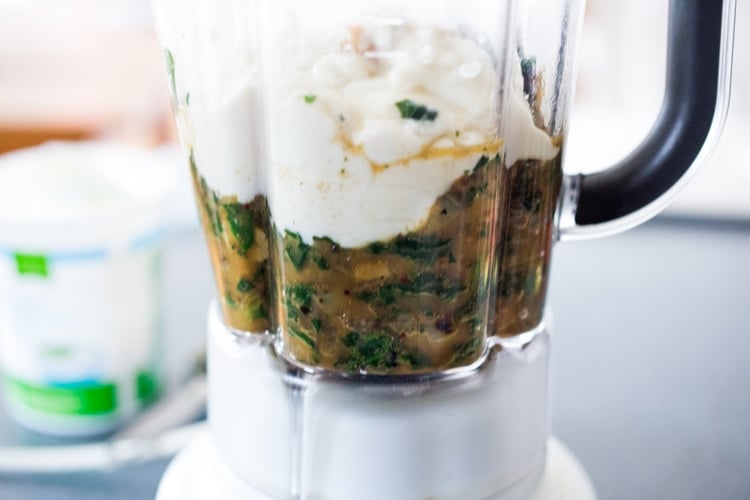 Then simply blend it up with yogurt and cashews until you have a silky smooth vibrant green spinach sauce. Palak Sauce!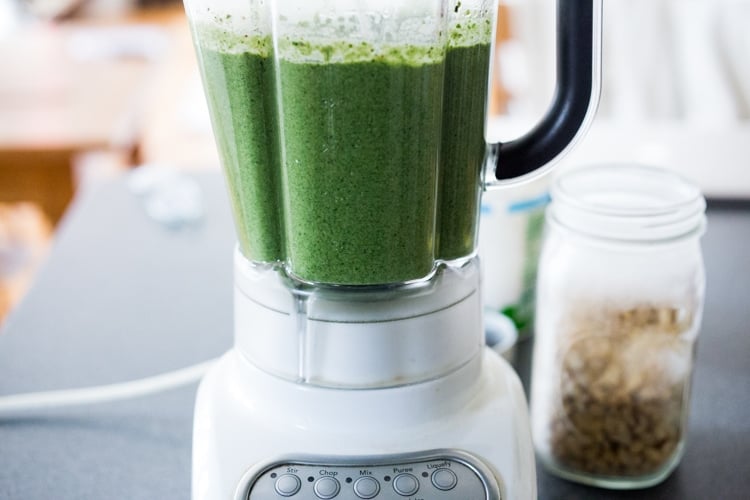 Pan-sear the paneer for delicious texture before simmering in the sauce.
Or pan-sear tofu, chicken or fish! Or, while making the sauce, you could roast off some cauliflower….just giving you ideas. 😉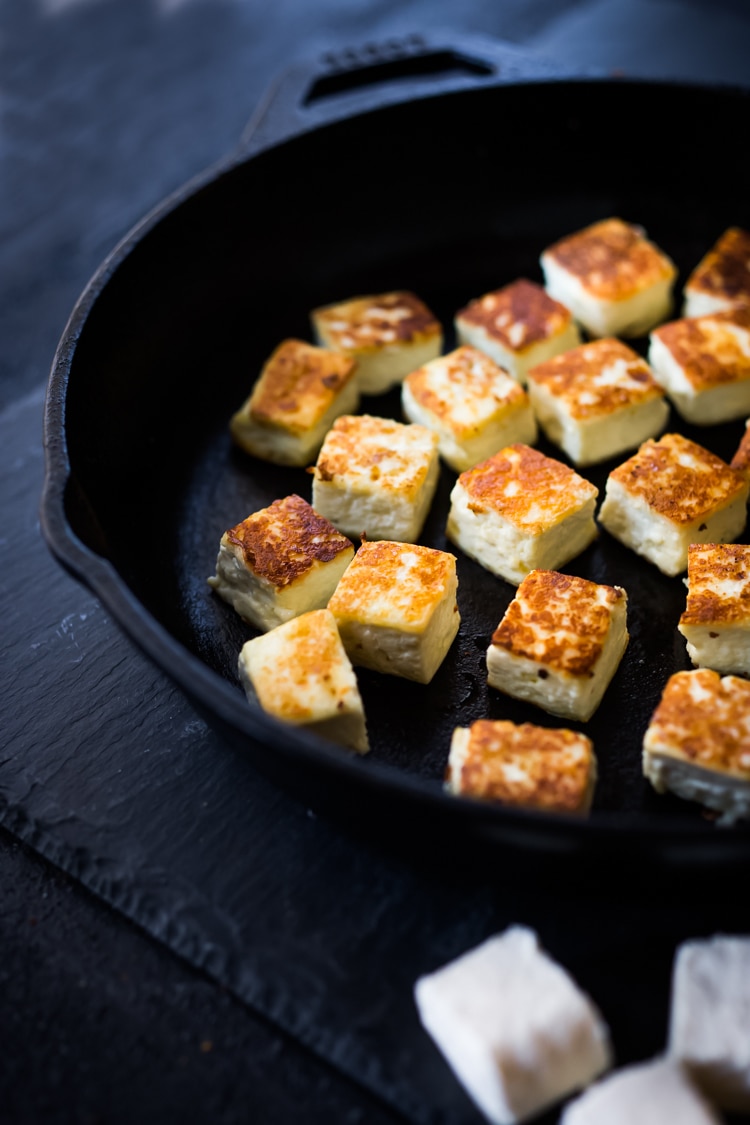 Simmer the paneer in the fragrant Indian Spinach Sauce until both sauce and paneer are warmed through, uncovered.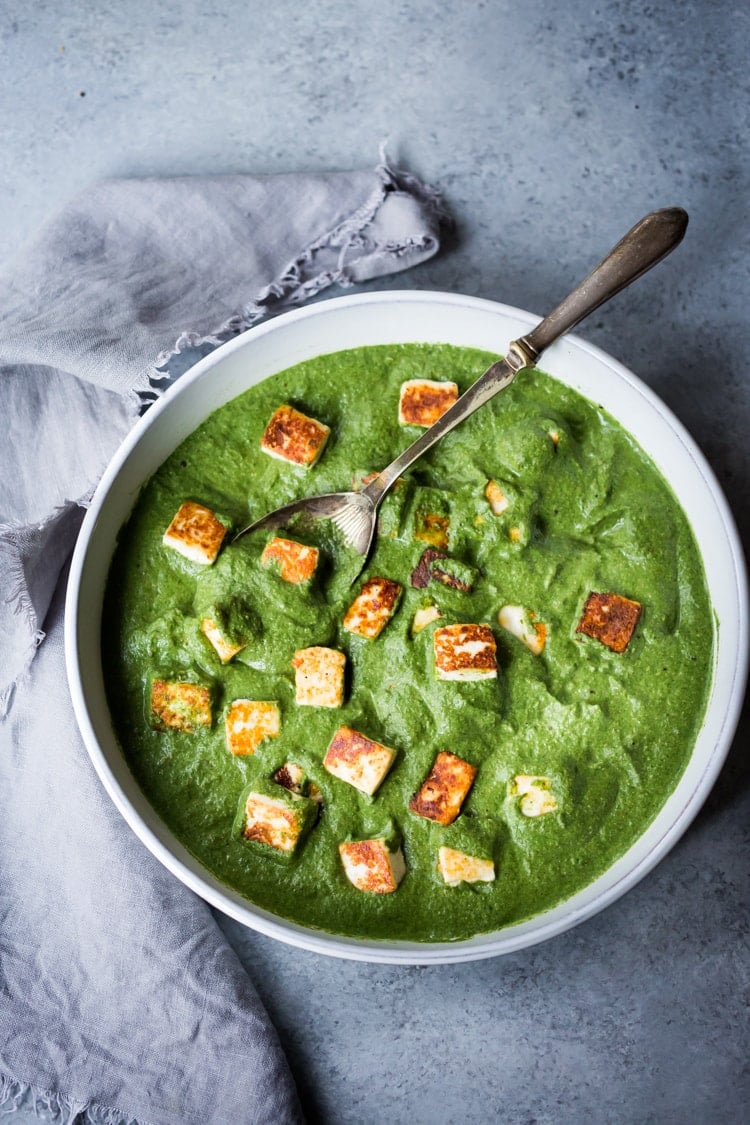 Voila! Palak Paneer, so vibrant and beautiful, with the best aroma ever ….perfect for cozy winter evenings!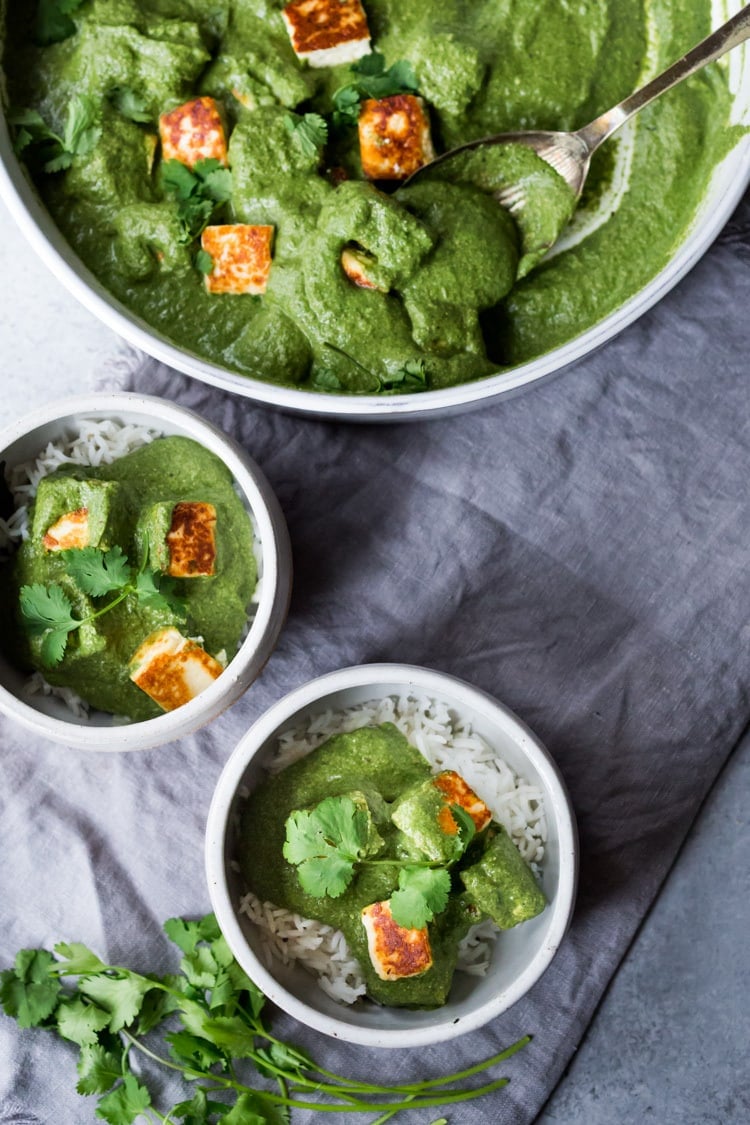 Serve Palak Paneer over basmati rice or with naan bread.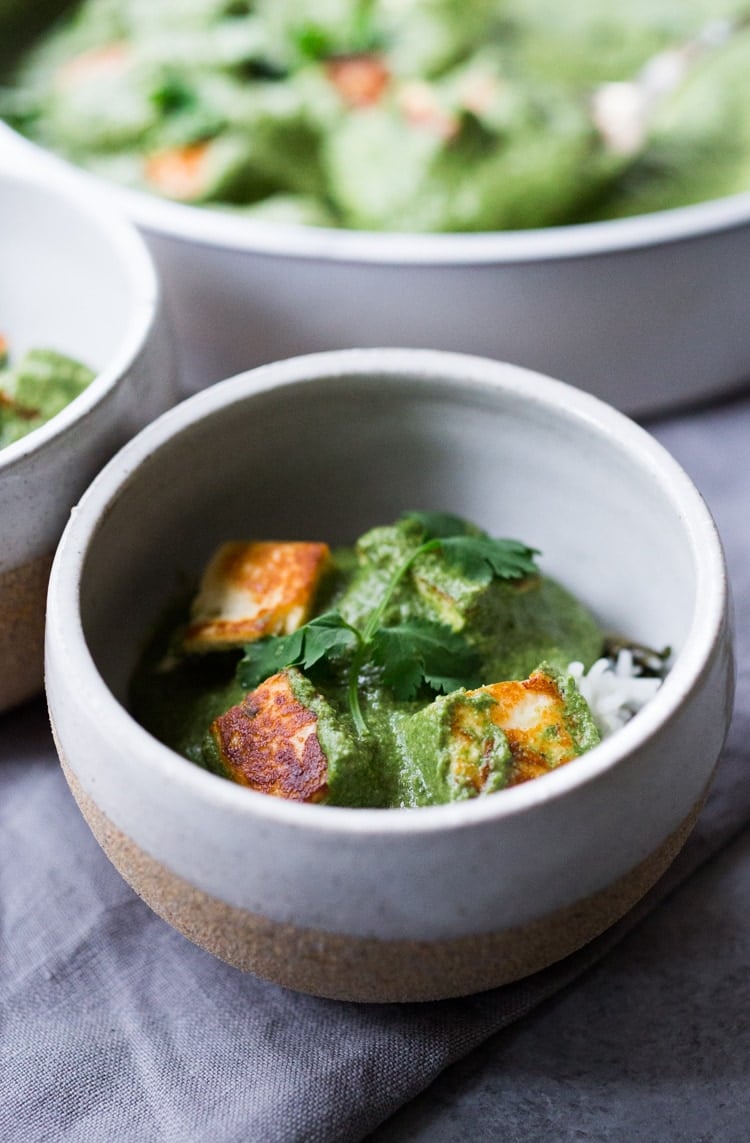 Hope you love this Palak Paneer recipe as much as we do, and please tell me below how you end up using it.
You may also like:
Happy yummy week!
Print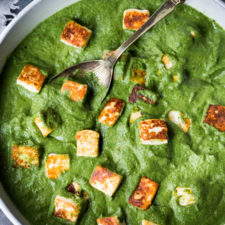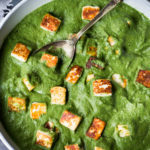 Palak Paneer (Paneer in Spinach Sauce)
Author:

Sylvia Fountaine

Prep Time:

10

Cook Time:

20

Total Time:

30 minutes

Yield:

4-6

Category:

vegetarian main, main

Method:

stove top

Cuisine:

Indian
---
Description
Palak Paneer – Pan-seared Paneer is bathed in a smooth and luscious spinach sauce infused with Indian spices. An easy authentic recipe, perfect for weeknight dinners. This is an adaptable recipe, perfect for mixed households, see notes.
---
one

recipe for Paneer ( or

24 ounces

store-bought paneer, or crispy tofu, or chicken, or roasted veggies)

3 tablespoons

ghee

one

white or yellow onion, diced

2 tablespoons

ginger, rough chopped

4

garlic cloves, rough chopped

½

–

1

jalapeno or use 2 serano chillies, rough chopped

2 teaspoons

cumin ( ground or seeds)

2 teaspoons

coriander ( ground or seeds)

2 teaspoons

garam masala

1 teaspoon

black mustard seeds (optional)

10

–

12

ounces frozen spinach (

1 ½

lbs fresh BABY spinach, see notes)

1 cup

water

¾ cup

plain yogurt

½ cup

cashews

1 teaspoon

salt

½ teaspoon

sugar or alternative
squeeze lemon (optional)
---
Instructions
In a large skillet, (a non-stick works great here) heat a few tablespoons oil or ghee and season the oil generously with salt and pepper. Pan-sear the paneer or crispy tofu until golden and crispy, and set it aside, covered with foil.
Wipe out the skillet, heat 3 tablespoons ghee over medium heat. Add onion, ginger, garlic and chilies, and sauté until deeply golden and fragrant, stirring often, about 15 minutes, taking your time here.
Add the spices (coriander, cumin, garam masala and mustard seeds) and sauté 2-3 more minutes.  Add the frozen spinach and cup of water, lower heat and simmer uncovered until the spinach is just thawed.
Place this in a blender, (see notes) topping it with the yogurt and cashews. Add the salt and sugar. Blend well, until silky smooth. If the mixture is too dry to blend, add just enough water to get the motor going.  Taste, and adjust the heat by adding a little cayenne if you want more of a kick. Add a squeeze of lemon if you want it tangier.
The sauce will seem slightly salty at first but once you add the paneer, it will soak up the salt.
Place the blended spinach sauce back into the pan uncovered, on med-low heat. (Covering it will lose the lovely vibrant color ). Warm it up gently and slowly, stirring often so it doesn't burn. Add the pan-seared paneer and continue cooking until the paneer is warmed just warmed through.
Enjoy this over Fluffy Basmati Rice, with Naan Bread, over Quinoa or cauliflower rice.
---
Notes
Blending: If you like more "chunky sauce" rather than a smooth creamy spinach sauce , feel free to only blend half of the spinach mixture.
Make the flavorful spinach sauce and serve it over anything you like- perfect for mixed households where some want vegan, some want meat. It is tasty over roasted cauliflower, pan-seared chicken or fish, tofu, roasted veggies, etc. Get creative!
FRESH SPINACH: Use baby spinach, mature spinach may make it bitter. Make sure to separately (it may too much to manage in the onion pan) or in batches, and add it to the onion-garlic mixture. You need about 1 ½ -2 cups wilted.
Keywords: Palak paneer, saag paneer, best palak paneer recipe, indian spinach sauce, spinach sauce, paneer in spinach sauce, how to make saag paneer, difference between palak paneer and saag paneer