This Lentil Dal with Spinach Sauce is one of the most delicious, soul-satisfying plant-based, Indian meals! This version is fragrant, flavorful and packed with nutrients- think of this like Saag Paneer, but substituting black lentils instead of the cheese! Super tasty and healthy. See 30-Second Video!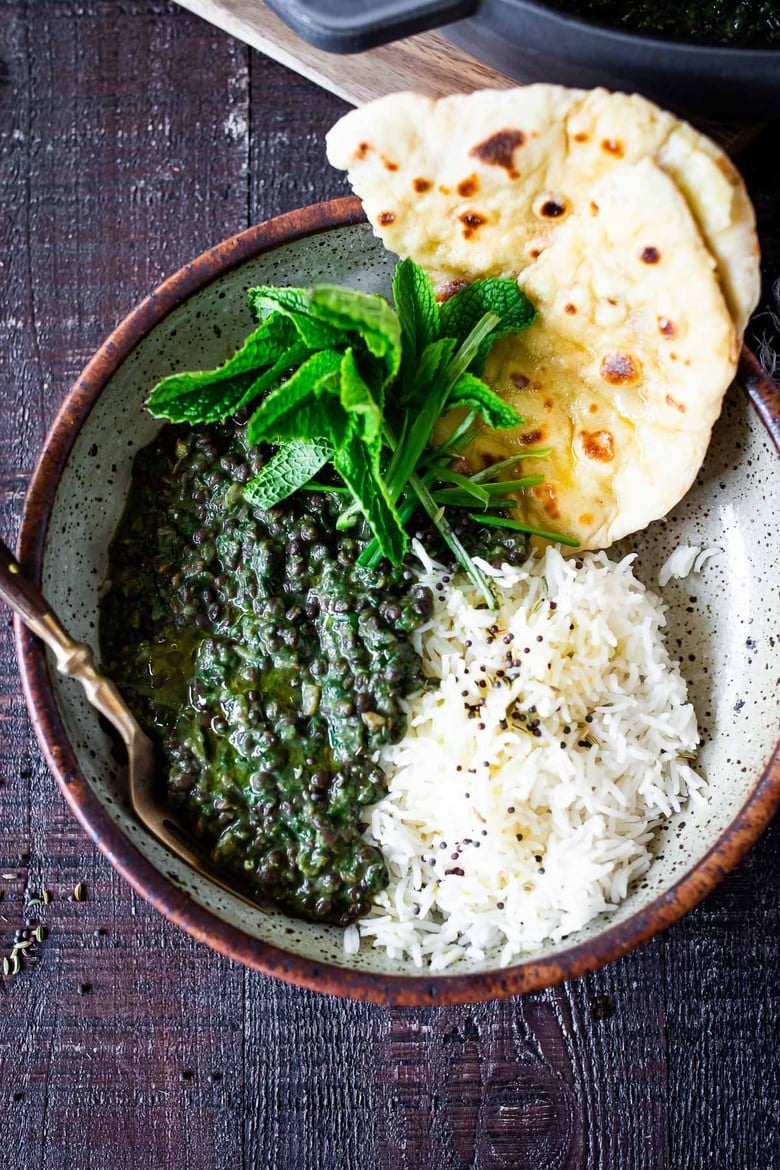 This recipe for Spinach Lentil Dal, which I've nicknamed "Emerald Dal" because of its beautiful rich color was such a comforting meal to make this week. Somehow it feels so grounding and nurturing. Not only is it wholesome and nutritious, but it is also bursting with authentic Indian flavor -and honestly, I can't wait to make it again!
To make this Lentil Dal with Spinach "Sauce" you'll need a full pound of spinach. You can use frozen spinach if you like but fresh spinach is in the season I am taking advantage of it.
How to make Emerald Dal | 30-second video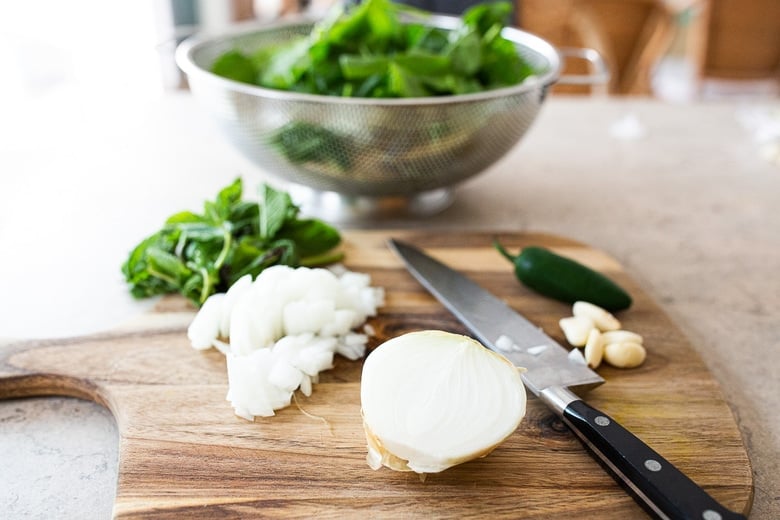 Chop the onion, garlic, ginger and chili pepper.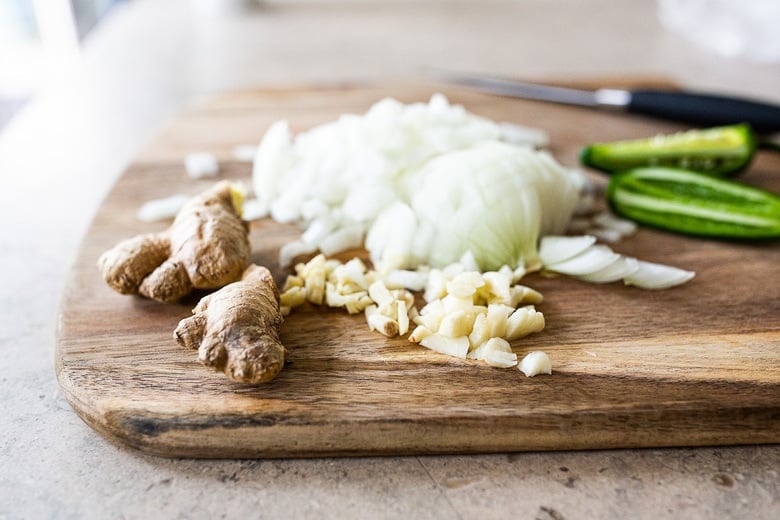 Saute these in ghee and add the spices. Here I'm using black mustard seeds, cumin seeds and garam masala which you can make at home.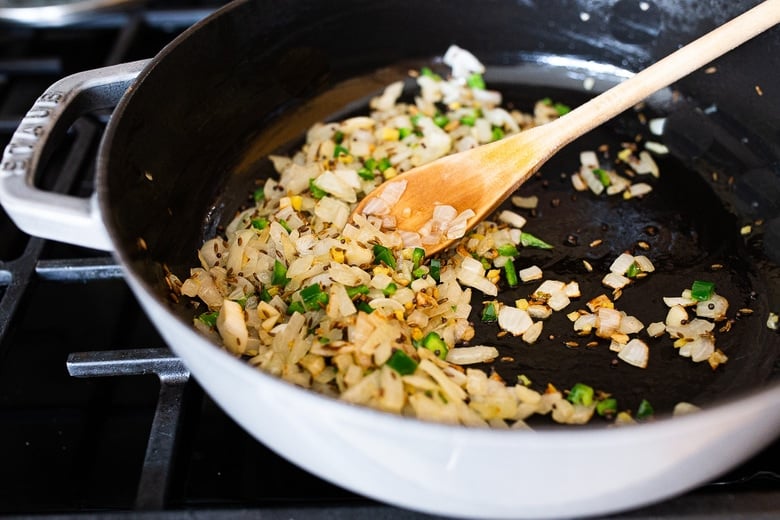 Then add the fresh spinach, a little water, cover, and wilt over low heat for just a few minutes.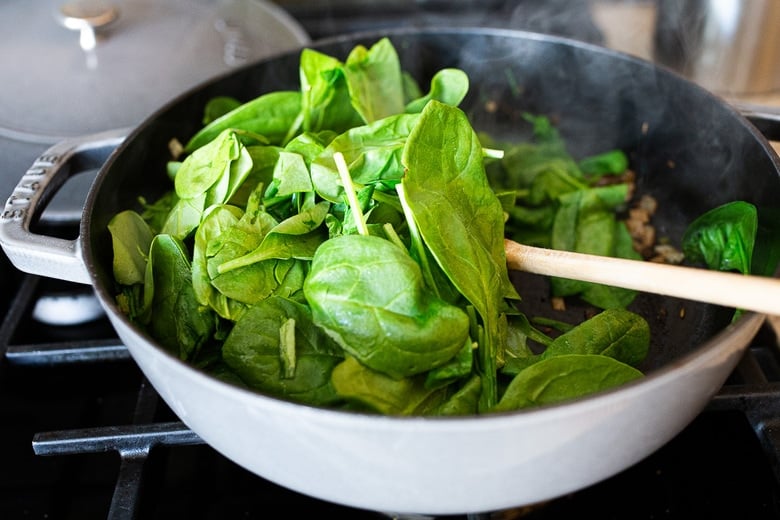 A pound of spinach will wilt down into about 2 cups- if that.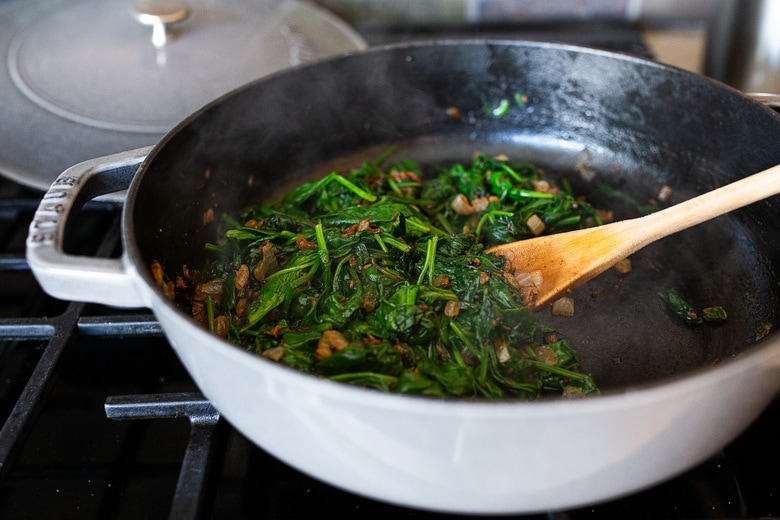 At the same time as I'm making the dal- I'm also simmering the black lentils, pan-searing naan bread, and cooking basmati rice to go with it.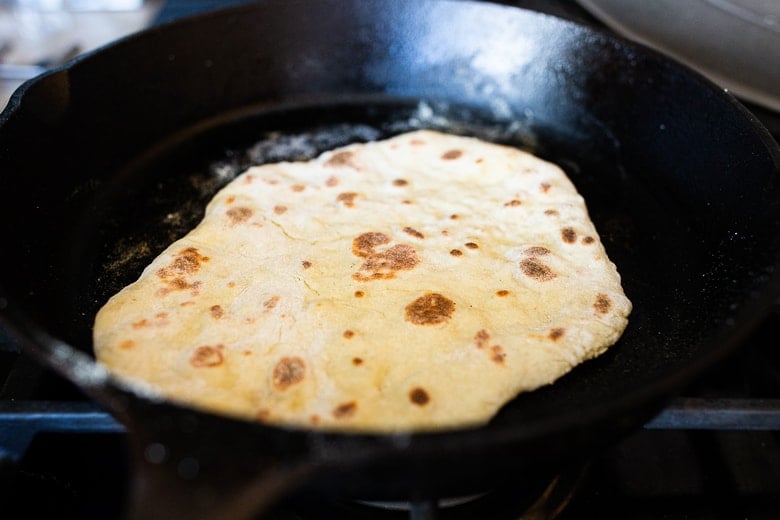 Blend the spinach sauce with a little water to form a spinach puree. It doesn't need to be smooth unless you prefer it that way.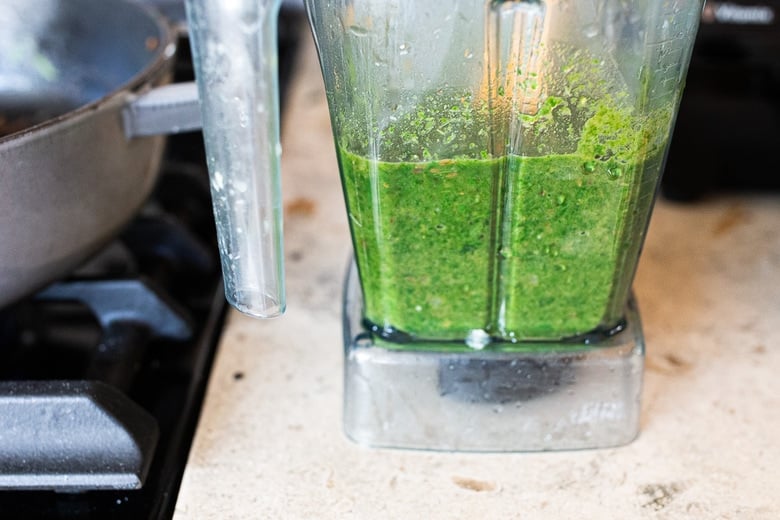 Pour the spinach sauce back into the pan.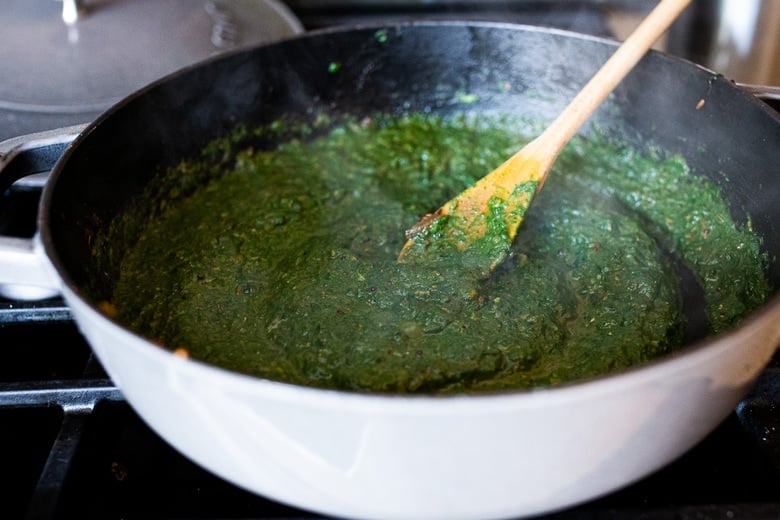 Then add the cooked caviar lentils– I add somewhere between 3-4 cups of cooked caviar lentils. And I love these little black lentils most of all because they cook so quickly!!!
Using 3 cups of lentils (instead of 4) will lend a more flavorful, "saucier" dal which I prefer. But if you have 4 people in your family, I'd just add another cup of lentils. 🙂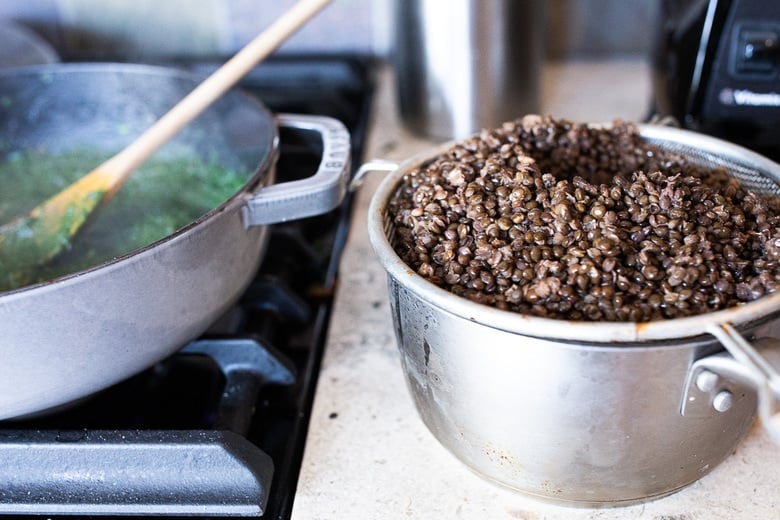 If you are wondering how I cook lentils- I basically use the pasta method. I cook in ample salted water until tender, then strain. That way you don't have to have exact measurements with the water to lentil ratio. It is very forgiving!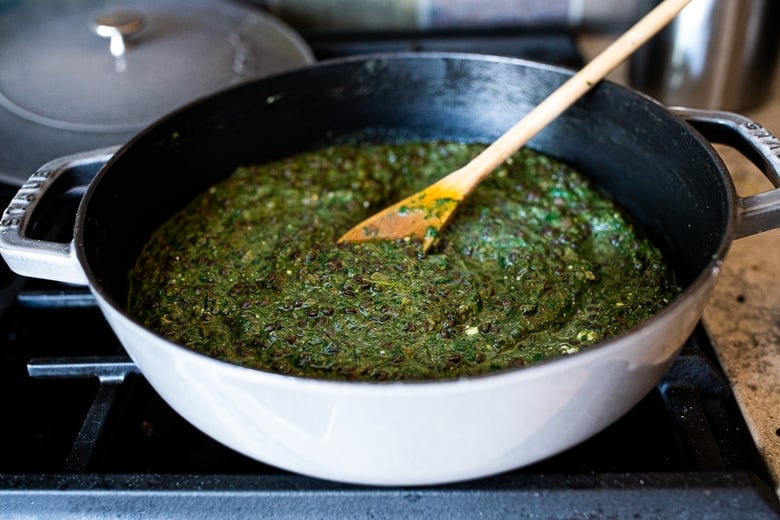 Then stir in a little plain yogurt which will add creaminess and a touch of tanginess.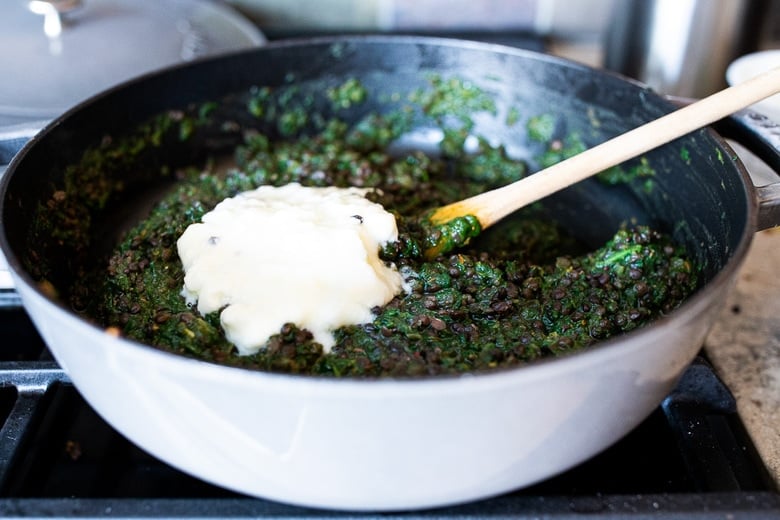 So simple and tasty and can be made in 30 minutes if you cook the lentils ahead!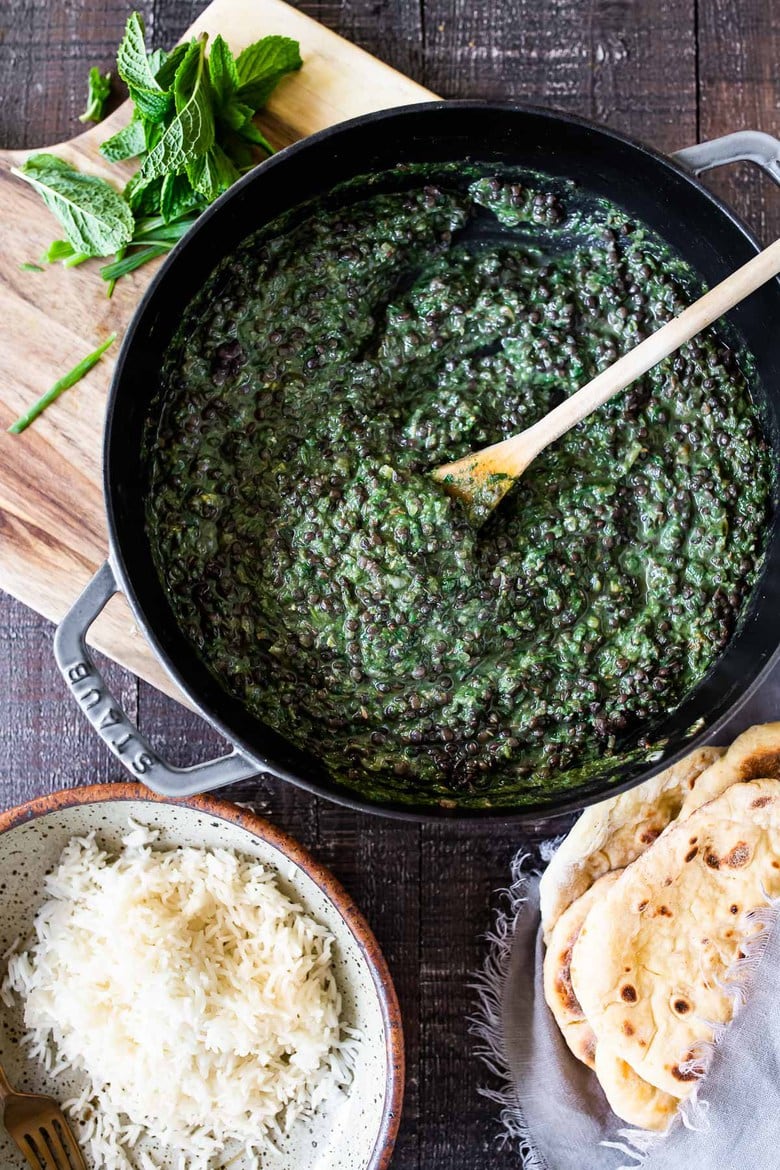 The leftovers are tasty too!
What to serve with Lentil Dal?
Naan Bread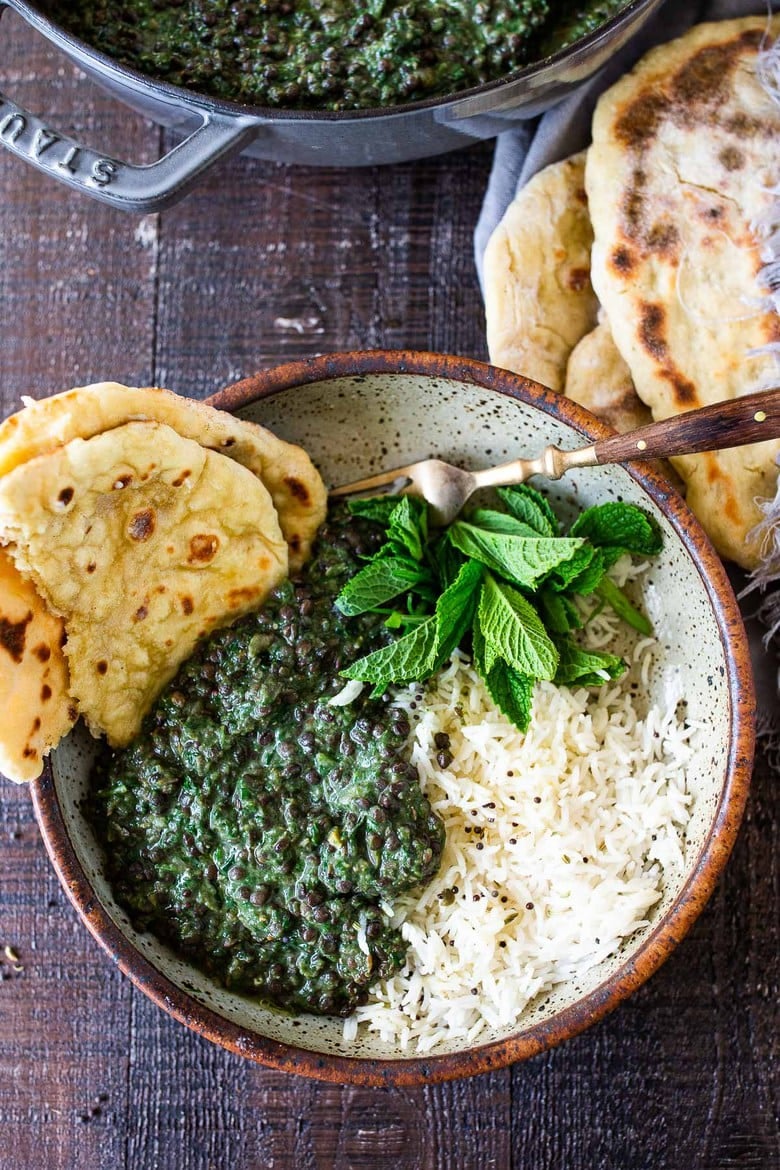 You may also like:
Enjoy the grounding nourishing Lentil Dal this week and let me know what you think in the comments below!
xoxo
Sylvia
Print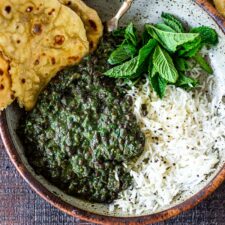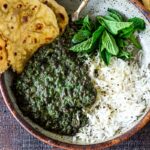 Spinach Lentil Dal
Author:

Sylvia Fountaine

Prep Time:

10

Cook Time:

30

Total Time:

40 minutes

Yield:

3-4

Category:

vegetarian, main, legumes

Method:

Stovetop

Cuisine:

Indian

Diet:

Vegetarian
---
Description
Spinach Lentil Dal- an Indian lentil recipe with a flavorful spinach sauce that is full of flavor and nutrients and that can be made in 30 minutes. Serve with Basmati Rice, and naan bread!
---
---
Instructions
If cooking black lentils and basmati rice, start them first (see notes)
Make the Spinach Sauce: Sautee the onion in ghee, in a large pan, over medium heat for 3-4 minutes, then add garlic, ginger and chilies. Saute until fragrant and golden. Add the fennel seeds, mustard seeds, cumin seeds and garam masala and stir two minutes. Lower heat to low. Add the fresh spinach, mint, fenugreek and water. Cover pan, 2-3 minutes, letting spinach wilt. Give a few stirs.
Blend Spinach Sauce: Place the wilted spinach mixture in a blender and add the 3/4 cups water. Pulse and few times (hold lid down tight). If you want a smooth sauce, blend until smooth. I left a little texture here.  Pour it back into the pan, set on low heat.
Combine: Stir in the yogurt, lentils and salt. Taste. Adjust salt to your liking, adding more if necessary!

You want this slightly salty

because you are serving over rice which will mellow it out a lot. For more heat add a pinch of cayenne or chili flakes. To "up" the flavor even more, add a bit more garam masala spice to taste. If you want a little acidity a tiny squeeze of lemon is nice.
Serve with the basmati rice and naan bread!
Emerald Dal will keep up to 4 days in the fridge.
---
Notes
SPINACH: If using fresh spinach, be sure to use baby spinach, as mature spinach and their stems can be bitter.
Cook black lentils according to package or try the pasta cooking method: simply boil 1 1/4 cups dry lentils in 6 cups of salted water until just tender, strain. Size of lentil will determine cooking time. Little black lentils take 20-30 minutes.
Feel free to sub other whole lentils for the black lentils. Feel free to sub other greens for the spinach.
Cook Basmati Rice the same way!
Yes, you can sub oil or butter for the ghee– but in my opinion, the ghee really elevates and adds so much flavor.
Keywords: lentil dal, black lentil dal, Indian dal recipe, dal with spinach, saag dal, saag dal recipe, spinach dal, lentil dahl