How to make authentic Masala Chai, like they do in India, using whole spices. Vegan and Sugar-Free adaptable. This would be delicious served with Spicy Chai Molasses Cookies!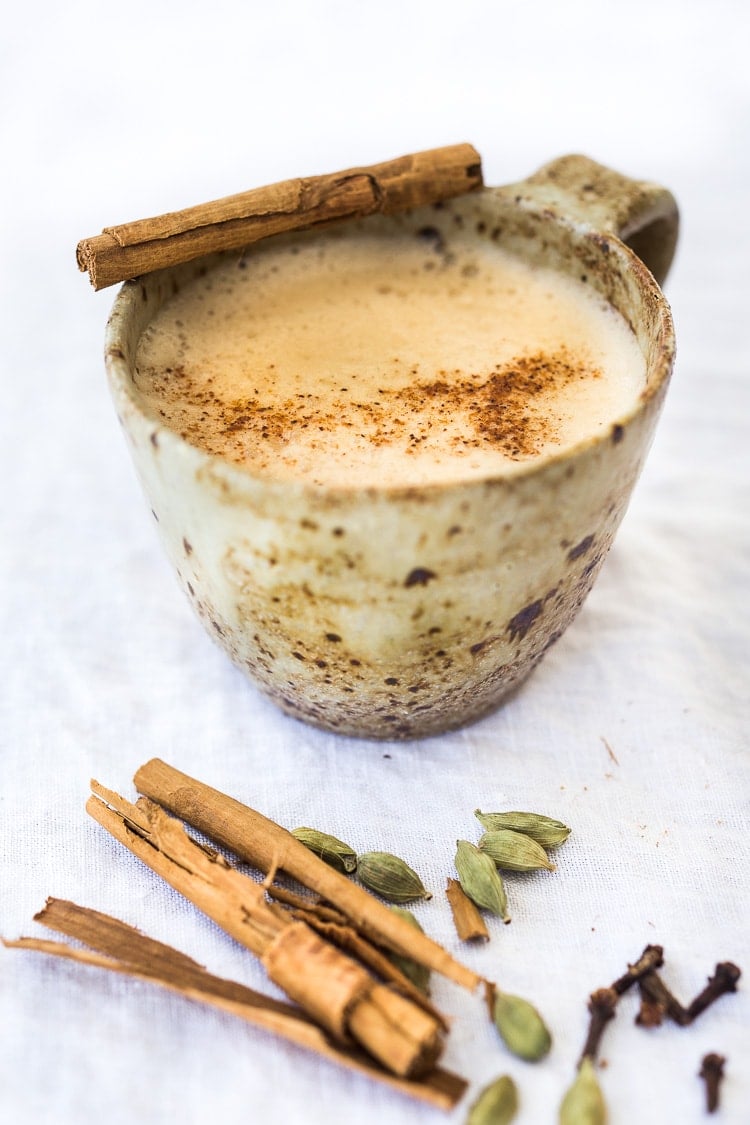 Many thoughts appear in the mind, but it is the heart that holds one and not another. ~ Dorothy Hunt
Call me a late bloomer, but it wasn't until I went to India and experienced Chai first hand that I fell in love with it. Now, there's not a day that goes by that I don't either make myself a cup, or pine for it.
Yes, I've had it numerous times here in the states, but somehow, either it was overly sweetened, too bland, or perhaps I had just never truly "connected" with it. It was almost like, I met Chai for the first time, at age 50 when I went to India. I can't believe I lived so many years without it!  Masala Chai filled a void, I never knew I had, until those very first sips.
Watch how athentic masala chai is made in India!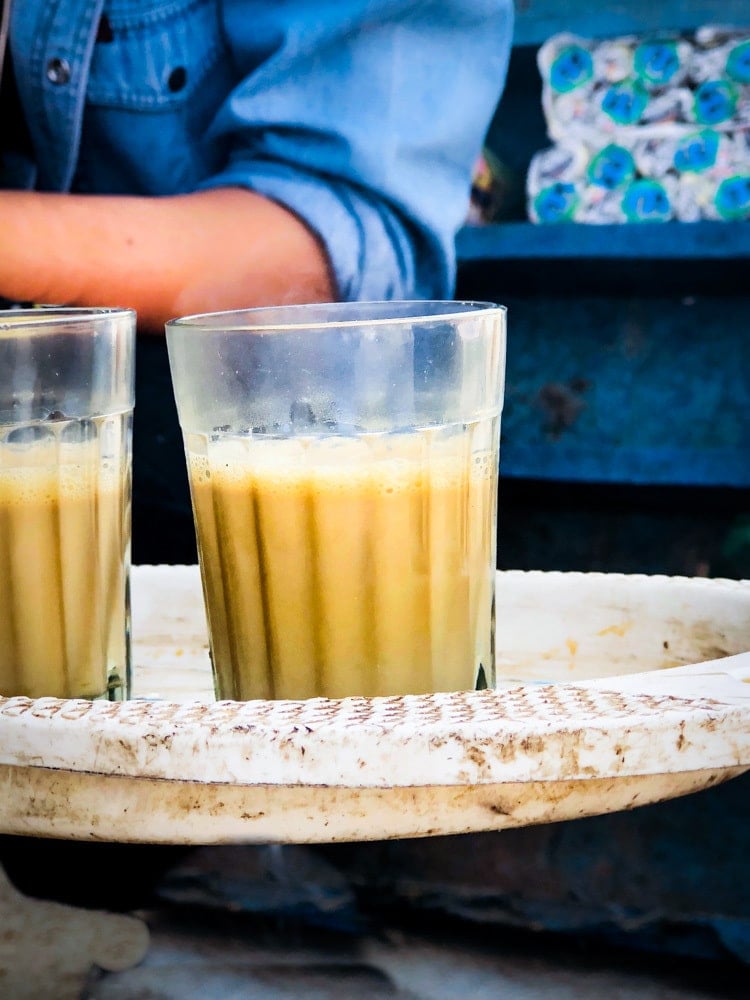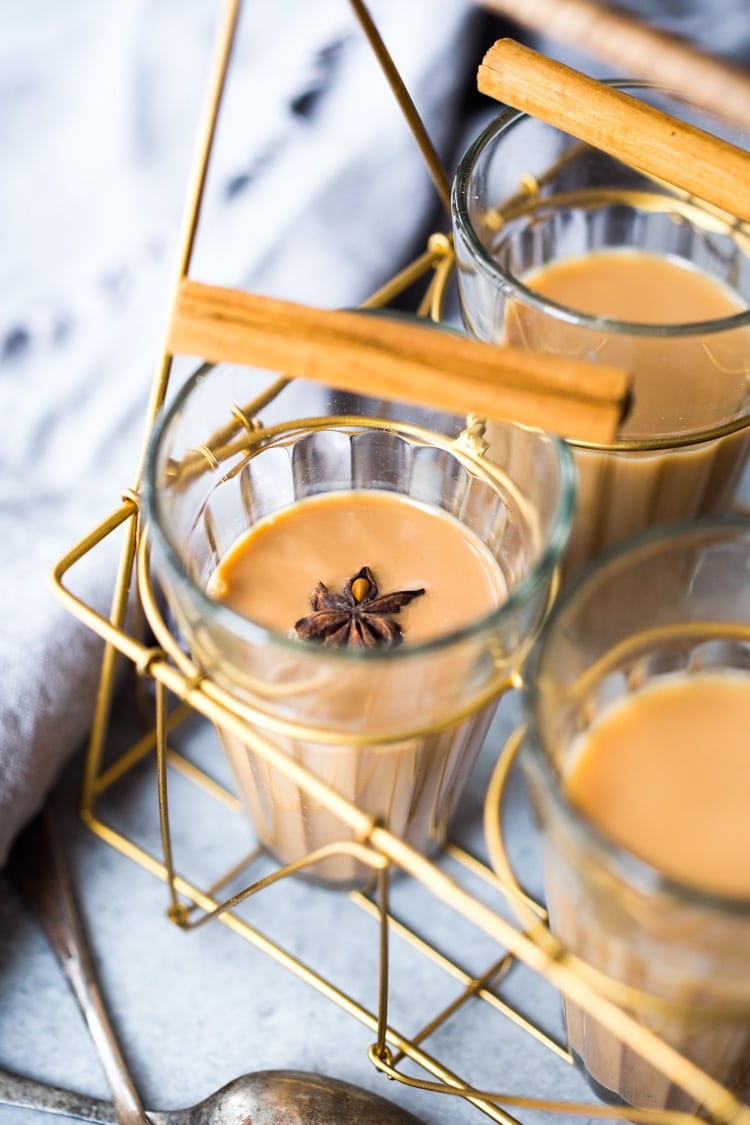 To clear a few things up – here in the states we often call this chai tea, or a chai latte, or a chai tea latte.  But in Hindi,  chai means "tea".  The word masala means spice. So saying chai tea, is really like saying "tea tea".
So that's why in India, one says Masala Chai – or spiced tea. Good to know, right? 😉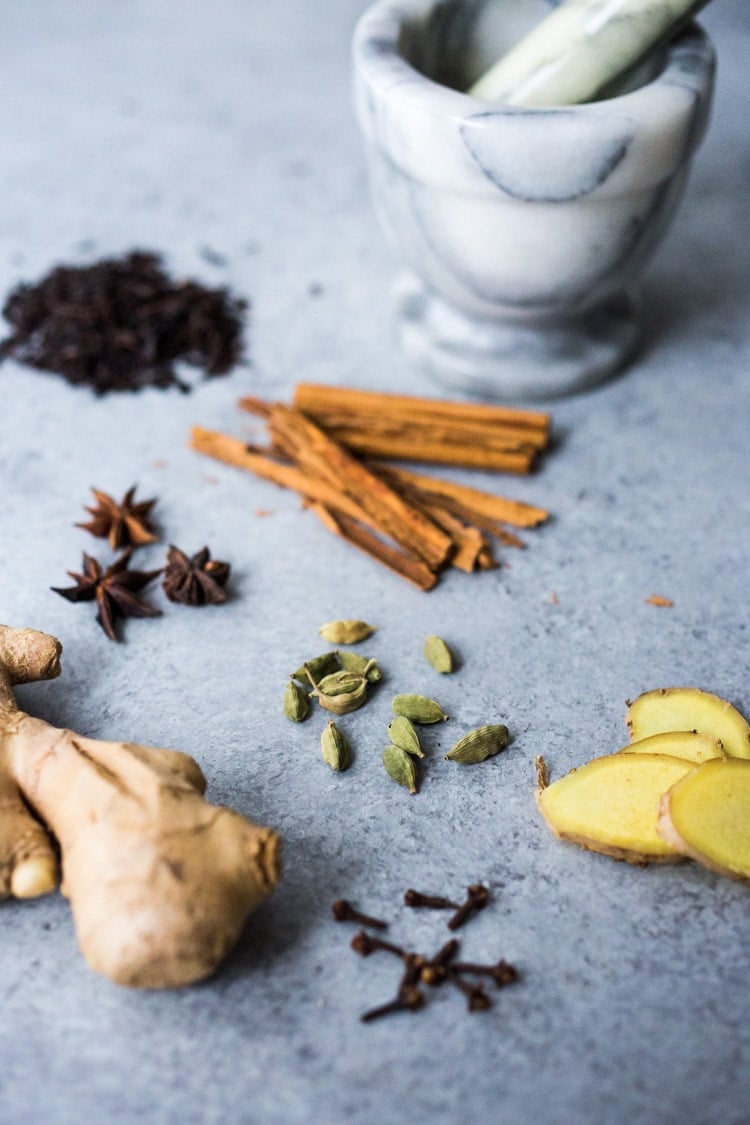 What makes Masala Chai Authentic, is the use of spices. One thing is for certain, every single person in India probably has their own unique combination of spices they prefer in their masala chai and there is no one "right" way. It is subjective.
Chai Wallahs- the street vendors who make masala chai, all have their own unique blend as well and as you can probably guess, I was obsessed with watching them make their creations. These are the chai spices I saw used the most.
Fresh ginger, cardamom, cinnamon, cloves and star anise.
I especially love the green cardamom pods I picked up in India. So here is a starting point for you but feel free to improvise and fine-tune to your own taste.
Lightly crush the whole spices before tossing into a pot of water.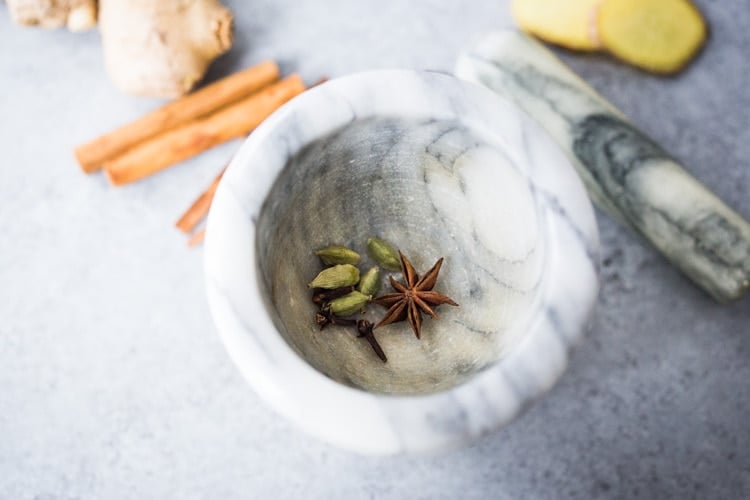 I prefer to use a high quality organic, loose black tea that I get in the bulk section of my grocery store.  I use about a tablespoon per serving.
You can also use a black tea bag or two.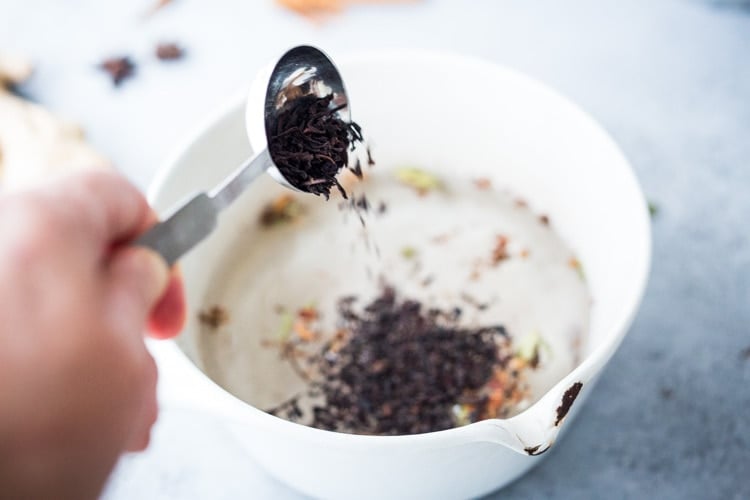 Bring one cup of water to boil in a pot, with the spices and loose tea, then let steep for 10 minutes.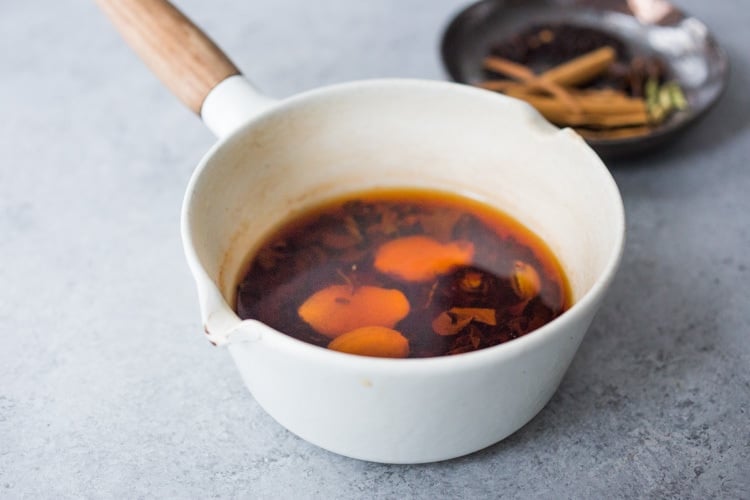 Then add one cup of milk. I prefer almond or oat milk – instead of whole milk like they typically use in India, but this just my personal preference.  Use what you like.
I prefer a ratio of ½ water and ½ milk. If you like a richer, thicker tea,  use more milk and less water,  or even use all milk, instead of the water, simmering the spices and tea, right in the milk.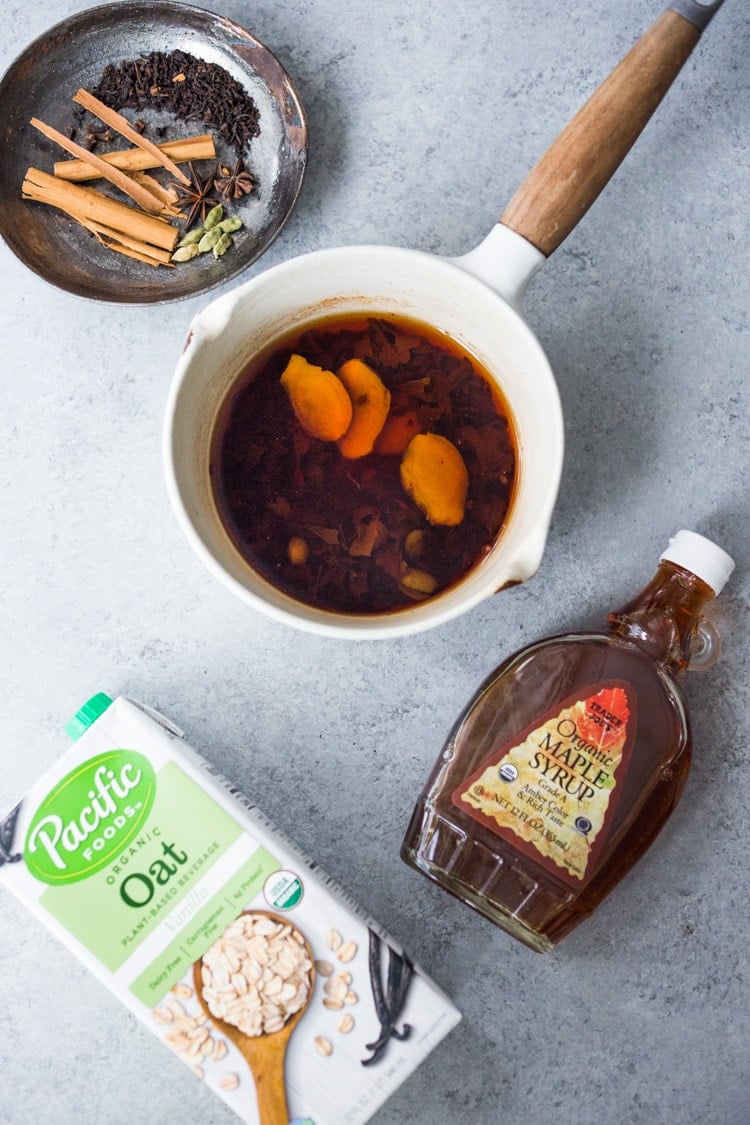 I also prefer sweetening my Masala Chia with maple syrup or honey instead of sugar. But any sugar, or sugar alternative will work.
Add the milk and bring the Masala Chai to a simmer once again. This seems to be crucial.
Sweeten to your own taste. For a large 8 ounce serving, I use about 2-3 teaspoons of maple syrup – to balance the spices and black tea. Perhaps this seems a bit much, but to me it tastes perfect.
Find your own balance.
😉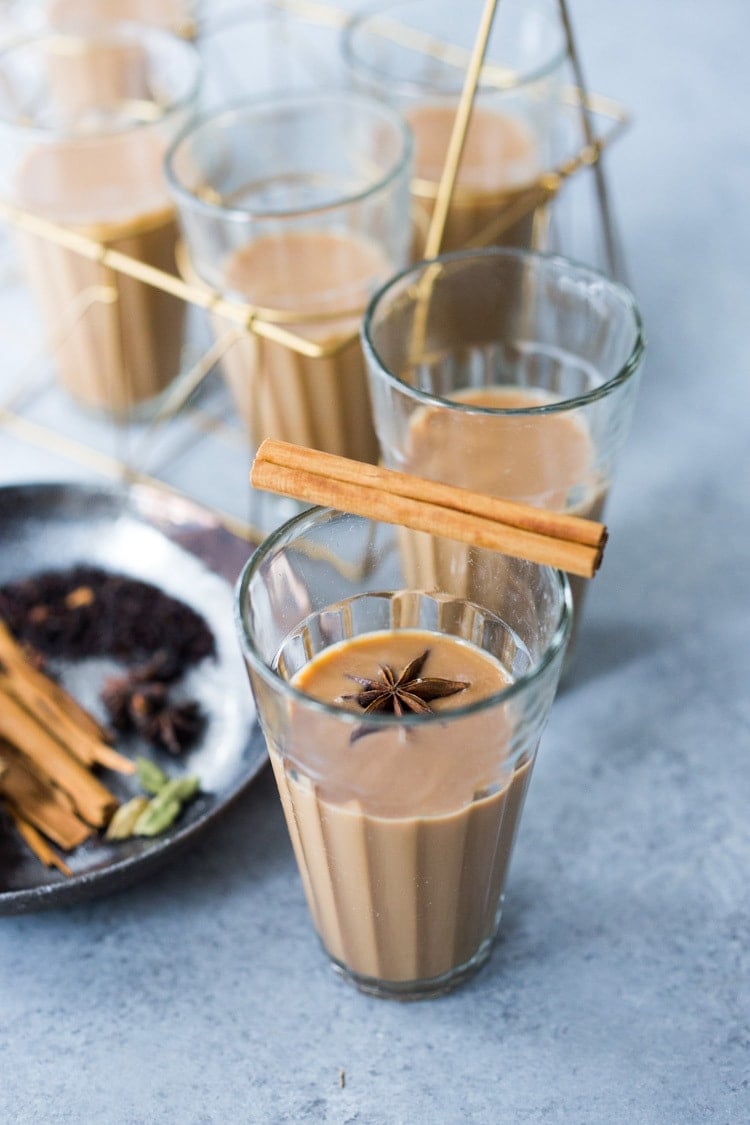 Strain and serve.
And yes, it is very typical to serve chai in a glass ( vs. a mug)  in India, leaving some room at the top to hold the glass.
We have a few of these cute chai glasses with racks, available in our Bowl and Pitcher Shop if interested.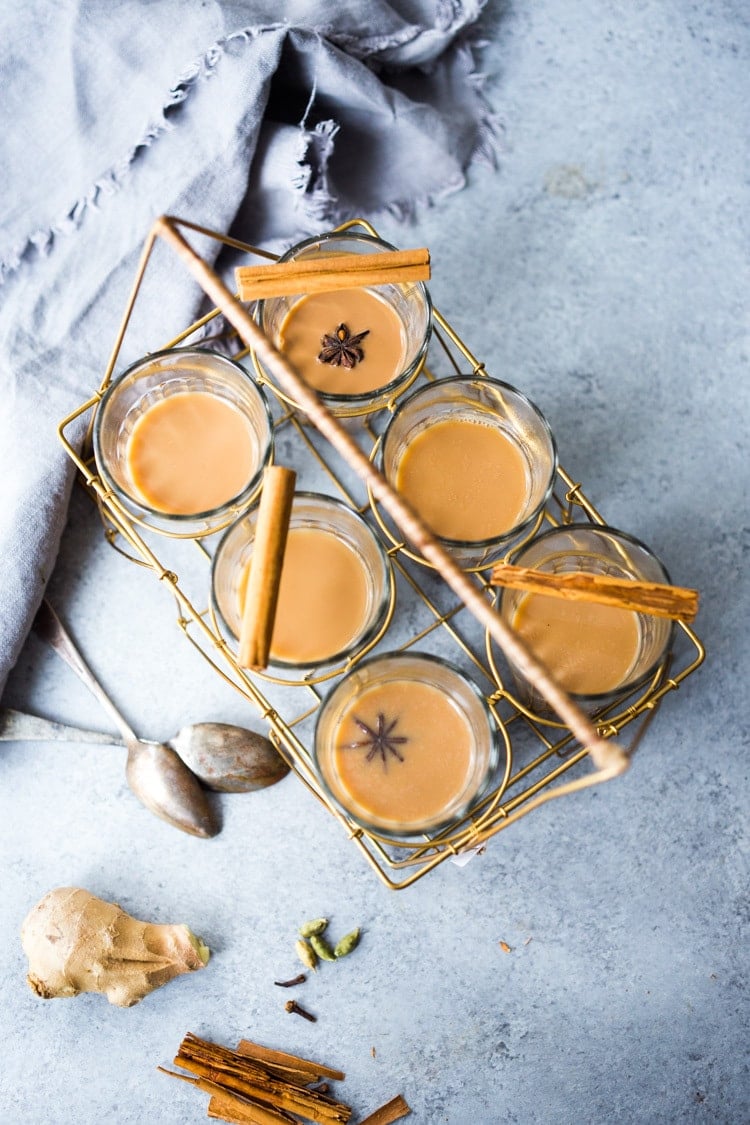 And there you have it, masala chai, like they make in India. A delicious morning beverage or afternoon pick-me-up.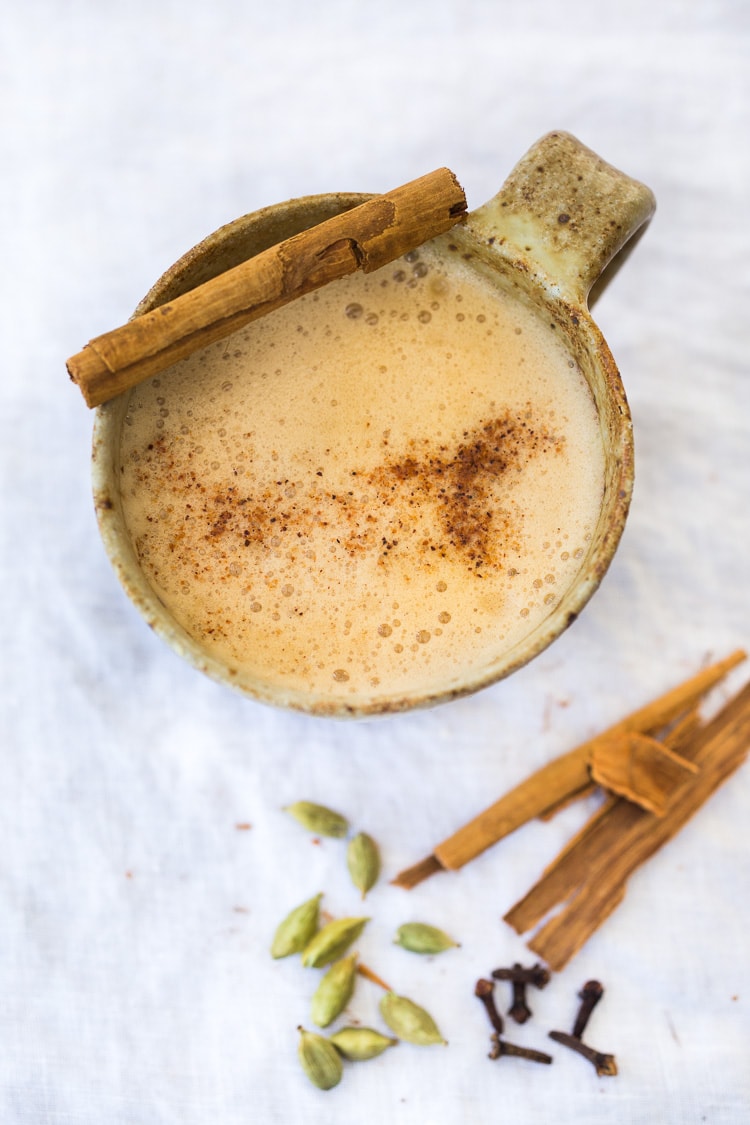 Feel free to make this ahead, make a huge batch ( leaving the milk part out) and store in the fridge. Then simply pull it out from the fridge and heat up with the milk.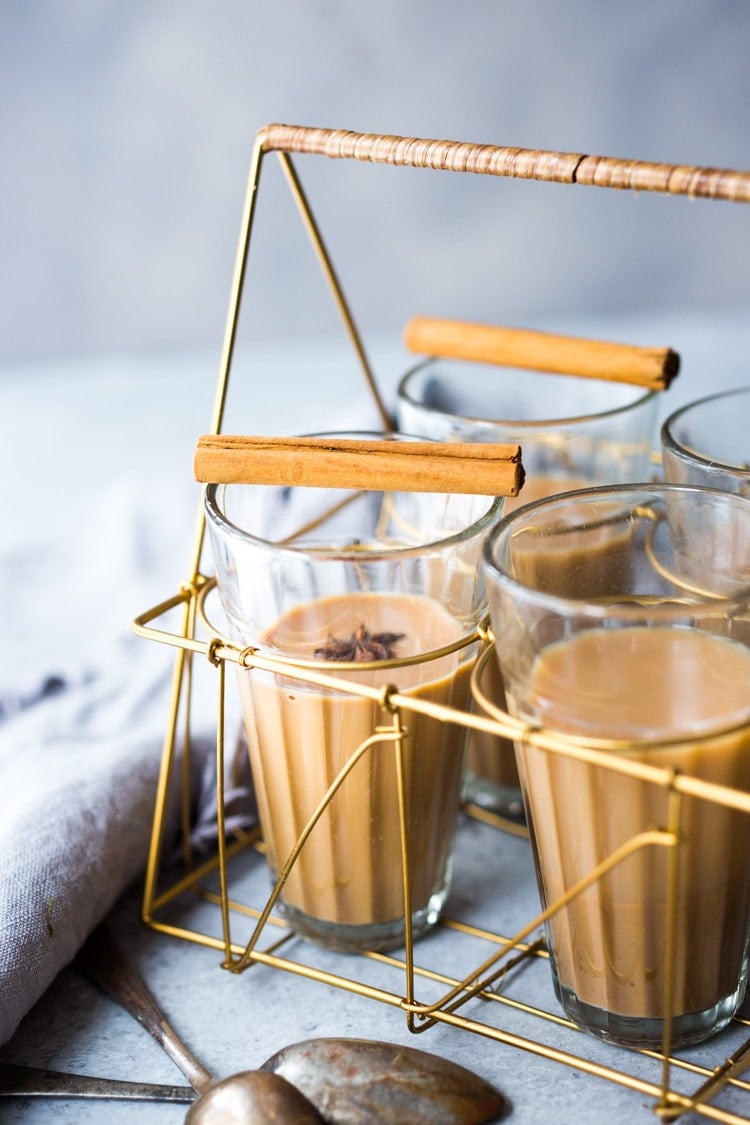 Happy New  Year Friends! May this cozy authentic Masala Chai bring comfort and warmth to help get us all through these cold months. Serve with Spicy Chai Molasses Cookies!
Love and cheers,
Sylvia
Print
Masala Chai Recipe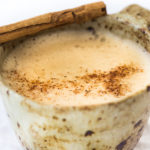 How to make authentic Masala Chai, like they do in India, using whole spices. Vegan and Sugar Free adaptable.
Author: Sylvia Fountaine
Prep Time:

5

Cook Time:

15

Total Time:

20 minutes

Yield:

1

large mug

1

x
Category:

drinks, tea, hot beverage

Method:

stove-top

Cuisine:

Indian
Scale
Ingredients
5

–

7

green cardamom pods

3

–

4

whole cloves

1

–

2

 star anise (optional )

5

–

7

peppercorns (optional)

1 cup

of water

2

–

3

slices ginger (skins ok)

½

cinnamon stick– split lengthwise ( use your fingers to separate)

1

–

2

tablespoons loose leaf black tea, (or

1

–

2

tea bags) Or sub decaf black tea

1 cup

milk of your choice- almond, oat, soy, cashew, hemp, macadamia, or organic whole milk ( I like unsweetened, vanilla-flavored almond or oat milk)

2

–

3

teaspoons (or more or less) maple syrup, honey, sugar or alternative. (Sugar is traditional, but I prefer maple. )
Instructions
Lightly crush cardamom, cloves, star anise and peppercorns, and place in a small pot with 1 cup of water. Add ginger, cinnamon and black tea.  I like to muddle the ginger a bit right in the pot.
Bring to a boil. Turn off heat and let seep 10 minutes…. or for several hours. The longer, the more flavor.
Add milk. Bring to a simmer once more, turn off the heat.
Sweeten, taste, strain into a glass.
Feel the love. xoxo
Notes
I typically use a ratio of  ½ water and ½ milk. Some prefer less milk, so feel free to adust to your taste. You can also make this richer and thicker by using more milk and less water, or even all milk, simmering spices directly in the milk.
You can also make the tea part as strong as you like. Start with one tablespoon loose leaf tea and add more according to your taste.
You can make a big batch of the masala chai (without the milk) and refrigerate for up to 4 days, and heat up with the milk and sweetener when ready to serve.
You can add more whole spices and more black tea for an even stronger more concentrated version.
UPDATE: While in Northern India this month, I had this Chai with the addition of a handful of fresh mint leaves ( simmering in the chai) . ABSOLUTELY Delicious! Give it a try!
Keywords: how to make chai, masala chai, masala chai tea, spices in masala chai, chai recipe, authentic chai recipe, spices in chai tea, vegan chai tea, chai latte recipe,