Indian Butter Chicken gently simmers in fragrant Tomato-Ginger-Coconut Sauce infused with Indian spices – delicious comfort food on chilly winter nights. Vegan adaptable! Serve with fluffy basmati rice or naan bread!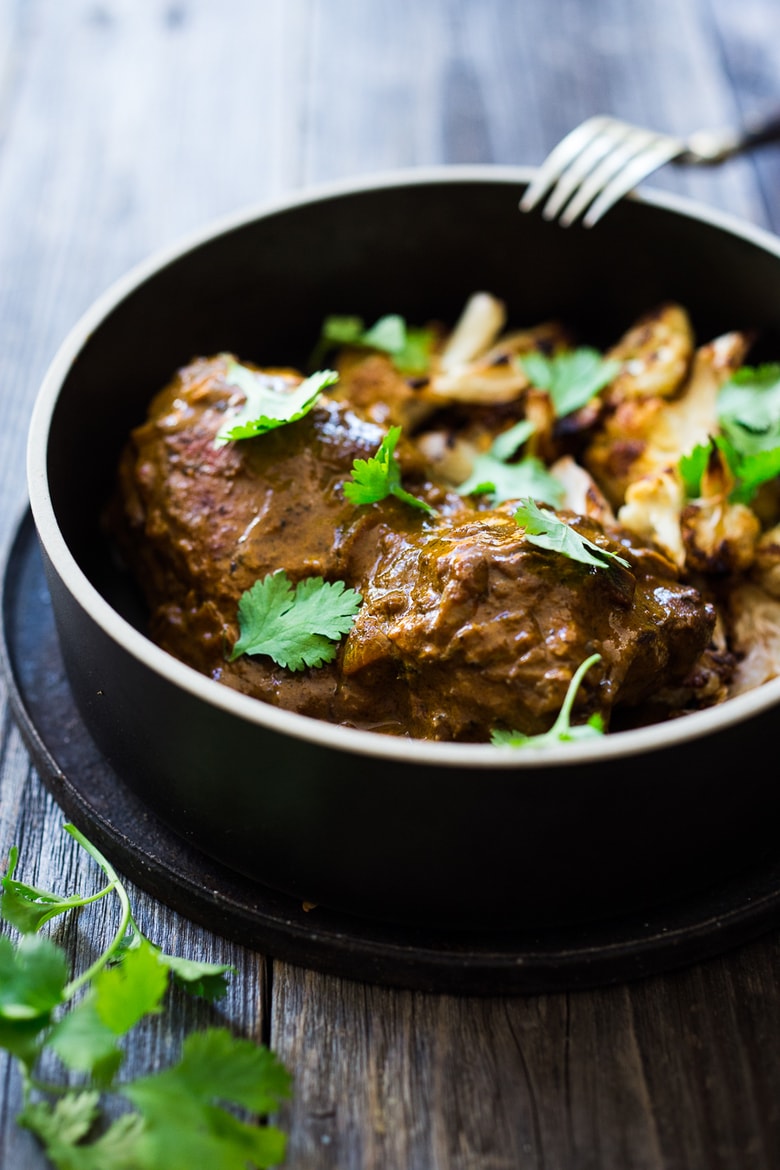 Life is a process of becoming, a combination of states we have to go through. Where people fail is that they wish to elect a state and remain in it. This is a kind of death.~ Anaïs Nin
Just as delicious with roasted cauliflower or pan-seared tofu, this Indian Butter Chicken is vegan adaptable, and si really ALL about the sauce! The sauce alone, spooned over veggies and fluffy basmati rice will make you so incredibly happy you will want to melt into your chair. You think I'm kidding, don't you? I'm not. 😉
The best thing is this version is adaptable for mixed households, meaning, your spouse who wants his chicken dinner and your daughter who is vegan will both totally loooooove it! Serve it with chicken, serve it with roasted cauliflower or pan-seared crispy tofu or chickpeas or roasted veggies ( or all the above) – all at the same time- and let your family assemble their own bowls. Guess, what….everyone's happy! Total win!
I've been making this recipe for years in our catering business and am so excited to finally be able to share it with you! It's not quite a 30-minute dinner, but it's reasonably quick and easy ( 45-60 mins). The payoff, however, is huge. You can totally do this.
Variations of Indian Butter Chicken
Here it's made with chicken thighs, left whole to finish cooking in the flavorful sauce. Serve over fluffy basmati rice, or with naan bread with a side of raita!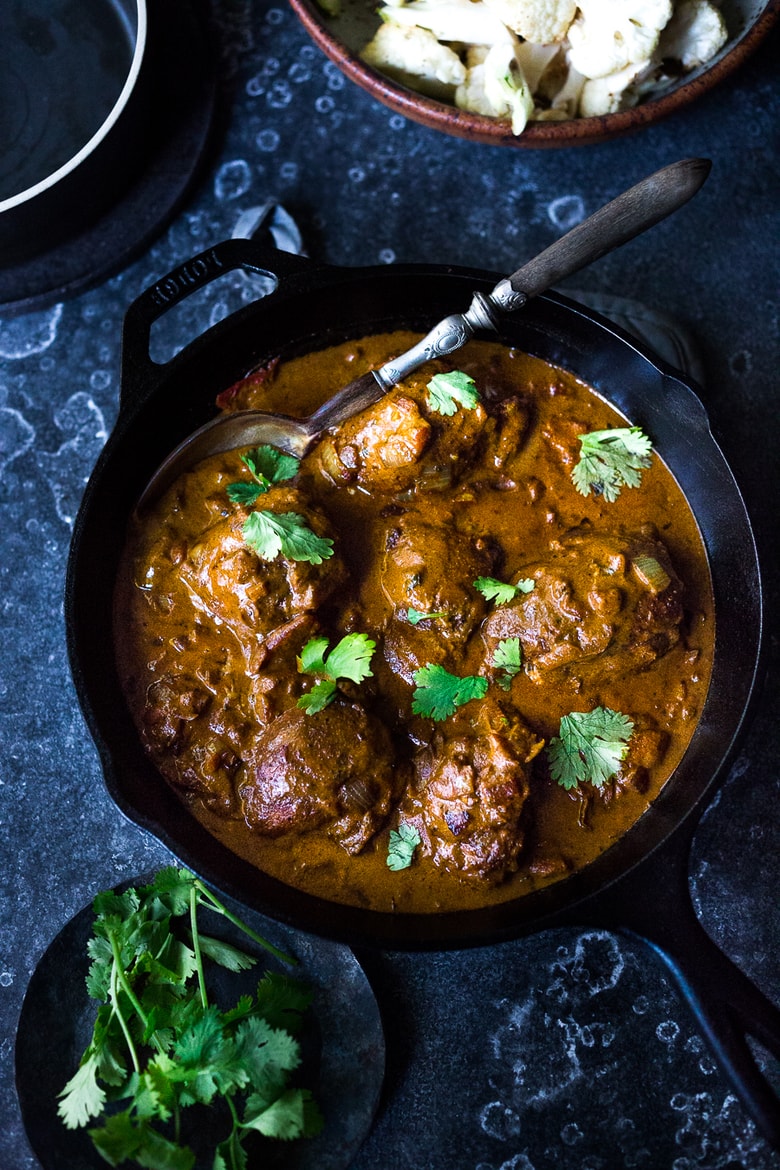 Here below, it's served with roasted cauliflower and brown basmati rice.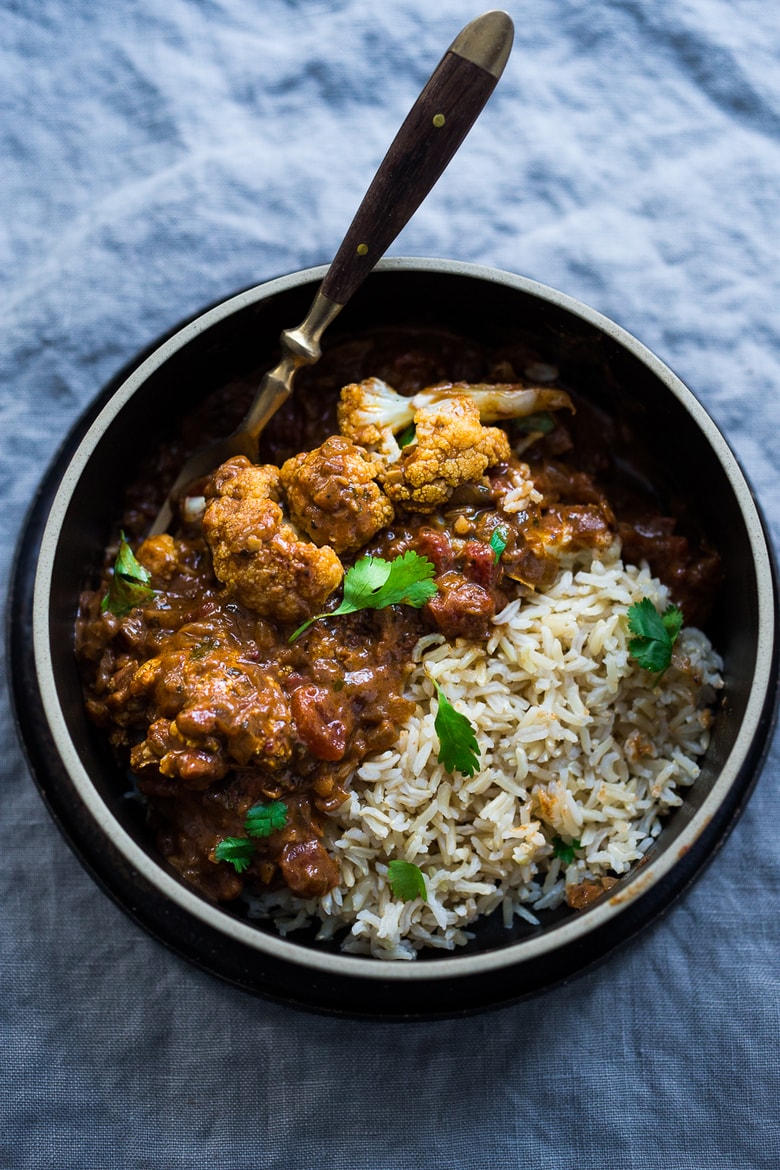 Here it's served with rice and pan-seared tofu.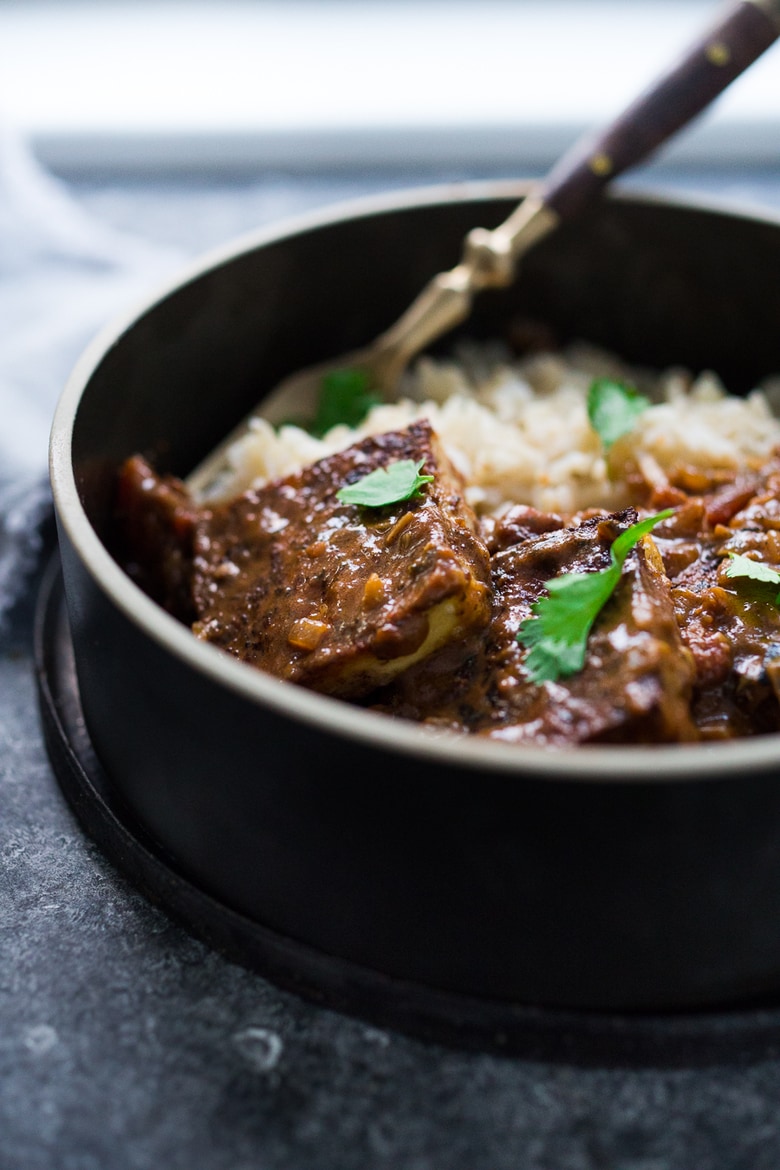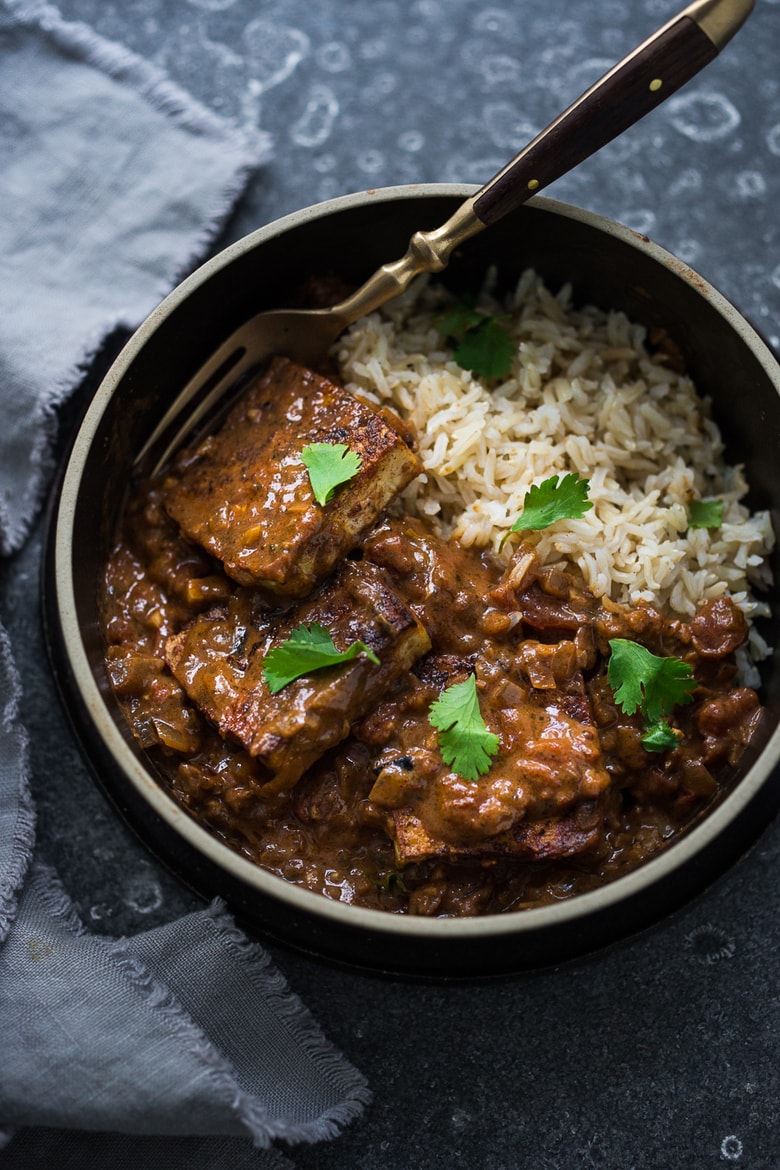 And for a low-carb, high-protein option, you could serve the chicken with roasted cauliflower instead of rice. Or try cauliflower rice!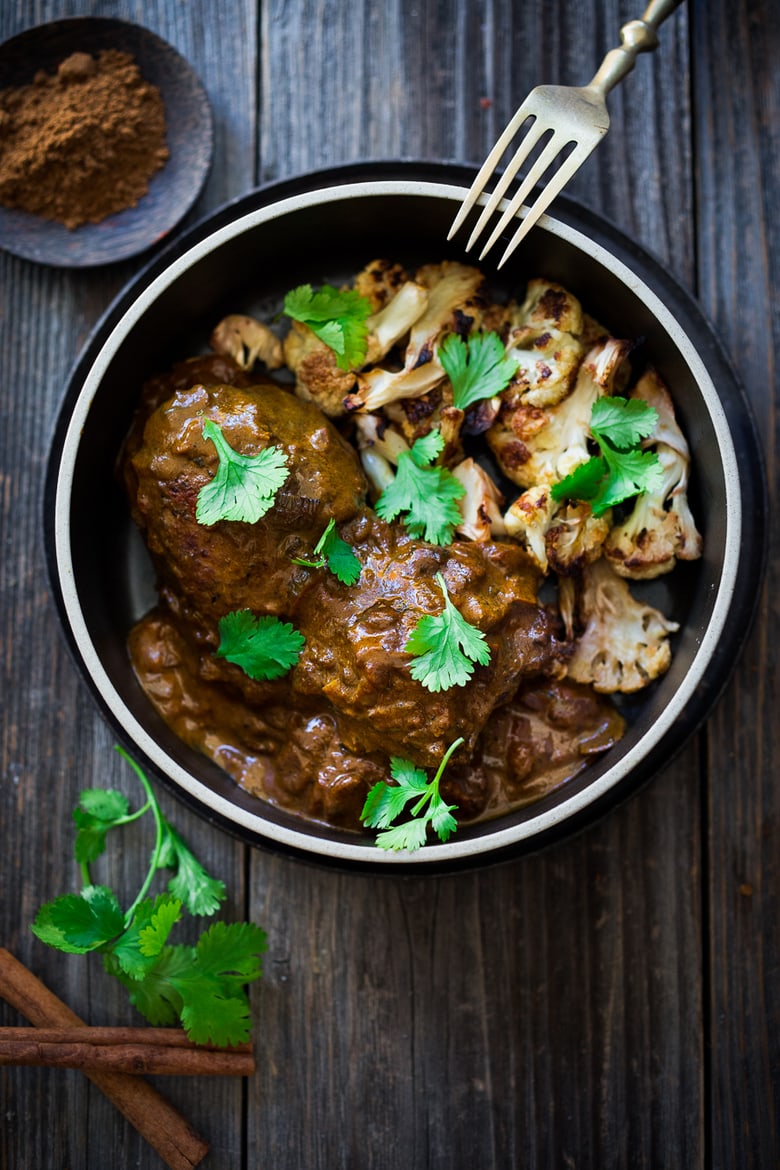 Or leave all the components separate so family members can create their own bowls!
What to serve with Indian Butter Chicken?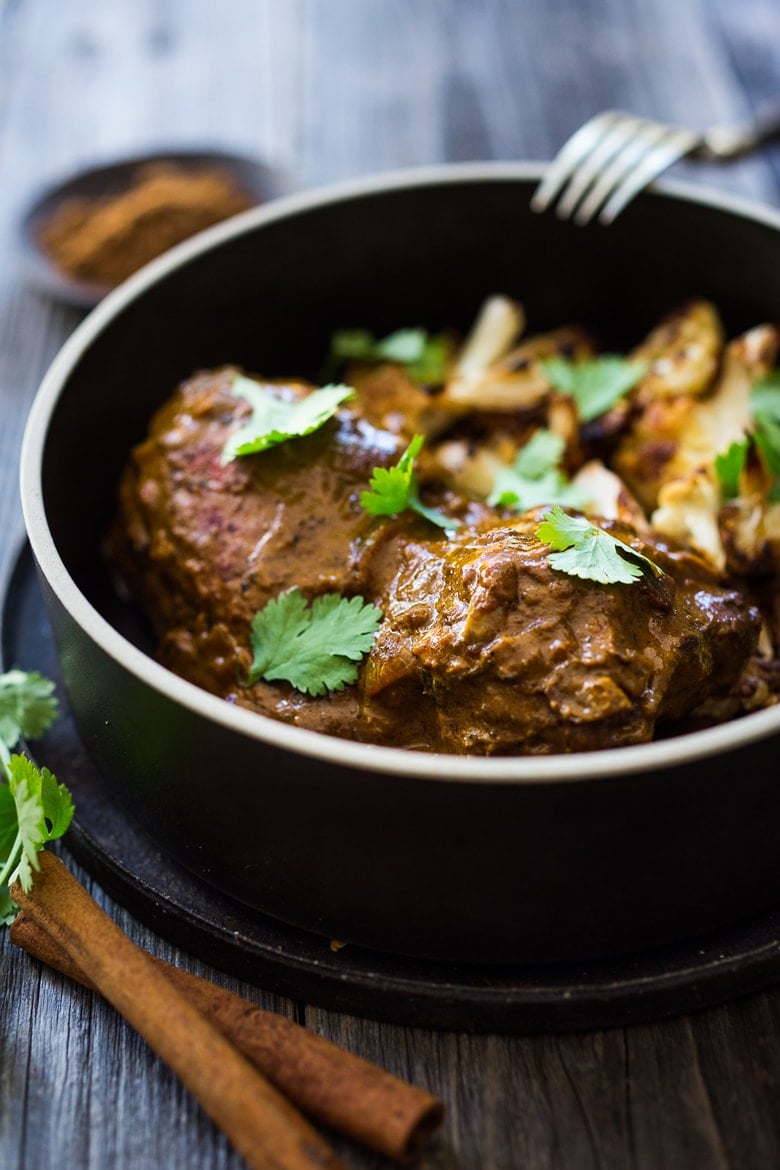 As you can see when you look at the recipe, this can easily be made this vegan (though the ghee truly does add great flavor). Feel free to serve the Indian Butter Sauce over simple, oven-roasted veggies and rice, or slow-braised lamb or beef. It's really that versatile.
If cooking for one or two, freeze half of the sauce for another time or freeze the sauce in individual portions – in small ziplock bags for quick lunches or dinners.
I purposely used coconut milk here instead of the traditional plain yogurt and heavy cream -to keep it vegan -which if you prefer, please use instead.
FYI: the sauce tastes even better the next day. Be sure to rate the recipe leave your notes below and share any adaptions or substitutions.
Thanks and enjoy! xo
PS. Here's a simple recipe for Garam Masala Spice that may come in handy!
Print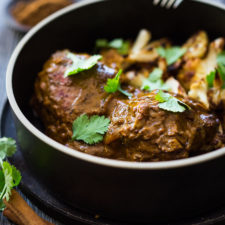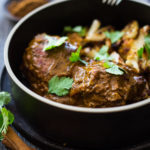 Indian Butter Chicken ( or Cauliflower)
Author:

Sylvia Fountaine

Prep Time:

20

Cook Time:

40

Total Time:

1 hour

Yield:

6-8

Category:

Main

Cuisine:

Indian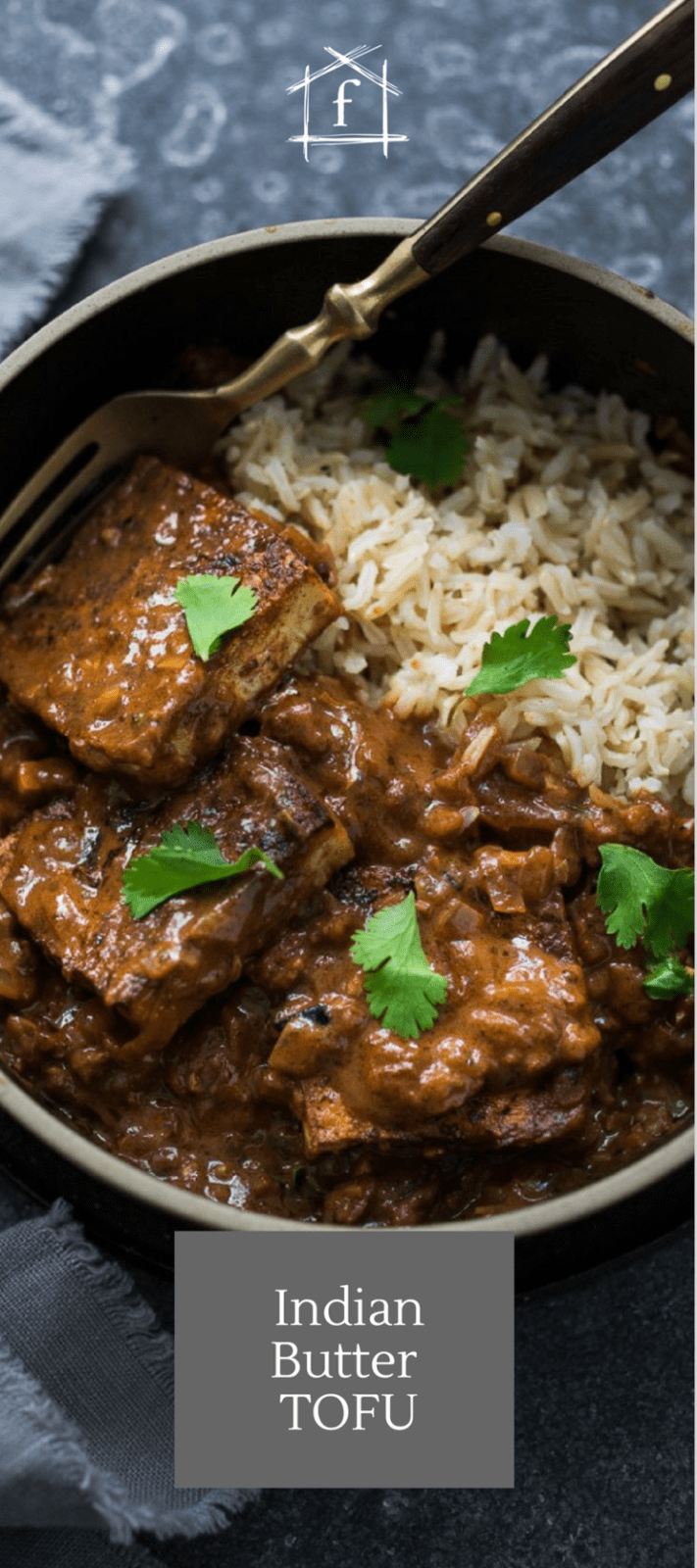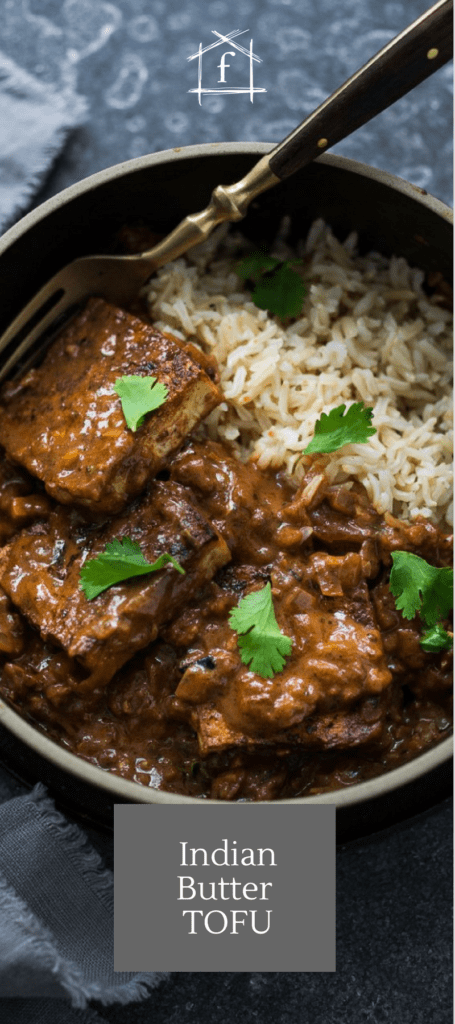 SaveSave
SaveSave
SaveSave
SaveSave
SaveSave
SaveSave
SaveSave
SaveSave
SaveSave
SaveSave
SaveSave
SaveSave
SaveSave
SaveSave
SaveSave
SaveSave
SaveSave
SaveSave
SaveSave
SaveSave
SaveSave
SaveSave
SaveSave
SaveSave
SaveSave
SaveSave
SaveSave
SaveSave
SaveSave
SaveSave
SaveSave
SaveSave