How to make Ghee, plus 10 Health Benefits that will surprise you! Learn the simple age-old process that turns butter into ghee– the most flavorful foundation for authentic Indian cooking. Removing the milk solids out of butter makes it lactose-free, highly digestible, soothing, anti-inflammatory and increases its smoke point, reducing our exposure to cancer-causing agents. Video!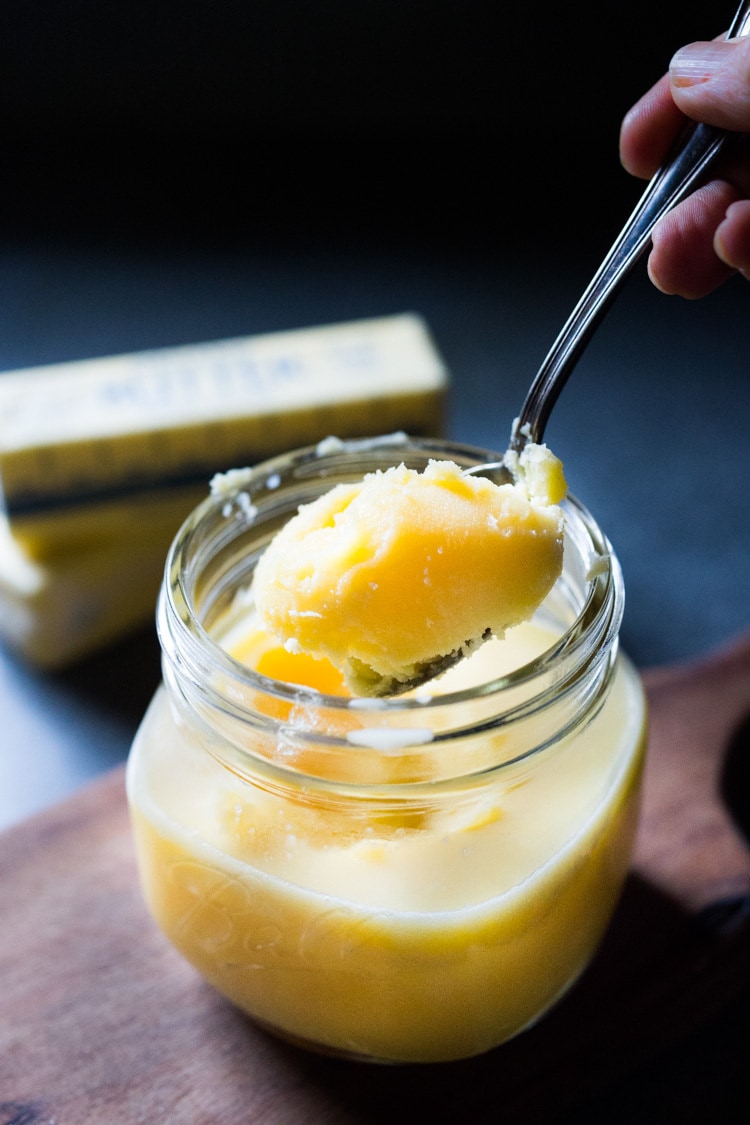 Meet my new favorite fat- Ghee! While in India, I fell in love with ghee. I learned that cows are sacred to the Hindu who rely heavily on cow's milk in their vegetarian diet, most often using it in chai, making yogurt (curds) and paneer, and of course making ghee.
It turns out, not only does ghee have incredible flavor (deliciously nutty, grassy and earthy) it's actually quite soothing,  nourishing and full of health benefits.
What is Ghee?
Ghee is the foundation of Indian cooking. It is cow's butter that has been heated low and slow, then strained, to remove all the milk solids -caseins and whey. It's cooked a step further than clarified butter, which gives it a beautiful golden color, nutty flavor and lovely fragrance.
What makes ghee especially beneficial is how the process of heating and straining the milk solids actually removes almost all of the lactose, making it lactose-free.
This also preserves the butter, allowing to be shelf-stable for long periods of time, an ancient technique practiced for thousands of years in India.
Watch How to make Ghee! | 60-second video
Benefits of Ghee vs butter:
Easier to digest: Because all the milk solids are removed through heating, ghee is mostly lactose-free, making it more easily digestible than butter, for many people with lactose intolerance.
Ghee has a higher smoke point than butter. At high temps, many oils break down into unstable elements known as free radicals, which are known to can cause cellular damage and linked to cancer. Ghee has a point of 485°F, so it retains its structural integrity under the high heat.
Ghee soothes inflammation. It contains butyrate, a fatty acid that has been linked to an immune system response that soothes and calms inflammation.
Ghee also has anti-viral properties. 
Ghee can be used to treat burns.
Ghee contains vitamin E, one of the most powerful antioxidants found in food. Antioxidants seek out and neutralizing free radicals that can lead to disease.
Ghee helps soothe the digestive system by helping heal and repair the stomach lining. The casein and whey proteins in butter, can often cause sensitivities with people, these are all removed with ghee.
Highly nutritious. Ghee contains high amounts of vitamins A, D, E and K.
Ghee aids in the body's absorption of fat-soluble vitamins.
All that being said, I like ghee most of all because of its nutty, earthy, toffee flavor and aroma, taking Indian dishes to the next level.
And be clear, I'm not saying to guzzle ghee. Use it in moderation like you would butter or oil in cooking. 
In an effort to remove all seed oils from my kitchen for health reasons, I rely mainly on ghee, olive oil, avocado oil, coconut oil and grass-fed butter for cooking.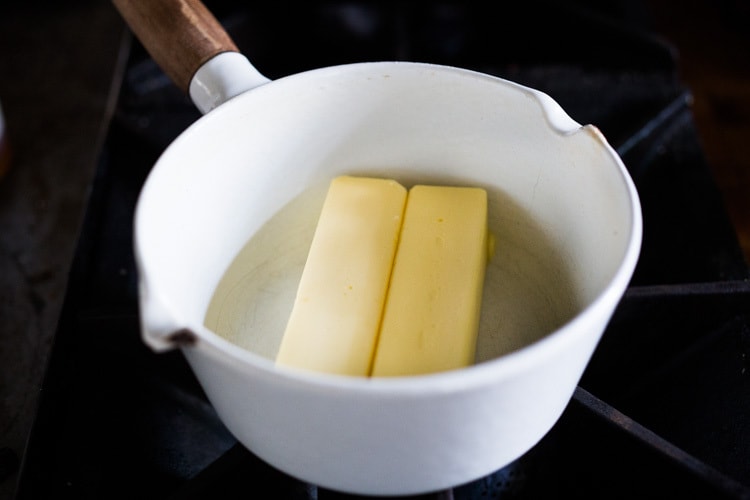 how to make ghee: (in a nutshell)
Heat unsalted butter over low heat until milk solids separate and sink to the bottom.
Continue cooking until solids turn deep golden brown and liquid is fragrant and nutty.
Strain using a cheesecloth.
Pour in a clean, sealable jar.
Ghee is shelf-stable for 6-12 months.
Homemade ghee takes about 40-60 minutes to make depending on how much butter you start with.
Use unsalted, grass-fed, organic butter. Keep in mind that because you are removing all the liquid from the butter, so you will lose about 20% of what you start off with.
A cup of butter will yield  3/4- 4/5 of a cup of ghee.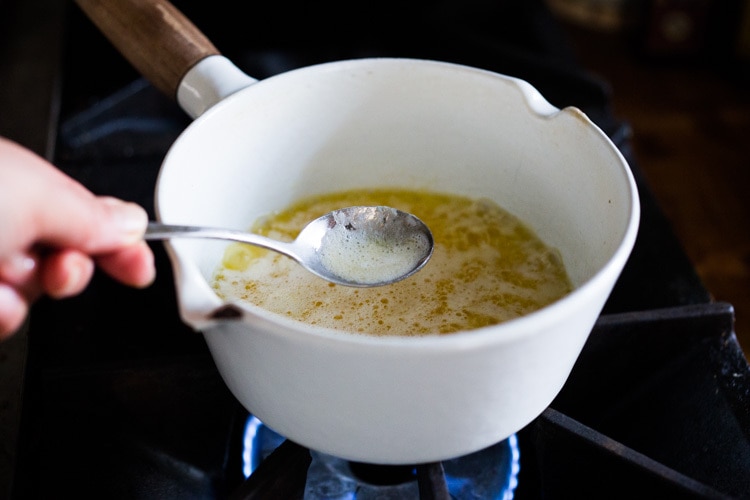 Melt the butter in a heavy bottom skillet or pot over medium-low heat. The butter will start to separate, creating a milky white foam at the top, which will be skimmed, and milky solids which will sink to the bottom.
You'll begin to see a clear golden liquid in between. At this point, you have clarified butter.
But ghee is taking this a step further.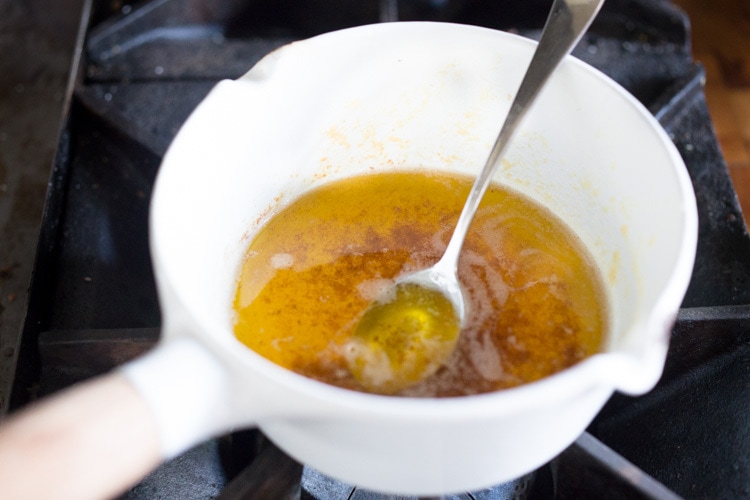 Allowing the ghee to cook a little further, toasting the solids on the bottom until they are the color of dark brown, is where the delicious nutty flavor comes from.  The solids can go from beautiful golden brown to burnt pretty quickly, so stay close to the stove during the last 5 minutes of cooking.
Once the milk solids are deep golden brown, turn the heat off, cool for a few minutes and then strain over a double-lined cheesecloth, placed over a strainer, catching the remains foam and solids.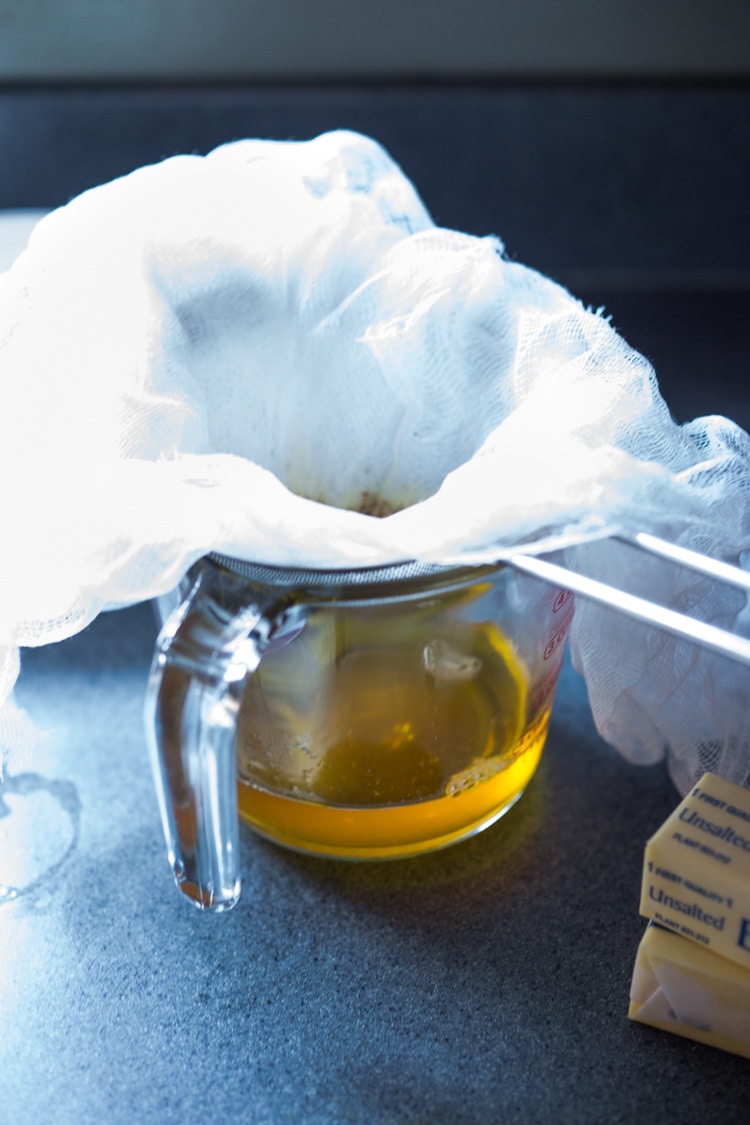 Pour the strained warm ghee into a clean, sterilized, sealable jar.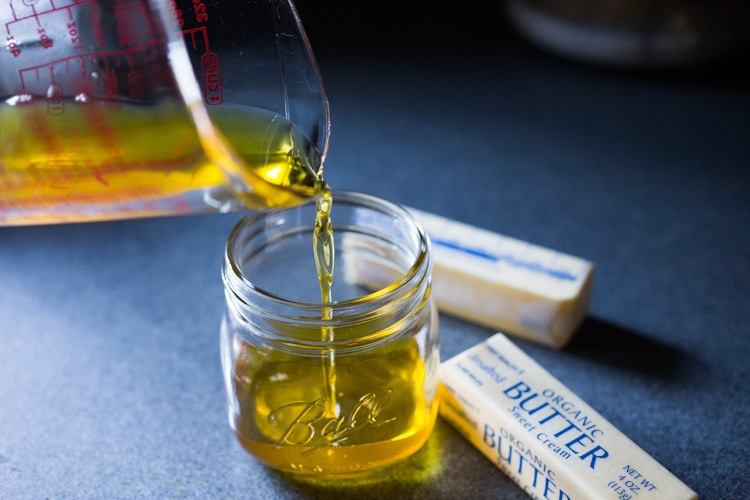 Making sure the jar is very clean is important here to preserve your ghee for longer periods of time.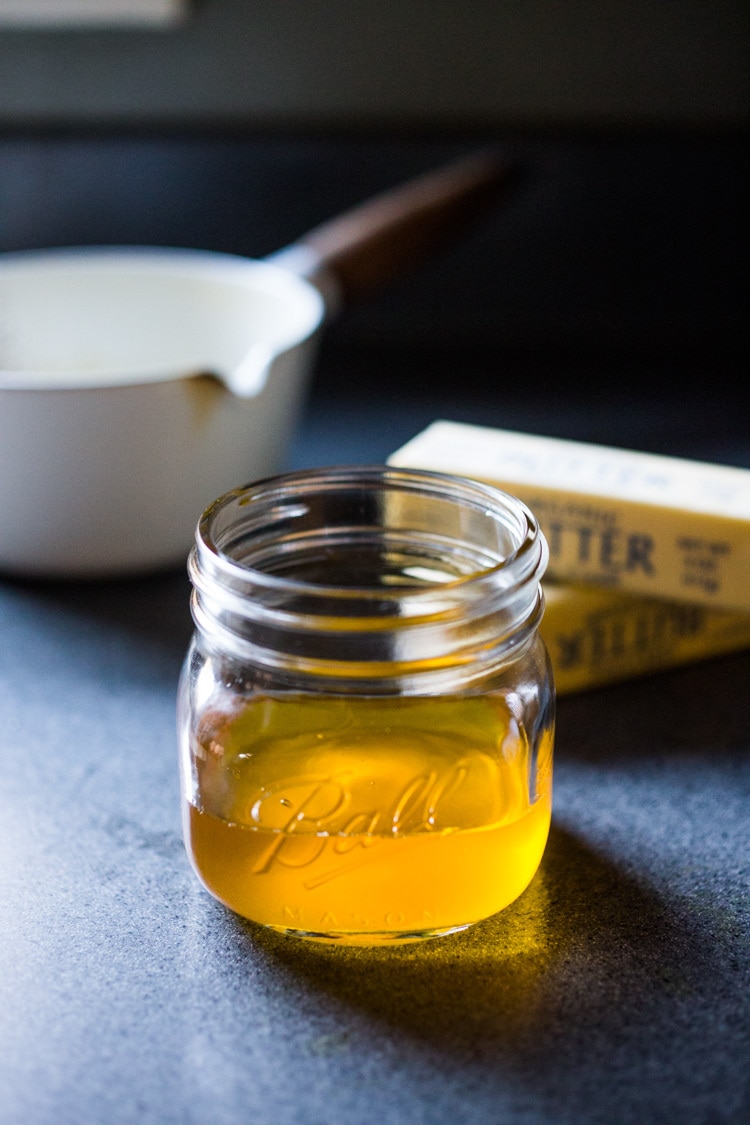 Allow the homemade ghee to cool, then seal.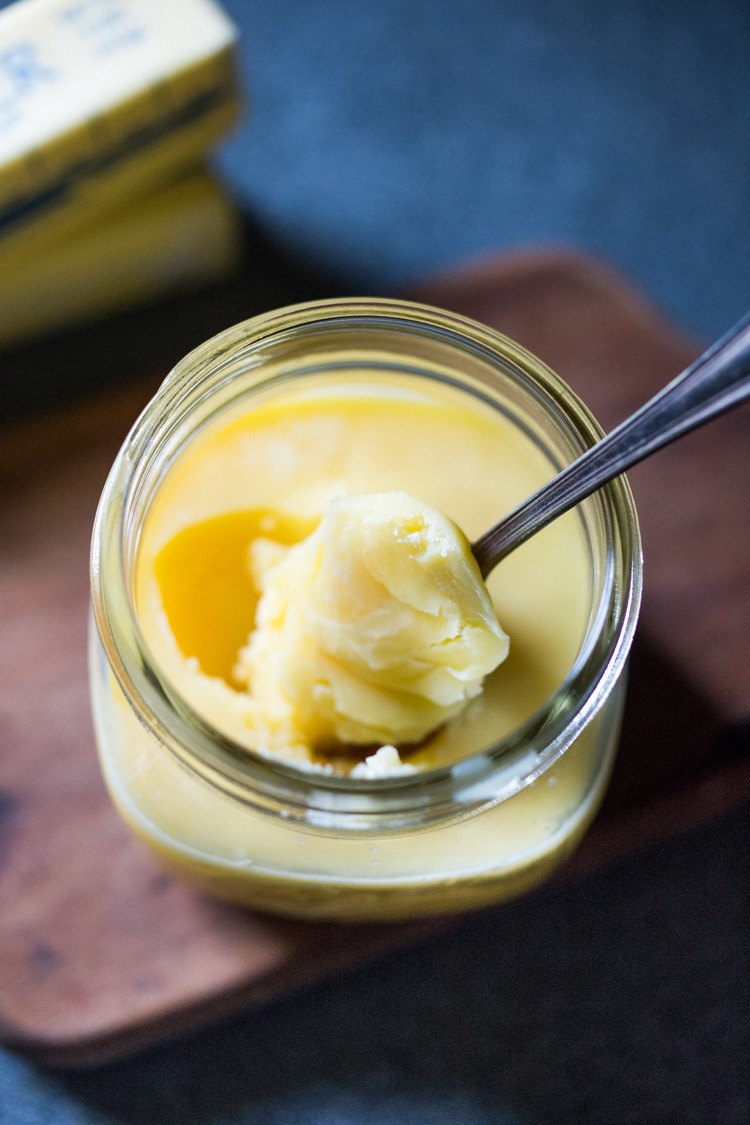 At this point your homemade ghee is shelf-stable.
You can keep this on your counter or in your pantry for 6-12 months, or feel free to refrigerate if you prefer.
I hope you give this homemade ghee a try and let me know how you like it in the comments below! I'm curious if you notice any health benefits so please share with us.
xoxo
Print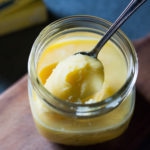 How to Make Ghee
Author:

Sylvia Fountaine

Prep Time:

5

Cook Time:

40

Total Time:

45 minutes

Yield:

1 cup

1

x

Category:

butter, pantry, larder, ayurvedic recipes, condiments

Method:

stovetop

Cuisine:

Indian

Diet:

Hindu
---
Description
How to make ghee, plus 10 health benefits. A simple process that turns butter into the most flavorful foundation for authentic Indian cooking. Removing the milk solids out of butter makes it highly digestible, soothing to the body and according to Ayurvedic medicine, helps balance out the 3 doshas with many health benefits.
---
16 ounces organic, grass-fed unsalted butter. (1 cup)
---
Instructions
Heat the butter in a medium, heavy-bottomed pot over medium-low or low heat.
Check every 10 minutes, skimming the foam that rises to the surface with a spoon or slotted spoon. The more butter you are cooking the longer this process will take.
When the milk solids drop to the bottom of the pan, you technically have "clarified butter".
To make ghee, you'll continue cooking until the solids turn deep golden brown like the color of brown sugar, and the butter will begin smelling nutty and earthy and get golden itself.  During these last minutes, you don't want to walk away from the stove, it goes very quickly from deeply golden to burnt!
Turn the heat off and let cool 3 minutes.
Strain, using 2 layers of cheesecloth over a strainer into a clean jar or pourable pitcher.
Pour into a clean, sealable, sanitized jar, and store on the counter, or refrigerate if you prefer.
Ghee will solidify slightly, especially in the colder months.
---
Notes
Nutrition
Serving Size:

1 tablespoon

Calories:

102

Sugar:

0 g

Sodium:

1.6 mg

Fat:

11.5 g

Saturated Fat:

7.2 g

Trans Fat:
Carbohydrates:

0 g

Fiber:

0 g

Protein:

0.1 g

Cholesterol:

30.5 mg
Keywords: ghee, homemade ghee, how to make ghee, benefits of ghee, is ghee better than butter, ghee recipe, ghee benefits, ghee uses, homemade ghee recipe, what is ghee, Ayurvedic recipes