Here are our most popular, 25 Best Chickpea Recipes that are not only easy, healthy, mostly vegan (or vegetarian) and full of plant-based protein, they are packed full of delicious flavors from around the globe from places like India, the Middle East, Morocco, and the Mediterranean.  Some of these chickpea recipes can be made in the instant pot, perfect for weeknight dinners!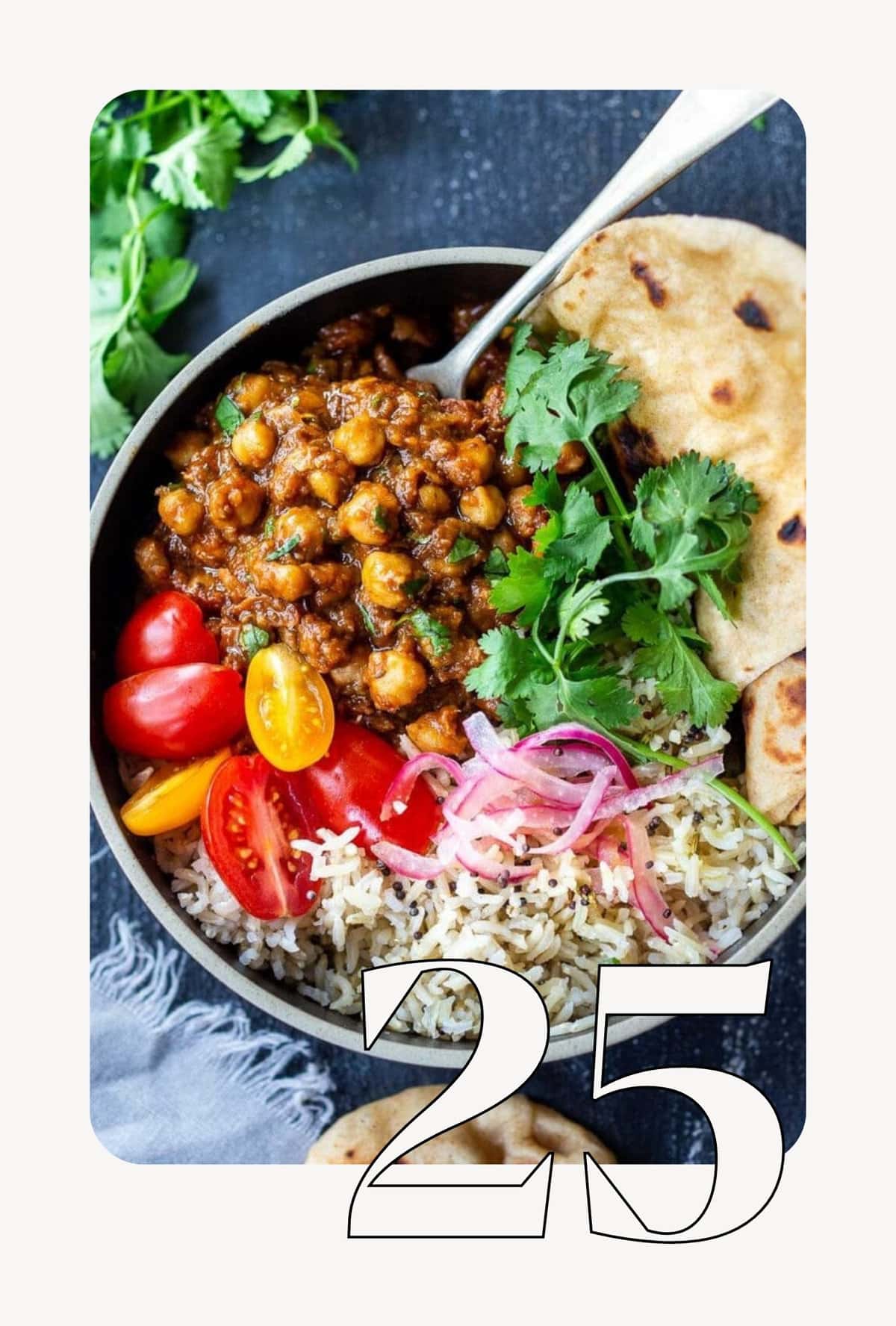 What I love about chickpeas is how versatile they are in the kitchen- able to take on many textures from the creamiest of creamy to the crispiest of crispy. Like lentils, they are comfort food in our household- comfort food that leaves us feeling energized and alive instead of tired and heavy.
 A slow-digesting carb, chickpeas feed the healthy bacteria in our intestines- not only helping to boost immunity, but also adding filling fiber. These healthy chickpea recipes are so good for our bodies. 
---
Delicious, Healthy  Eggplant Chickpea Tagine– seasoned with Moroccan spices and served over couscous. A simple plant-based dinner recipe full of amazing flavor.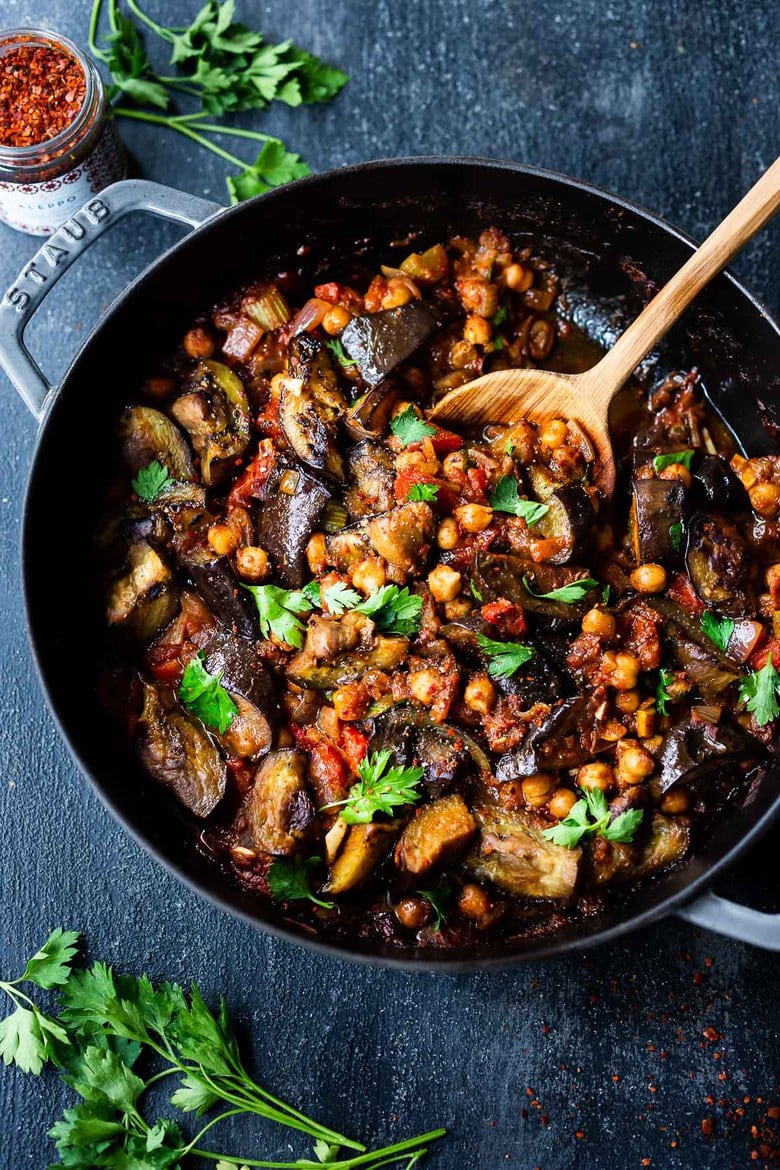 Savory oven-roasted Indian Cauliflower, Chickpea, and Tofu Bowls served over fluffy basmati rice with Cilantro Mint Chutney, seasoned with a simple Madras Curry dressing.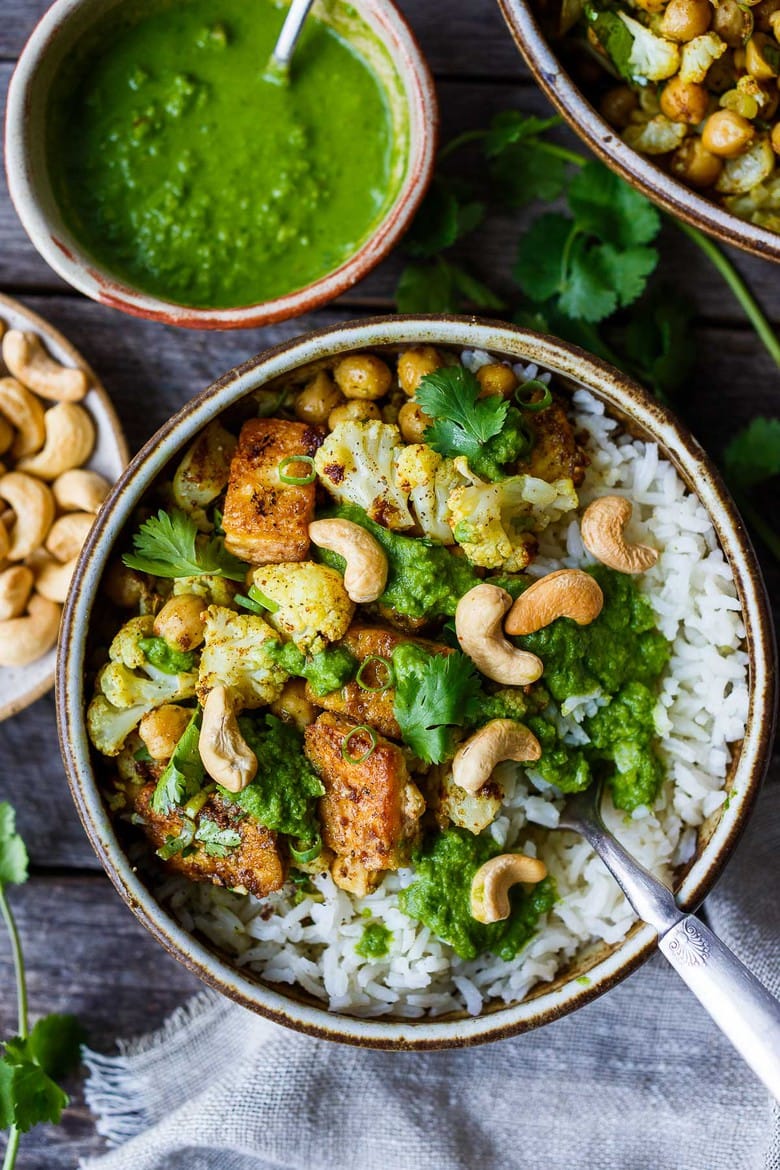 This Lemony Chickpea Quinoa Salad with cucumber, tomato, dill, parsley and Preserved Lemon Dressing is one of my personal favorites. I could eat it every day, seriously! It's bright and flavorful and packed full of nutrients.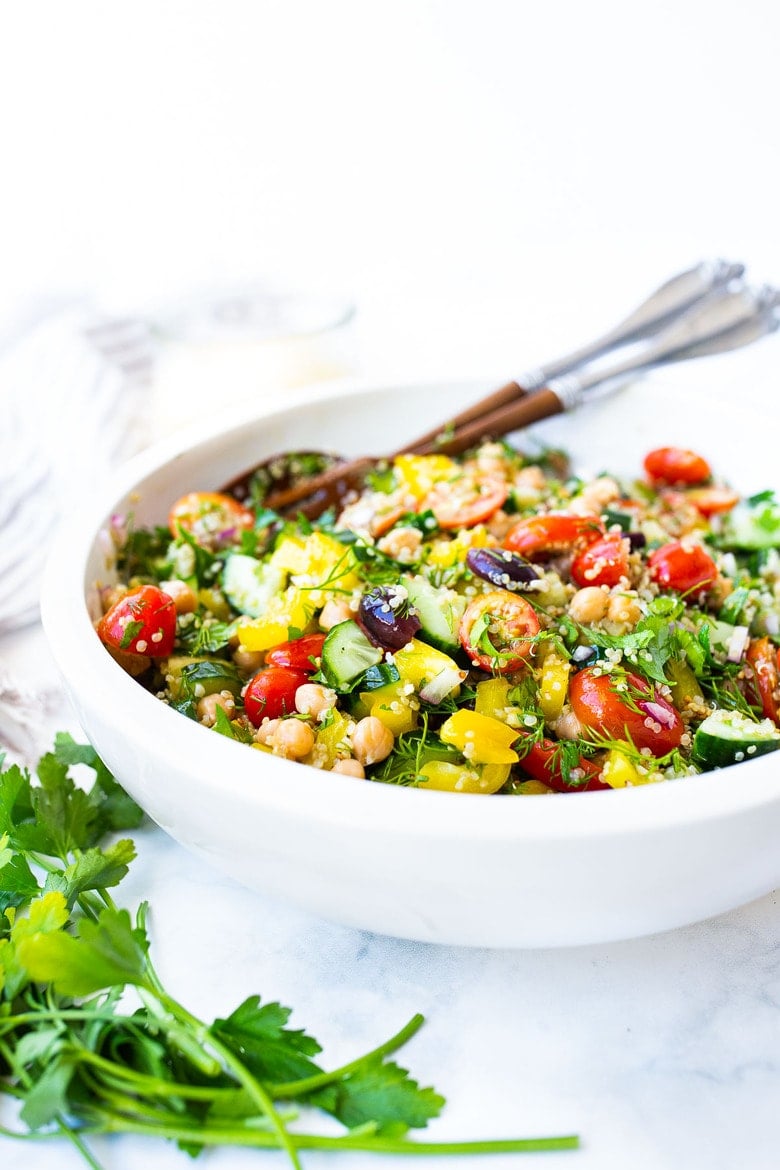 An authentic recipe for  Chana Masala  that can be made in an Instant pot or on the stovetop. A quick and easy Vegetarian dinner recipe that is full of amazing Indian flavor! Serve this with Naan or Basmati Rice.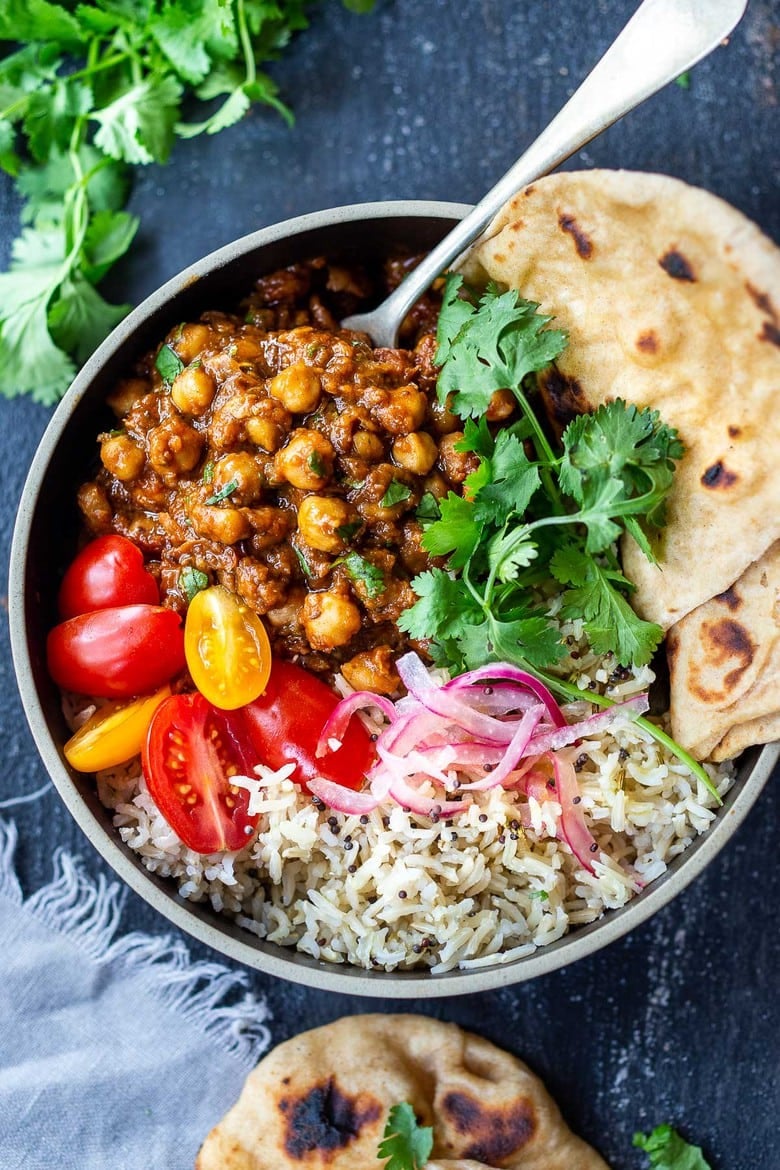 Packed with nutritious ingredients, this Chickpea Quinoa Veggie Burger is full of savory delicious flavor and satisfying texture.  Great with a variety of toppings. Vegetarian and Gluten-free, Vegan-adaptable!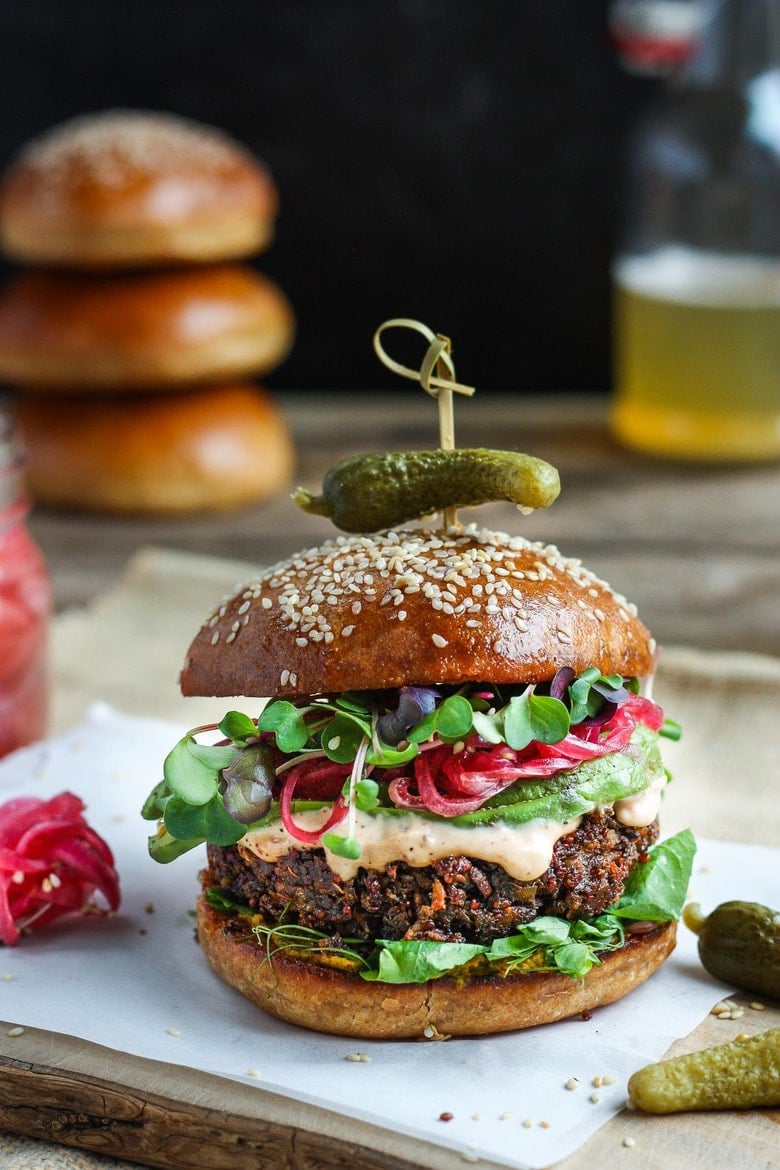 This simple Pasta with Broccolini, Preserved Lemon and Chickpeas is punchy and bright and comes together quickly and easily – on the table in under 30 minutes!  A tasty healthy weeknight dinner!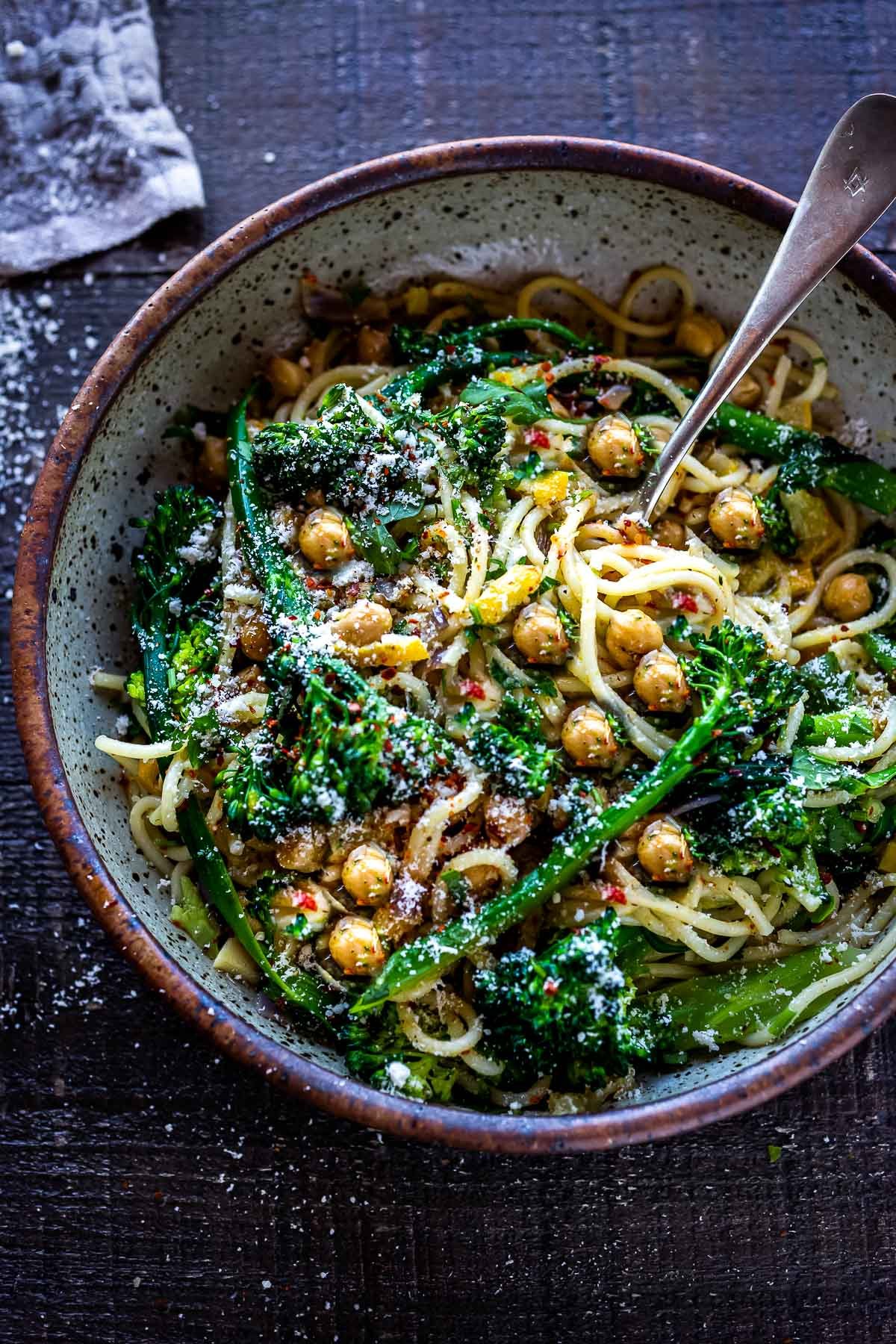 Coconut Millet Bowl with Berbere-Spiced Kabocha Squash & Chickpeas, with shallots, and spinach drizzled with coconut lime mint sauce.  A vegan, plant-based meal, full of vibrant flavor and spice.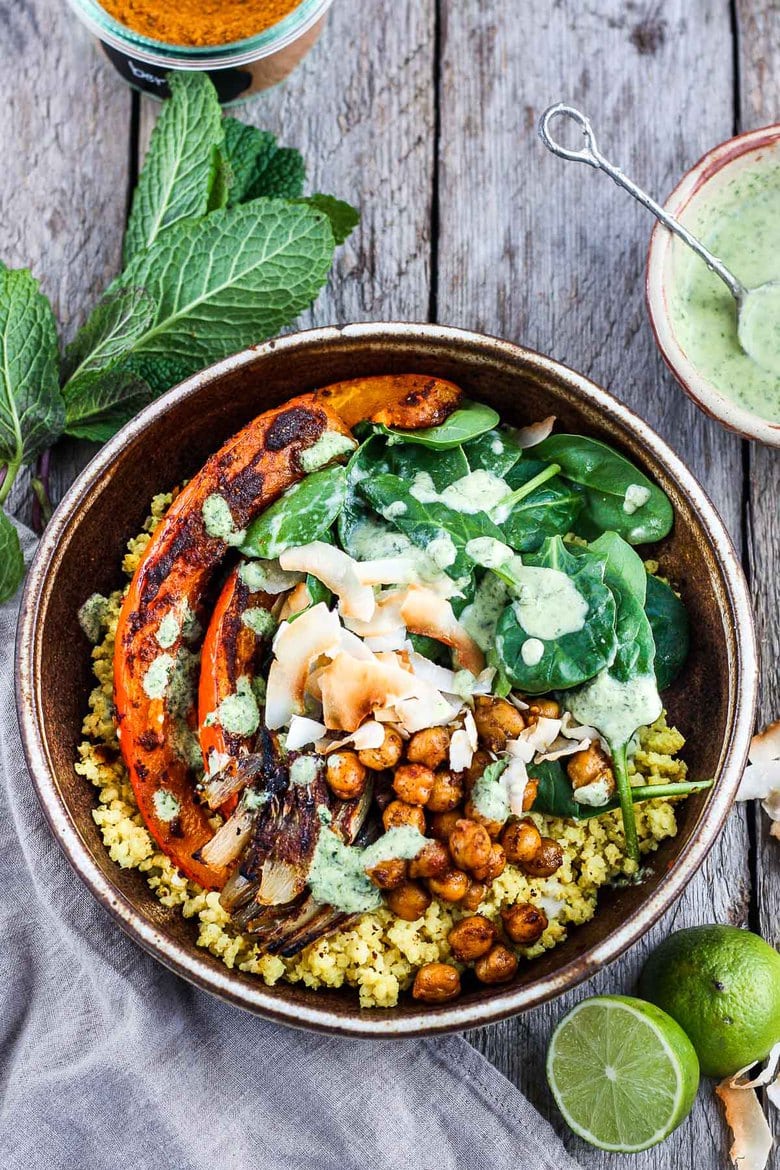 This  Moroccan Chickpea & Sweet Potato Salad is bursting with flavor! Healthy, vegan and gluten-free, it is EASY to make! Serve it warm or chilled. Can be made ahead.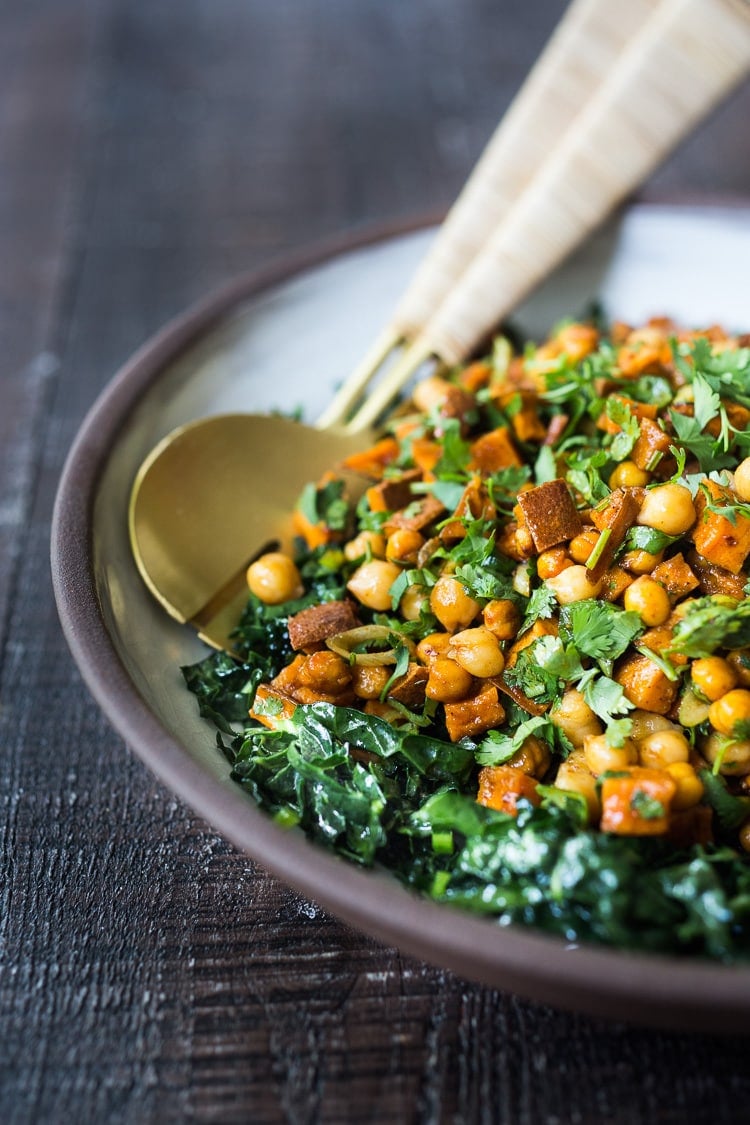 Moroccan Lentil and Chickpea Soup (aka Harira) is hearty, full of protein and loaded with nutrients.  Warming fragrant spices make this healthy one-pot meal deeply flavorful!  Vegan and Gluten-Free adaptable.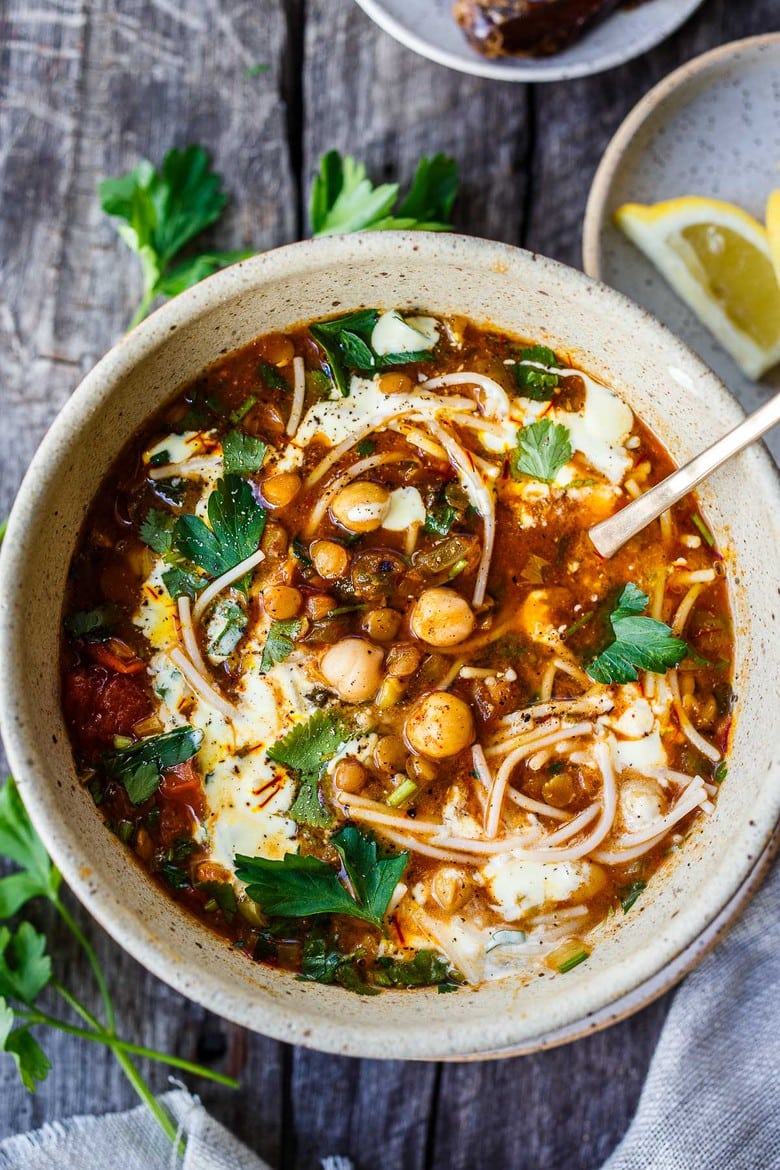 Minestrone Soup with Chickpeas and vibrant green vegetables. A simple easy recipe that is filling, flavorful and full of healthy veggies. Vegan-adaptable. Use gluten-free pasta or even chickpea pasta for double the protein.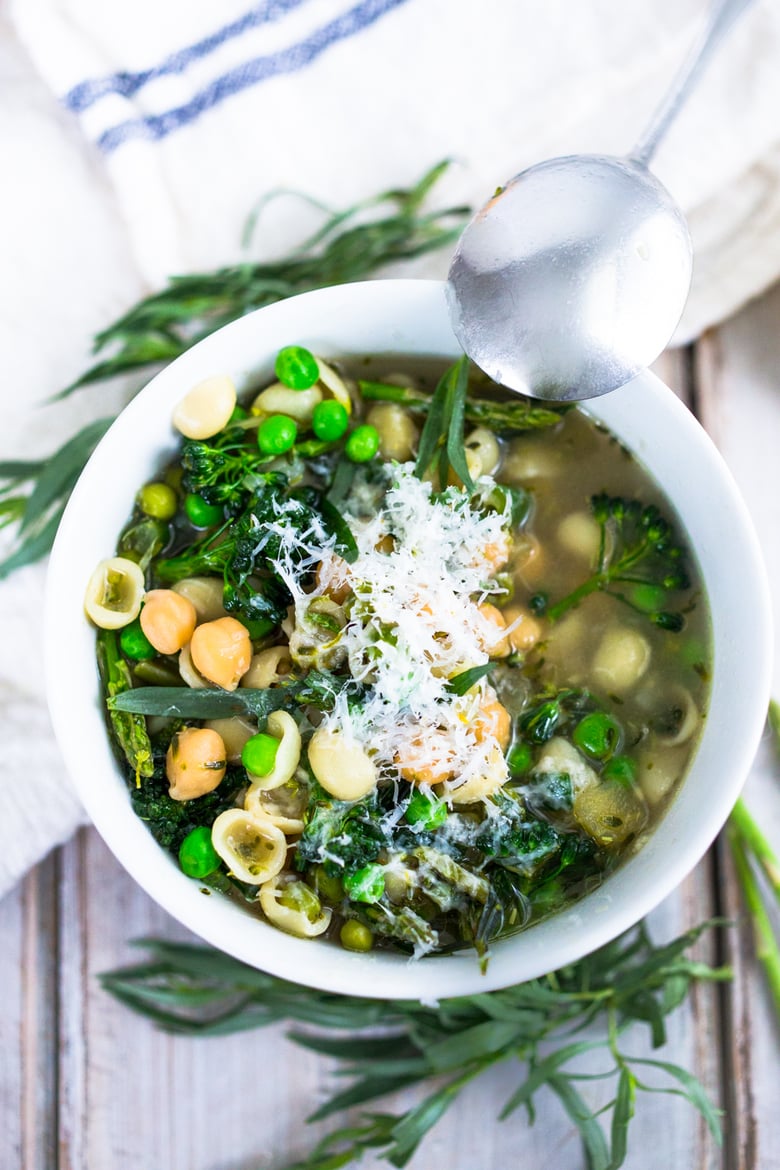 Warm Winter Salad – a hearty "entree" salad made on a sheet pan with roasted cauliflower, carrots, fennel and chickpeas, topped with wilting spinach, drizzled with Everyday Tahini Sauce and sprinkled with fresh dill and Dukkah. Vegan and Gluten-free.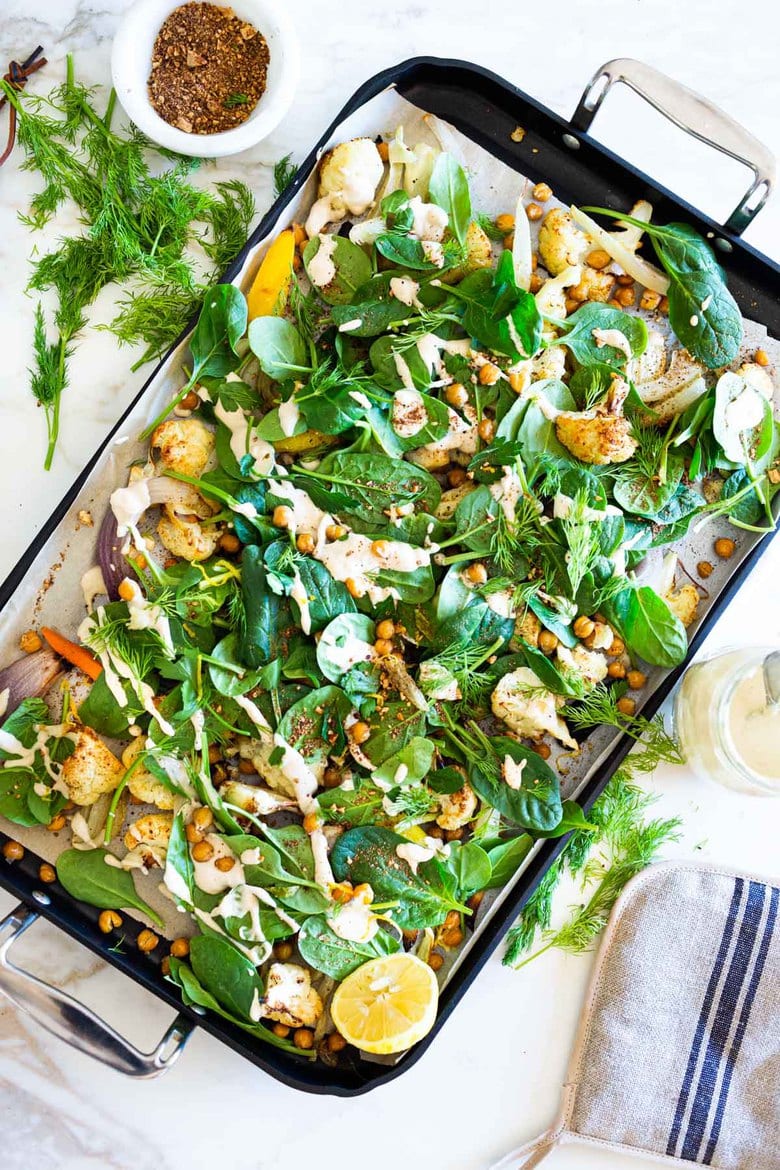 Crispy Vegan Quinoa Cakes with Tomato Chickpea Relish- a delicious, healthy flavorful vegan dinner that is gluten-free.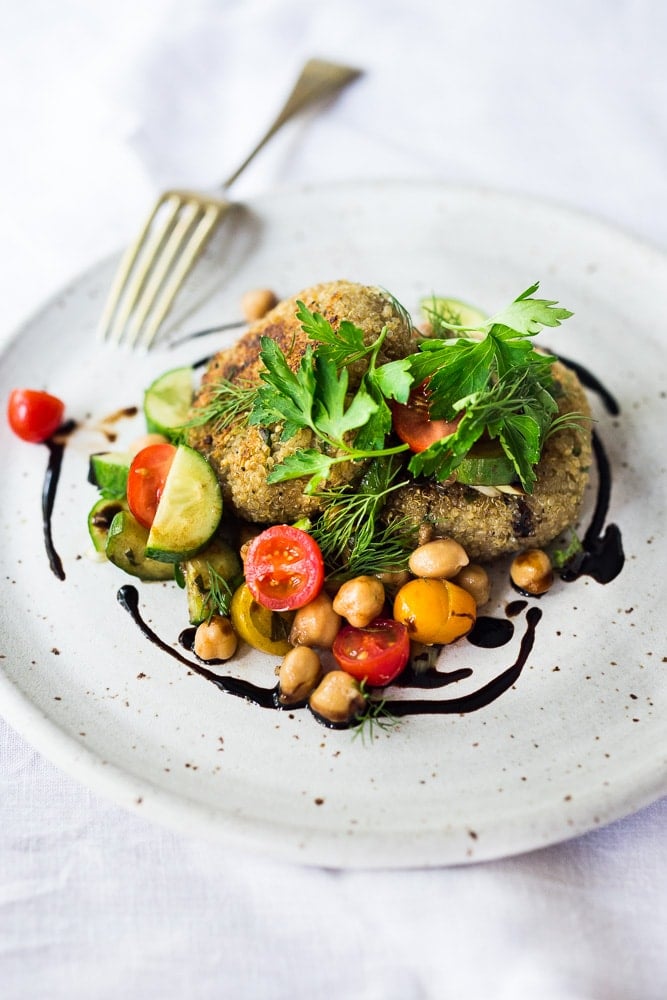 Tandoori Glory Bowl with roasted cauliflower, chickpeas, red onion seasoned with fragrant tandoori spice. Vegan and Gluten-free!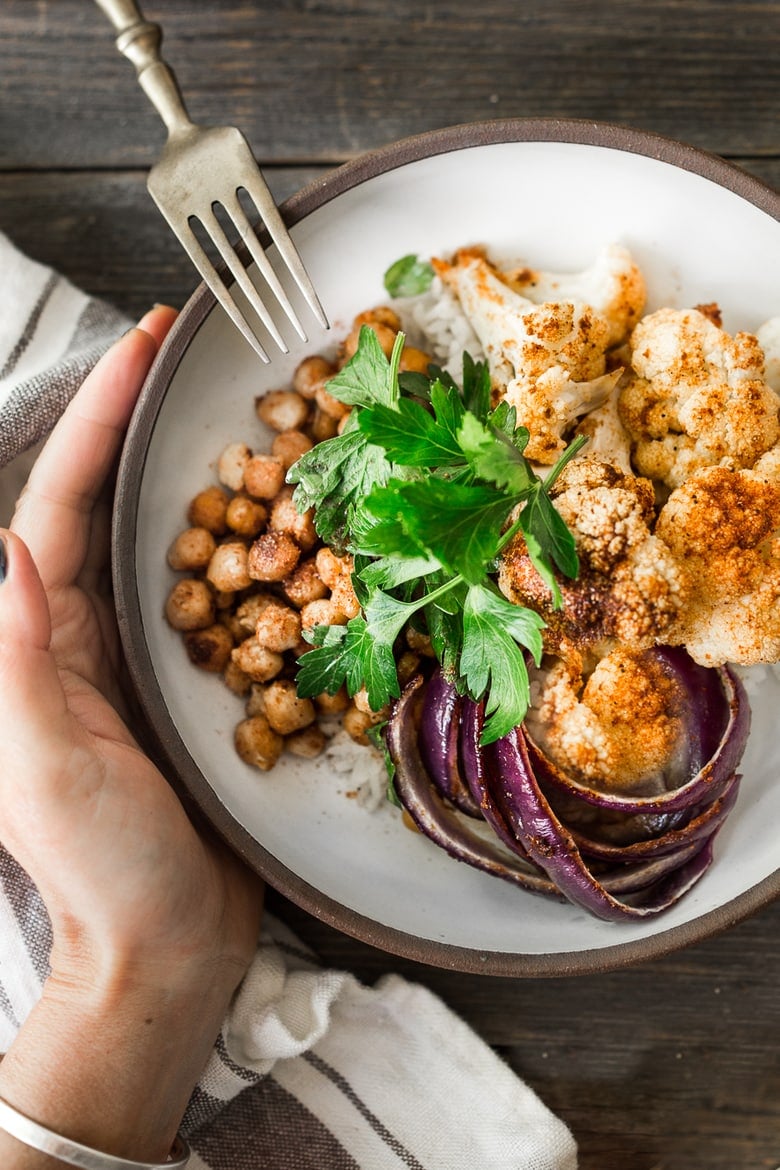 Winter Happiness Salad! Kale & Quinoa Salad with Apples, Chickpeas and Currants! A hearty vegan salad that can be made ahead- perfect for potlucks, gatherings or midweek lunches!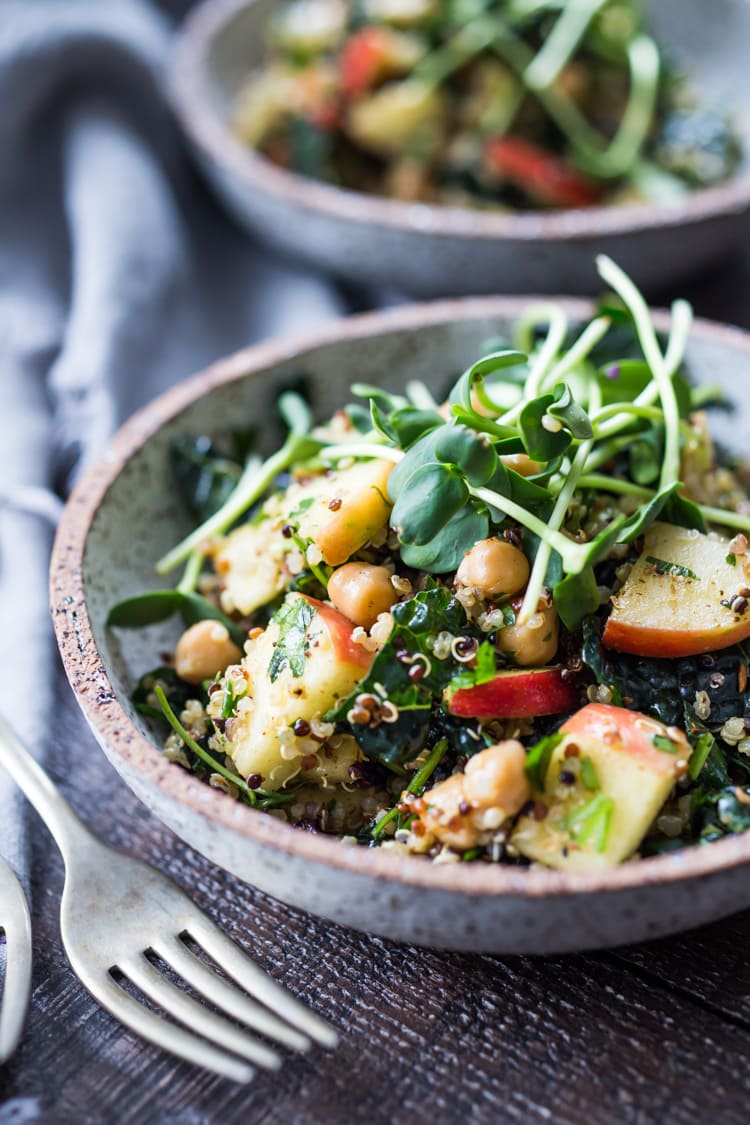 Creamy Rainbow Veggie Hummus! This authentic hummus recipe is light and creamy and so easy to make! Use canned or dried chickpeas and serve it up with fresh garden veggies!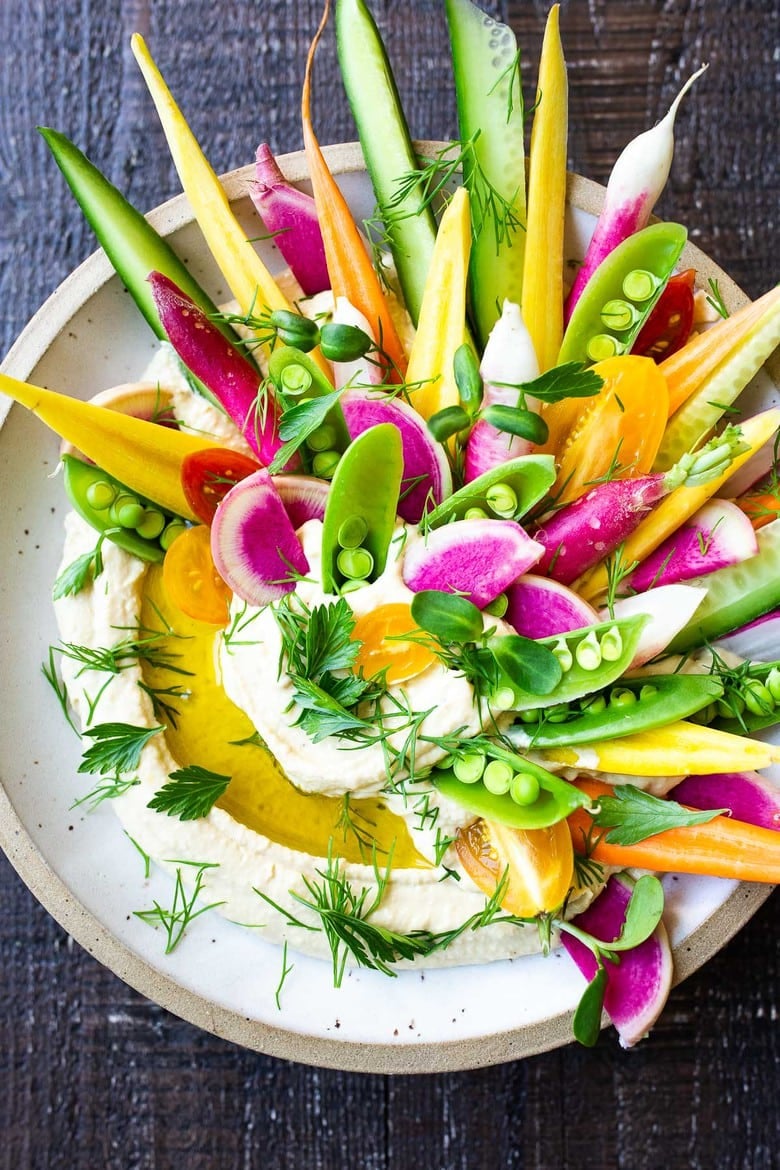 Middle Eastern Salad Tacos with spiced chickpeas, hummus and a mound of lemony salad, topped with fresh herbs and scallions. Vegan & sooooo Delicious!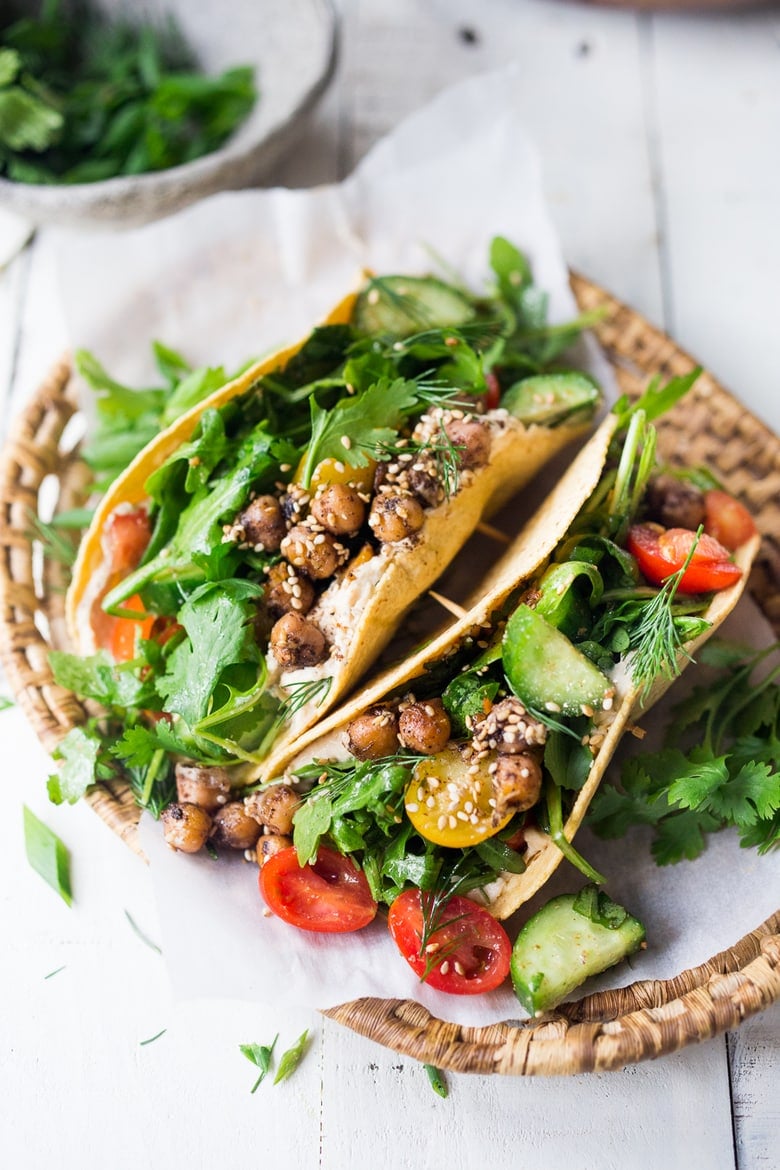 Authentic Falafels with dry chickpeas that have been soaked and hands-down has the BEST texture and flavor! So easy! Bake them or pan-sear them. Great in wraps, bowls, or salads.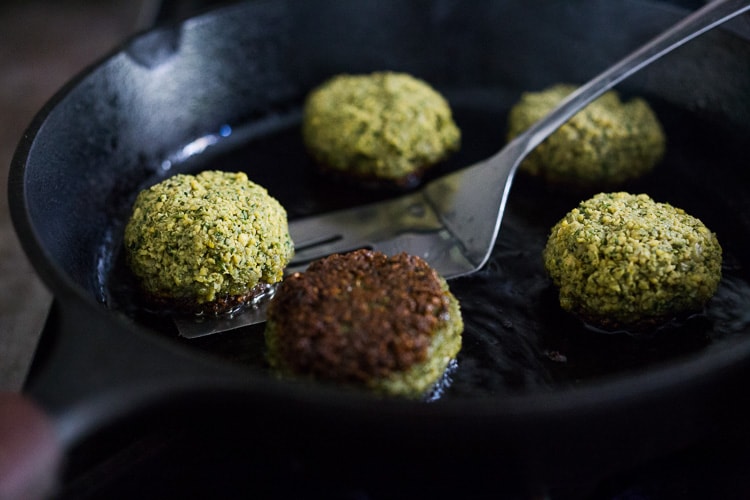 Flavorful Balela Salad– a simple Middle Eastern Chickpea Salad with finely chopped veggies, fresh herbs, lemon & olive oil. Serve it in a pita with tahini sauce or over greens. Vegan and GF.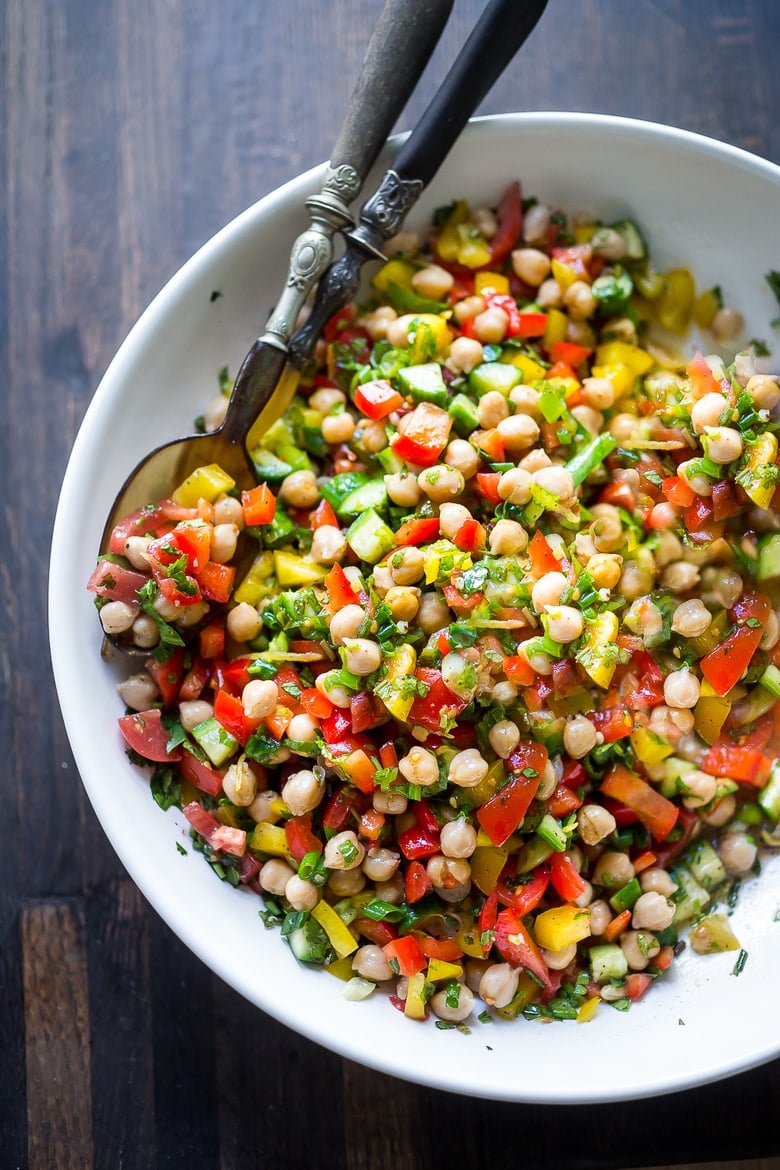 Smashed Chickpea and Avocado Sandwich – a fast and easy vegan lunch that can be made in 15 mins flat. Filling, delicious and super simple!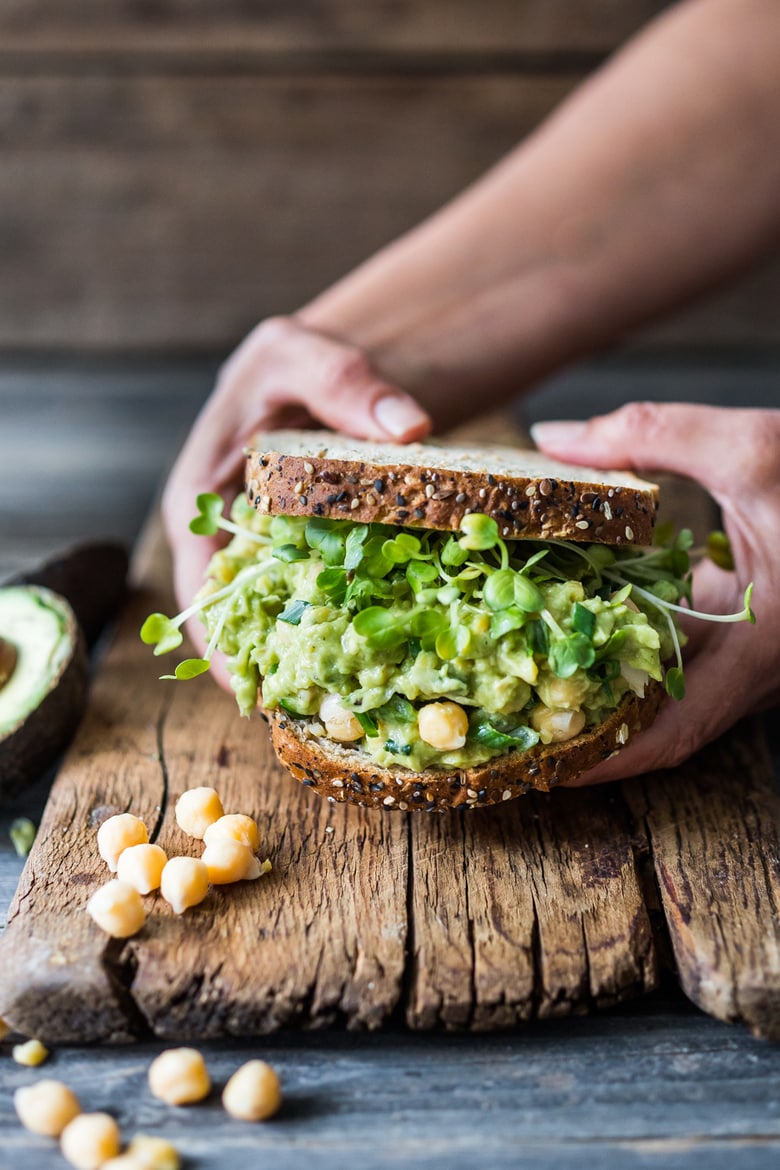 This Tunisian Chickpea Stew with Carrots is super flavorful, seasoned with turmeric, harissa paste and served with optional yogurt. A delicious and healthy chickpea recipe!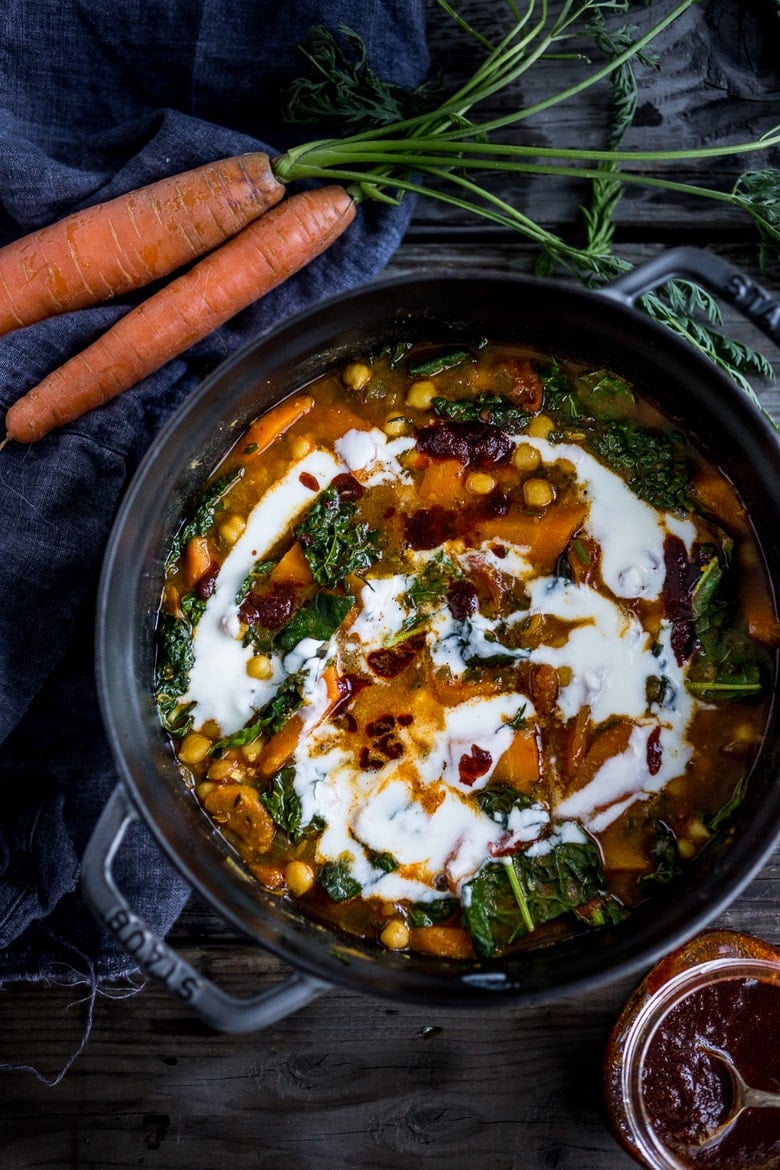 Quick and Easy Vegetarian Biryani! A fragrant Indian rice dish with chickpeas and veggies, infused with Indian spices – vegan adaptable and gluten-free.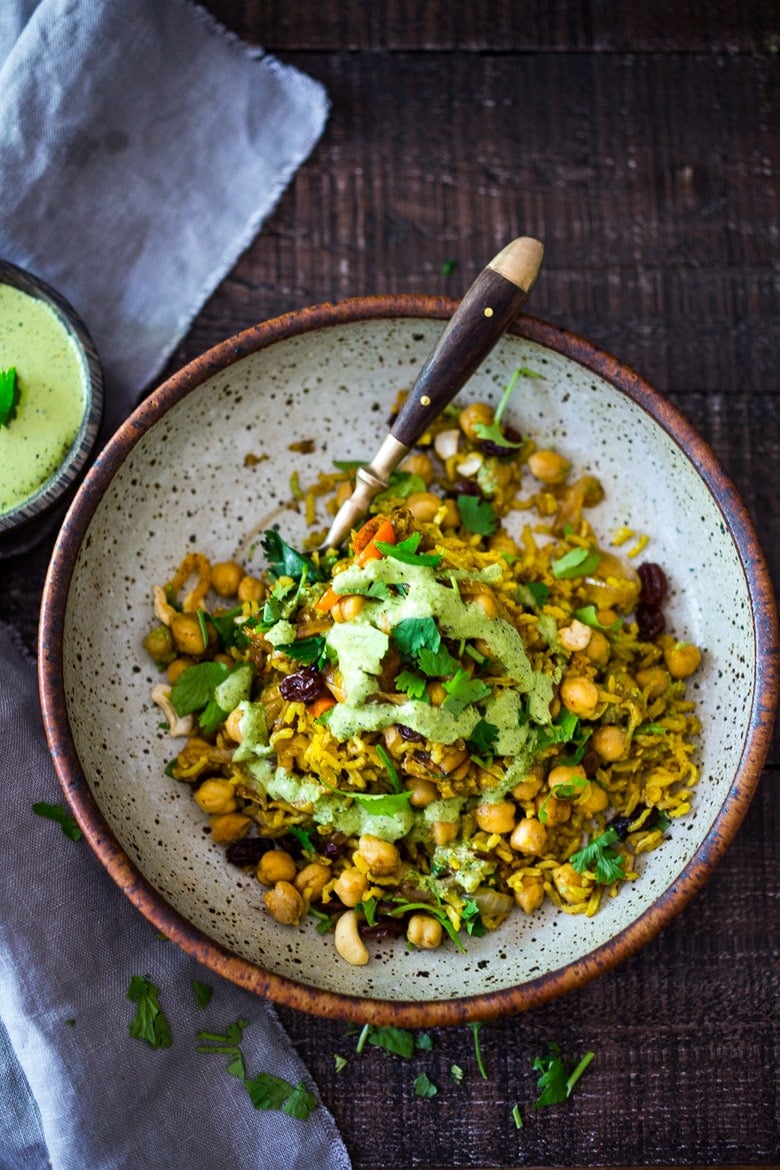 A simple vegan recipe for Curry Chickpea Salad with Toasted Coconut that can be turned into a wrap with spinach and sprouts, or served over a bed of greens. A healthy vegan chickpea recipe our readers love!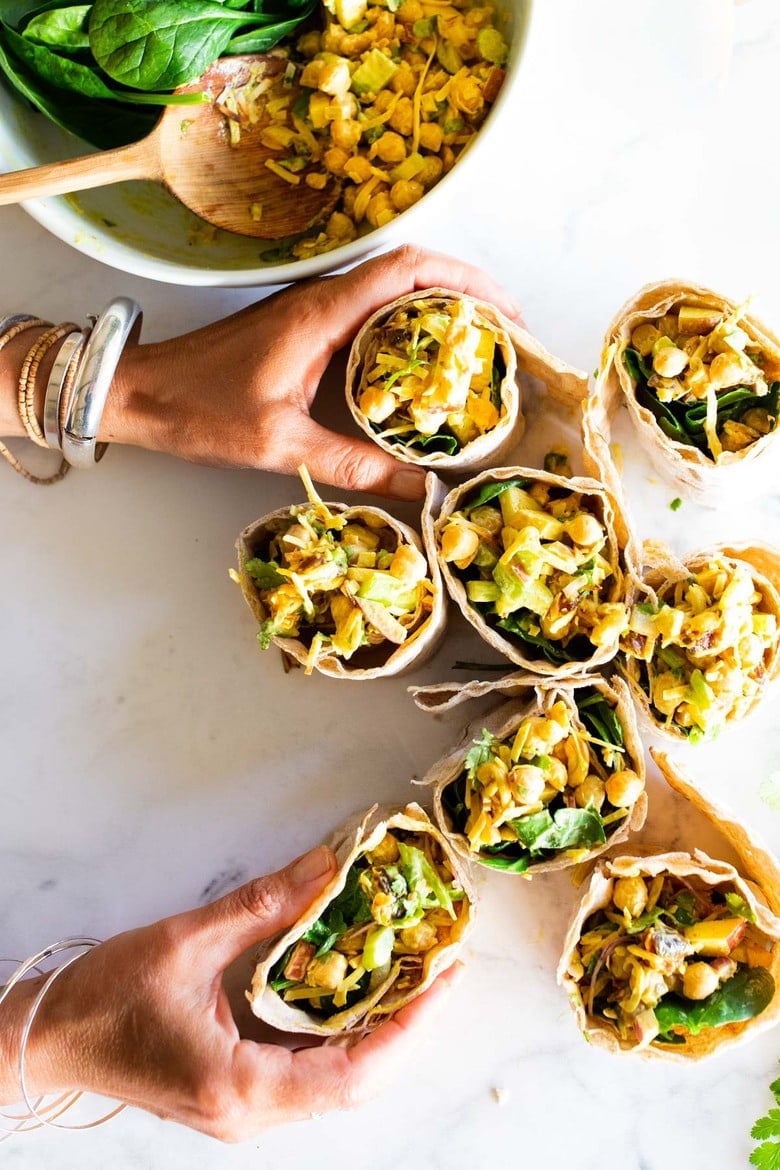 This herby, vegan Smashed Chickpea Salad Sandwich is loaded up with fresh herbs and layered with  Avocado, shredded veggies, and sprouts. Lots of flavor and high in protein! One of our reader's favorites!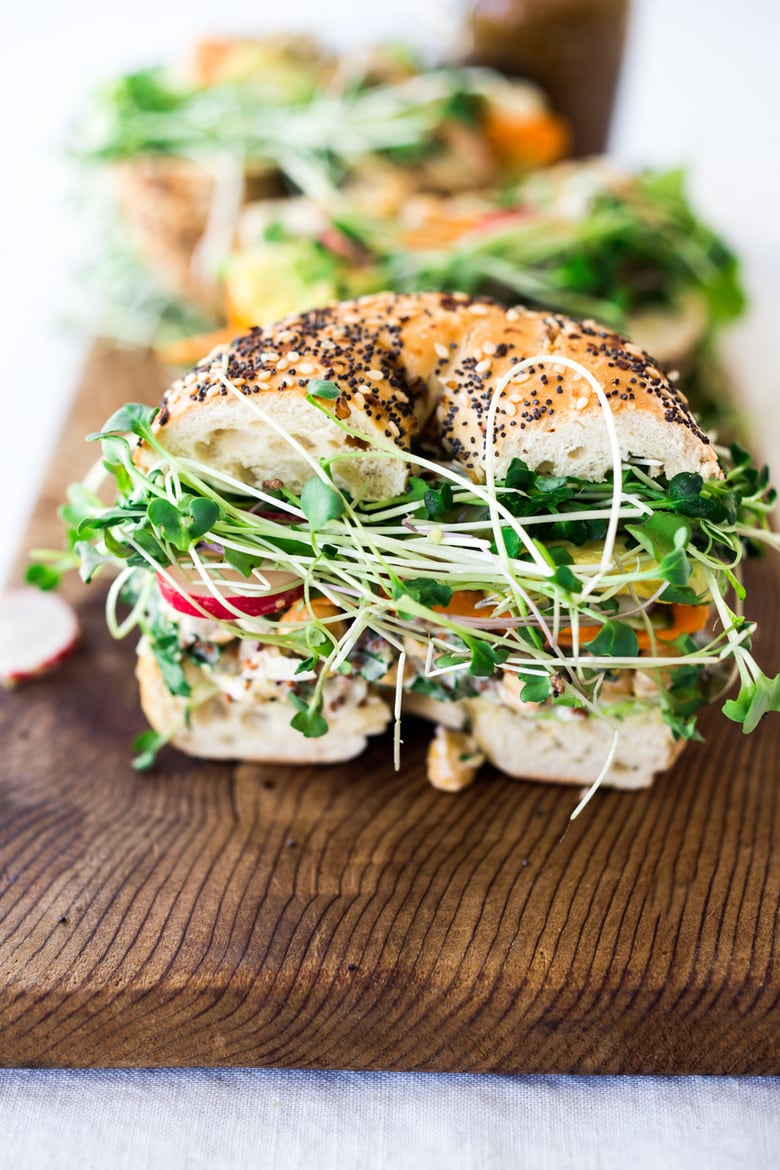 Stuffed Peppers with Quinoa, Eggplant, Chickpeas with Zhoug Yogurt. A flavorful vegetarian dinner recipe featuring the mighty chickpea!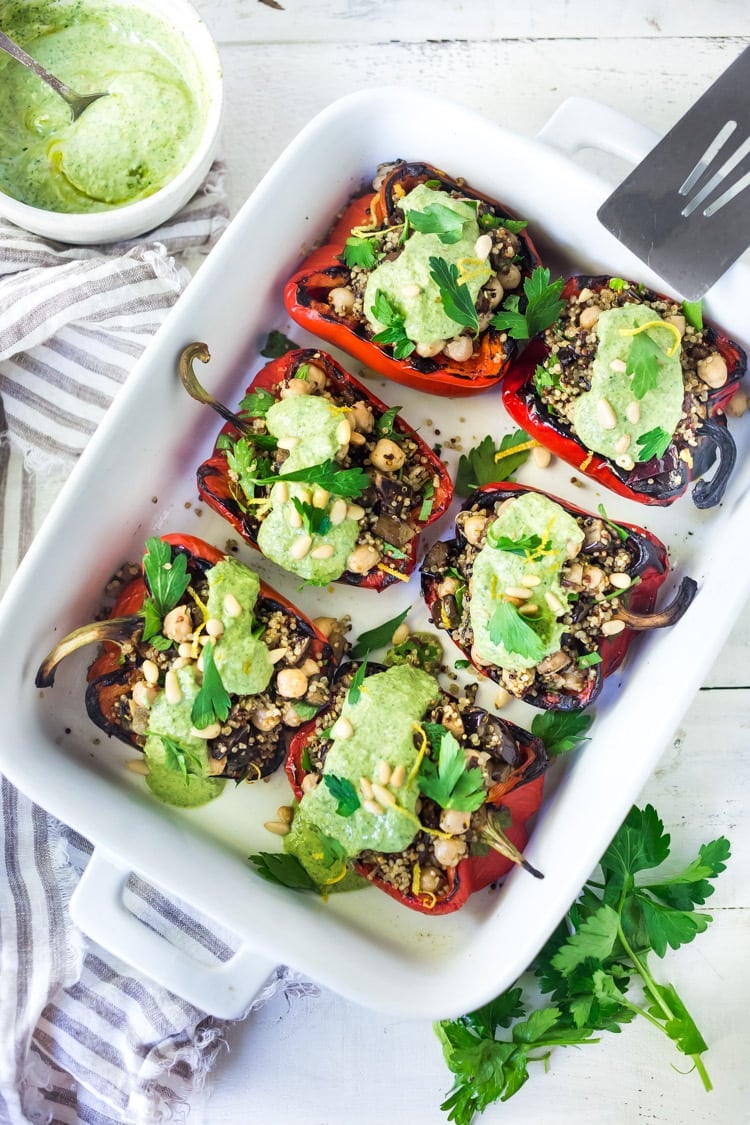 Brothy Chickpea Soup with Lemon, Fennel & Sumac.  A healthy vegan soup, using dry chickpeas that is full of flavor!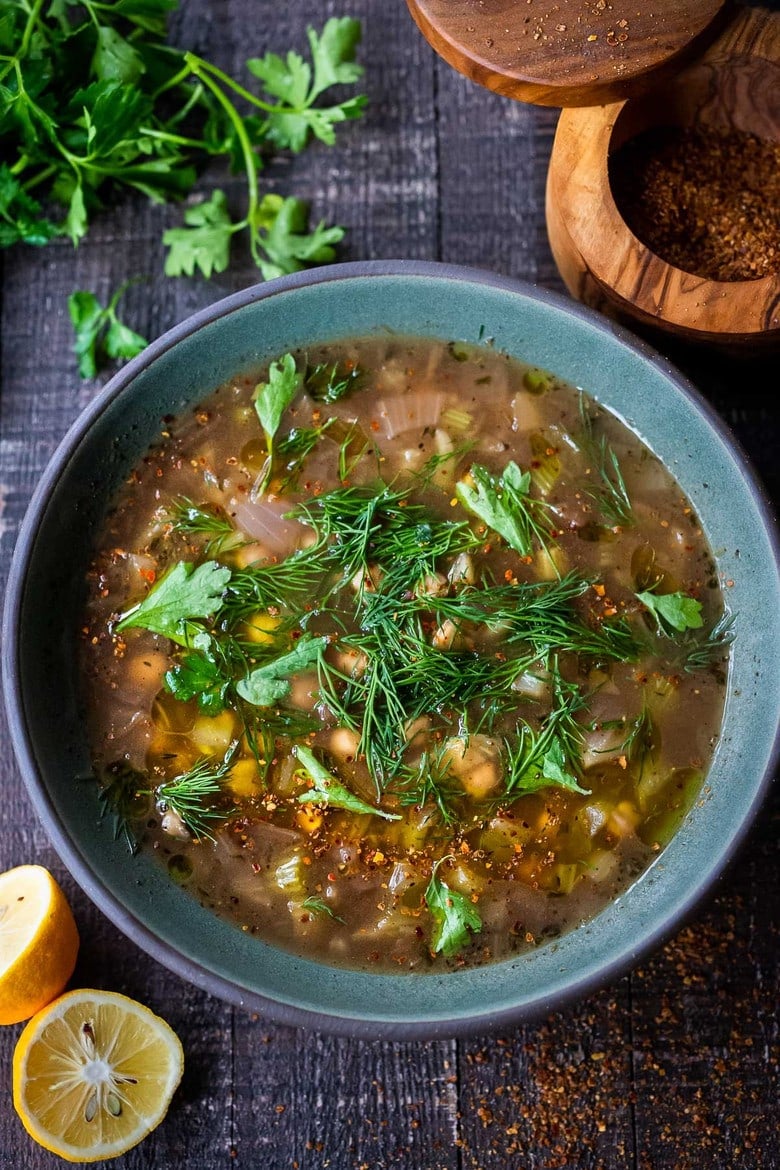 Frankies! India's flavorful street food also known as the Bombay Burrito. This vegan version is bursting with flavorful curry mashed potatoes, roasted Indian cauliflower and chickpeas, fresh spinach, mint chutney, and pickled onions.|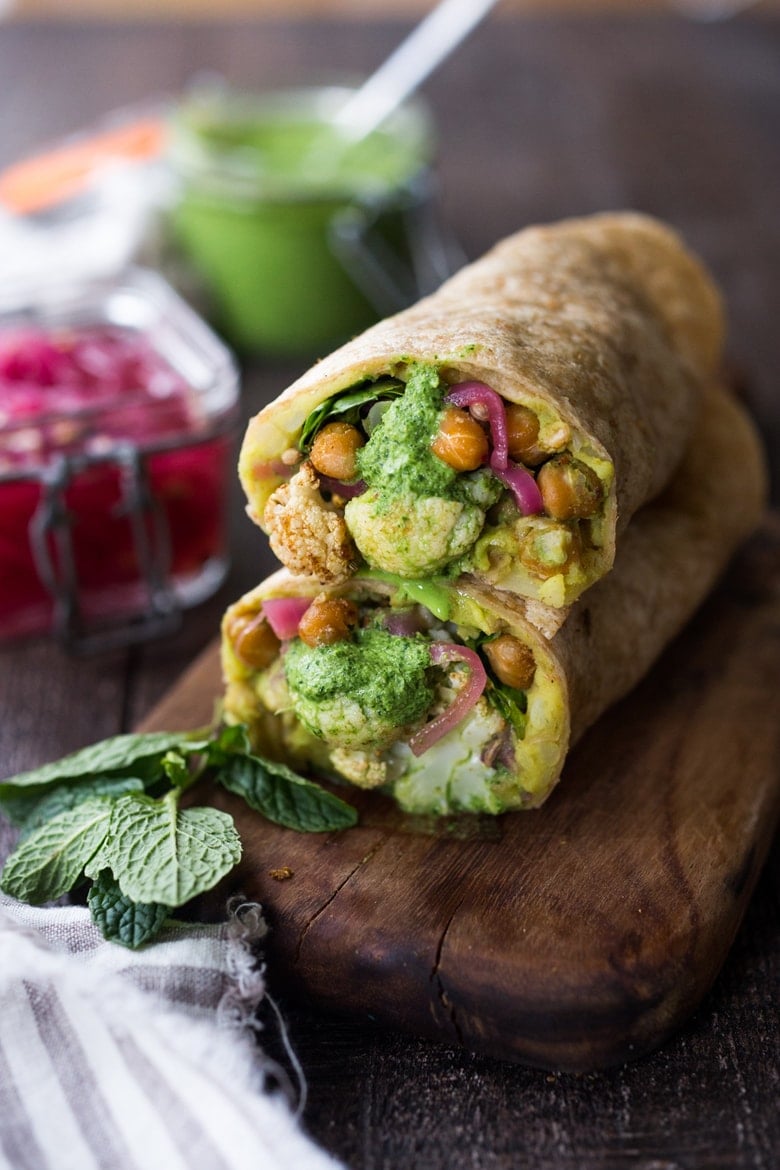 Tandoori Hummus – a delicious Indian twist on the classic, seasoned with garam masala spice. This healthy homemade hummus is vegan, easy to make… and has the BEST flavor! Serve with naan or pita!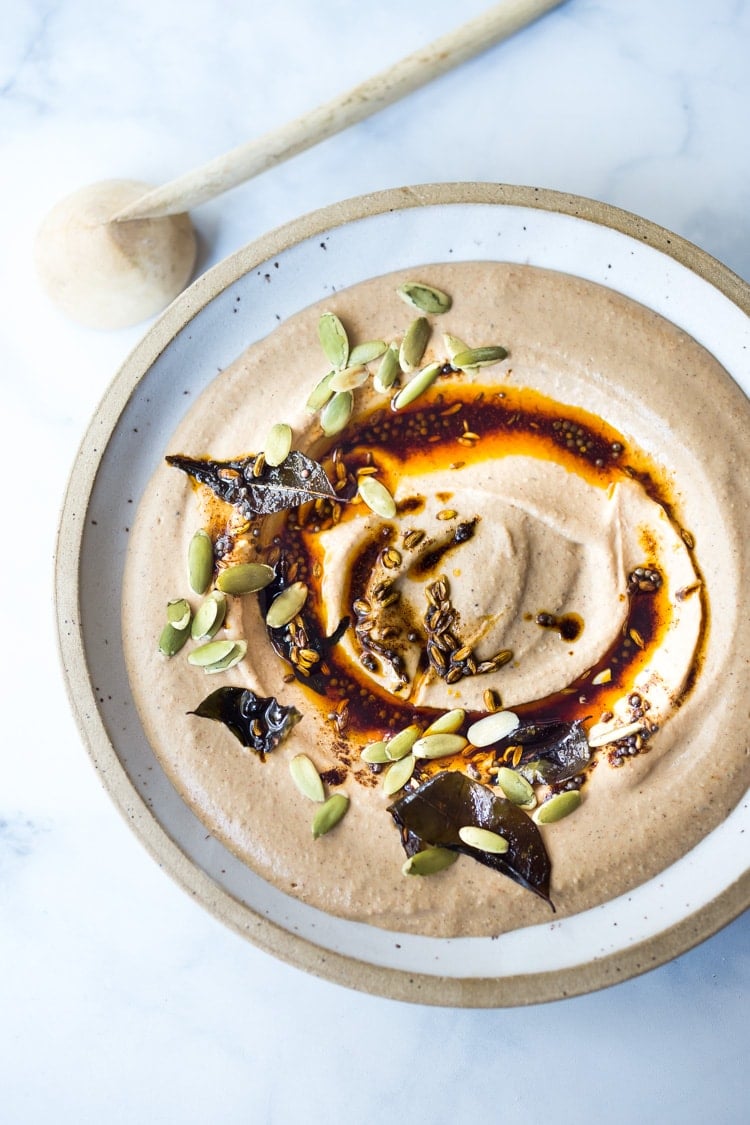 Here are a couple of chickpea recipes that are not plant-based, but equally as popular! This Middle Eastern Chickpea Lamb Stew and Fesenjen (Persian Stew) 
Leave any of your favorites in the comments below!
Print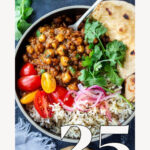 Our 25 Best Chickpea Recipes!
Prep Time:

15

Cook Time:

25

Total Time:

40 minutes

Yield:

4-6

Category:

vegan, chickpeas

Method:

stovetop or instant pot

Cuisine:

Indian, Moroccan, Middle eastern, Mediterranean,

Diet:

Vegan
---
Description
Our 25 Best Chickpea Recipes are not only easy,  healthy, mostly vegan (or vegetarian) and full of plant-based protein, they are packed full of delicious flavors from around the globe like India, the Middle East, Morocco, and the Mediterranean. Pick out a couple try today!
---
chickpeas ( dried or canned)
veggies!
Herbs
Spices
---
Instructions
Pick out a couple of our best chickpea recipes to try this month, and tell us your favorites in the comments below!
---
---
Keywords: chickpea recipes, best chickpea recipes, chickpea recipes vegan, chickpea recipes easy, vegan chickpea recipes, garbanzo bean recipes, indian chickpea recipes