Love chickpeas? Here are 25 of our most popular Chickpea Recipes featuring this healthy legume; all are highly rated and reader-approved!
These Chickpea Recipes are healthy, flavorful and bursting with global flavors. Whether you are looking for chickpea dinner ideas, chickpea soups or stews, chickpea salads or chickpea wraps or sandwiches, we have you covered!
---
Our Best Chickpea Dinner Recipes!
Delicious, Healthy Eggplant Chickpea Tagine– seasoned with Moroccan spices and served over couscous. A simple plant-based dinner recipe, full of amazing flavor.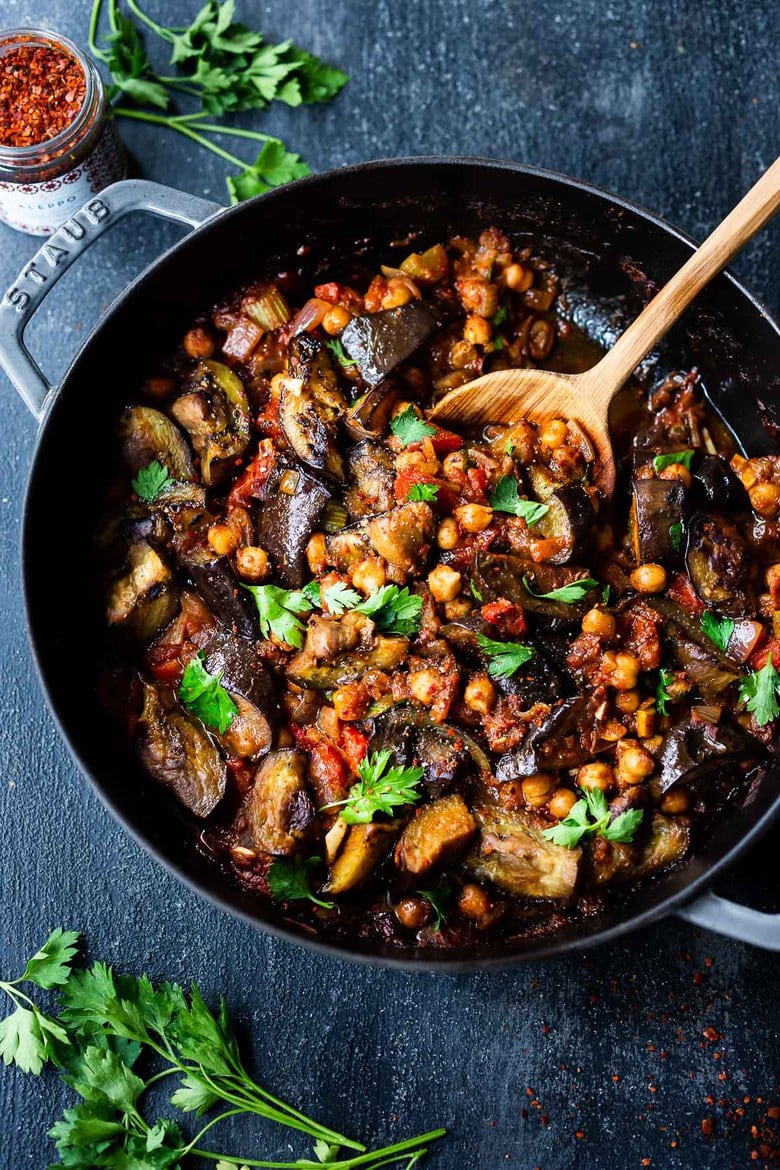 Chickpea Eggplant Tagine Video
Indian Chickpea Burritos
Frankies! India's flavorful street food also known as the Bombay Burrito. This vegan version is bursting with flavorful curry mashed potatoes, roasted Indian cauliflower and chickpeas, fresh spinach, mint chutney, and pickled onions.|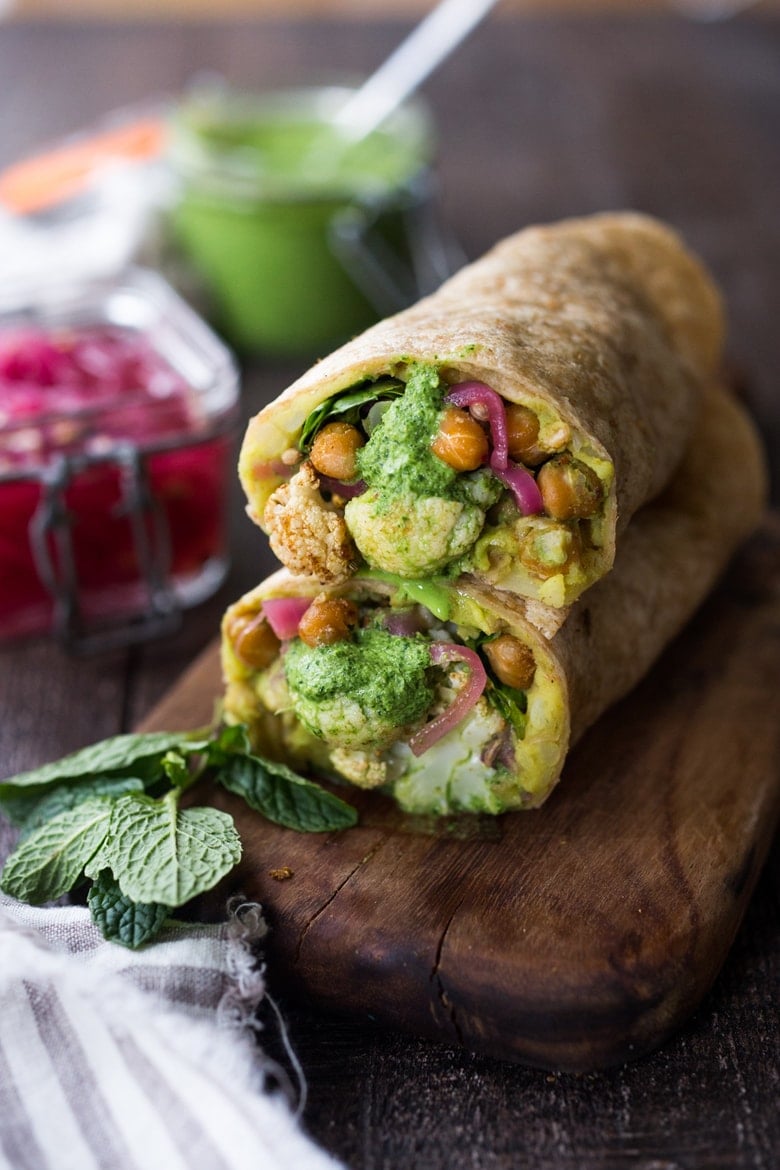 Savory oven-roasted Indian Cauliflower, Chickpea, and Tofu Bowls served over fluffy basmati rice with Cilantro Mint Chutney, seasoned with a simple Madras Curry dressing.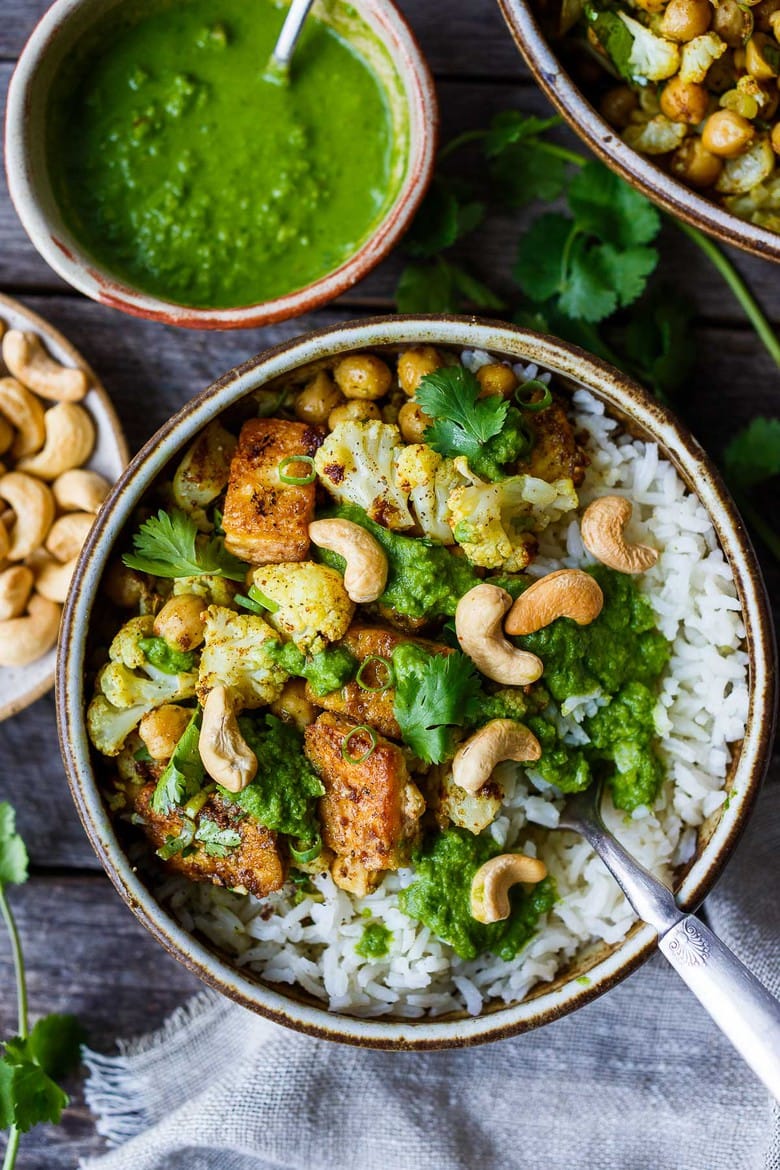 An authentic recipe for Chana Masala that can be made in an Instant pot or on the stovetop. A quick and easy Vegetarian dinner recipe that is full of amazing Indian flavor! Serve this with Naan or Basmati Rice.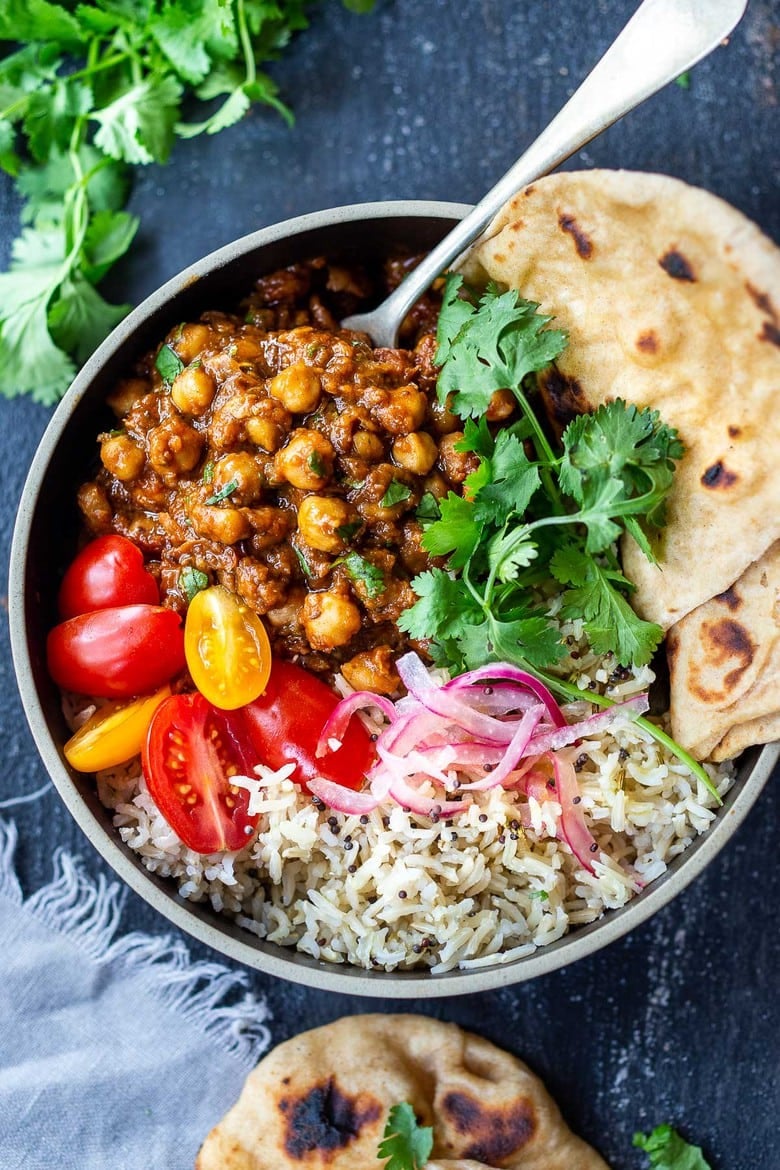 An authentic recipe for Chana Masala that can be made in an Instant pot or on the stovetop. A quick and easy Vegetarian dinner recipe that is full of amazing Indian flavor! Serve this with Naan or Basmati Rice.
Moroccan Lentil and Chickpea Soup (aka Harira) is hearty, full of protein and loaded with nutrients. Warming fragrant spices make this healthy one-pot meal deeply flavorful! Vegan and Gluten-Free adaptable.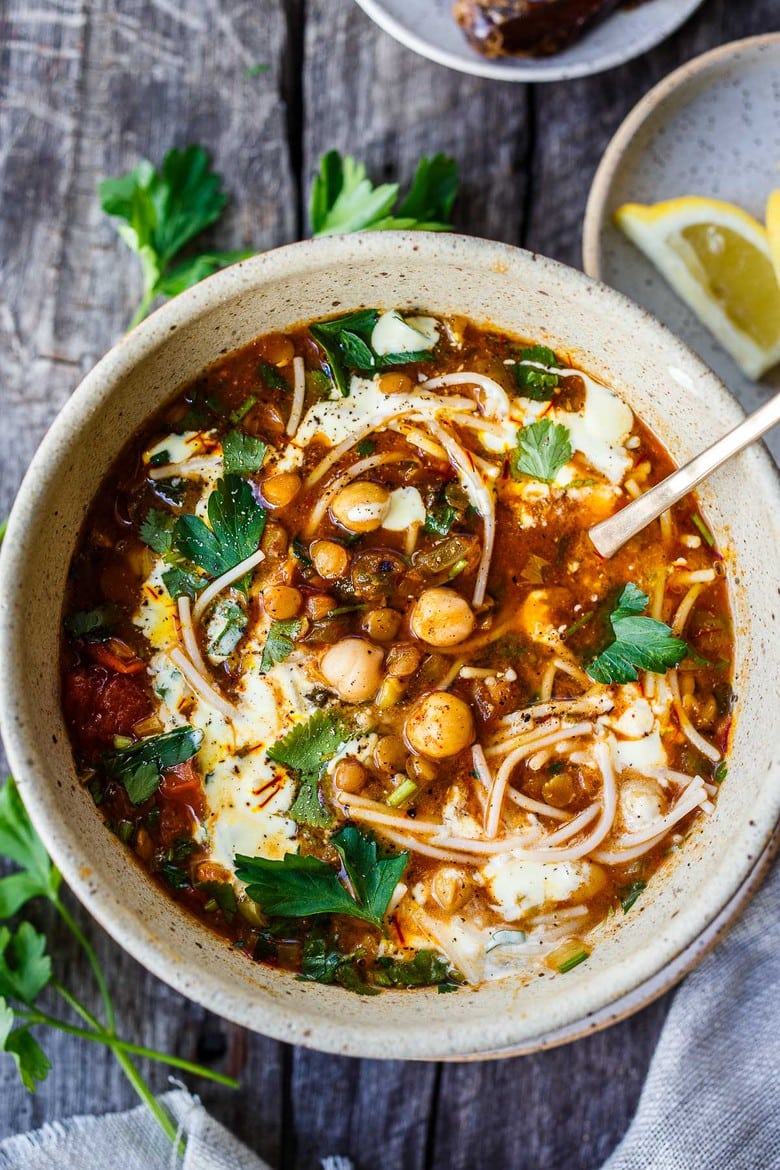 Packed with nutritious ingredients, this Chickpea Quinoa Veggie Burger is full of savory delicious flavor and satisfying texture. Great with a variety of toppings. Vegetarian and Gluten-free, Vegan-adaptable!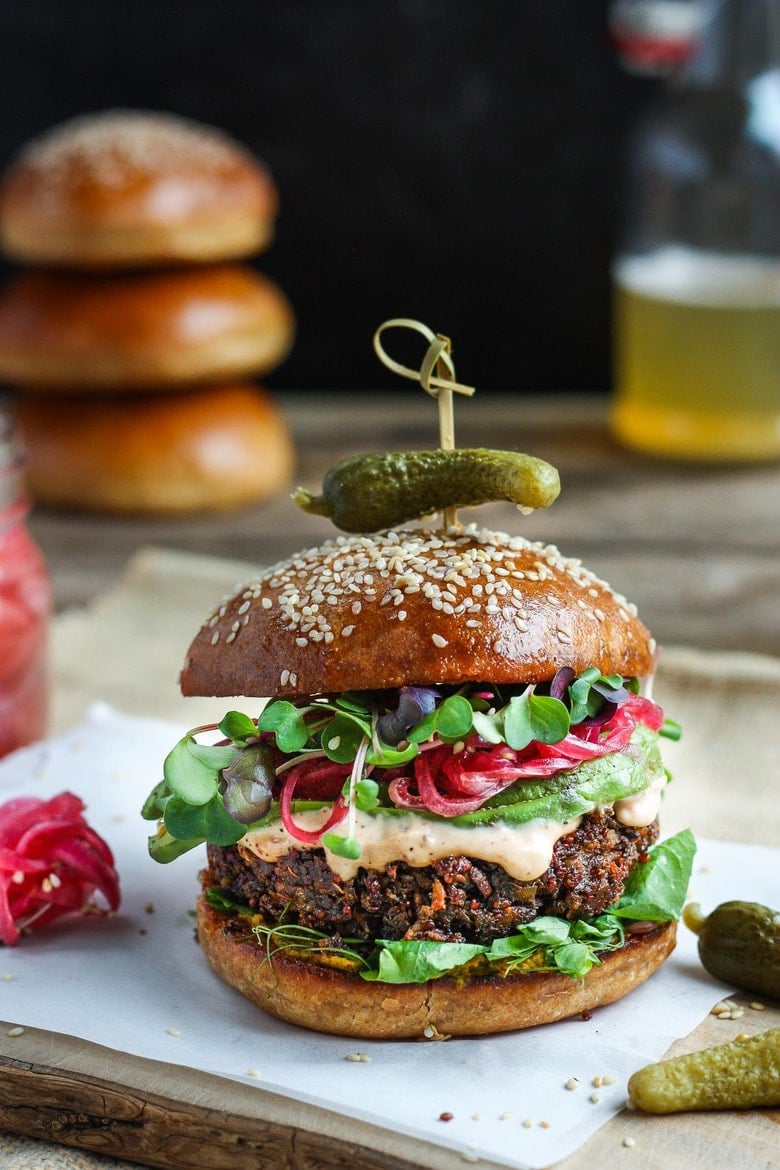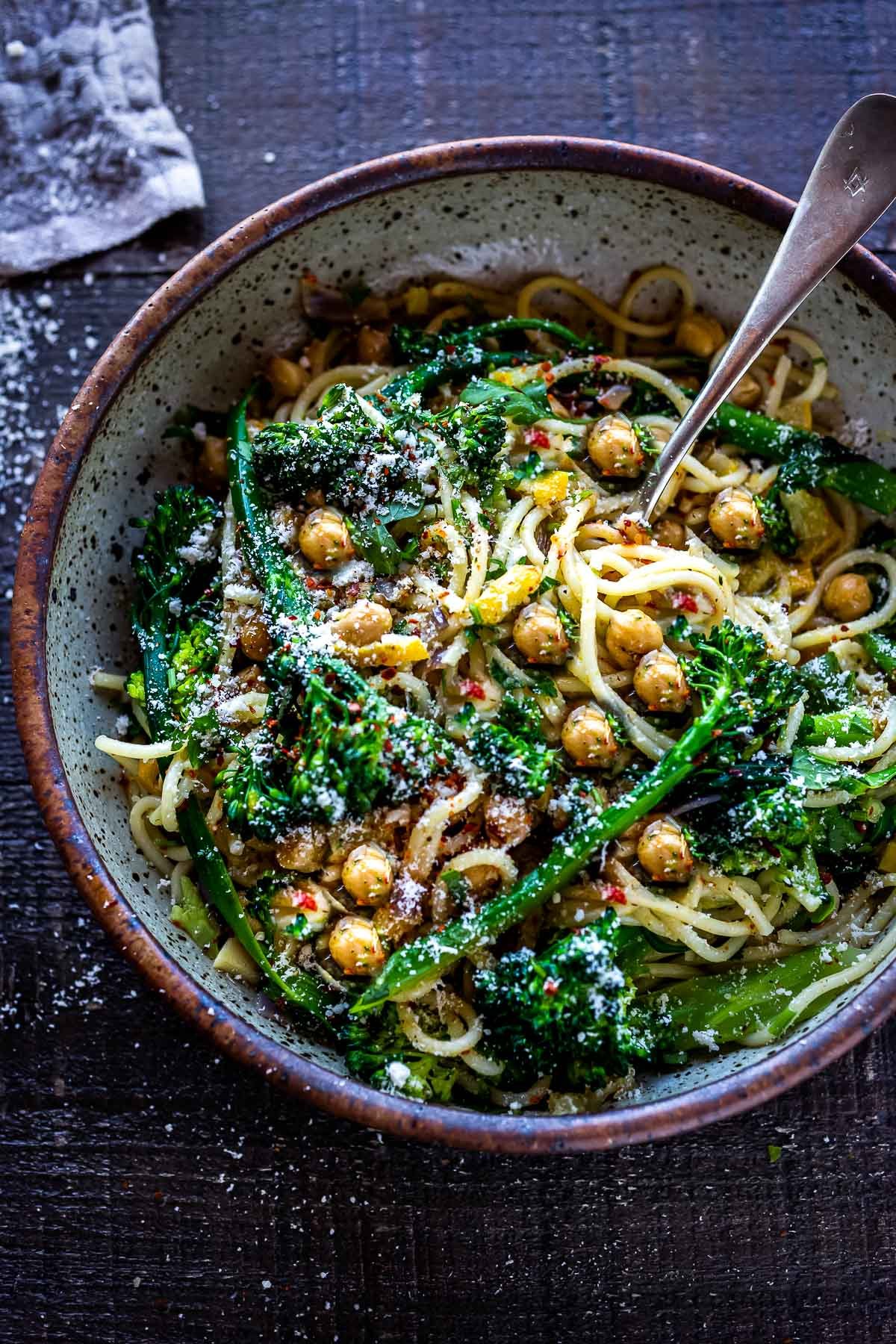 This simple Pasta with Broccolini, Preserved Lemon and Chickpeas is punchy and bright and comes together quickly and easily – on the table in under 30 minutes! A tasty healthy weeknight dinner!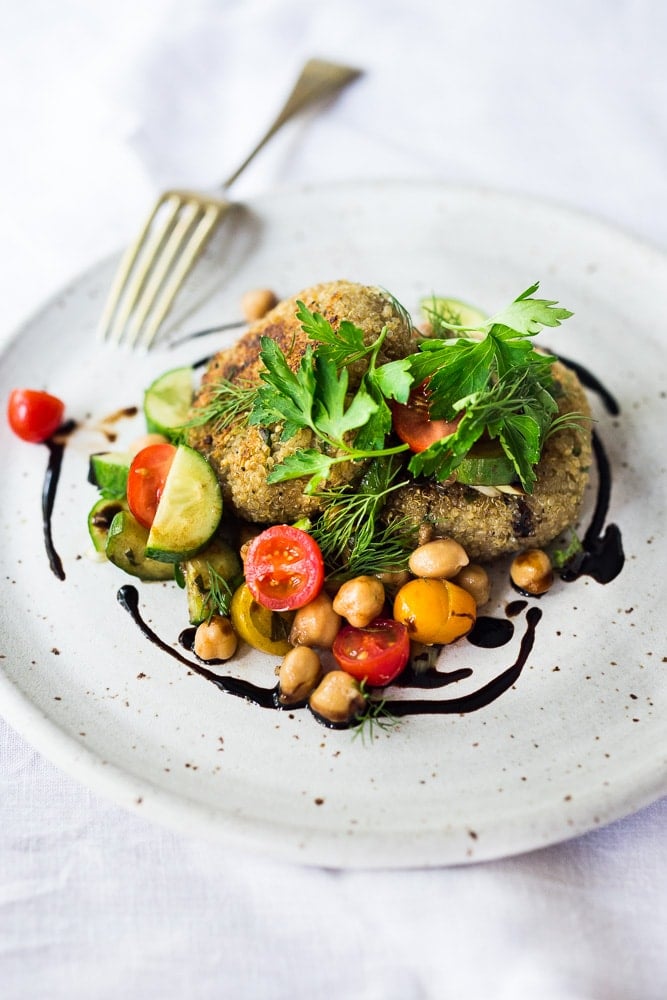 Crispy Vegan Quinoa Cakes with Tomato Chickpea Relish- a delicious, healthy flavorful vegan dinner that is gluten-free.
Tandoori Glory Bowl with roasted cauliflower, chickpeas, red onion seasoned with fragrant tandoori spice. Vegan and Gluten-free!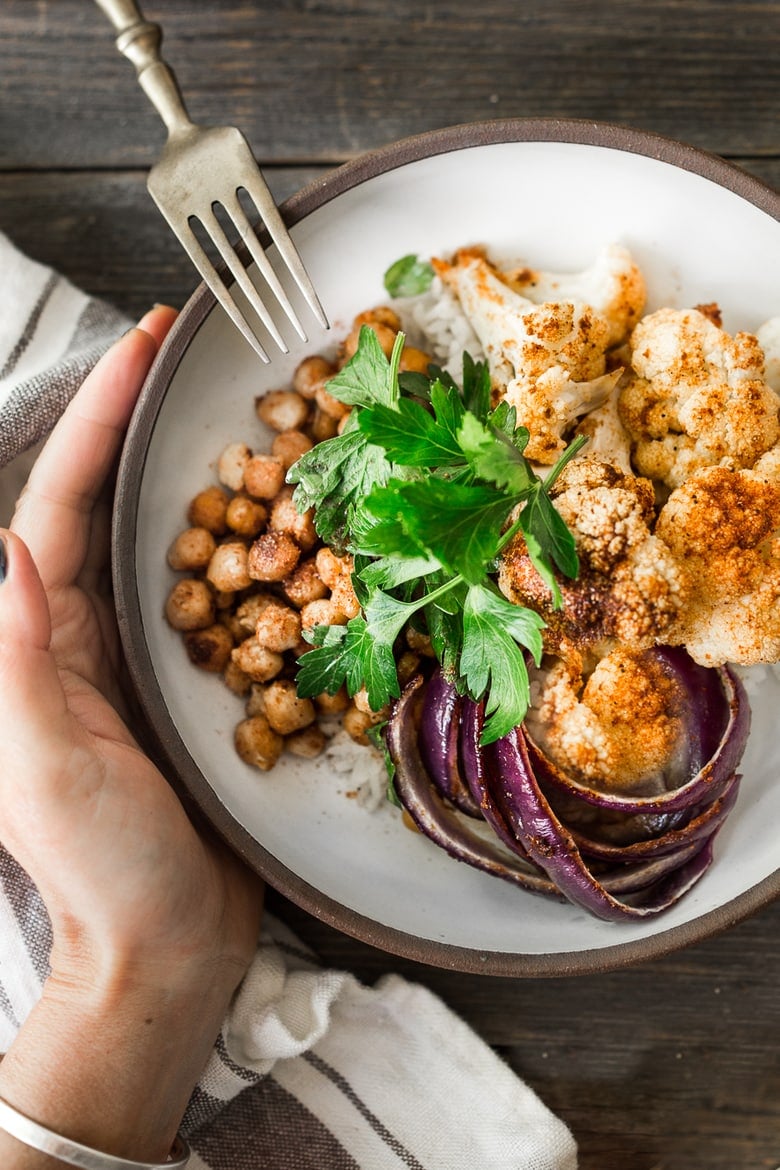 Stuffed Peppers with Quinoa, Eggplant, Chickpeas with Zhoug Yogurt. A flavorful vegetarian dinner recipe featuring the mighty chickpea!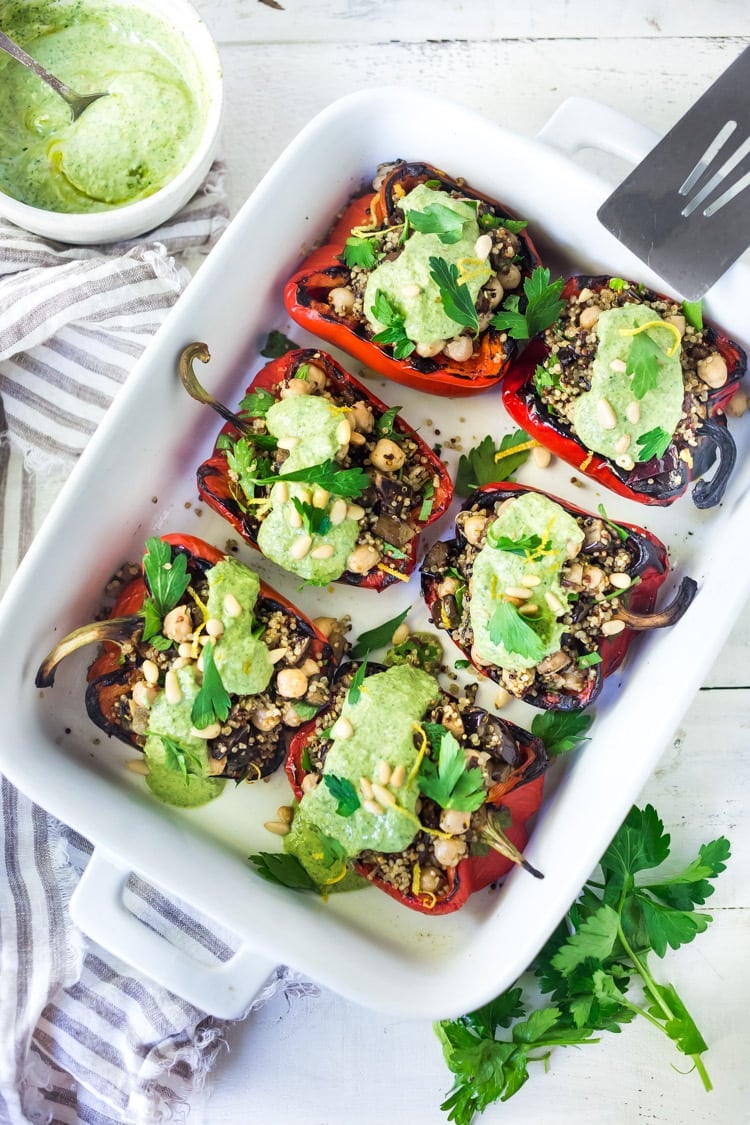 Coconut Millet Bowl with Berbere-Spiced Kabocha Squash & Chickpeas, with shallots, and spinach drizzled with coconut lime mint sauce. A vegan, plant-based meal, full of vibrant flavor and spice.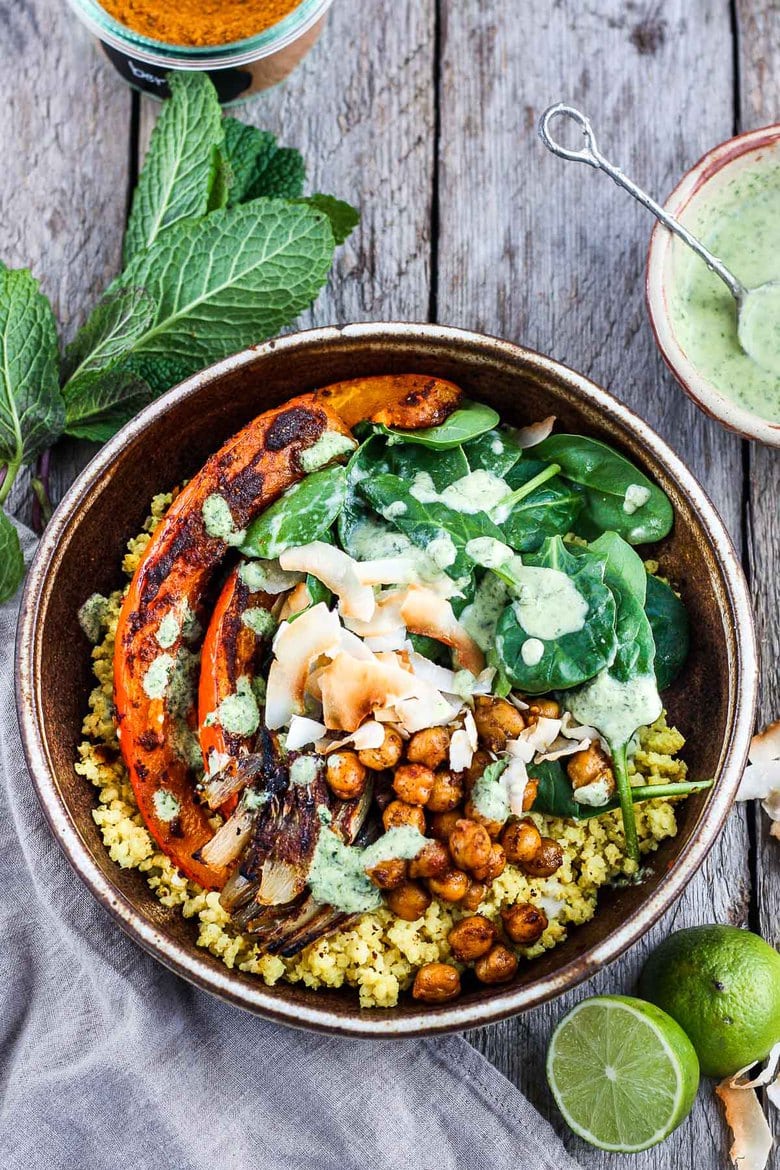 Instant Pot Middle Eastern Lamb Stew with chickpeas and fragrant spices- a simple flavorful wholesome meal. Serve over quinoa, basmati rice or cauliflower "rice".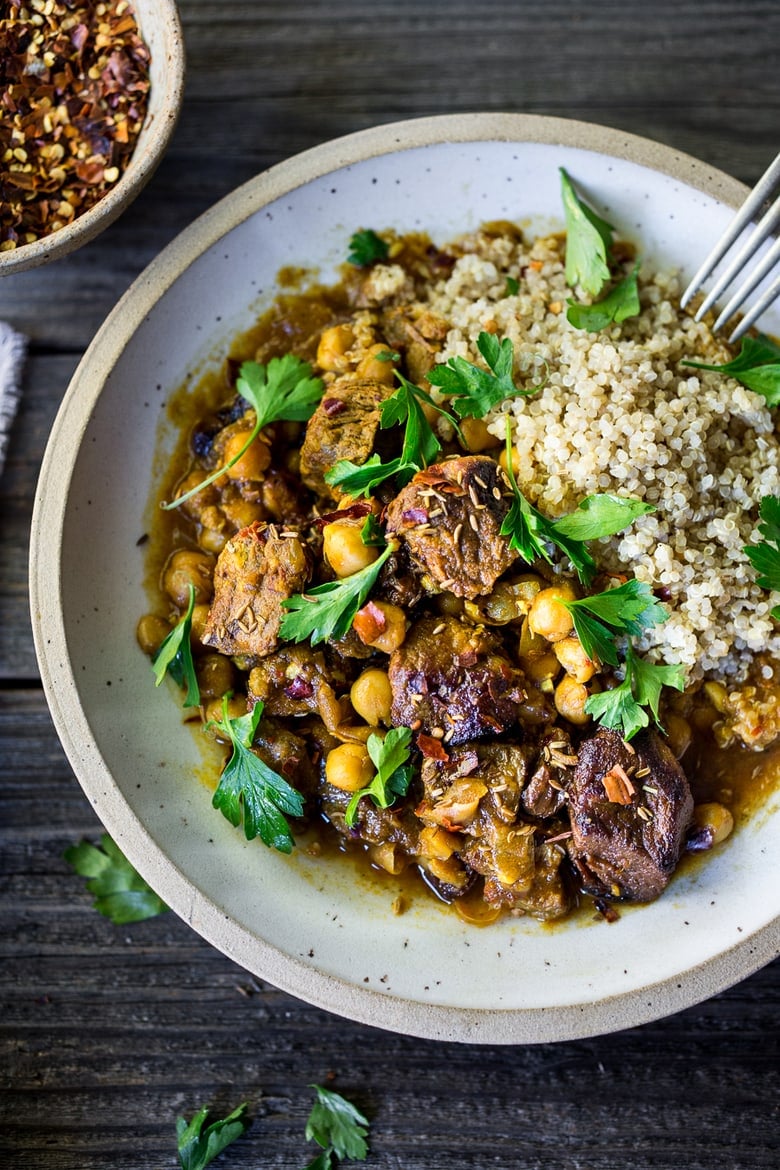 This Tunisian Chickpea Stew with Carrots is super flavorful, seasoned with turmeric, harissa paste and served with optional yogurt. A delicious and healthy vegetarian chickpea recipe!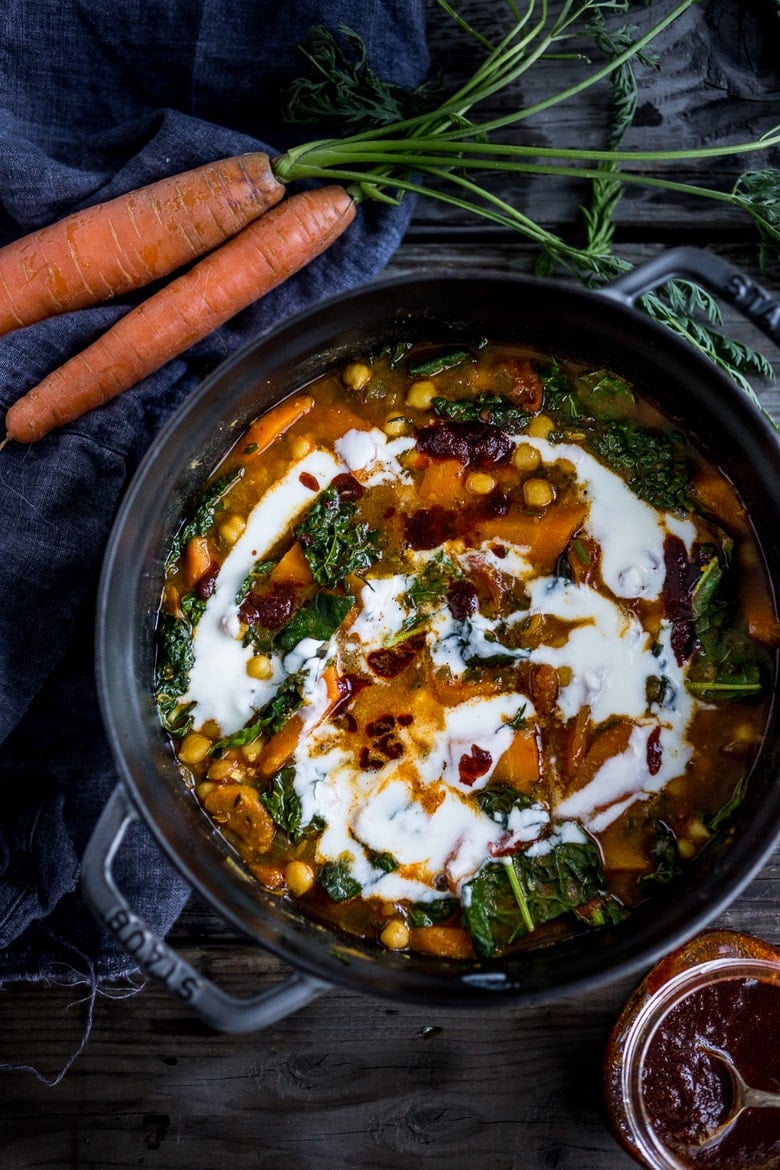 Quick and Easy Vegetarian Biryani! A fragrant Indian rice dish with chickpeas and veggies, infused with Indian spices – vegan adaptable and gluten-free.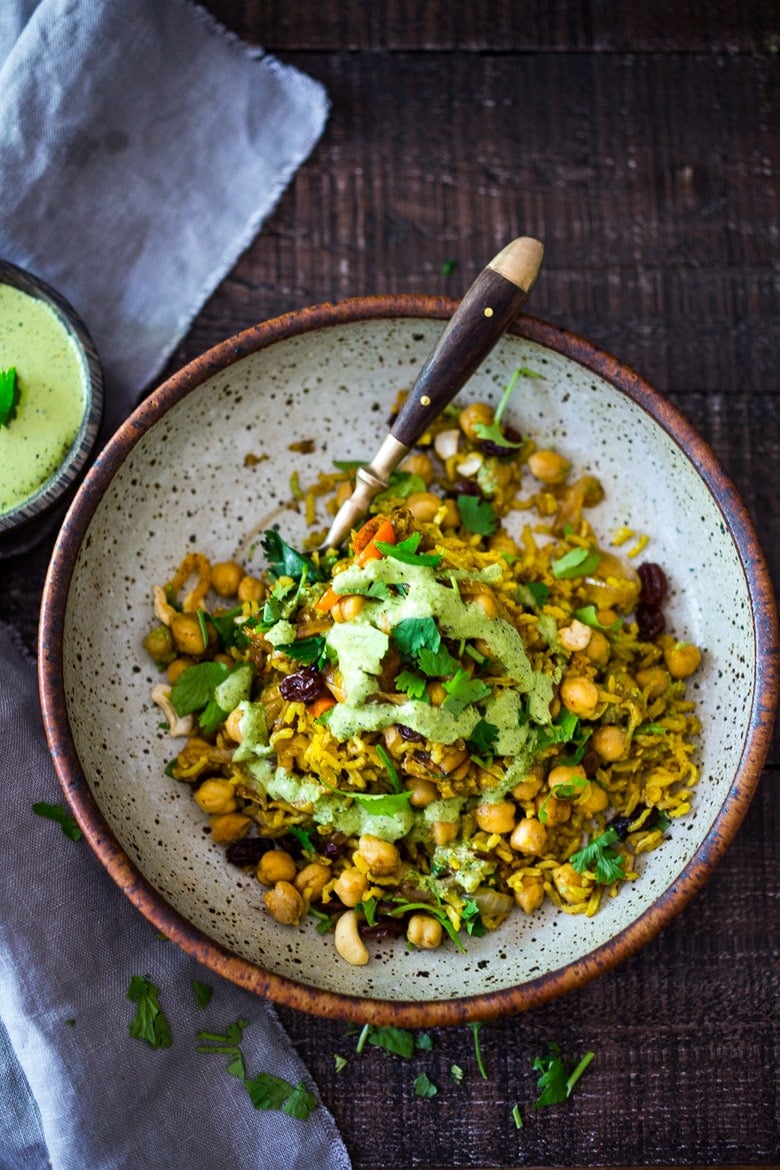 A delicious recipe for Fesenjan, a Persian Walnut Pomegranate Stew with chicken and chickpeas. Earthy, rich and tangy, this is bursting with Middle Eastern Flavor!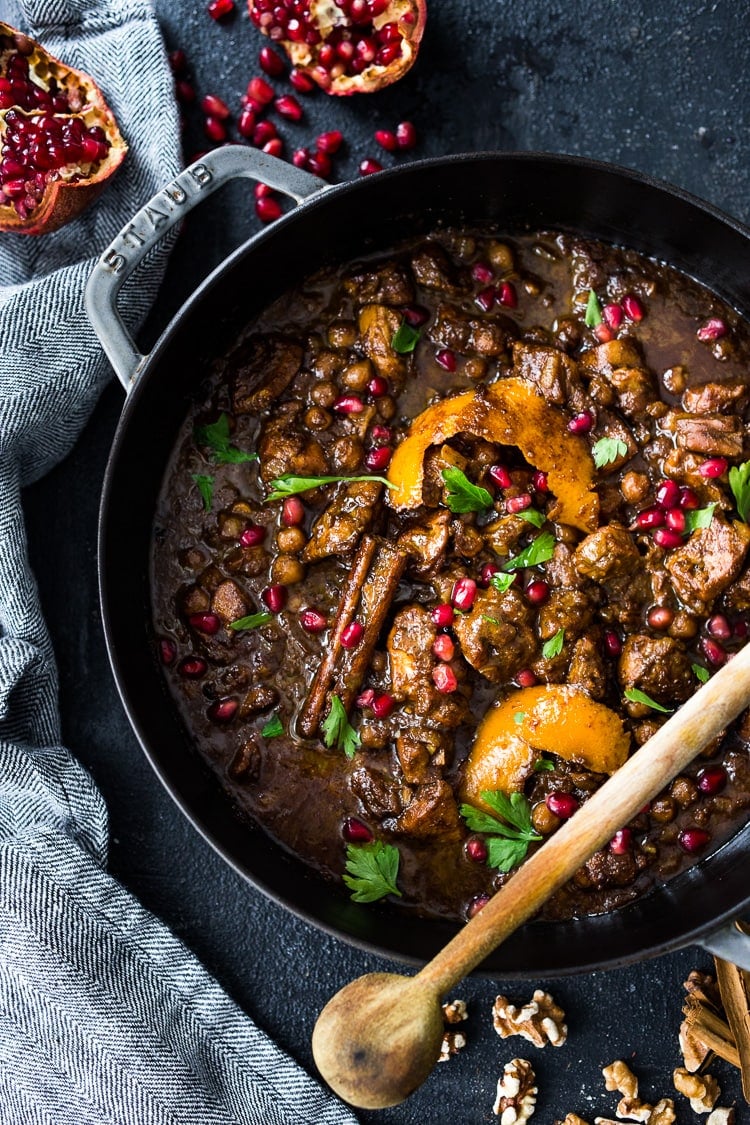 Spring Minestrone Soup with Chickpeas and beautiful spring vegetables. Vegan! GF adaptable! Easy recipe, full of great flavor.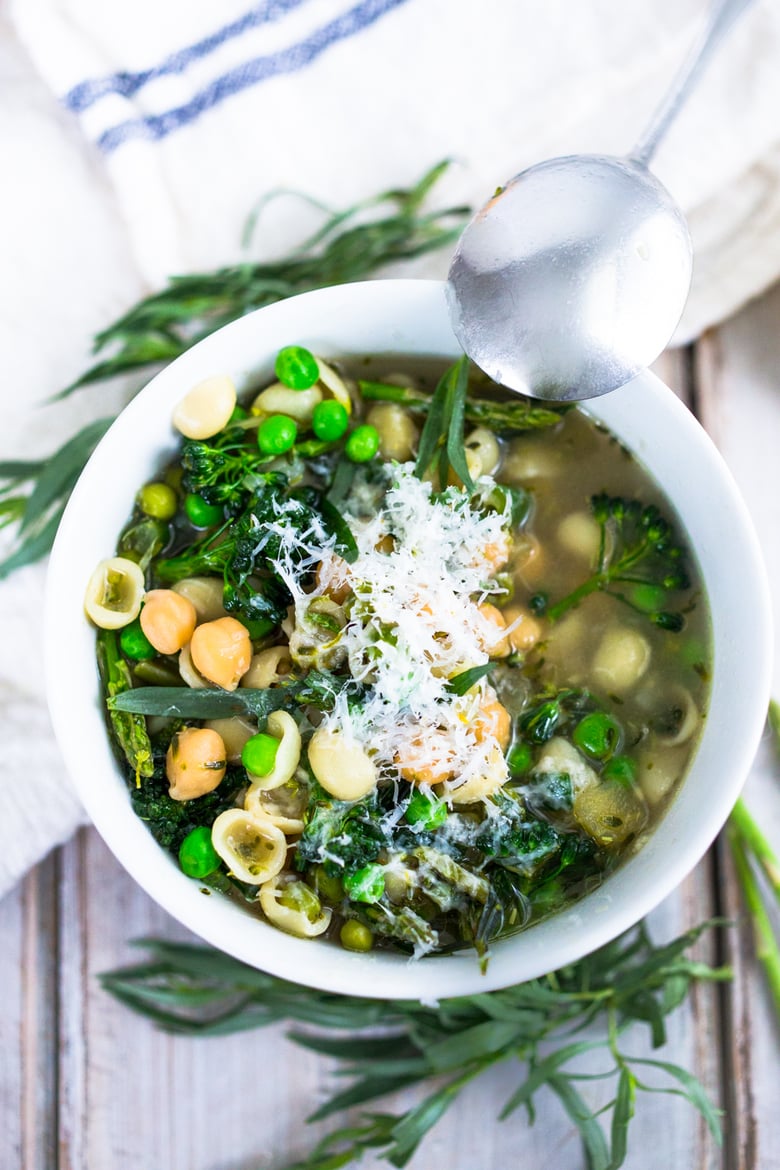 ---
Flavorful Chickpea Salads
Our Favorite Chickpea Salad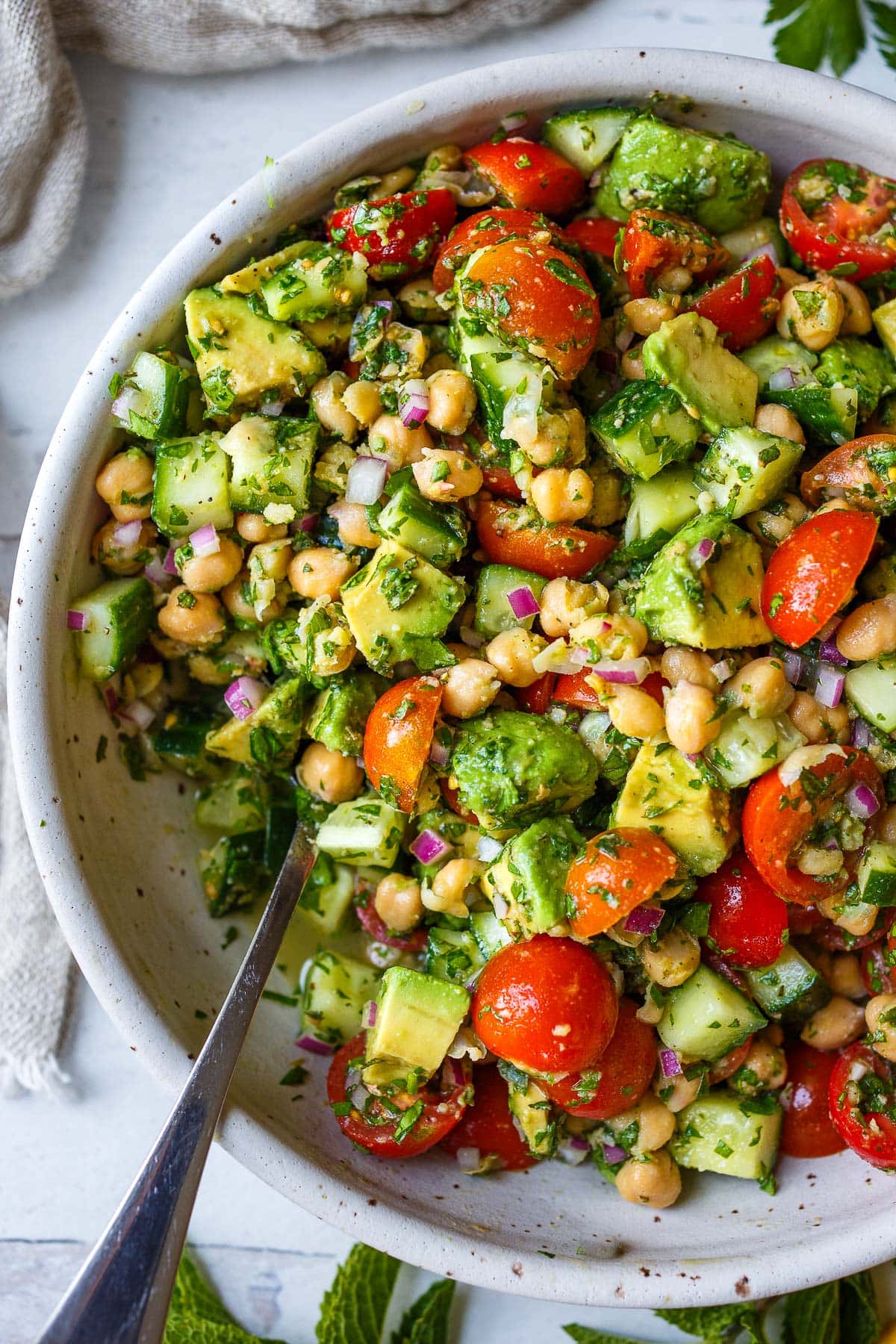 This Chickpea Salad Recipe is quick, easy, and full of fresh flavors and crunchy texture. Made in one bowl with a simple lemon olive oil dressing, everything comes together in about 20 minutes!
This  Moroccan Chickpea & Sweet Potato Salad is bursting with flavor! Healthy, vegan and gluten-free, it is EASY to make! Serve it warm or chilled. Can be made ahead.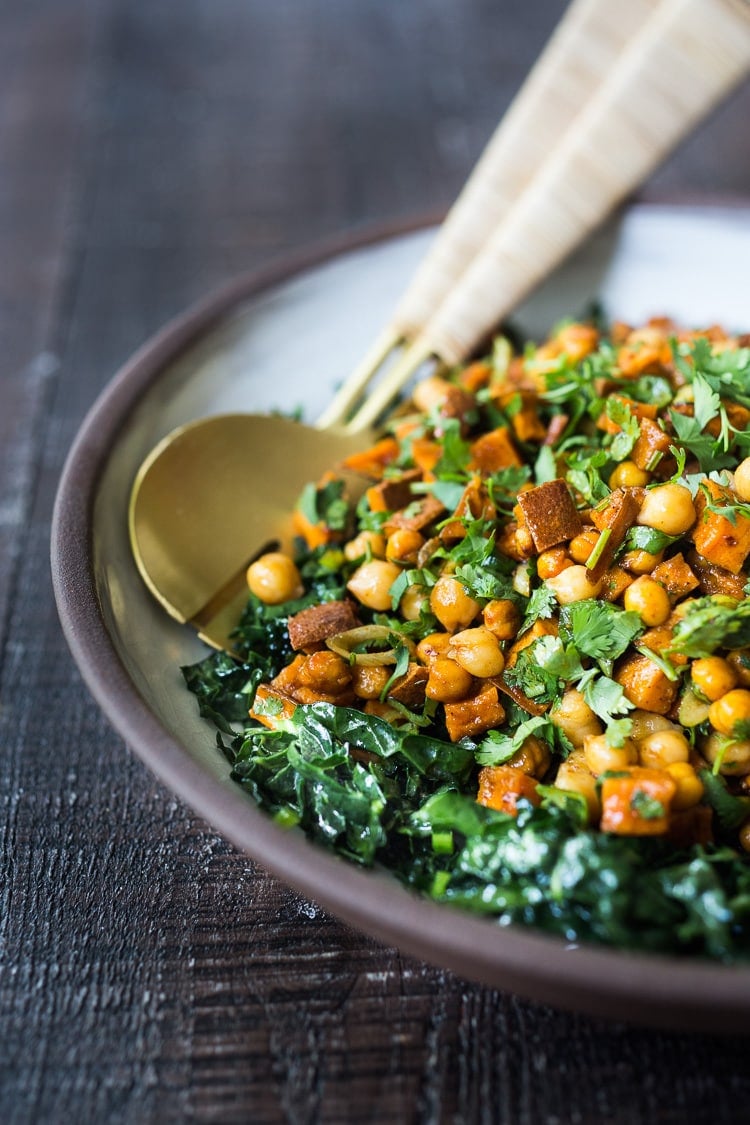 Warm Winter Chickpea Salad
Warm Winter Salad – a hearty "entree" salad made on a sheet pan with roasted cauliflower, carrots, fennel and chickpeas, topped with wilting spinach, drizzled with Everyday Tahini Sauce and sprinkled with fresh dill and Dukkah. Vegan and Gluten-free.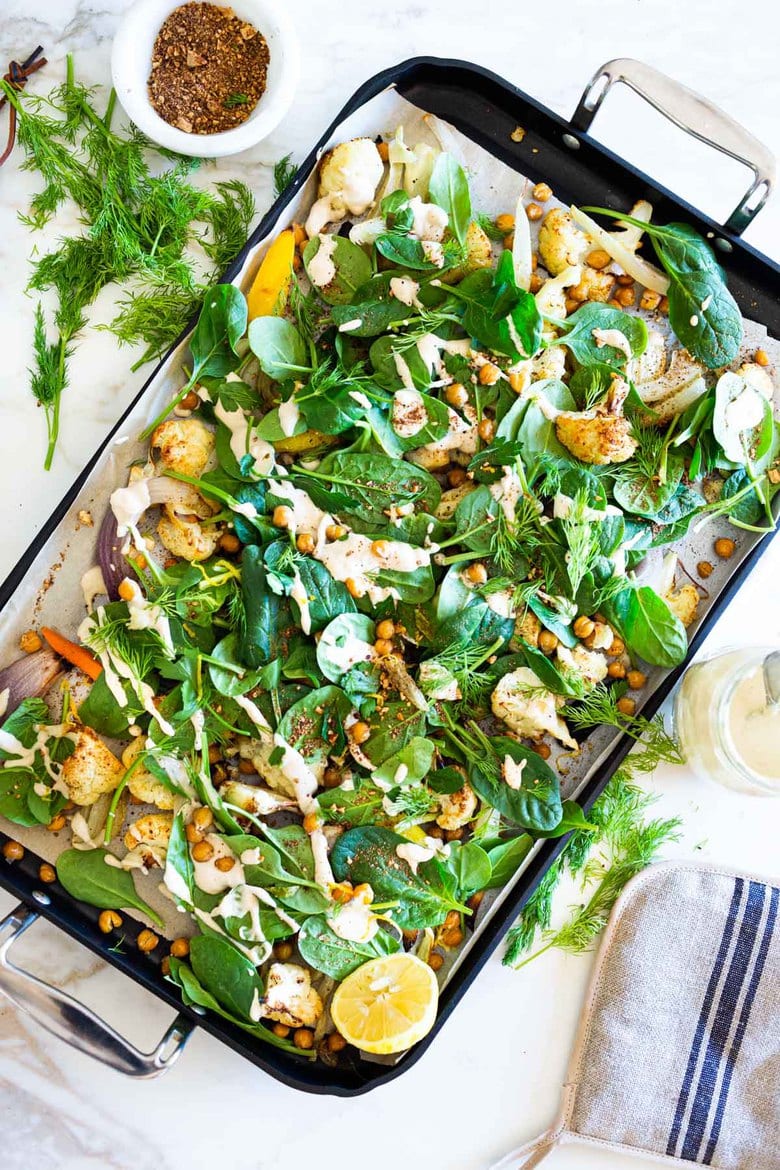 This Lemony Chickpea Quinoa Salad with cucumber, tomato, dill, parsley and Preserved Lemon Dressing is one of my personal favorites. I could eat it every day, seriously! It's bright and flavorful and packed full of nutrients.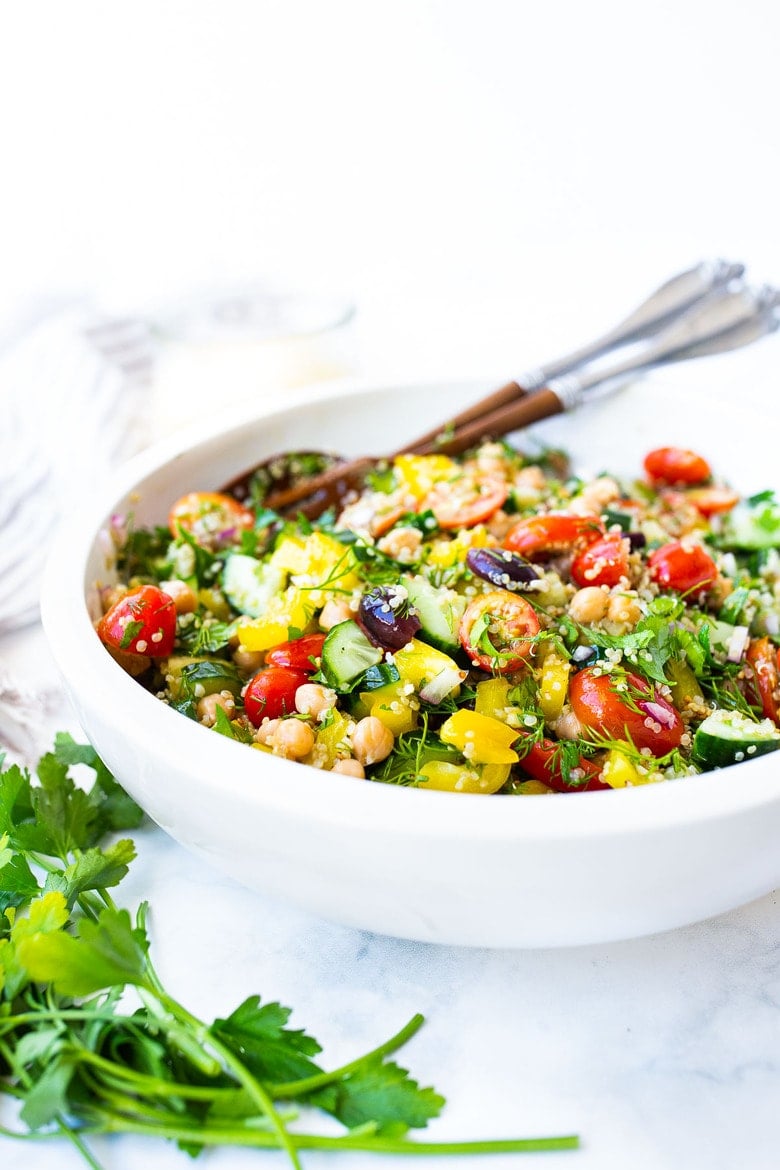 Winter happiness Salad
Winter Happiness Salad! Kale & Quinoa Salad with Apples, Chickpeas and Currants! A hearty vegan salad that can be made ahead- perfect for potlucks, gatherings or midweek lunches!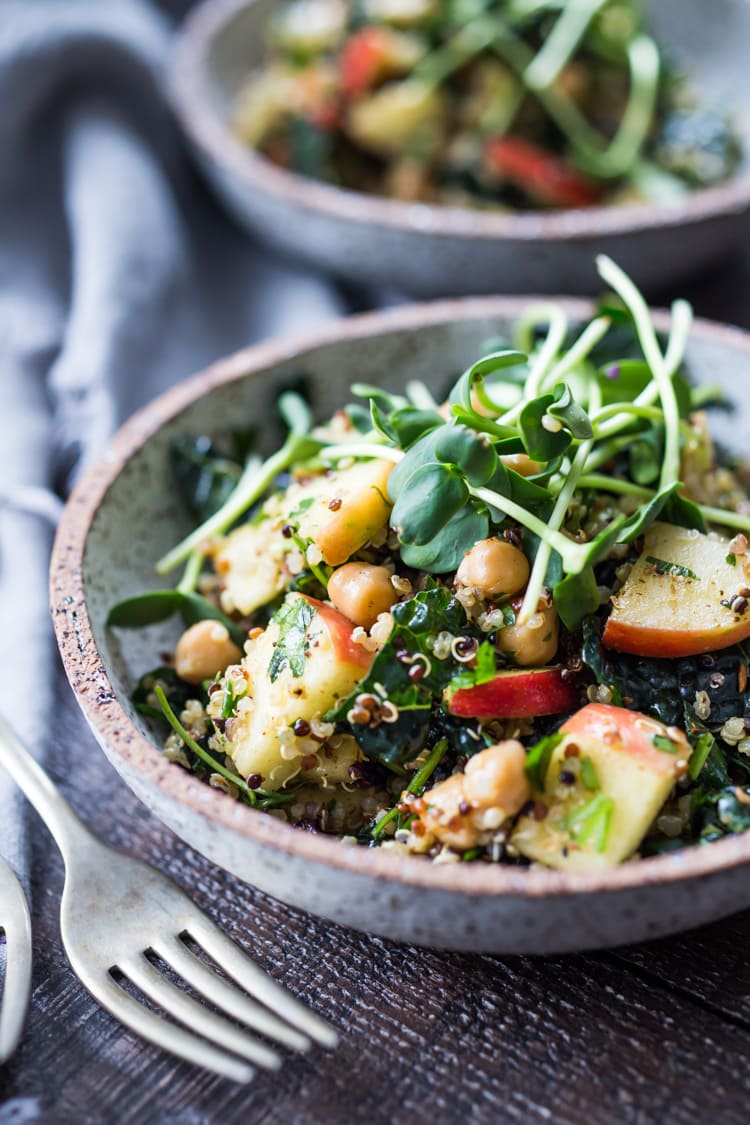 Balela Salad
Flavorful Balela Salad– a simple Middle Eastern Chickpea Salad with finely chopped veggies, fresh herbs, lemon & olive oil. Serve it in a pita with tahini sauce or over greens. Vegan and GF.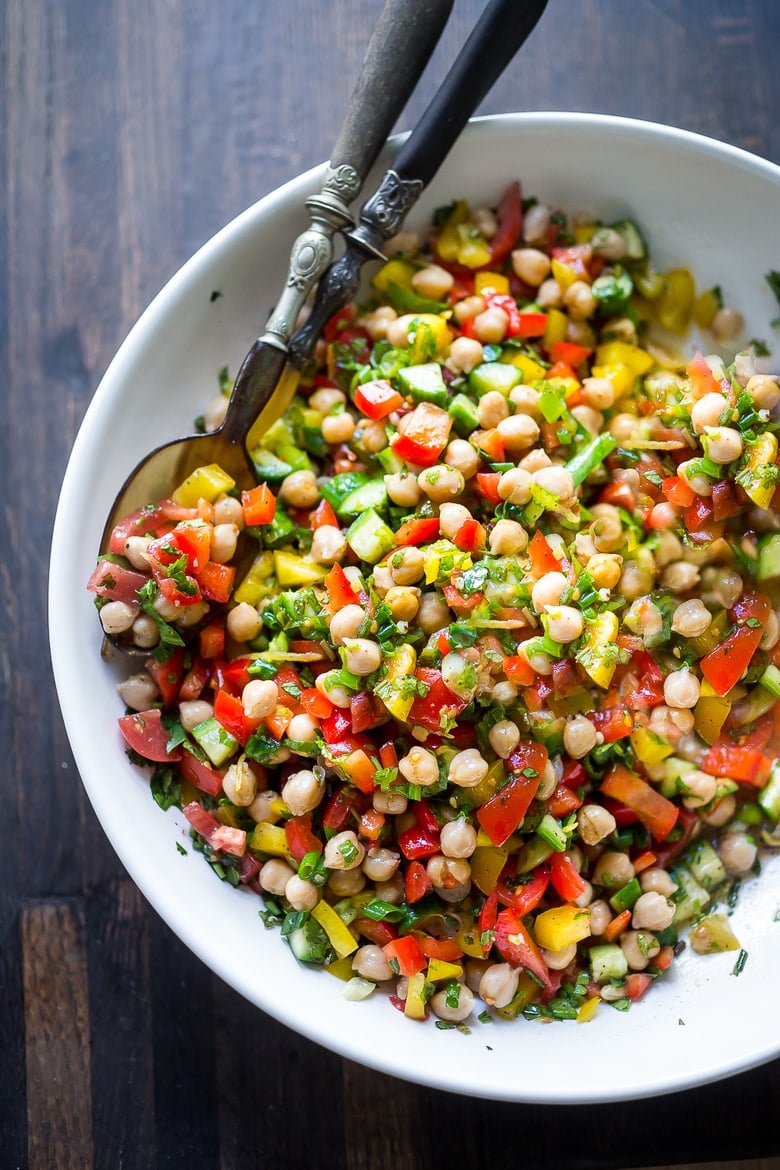 Colorful Chickpea Appetizers
Perfect Hummus!
Creamy Rainbow Veggie Hummus! This authentic hummus recipe is light and creamy and so easy to make! Use canned or dried chickpeas and serve it up with fresh garden veggies!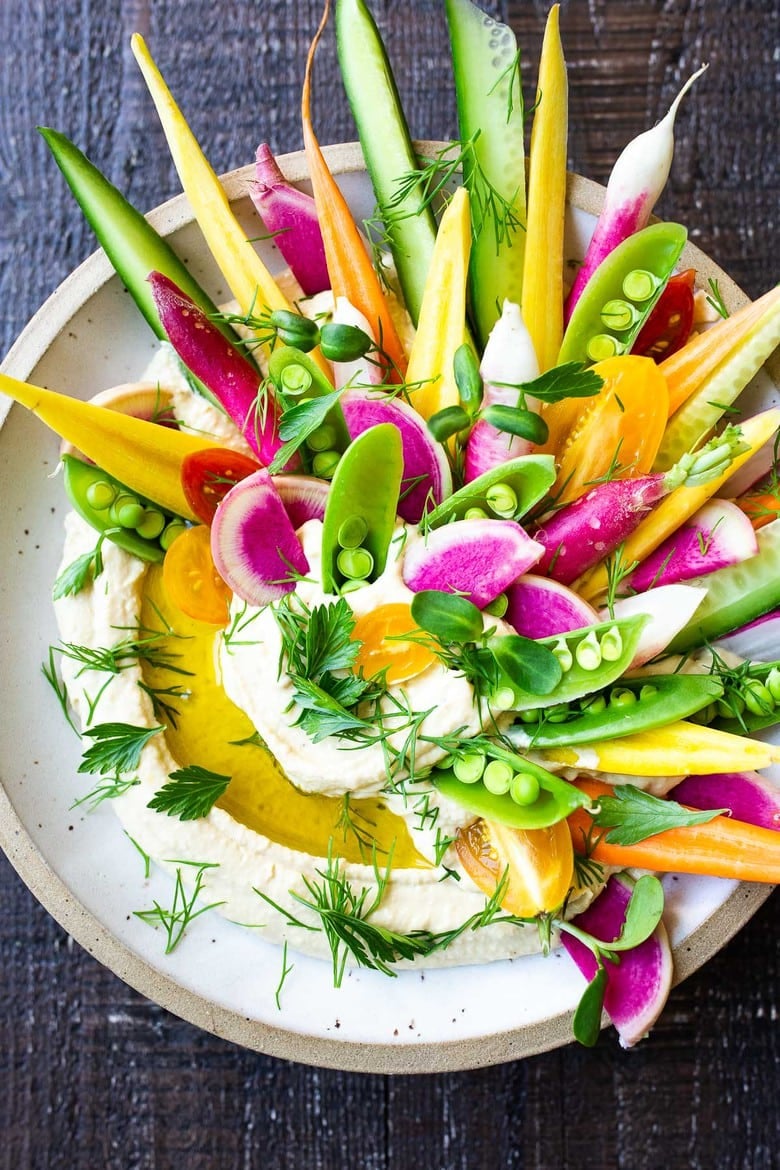 Chickpea Salad Sliders
These Chickpea Salad Sliders are easy to make and full of flavor! Make the chickpea salad ahead, then assemble the appetizer right before the gathering.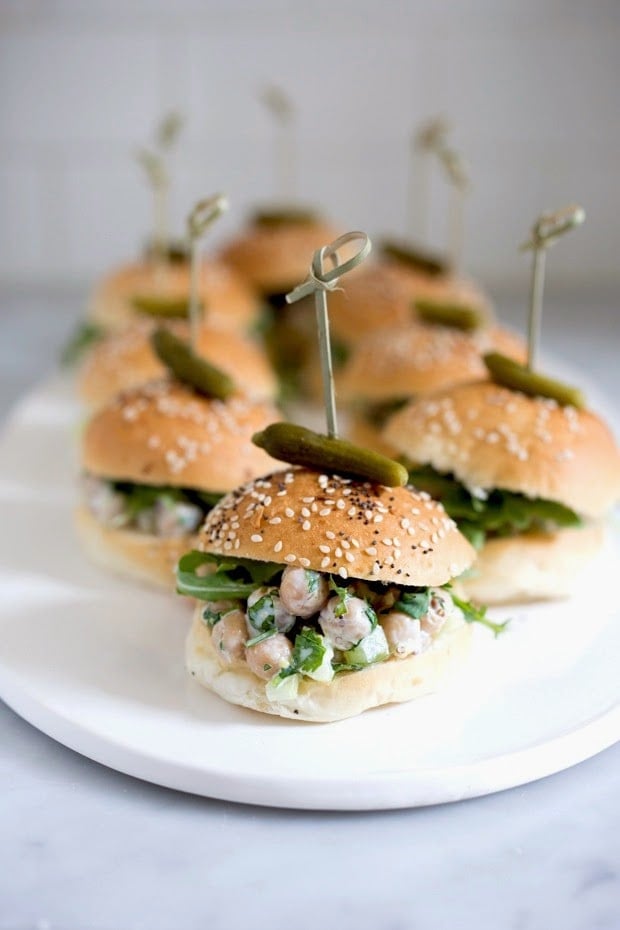 Tandoori Hummus
Tandoori Hummus – a delicious Indian twist on the classic, seasoned with garam masala spice. This healthy homemade hummus is vegan, easy to make… and has the BEST flavor! Serve with naan or pita!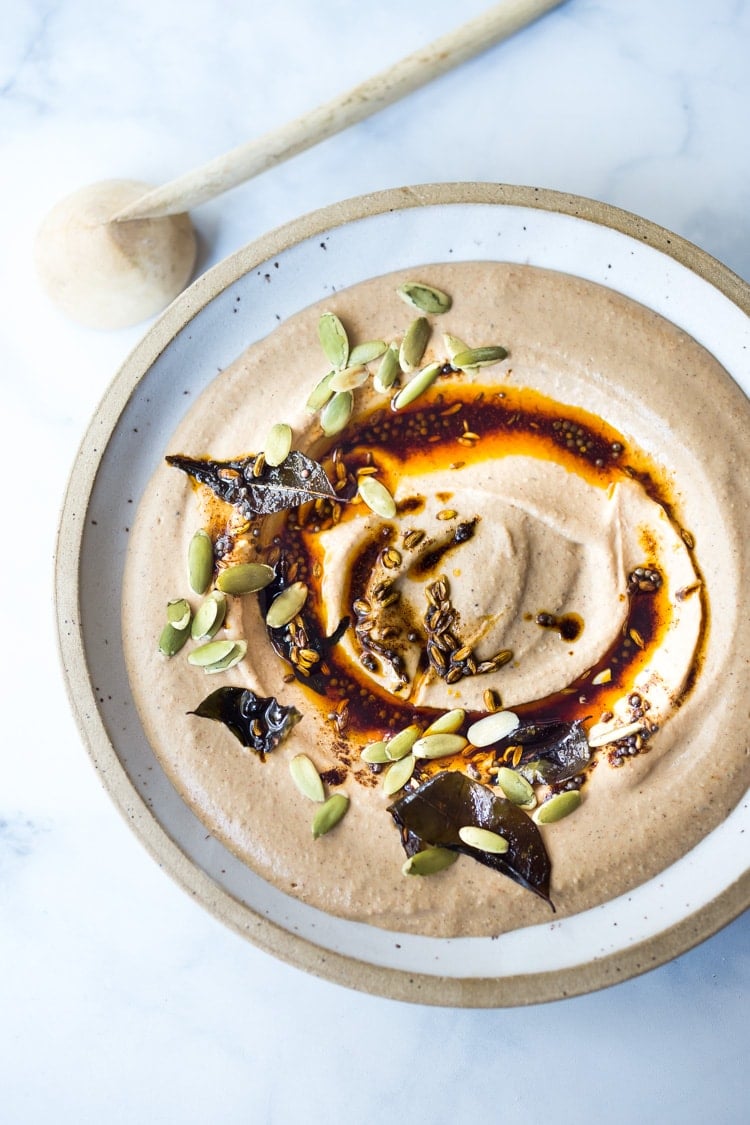 Chickpea Faqs
Are chickpeas healthy?
Yes, chickpeas are healthy! Chickpeas are high in protein and fiber and low in fat, making them an ideal food for weight management. They are a slow-digesting starch that feed the good bacteria in our gut.
What can I do with a can of chickpeas?
Chickpeas have such a mild flavor they can be used in a multitude of ways in the kitchen. Add them to soups and stews, or toss in your favorite salad – a great replacement for chicken. Saute them with Mexican spices and use as taco meat.
What is the healthiest way to cook chickpeas?
Purchase dry chickpeas, soak them for 6-12 hours and pressure cook them. This will help remove lectin which some people are sensitive to. Lectins can cause inflammation in some people.
Leave any of your favorites in the comments below!
More recipe collections you may like!
More collections you may enjoy!
Print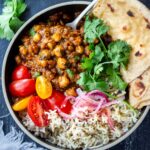 25+ Best Chickpea Recipes!
Prep Time:

30

Cook Time:

60

Total Time:

1 hour 30 minutes

Yield:

6

-8

1

x

Category:

chickpea recipes

Method:

stovetop

Cuisine:

American
---
Description
These 25+ Best Chickpea Recipes are healthy flavorful bursting with global flavors. Whether you are looking for Chickpea dinner recipes, Chickpea soups or stews, Chickpea salads or chickpea salads we have you covered!  Here's our favorite Chana Masala Recipe. 
---
1 1/2

cups

dried chickpeas, (soaked in water 12-24 hours

or see notes

) or sub 4-5 cups cooked or canned chickpeas

2

–

3

tablespoons ghee or coconut oil. (GHEE elevates this to the next level of goodness!!!)

2

bay leaves

2 teaspoons

cumin seeds (whole)

1 teaspoon

fennel seeds

2

large shallots ( or sub

one

large onion)

4

fat garlic cloves, rough chopped

1/2

–

1

jalapeno or

1

serrano chili, finely diced

2 teaspoons

fresh ginger, minced

1 teaspoon

garam masala

1 teaspoon

ground cumin

1 teaspoon

ground coriander

1 teaspoon

chili powder or paprika

1 teaspoon

dried fenugreek leaves

1/2 teaspoon

ground turmeric

2

medium tomatoes, diced (and their juices) or 14-ounce can tomato puree, (although fresh tastes better here)

1 1/2 teaspoons

salt (taste, use more if dry chickpeas, less if canned)

2

cups

water if using dry, soaked chickpeas (or 1/2 cup water if using if canned or fully cooked chickpeas)

1 teaspoon

honey or sugar if needed
Serve over Basmati Rice or with naan bread! Serve with pickled onions, and raita.
---
Instructions
If using dry beans, soak chickpeas in a bowl with 6 cups water, for 8-12 hours on counter, or up to 24 hours in the fridge. Drain. (See notes for quick instant pot "soak")
Set Instant pot to Saute function. (See notes for stovetop.)Heat ghee and add whole bay leaves and cumin seeds  and fennel seeds stirring 2-3 minutes until fragrant and golden.
Add shallots (or onions) Saute until golden and fragrant, stirring often. Add garlic, ginger and diced chili, saute 2-3 minutes.
Add all the spices- garam masala, ground cumin, coriander, chili powder, fenugreek, turmeric.
Give a stir then add the tomatoes and their juices, stirring constantly, for about 3 minutes, scraping up any browned bits.
Once the tomatoes start to break down add the water (if using dry chickpeas), salt, and drained chickpeas. Give a good stir, scraping up any browned bits ( to prevent burn error).
Set Instant to High Pressure for 25 minutes. (SEE NOTES!!!) Naturally, release for 15 minutes then manually release.
Taste and adjust salt. If it tastes bitter, add a little sugar or honey  ( 1-2 teaspoons) to help balance.
If you want it more flavorful, stir in another teaspoon of garam masala, or if you want extra richness, a splash of coconut milk is nice.
---
Nutrition
Serving Size:
Calories:

318

Sugar:

9.4 g

Sodium:

423 mg

Fat:

8.4 g

Saturated Fat:

2.9 g

Carbohydrates:

48 g

Fiber:

9.8 g

Protein:

14.9 g

Cholesterol:

10.2 mg
Keywords: chickpea recipes, best chickpea recipes, chickpea recipes vegan, chickpea recipes easy, vegan chickpea recipes, garbanzo bean recipes, indian chickpea recipes
---
---