This hearty, Moroccan Chickpea & Sweet Potato Salad is full of amaaaaazing flavor and incredibly simple and easy to make – with only 20 minutes of actual hands-on time! Make it ahead for midweek lunches, or bring it to your next fall gathering or potluck!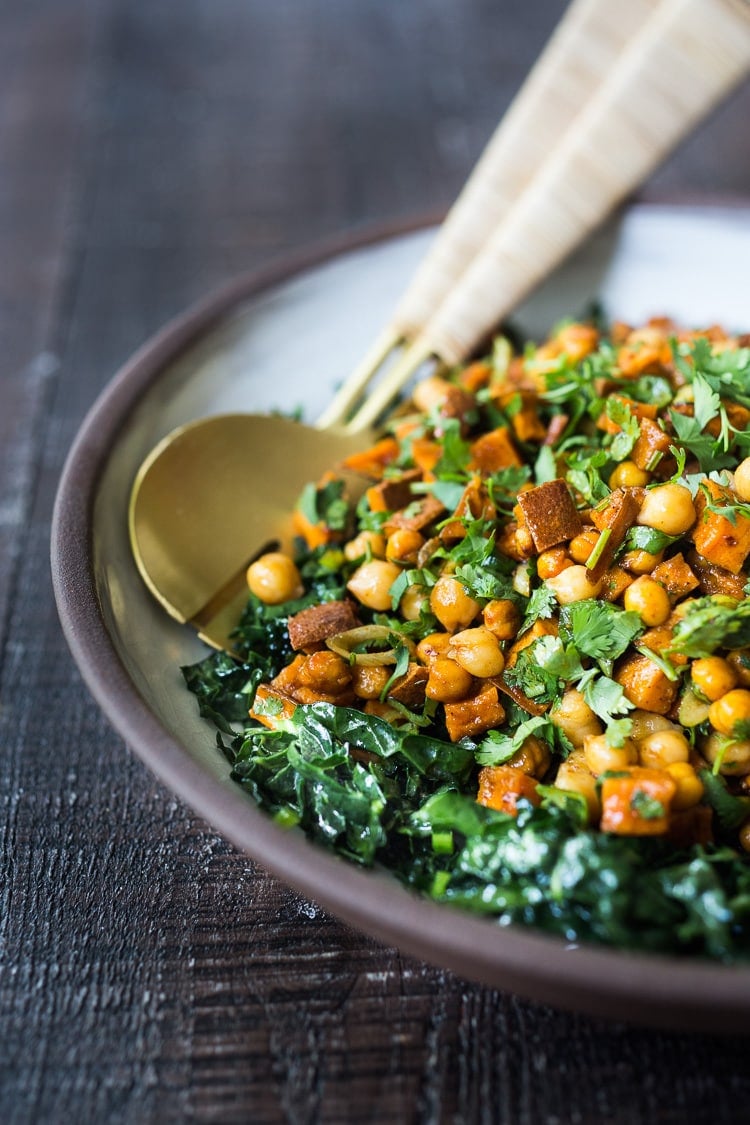 Zen does not confuse spirituality with thinking about God while one is peeling potatoes. Zen spirituality is just to peel the potatoes. ~Alan Watts
I've said it a million times. This is my favorite time of year. I love the breezy cool sunny days of early fall in the Northwest. The light shifts, the relaxed angle of the sun softens the hard edges of summer and I feel this sweet gentleness hover over me when I'm outside. I can't get enough of it. Balm for the soul.
Here's a simple, make-ahead, vegan salad that was inspired by our trip to Morocco last fall. Some of my favorite days there were spent in the spice markets. Wandering down the narrow stone alleyways in the souks, getting wonderfully lost… it was a feast for the senses. I'll never forget it.
Here, sweet potatoes are diced and roasted, then tossed with fragrant Moroccan spices, chickpeas and lots of fresh herbs. It's served over shredded kale for an added burst of nutrients.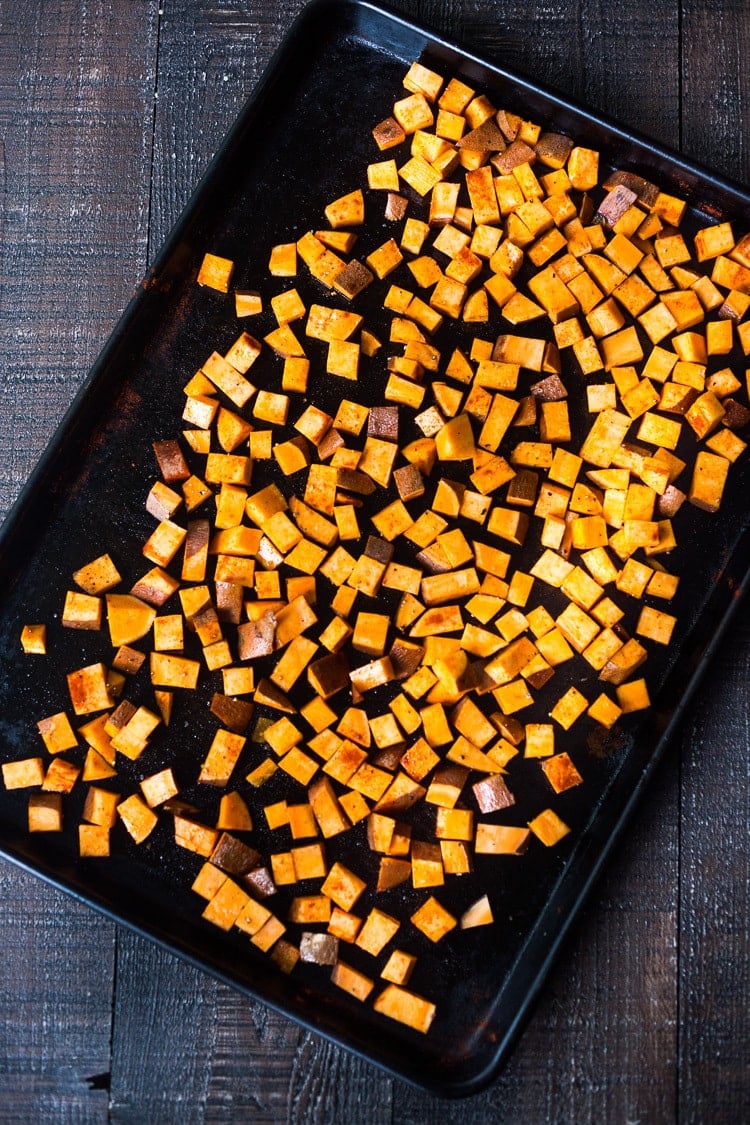 Sweet potatoes, when roasted, are lovely in fall salads, keeping their shape well. Plus, they only take 15-20 minutes in the oven! And they are loaded with powerful antioxidants.
And, have I told you how much I love them?
I do, I seriously do. And I feel like they love me back. It's not my imagination.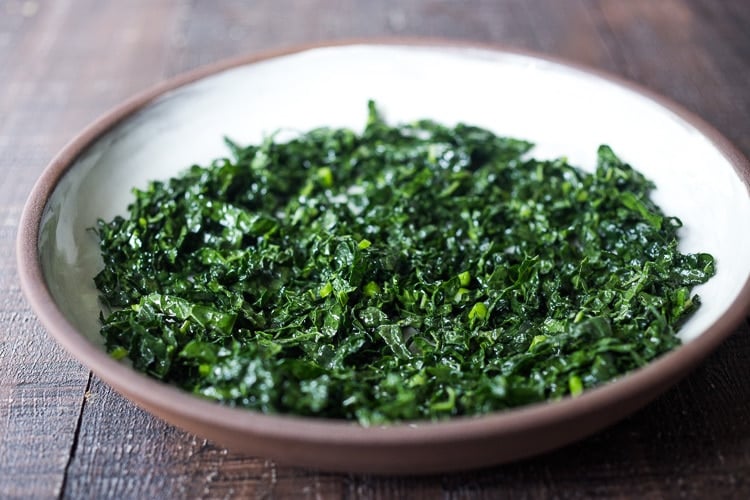 Shredded, massaged lacinato Kale makes the base of the salad- boosting the overall nutrient factor. Di you know, kale is one of the most nutrient-dense foods on the planet?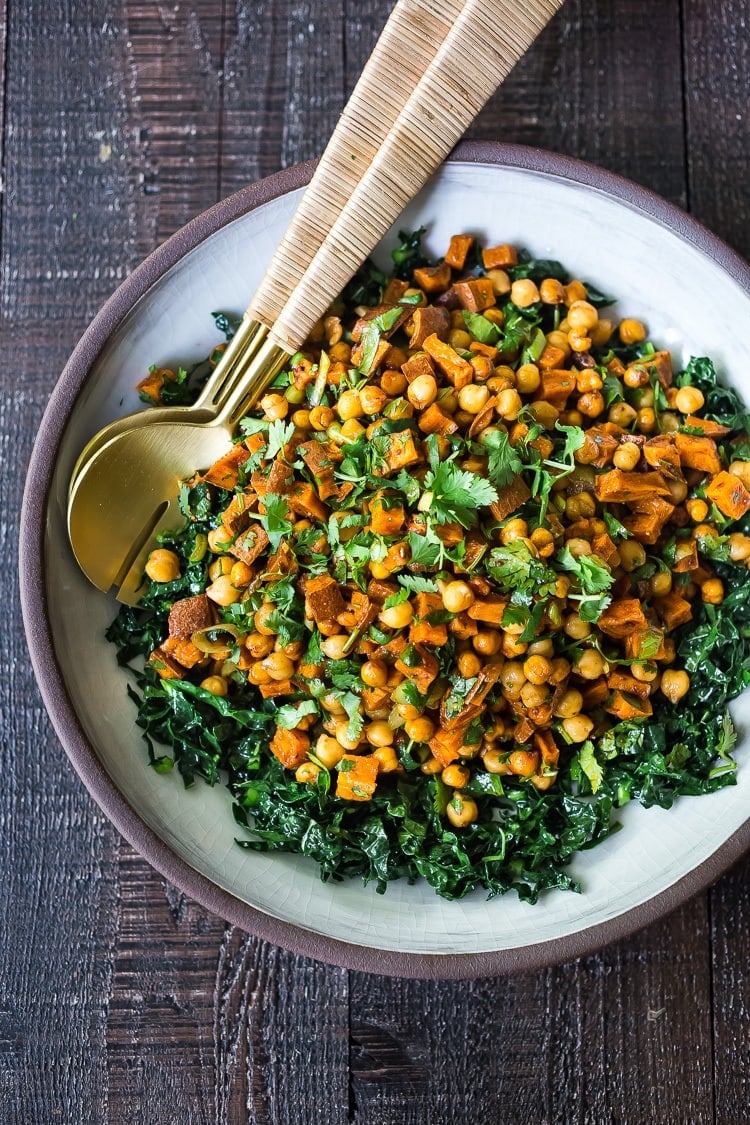 Chickpeas add healthy plant protein.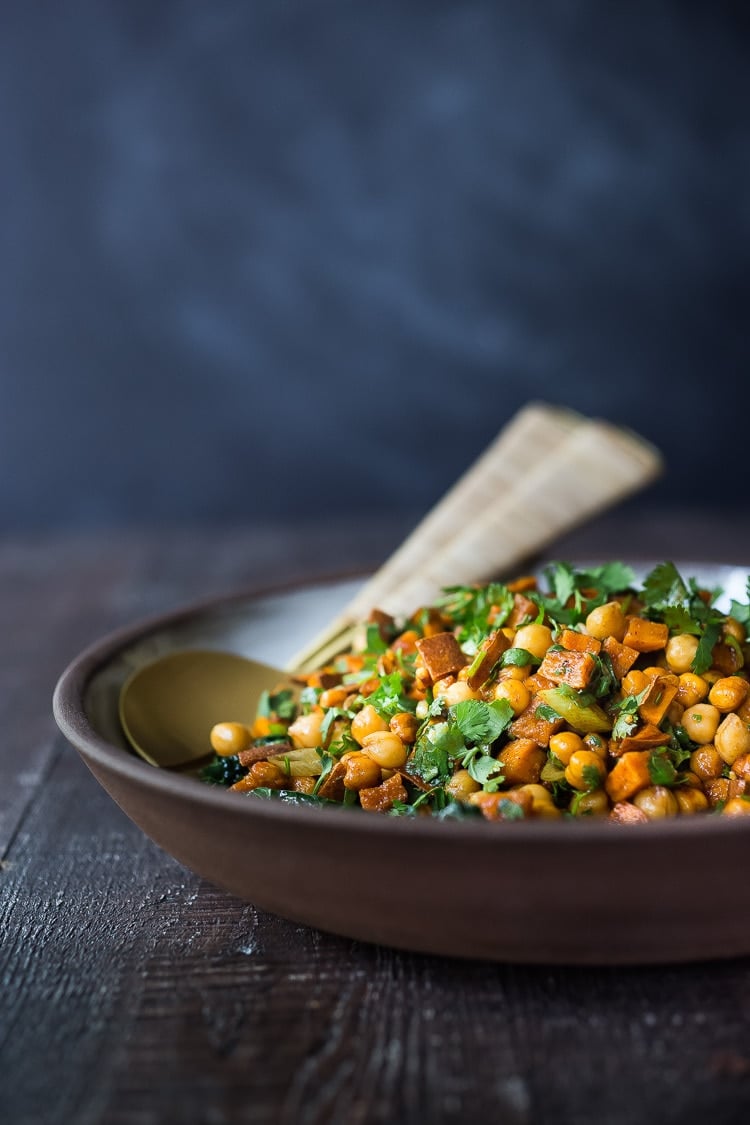 And all together, not only is this nutritious, energizing and filling….. I really love the flavors! The moroccan Spices really compliment all the other ingredients well.
One thing that surprised me while in Morocco, were all the healthy veggies Moroccans consumed. There was some meat, but a typical plate was 75% vegetables. Which I loved!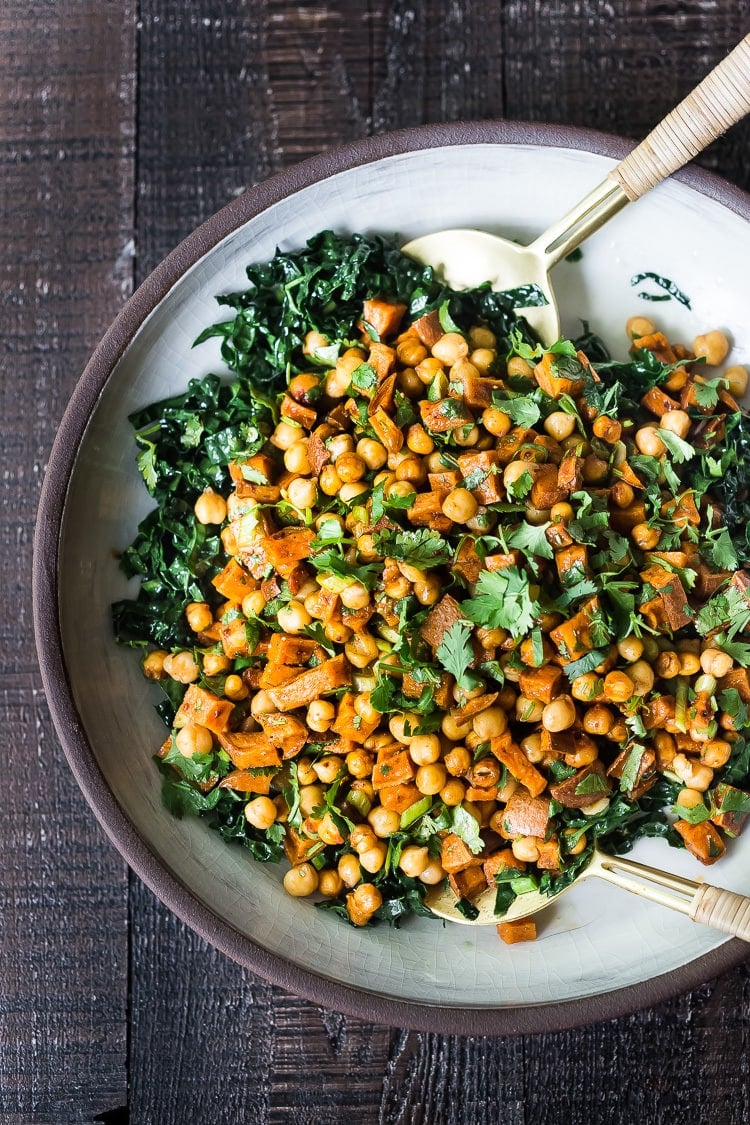 Hope you enjoy this roasted Moroccan Chickpea & Sweet Potato Salad! Healthy, vegan and gluten-free, it is so EASY to make! You can totally do this. Let me know what you think below!
Here are more VEGAN MAKE AHEAD SALADS!
xoxo
Print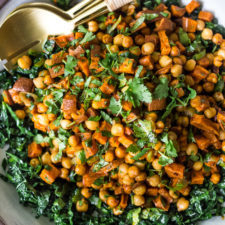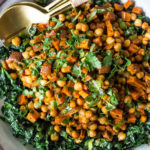 Moroccan Chickpea & Sweet Potato Salad
Author:

Sylvia Fountaine

Prep Time:

20

Cook Time:

25

Total Time:

45 minutes

Yield:

6 ½ cups

Category:

main, vega, salad

Method:

baked

Cuisine:

moroccan
---
Description
Moroccan Chickpea & Sweet Potato Salad is bursting with flavor! Healthy, vegan and gluten-free, it is very EASY to make! Can be made ahead! Perfect for midweek meals or bring it to a fall gathering.
---
2

yams or sweet potatoes, diced into 1/2-inch cubes, skins OK (about 4 cups)
1 tablespoon olive oil 
1 teaspoon smoked paprika 
generous pinch salt and pepper 
1 can chickpeas, rinsed and drained (about 1 1/2 cups) 


2

–

3

scallions, sliced at a diagonal 
1 bunch cilantro, chopped ( or sub Italian Parsley) 
3 tablespoons olive oil
3 tablespoons apple cider vinegar
1 tablespoon maple (or honey)
---
Instructions
Preheat oven to 425°F
Place the diced yams on a parchment lined baking sheet, drizzle with olive oil, and sprinkle with smoked paprika, salt, and pepper. Toss to coat well. Spread the yams out so they have lots of space to crisp. Place in the oven and roast 15 minutes, toss, and continue roasting until tender and slightly crispy, about 10 more minutes. You don't want them overly soft.
Meanwhile, place the chickpeas, scallions, cilantro, olive oil, vinegar, maple, orange zest, cumin, cinnamon, and cayenne in a medium bowl and toss to combine.
When the sweet potatoes are tender, let them cool for 10 minutes, then add to the bowl and season the salad with salt and pepper to taste.
Serve this on its own or over lightly-dressed greens or massaged lacinato kale ribbons.
Note: To make the lacinato kale ribbons, remove any tough veins, stack 5–6 leaves, and finely slice across the grain into thin ribbons to create a "slaw." Drizzle lightly with olive oil, sprinkle a pinch of salt, and massage the oil into the kale ribbons with your fingers until the kale ribbons become tender and glossy. For an extra lovely touch, add 1–2 teaspoons orange zest and massage this in too.
Salad will keep 3-4 days in the fridge (keep the kale slaw separate).
---
Notes
Keywords: chickpea salad, moroccan chickpea salad, sweet potato salad, sweet potato salad recipes, roasted sweet potato salad, moroccan sweet potato salad, best sweet potato salad, vegan sweet potato salad