Oaxacan-Style, Baked Sweet Potatoes are loaded up with healthy veggies, infused with Oaxacan flavors, and served up with optional, Quick Mole Sauce. Healthy, flavorful, and perfect for Sunday meal prep. Keep them vegan or add cheese. Video!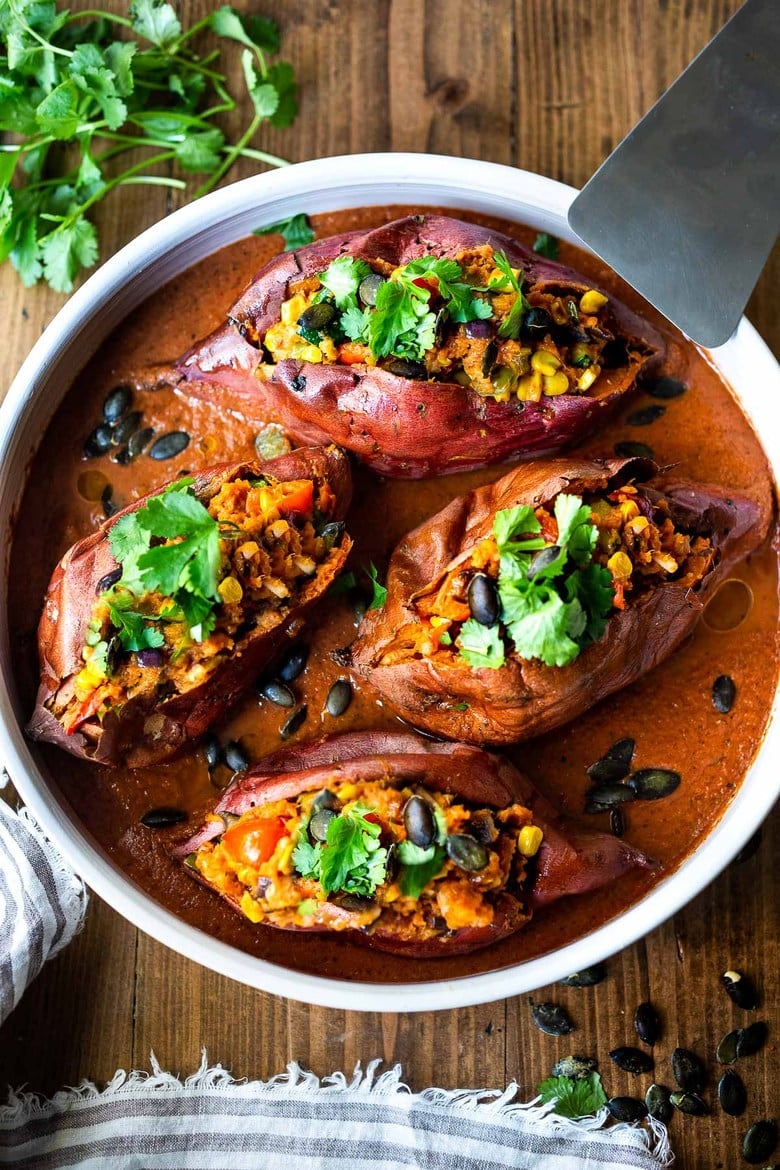 When things change inside you, things change around you. —Unknown
We've been loving sweet potatoes lately. They are so hearty and comforting and can be treated so many different ways in the kitchen. This humble root is so versatile and can easily become a whole meal with very little effort.
Here we are giving them an Oaxacan spin, with Mexican seasonings and lots of veggies. If feeling even just a little bit ambitious- make the 5-minute Mole sauce, to serve them with, or try this decadent Mole Negro!
Such a delicious combination of flavors!
Oaxacan Sweet Potatoes | Video!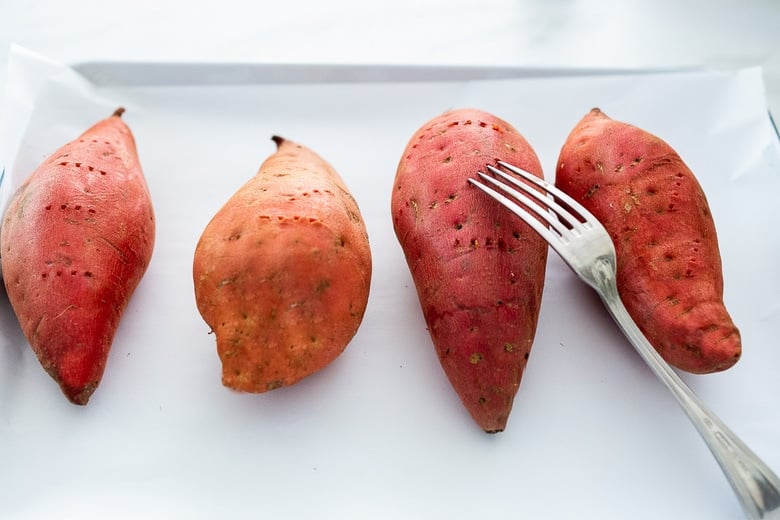 How to make Oaxacan Sweet Potatoes
Step One: The recipe starts with baking the sweet potatoes. If you sweet potatoes are very large, cut them in half lengthwise and bake open side down. Otherwise, poke with a few holes.
How to Bake Sweet Potatoes:
Preheat oven to 400F
Wash, dry, and poke holes in the sweet potatoes.
Place on a sheet pan and bake 50-75 minutes depending on their size.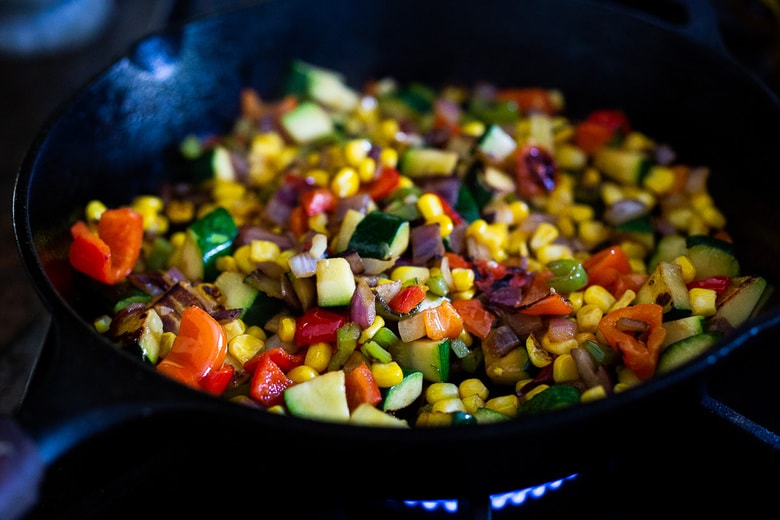 Step Two: While the sweet potatoes are baking, make the filling. Saute your filling ingredients – here I'm using zucchini, peppers, corn, onion and garlic.  Other veggies will work too!  Feel free to improvise. 😉
Add black beans or pinto beans to the mix for extra protein if you like.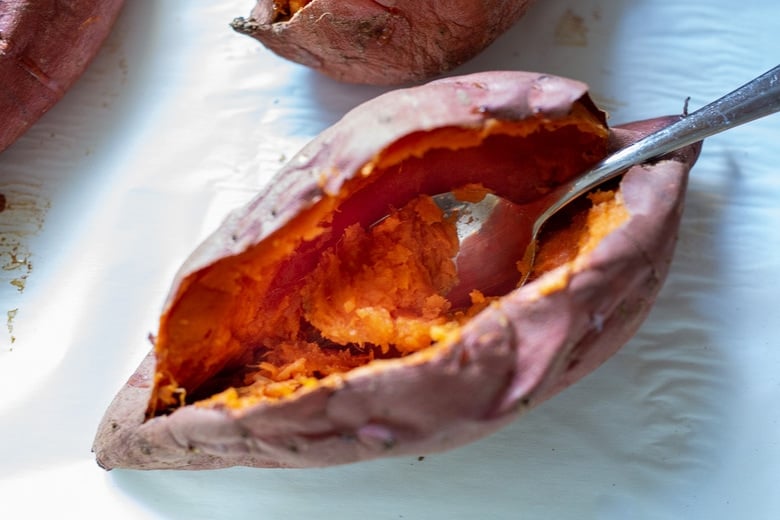 Step 3: Once the sweet potatoes are baked and tender, scoop out the flesh.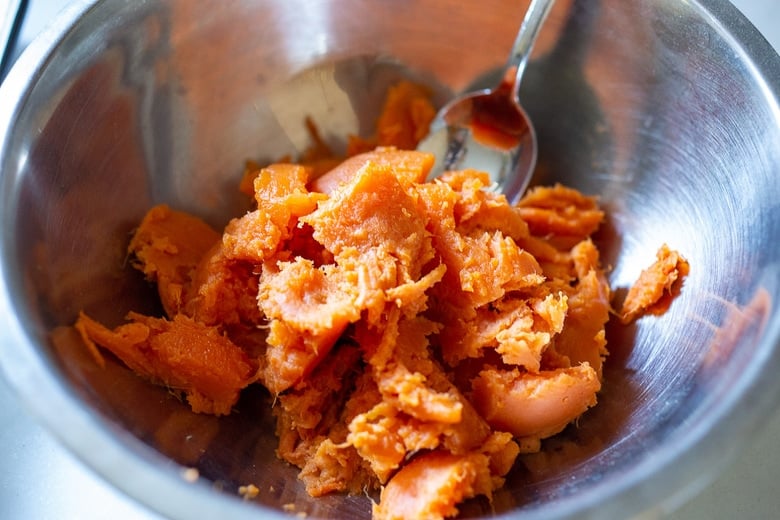 Step 4: Mix with the sauteed veggies and season with the spices.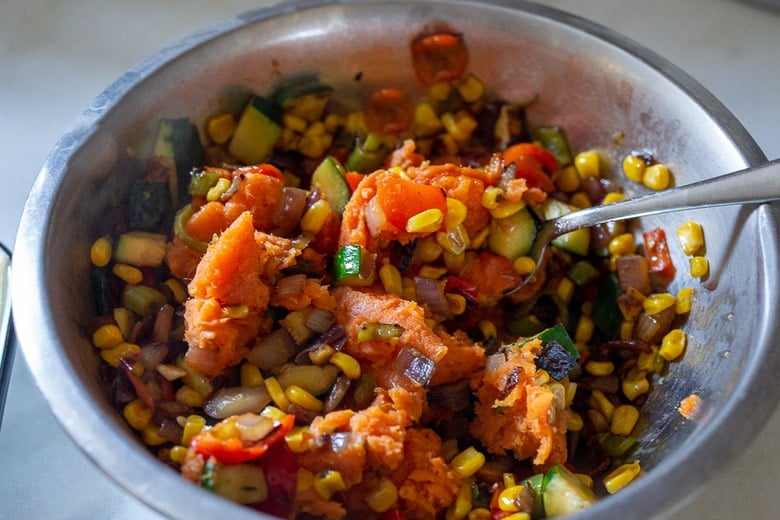 At this point add Mexican cheese if you like. Or leave it totally out- or try a vegan cheese for something different.
Or make some vegan, and some with cheese.
Yep, you got it… adaptable!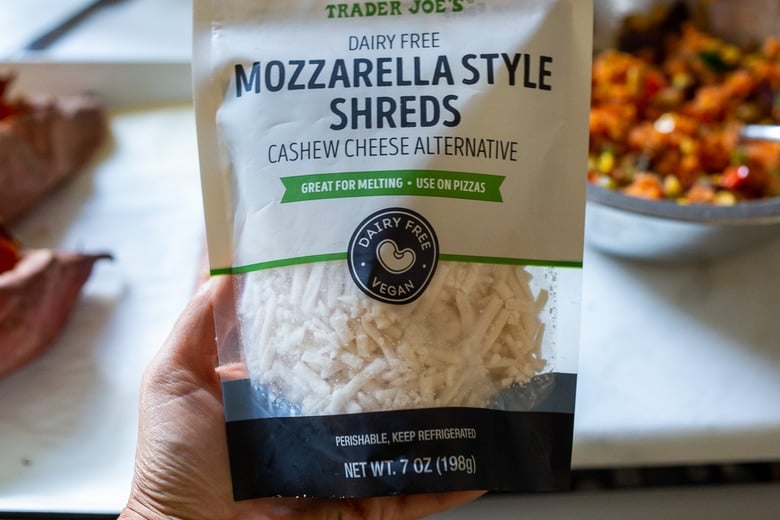 Step 5: Spoon the filling back into the potatoes.
Now know- they are delicious just like this. You could wrap a few up for mid-week meals and reheat before serving.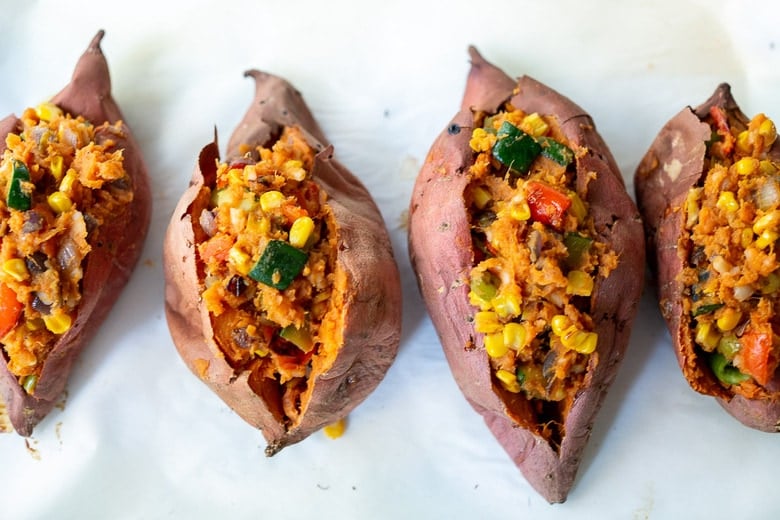 Step 6: Or to elevate, make the Quick and Easy Mole Sauce.
It is a subtly sweet, rich and spicy tomato-based sauce, hailing from Oaxaca infused with spices and a hint of dark chocolate. This version is not authentic- but rather a quick "cheater" version but offers up good flavor, especially if going the vegan route.
It really only takes a few minutes and you can make it while the potatoes are baking.
And it is heavenly paired with these Baked Sweet Potatoes.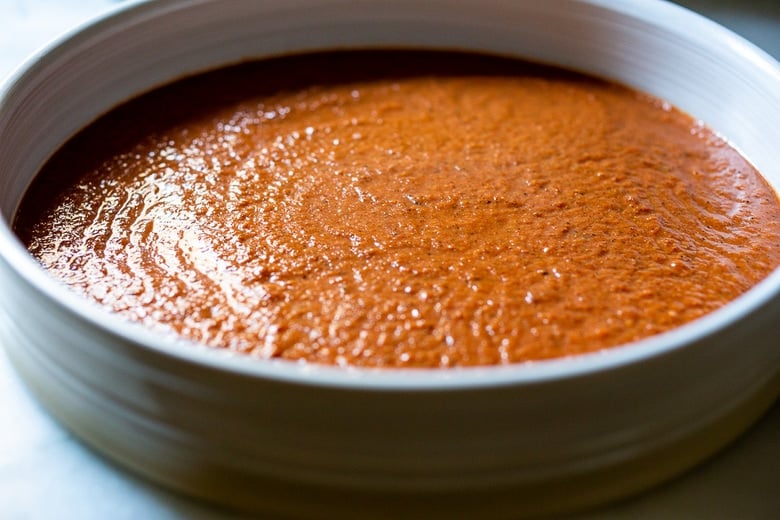 Step 7: Heat up the Sweet Potatoes over the Mole sauce in the oven.  Or keep the sauce separate and spoon over top. Up to you. 🙂
Of course, you can crumble more cheese over top.
When they come out, garnish with cilantro and pumpkin seeds for added texture.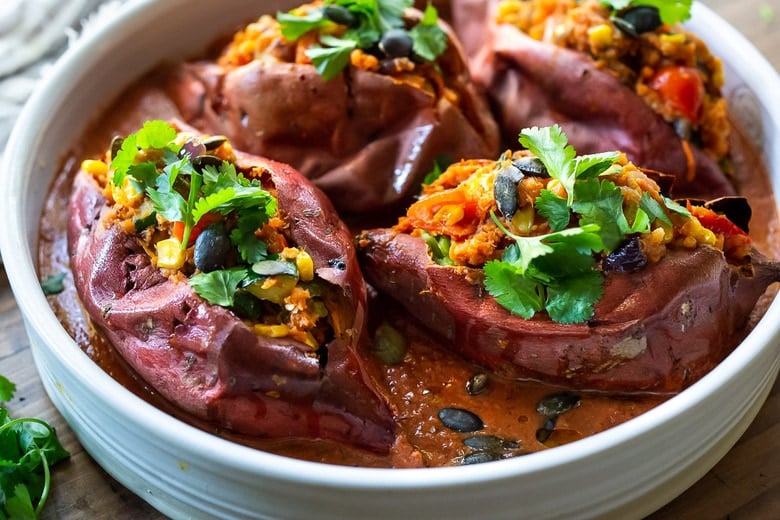 Such a delicious wholesome meal, packed full of nutrients.
Another healthy vegan dinner recipe to add to your fall repertoire.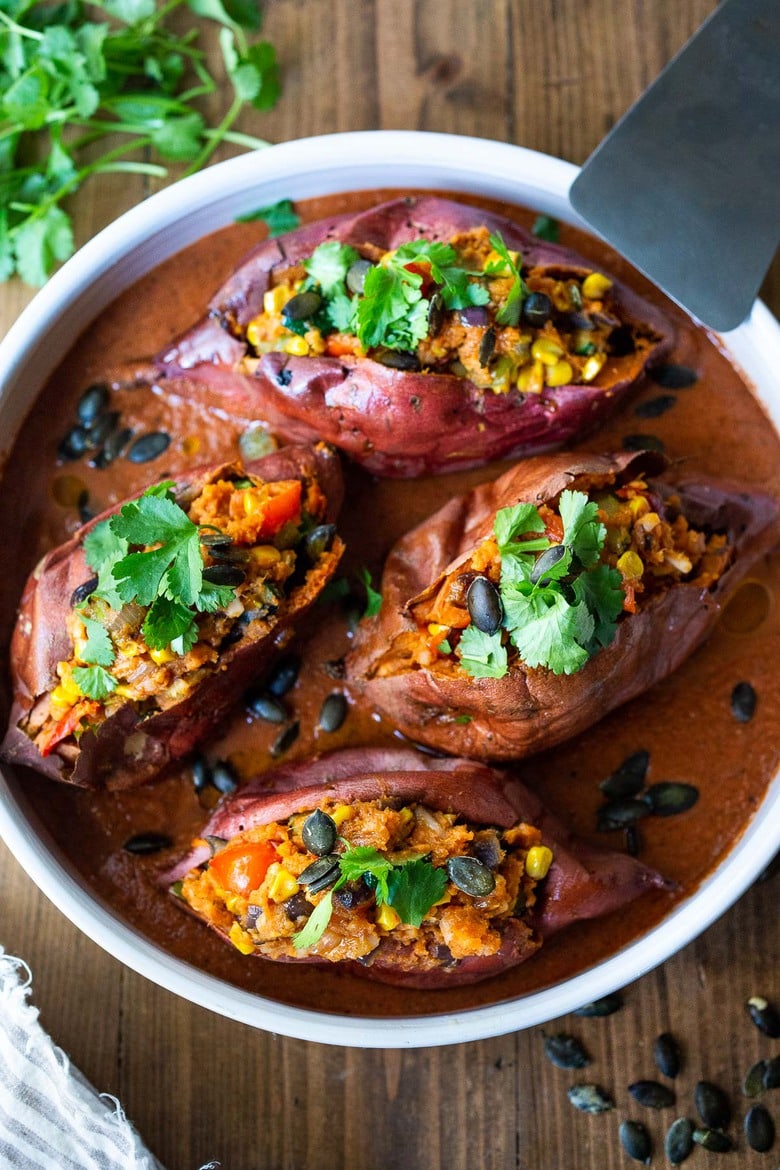 And there you have it…  vegan comfort food!  🙂  Hope you enjoy these Baked Sweet Potatoes as much as we do.
On the homefront: There's great anxiety in the air with the coming elections. I feel the polarizing effects of the past few months, it's hard to ignore.
I take a breath and think of you – out there cooking and sharing meals with your loved ones.
Somehow this brings me comfort.  I think of my friends and those I hold dear in my innermost circle and feel deep gratitude and love. And gradually I shift to the heart space where nothing is separate from it, not even those with seemingly opposing views.
Don't we all want the same thing, really, when it comes right down to it?
But how to mend this great divide.
Perhaps it starts right here with my own heart, tending and healing the divide within.
One heart at a time, friends. 😉
xoxo
Print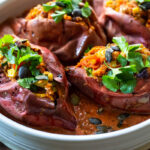 Oaxacan-Style Baked Sweet Potatoes
Author:

Sylvia Fountaine

Prep Time:

30

Cook Time:

90

Total Time:

2 hours

Yield:

4

1

x

Category:

main

Method:

baked

Cuisine:

Mexican

Diet:

Vegan
---
Description
Baked Sweet Potatoes are loaded up with healthy veggies and infused with Oaxacan flavors, served over optional Mole Sauce. ( Or this Mole Negro!)  Vegan, healthy, flavorful and perfect for Sunday meal prep. Gluten-free.
---
4

sweet potatoes, similar in size (

3

–

4

inches in diameter, 6 inches long)

1

–

2

tablespoons olive oil, more for brushing.

1/2

an onion, diced

1

bell pepper, diced small

1

small zucchini, diced small

4

garlic cloves, rough chopped

1/2 teaspoon

salt, more to taste

1

cup

corn (or sub black beans)
—-

1/2 teaspoon

cumin

1/2 teaspoon

coriander
1/4-1/2 teaspoon chipotle powder ( or sub chili powder or smoked paprika)
1/2

cup

–

1

cup Mexican cheese or vegan cheese ( both optional)

2

cups

Mole Sauce (optional, see below)

1/4

cup

chopped cilantro or scallions for garnish

2 tablespoons

pumpkin seeds (optional)
Quick Mole Sauce: 
---
Instructions
Preheat the oven to 400F
Bake the Sweet Potatoes: Wash, dry, and poke holes into the sweet potatoes using a fork. Place on a parchment-lined sheet pan and bake on the middle rack until tender in the center when you pierce with a fork. Depending on size this may take anywhere from 60-90 minutes. Check at 50. You could do this ahead and refrigerate. (See notes for extra-large.)
Make the filling: In a large skillet over medium-high heat, saute the onion in 1-2 tablespoons olive oil for 2-3 minutes. Lower heat to medium and add the bell pepper, zucchini, and garlic, and salt and saute until everything is tender- about 7-8 minutes. Add the corn, cook 2-3 minutes, and set aside.
(Optional) Quick Mole Sauce: Place all the ingredients (EXCEPT the CHOCOLATE and TAHINI PASTE) in a blender. Blend until smooth. Place this Mole sauce in a medium pot, bring it to a simmer over medium-low heat, cover (it will splatter), and cook 7-8 minutes over medium-low heat. Stir in tahini sauce and chocolate until melted and combined. Taste, adjust salt and sweetness, adding a teaspoon of maple syrup if necessary (some chocolate is sweeter than others), or add more chipotle for heat.  Turn heat off and set aside.
Complete Filling:When the sweet potatoes are tender and cool enough to handle, using a knife, split lengthwise, careful to not go all the way through. Push the two pointy ends together like you would a coin purse, revealing the fleshy insides. Using a spoon, scoop out about a half of a cup, out of each sweet potato and place this in a medium bowl. You should have roughly 2 cups or a bit more.  Add the cooked veggies and mix. Add all the spices and the optional cheese. Taste and make sure filling is salted and seasoned enough to your liking. Make it flavorful! Add more heat if you like.
Stuff: Spoon the filling back into the sweet potatoes, mounding them up a bit. Brush skins with a little olive oil. Add more cheese if you want.
Bake these right on the same parchment-lined sheet pan you just used and feel free to sprinkle with more cheese. Alternatively, place them in a baking dish over a layer of Mole Sauce– up to you.
Bake at 375F until warmed all the way through, 25 minutes. ( If reheating directly from the fridge they will need longer.)
Garnish with pumpkin seeds, cilantro, or scallions.
---
Notes
Feel free to cut sweet potatoes in half if very large or to cut down baking time. Bake, skin-side up on parchment-lined sheet pan.
This recipe is very adaptable. Feel free to add cooked black beans for protein. Just make sure the filling is flavorful- so if adding more ingredients, you may need more salt and spices. 😉
Feel free to sub other veggies for the ones listed.
After the sweet potatoes are stuffed, you can bake them just as they are, on the same sheet pan without the Mole Sauce if you prefer. Or refrigerate them for later, pulling them out and reheating as you need them. They should last 3-4 days in the fridge.
The Mole Sauce is not authentic or traditional– it is a quick "cheater" version, but with good flavor.
Nutrition
Serving Size:

One large sweet potato-with the Mole Sauce and No cheese.

Calories:

557

Sugar:

24.3 g

Sodium:

801.5 mg

Fat:

21.9 g

Saturated Fat:

5.6 g

Carbohydrates:

83.3 g

Fiber:

13.9 g

Protein:

11.9 g

Cholesterol:

0.9 mg
Keywords: baked sweet potato, Mexican baked sweet potato, vegan sweet potatoes, twice baked sweet potato, stuffed sweet potato