How to make Mole Negro Sauce (aka black Mole sauce)-a deep, smoky, slightly spicy sauce that hails from Mexico made with dried black chilies, warming spices and a hint of bittersweet chocolate. Trust me, you'll want to put this on everything. Vegan! Make this in 35 minutes! Video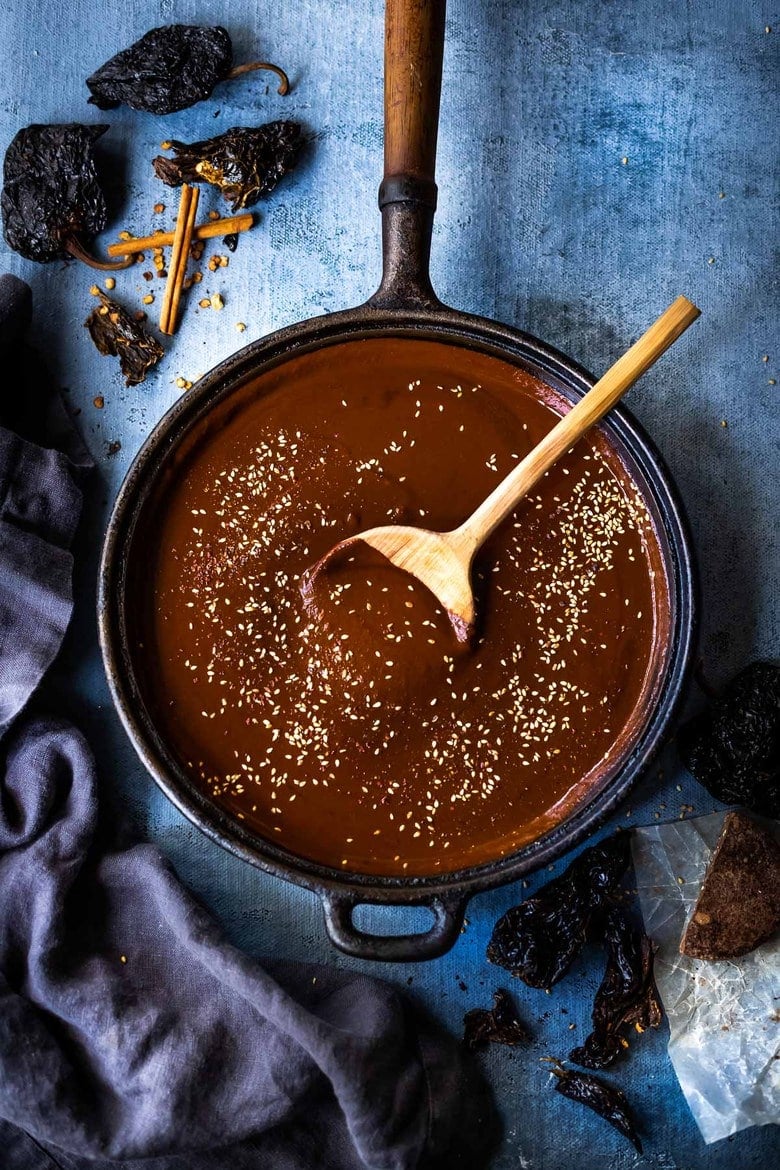 Here is my recipe for Mole Negro which, in my mind, I like to call Love Sauce, because it's luscious and smoky, deep and spicy, bitter, sweet and deliciously complex. Like love. And also, my husband Brian LOVES this sauce, so over the years, whenever I make this, I think of it as an act of love- or love sauce. Plus, I just love making it, it's kind of magic ✨.
What is Mole Negro?
If unfamiliar Mole, or Mole Negro (pronounced moh-lay nay-grow) there are hundreds of variations of Mole Sauce throughout Mexico, depending on where you are and the season. In essence, Mole is a rich Mexican sauce made from dried or fresh chilies, nuts or seeds, and can range in color from green to yellow to red and all the way to black.
Mole Negro, or "black mole" is one of my all-time favorites and gets its deep dark color from smoked black chilies, prunes (or raisins) and chocolate.  It's velvety and rich, without being cloying, and has a beautiful balance of flavors when you get it just right.
Though it is believed to originate from Oaxaca, while there, we learned it is actually a pre-Hispanic sauce, one that has been carried down from the indigenous people who lived before, who served many variations of it.
Mole Negro Sauce | Video
What to serve Mole Negro Sauce with:
Chicken, turkey, pork, tofu, instant pot carnitas
tacos
Stir some into your next pot of chili!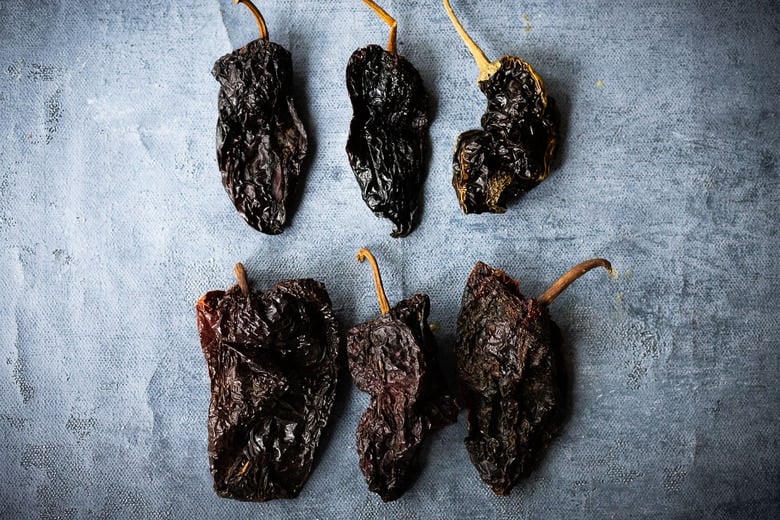 Chilies to use in Mole Negro Sauce
To give Mole Negro its deep black color seek out dark-colored chilies.  Here are a few of my favorite and I always try to use at least two varieties ( that vary in heat and flavor). Adding a few kinds of chilies adds complexity. So today I chose 3 Mulato and 3 Ancho chilies. Pay attention to heat levels!
Mulato – dark, sweet, smoky, medium heat
Chilies Negros– dark black, earthy, sweet, mild heat.
Morita-smoky, sweet, medium- high heat.
Ancho -dark, fruity, lightly smoky, mild heat
Pasilla– dark, dried fruit flavor, medium heat.
Chipotle -dark smoky, medium heat
Guajillo– redish, sweet with acidity,  mild heat.
Cascabel– red, fruity and mild
How to Make Mole Negro Sauce: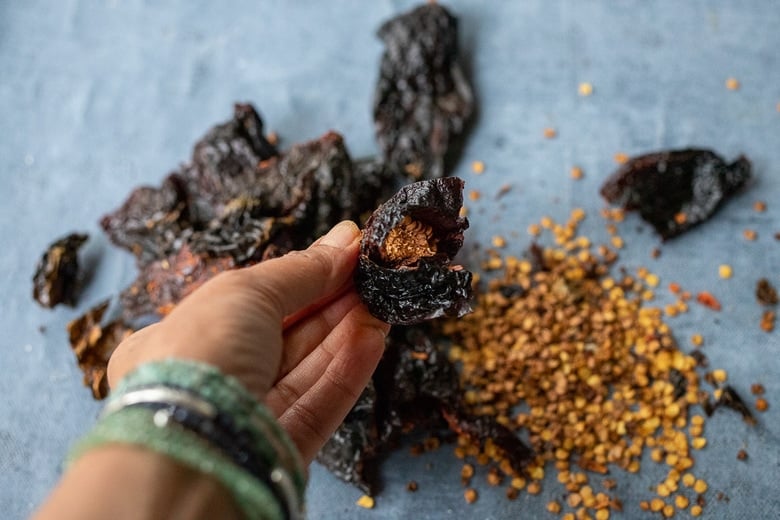 Step one: 
Break chilies apart (or use scissors) and discard the seeds and stems. (Or save the seeds and plant them!)
Step two: 
Toast the chilies in a dry skillet to release the flavorful oils.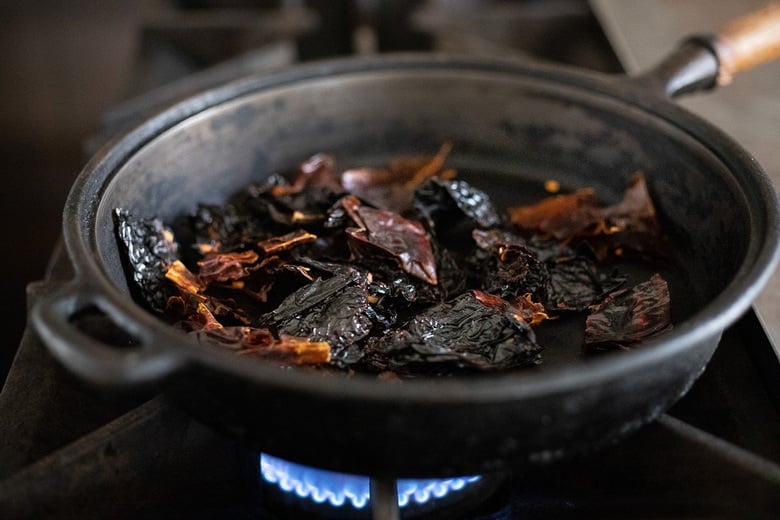 Step three: 
Place the chilies in a medium pot with 4 cups stock or broth. Bring to a boil, cover and simmer 10 minutes.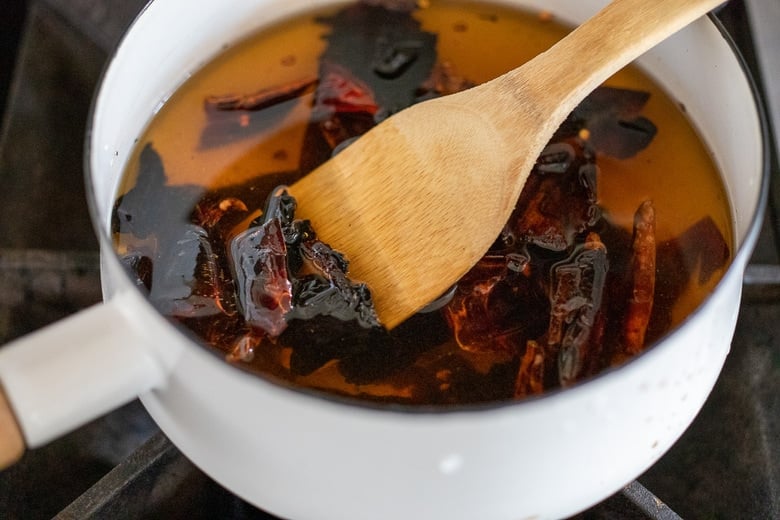 Step four: 
Add 1 cup dried prunes or raisins to the chillies and cover, simmering 10 more minutes. Let cool.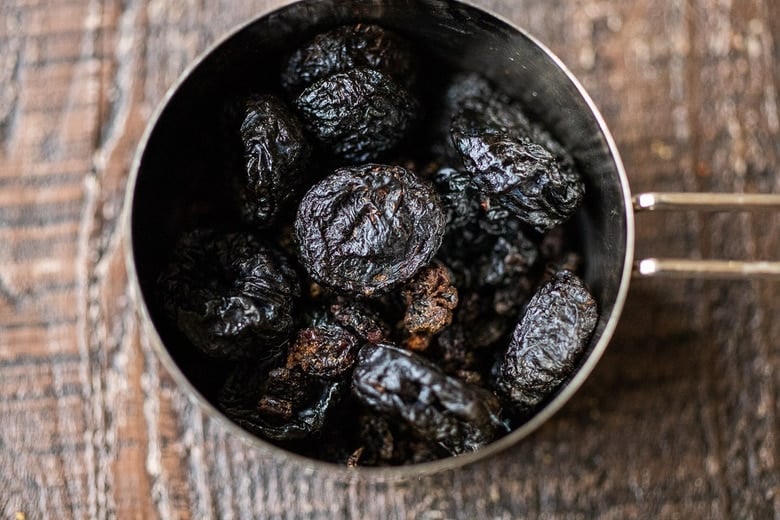 Step five: 
While chillies are simmering, saute onion and garlic until tender and fragrant and deeply golden.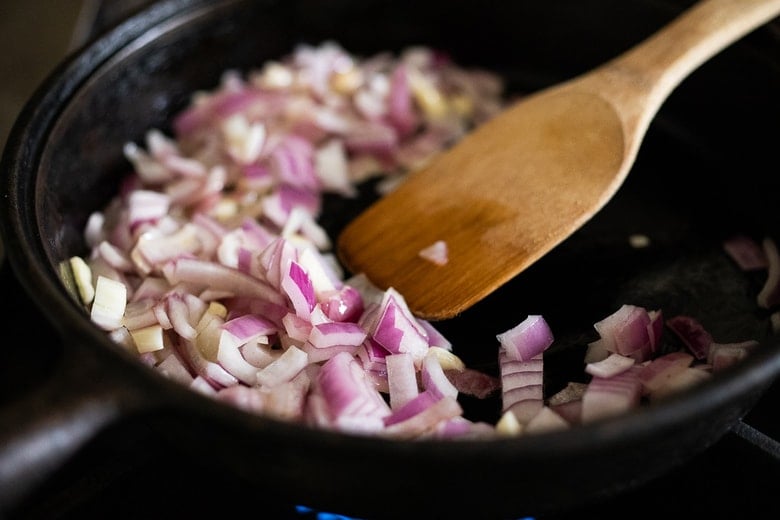 Add the spices, toasting them for 2-3 minutes.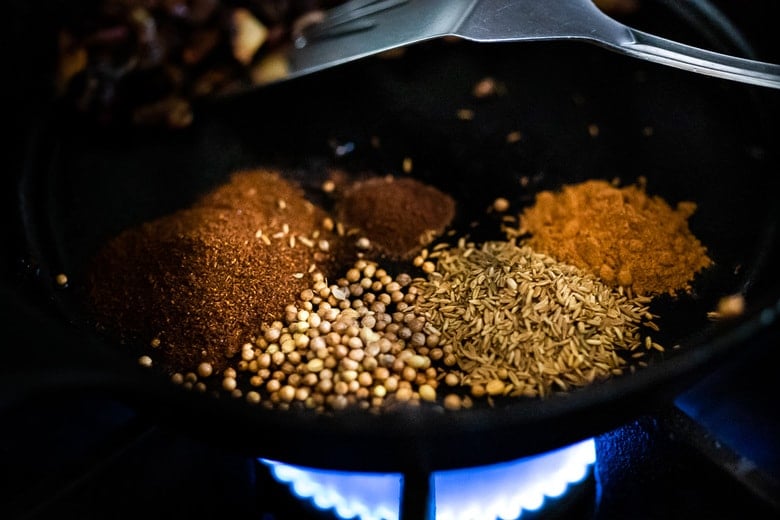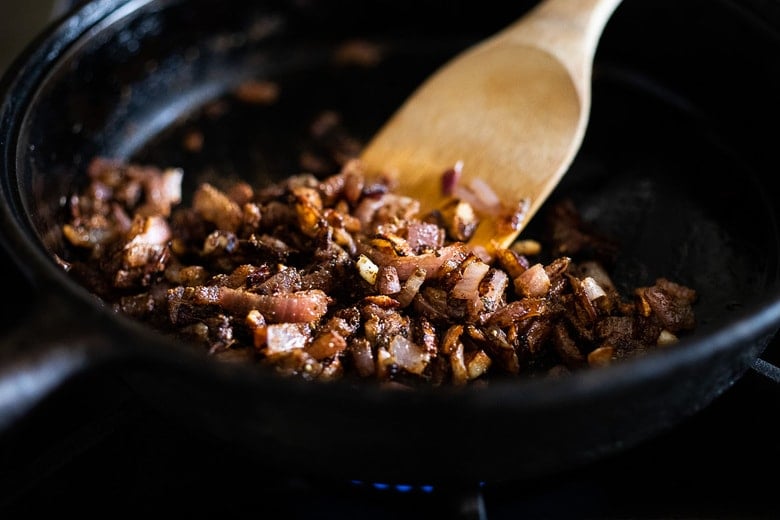 Step six: 
Place the onion spice mixture and the chili-prune mixture in a blender with all the cooking liquid and puree.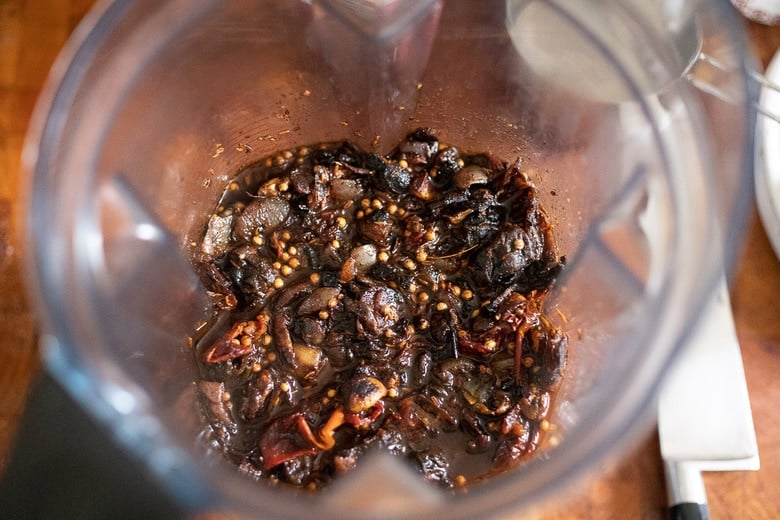 Blend for a full minute until silky smooth.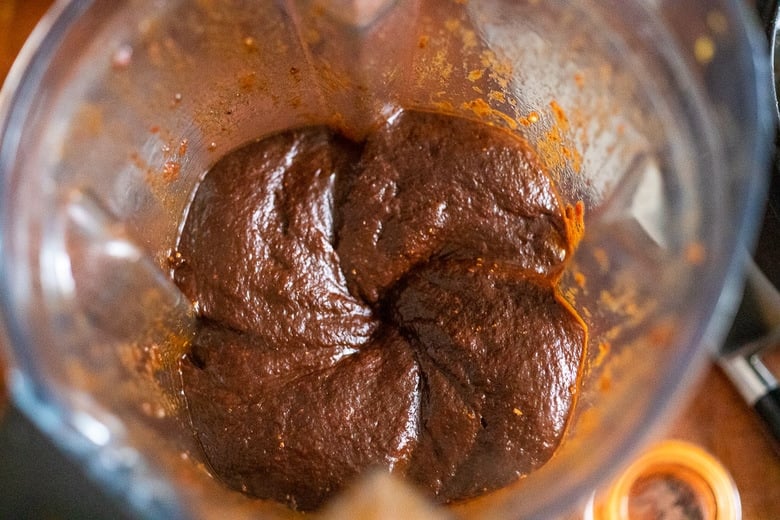 Step seven: 
Return the sauce to the pan and stir in the salt, peanut butter ( or tahini paste) and chocolate into the sauce, until melted and combined.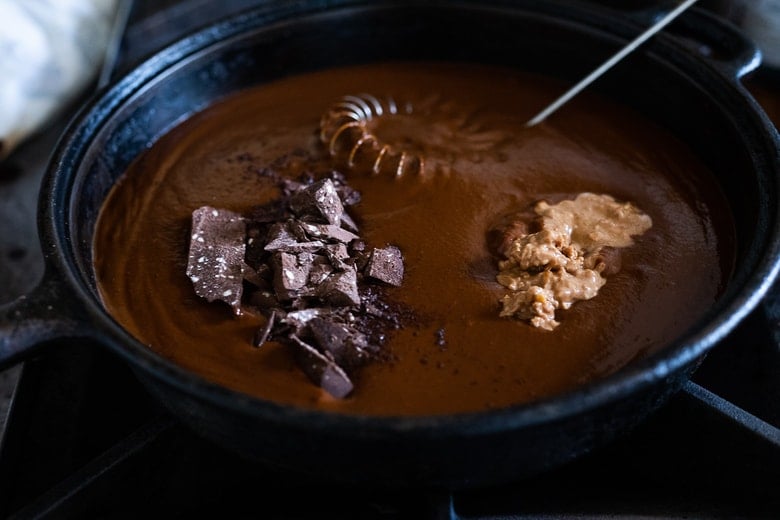 Whisk it smooth, and taste and adjust the seasonings to your liking! (See recipe notes) Depending on the chilies you pick,  you may need to adjust heat level and sweetness. 😉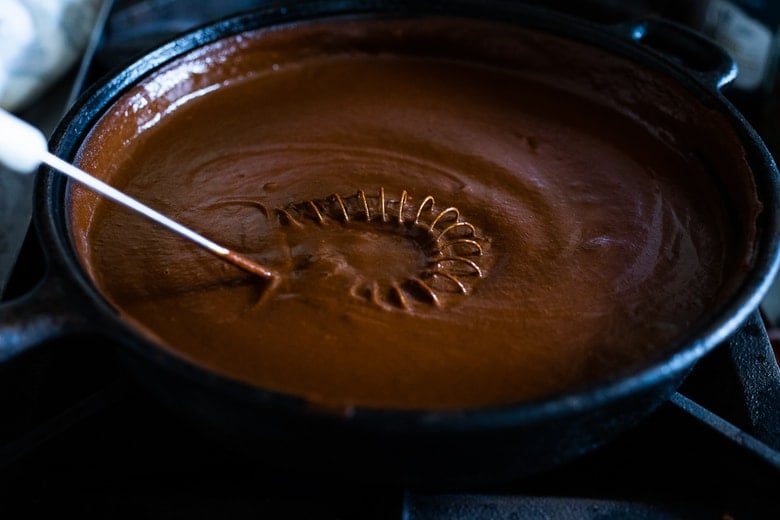 Your Mole Negro Sauce is ready to use!
It will taste heavenly- deep, earthy, and smoky, spicy, rich, slightly bittersweet from the chocolate. All the good flavors!
Storing Mole Sauce
This recipe will make 4 cups of Mole sauce.
Mole will keep up to 4 days in the fridge
Mole sauce can be frozen for later use.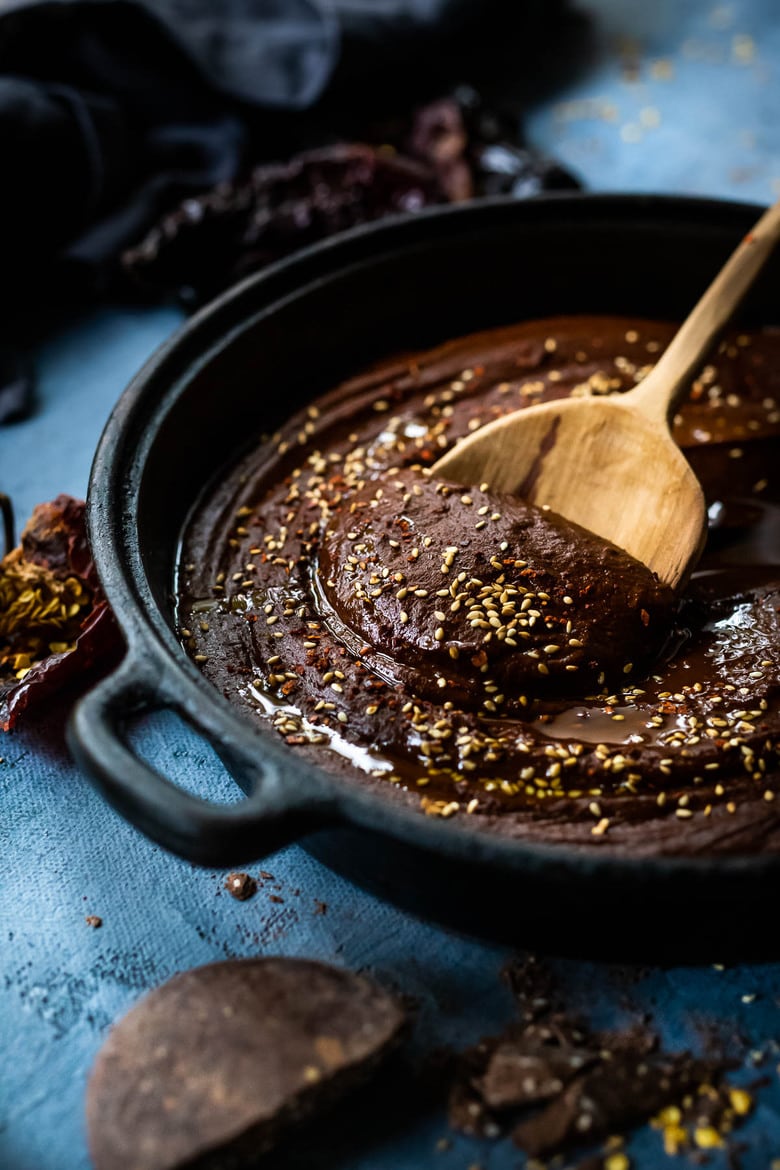 I'm so excited for you to make this because I KNOW you'll love it as much as we do!
xoxo
Print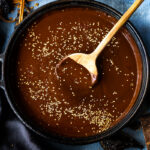 Mole Negro Sauce
Prep Time:

10

Cook Time:

25

Total Time:

35 minutes

Yield:

4 cups

1

x

Category:

sauce

Method:

stovetop

Cuisine:

Mexican

Diet:

Vegan
---
Description
How to make Mole Negro Sauce- a deep, smoky, slightly spicy sauce that hails from Mexico made with dried black chilies, warming spices and a hint of bittersweet chocolate. Trust me, you'll want to put this on everything. Vegan! Make this in 35 minutes!
---
Mole Negro Sauce:
6

dried chilies (

2

varieties, medium heat-dark in color-see post body)

4

cups

broth or stock (chicken or veggie)

1

cup

seedless prunes (or dark raisins)

1

large onion- diced

6

–

10

garlic cloves- smashed

2 teaspoons

chili powder

2 teaspoons

cumin (ground or seeds)

2 teaspoon

coriander (ground or seeds)

1 teaspoon

dried oregano

1 teaspoon

cinnamon

1/2 teaspoon

nutmeg

1/2 teaspoon

ground cloves
optional: 1-2 canned chipotle peppers, plus 1 tablespoon adobo sauce ( the "juice" from chipotle can)

1 1/2 teaspoons

salt

1/4

cup

peanut butter (or sub tahini paste, almond butter, cashew butter)
1 1/2 -2 ounces dark chocolate (bittersweet or semi-sweet) about

1/3

cup
other additions: agave syrup or maple
---
Instructions
Tear the dried chilies apart (or cut with scissors) discard seeds and stems and place them in a dry skillet. Toast over medium heat until they begin to release their oils (they will take on a slight sheen), 3-4 minutes.
Place them in medium pot, add 4 cups of broth. Bring to a boil, cover, turn the heat down to low and simmer covered, 10 minutes.
Add the prunes, stir, cover, simmer on low 10 more minutes, turn the heat off, let cool, saving the liquid.
At the same time, saute the onions and garlic in 2 tablespoons olive oil, over medium heat, stirring often until deeply golden brown, about 10 minutes. Take your time here and let them get dark. Add all the spices and stir 1-2 more minutes, toasting the spices.
Place the cooked onion-spice mixture in a blender along with the chilies and prunes and all the liquid, and chipotles and the adobo sauce ( if using).  Feel free to add a little more broth to get the blender going. Blend until very smooth, scraping down the sides. If it feels very thick, loosen with more broth. It should be like the consistency of a thick smoothie. Once silky smooth, pour this back into the pan and heat over low heat, covering.
When warm, stir in the salt, peanut butter and chocolate. Once the chocolate is fully melted and incorporated, give a taste.
Adjust seasonings. Add more heat if you like (chipotle sauce or chipotle powder). Add more chocolate if you like. It should taste deep and smokey, slightly salty and slightly sweet. If it lacks depth, more salt may help bring out the other flavors or a tiny splash of soy sauce.  To add more sweetness, a tiny splash of agave or maple syrup will help here.  If you want it smokier, stir in smoked paprika or adobo sauce from the canned chipotles. If it is too spicy, add more peanut butter and broth and reseason with salt.
To loosen the sauce, feel free to add more broth or stock.
---
Notes
This will make 4 cups of Mole Negro Sauce.
Leftovers can be refrigerated for up to 4 days, or frozen. The sauce can be made ahead and refrigerated.
CHILIES: use an assortment
Mulato – dark, sweet, smoky, medium heat
Chilies Negros– dark black, earthy, sweet, mild heat.
Morita-smoky, sweet, medium- high heat.
Ancho -dark, fruity, lightly smoky, mild heat
Pasilla– dark, dried fruit flavor, medium heat.
Chipotle -dark smoky, medium heat
Guajillo– redish, sweet with acidity,  mild heat.
Cascabel– red, fruity and mild
Nutrition
Serving Size:

½ cup

Calories:

81

Sugar:

8.1 g

Sodium:

274.8 mg

Fat:

3.3 g

Saturated Fat:

1 g

Carbohydrates:

12.5 g

Fiber:

1.3 g

Protein:

1.8 g

Cholesterol:

0.2 mg
Keywords: mole negro, mole negro recipe, black mole, black mole recipe