Roasted Butternut Enchiladas with Mole Sauce – filled with roasted butternut and black beans and baked in a simple flavorful Mole Sauce, topped with cilantro, avocado and toasted sesame and pumpkin seeds. Serve this up with this Mexican slaw for a fast and delicious vegetarian dinner, perfect for fall! Vegan adaptable! Or add meat.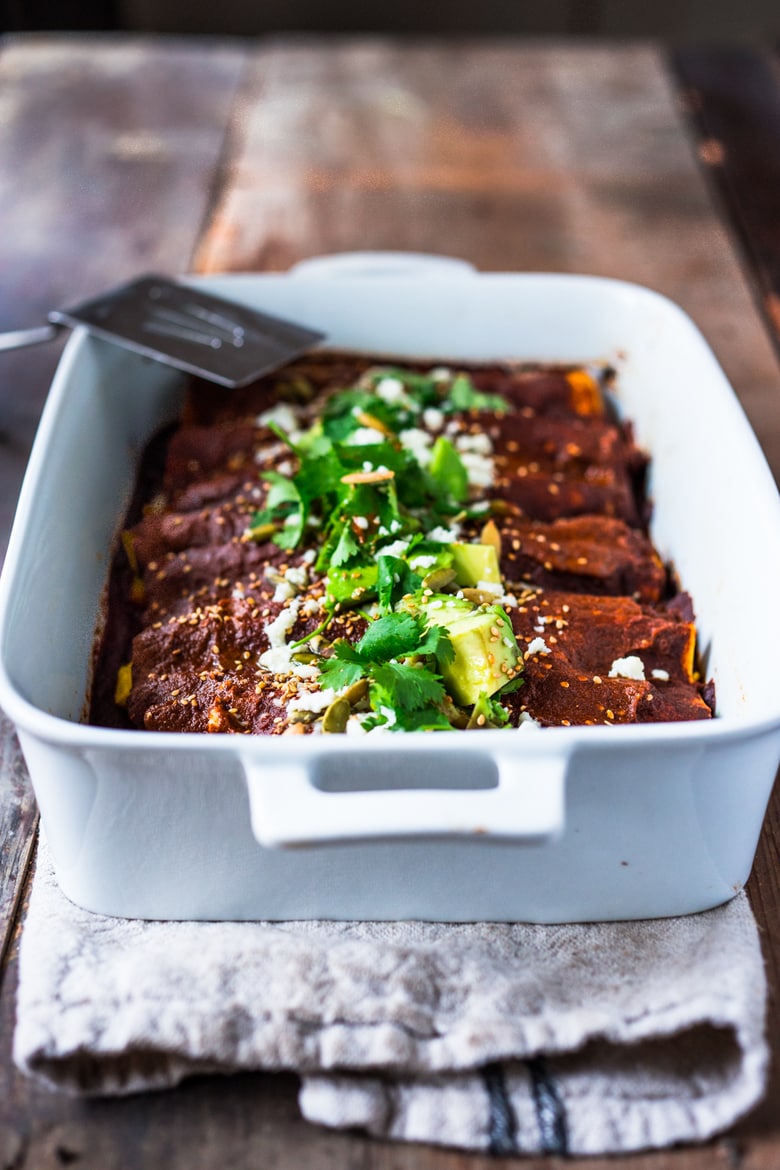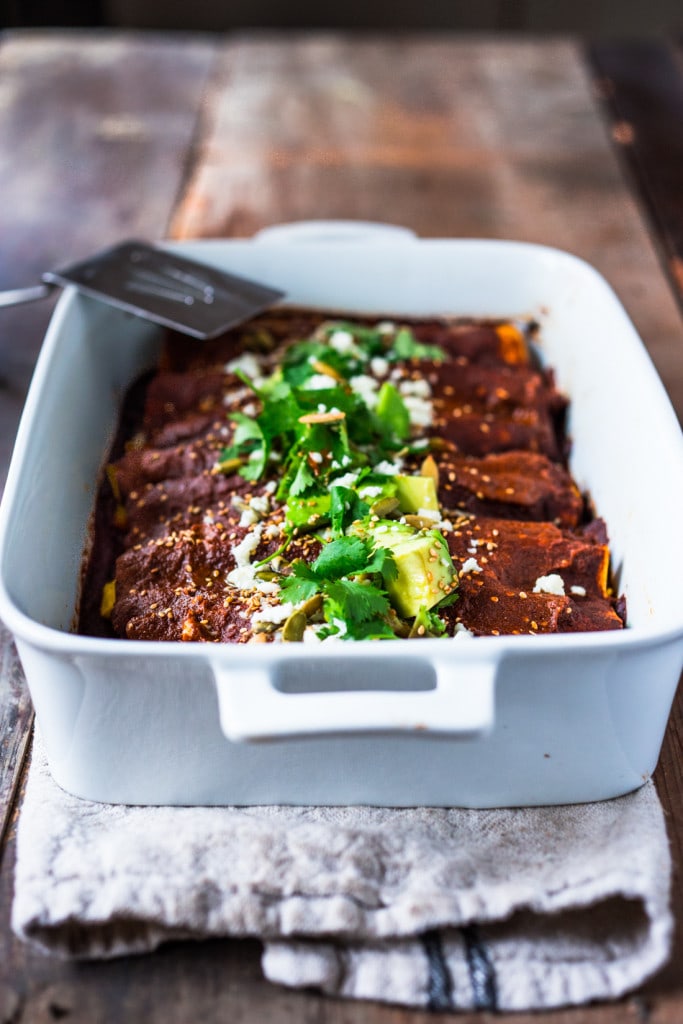 In the fall, I usually have a bowl filled with colorful winter squash sitting on my counter, taking the place of fresh-cut flowers. To me, they are just as pretty.
Plus, you get the added benefit of getting to eat them! This recipe for Butternut Enchiladas with Mole sauce (deep smokey spicy sauce with a hint of chocolate), can be made with any roasted winter squash, so feel free to experiment with new kinds.
Beautiful red Kuri squash, acorn squash, sugar pumpkin, kobacha, delicata, sweet dumplings, even roasted spaghetti squash will work well here. I've even used roasted sweet potato, which is not a squash at all –my point is here, the recipe is very forgiving and so, use what you have!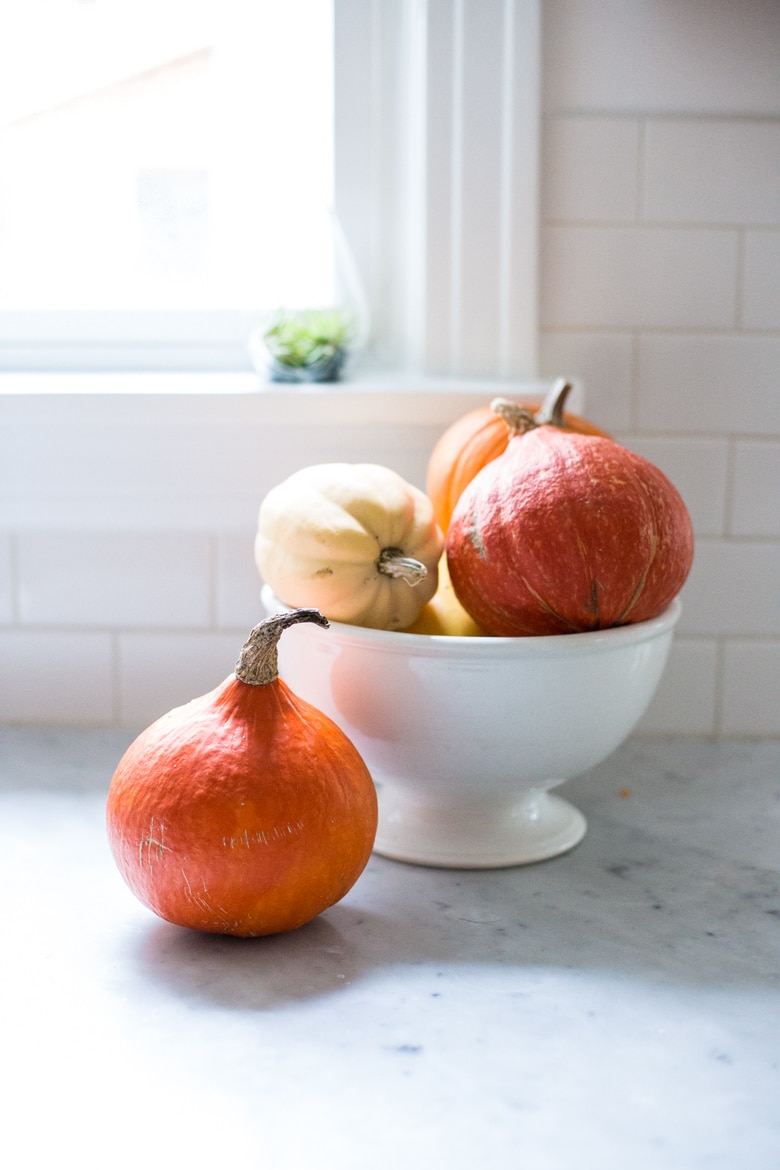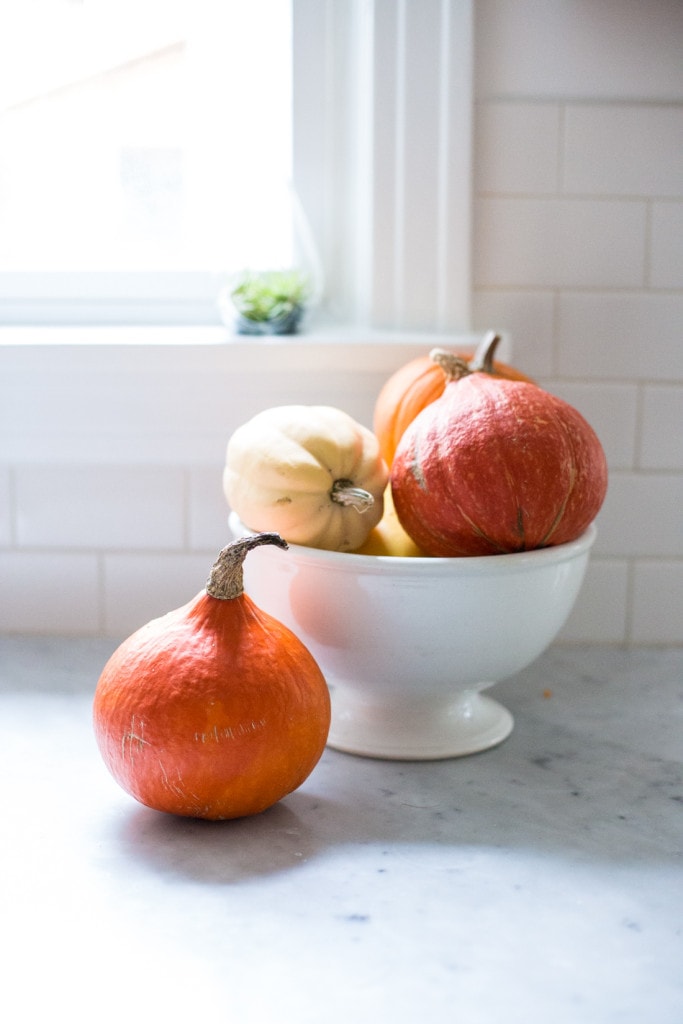 Today instead of butternut I picked this pretty pale butter yellow acorn squash my neighbor, Kathy, grew.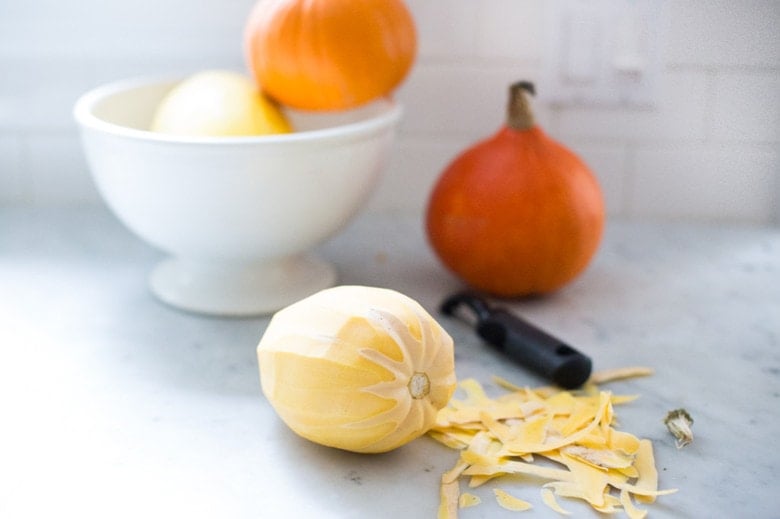 For most squash, you will need to peel and dice them before roasting, except spaghetti squash. ( Just split the spaghetti squash in half, remove seeds, and roast skin side up for 40 minutes. Then scoop out the flesh.)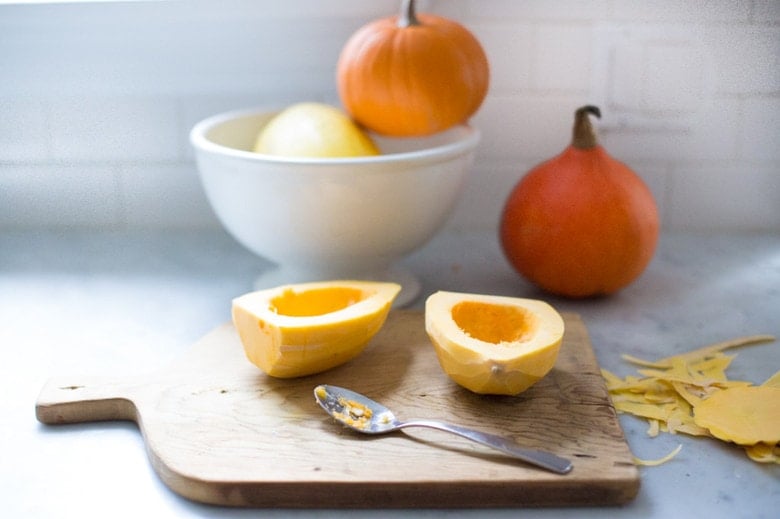 Dice the squash into ¾ inch cubes. You'll only need 2-3 cups.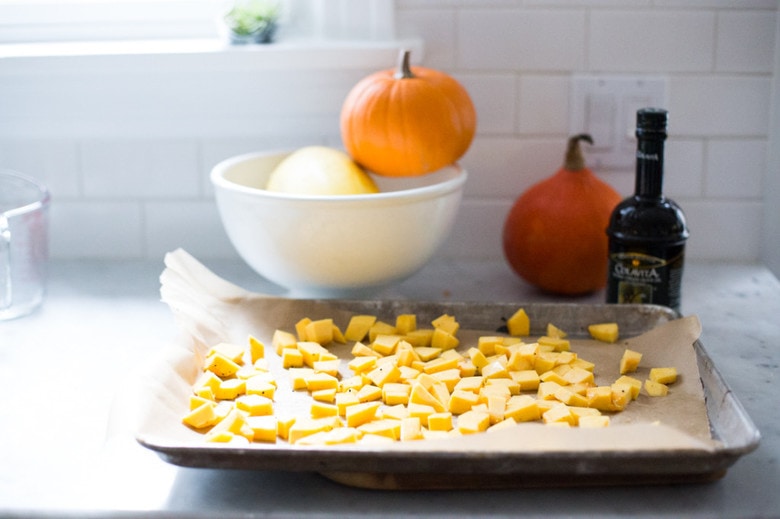 Place them on a baking sheet, toss with olive oil, salt and pepper, and roast in a hot oven for 15-20 minutes, being careful that they don't get too soft. A little texture is good here.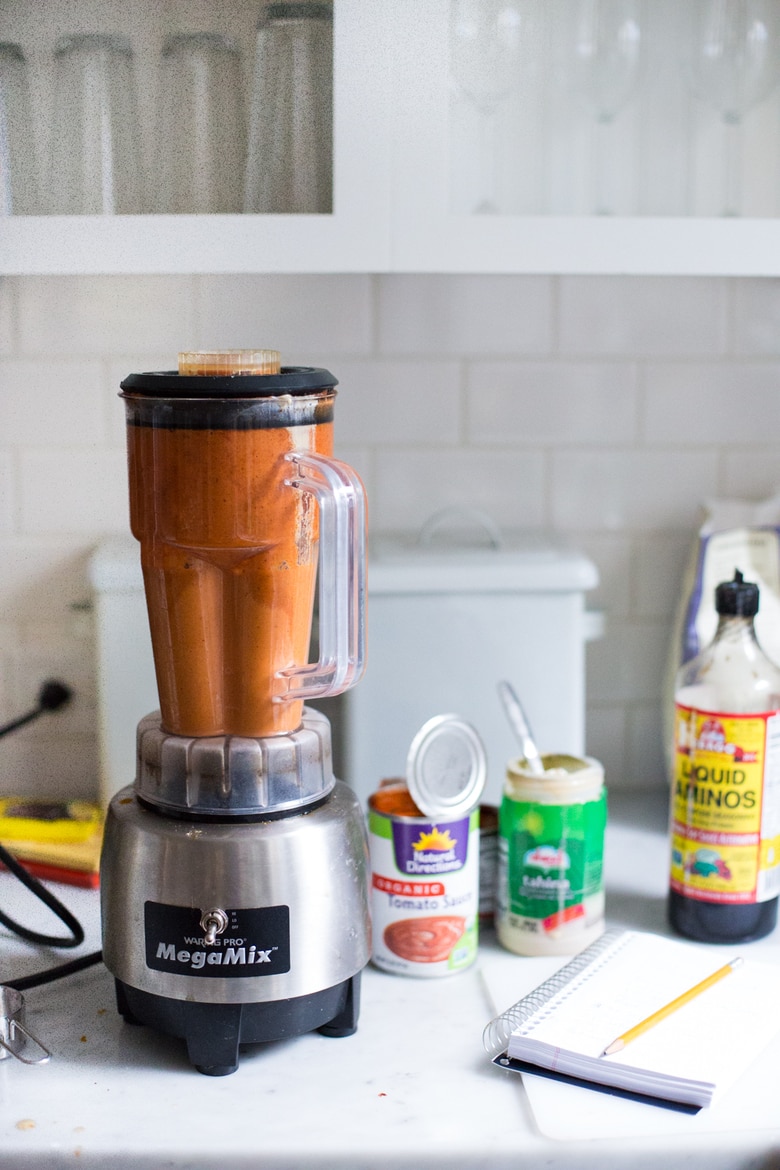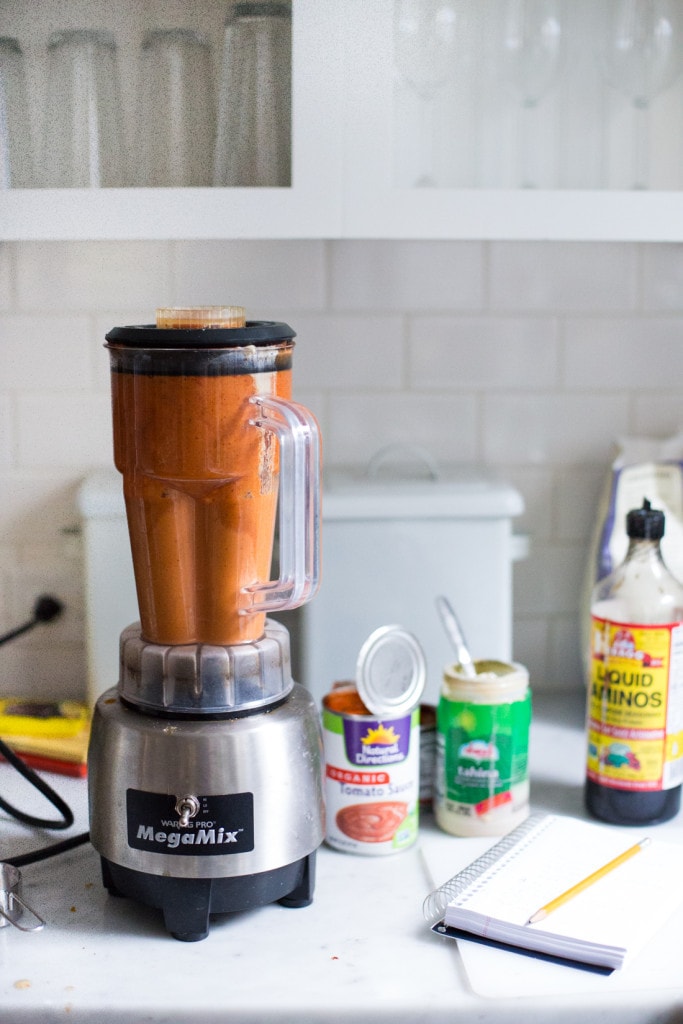 While the winter squash is roasting in the oven, make the Quick Mole Sauce.
Now I realize, to some, this is not "real", traditional Mole Sauce, the kind that takes hours to build depth and flavor, but instead, a time-saving "cheater" version. This can also be used as a simmer sauce for chicken, beans, or even tofu.
Place the mole ingredients in the blender – onion, garlic, spices, tomato sauce – everything except the chocolate and tahini, and blend until smooth. Then you will simmer it. A little backward, but it works.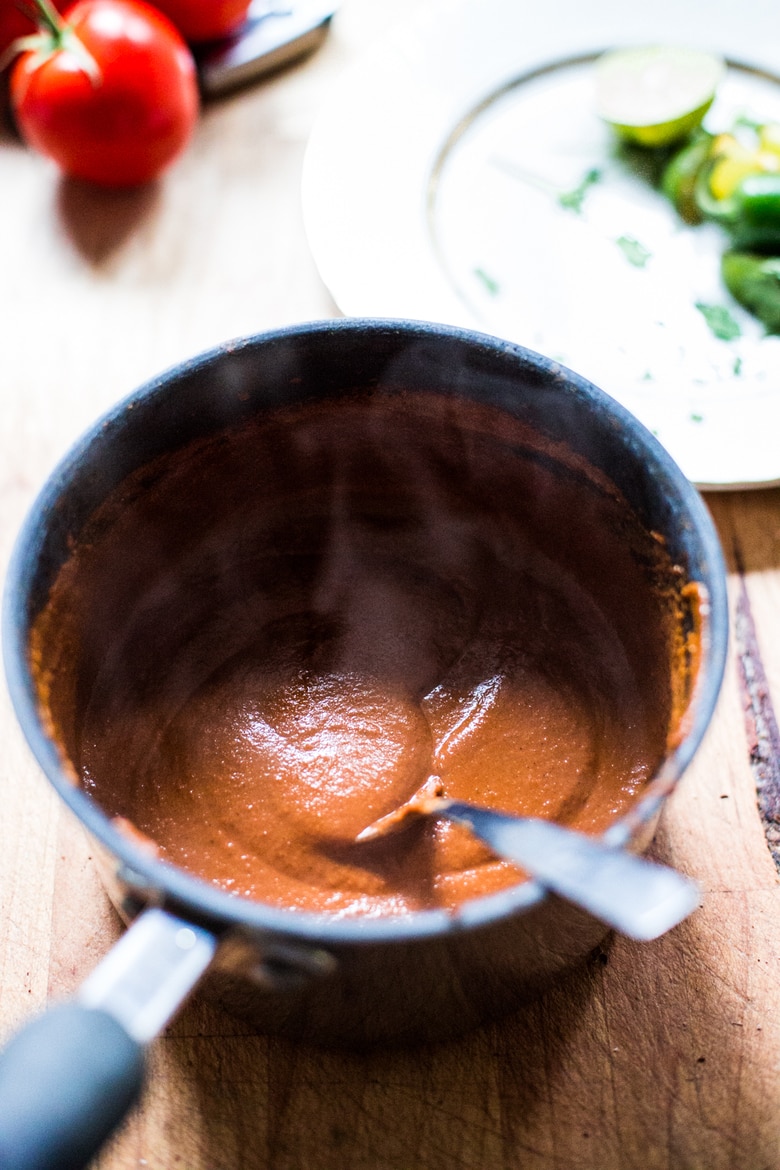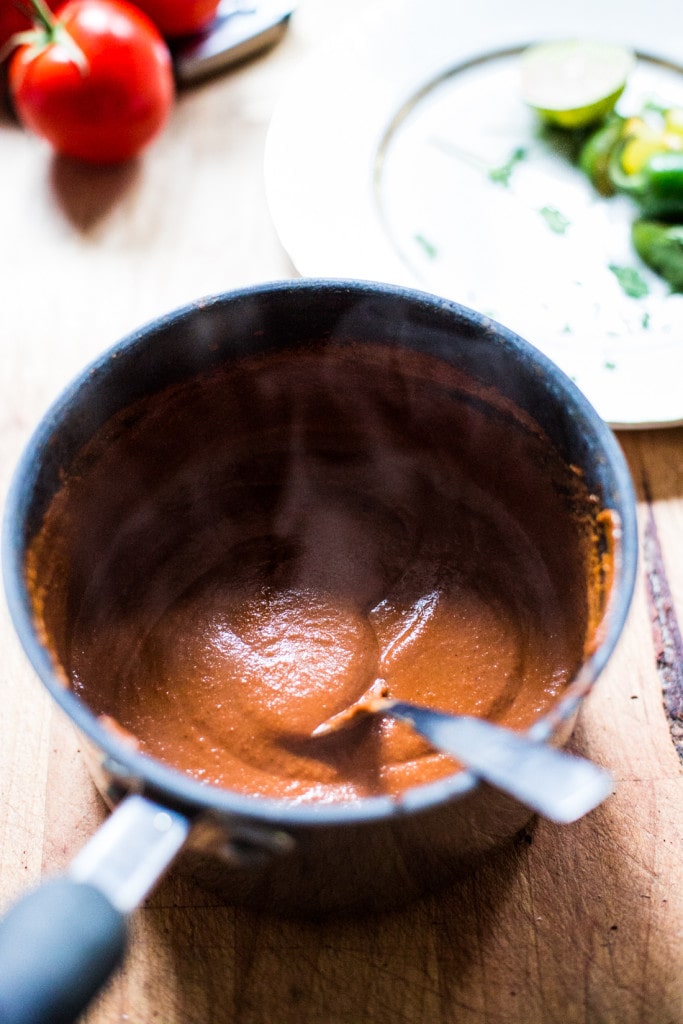 Once the mole has simmered and cooked, stir in the dark chocolate and tahini ( or peanut butter).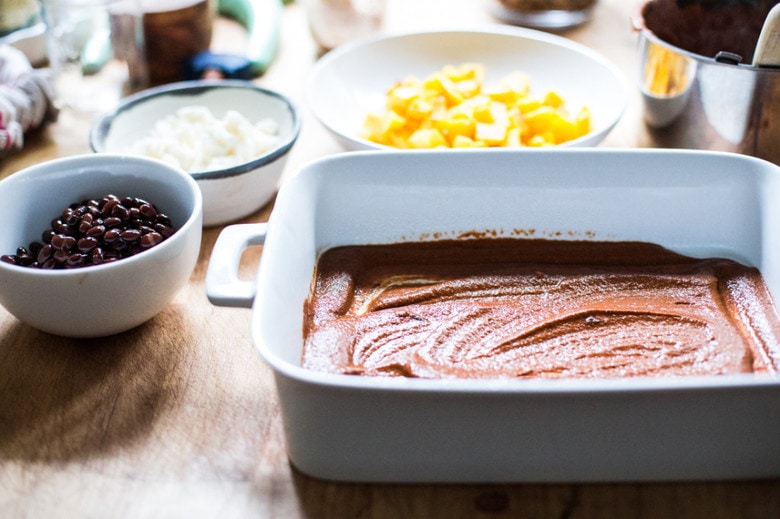 Pour the Quick Mole Sauce in the bottom of a baking dish and get the rest of your ingredients in place, to roll up the enchiladas.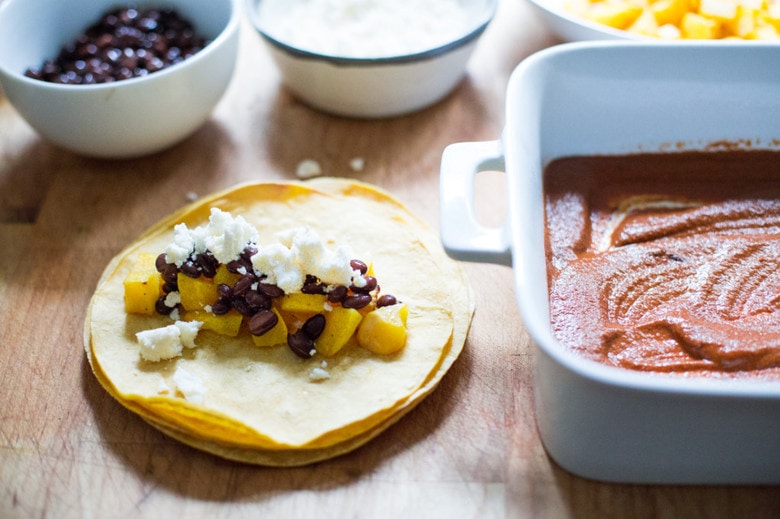 Warm the tortillas in the oven to get them pliable, then stack them. Alternatively, you can grill over the gas flame on your stove, or pan-fry them with a bit of oil- which really makes for the best enchiladas, but also the highest in calories. Your choice. Today I simply warmed them in the oven, placing them directly on the oven rack for a couple of minutes.
Fill them with the roasted squash, black beans and bit of cheese and place seam side down in the baking dish, over the Quick Mole Sauce.
At this point you could also use vegan cheese, or add shredded chicken or even this healthy chorizo.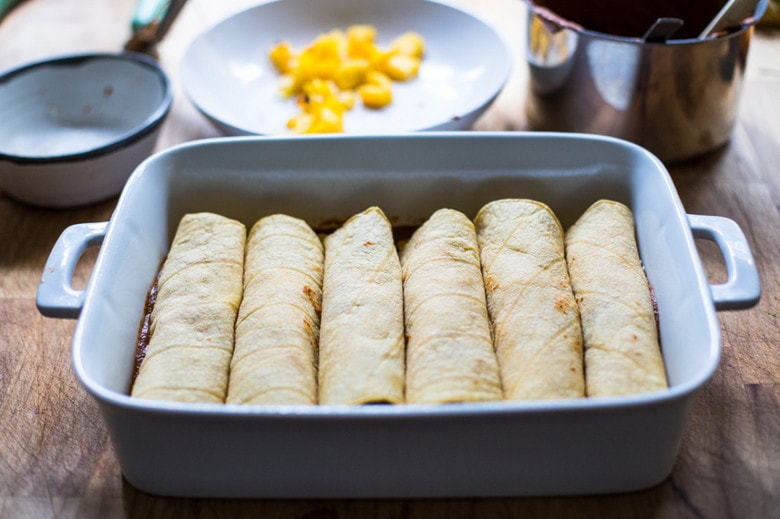 Brush more Mole Sauce over the top, saving any extra for touching them up at the end.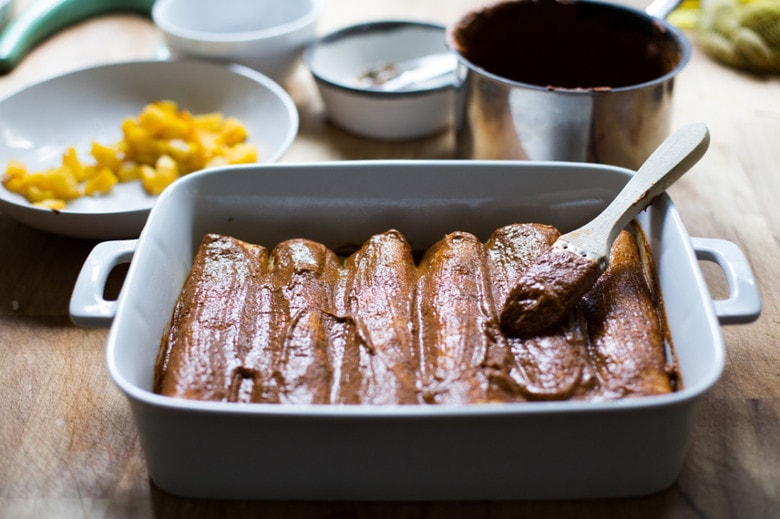 Place in the oven to bake.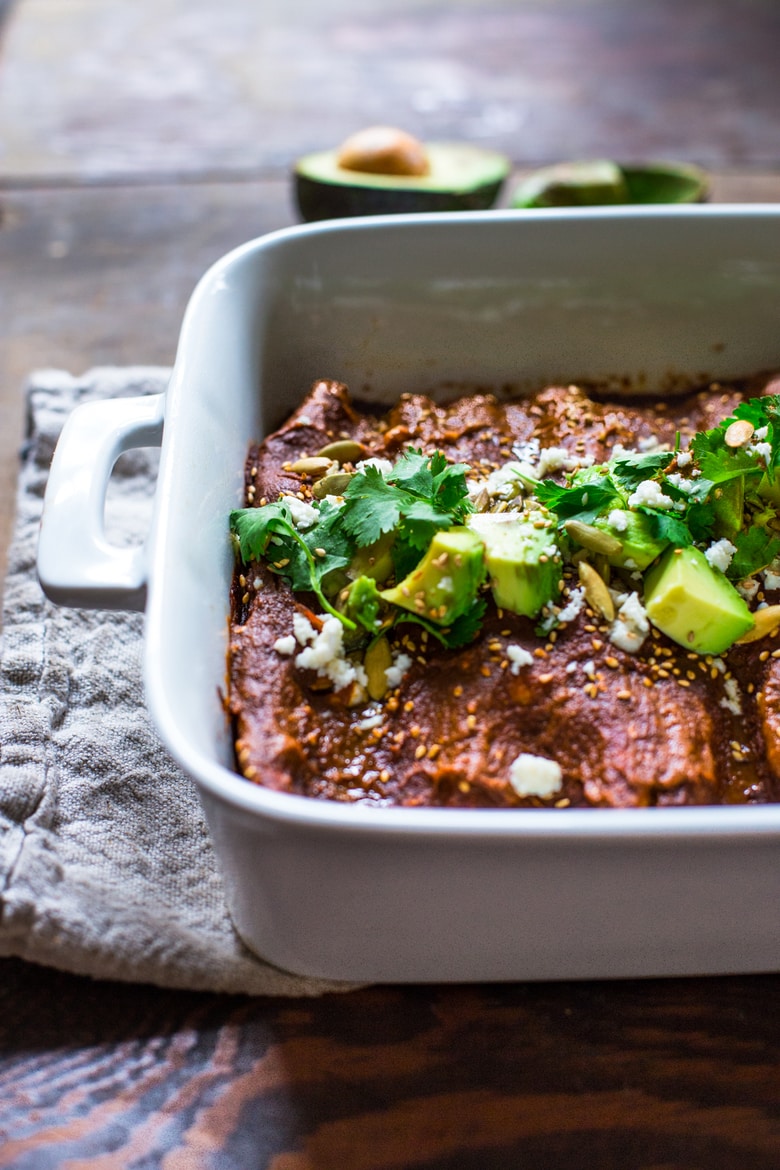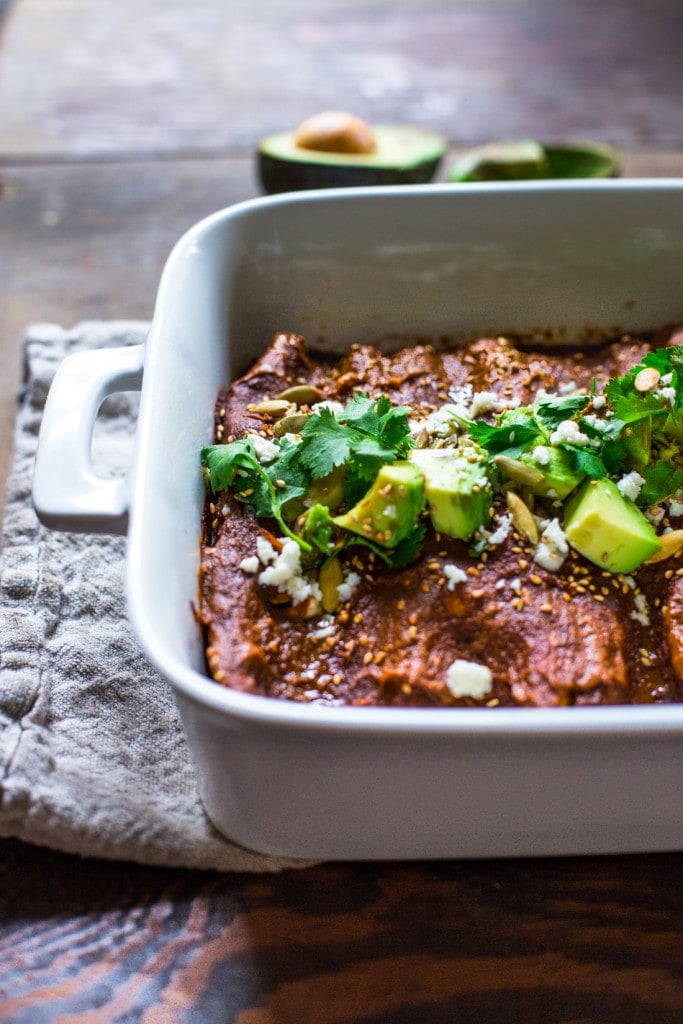 When they come out, sprinkle with some toasted sesame seeds, pumpkin seeds, more crumbled queso fresco cheese, diced avocado and fresh cilantro. Serve with a leafy green salad.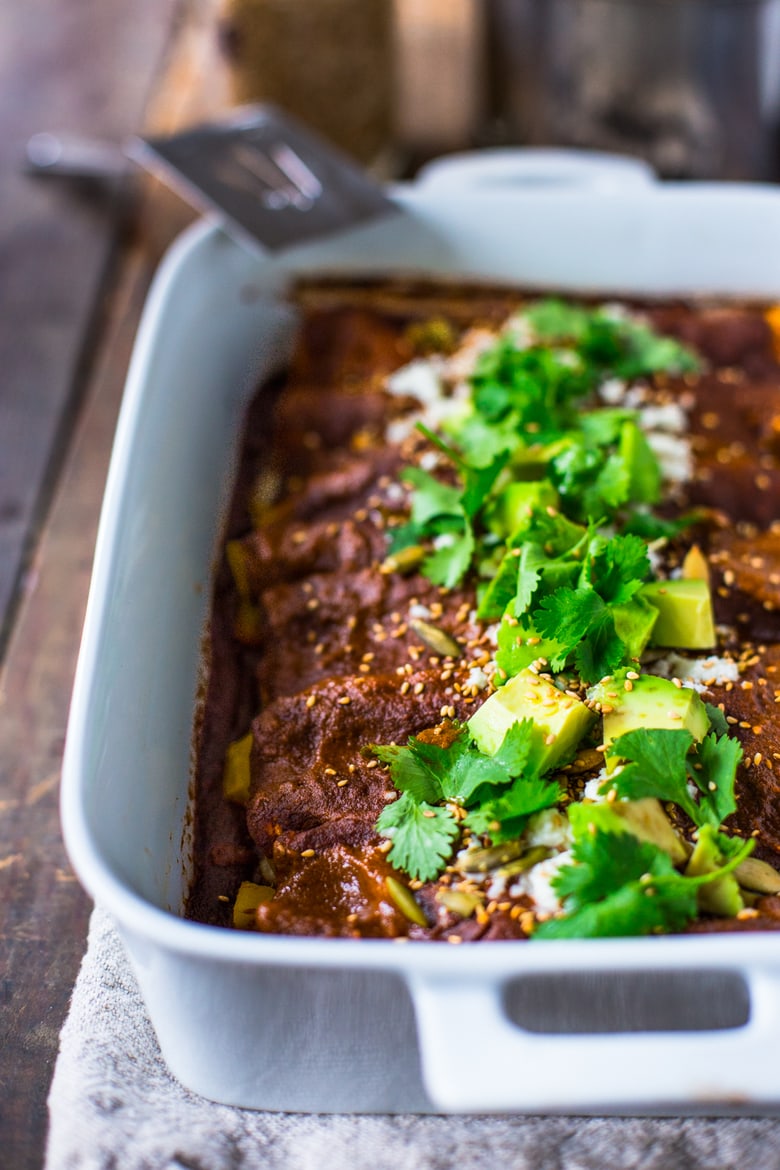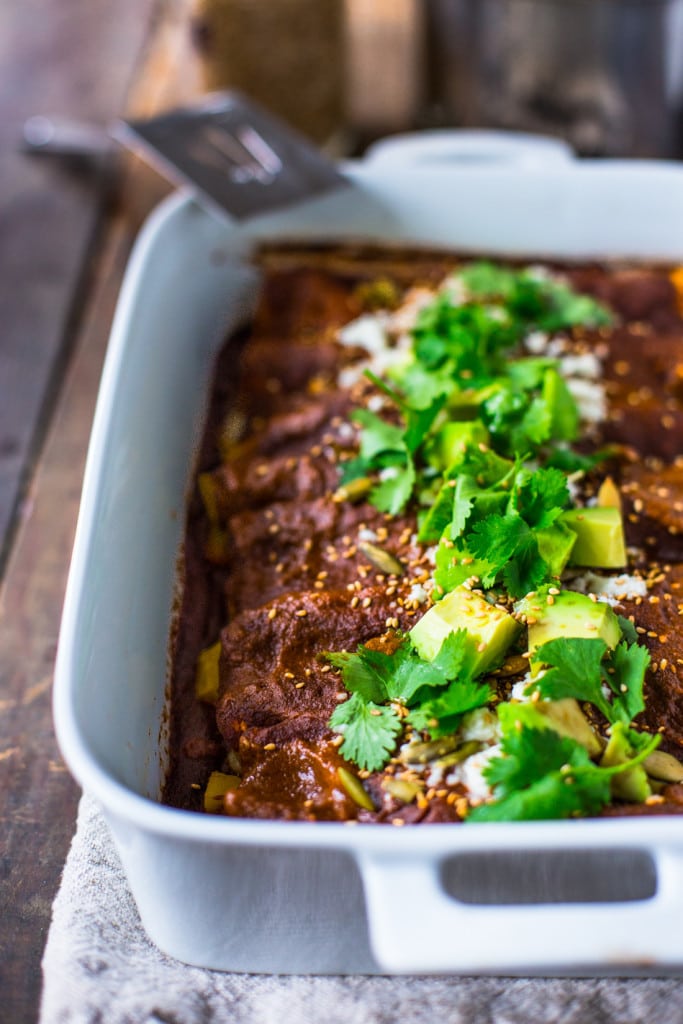 Take the leftovers to work for lunch.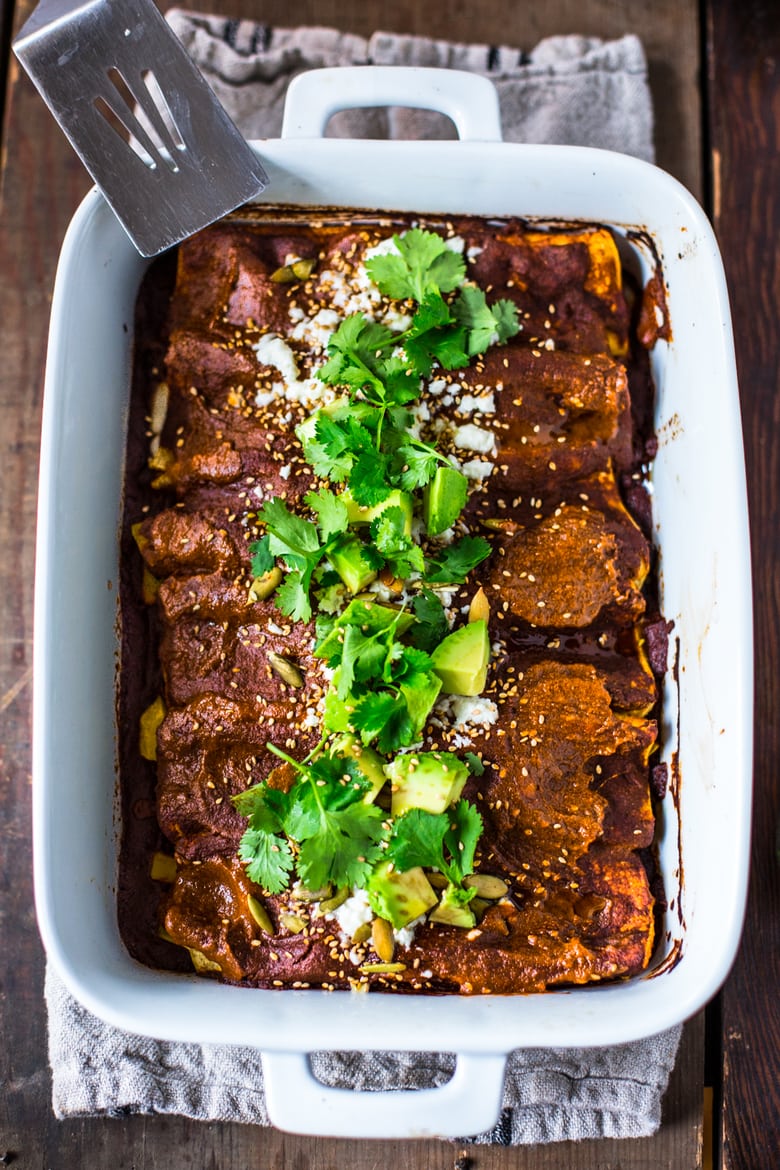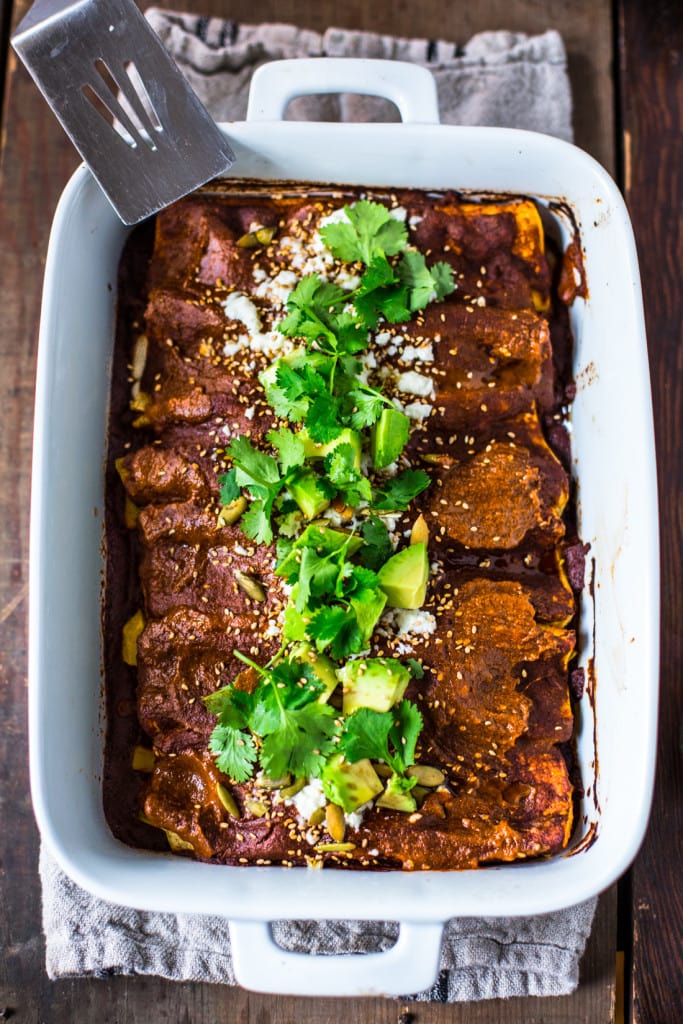 A very comforting vegetarian dinner recipe, perfect for fall!
I really like this with this light and healthy Mexican Slaw!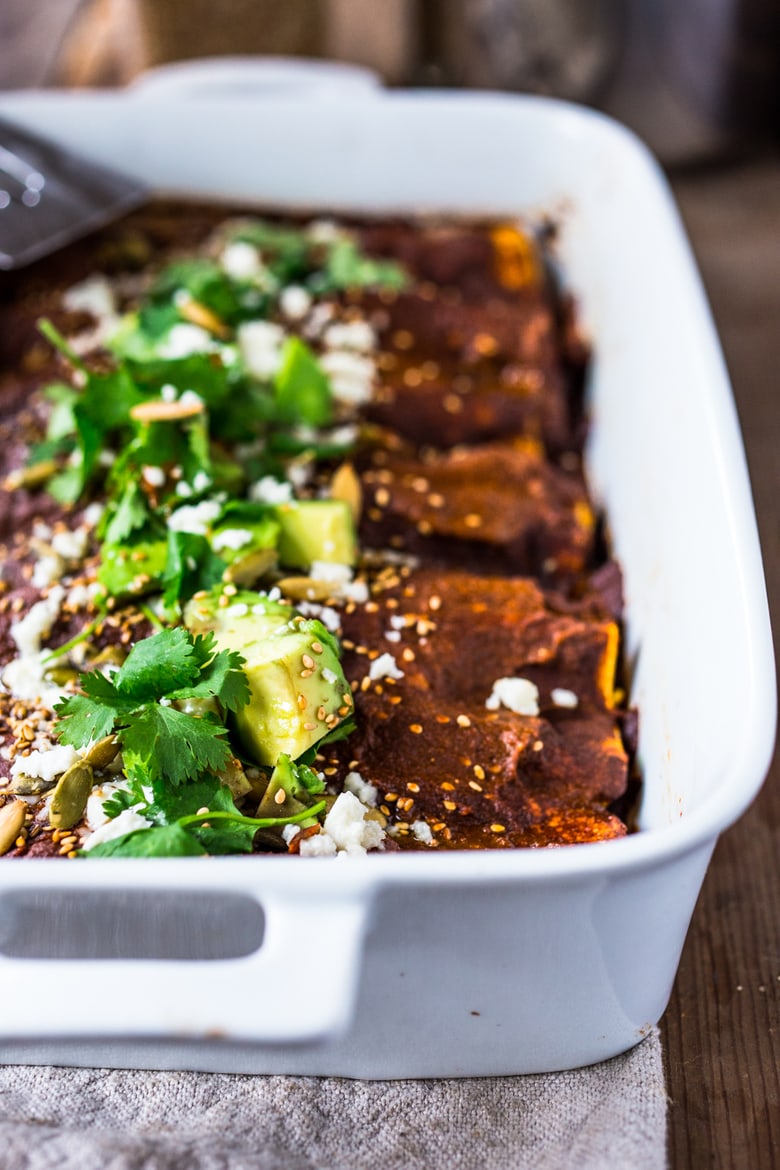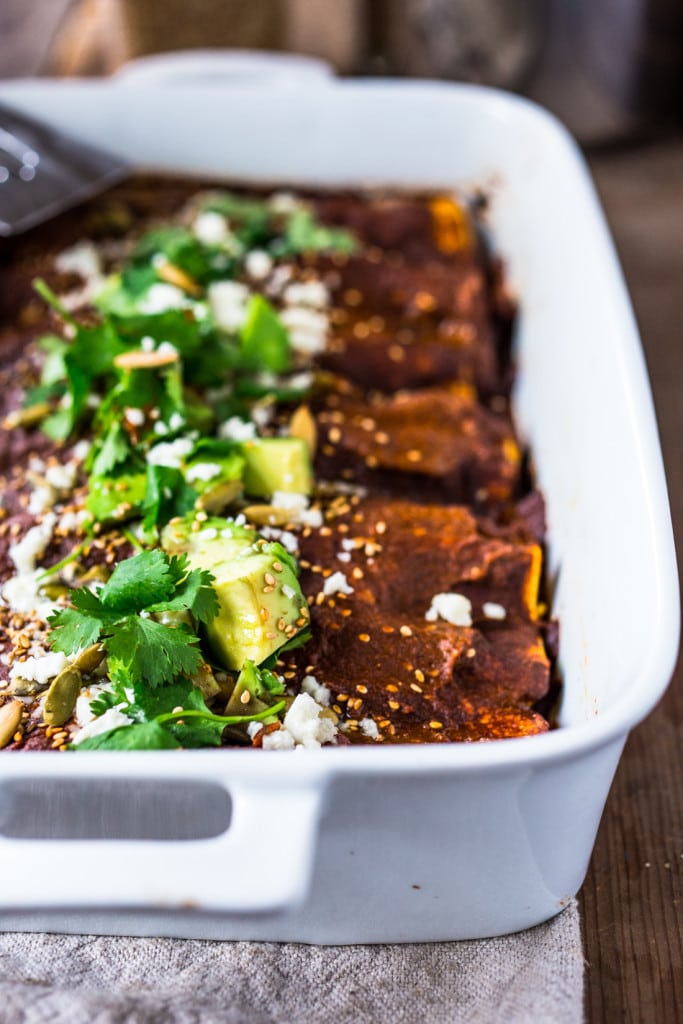 Hope you like these Roasted Butternut Enchiladas as much as we do! Have a beautiful week.
For more Mexican recipes take a look at these!
xoxo
Print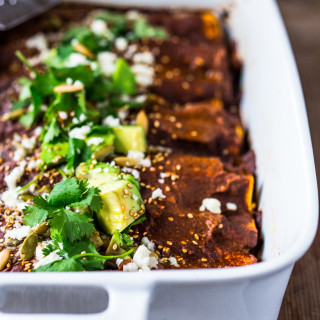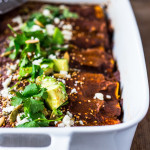 Butternut Enchiladas with Quick Mole Sauce
Prep Time:

20 mins

Cook Time:

45 mins

Total Time:

1 hour 5 mins

Yield:

6

Category:

vegetarian, main,

Method:

Baked, roasted

Cuisine:

Mexican

Diet:

Vegan
---
Description
Roasted Butternut Enchiladas with Quick Mole Sauce – topped with cilantro, avocado and toasted sesame and pumpkin seeds. An easy delicious vegetarian main. Seve with Mexican Slaw! Vegan Adaptable!
---
1

small butternut, pumpkin, acorn or winter squash, peeled and diced(

2

–

3

cups)
oil, salt and pepper

1

can black beans, rinsed, drained

6 ounces

crumbled queso fresco cheese- (or shredded jack, mozzarella or meltable vegan cheese)

6

–

8

x 7 inch corn tortillas
Garnish- cilantro, toasted sesame seeds, toasted pumpkin seeds, avocado, sour cream
Quick Mole Sauce:
---
Instructions
Preheat oven to 425F
Peel and dice winter squash into ¾ inch cubes. Place on a parchment lined sheet pan and drizzle with oil, generous salt and pepper, Stir and roast in the hot oven for 15 minutes, and feel free to broil for just a minute or two to get them crispy.
Make the QUICK Mole Sauce: Place all the ingredients ( EXCEPT CHOCOLATE and TAHINI PASTE) in a blender. Blend until smooth. Place this Mole sauce in a small pot, bring to a simmer over medium heat, cover (it will splatter) and cook 7-8 minutes over medium low heat. Stir in tahini sauce and chocolate until melted and combined. Taste, adjust salt and sweetness, adding a teaspoon of maple if necessary (some chocolate is sweeter than others). Turn heat off and set aside.
In a 9 x 13 greased baking dish, brush a third of the quick mole sauce, coating the bottom.
Warm the tortillas (place in the oven, fry in a skillet, microwave, grill over a stovetop gas flame) to make them soft and pliable, then stack them.
Gather your ingredients: crumbled queso (or jack cheese,  drained rinsed black beans, roasted butternut squash and begin assembling the enchiladas.
Fill each tortilla with 2-3 tablespoons crumbled queso, ¼ cup butternut squash and ⅛ cup black beans. Roll and place seam side down in the baking dish over the mole sauce.When you have filled the baking dish, brush a generous amount of mole sauce all over the top of the enchiladas, saving any extra for touching up later.
Cover with foil and bake at 375F for 20-25 minutes. Uncover, and bake for 5-10 more minutes, adding extra mole sauce, if necessary. Pull from oven, sprinkle with more crumbled queso (if you want) toasted sesame seeds, avocado, pumpkin seeds and fresh cilantro and serve with a dollop of sour cream.
---
Notes
Feel free to add other veggies to the mix- corn or bell pepper would be nice. For meat eaters- add cooked meat or chicken. Or keep these totally vegan with vegan cheese!
Keywords: vegetarian enchiladas, vegan enchiladas, mole enchiladas, easy mole sauce, butternut enchiladas, mole sauce, black bean enchiladas, healthy enchilada recipes, vegetarian enchilada recipes