These creamy Poblano Enchiladas can be made with chicken or roasted cauliflower (or both). Flavorful and tangy with a subtle, lovely heat, they are filled with corn, cilantro, lime zest, coriander and cumin and bathed in the most flavorful poblano sauce.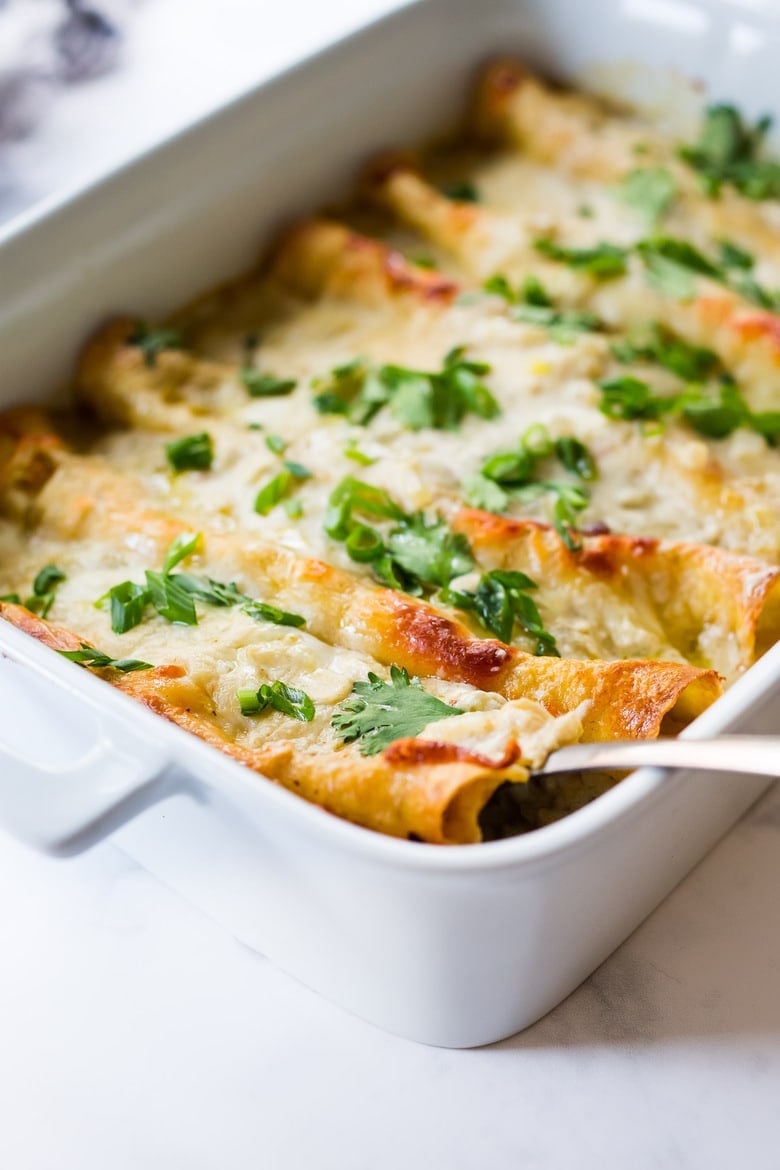 If you are in the mood for something cozy, comforting and delicious…. this recipe for Creamy Poblano Enchiladas is to die for!  What makes the recipe is the incredible sauce which can be made with either roasted poblanos- or if in a hurry, a small can of
green chilies
. The enchilada fillings can be made in two ways:  with
 chicken as the filling
, or with
roasted cauliflower as the filling.
Or use both! Lime zest, melty cheese, corn, fresh cilantro, cumin and coriander give the filling a nice burst of flavor, and these could easily be made gluten-free (see recipe below).
Poblano Enchiladas with CAULIFLOWER! | Video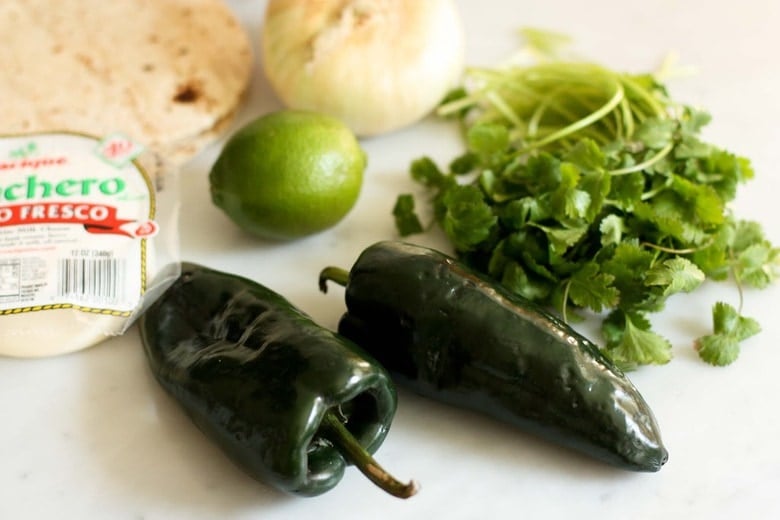 The secret to this sauce is from fire-roasting poblano peppers, which is easier than it seems.
But if in a hurry, use store-bought green chilies, in a can! Just as good! 
How to roast Poblano Peppers!
Roasting poblanos (or any pepper) can be done a couple of different ways.
On the Stovetop: If you have a gas stovetop, place directly over a medium-low flame, turning often, for about 5 minutes until blistered and blackened. The easiest, fastest way.
Broiled In the oven: turning until they blister, about 10- 15 minutes.  If you don't have a broil setting, you can still roast in a very hot oven, but it will take a little longer for the skins to blister.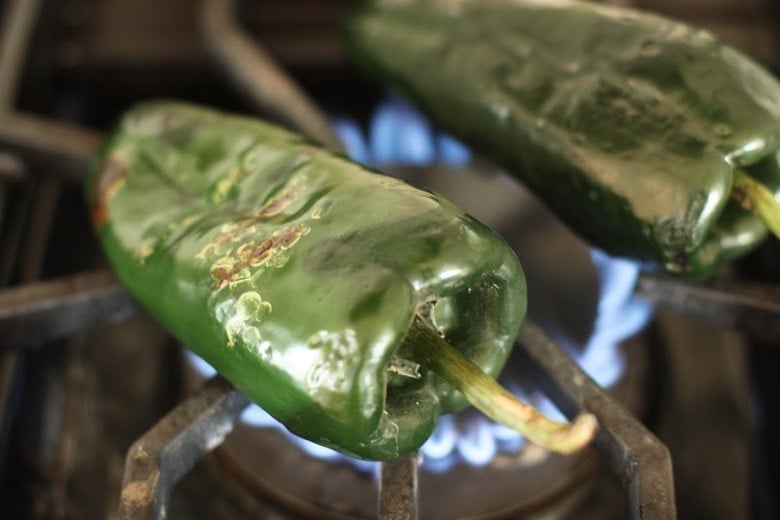 Once the poblanos are charred, place them in a bowl with a towel to cover them so they continue to steam and soften. Let them get cool enough to handle, about 15 minutes. Rinse under water to remove all the charred skin, core and seeds. Finely dice them.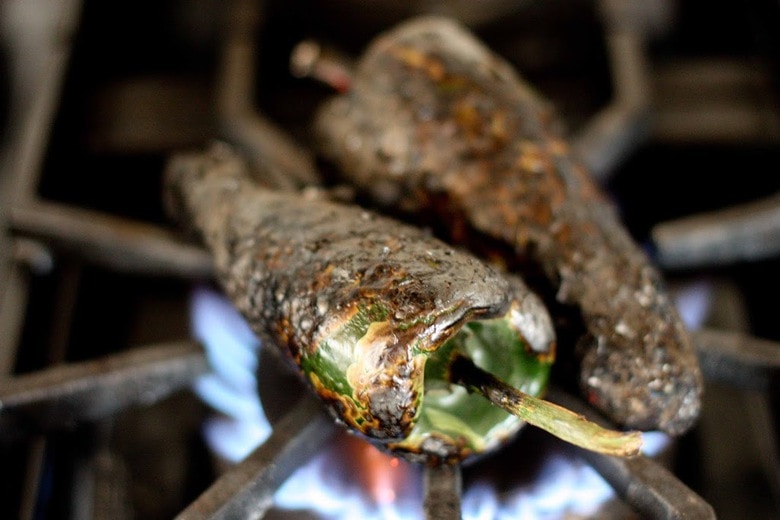 To save a step, you can use canned green chiles instead. They will still taste good, but these fresh poblanos incorporated into the sauce actually make me swoon, they are that good!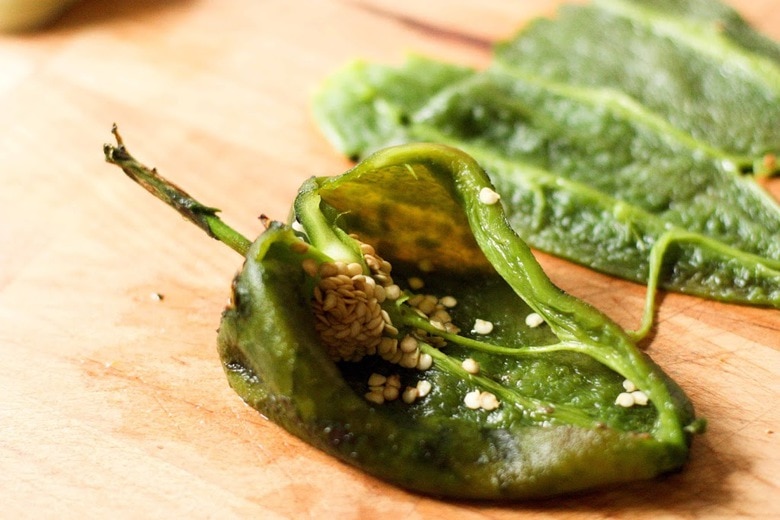 How to make Roasted Poblano EnchiladaS
Step one: Make the creamy poblano sauce using roasted poblanos or canned chilies.
Step two:
Then make the filling. Today I made half the enchiladas vegetarian using roasted cauliflower. The other half was made with
shredded chicken
. Here is the roasted cauliflower filling….seasoned with
salt
, pepper,
cumin
and
coriander
.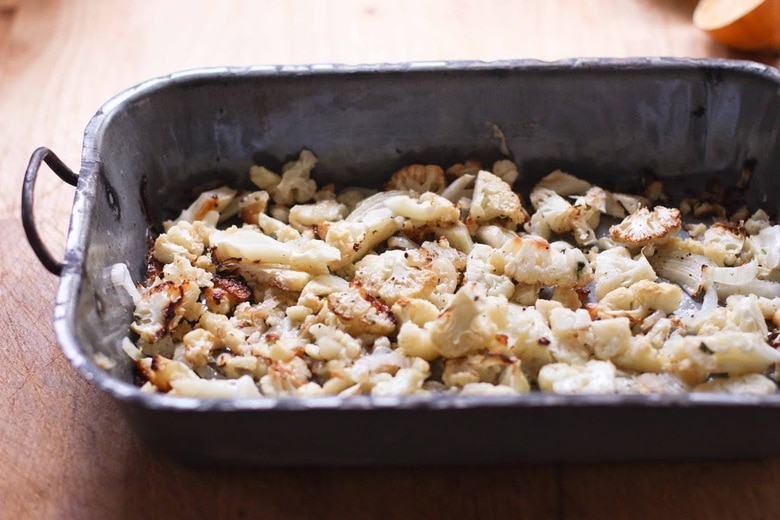 Feel free to play around with the filling if you like by adding corn, sautéed mushrooms, black beans, onions, or spinach.  Basically, you'll need about 4 cups of filling, to make 8 enchiladas. 
Step three: Warm the tortillas to make them pliable.
Step four: Then create an assembly line.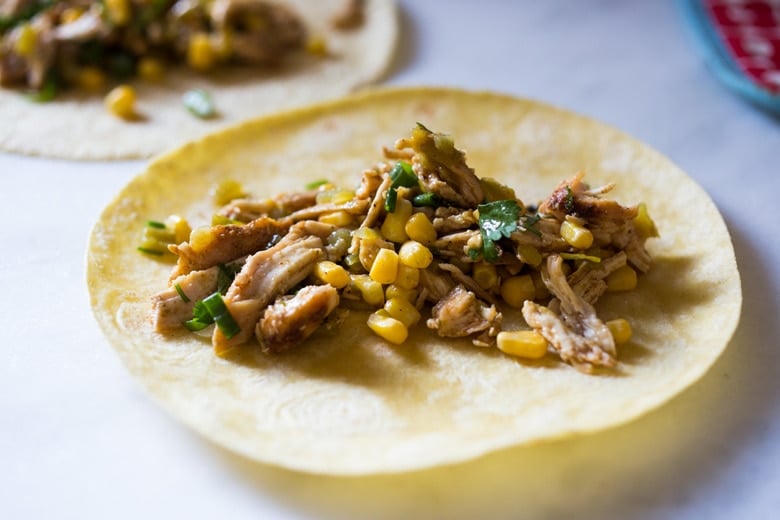 Fill tortillas with a little sauce, filling and cheese.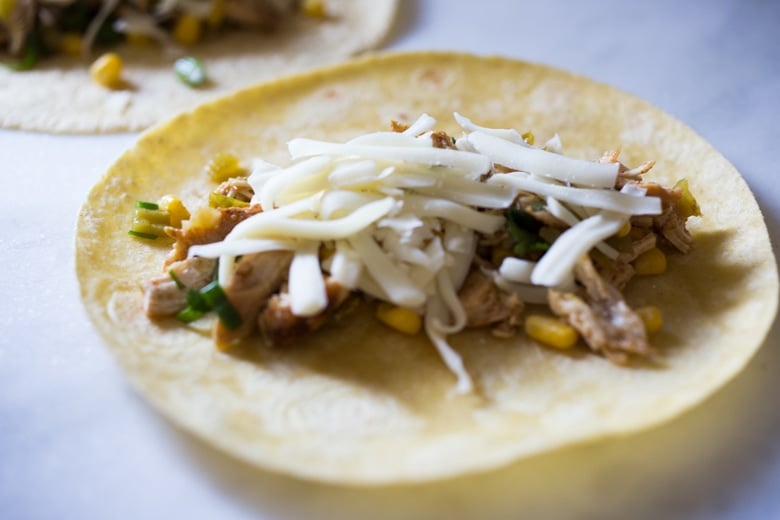 For this recipe, I used 8-inch tortillas that were flour.
Roll them up and place seam side down in a greased  9×13 baking dish.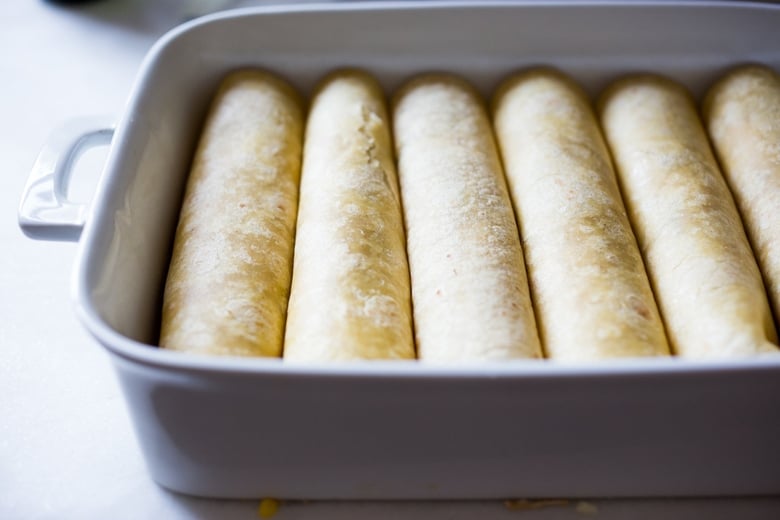 Cover with the remaining poblano sauce and the remaining cheese.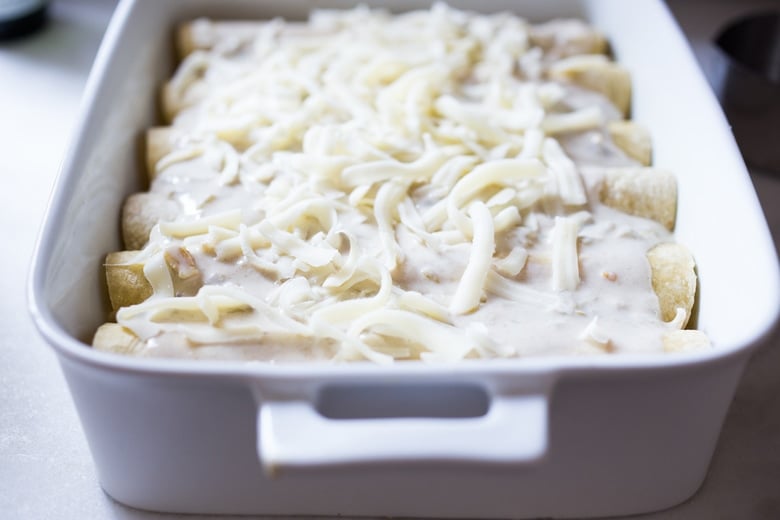 TIP: If you have a mixed household where some are vegetarian and some are meat-eaters, you can serve up the enchiladas in individual baking dishes like this. Make some with cauliflower and some with chicken.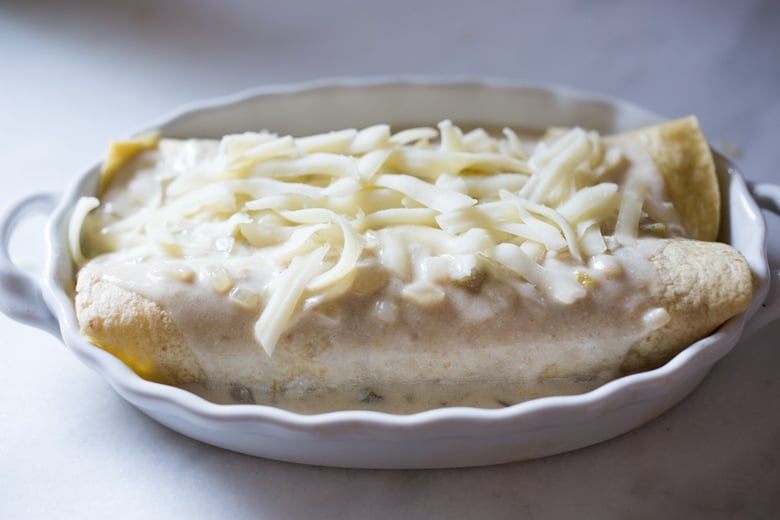 Step five: Bake in a 350F oven for  20 minutes uncovered until the edges are crispy and cheese is golden and melty.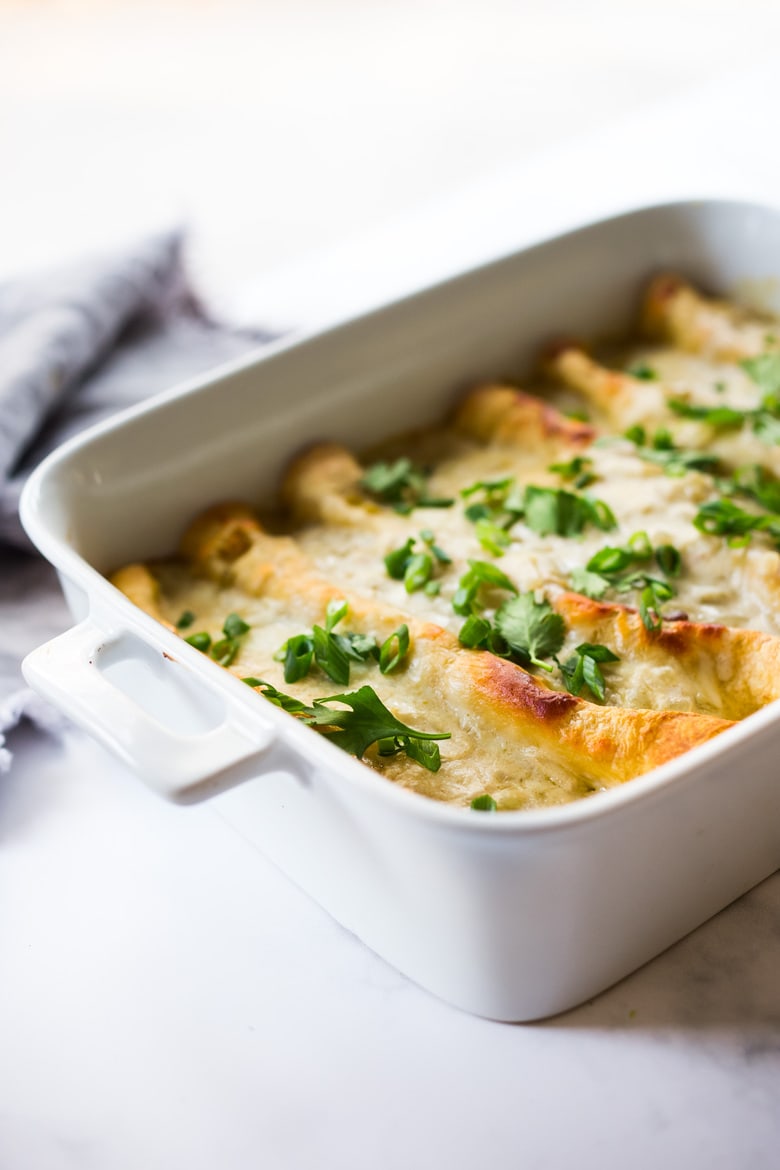 Sprinkle with cilantro and scallions.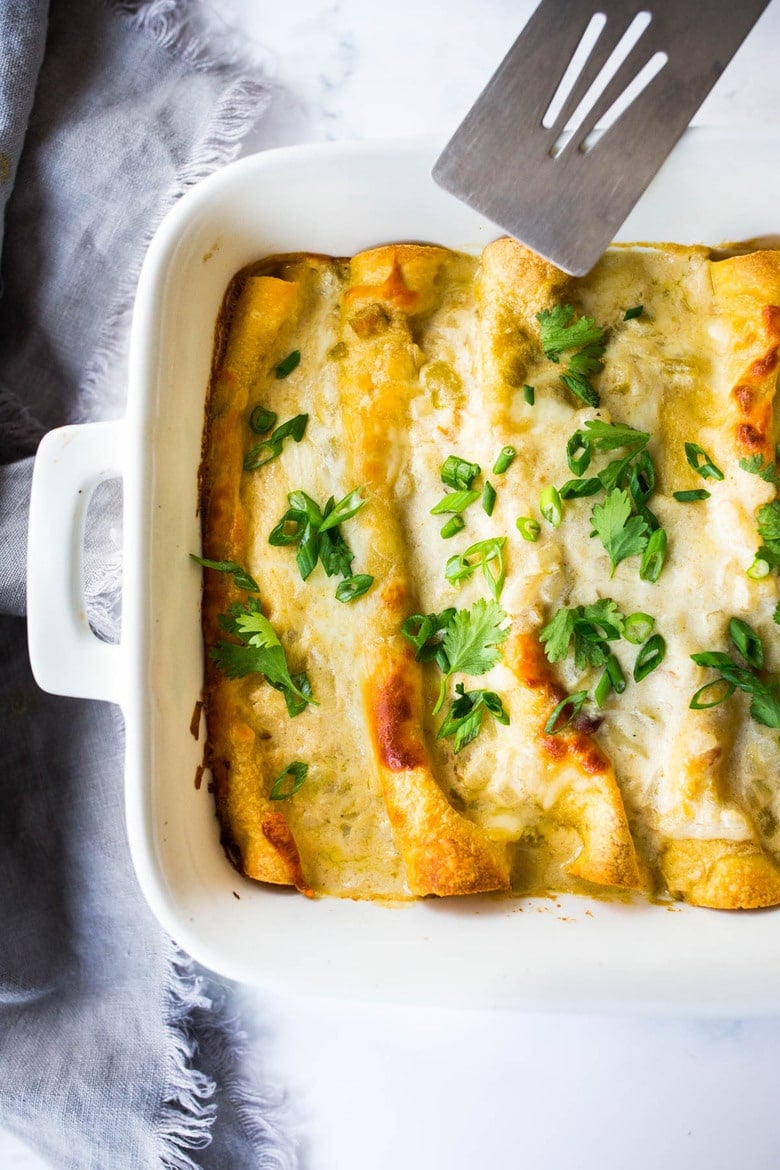 What to serve with Poblano Enchiladas:
I hope you like these Poblano Enchiladas….it's an older recipe on the blog, but I've fiddled with it over the years and did some updating. I think it's pretty tasty!
Let me know what you think in the comments below!
xoxo
Print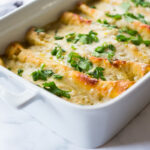 Creamy Poblano Enchiladas
Prep Time:

35 mins

Cook Time:

30 mins

Total Time:

1 hour 30 mins

Yield:

8

enchiladas

1

x

Category:

Main, vegetarian

Method:

Baked

Cuisine:

Mexican,

Diet:

Vegetarian
---
Description
---
Filling ingredients:
3

cups

cooked shredded chicken – see notes (or sub 3 cups roasted cauliflower – see notes)

1

cup

corn – fresh or frozen, or sub spinach, sauteed bell pepper, sautéed mushroom or onion

1 tsp

coriander

1 tsp

cumin

2 tablespoons

fresh cilantro, chopped

2

scallions, sliced
salt and pepper to taste

1 tablespoon

lime zest
Poblano Sauce Ingredients:
1

large fresh poblano chili roasted, peeled and finely chopped (use half) or sub-4-ounce can green chilies (use half)

2 tablespoons

olive oil or butter

1

shallot, chopped (or

half an

onion, finely diced)

2 tablespoons

flour

1 1/4

cups

chicken broth or stock (or veggie broth)

3/4

cup

Sour Cream

1 teaspoon

ground coriander

1/2 teaspoon

salt and pepper
Enchilada Ingredients:
---
Instructions
Make the Filling: Prepare chicken (or cauliflower/spinach) see notes, and place in a bowl. Add corn. Mix with cumin, coriander, salt, pepper, scallions, fresh cilantro and lime zest. Set aside.
Roast the poblano (or use canned green chilies) directly over a gas flame on the stove or grill (or place on a baking sheet 4 inches below a very hot broiler) turning regularly, until the skins have blackened and blistered. Place in a bowl, cover with a kitchen towel and let cool. Under running water rub off the blackened skin, carefully tear open and pull out the seed pod and stem and rinse all the seeds away. Dice finely.  (If pressed for time, you can skip this step entirely by substituting 1 small can of green chiles-don't use jalapeños)
Make the Poblano Sauce: In a medium pot, over medium heat oil or butter, and saute shallot until golden and fragrant, about 3-4 minutes. Add the flour, and toast, stirring 2 minutes on med-low heat. Whisk in the broth a little at a time, bring to a simmer, and once thickened turn off the heat.  Let cool 5 minutes. Stir in the sour cream, and whisk until smooth. If using canned chilies, add ½ of the can now, along with coriander, salt and pepper. Save the remaining chilies and add to the filling. Alternatively, if using the poblano, add a cautious 1/3 of the diced poblanos to start, tasting for heat. (Most are mild, but some, very occasionally are hot!) Then, according to your heat tolerance, add the remaining poblanos to taste. Season sauce with salt and pepper to taste. Add some to the filling if you want.
Preheat oven to 350F. Warm the tortillas to make them pliable (over a gas flame on the stovetop, in the microwave covered for a few seconds, or warmed in the oven) and wrap in a kitchen towel.  
Assemble:  Grease a 9 x 13-inch pan. Create an assembly line with warm tortillas, filling, cheese and sauce. Add 3 tablespoons of cheese to the center of each tortilla, 2 tablespoons of sauce, and 1/2 cup of filling and roll them up. Place them seam-side down in the pan. Pour the remaining sauce over top and sprinkle with the remaining cheese.
Place in 350 F oven for 20-25 minutes, uncovered until golden and edges are crispy.
Garnish with fresh cilantro and scallions.
---
Notes
Use leftover rotisserie chicken, or make this simple baked chicken and shred, or this Chicken Carnitas recipe.
If subbing cauliflower/spinach: Preheat oven to 425 F. Chop one head of cauliflower into very small bite-size pieces, toss with olive oil to coat, and season with 1/2 teaspoon salt, 1/2 teaspoon pepper, 1 teaspoon cumin, 1 teaspoon coriander and toss to coat well. Roast on a parchment-lined sheet pan until tender, and edges are slightly crispy. Wilt Spinach: Heat a little olive oil in a skillet, saute 1/2 cup diced onion until tender, add 2-3 handfuls of baby spinach and stir or toss until spinach is just barely wilted. Season with salt and pepper. Combine the cauliflower and spinach in a bowl, mix in cilantro, scallions and lime zest. Add corn if you like, and taste for salt and pepper, adjusting. Use this to stuff the enchiladas.
If making ahead, either bake and reheat, or assemble ahead, leaving the sauce off the top until baking time.
Cotija cheese, a Mexican style cheese is much saltier than queso fresco, so make sure to use queso fresco, not cotija….the packages look similar, but there is a big difference.
Nutrition
Serving Size:

one enchilada - chicken and cheese

Calories:

309

Sugar:

2.7 g

Sodium:

1591 mg

Fat:

9.4 g

Saturated Fat:

4.1 g

Carbohydrates:

33.8 g

Fiber:

1.8 g

Protein:

22.9 g

Cholesterol:

35.6 mg
Keywords: best chicken enchiladas, cauliflower enchiladas, Creamy chicken enchiladas, white chicken enchiladas, chicken enchiladas with green chilies, cauliflower enchiladas