A wickedly delicious recipe for Chicken Mole-  slathered with Mole Negro Sauce – deep, luscious, nutty, spicy with a hint of sweetness from the addition of dark chocolate and whispers of cinnamon, nutmeg and clove.  Vegan Adaptable!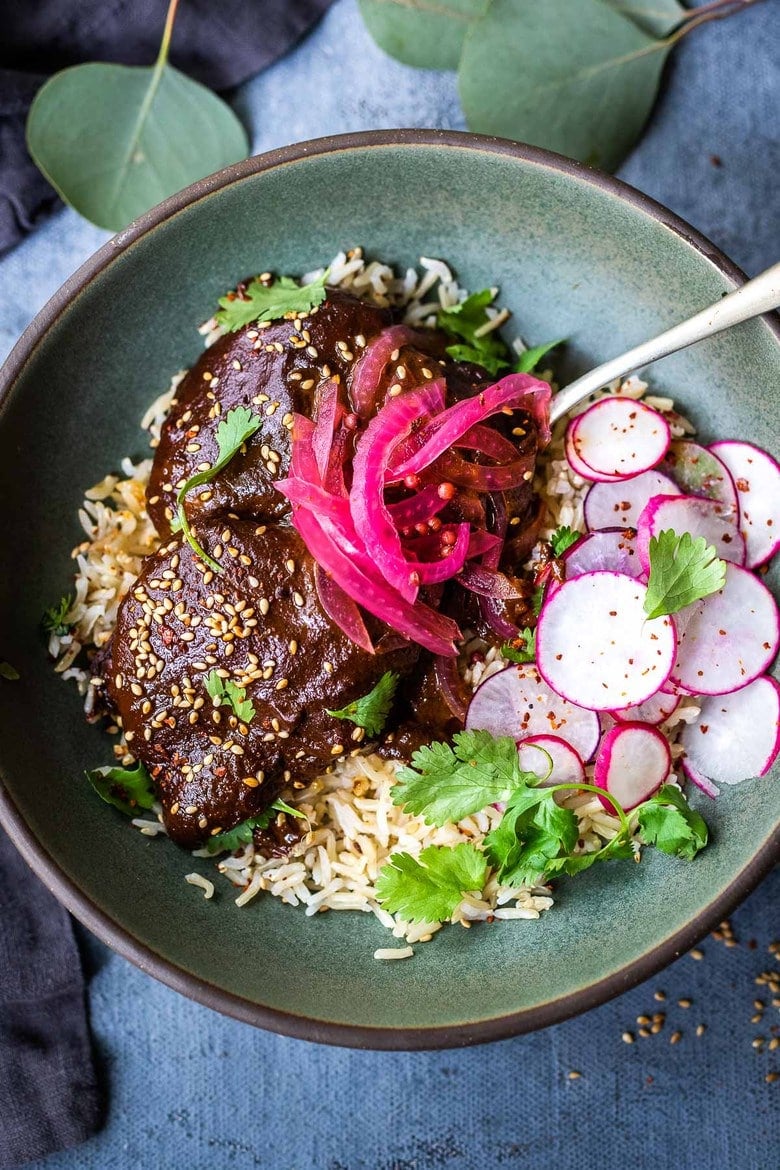 Eventually all things fall into place. Until then, laugh at the confusion, live for the moments, and know everything happens for a reason.― Albert Schweitzer
Rich, earthy, and dark, this recipe for Chicken Mole with Mole Negro Sauce  or "black-mole" is a luxurious dish, but one that is surprisingly easy to make, perfect for gatherings and special dinners. The Mole Negro Sauce can be made ahead making this even simpler to put together!
Serve the Chicken Mole with Cilantro Lime Rice, pickled onions, crunchy radish and cilantro (or make the Mexican Slaw), and make sure to scroll down to see how to make a vegan version of this dish!
I've always thought of this dish, perfectly timed with the end of October.  Perhaps it's the dark black sauce and Halloween- but whatever the connection, I hope you'll find how fragrant spices and flavors here, warm the soul.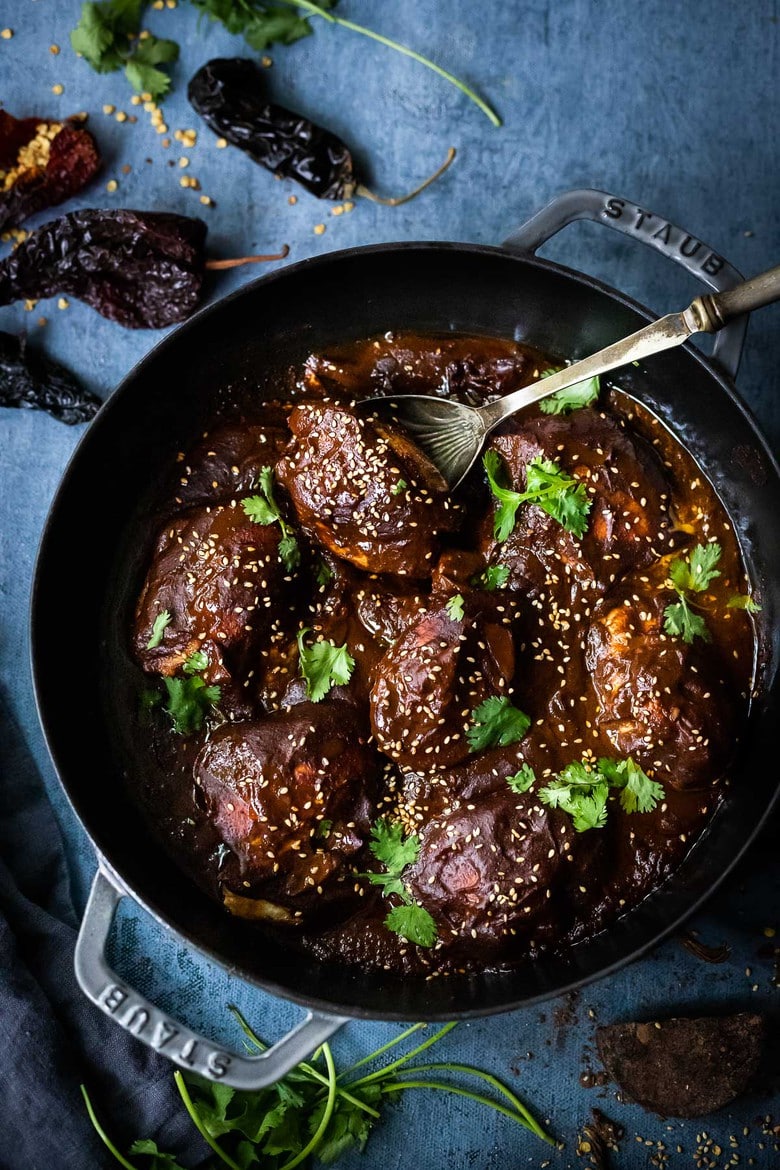 What is Mole?
If unfamiliar, Mole (pronounced moh ley) is a rich Mexican sauce made from dried or fresh chilies, nuts or seeds, and tomatoes and can range in color from green to yellow to red and all the way to black (like this Mole Negro). It turns out there are hundreds of variations of mole!
But Mole Negro, or "black mole" is one of my all-time favorites and gets its deep dark color from smoked black chilies, prunes (or raisins), chocolate and warm spices.  It's velvety and rich, without being cloying, and has a beautiful balance of flavors when you get it just right.
Though it is believed to originate from Oaxaca, while there, we learned it is actually a pre-Hispanic sauce, one that has been carried down from the indigenous people who lived before.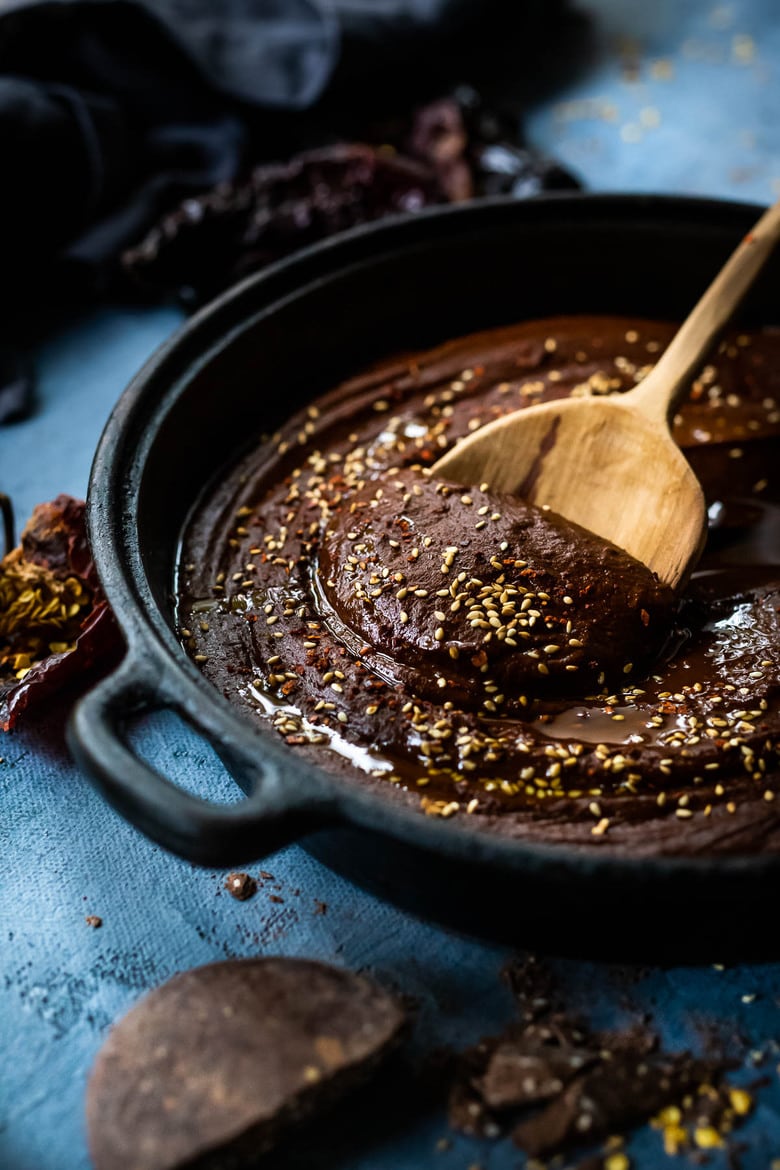 How to make Chicken Mole
Step one
Start by making the Mole Negro Sauce.  This will take roughly 30-40 minutes and yes, you can make this ahead!
Start your rice if using and make the quick pickled red onions (these will elevate!)
Step two
Preheat the oven to 375F and prep the chicken. Season boneless, skinless chicken thighs with salt, and spices. I prefer using thighs here because they get so tender in the sauce.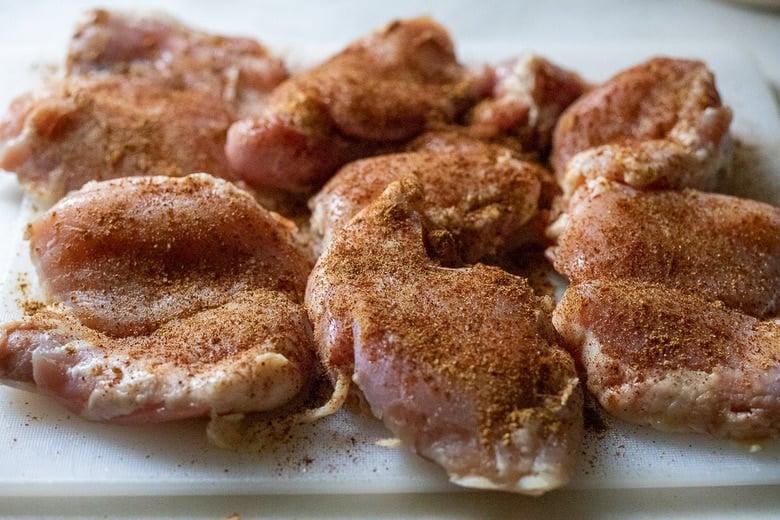 Step three
In an ovenproof skillet, brown both sides of the chicken.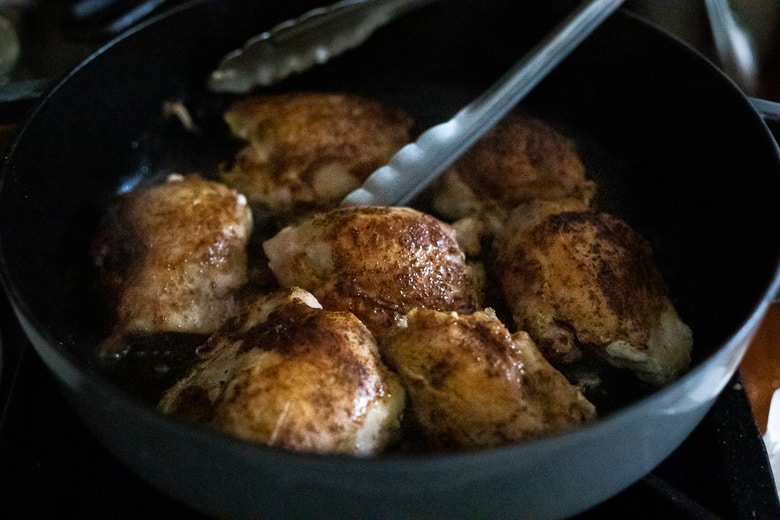 Step four
Add the warm  Mole Negro Sauce coating each piece well, pouring remaining into the pan, nestling the chicken over it,  and finish cooking the chicken in the oven. I like using all the sauce here- which does makes it pretty saucy- but we find, it always gets scooped up.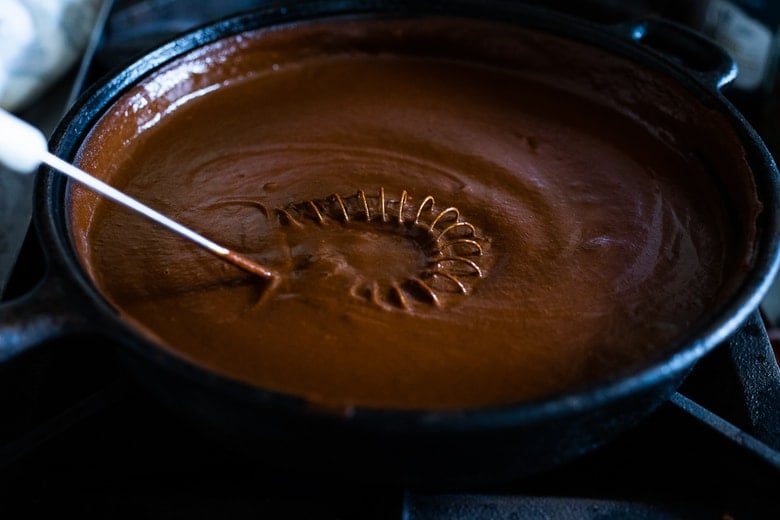 Feel free to use half or 2/3rds if you like. The leftover mole negro sauce can always be frozen.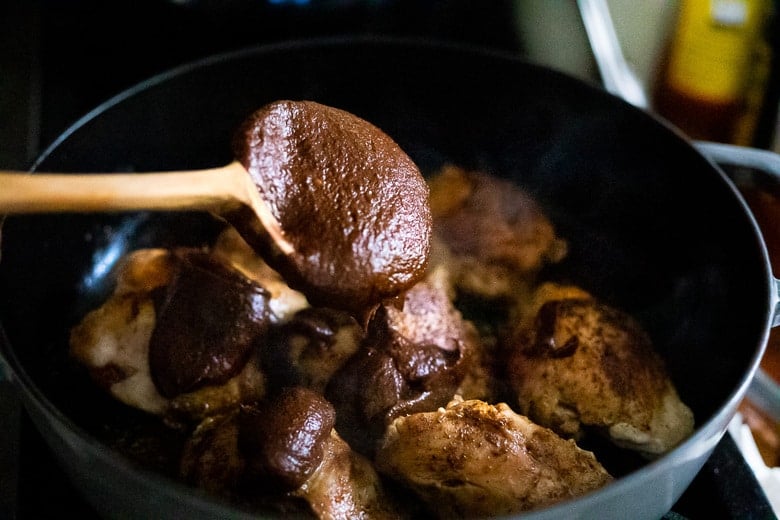 Step five
When the chicken is done baking in the sauce (15-20 minutes), it will be meltingly tender. Garnish with toasted sesame seeds and cilantro.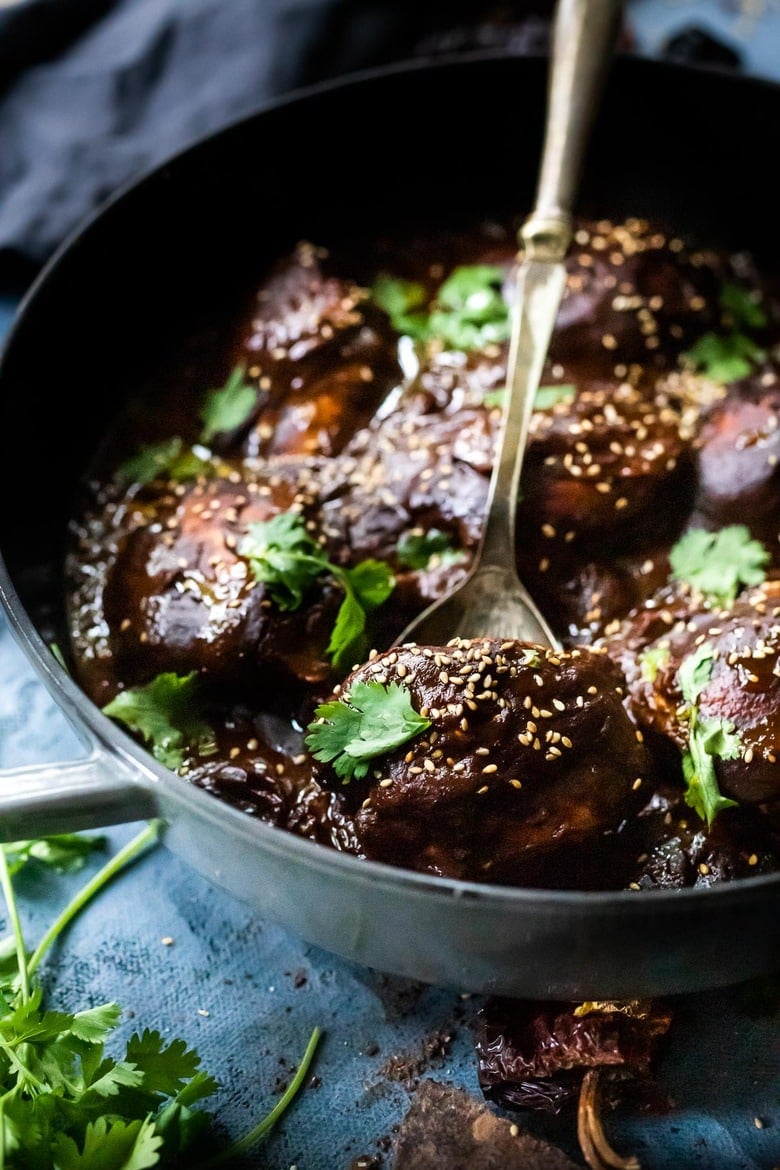 What to serve with Chicken Mole
Serve with Mexican Rice and Pickled onions. Radishes add a nice crunch- or make the Mexican Slaw.
The Chicken Mole Negro is quite rich so adding the pickled onions and something crunchy like radishes or Mexican Slaw is really a nice contrast here.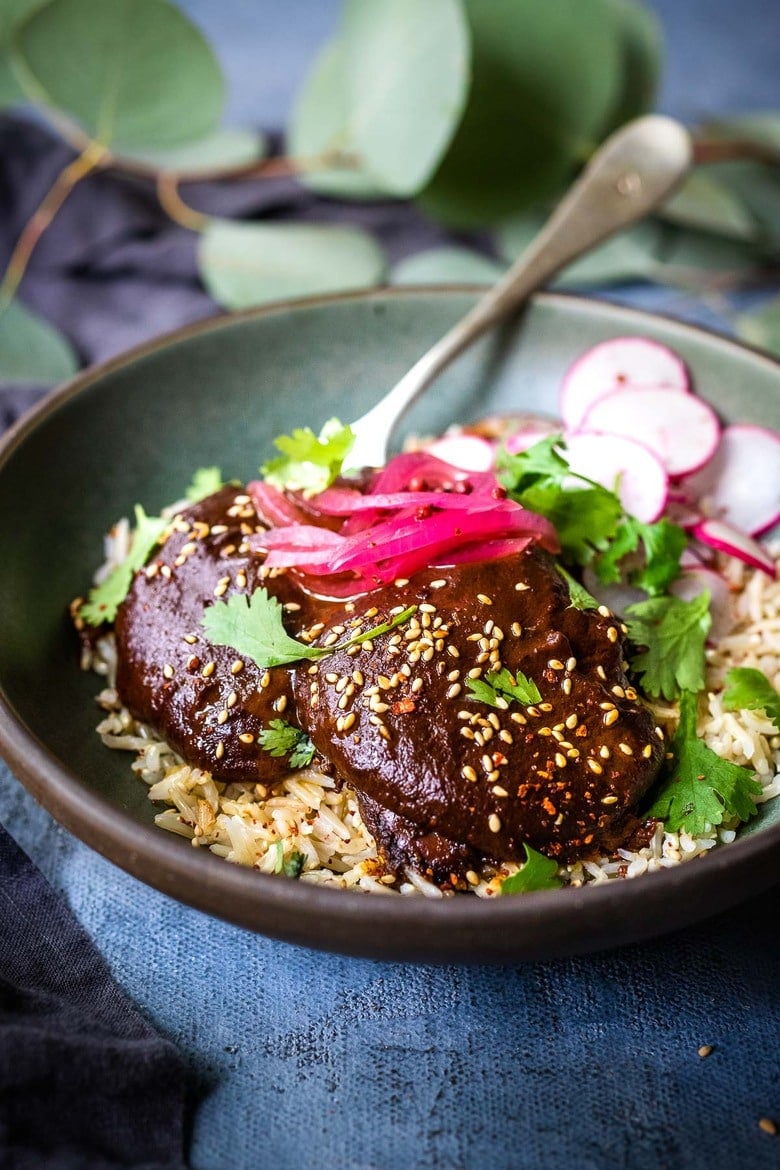 Expert Tip
Mole Negro is a beautiful balance between depth, heat, bitter and sweet.  Find the perfect balance by adjusting these elements- see recipe notes.
Can this be made Vegan?
The Mole Negro sauce can be used on pan-seared tofu filets, enchiladas or tamales. I love seasoning slabs of tofu with the same seasonings as the chicken, and pan-searing until crispy, and topping with the mole sauce.
Ways to Adapt Chicken Mole
Experiment with different dried chilies– paying attention to the heat levels. Using a variety of chilies adds complexity.
Use different seeds or nuts: pumpkin seeds, macadamia nuts, almonds, pinenuts, etc.
Try different dried fruits– currants, dates, etc.
Consider a different protein: Leftover turkey, pork, Tofu, Slow-roasted lamb
More recipes you may enjoy: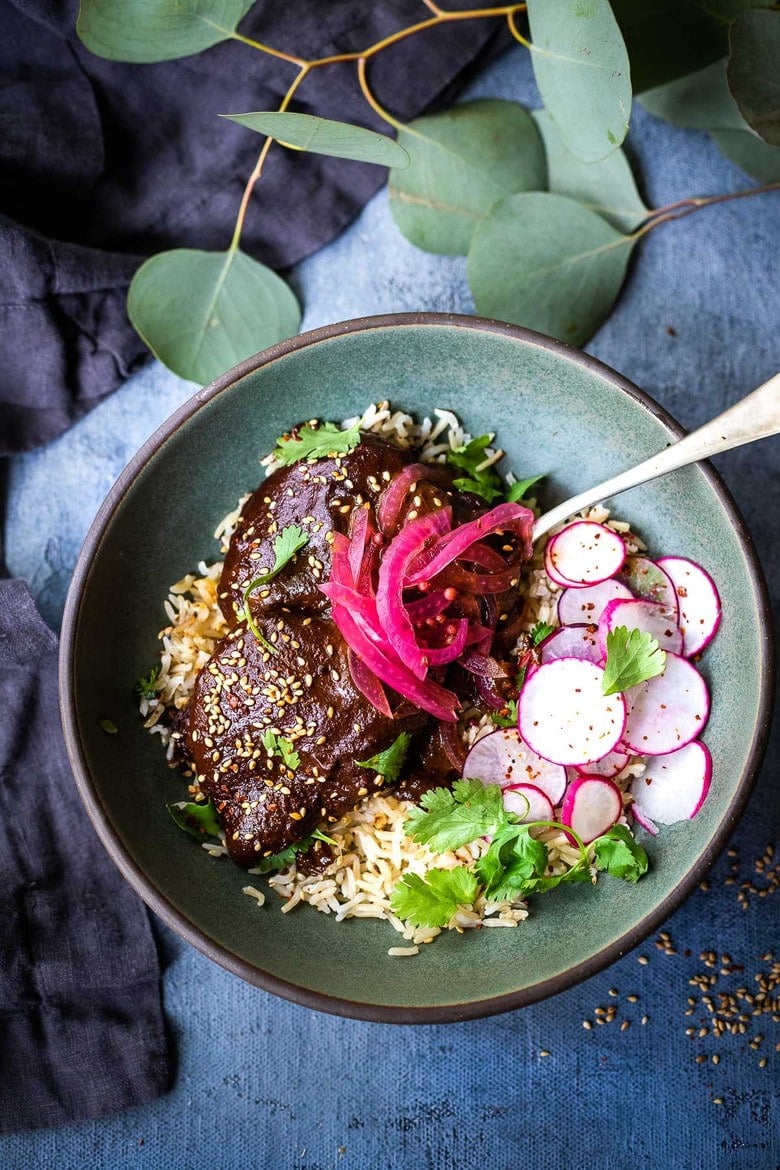 Hope you enjoy this wickedly delicious recipe! Have a fun Halloween weekend.
xoxo
Print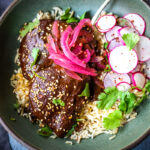 Chicken Mole Recipe
Prep Time:

30

Cook Time:

60

Total Time:

1 hour 30 minutes

Yield:

4

-6

1

x

Category:

main, chicken,

Method:

stovetop

Cuisine:

Mexican

Diet:

Gluten Free
---
Description
A flavorful recipe for Chicken Mole is made with Black Mole Sauce (Mole Negro)- smoky, spicy and nutty with dried chilies, and a hint of chocolate. A flavorful Oaxacan-inspired meal.
---
---
Instructions
Make the pickled onions and refrigerate.
Make the Mole Negro Sauce(feel free to make this ahead)
Prep and cook the chicken: 
Preheat oven to 375F
Mix the salt and spices together in a small bowl. (Aim for 1 teaspoon salt per pound of chicken). Sprinkle the chicken on all sides with the salt-spice rub.
Heat the oil in a large oven-proof skillet or dutch oven over medium-high heat. Sear the chicken until golden on both sides. Add the stock, then add the Mole Negro sauce, (saving a little of it up for touching up at the end). Give the pan a good shake and make sure the chicken is coated well and nestled in. It may seem like a lot of sauce, but the extra sauce will get mopped up, I promise!
Cover and place in the oven until the thighs are cooked all the way through,(165F) about 20 minutes.  Test a piece for tenderness, it should pull apart easily with two forks. You can either leave the thighs whole or lightly shred (best for tacos). If leaving whole, feel free to lather up with remaining Mole sauce.
Sprinkle with toasted sesame seed and cilantro.
Serve with Mexican rice, pickled onions, radishes or Mexican Slaw, Mexican rice, cilantro (or shred and serve as tacos with Mexican slaw and pickled onions)
---
Notes
If you want to use less Mole Negro sauce, the leftover sauce will keep 4 days in the fridge or can be frozen. You can use the sauce in chili!
Nutrition
Serving Size:

6 ounces chicken with mole sauce (does not include rice or sides)

Calories:

469

Sugar:

3 g

Sodium:

1572.3 mg

Fat:

20.8 g

Saturated Fat:

4.5 g

Carbohydrates:

33 g

Fiber:

5.9 g

Protein:

38.9 g

Cholesterol:

160.1 mg
Keywords: Chicken mole, mole chicken, Mole negro, chicken Mole recipe, chicken mole negro recipe, mole negro recipe