Butternut Squash Tamales with flavorful Pumpkin Seed-Cilantro Sauce over a bed of seasoned black beans, topped with cilantro, pickled onions and crunchy watermelon radishes! A flavorful vegetarian dinner that can be made ahead.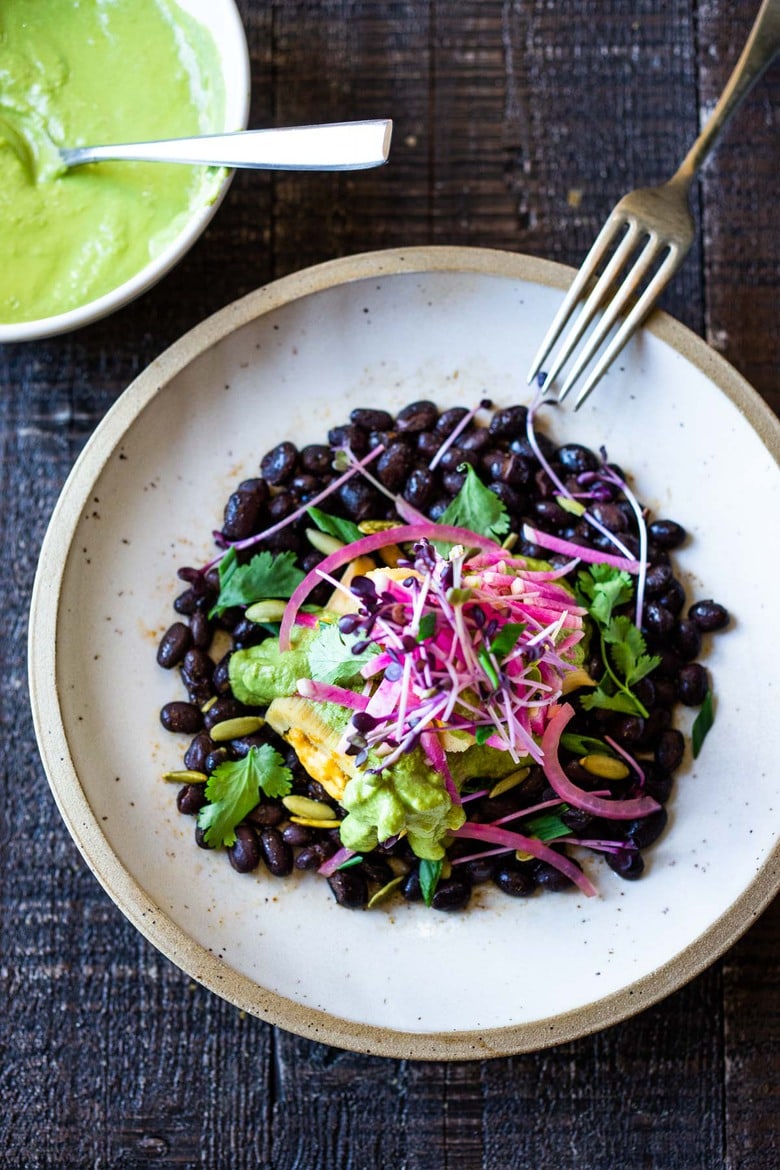 Forgive me if I keep repeating myself, but just in case you missed it, my husband and I are spending the winter down in Santa Barbara, California this year- away from the Pacific Northwest and all the cold and snow. It has been glorious! (Ok I'll stop bragging!) 😉 
Seriously though, the reason I keep telling you this is because what I love most about this area is all the amazing Mexican food! Close to our place, there is a wonderful Mexican Market, and a few weeks ago, I met a lovely lady selling her tamales out in the parking lot. Well, I have to say, they were impossible to pass up… and were exquisite. So good, in fact, they didn't make it out of the parking lot, we devoured them in the car!
Ever since then, it got me on a Tamale fix, and for the last three weeks or so, we've been whipping them up at home. This version is intentionally lower in fat, filled with farmer's market butternut squash & poblano peppers, onion, garlic and a little queso fresco (which you could substitute with vegan cheese).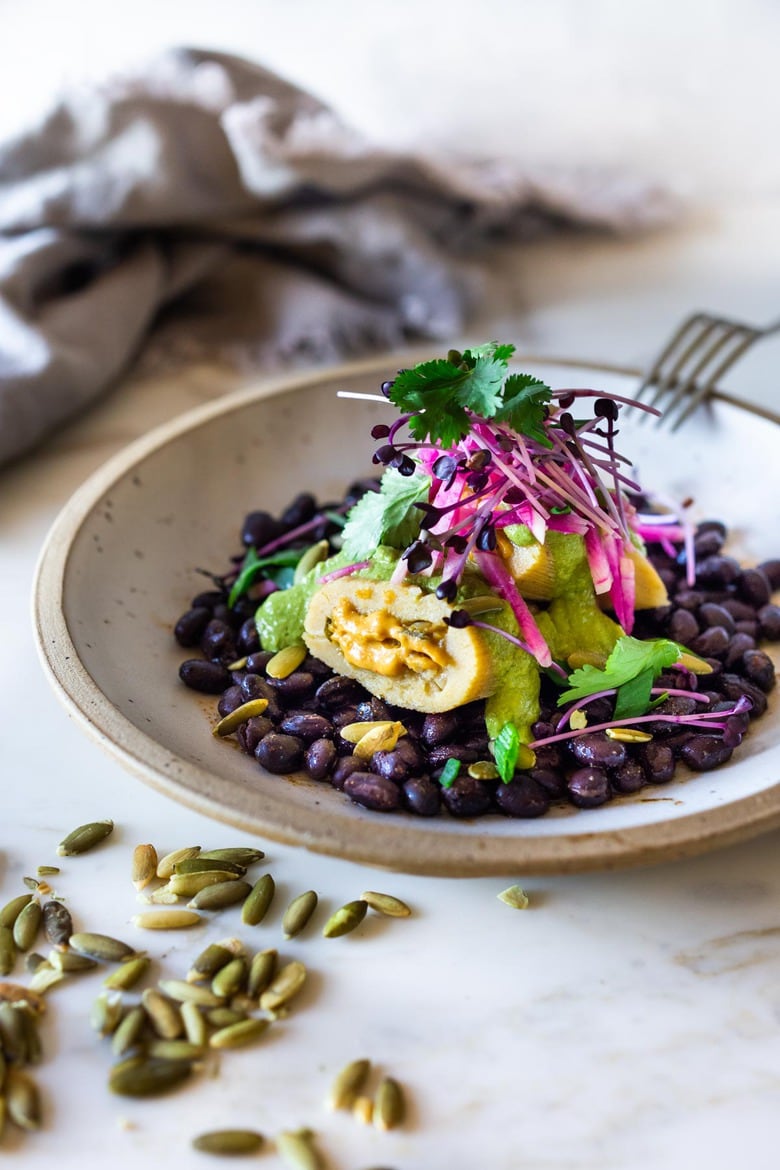 The Butternut Tamales are served over a bed of seasoned black beans and topped with a silky Pepita (Pumpkin Seed) Sauce. This is topped with crunchy radishes, cilantro, pickled onions and a scattering of more pepitas. Dreamy! Such great textures and flavors here.
There are a few steps to the recipe so perhaps not a "weeknight dinner", unless you make a few things ahead. You can absolutely meal prep the tamales ahead and store in the fridge for up to 4 days or even freeze!
If doing this, consider doubling the recipe.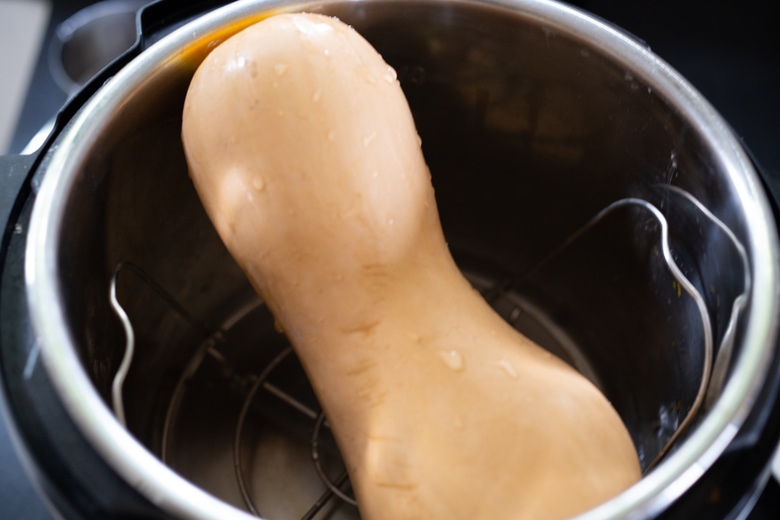 How to make Butternut Tamales
Step 1: Cook the butternut squash ahead.
You can place whole butternut squash in the steamer basket of your Instant Pot with a cup of water, and pressure cook on high for 20 minutes ( for a 2 1/2 lb butternut squash). I like to do this the night before and just cool it in the fridge. You can also roast it (see recipe notes).
Step 2: Soak the corn husk.
When you are ready to make the tamales, soak the corn husks in water for at least  30 minutes. You can also pre-soak them the day before and store them in the fridge ( in the bowl of water) until ready to assemble.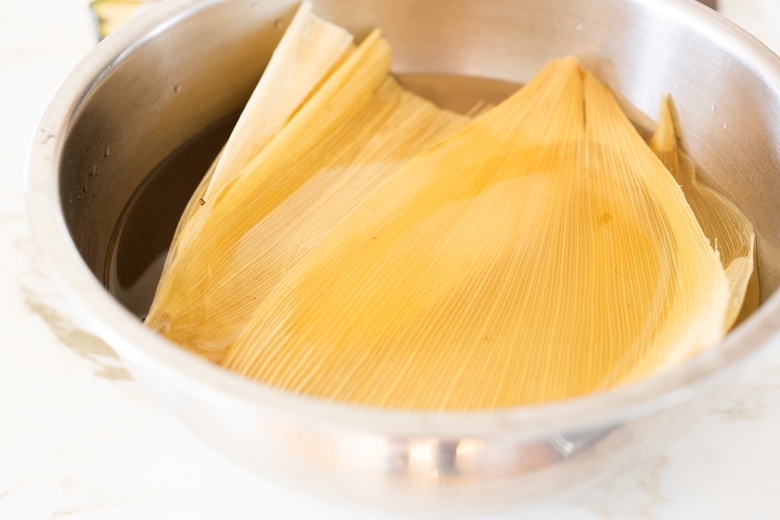 Step 3: Make the Tamale Dough!
In a medium bowl mix masa harina flour (Do NOT use corn meal) salt, cumin, and baking powder, mixing well. Add broth and oil. Mix well with a wooden spoon to mix until incorporated well, or use a clean hand to kneed for a couple of mintues. Set aside. You can also whip this in a stand mixer using the paddle attachment.
Tip: You can also do this ahead, and store it in the fridge!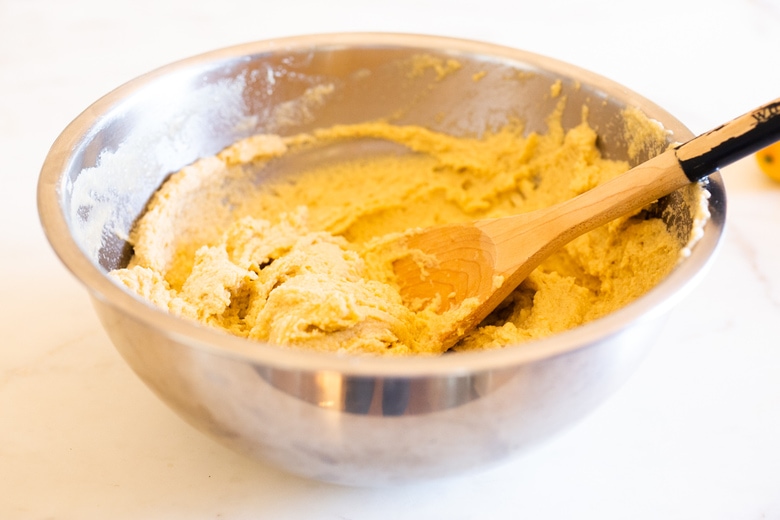 Step 4: Make the butternut squash filling.
Saute onion, garlic and fresh poblano (or pasilla) chilies. Half will go into the filling and the other half into the Pepita sauce! Make the filling ahead!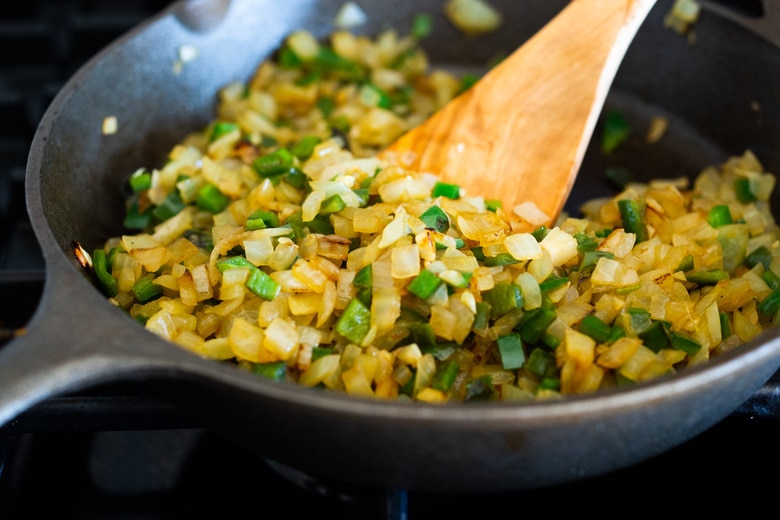 Scoop out two cups of your pre-cooked butternut squash into a bowl and mash.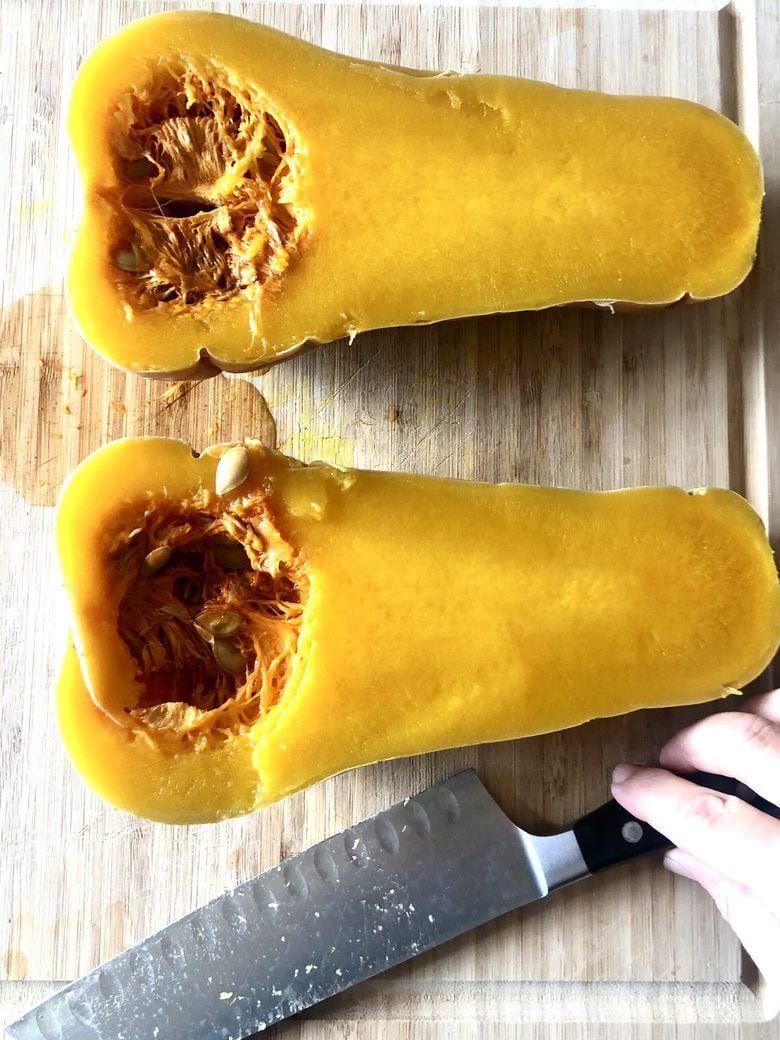 Add half of the cooked onion/pepper mixture and the cheese. You can sub vegan cheese here! Or totally leave it out and add more butternut.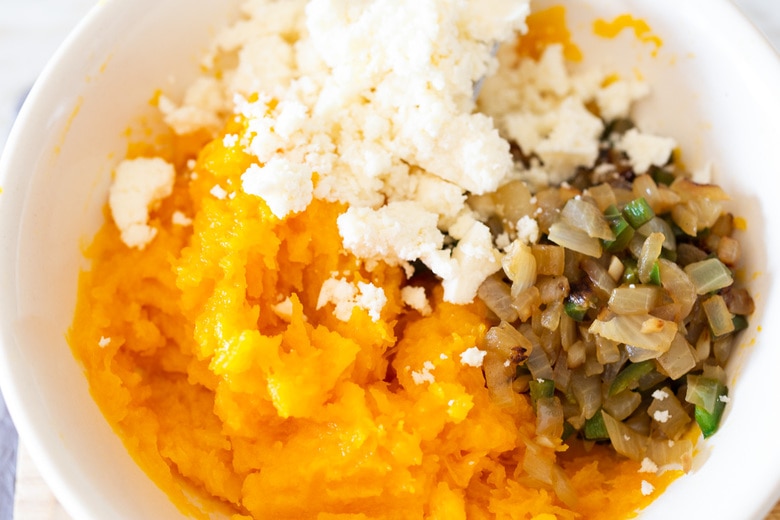 Mix it up! Taste and season! Remember you can use vegan cheese here, or any melty cheese.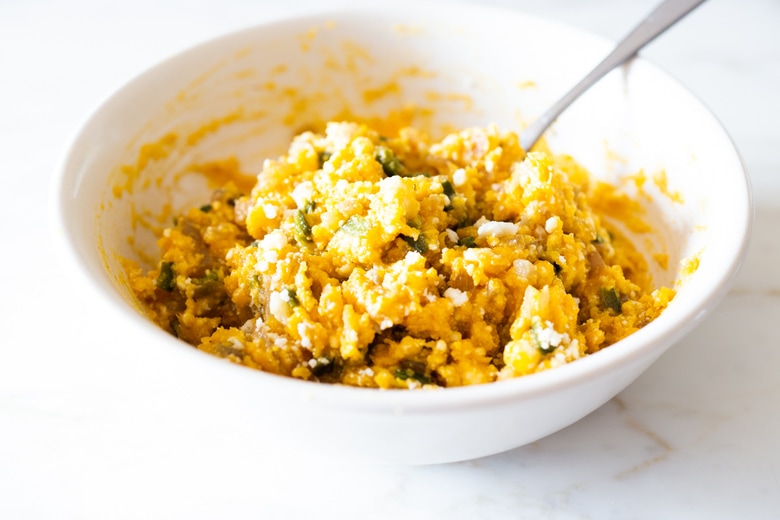 Step 5: Assemble the tamales.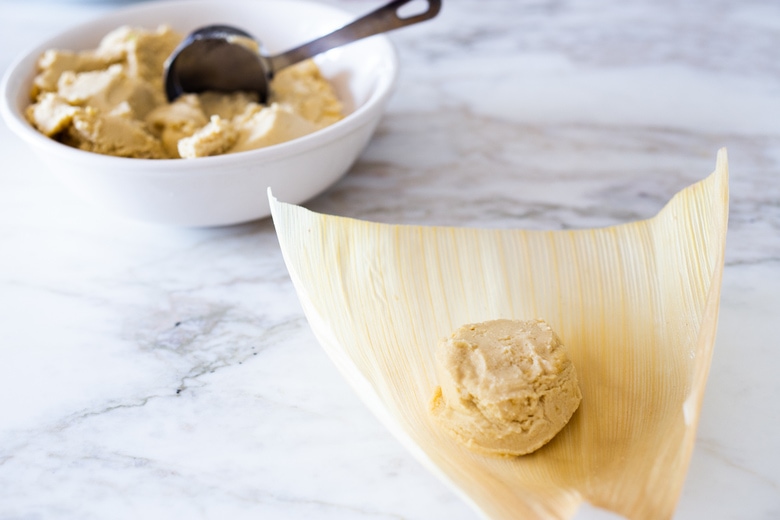 Scoop out 1/4-1/3 cup tamale dough into the soaked corn husk leaving 2 inches at the bottom, pointy end.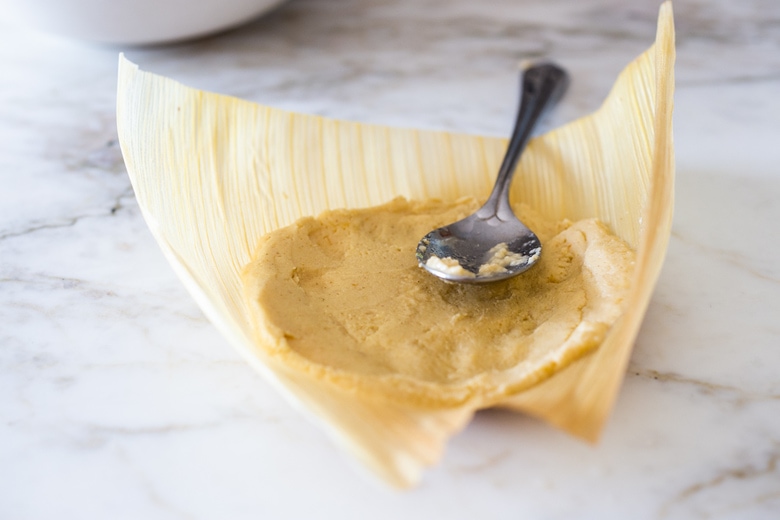 Spread the dough so it's 5-inches x 5-inches. You can use a spoon or wet fingers (just dip into the corn husk water).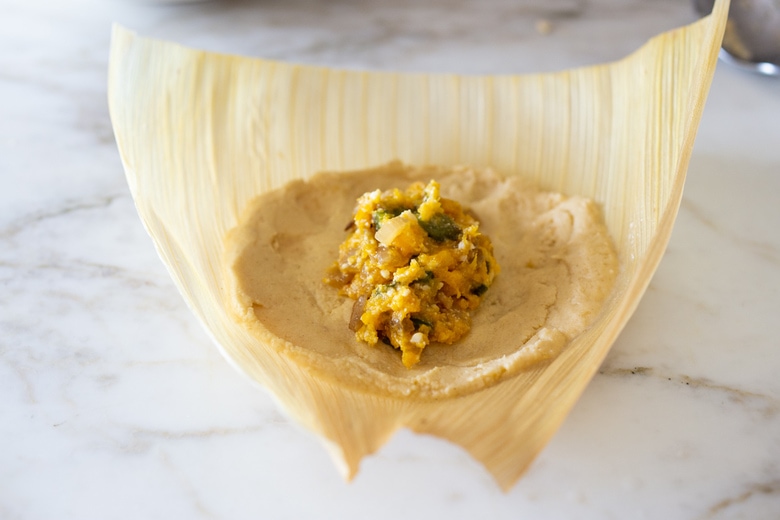 Add 2-3 tablespoons of the filling, down the center vertically. You want the tamale dough to be wide enough and tall enough to encase it all.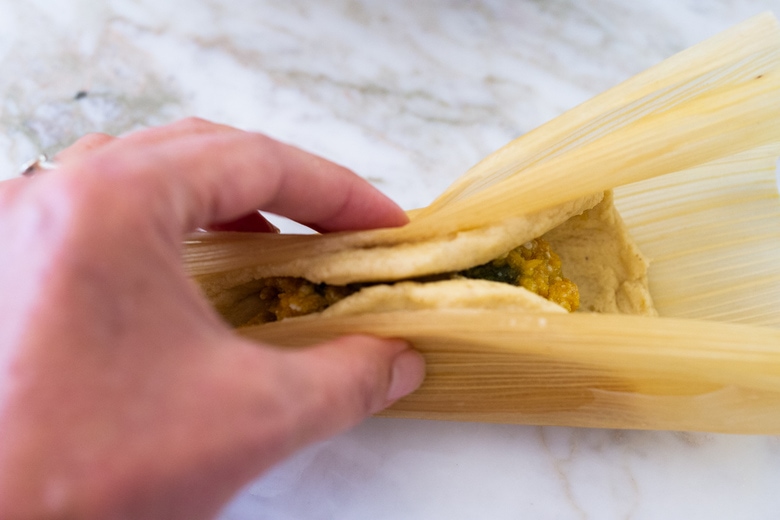 Roll, and test (unroll a little and make sure the tamale dough meets), then roll up, and fold the pointy end, over the seam side, placing seam side down. Press down lightly on the open end, to seal the tamale dough.
You will have enough filling to make 12-ish tamales.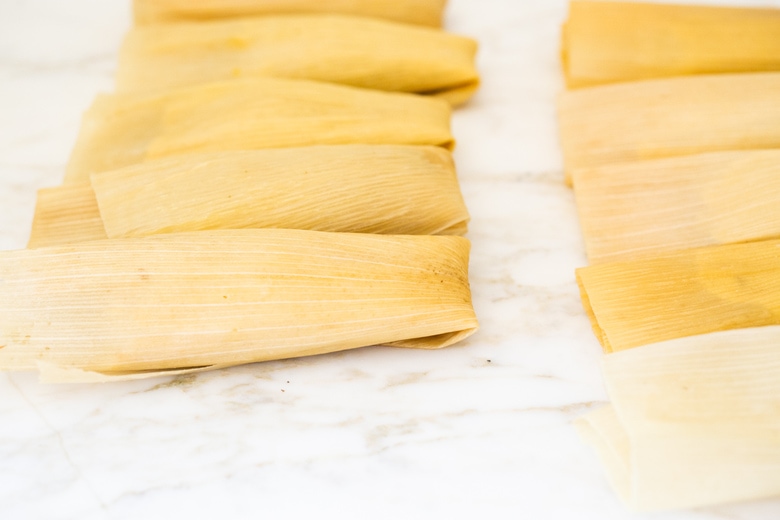 Step 6: Steam the Tamales.
 You can either do this on the stovetop or an Instant Pot (Fast and easiest!)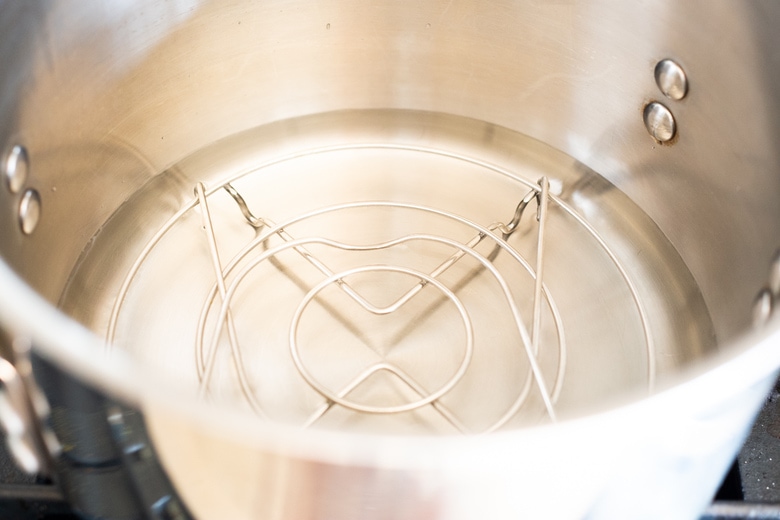 Place a steamer basket in the pot or Instant pot and fill with water to the bottom of the basket.
Line the basket with the extra corn husks.
Start layering the tamales, open side up either against one side or towards the middle. If your pot is too big for the tamales to stand upright, an easy trick is to wad up a sheet of foil into a ball and place it in the middle. Layer tamales around the ball. Or use a metal cup (measuring cup) to lean them against, as I did here.
Instant Pot: pressure cook on high for 35 minutes, and naturally release. Let stand 15 minutes before unwrapping. 
Stovetop: If using a big pot on the stove, bring to a simmer, cover tightly (I like to use a thin dish towel under the lid, gathering the corners up and over the lid, for a better seal.) and steam on low heat 50-60 minutes.
Step 7: Make the pumpkin seed sauce.
While this is steaming, make the quick pumpkin seed sauce– just put everything into a blender and blend until silky smooth!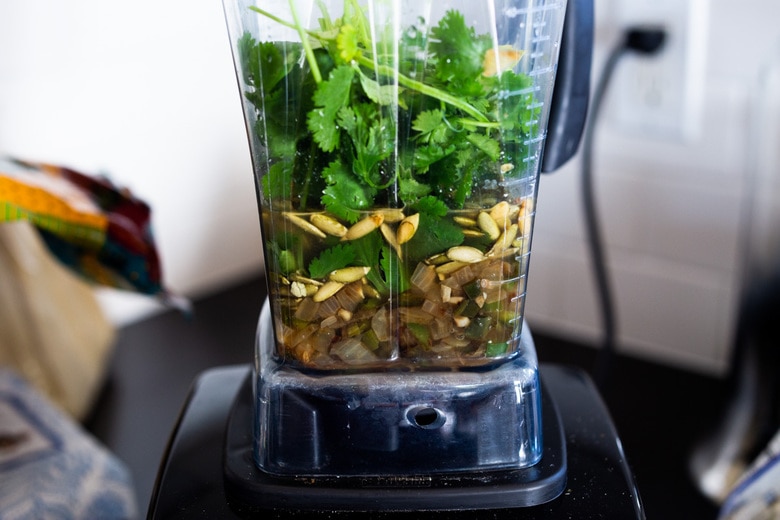 You will love this Pepita Sauce! So yummy!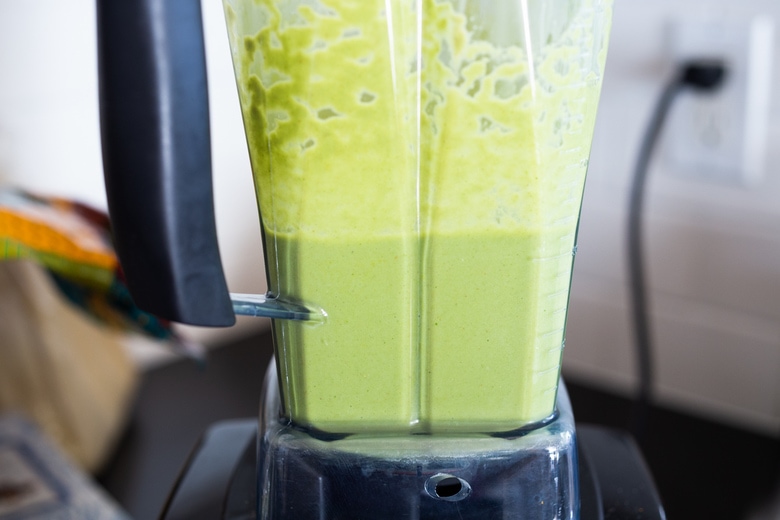 Warm the sauce up gently on the stove- do not boil or simmer, just warm.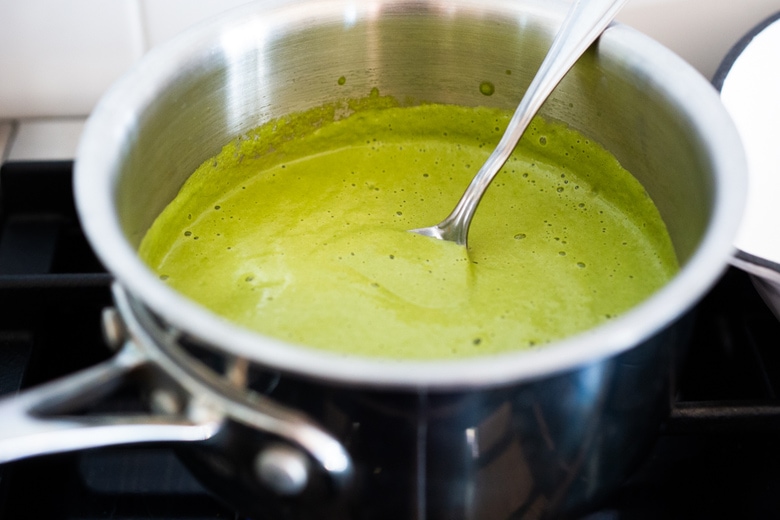 Step 8: Serve over seasoned black beans ( optional) 
Warm up some canned black beans ( drain first) and season them.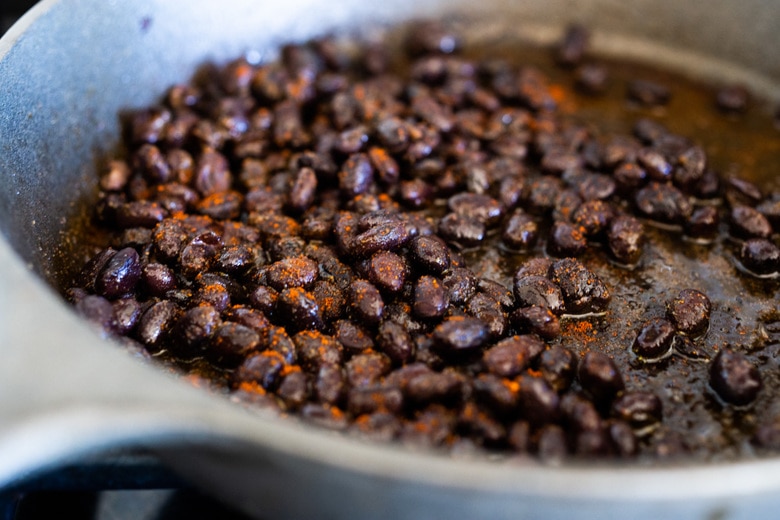 Step 9: Then lastly prep any garnishes you like. I love adding crunchy radishes – these watermelon radishes are so pretty.
This crunchy Mexican slaw would be nice too!
Pickled onions, sprouts, some extra pumpkin seeds and cilantro or scallions… all good here.
Step 10: Serve!
When the tamales are done steaming, let them sit 15 minutes to firm up (especially when using an instant pot) before unwrapping and either cut them in half or leave them whole.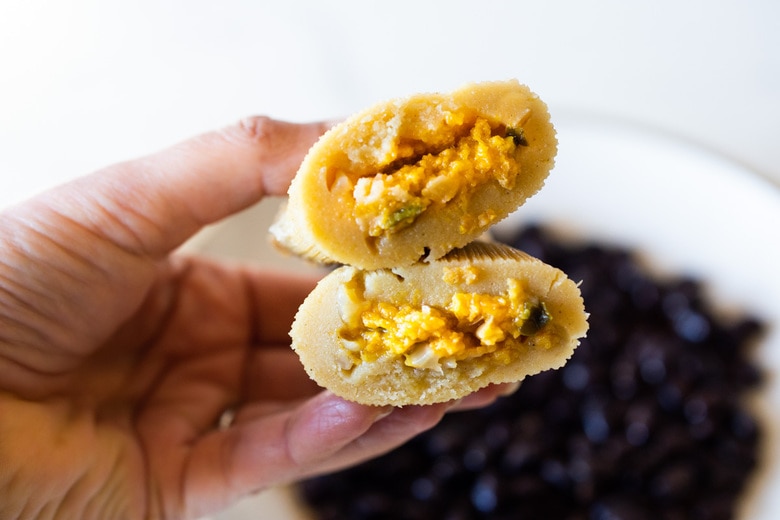 See how the masa dough completely wraps around the butternut filling?
Note: Now I know some of you prefer your masa dough thinner than this- more traditional in some areas of Mexico- and that is totally fine. I usually do too with chicken tamales – but for this version, with the soft butternut filling – I preferred it a little thicker. Do as you please. 🙂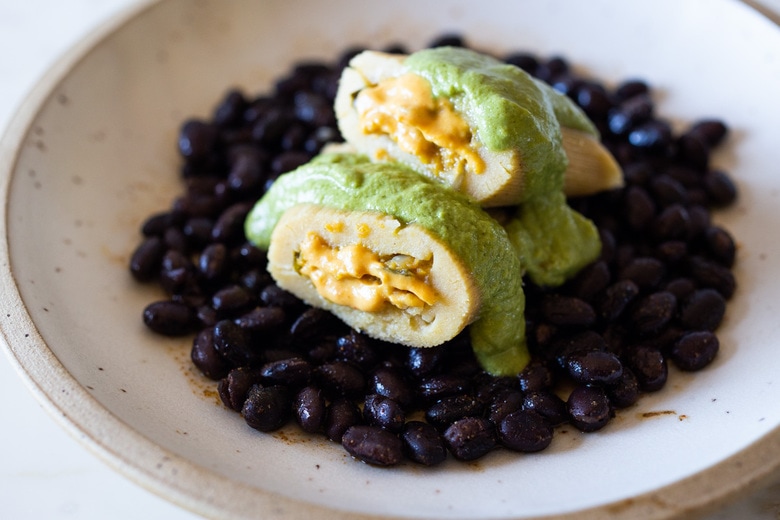 Then top it with all your beautiful garnishes!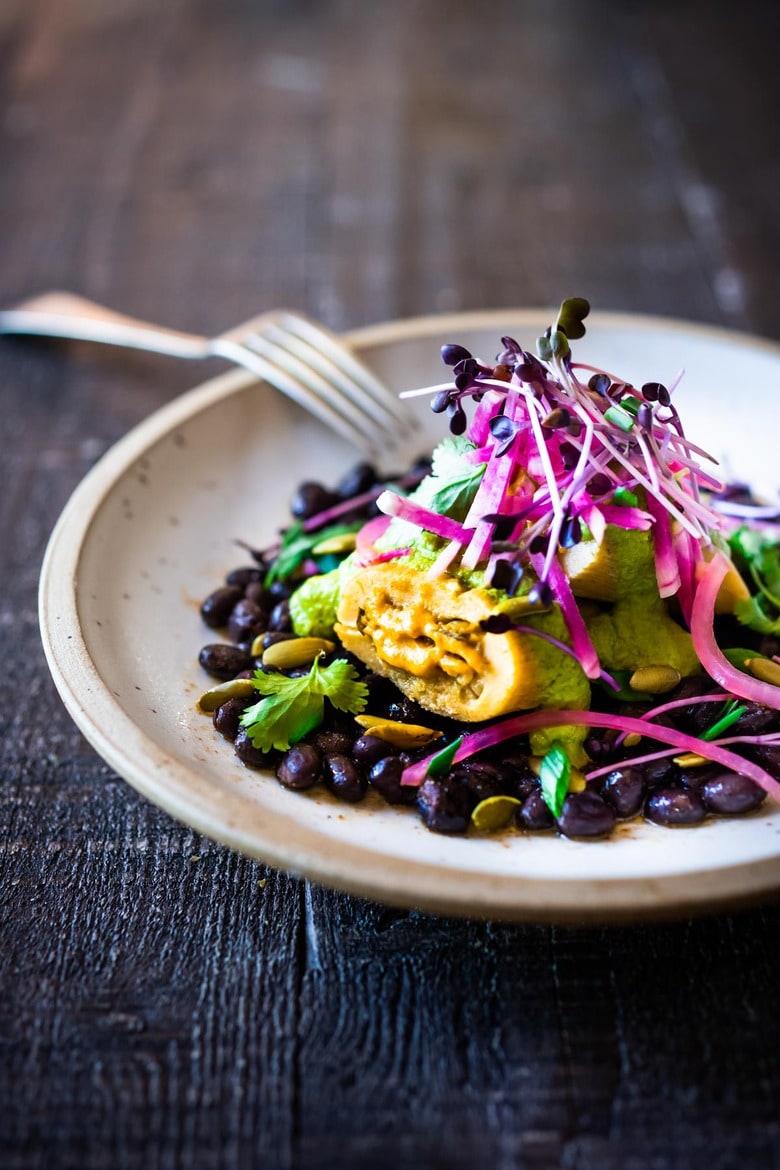 It's quite a few steps, but if you work smart and make a few things ahead, it's actually not too bad. You will love the flavor of these Butternut Tamales! ! Let me know how it goes in the comments below, super excited for you to try this one.
If entertaining, the tamales and sauce can be made ahead and reheated.
A delicious vegetarian ( or vegan!) meal highlighting butternut squash.
How to reheat tamales
Tamales can be reheated in their cornhusks in the microwave (wrap in a damp towel) or warmed in the oven (place in a large baking dish or on a sheet pan, cover tightly with foil) and bake at 375F for 15-20 minutes or until heated through (internal temp of 145F).
You can also unwrap tamales and pan-fry for a little crispy texture.
Serve Tamales with:
Print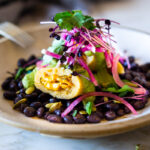 Butternut Tamales with Pepita Sauce
Author:

Sylvia Fountaine

Prep Time:

60 mins

Cook Time:

60 mins

Total Time:

2 hours

Yield:

12

tamales

1

x

Category:

main, vegan, vegetarian

Method:

steamed

Cuisine:

Mexican

Diet:

Vegetarian
---
Description
Butternut Tamales with flavorful Pumpkin Seed -Cilantro Sauce over a bed of seasoned black beans, topped with pickled onions and crunchy radishes! A flavorful vegetarian dinner. Gluten Free and Vegan adaptable! Can be made ahead!
---
16-20 corn husks, soaked (12 tamales plus extra  for doubling up, lining the pot and/or breakage)
Butternut Filling:
Tamale Dough:
 Pepita Sauce:
Serve over Seasoned Black Beans (see notes), garnish with radishes, toasted pumpkin seeds (pepitas) , pickled onions, cilantro, scallions, crumbled queso fresco.
Seasoned Black Beans:
---
Instructions
PRE -Cook the butternut squash. (See options in notes, it's nice to do this ahead.)
Soak corn husks in a large bowl of warm tap water. (30 minutes, or overnight in the fridge)
Make the Tamale Dough:  In a medium bowl whisk masa harina flour (do not use cornmeal) salt, and baking powder well. Add the broth and oil. Mix well until incorporated well. If the dough feels dry or crumbly add a little more broth or water, just a little at a time until the dough is soft and pliable. Use a clean hand to knead the dough for a couple of minutes. Set aside. If the dough feels overly wet or sticky, add a little more masa harina.
Make the Butternut filling: In a large skillet, heat oil over medium heat and add onion and pasilla peppers, saute for 5-7 minutes. Add garlic. Cook until tender and golden.  Place

half

of this mixture in a blender (for the Pepita sauce) and save the other half for the filling. In a medium bowl, mash the cooked butternut with a fork, then add 1 cup (or half) of the cooked onion/pasilla/ garlic mixture. Stir in the cheese, salt and cumin. Set aside. ( You could do this ahead and refrigerate)
Assemble the tamales: Place a soaked corn husk on the counter, pat the inside dry with a towel, spread 1/4 cup masa dough using a spoon, or wet fingers (just dip your fingers into the warm corn husk water) pat into a 5 x 5 square, two inches from the pointy end. (See photos.) Place 2 rounded tablespoons of filling in the middle, vertically, (see photos). Roll the cornhusk from side to side- with the idea of joining the outer edges of the masa dough so it completely encloses the filling. Fold the pointy end towards the seam and place on the counter, seam side down.  Repeat with all.
Steam/PRESSURE COOK: In an Instant pot, large pot (with strainer) or double boiler, place the strainer basket in the bottom, and add 1-2 cups water (just to the bottom of the strainer). Lay the few remaining corn husks down as a barrier. Place tamales over the husks, vertically, open side up either leaning against the side or towards the middle (with a ball of foil in the middle – if your pot is too big.) If using an Instant Pot, pressure cook on high for 25 minutes, and naturally release. Open the pot and let stand 15 mins before opening the tamale- so they firm up. Important! ( Alternatively If using a pot on the stove, place in a steamer,with water in the bottom, bring to a simmer, cover tightly, and steam on low heat for 55-60 minutes.)
Make the Peptita Sauce: while the tamales are steaming make the sauce by placing the remaining ingredients into the blender with the cooked onion/chili mixture. Blend until silky smooth. If sauce feels overly thick, add a little more water to thin. Place in a saucepan to heat up right before serving.
Heat and season the black beans: Add everything to a pot or skillet and gently stir and warm. Season well with salt and pepper. If you like spicy, add ground a pinch of ground chipotle.
To serve. Open the corn husks and place warm tamales over a bed of seasoned black beans. Top with  2-3 tablespoons of Pepita sauce. Garnish with radishes, cilantro, sprouts, scallions, toasted pumpkin seeds, and/or pickled red onions. Or top with Mexican Slaw. Sprinkle with more queso fresco cheese if you like.
---
Notes
*Tamales take 10-15 minutes after pressure cooking to "firm up" if using the instant pot. If they seem undercooked, just let them sit in the instant pot on the warm setting for 10 mins.
Make in Stages: This is much simpler made in stages. Roast or cook the Butternut Squash ahead or make the filling ahead and refrigerate. Make the Tamale Dough ahead if you like, or even soak the husks ahead and keep in the fridge. Or make the steamed tamales ahead, store in the fridge for 4 days, or freeze.
Pressure Cook a whole butternut squash ( 2 1/2lbs)  in an instant pot for 20 minutes, high pressure. Naturally release. If you cut it in half first, it will only take 8-9 minutes, high pressure.
To roast the butternut– if using whole butternut, cut in half and roast flesh side down on a parchment lined sheet-pan in a 425F oven until tender about 30 minutes.
OR Roast cubes of peeled butternut on a parchment-lined sheet pan @ 400F until tender, about 25 minutes. Or steam them in a little water on the stovetop.
Nutrition
Serving Size:

Two tamales with cheese, ½ cup black beans and sauce

Calories:

473

Sugar:

6.7 g

Sodium:

1303.1 mg

Fat:

8 g

Saturated Fat:

1.1 g

Carbohydrates:

85.6 g

Fiber:

16.9 g

Protein:

20.7 g

Cholesterol:

3.4 mg
Keywords: Butternut tamales, vegan tamales, vegetarian tamales, tamales with pumpkin seed sauce, best vegan tamales