Here's a healthy, flavorful, lightened-up recipe for Chorizo, a spicy Mexican sausage using ground turkey or ground chicken. A delicious addition to breakfast bowls, tacos, scrambles & burritos! Can be made in 20 minutes. Low-carb, Keto and GF!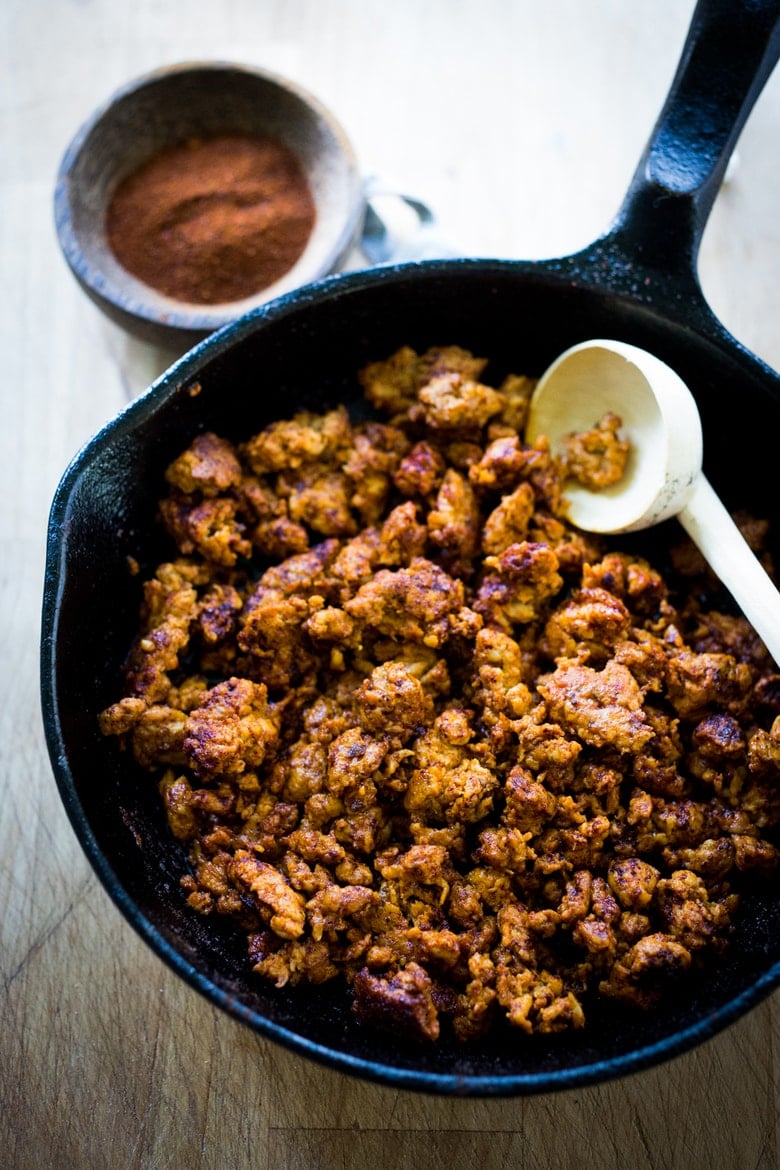 Oh….for the love of Chorizo. Don't get me started. I seriously love it, but it's never loved me. Made with pork, it doesn't always sit well in my stomach and it's pretty high in fat and cholesterol. But while I was craving its incredible flavor the other day, I decided to make a lightened-up version with some ground turkey instead. Guess what? It was so delicious and easy and so versatile! It only took 20 minutes!
This recipe for Mexican-style Chorizo can be made with either ground chicken or ground turkey and can be used used in so many things! For example, add it to scrambled egg tacos, or to burritos or wraps, or add to bean chili or nachos. I love it in this Enchilada Pie Recipe I posted a while back.
This morning I added it to our Breakfast Bowls with Black beans and Sweet potatoes, which was delicious! So many options here friends!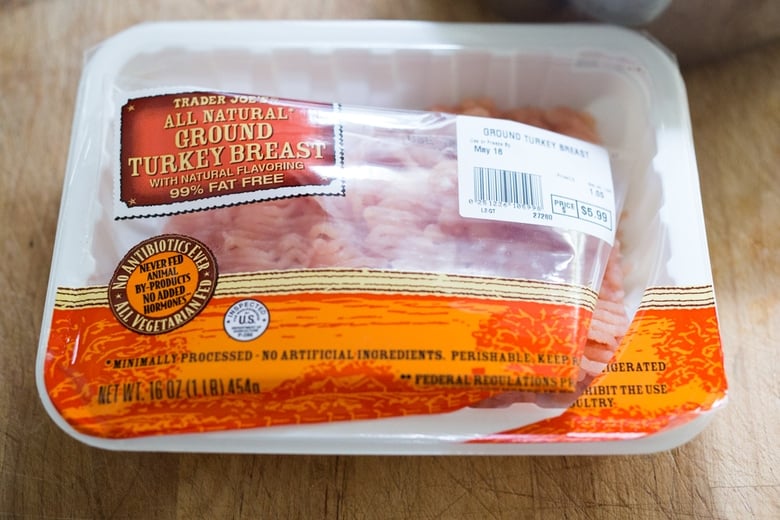 Simply take ground turkey or ground chicken and add Mexican spices to it. A little vinegar gives it acidity which pumps up the flavor even more.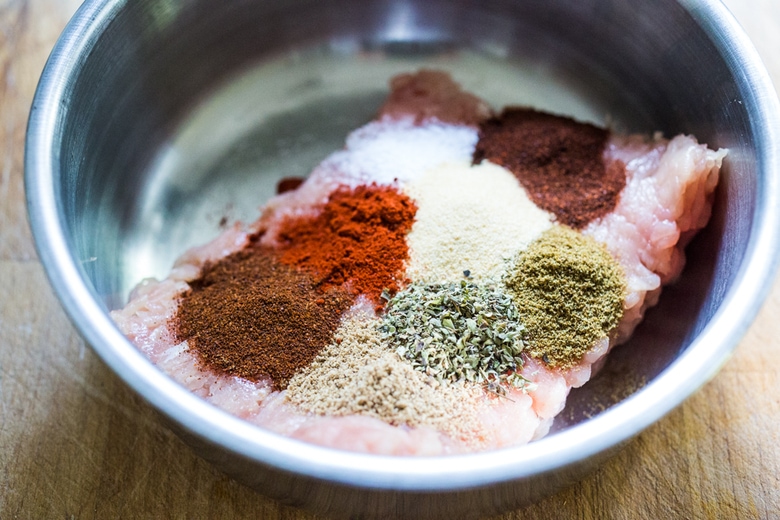 Cumin, chili powder, coriander, salt, garlic and smoked paprika are the main seasonings. If you like heat, add chipotle!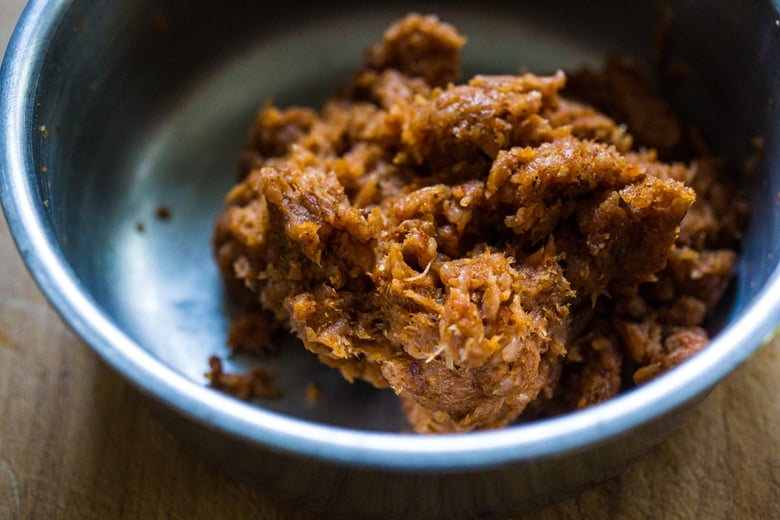 Once it's mixed, store it in the fridge, freeze it or brown it up and use it throughout the week.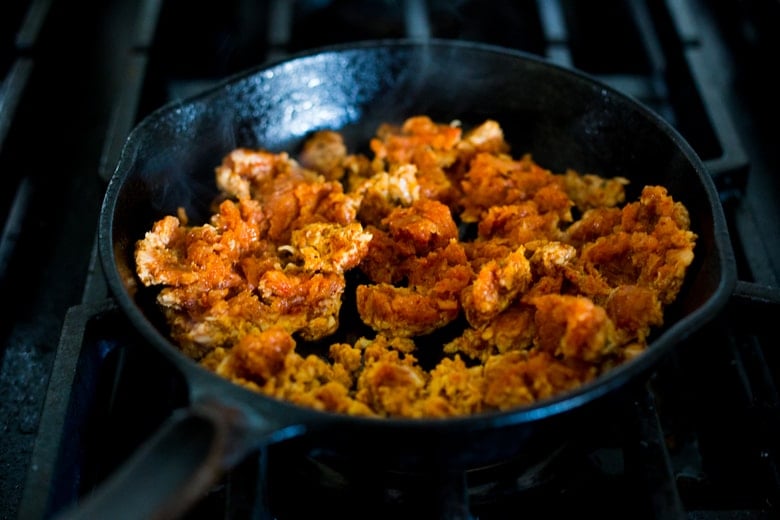 So quick and easy!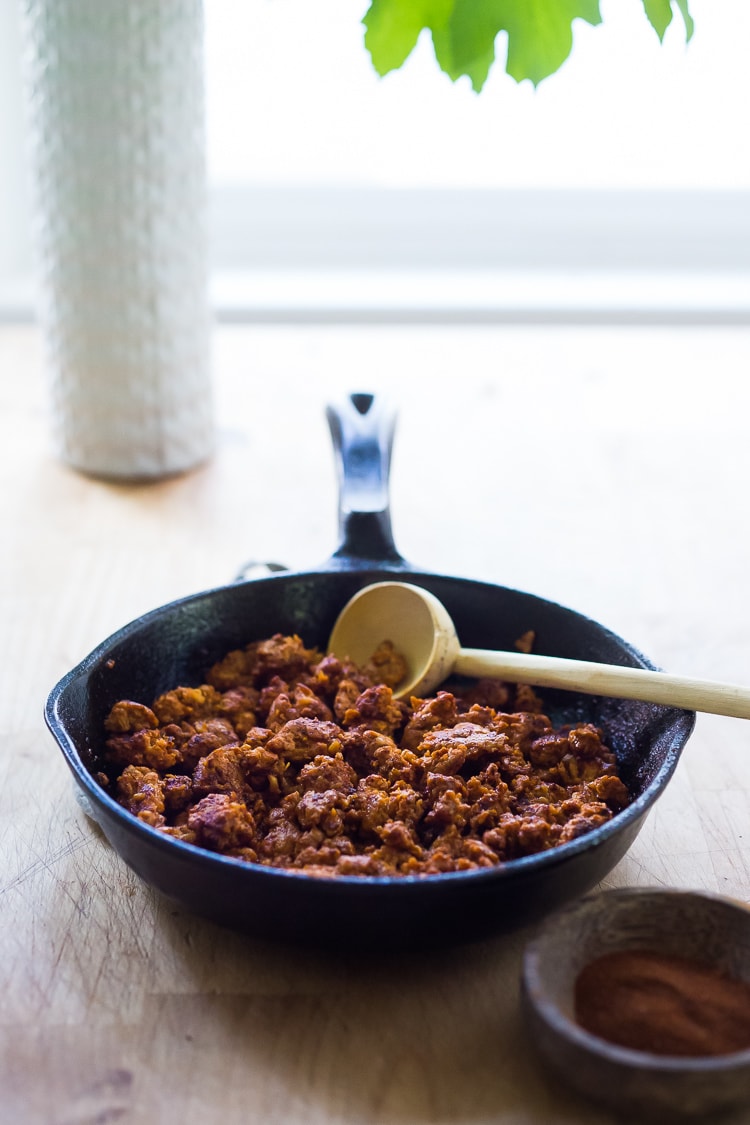 An area in Mexico, called Toluca, is known as the chorizo capital, and specializes in "green" chorizo, which is made with tomatillo, cilantro, chili peppers, garlic, or a combination of these. The green chorizo recipe is native to Toluca, which is on my list next.
But most Mexican chorizo is a deep reddish color, seasoned with chili powder and vinegar. Chorizo is usually made from cuts of pork, and ground and stuffed in intestinal casings. Before using, the casing is usually cut open and the sausage is fried in a pan and mashed with a fork until it resembles finely minced ground beef.
In Mexico, restaurants and food stands make tacos, queso fundido, burritos, and tortas with cooked chorizo. Chorizo con Huevos (Chorizo with Eggs) is a popular and yummy breakfast dish made by mixing fried chorizo with scrambled eggs – then this is often used in breakfast burritos, tacos, and taquitos. So many options here, folks.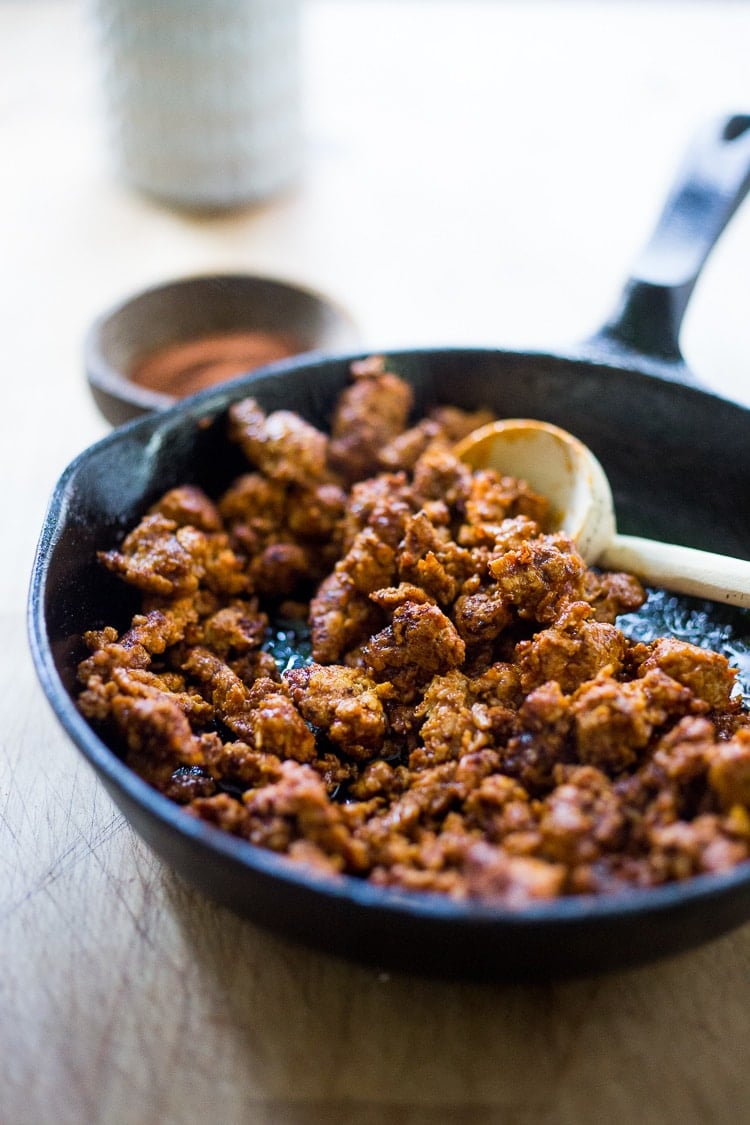 This morning I made these Mexican Breakfast Bowls with the Turkey Chorizo…..so good!
I know you'll find so many uses for this Healthy, Easy Chorizo Recipe, so make sure to share what you create in the comments below!
Print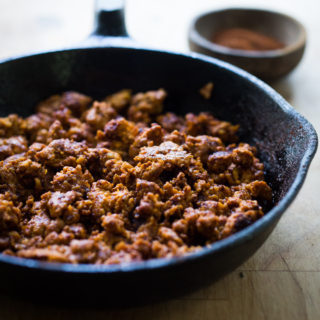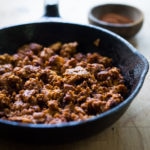 Easy Healthy Chorizo Recipe
Prep Time:

5 mins

Cook Time:

10 mins

Total Time:

15 mins

Yield:

4

Category:

main, poultry, chicken, turkey

Method:

stove top

Cuisine:

Mexican
---
Description
Here's a  healthy, lightened-up recipe for Mexican Chorizo, a smoky spicy and flavorful Mexican style sausage using ground turkey or ground chicken. A delicious addition to breakfast bowls, tacos, scrambles & burritos! Can be made in 20 minutes. Low-carb and GF!
---
---
Instructions
Place all ingredients in a medium bowl.
Mix well using your hands.
Store in the fridge, or freeze until ready to use.
To cook, simply brown it in a skillet with a little oil, breaking it up into smaller pieces, like you would ground beef. (Alternately, you could shape into breakfast patties,or burgers, and sear, finishing in the oven if necessary.)
Use in breakfast bowls or tacos, burritos, enchiladas, pizza, quesadillas, nachos, etc.
---
Notes
I generally use 1 teaspoon kosher salt per pound of meat for the best flavor. Feel free to use less. Because chorizo is generally added to other things to enhance flavor, I like mine a little on the salty side. Adjust to your own tastes.
Keywords: Healthy chorizo, turkey chorizo, chicken chorizo, turkey chorizo recipe, how to make chorizo, chorizo recipe, mexican chorizo, what is chorizo?