Vegetarian Quesadillas filled with farmer's market veggies like bell peppers, zucchini, sweet potato, greens, black beans and melty cheese (optional) seasoned with savory Mexican spices. Serve this with Pico de Gallo and spicy sour cream! Vegan-adaptable and Gluten-free adaptable!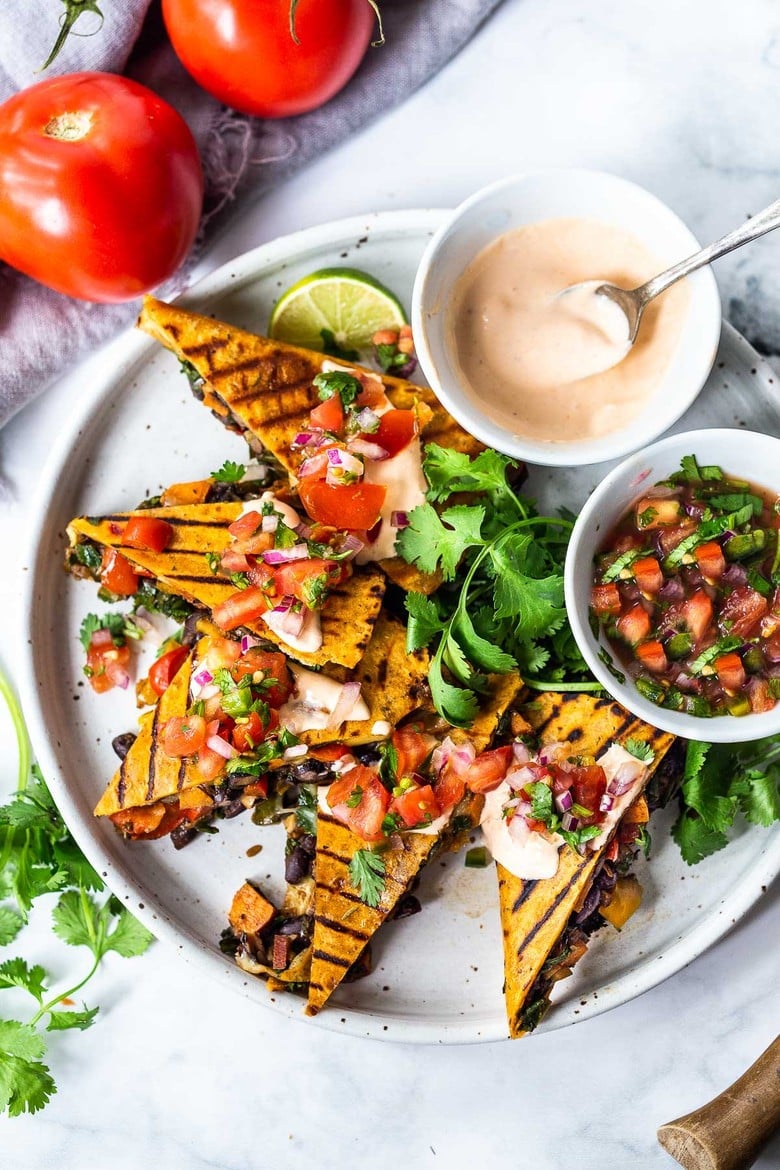 Summer was on the way; Jem and I awaited it with impatience. Summer was our best season: it was sleeping on the back screened porch in cots, or trying to sleep in the treehouse; summer was everything good to eat; it was a thousand colors in a parched landscape; but most of all, summer was Dill.—Harper Lee, To Kill A Mockingbird
This simple recipe for Veggie Quesadillas highlights fresh farmer's market veggies and helps utilize all the beautiful produce of the season.  An easy way to use up stray veggies (and their tops) and to introduce more veggies to your family in a familiar and comforting way. If going the vegan route, see the recipe notes for a couple of different options!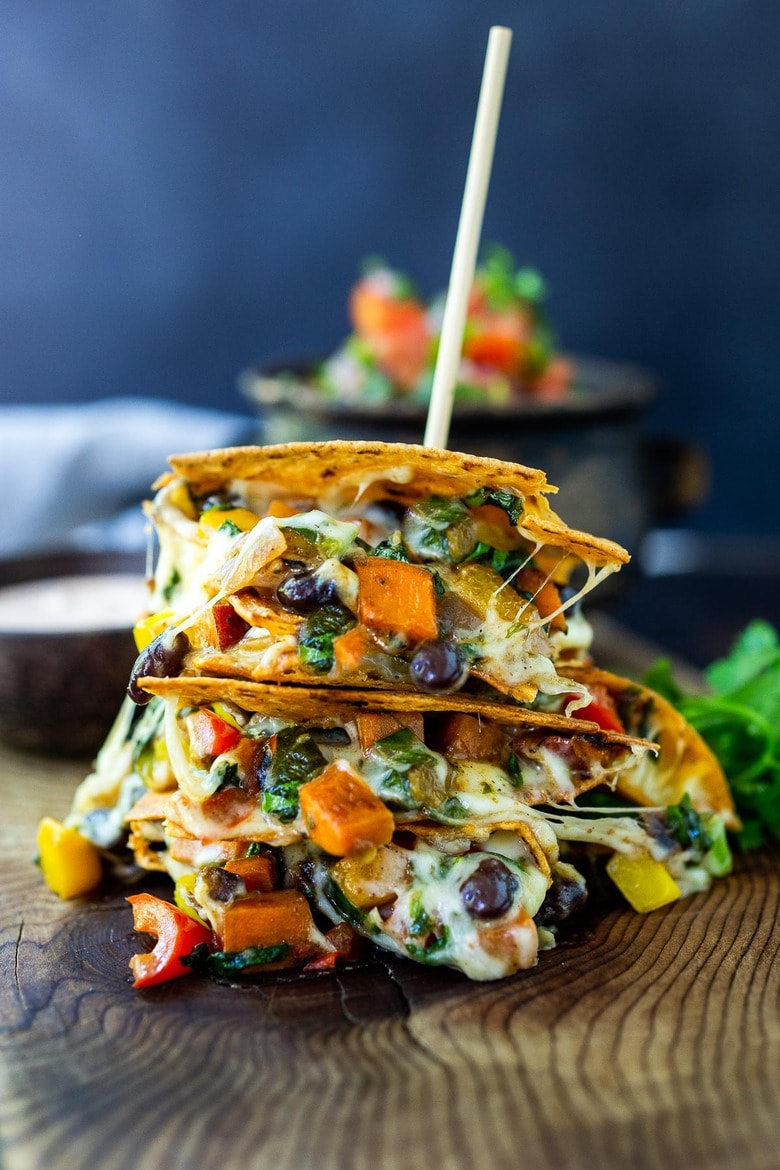 What I love about this recipe is that the vegetarian quesadilla filling is so flexible! Use what you have on hand, or in your CSA box, or what you can find at the farmers market. Here I've sauteed onion, garlic, yams, zucchini, bell pepper and turnip greens. But other options could include broccoli, parsnips, carrots, diced butternut squash or wilting up some fall greens like kale or spinach. You get the idea!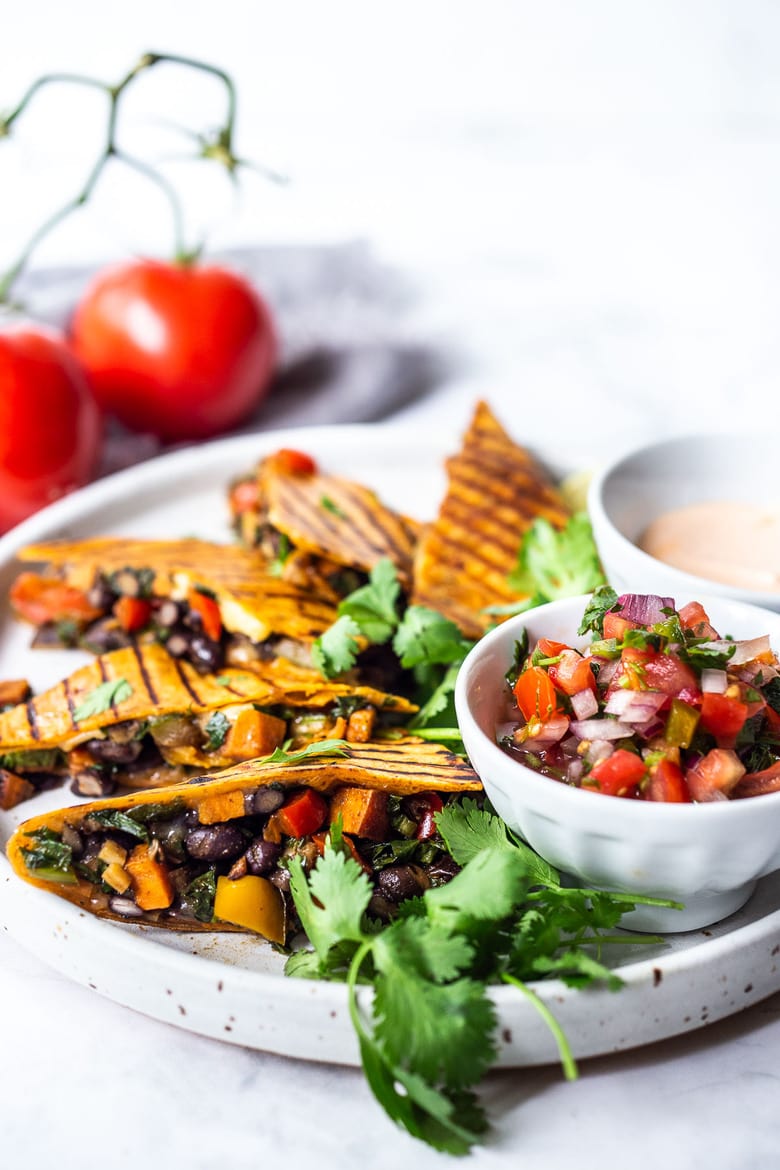 Quesadilla Variations:
Let your creativity flow here. You'll need about 4 cups of finely chopped veggies however you choose. And if you have meat-eaters amongst you, it is very easy to add something like shredded chicken or browned ground meat to some of the quesadillas and leave it out of others.
You can make some quesadillas  "extra cheesy" and some light on the cheese, based on personal preferences.
A very adaptable!
What You'll Need:
onion
garlic
4 cups of veggies- your choice of bell pepper, zucchini, corn, mushrooms, sweet potato, broccoli, etc.
greens- a great way to use up the "tops" of your veggies like beet greens, turnip greens, etc., or spinach.
black beans
salt and spices
melty cheese (or vegan cheese)- Oaxacan string cheese, shredded mozzarella, jack, etc.
tortillas (8-10 inch)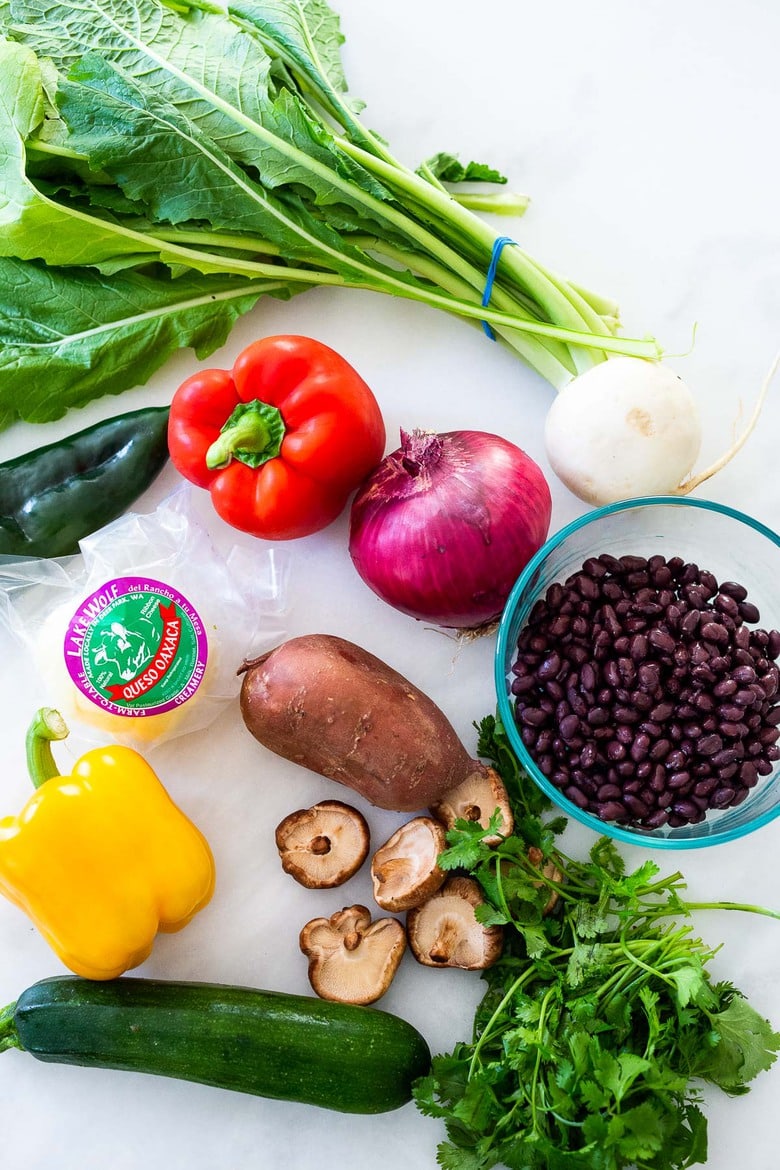 How to Make Veggie Quesadillas:
Step One: chop and prep the veggies.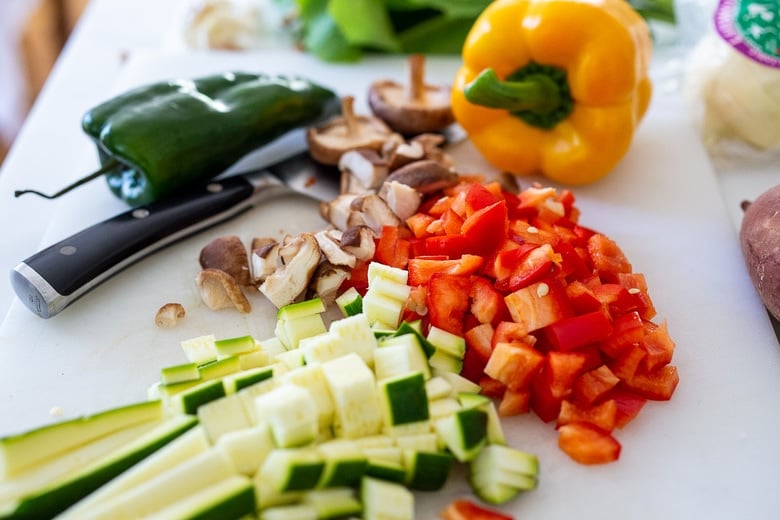 You'll need four cups of finely chopped veggies to make 4 hearty quesadillas.
TIP: Cutting the veggies small will quicken the cooking time!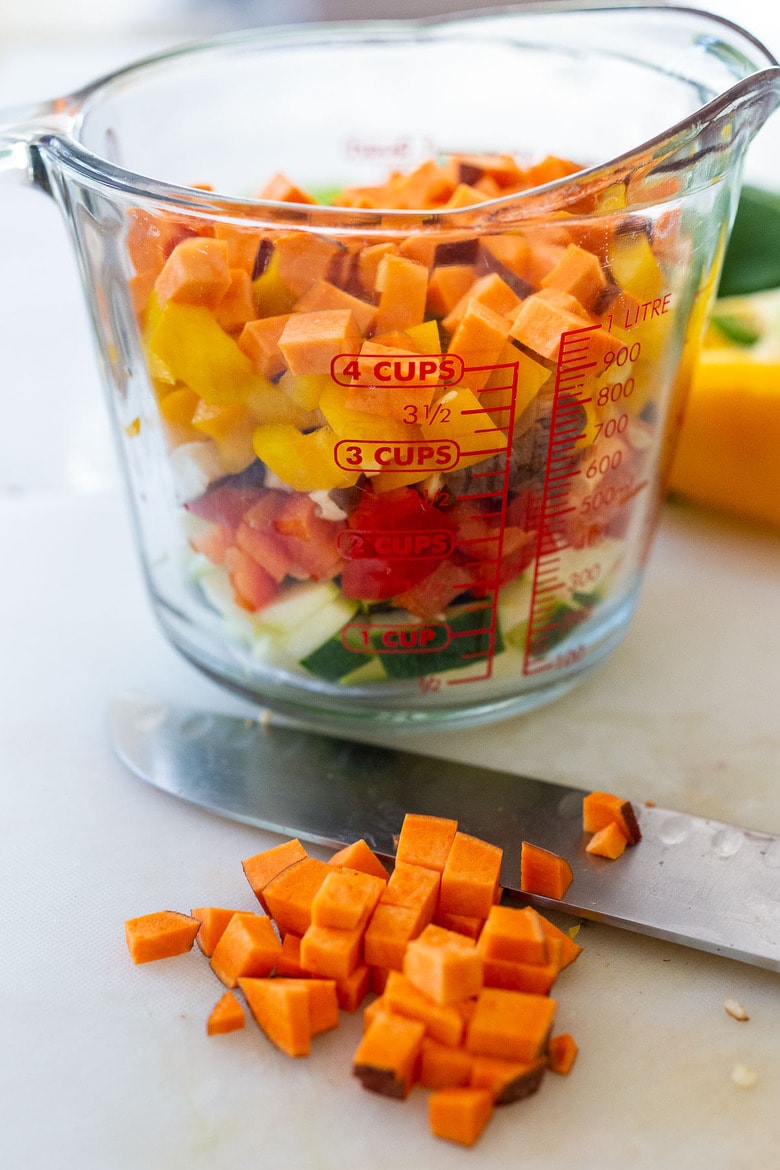 Prep your greens.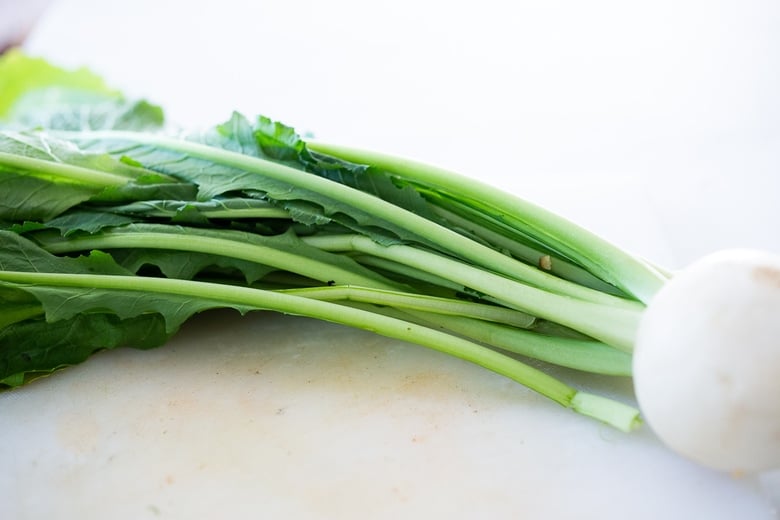 Here I'm using turnip greens- a great way to use these up! Beet greens, spinach, baby kale, chard, will all work great here and really amplify the nutrients!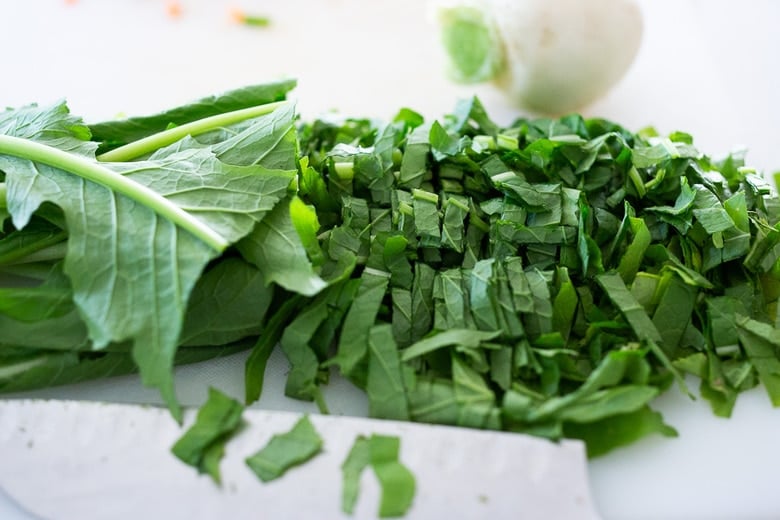 Once the veggies are prepped, start cooking!
Step two: Saute onion and garlic in olive oil.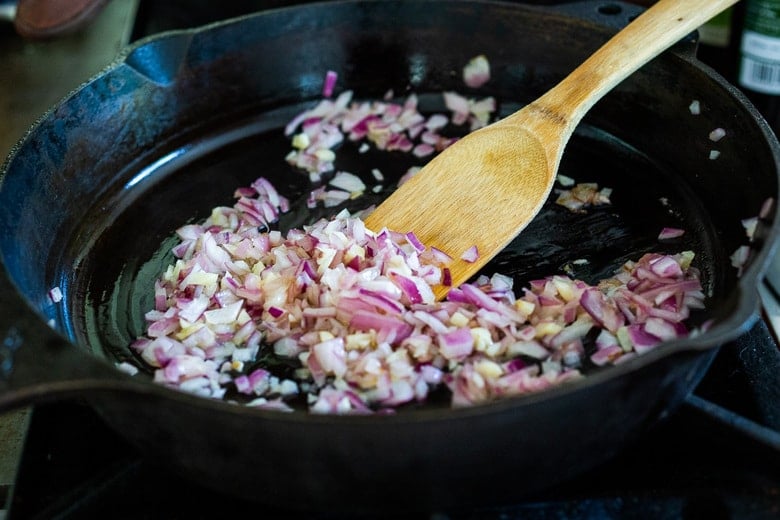 Step Three: add the veggies and salt, saute until softened, about 10 minutes.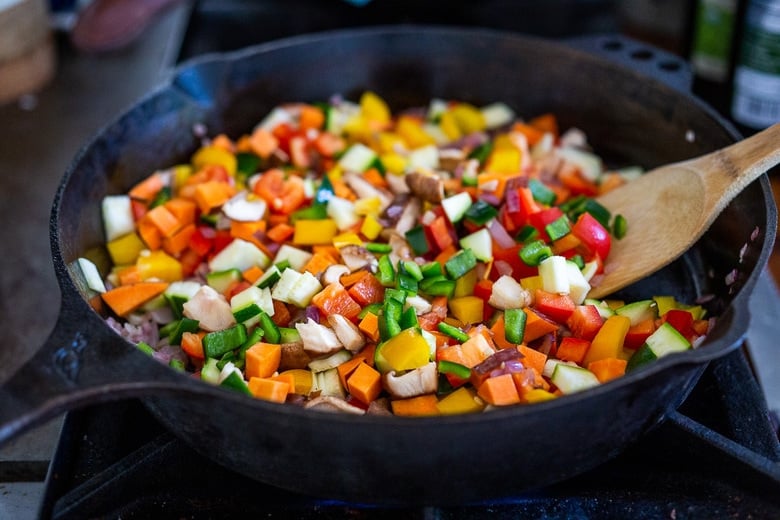 Step four: add the spices.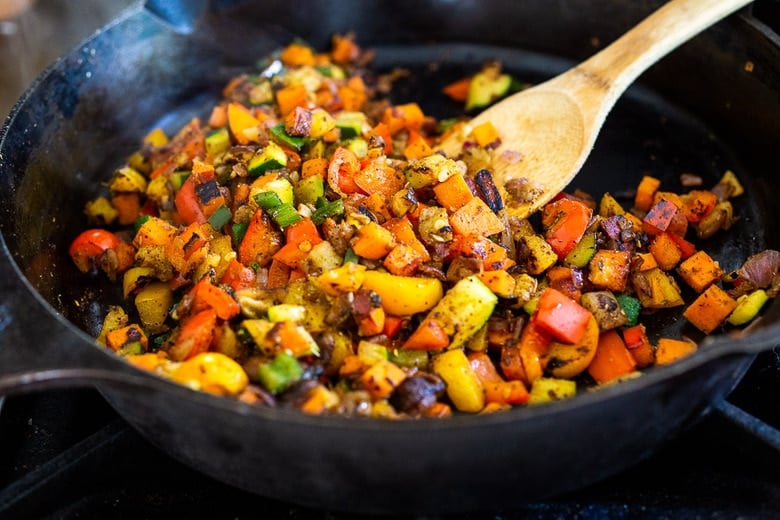 Step five: add beans and greens.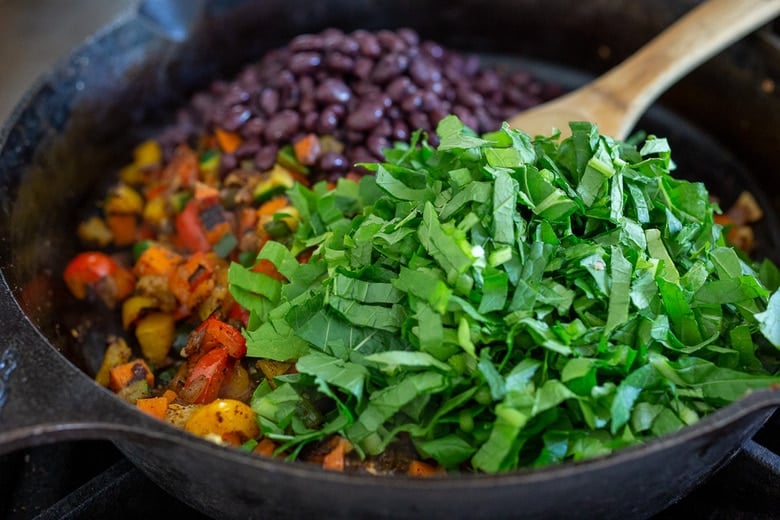 Step six: Add a little water to loosen the mixture.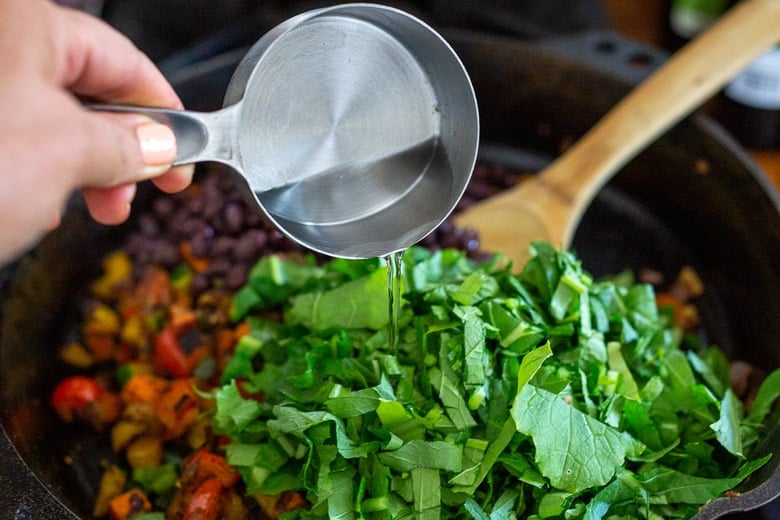 Step seven: stir in cilantro and lime zest (optional) and turn the heat off.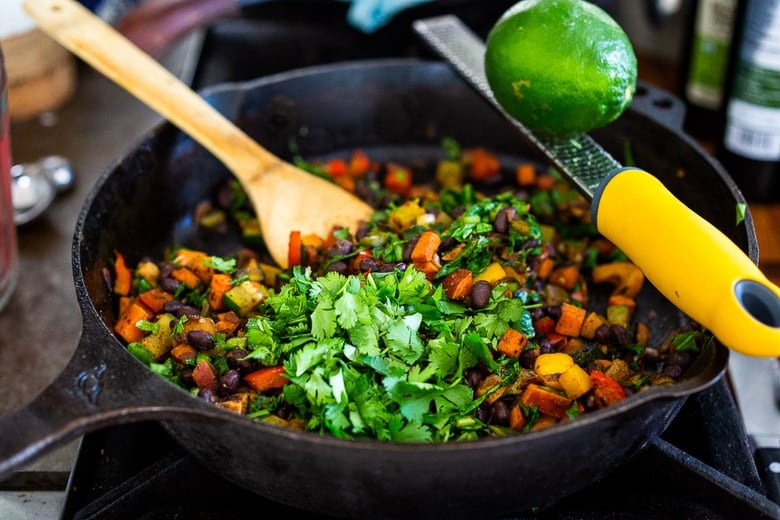 Step eight: assemble the veggie quesadillas!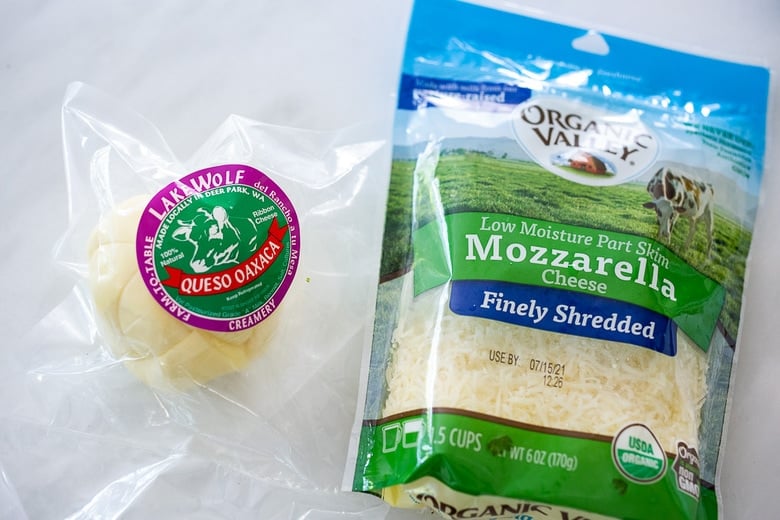 For a delicious upgrade on your cheese, try Queso Oaxaca – basically Oaxacan-style string Cheese!
It comes in a ball that you unroll, much like a ball of yarn.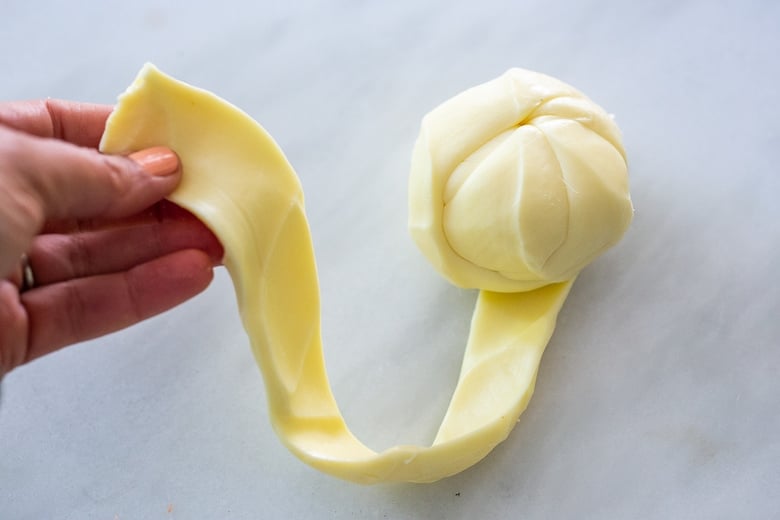 Pull it apart to create thin strands. This cheese is perfectly melty and absolutely heavenly in quesadillas! Plus it's fun to play with- your kids might enjoy this part. 😉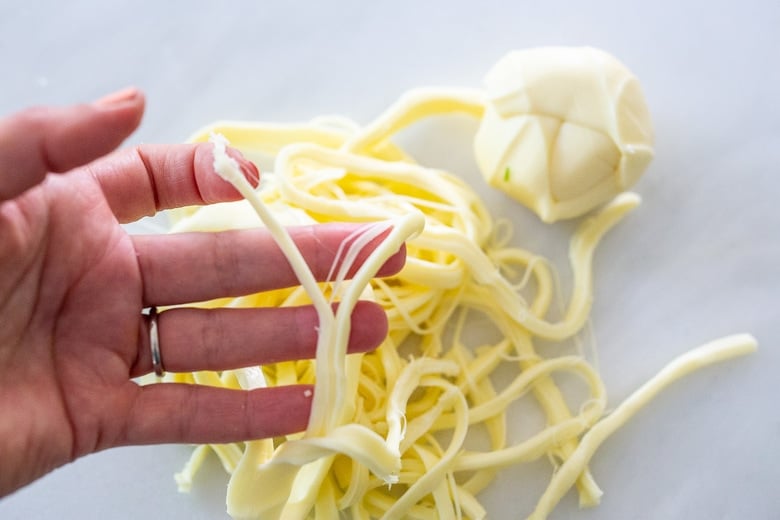 Layer a 10-inch tortilla with cheese. You can also use vegan cheese if you like. Or see recipe notes for other options.
VEGAN OPTION: Try this Cashew Cheese!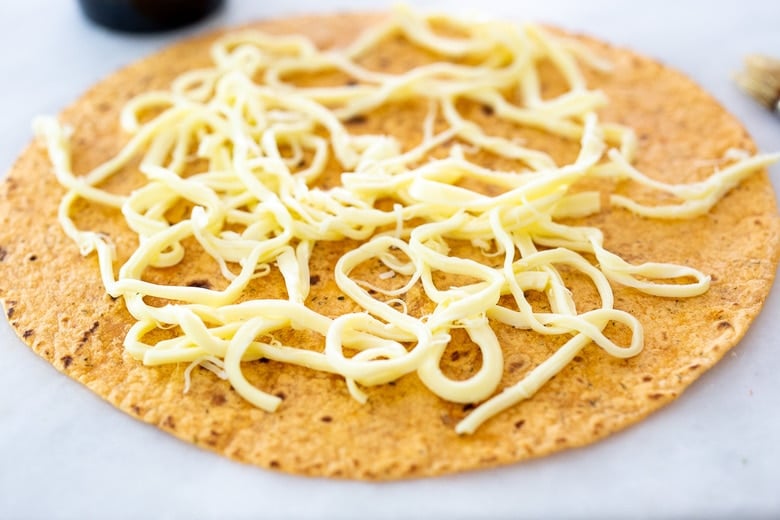 Top the cheese with one cup of vegetable filling.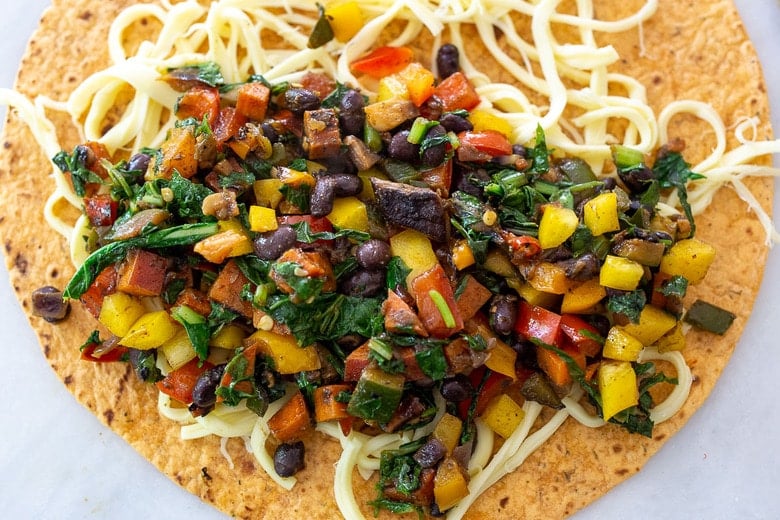 Fold it over so there is cheese on both sides of the veggie filling. Brush lightly with olive oil.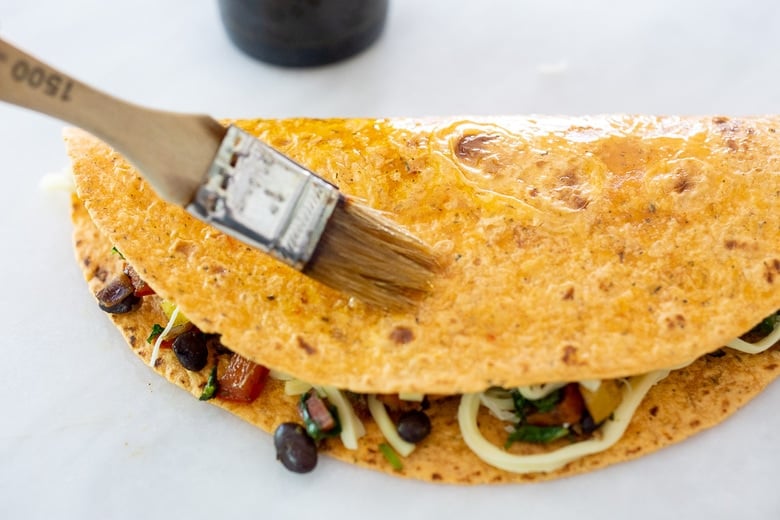 Step nine: Bake or grill! You can bake these directly on your oven grate (make sure tortilla is brushed with oil) or in your toaster oven. Or bake on a parchment-lined sheet pan, flipping halfway through.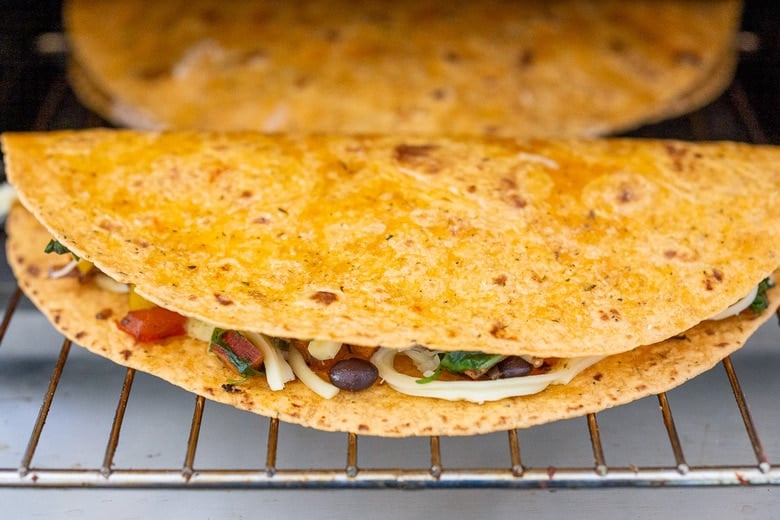 You can also grill these on an outdoor grill over medium-low heat, rotating to get lovely hash marks, or on a grill pan on the stove. A skillet will also work!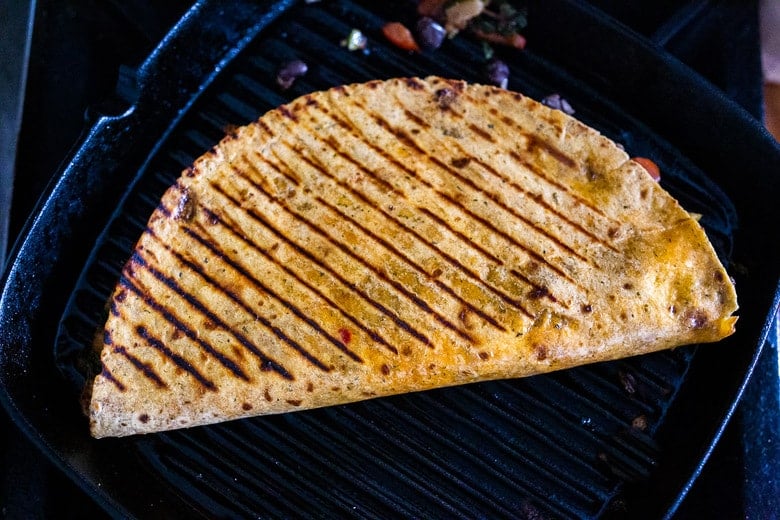 Step ten: Cut and serve!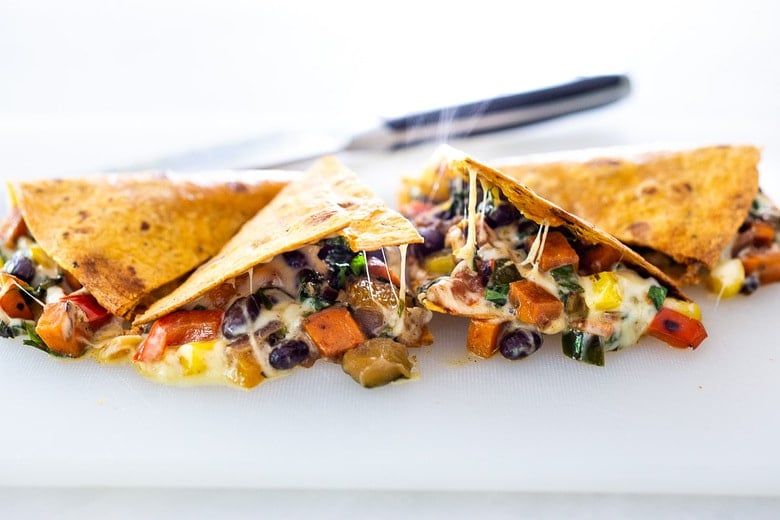 What to serve with Quesadillas
1. Spicy Sour Cream
A quick little sauce we make here is simply hot sauce mixed with sour cream. This combo is delicious on quesadillas or even served with chips or veggies as a dip. Creamy and spicy. Or try Chipotle Mayo!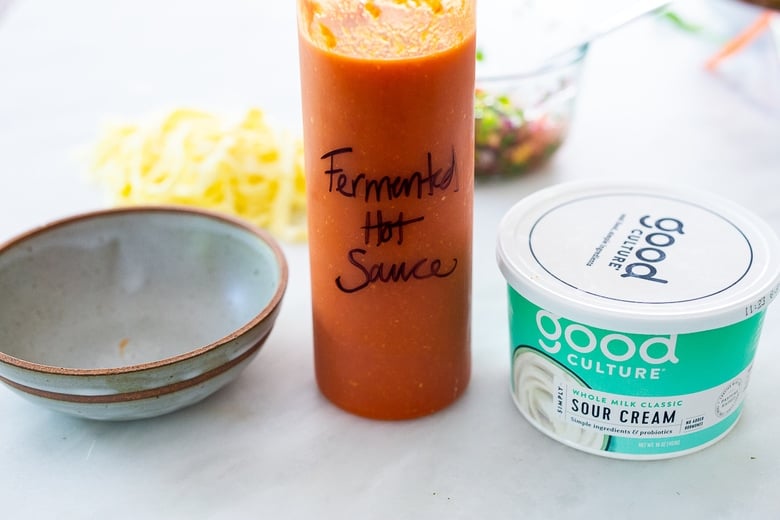 Make this as spicy as you want!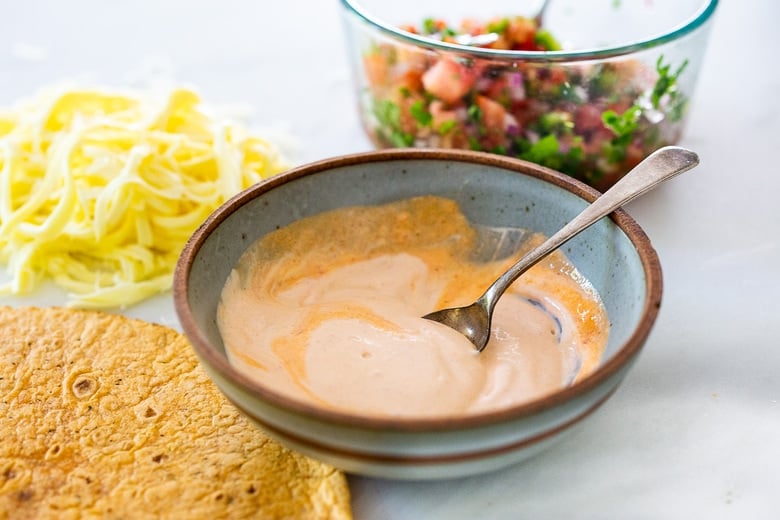 2. Pico De Gallo
You can also serve the Veggie Quesadillas with fresh Pico De Gallo! A cool and refreshing contrast to the quesadillas!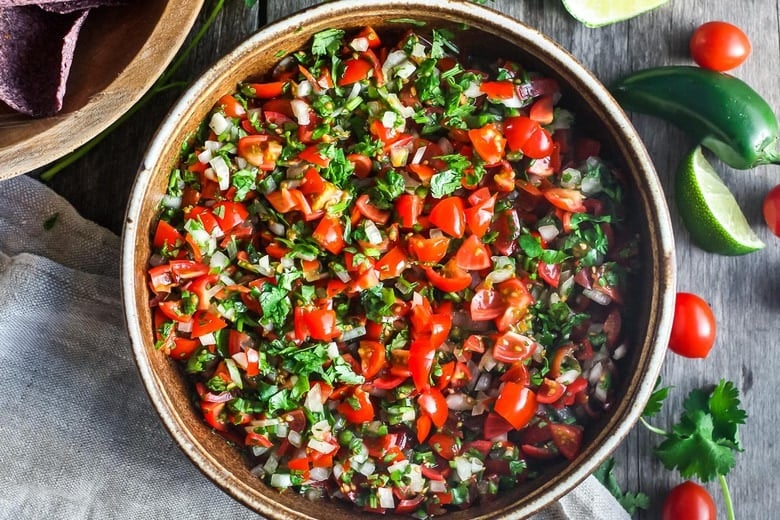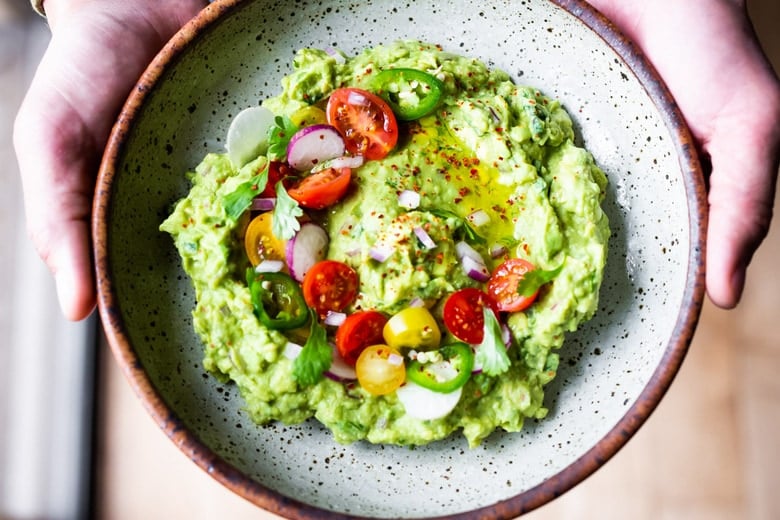 Meal Prep Tip:
The flavorful veggie filling can be made ahead on Sunday for the busy week ahead and will keep 4 days in the fridge. Simply assemble and bake when ready to eat.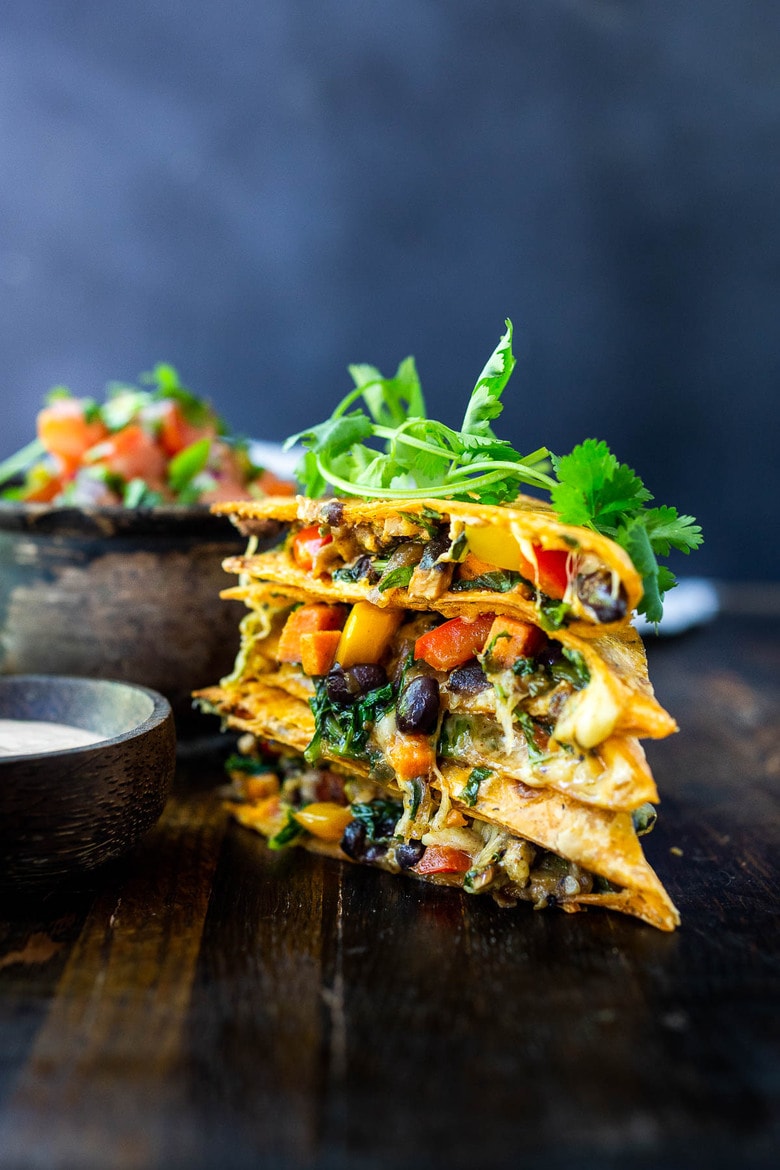 Can these be made Vegan?
Yes! A simple way to make these Veggie quesadillas vegan, is to sub-refried beans for the black beans. Slather them generously on the tortilla first then top with veggies and slices of avocado- both the refried beans and the avocado will add a nice richness.
Or you can make Creamy Cashew Cheese to add to the inside of the tortilla!
And of course, you can use melty vegan cheese or a vegan sour cream!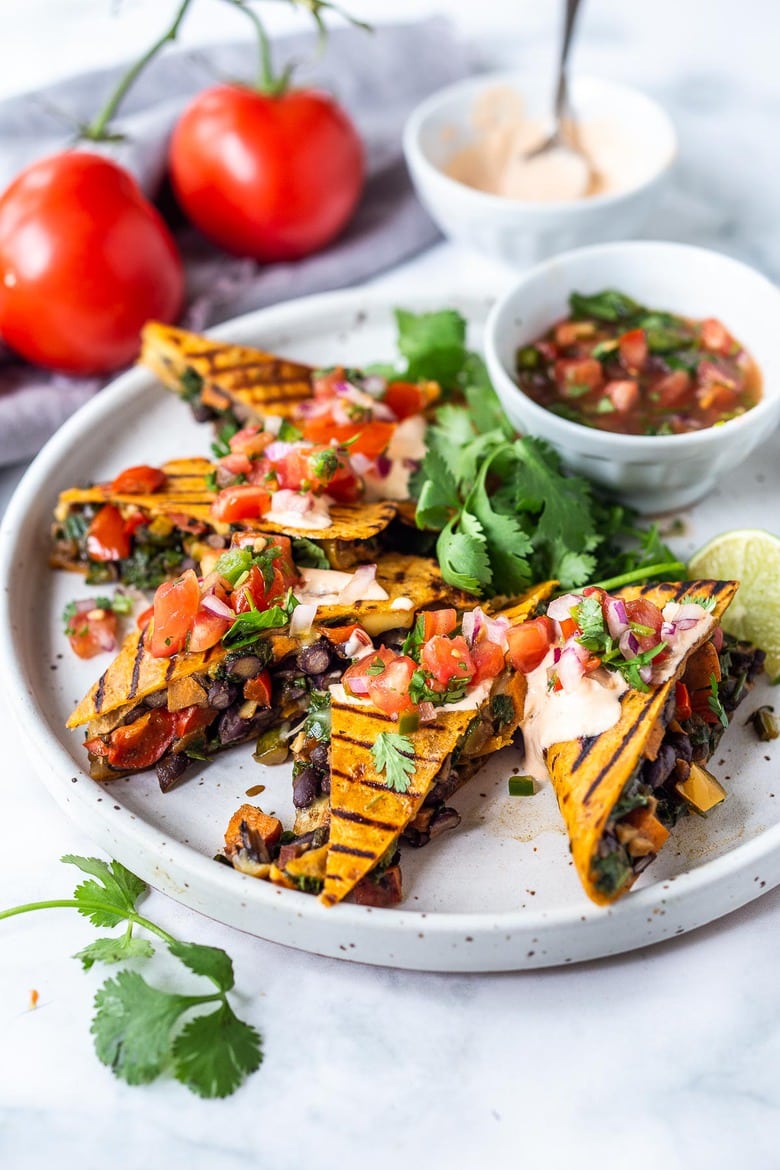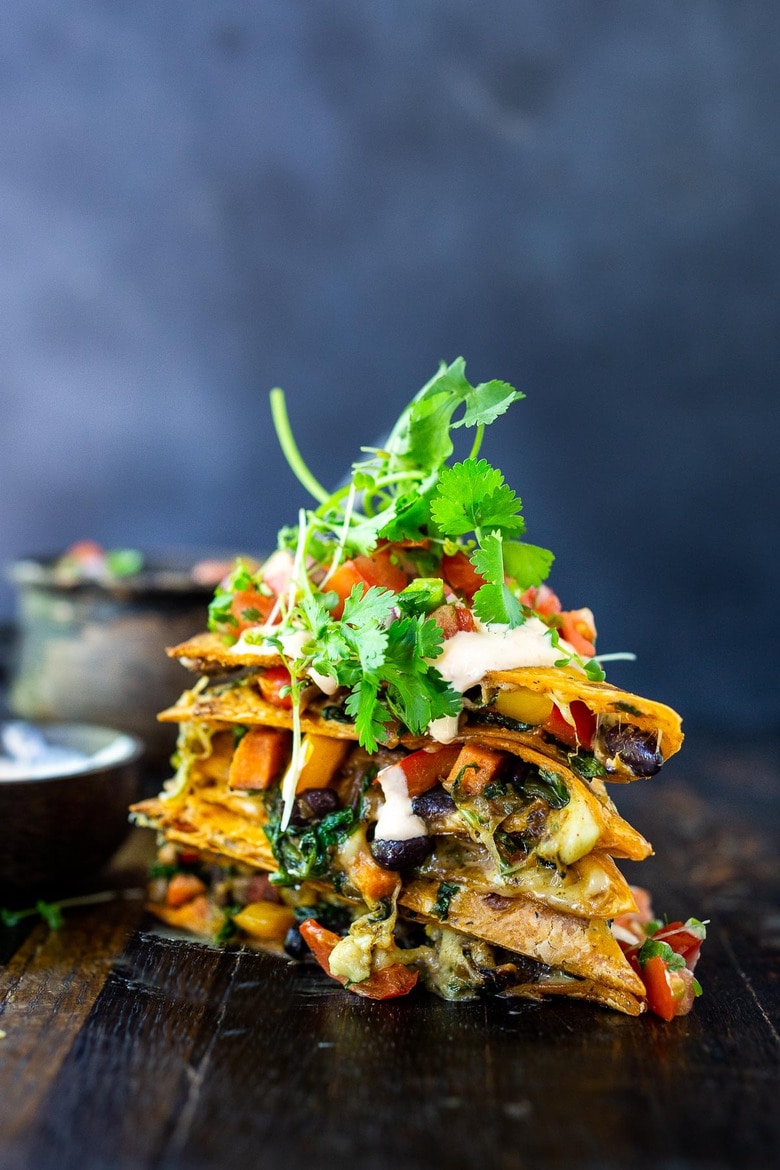 Hope you love the Veggie Quesadillas as much as we do! Have a great week!
xoxo
Other recipes you may like: 
Print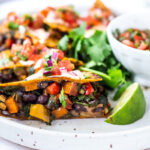 Farmers Market Veggie Quesadilla
Prep Time:

25

Cook Time:

15

Total Time:

40 minutes

Yield:

4

1

x

Category:

vegetarian dinner

Method:

baked

Cuisine:

southwest

Diet:

Vegetarian
---
Description
Farmer's Market Veggie Quesadillas loaded up with fresh seasonal veggies, black beans, Mexican spices and herbs. Vegan-adaptable!
---
Quesadilla Filling:
2 tablespoons

olive oil

1/2

an onion, diced (

1 cup

)

4

garlic cloves, rough chopped

4

cups

finely chopped veggies: bell pepper, zucchini, summer squash, mushrooms, broccoli, sweet potato, corn, etc. ( Chop the veggies small, so they cook faster!)

1/2 teaspoon

salt

1 teaspoon

dried oregano

1 teaspoon

cumin

1 teaspoon

coriander

1 teaspoon

chili powder

1

–

2

cups

chopped greens- beet greens, turnip greens, spinach, chard, etc.

1

cup

black beans (cooked or canned)

2 tablespoons

water

1/4

cup

cilantro, chopped- optional

1 teaspoon

lime zest- optional
4 x 10-12 inch tortillas (I used sundried tomato tortillas)
6 ounces shredded cheese- Oaxacan string cheese, mozzarella, pepper jack, etc. (or sub vegan cheese)
Spicy Sour Cream:
Serve with: Pico De Gallo!
---
Instructions
Preheat the oven to 400F  (or preheat grill to medium)
Make the Veggie Filling: Heat oil in an extra-large skillet over medium-high heat. Add the onion and garlic, saute 3-4 minutes until fragrant. Lower heat to medium, and add the chopped veggies and salt. Stir occasionally until the veggies soften (check) and release their liquid, about 10 minutes (lower heat if need be). Add the oregano, cumin, coriander, chili powder and give a good stir. Add the chopped greens and black beans and a couple of tablespoons of water, and stir until the greens wilt 1-2 minutes. Turn heat off. Stir in optional cilantro and lime zest.
Assemble the Quesadillas:  Scatter 1/2 cup cheese over the whole tortilla. Add one cup of veggie filling over half of the tortilla. Fold the Tortilla in half so the filling is encased with cheese (see photo). Brush the outer side of the tortilla with oil, and place in a hot oven for 15 minutes. You can place the greased quesadilla directly on the oven grates, or on a parchment-lined sheet pan, flipping halfway through. Bake until tortilla is crispy and cheese is melty.
Cut each into 4 pieces and serve with the Spicy Sour Cream and Pico De Gallo
To make the spicy sour cream– simply mix a few tablespoons of hot sauce with the sour cream in a little bowl.
---
Notes
Cooking options: 
The quesadillas can also be grilled on a well-greased grill, rotating to create hash marks and taking care to not to burn.
Quesadillas can also be pan-seared in an oiled skillet or grill pan on the stove.
The filling will keep 4 days in the fridge- so feel free to meal prep the filling for the workweek.
VEGAN VERSION: Either sub vegan cheese, use this creamy cashew cheese, or instead of using black beans, spread refried beans on the tortillas instead of the cheese. Serve with sliced avocado for extra richness.
Nutrition
Serving Size:

One quesadilla with 1 tablespoon Spicy Sour cream

Calories:

474

Sugar:

7.1 g

Sodium:

1467.1 mg

Fat:

21.5 g

Saturated Fat:

7.7 g

Carbohydrates:

51.1 g

Fiber:

7.1 g

Protein:

22.1 g

Cholesterol:

32.7 mg
Keywords: veggie quesadillas, vegetable quesadillas, farmers market quesadillas, vegan quesadillas, vegetarian quesadillas