BBQ Chicken Sweet Potatoes are perfect for mixed households who have meat-lovers, vegetarians, vegans, and gluten-free folks all living under the same roof. Sub black beans for chicken! Fully customizable and adaptable!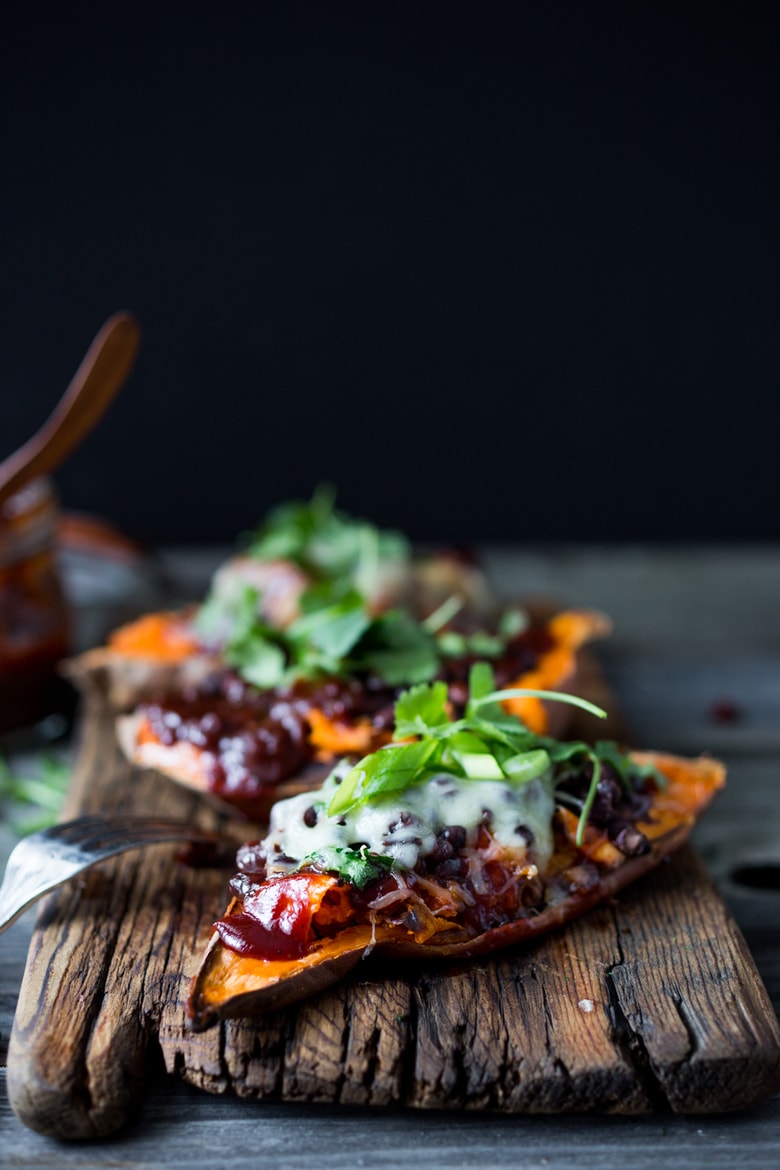 Learning takes place only in a mind that is innocent and vulnerable. ~Krishnamurti~
I keep hearing from so many of you of how challenging it is to accommodate different diets in your households ( vegans, meat-eaters, gluten free) and the difficulty of wanting to serve more veggies while having to prepare several different meals each night. This recipe for BBQ Stuffed Sweet Potatoes allows you to prepare one meal, altering only the protein. Use either black beans or chicken and either add melty cheese like I do for Brian, or keep it lean and vegan and add avocado. And either way, it's gluten- free!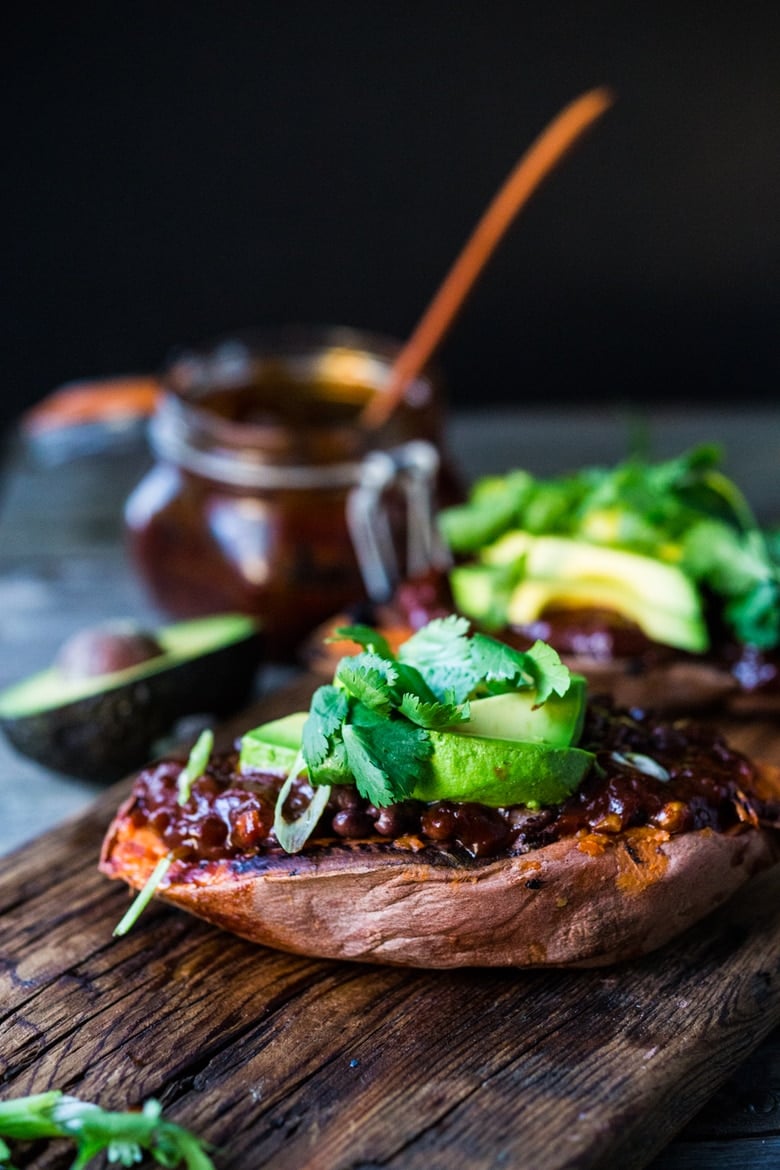 When thin crust gourmet pizzas first arrived on the scene in Southern California way back in the 80's, my mom and I would go to California Pizza Kitchen and order our favorite thing ever- BBQ Chicken Pizza. Back then it was new and original and something of an anomaly, and I swear you could smell that wood fired oven miles away. The most brilliant marketing idea ever. Afterwards we would take our full, happy bellies on a long leisurely walk through Ikea, and it became one of our "things" we did. To this day, I still crave that BBQ Chicken Pizza.
This Baked Sweet Potatoes with BBQ Chicken ( or Black beans) is a lighter, healthier way to get a dose of my favorite flavors. A sweet potato or yam is baked until tender then smothered in Homemade BBQ Sauce,(of course, store-bought is OK too) then topped with your choice of chicken or black beans (or both) and finished with either melty cheese or avocado, sprinkled with cilantro and scallions. So yummy!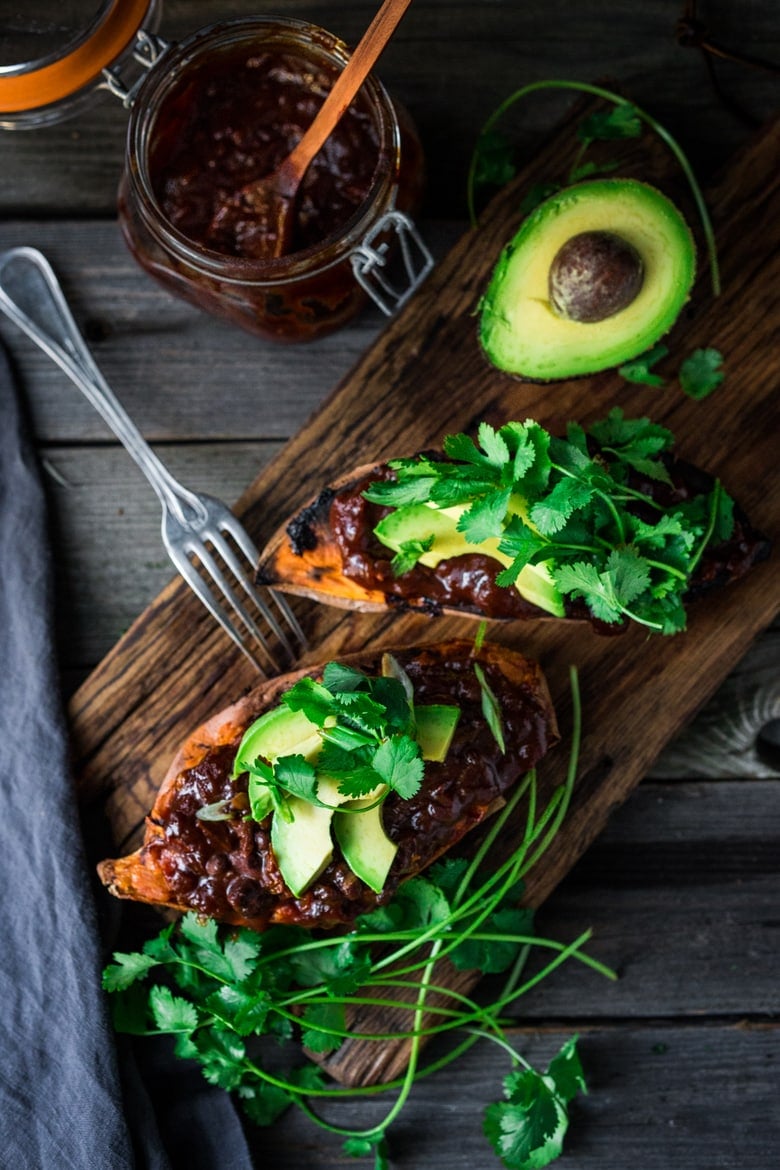 When making this with chicken, like I am here for Brian, simply place the chicken on the same sheet pan as the yam. Drizzle it with a little olive oil, salt and pepper and place in the oven to bake for roughly 30 minutes. How easy is that?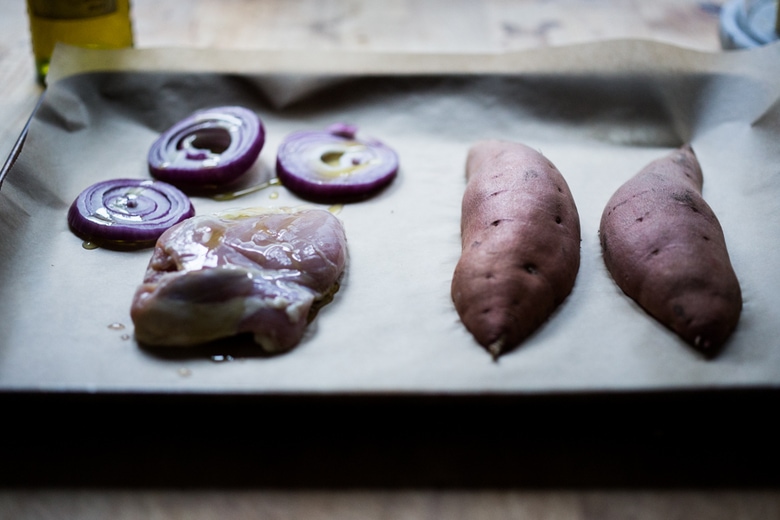 While this bakes, get all your other ingredients ready. Drain and rinse your black beans. Chop cilantro, avocado, scallion or red onion. If adding cheese, grate it. Smoked mozzarella is especially yummy on this, or keep it light lean and vegan with avocado.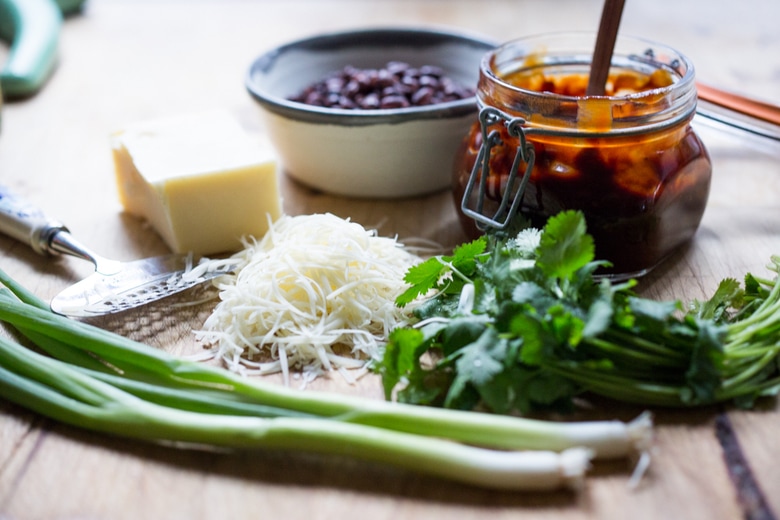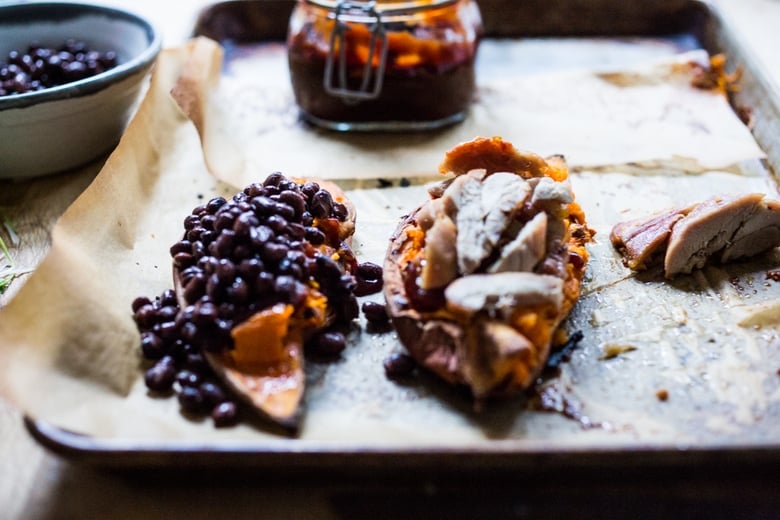 So the one on the left with black beans is mine. The one on the right is Brian's. This is how I can easily accommodate both of our preferences ( vegetarian vs. carnivore) in one meal.
At home, I rarely ever create a whole separate meal, I just adapt one meal. Hopefully this makes sense.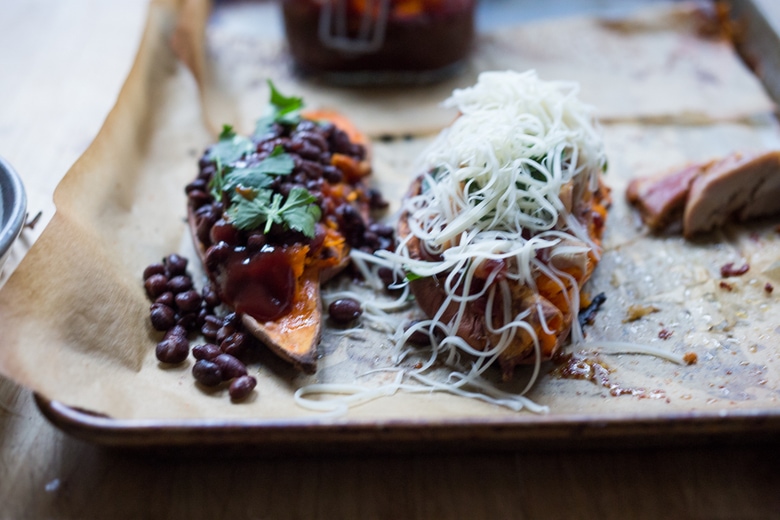 Below I've made it three different ways- vegan with no cheese and extra avocado, vegetarian with black beans and melty cheese, and lastly with chicken, black beans and melty cheese, the whole shebang.
The funny thing about preparing meals for a husband who loves meat, is that if I place the vegan version in front of him, without actually telling him it is vegan, he loves it. So that is my tactic most of the time. If I just don't say anything, 9 times out of 10, he'll try it and ends up liking it. If I preface the meal with "Ok honey, we are having a healthy dinner tonight", or anything like that- forget it, it's over. He immediately becomes suspicious and prejudice.
I'm telling you this because so many of you have emailed me about this same issue in your own homes…. wanting to create and eat healthy, more veggie-based meals but you often get resistance from family members.
So, anyways, this is my tactic, just placing a pretty plate of food in front of him without saying one word. Then there is absolutely nothing for him to resist.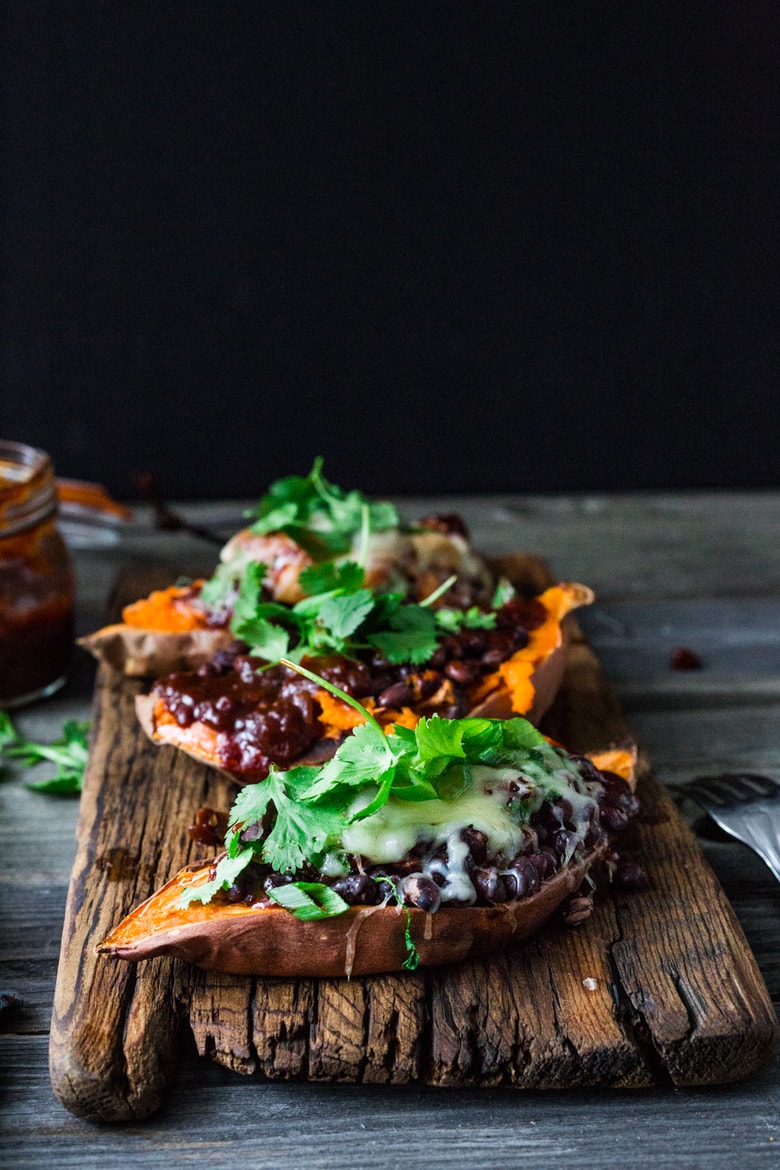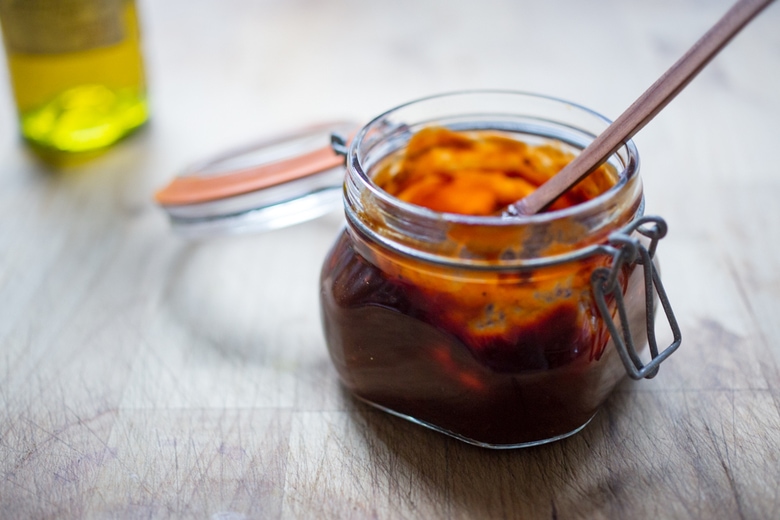 If thinking about making your own preservative-free homemade BBQ Sauce, here is my recipe which I love. Make a batch and store it in a jar, it will keep for months in the fridge.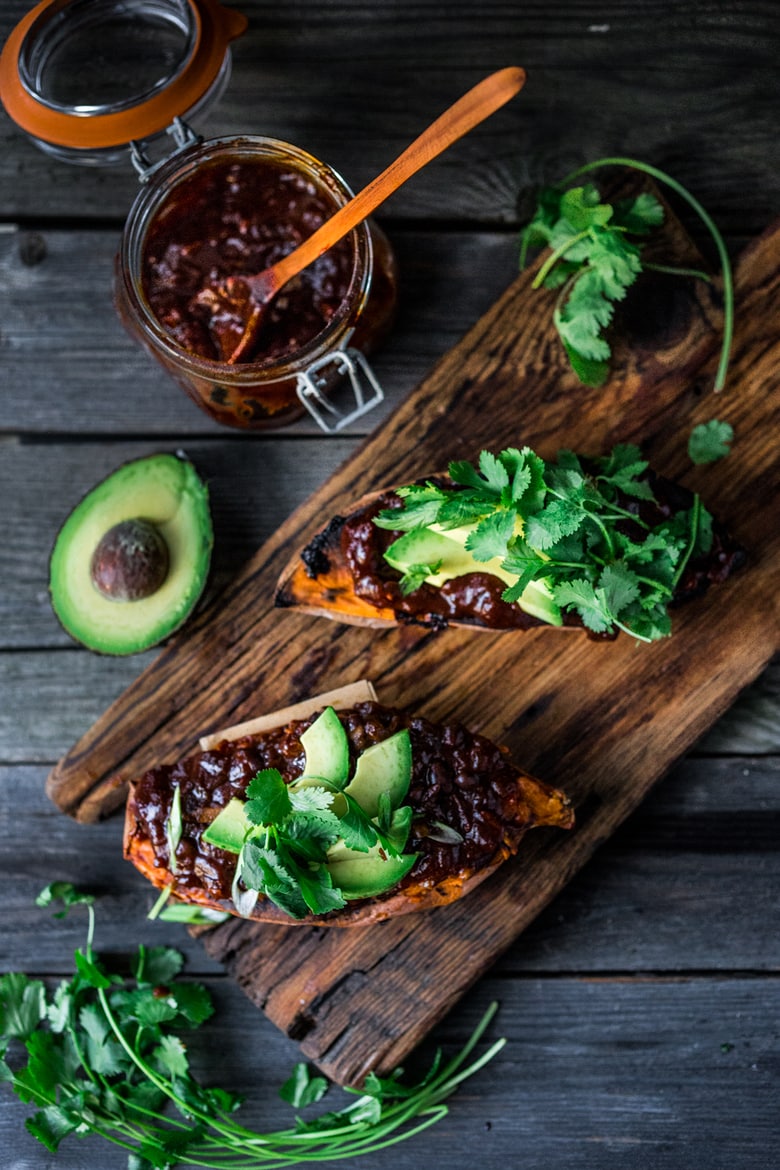 Ok I hope you like this one as much as we do- and please give the homemade BBQ Sauce a try, so tasty!!
Thanks so much, new comers, for answering my "What is your biggest challenge in the Kitchen". I have read every single one and this recipe was for those of you who have told me the challenges of cooking for mixed householders ( vegans/vegetarians/ GF/ and meat-eaters) all living under the same roof.
Hope it helps!!
xo
Print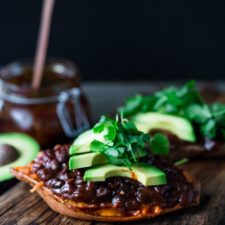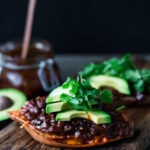 BBQ Chicken Sweet Potatoes ( or sub black beans)
Prep Time:

10 mins

Cook Time:

30 mins

Total Time:

40 mins

Yield:

2

Category:

Main, Vegetarian

Method:

Baked

Cuisine:

Chicken and VEGAN ADAPTABLE, Gluten free
---
Description
Baked Sweet Potatoes with BBQ Chicken ( or Black beans) or both! Perfect for mixed households who have meat-lovers, vegetarians, vegans, and gluten-free folks all living under the same roof. Customizable and adaptable!
---
1

medium- large yam or sweet potato

1

8 ounce raw chicken breast or thigh ( or sub 1 can black beans, or

1 cup

cooked chicken breast)

1/2 teaspoon

oil
Generous Pinch Salt and Pepper
—-
4-6 tablespoons BBQ Sauce– Store bought or homemade

¼ cup

chopped cilantro

¼ cup

chopped scallions or red onion

¼

–

½

cup shredded cheese ( mozzarella, jack, cheddar) optional
salt and pepper
---
Instructions
Pre heat oven to 425F
Cut yam in half lengthwise
If adding chicken, coat breast in a little oil and sprinkle with salt and pepper, and place next to the sweet potato.
When the oven is hot, bake yam and chicken for 30 minutes.
Check that yam is fork tender and chicken is cooked through at thickest part. If not, continue cooking for a bit longer, removing whichever is done, so not to overcook.
Turn yams over and leave on the sheet pan. Slice the chicken into small bite size pieces ( or if using black beans, drain and rinse the beans well, and season with salt and pepper)
Using a fork, scruff up the yams, careful to leave the skin in tact and sprinkle with a little salt and pepper. Then mix in 1-2 tablespoons ( or more if you like) BBQ sauce with the yam. Divide the chicken ( or black beans) add a 1-2 more tablespoons BBQ Sauce. Top with half the cilantro and onions and then top with optional cheese.
Return this to the oven and bake 10-15 more minutes ( or until heated through) and cheese is melty.
Scatter with remaining onions and cilantro and top with avocado slices.
---
Notes
Nutritional value based on using 8 ounces chicken, no cheese and ½ an avocado.
Try my HOMEMADE BBQ SAUCE RECIPE
Keywords: baked sweet potato, stuffed sweet potato recipe, baked sweet potato recipes,
SaveSave
SaveSave