Kyoto-style, Roasted Sweet Potatoes with Miso, Ginger and Scallions – a delicious side dish that is easy to make and full of amazing flavor! Vegan-adaptable! Video.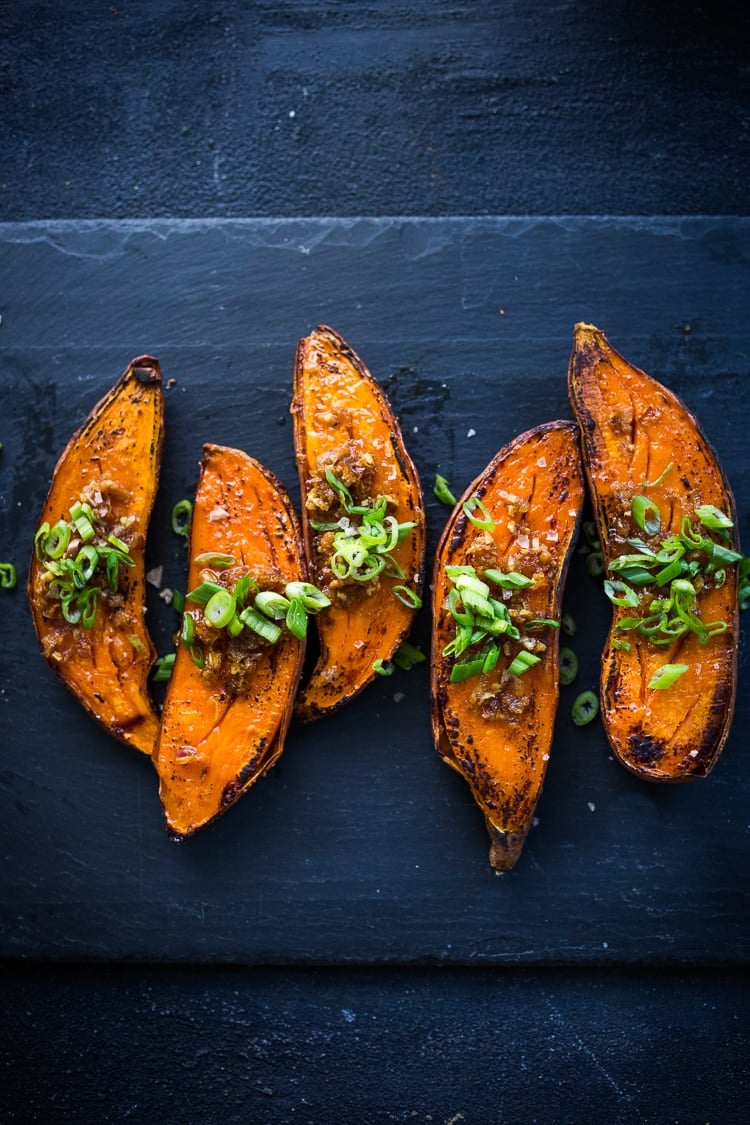 Living in alignment with the truth of impermanence opens a secret passageway to joy. John Brehm
Here's a simple, tasty side dish we've enjoyed since we went to Japan a few years ago – Kyoto-style, Roasted Sweet Potatoes with miso, ginger and scallions. The sweet potatoes are roasted until fork-tender, then broiled to get a little color, and then topped with a delicious pan sauce made with finely minced shallots, ginger and miso.  Though simple, we sometimes served this for dinner as our "main" with a large salad and find it deeply filling and satisfying. I hope you do too!
Roasted Sweet Potatoes | 60-sec video
What you'll need!
Sweet Potatoes: we use orange-fleshed, garnet yams here ( see difference between yams and sweet potatoes below.)
Ghee, Coconut oil or Butter: We love this with ghee for its incredibly nutty flavor, but coconut oil works too.
Fresh Ginger
Shallots
Miso Paste: I prefer white miso paste, but any variety will work.
Scallions, for garnishing
How to make Kyoto Roasted Sweet Potatoes
Cut the sweet potatoes in half lengthwise brush with olive oil and roast in the oven, open side down, until fork tender.  If you have a broiler, flip them and broil the tops.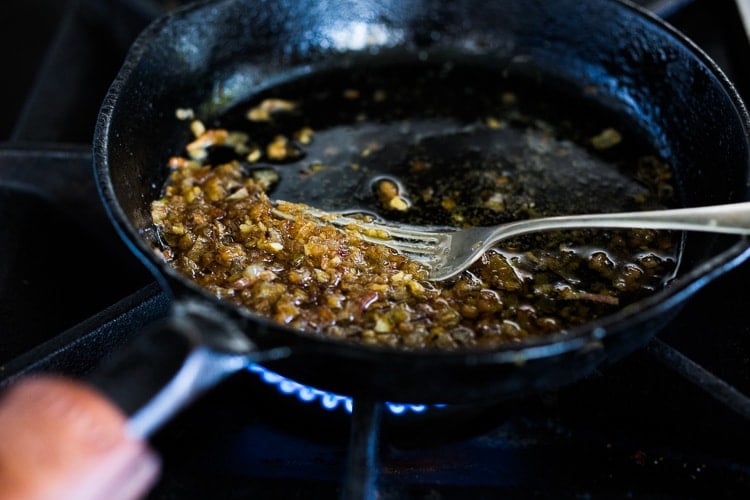 While the sweet potatoes roast in the oven, the shallots and ginger are sautéed low and slow until deeply golden. You can use coconut oil, ghee, or butter, whatever you prefer.  I love ghee best! You do you. 🙂
Then using a fork, mix in a bit of miso paste into the shallot ginger pan sauce, which will add depth as well as some crispy brown bits.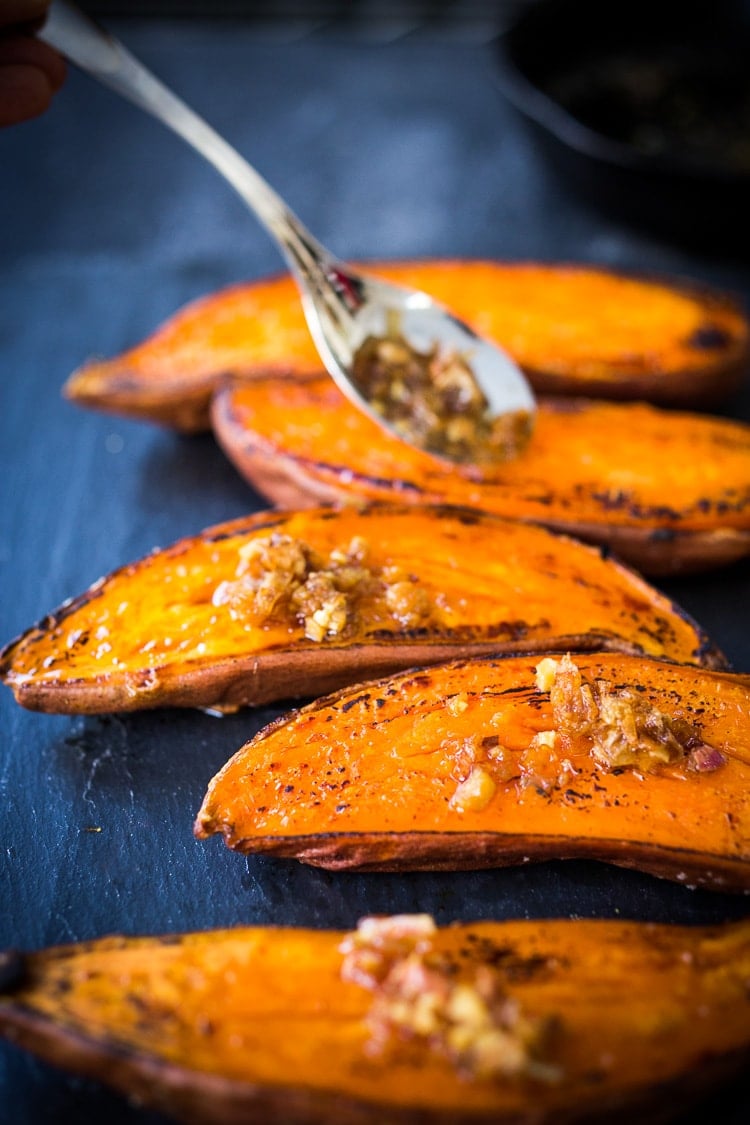 Spoon the Miso Butter sauce over the roasted sweet potatoes.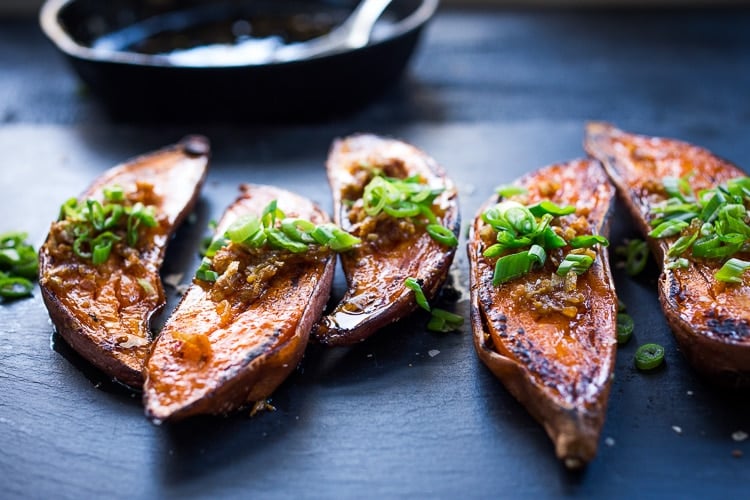 Add the scallions or chives.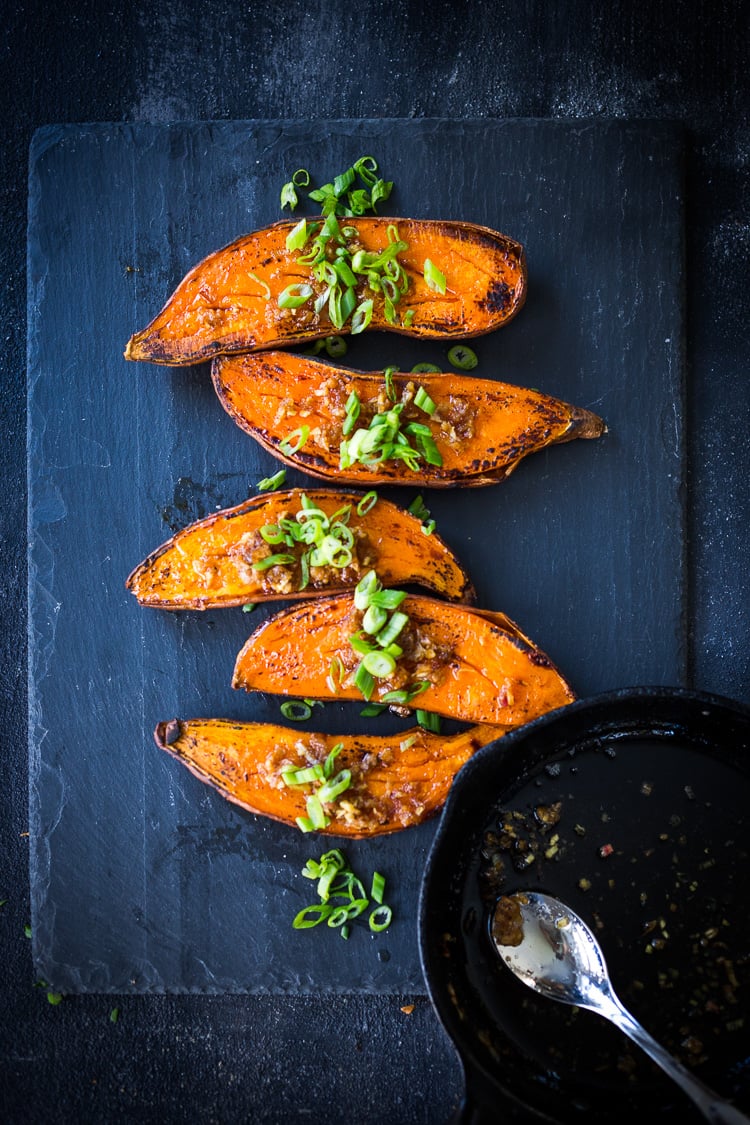 The sweetness of the sweet potatoes, paired with the shallots and ginger, and the depth of the miso are such a tasty combination.
What to serve with Roasted Sweet Potatoes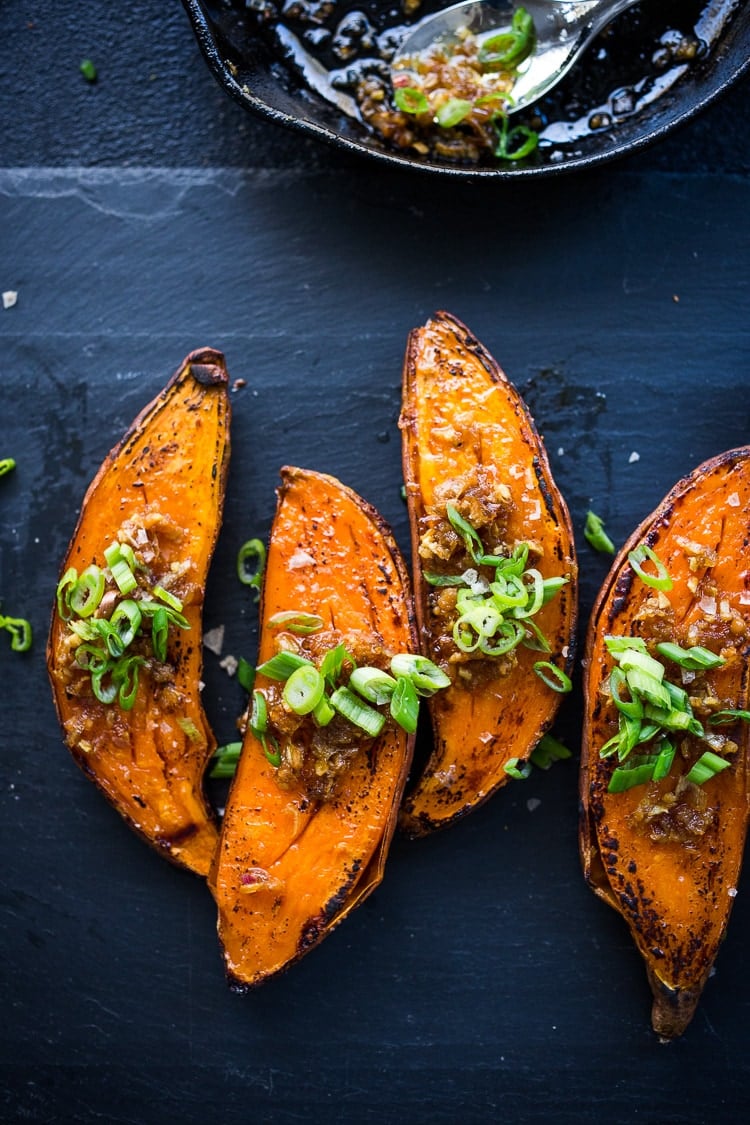 Difference between Yams and Sweet Potatoes
Yams and sweet potatoes are often confused because they have similar characteristics and are both used in similar culinary ways. However, they are botanically distinct and come from different plant families. Here are some key differences between yams and sweet potatoes:
Botanical Differences:

Yams belong to the Dioscoreaceae family, while sweet potatoes belong to the Convolvulaceae family. They are not closely related in botanical terms.
Yams are typically larger and have rough, scaly, and dark brown to light pink skin with white, purple, or reddish flesh, depending on the variety.
Sweet potatoes usually have smooth, thinner skin that can range in color from beige to orange, purple, or even red. The flesh of sweet potatoes also varies in color, with common types being orange, white, and purple.

Geographic Differences:

Yams are more commonly grown and consumed in Africa, Asia, and the Caribbean.
Sweet potatoes are widely grown and popular in the United States, particularly in the southern states.

Flavor and Texture:

Yams tend to have a starchy, dry, and less sweet taste compared to sweet potatoes.
Sweet potatoes have a sweeter taste and a smoother, creamier texture when cooked.

Nutritional Differences:

Sweet potatoes are a good source of vitamins A and C, dietary fiber, and various minerals.
Yams are lower in vitamins A and C but are a good source of dietary fiber and certain minerals.
***In some parts of the world, the term "yam" is used interchangeably with "sweet potato," which can contribute to confusion. It's essential to check the labeling or ask for clarification when purchasing them, especially in regions where both terms are used for sweet potatoes. In the United States, for instance, the orange-fleshed sweet potatoes are often labeled as "yams," even though they are not true yams.
Give these Japanese-inspired, Roasted Sweet Potatoes a try this week and let us know what you think below!
Have a happy weekend!
xoxo
More Sweet potato recipes you may enjoy!
Print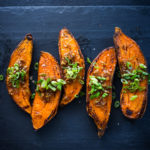 Roasted Sweet Potatoes with Miso
Author:

Sylvia Fountaine

Prep Time:

15

Cook Time:

40

Total Time:

55 minutes

Yield:

4

-6

1

x

Category:

side, side dish, vegan side dish, vegan sides, vegetable

Method:

roasted

Cuisine:

Japanese

Diet:

Vegan
---
Description
These Japanese-inspired, Roasted Sweet Potatoes with Miso, ginger and scallions can be made vegan, using olive oil or coconut oil. A simple delicious vegan side dish that is easy to make and full of amazing flavor!
---
2

–

3

yams (or small sweet potatoes) sliced in half, lengthwise
olive oil for brushing

1

large shallot, very finely diced ( about

1/2 cup

)

2 teaspoons

ginger finely minced

1 tablespoon

miso ( I prefer white, but any color will work)
salt to taste

3

Scallions, sliced
---
Instructions
Preheat oven to 425F
Cut sweet potatoes in half lengthwise and place on a parchment-lined sheet pan, cut side down. Brush or spray the skin sides with olive oil.
Roast 30-40 minutes until fork tender (check at 30 mins, keeping in mind they need may need longer if very large) When tender, flip over and broil if they need more caramelization. Adding little color ( or char) around the edges is good here.
While they are roasting make the Shallot Ginger Miso "butter". Heat the oil, butter or ghee over medium low heat, add the shallot and carefully sauté until golden, stirring often about 5-6 minutes. Add the ginger, cook 2-3 more minutes. Add the miso and using a fork, mash and it into the mixture, breaking it up as much as possible. It won't get creamy, just mash the miso as best you can with the fork into the tiniest little bits, and let these bits get slightly crispy, sautéing 2 minutes or so. Turn heat off.
When sweet potatoes are caramelized to your liking, place on a platter flesh side up, reheat the miso butter, pierce the flesh in a few spots using a spoon, (so miso butter can get down inside) then spoon a tablespoon or two of the sauce over each one, making sure to include the flavorful "brown bits" ( shallot, ginger, miso).
Sprinkle with a little finishing salt ( I really like using smoked Maldon Salt here) and sprinkle with chopped scallions.
Enjoy as a side dish or as a vegan main, along with a salad.
This would be tasty with Teryaki Salmon and Bokchoy or Miso Baked Tofu 
---
Nutrition
Serving Size:
Calories:

271

Sugar:

1.7 g

Sodium:

63.7 mg

Fat:

9.8 g

Saturated Fat:

1.4 g

Carbohydrates:

44.5 g

Fiber:

6.7 g

Protein:

2.9 g

Cholesterol:

0 mg
Keywords: roasted sweet potatoes, miso roasted sweet potatoes, baked sweet potatoes, roasted yams, miso butter, japanese sweet potatoes, roasting sweet potatoes, how to roast sweet potatoes, vegan sweet potato recipes