Moroccan Sweet Potatoes are filled with a delicious, savory mixture of chickpeas, onion, garlic, apples and fresh cilantro, seasoned with a spicy & flavorful Moroccan spice blend called "Ras el Hanout." Keep them vegan or add "Smoked Yogurt".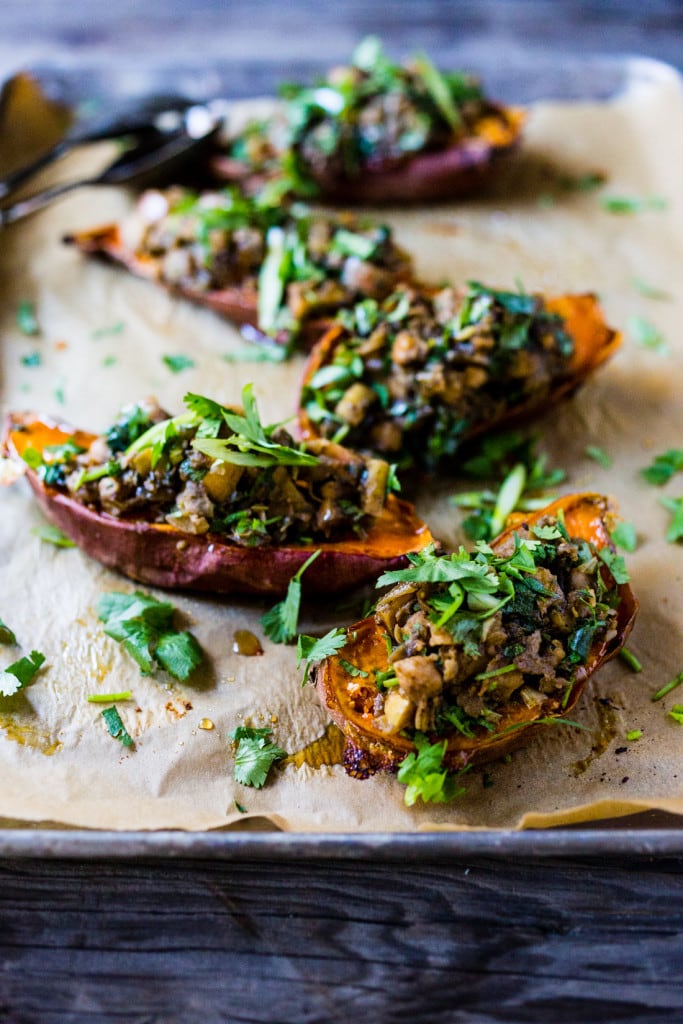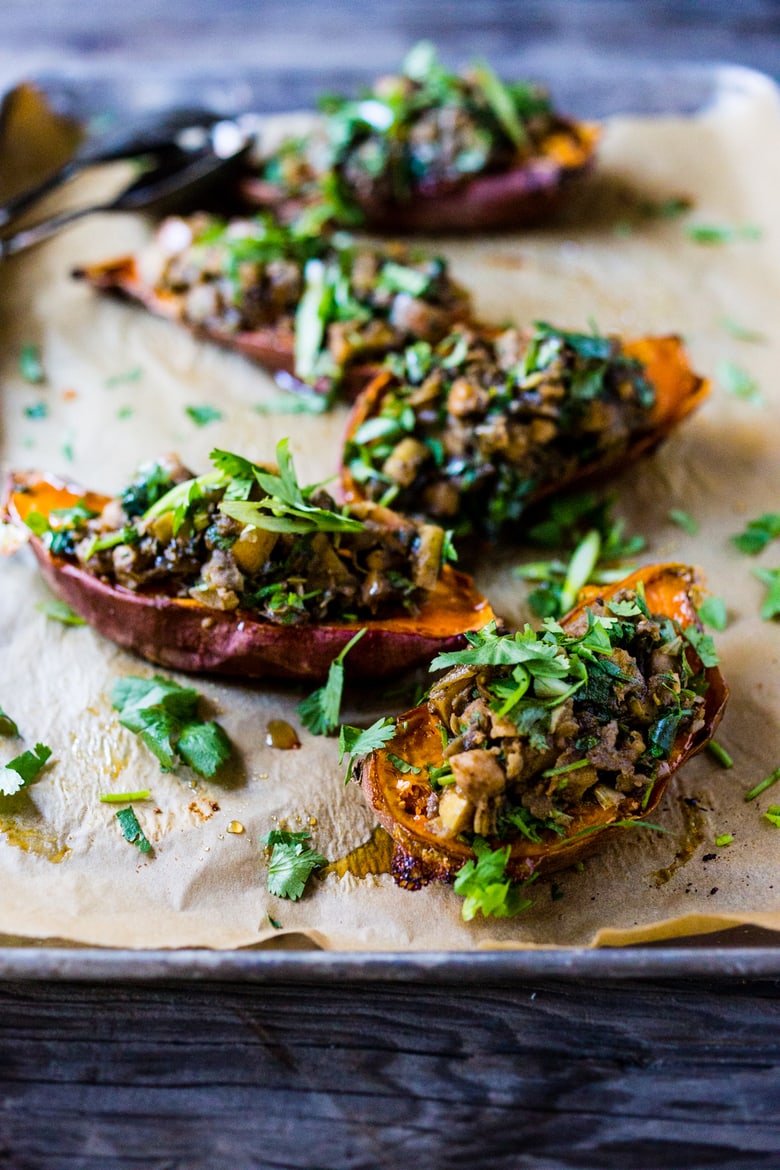 These healthy Moroccan Sweet Potatoes are roasted and stuffed with a delicious and savory mixture of chickpeas, onion, garlic, apples and fresh cilantro, seasoned with a spicy & flavorful Moroccan spice blend called "Ras el Hanout."
I love this meal because it's fairly low in fat and calories, high in nutrients, and very filling and satisfying. With the cooler fall weather, I find my appetite is voracious! I literally want to eat everything in sight.
Sweet potatoes are one thing I turn to when I feel myself getting a little out of control. They are naturally filling, full of fiber and when roasted, their natural sugars caramelize. Ras el Hanout, if unfamiliar, can be found here at our store,  or can easily be made at home. Keep this meal completely vegan, or drizzle lightly with my new favorite thing –  "smoked" yogurt, for extra wow.
I have the "smoked" in quotes here because, even though we actually have been smoking yogurt in our smoker – which is over the top amazing – it's a more arduous process than I expect most people have time for. So here's a faster, easier way of mimicking this – by simply adding smoked paprika to yogurt. It has become our favorite condiment around here, and I often drizzle it over roasted vegetables and soups. It's a keeper, for sure.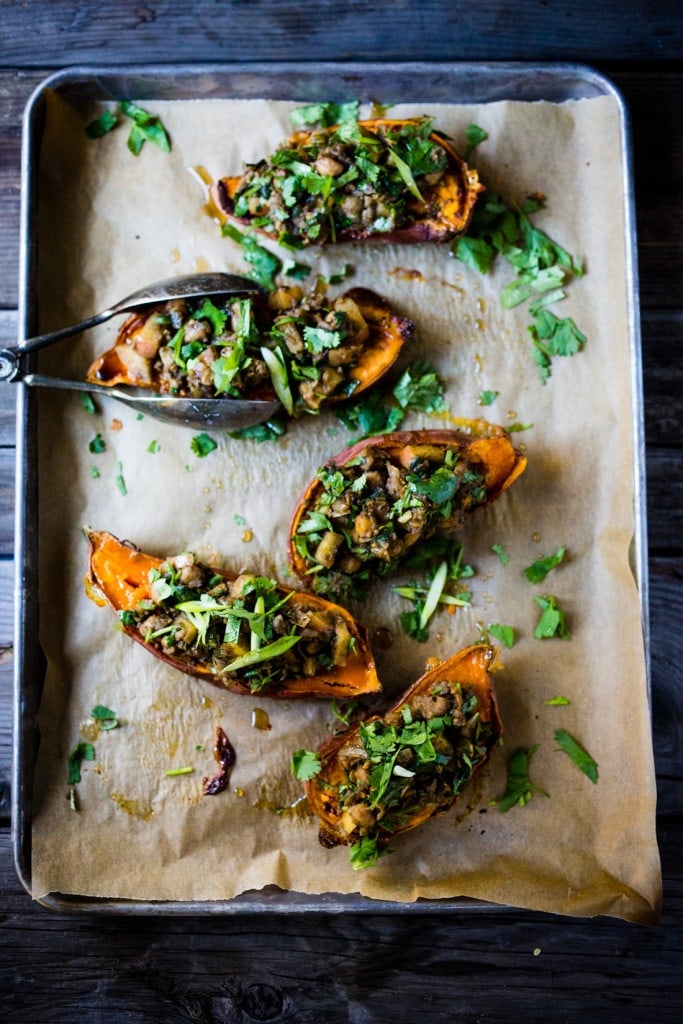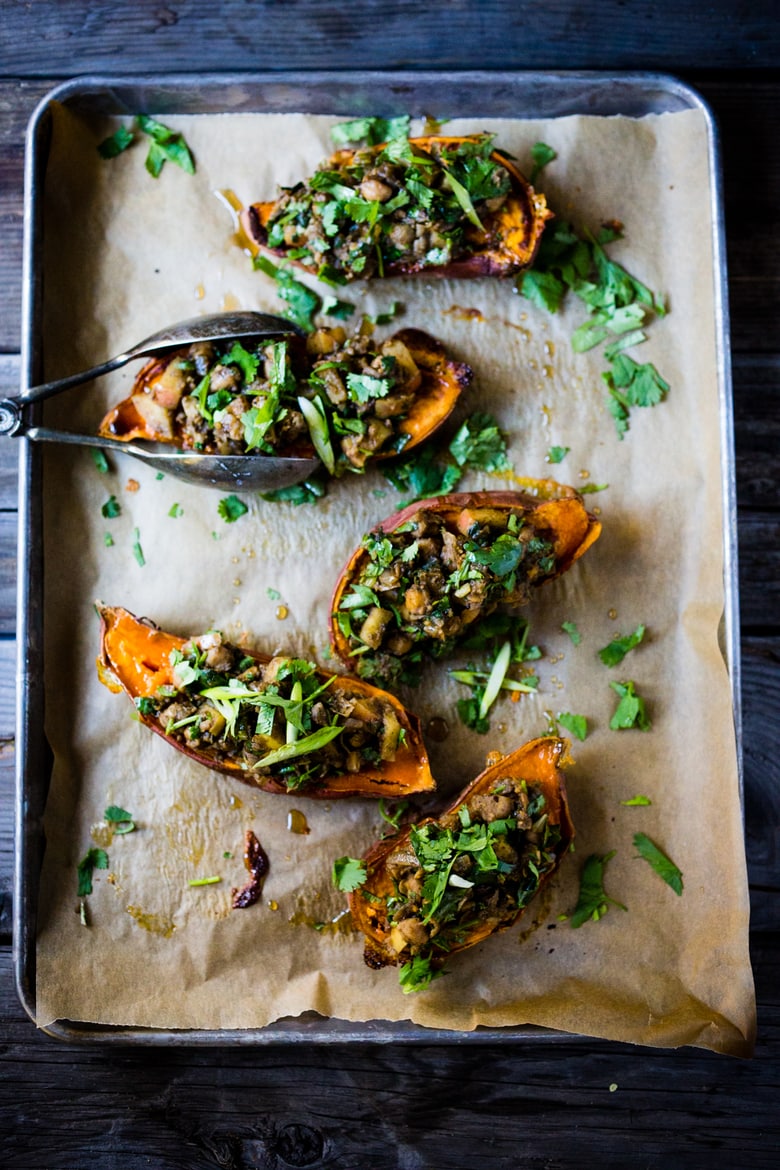 Split the sweet potatoes in half lengthwise, and roast cut side down on a parchment-lined baking sheet.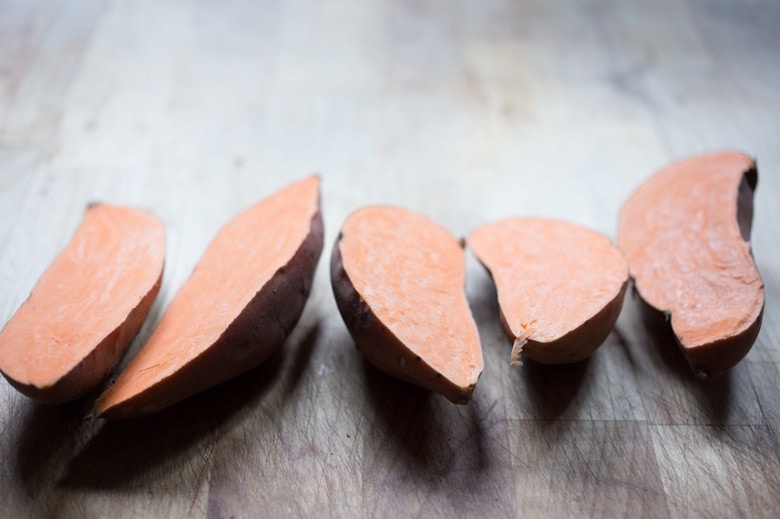 When they are done, flip them over …..they will be soft and caramelized.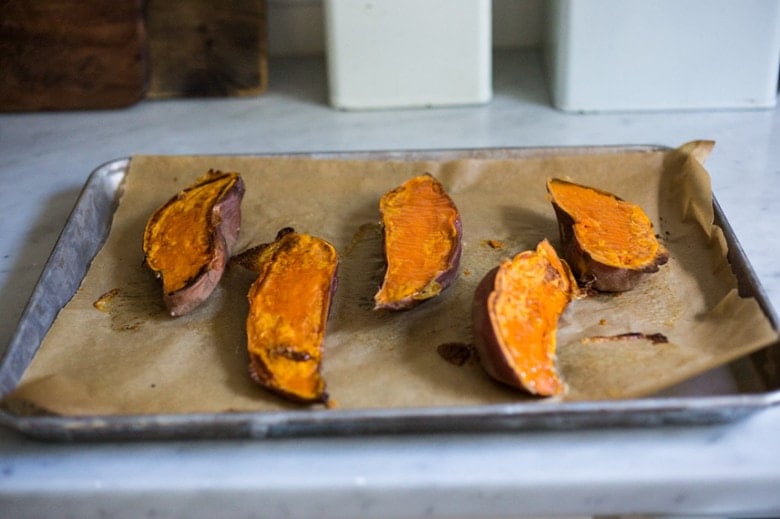 While they are sweet potatoes are roasting, saute the onions, garlic, chickpeas and apples.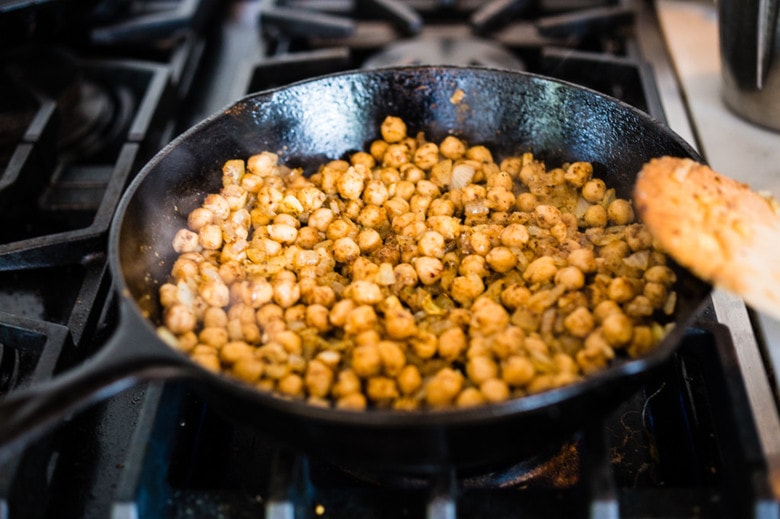 Below on the right, is the Seattle Based Ras el Hanout Spice Blend we carry at our store. It is lovely.
The left comes from Trader Joes. Each blend is slightly different, with different levels of heat.
Traditionally, it's a blend of spices you probably already have at home: cumin, cinnamon, cloves, cardamom, and cayenne.
I actually make the filling a little spicy, purposely, because when it's together with the sweet potato, the heat dissipates.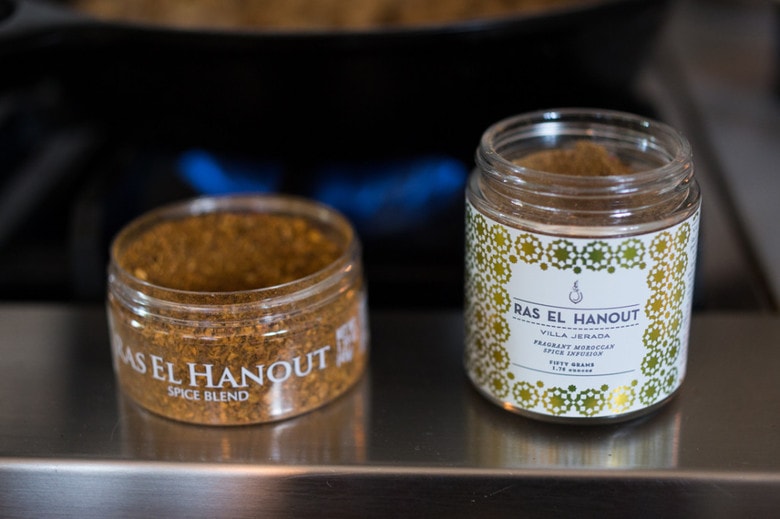 So season up the chickpea-apple filling with the Ras el Hanout. Then make slit in the soft sweet potatoes and place a few heaping spoonfuls over them. Keep them in a warm oven until ready to serve.
Sprinkle with fresh cilantro and scallions,  and a drizzle of the "smoked yogurt." Or keep them vegan!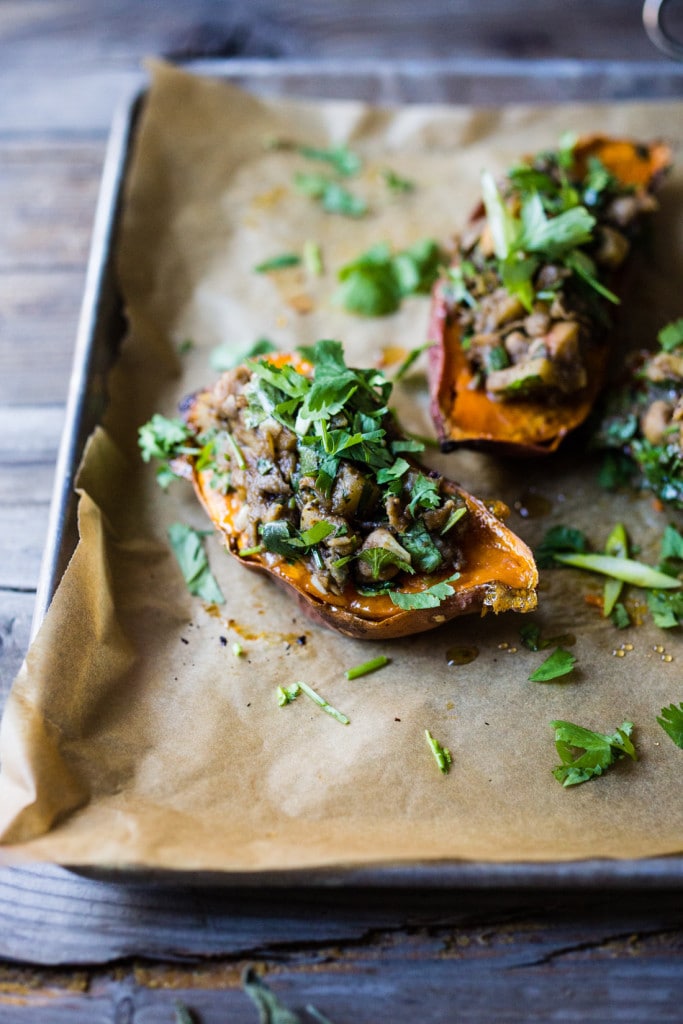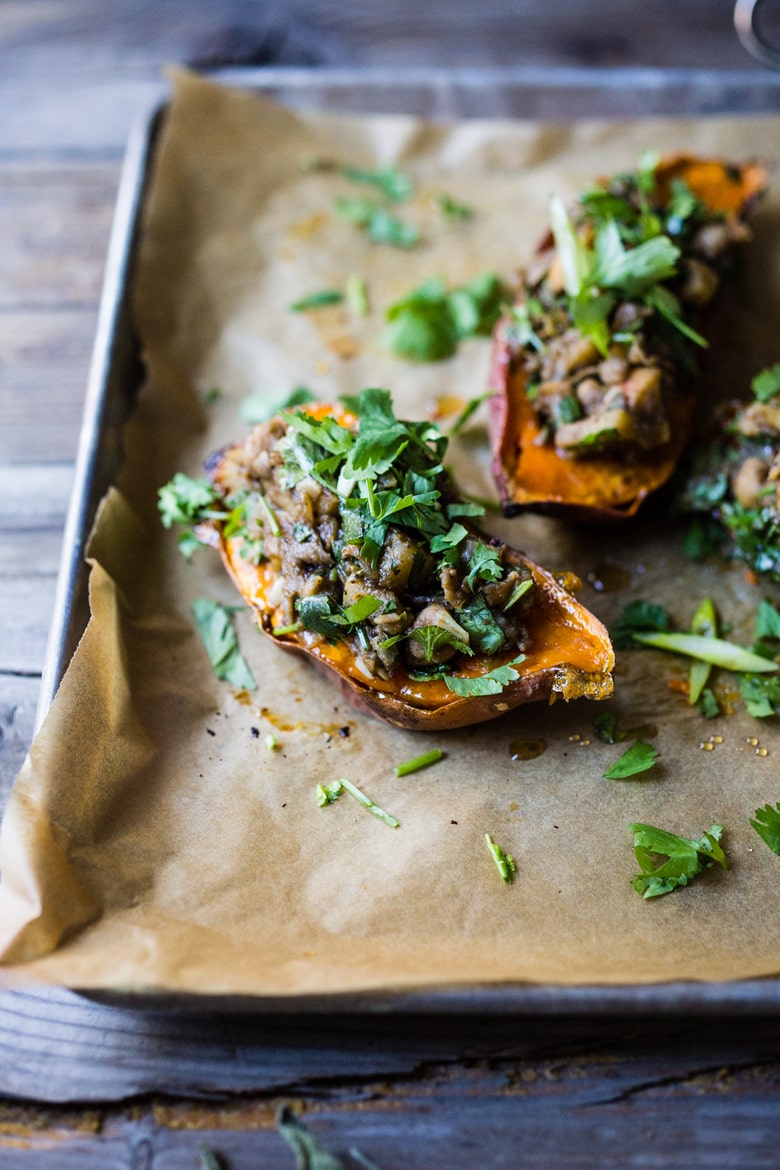 These Moroccan Sweet Poatoes even taste great the next day. Just heat them up in the oven!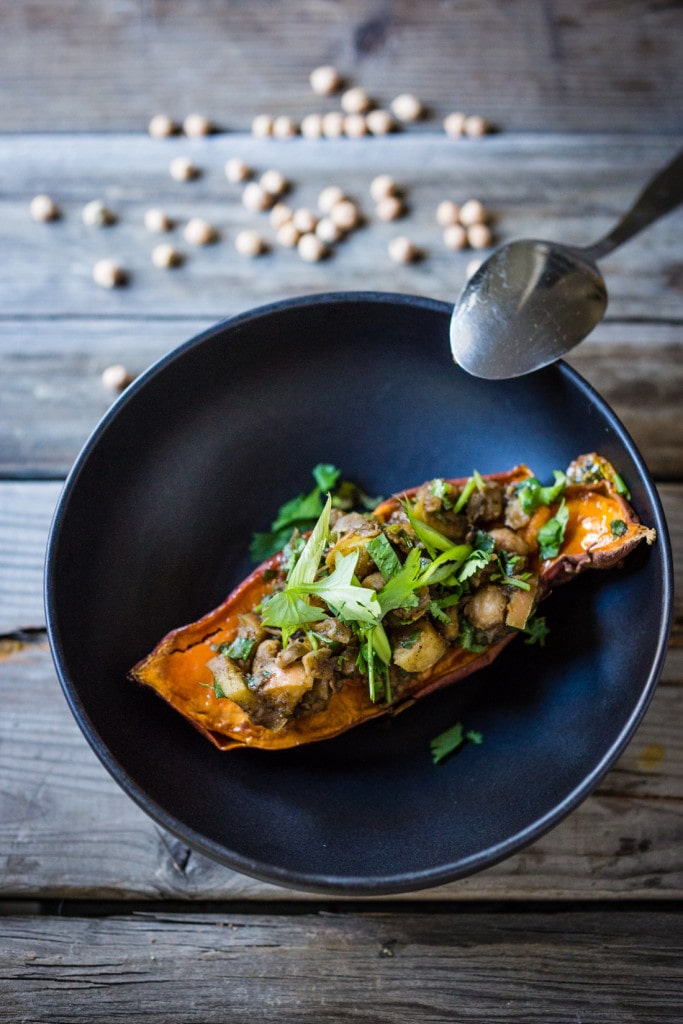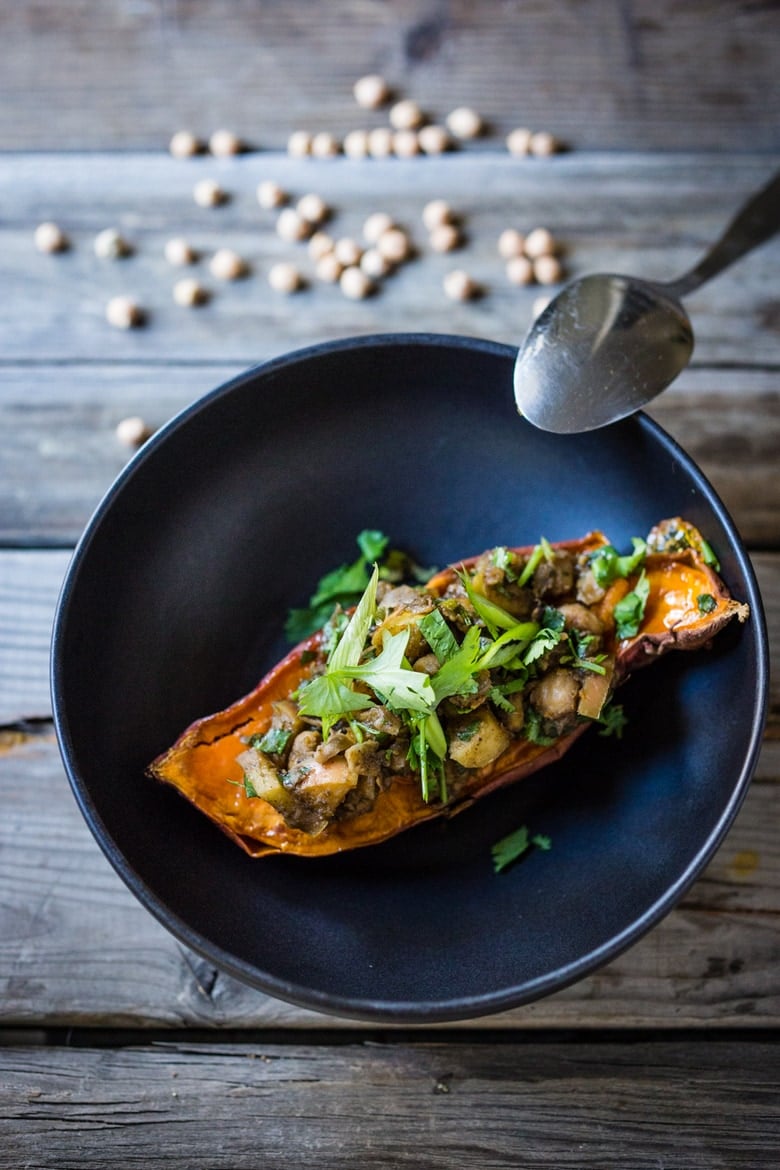 On the home front.  We are in the middle of a nice, peaceful lull, between catering weddings and catering holiday parties… and time feels so luxurious. This is my favorite time of year, not only because life slows down for us, but because it is fall here, and this season most of all,  moves me to my core with its beauty.
I can't stop marveling at all the trees and what they do each year. For a few short weeks they began dropping their brilliant colored leaves, showering the earth with their reds and golds, and the sight of this is mesmerizing, hypnotic. It settles me in a way I can't explain.
Somehow the whole story of life and death is contained in these falling leaves, and it feels so beautifully honest.
The beauty and joy of it, the loss and sadness too. So fleeting, this life of ours.  Yet somehow it all feels so perfect and right.  All of life, just as it is, even with how hard it can be at times. And I feel teary and yet giddy, expansive, embracing like I can actually hold all of it. And of course, this is the point in our walk, where Brian looks over and sees the look on my face as I'm staring up at the trees and asks me what drugs I am on. 😉 Perhaps we come with "built-in" drugs.
Perhaps the universe grants us moments of grace from time to time, that help us integrate all our experiences here, into the great wholeness.  Who knows, but I savor these moments greedily.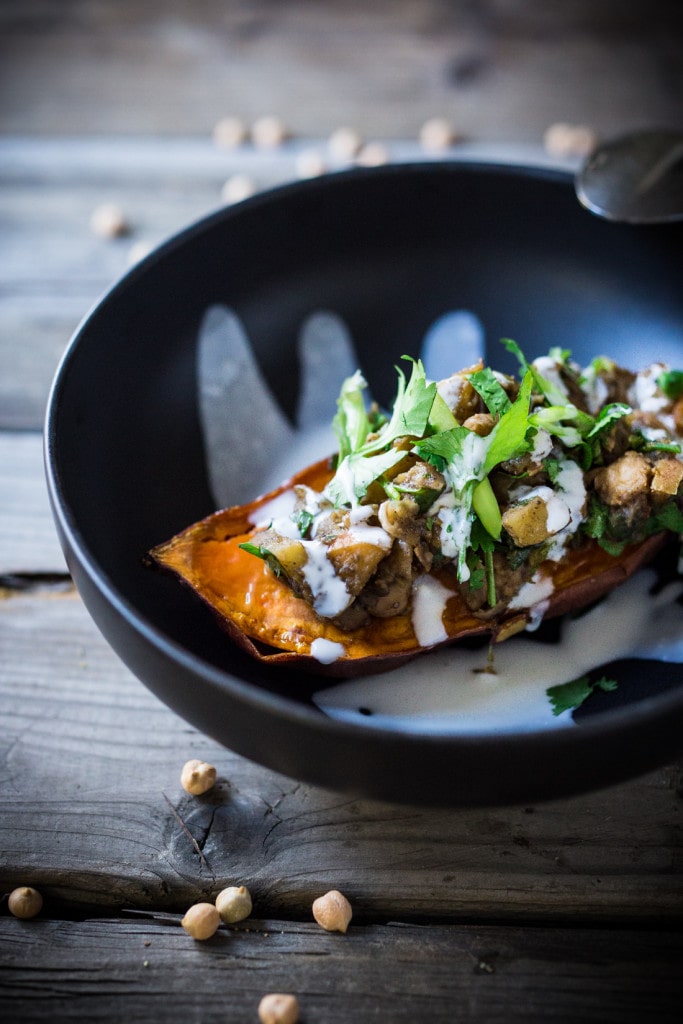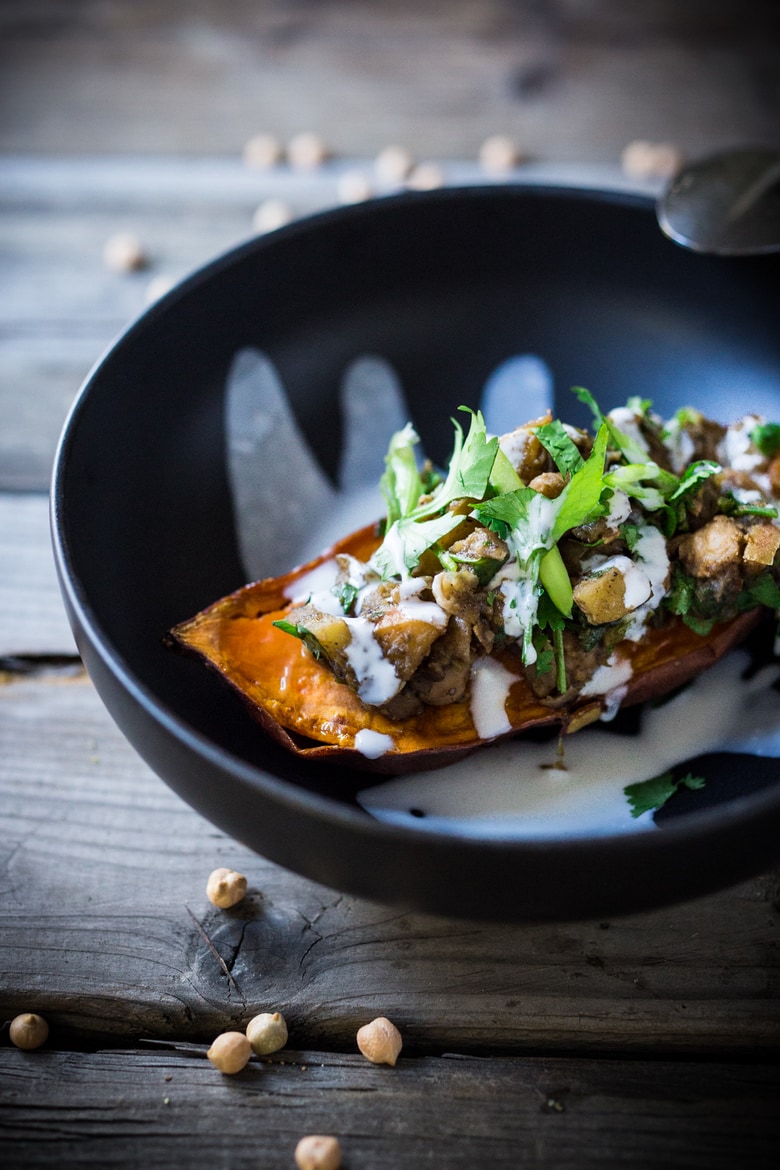 More recipes you may like: 
Enjoy and have a cozy weekend!!
Print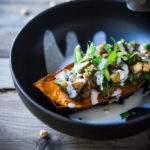 Moroccan Sweet Potatoes
Prep Time:

15 mins

Cook Time:

40 mins

Total Time:

55 mins

Yield:

4

-6

1

x

Category:

Vegan main

Method:

roasted

Cuisine:

Moroccan

Diet:

Vegan
---
Description
Healthy Moroccan Stuffed Sweet Potatoes w/ Ras El Hanout, chickpeas, apples, onion, garlic & cilantro is vegan, or drizzle with delicious smoked yogurt.
---
2

–

3

medium yams- cut in half lengthwise, skin on

1 Tablespoon

olive oil

1/2

an onion – diced

1/2

an apple – diced

4

garlic cloves, rough chopped

1

can chickpeas, drained & rinsed or sub 1/2 lb chicken breast

2 teaspoons

Ras el Hanout spice blend

1/2 teaspoon

salt

1/4 teaspoon

pepper

2 teaspoon

maple syrup

1/2

cup

chopped cilantro, divided

1/4

cup

chopped scallions
"Smoked" yogurt drizzle
1/4

cup

plain yogurt or soy yogurt (this is best with low fat or full fat, not fat-free)

1/8

cup

water

1/4 teaspoon

smoked paprika
pinch salt to taste
---
Instructions
Preheat oven to 400F.
Place yams, cut side down on parchment lined baking sheet and roast for 30-40 minutes until tender.
While yams are roasting make filling. Saute onion and apple in olive oil, in a large skillet, over medium high heat for 2-3 minutes. turn heat to medium. Add garlic. Saute 4 more minutes then add chick peas and spices, salt and pepper. Continue cooking a few more minutes. Stir in maple syrup. At this point, it may seem a little spicy, but when stuffed into the sweet potato, the flavors will mellow a bit. Stir in half of the cilantro. Turn heat off.
When yams are tender, flip them right side up, and slit the middle gently with a knife and divide the filling, spooning it over the yams. Place back in a warm oven until ready to serve.
Garnish with fresh cilantro and scallions and a drizzle of "smoked" yogurt.
To make the "smoked yogurt" mix all ingredients in a small bowl. Place in a squirty bottle and keep in the fridge.
---
Nutrition
Serving Size:

½ a sweet potato with the filling (no yogurt)

Calories:

346

Sugar:

4.6 g

Sodium:

421.8 mg

Fat:

4.2 g

Saturated Fat:

0.6 g

Carbohydrates:

71.8 g

Fiber:

12.4 g

Protein:

7.1 g

Cholesterol:

0 mg
Keywords: stuffed sweet potatoes, moroccan sweet potatoes, roasted sweet potatoes vegan, sweet potato recipes, vegan sweet potato recipes
SaveSave
SaveSave
SaveSave
SaveSave
SaveSave
SaveSave
SaveSave