Grilled Mexican Corn with Chipotle-Lime Butter- a fast and easy way to cook fresh corn on the cobb!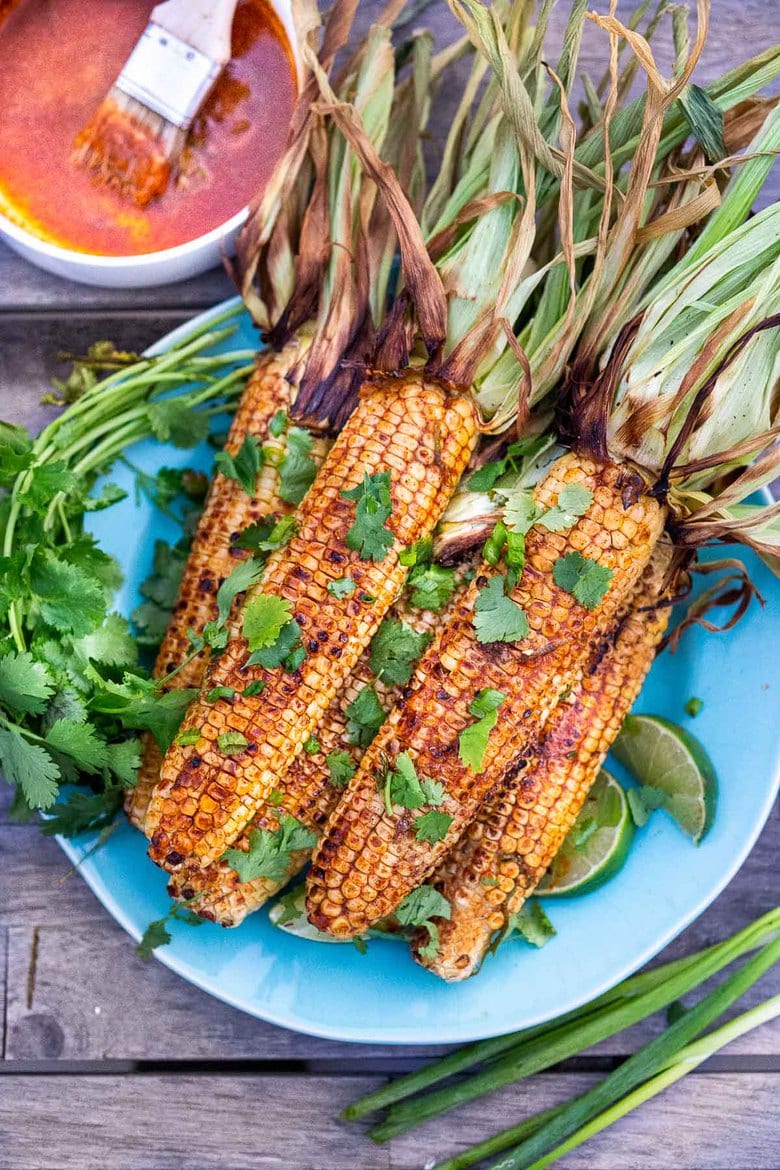 Against the assault of laughter, nothing can stand.
Mark Twain
Grilled Mexican Corn couldn't be simpler.  There are numerous ways to cook fresh corn, and I think I have tried most of them, but my favorite way, which happens to be the easiest way….is simply grilled.
No foil, no husk, no pre-blanching, no soaking.  Just put the corn straight on the grill!  It's ridiculously fast and easy and tastes great. Once the kernels get a little bit of char, lather the combs up with chipotle butter, a squeeze of lime and scatter with fresh cilantro. So easy, so tasty!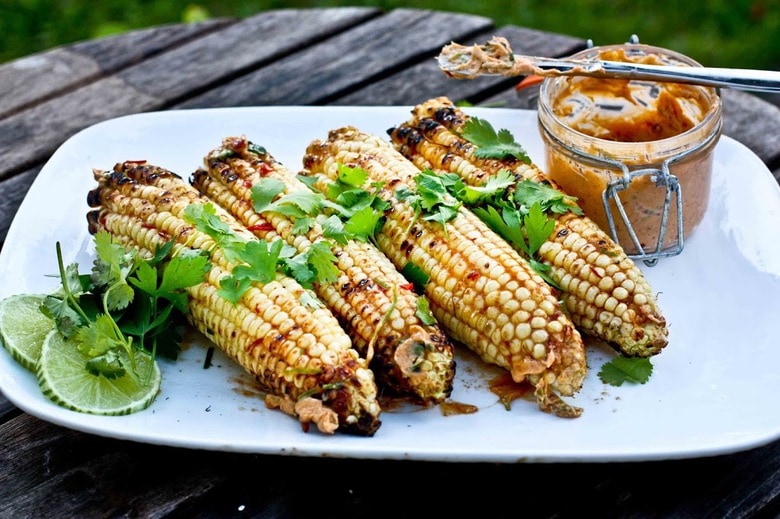 I was a skeptic at first, I admit.  I didn't think you could actually get the kernels cooked without burning them. Good corn, picked in season, actually doesn't need to be "cooked" but rather heated up.
The slight charring of the grill makes for good flavor and prepared this way, the corn ends up being juicy and delicious. And the best part, it can be made in 20 minutes or less, if you make the butter ahead, which is great if you having friends over.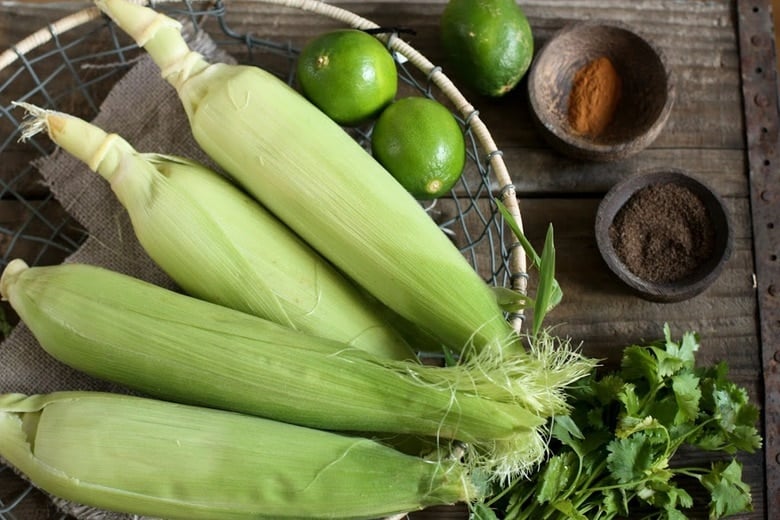 If entertaining, make the butter ahead, it will keep for 1-2 weeks. And remember, you can use vegan butter.  Olive oil works too, but I personally prefer the consistency of butter with this.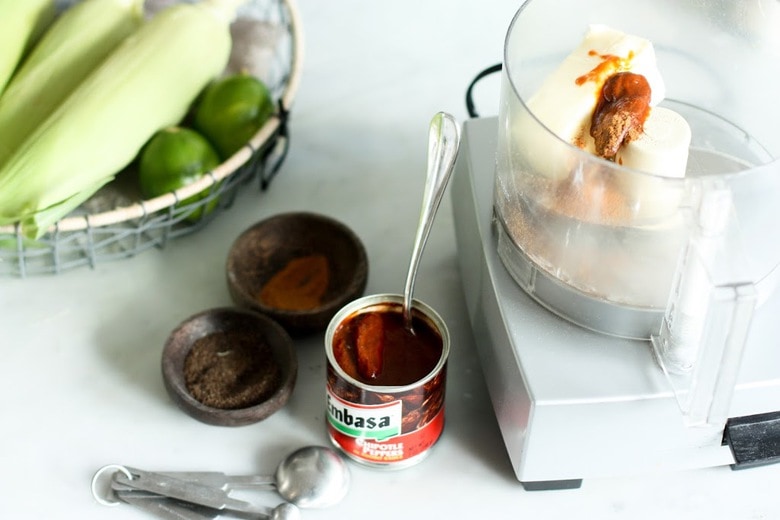 Chipotle peppers are what give this grilled corn a deep smokey heat. It is a slow heat, meaning, it doesn't jump out at you in the beginning like fresh jalapeño… but rather lingers subtly behind each bite, slowing heating up your palate.
Chipotle peppers are basically smoked jalapenos. They come in different forms…. ground into a spice, dried whole, but I prefer the ease and flavor of these in a can.
The leftover peppers can be frozen in two's in plastic wrap..and used later to flavor soups, beans, a vinaigrette, or even a chocolate cake. You can find these at most grocery stores in the Mexican Food Section. The juice in the can is especially flavorful, so make sure to save it too.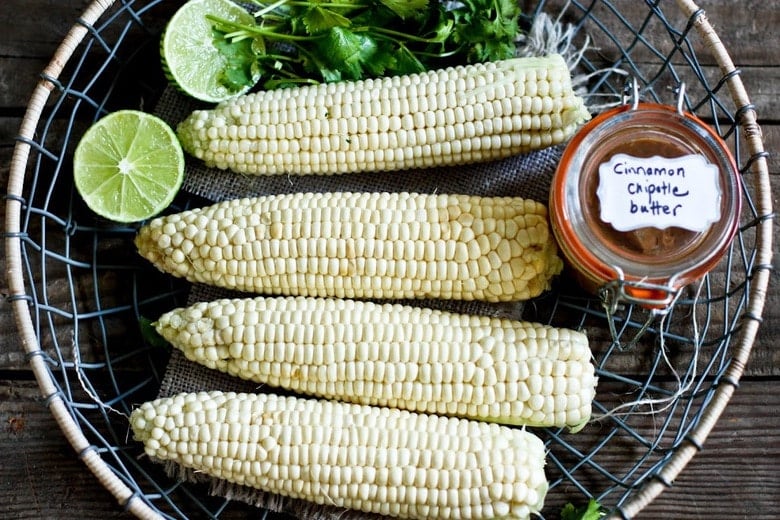 This recipe makes enough butter for 8 ears of corn. You can save what you don't use of the butter and keep it in your fridge for 1- 2 weeks.
After the chipotle butter is made, shuck the corn. When picking out corn, choose ones with bright green husks. Pull back the husk and look at the kernels before you buy them. They should be firm, plump and juicy.
Try to remove as much of the silk as possible. Using your hands or a wet paper bowl rub vertically from top down.
If serving a larger group of people, you may want to cut the corn in half or thirds.
Use a very sharp large knife on a sturdy
cutting board
and cut through the cob.
Take the shucked corn, Chipotle Butter, Fresh lime and cilantro to the grill.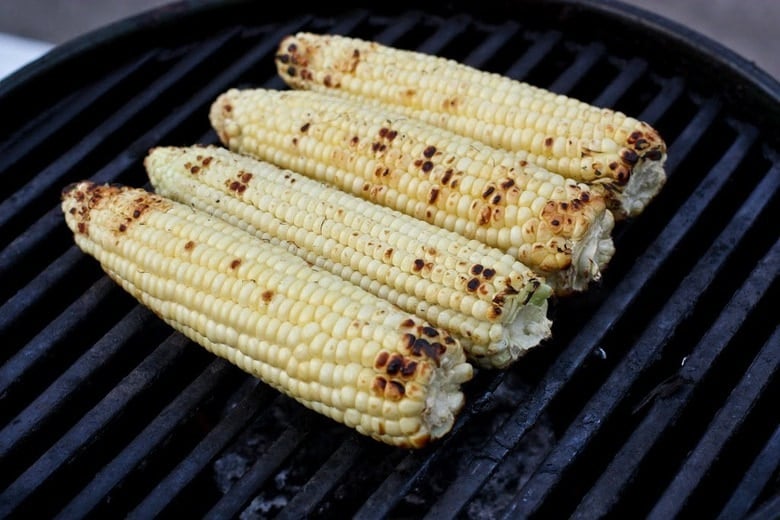 Place the plain corn right on the grill. There is no need to put anything on it, if the grill is clean, it won't stick. Cover for 2-3  minutes. Rotate a quarter, cover for 2-3 more minutes.
Continue this process until all four sides are very lightly charred and heated through (about 10 minutes). Remember, you are not "cooking" the corn… you are heating it up. A light charring adds flavor. But do not over char because the corn will loose its juiciness.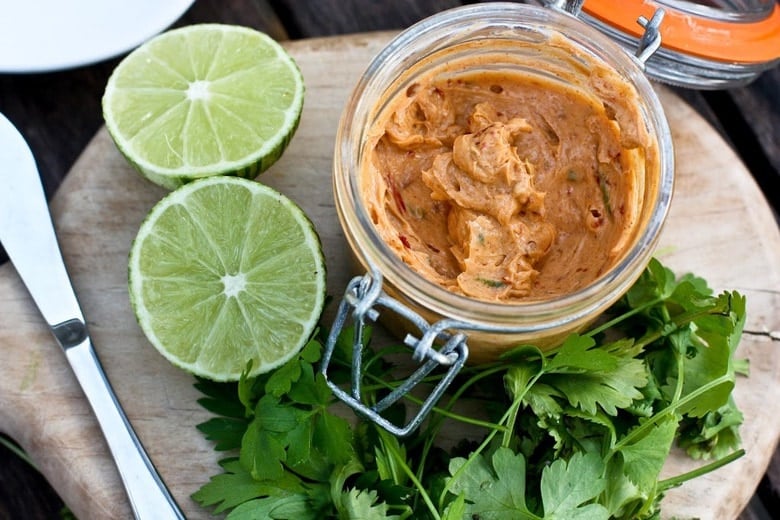 When the corn is done, remove it from the grill and place on a platter. While the corn is still hot, generously spread the Chipotle Butter on all sides.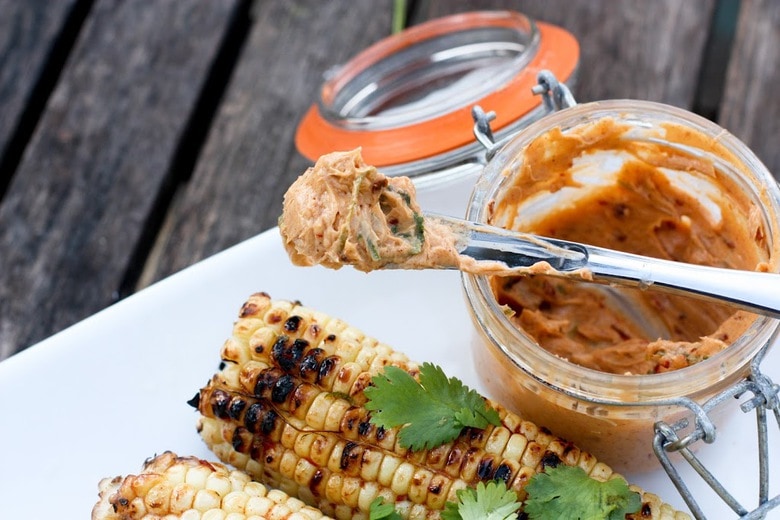 Once butter is lavishly spread, squeeze 1/2 lime over the corn and sprinkle with chopped fresh cilantro.  Serve with lime wedges. It's best eaten warm, right off the grill,  but it is just fine if served at room temp.
This ended up being my small contribution to our "girls night out" potluck feast, held outside on a friend's patio. It was one of those warm summer evenings where for a few wonderful hours, surrounded by friends, everything seemed right in the world. We ate well and laughed hard. Good for the soul.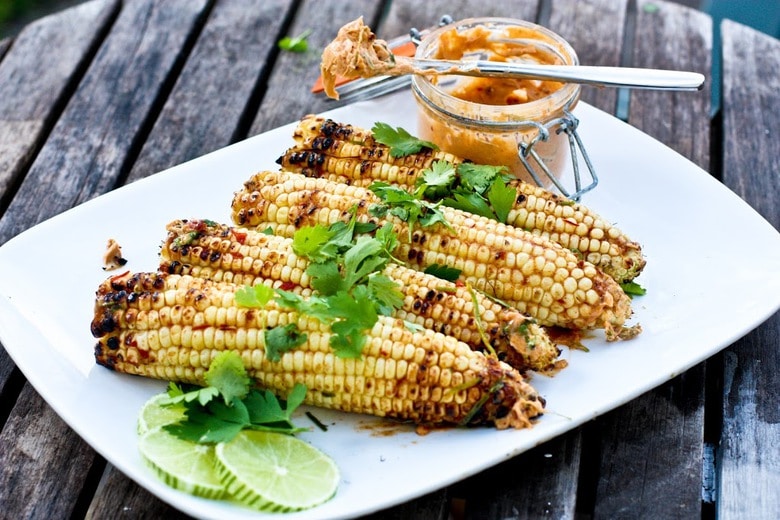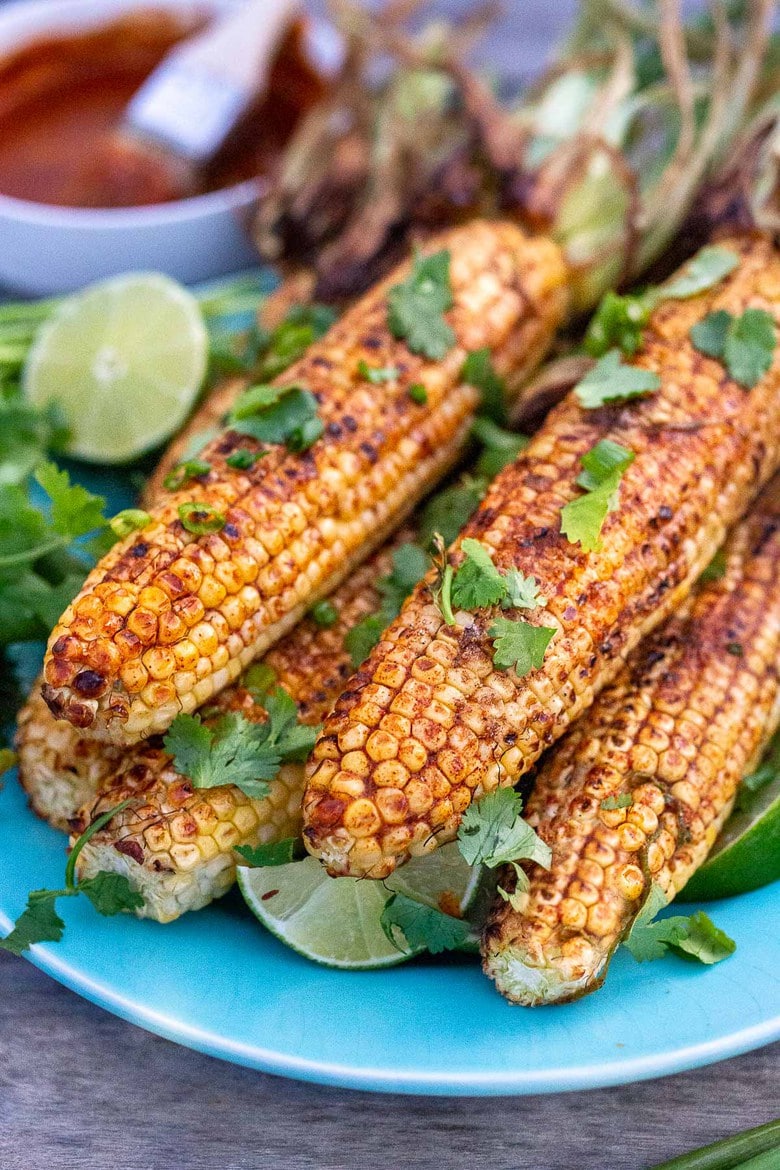 Print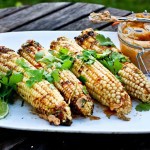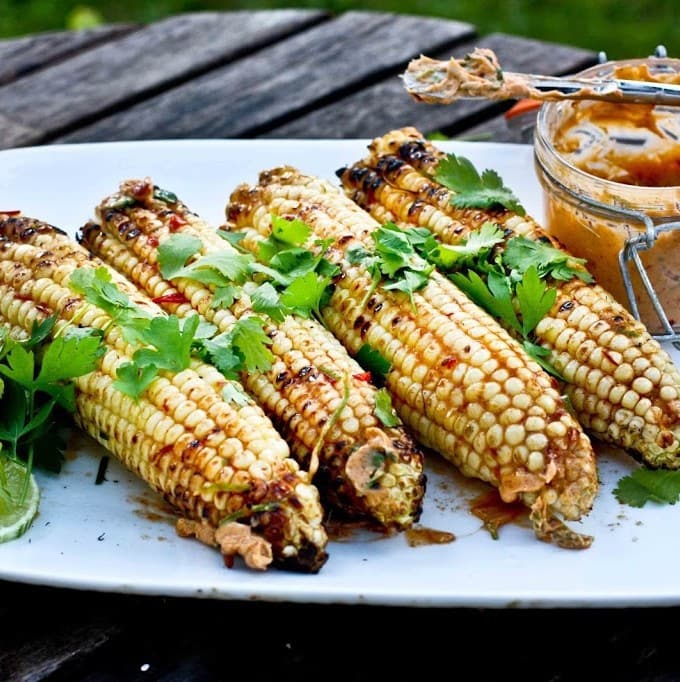 Grilled Mexican Corn Chipotle Lime Butter
Prep Time:

10 mins

Cook Time:

10 mins

Total Time:

20 mins

Yield:

8

1

x

Category:

Side dish

Method:

Grilled

Cuisine:

Southwest
---
Description
Grilled Mexican Corn on the Cob with Chipotle-Lime Butter.
---
1/2 cup

room temperature butter ( or soy butter or olive oil– see note)

1

–

2

chipotle peppers ( I used two, plus a little "juice" from the can) –This ended up being 3 out of 5 stars.  A nice slow-burning spicy.

1/4 tsp

kosher salt, plus more to taste ( you could try smoked salt)

1/4 tsp

cinnamon (optional, but tasty)

¼ tsp

cumin
Zest of

1

lime – save lime for squeezing on after
cracked pepper

8

Ears of Corn, shucked

1/4 cup

chopped cilantro as fresh garnish
---
Instructions
Preheat grill to Med High
In a food processor, add chipotle peppers, salt, cinnamon, cumin, lime zest ( reserving juice for later), black pepper. Pulse ingredients, scrape sides down, pulse again. Add butter and pulse until combined. It doesn't have to be smooth, leave flecks of chipotle pepper and zest. Set Aside. You can do this ahead and keep in your fridge up to a week.
(If you don't have a food processor…mince the peppers and zest and place in a small bowl with the other ingredients) Stir in the butter.
Remove husks and strings off of corn.
Place on a greased hot grill, rotate a quarter, every two-three minutes until each side is grilled. (8 mins). A little charring gives a good flavor.
When done, lavishly spread the Chipotle Lime butter on all sides.
Squeeze with lime,  and sprinkle fresh cilantro. Serve with lime wedges. Serve warm or at room temp.
---
---
Keywords: gilled Mexican corn. Mexican grilled corn, grilled corn, how to grill corn, corn on the cob, chipotle butter,