Sweet Potato Hash with Harissa topped with pillowy poached eggs. A delicious, North-African-inspired, skillet breakfast that is bursting with flavor!   Gluten-Free.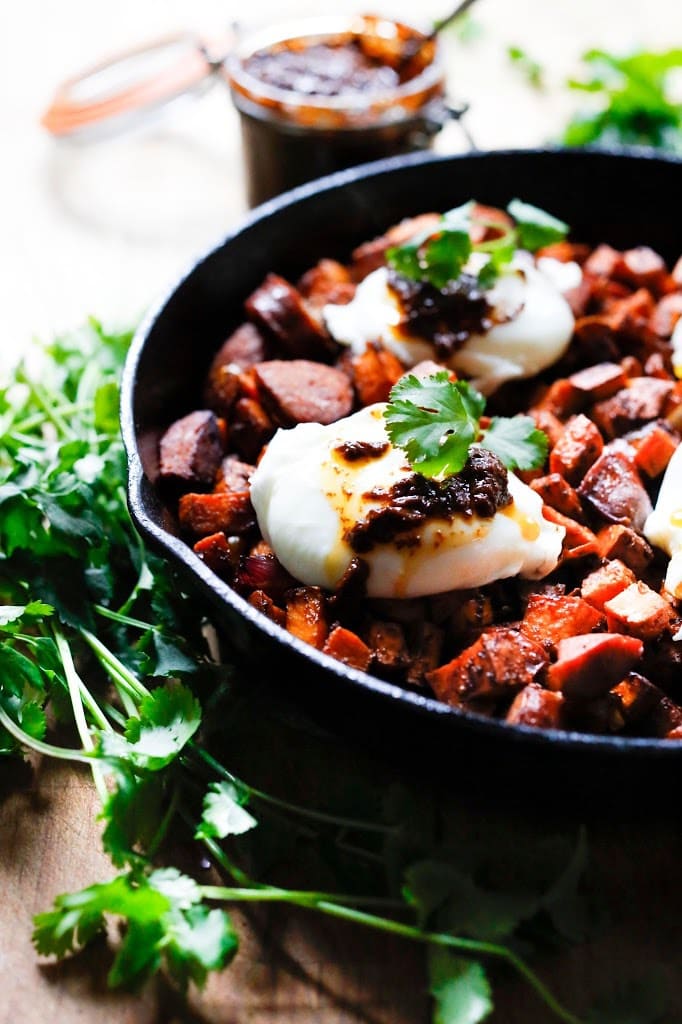 Besides the noble art of getting things done, there is a nobler art of leaving things undone…. 
The wisdom of life consists in the elimination of nonessentials. 
Lin Yutang
Weekend brunch consisted of pillowy poached eggs resting on a bed of spicy, smoky sweet potato hash seasoned with homemade
harissa paste
. Merguez sausages were added to mix — these are amazing and delicious North African spiced
lamb
sausages.
Drizzled with more harissa sauce and scattered with fresh cilantro leaves – this flavorful skillet breakfast took me to far-off places and left me feeling so satisfied!
What is Harissa Sauce?
Harissa Sauce, a North African condiment, is a flavorful chili pepper paste made from dried chilies, garlic,
olive oil
and toasted
cumin
,
caraway
and
coriander seeds
. The paste can be made from scratch or these days, purchased at most grocery stores.
Yes homemade Harissa is a bit of a task and best left for a lazy weekend….but it is such a great a condiment to have on hand because of its many uses, it is well worth the effort. It is addicting!
Swirl it into soups for a flavorful kick, whisk it into vinaigrettes, whip it into
mayo
for a zesty aioli, spoon over a piece of grilled fish, or rub down a steak with it.
What I love about this recipe
In this recipe,
Harissa paste
is tossed with sweet potatoes before being roasted in the oven. It gives the sweet potatoes a little heat, depth and smokiness which sweet potatoes love. This same technique can be used to roast other things as well – cauliflower, carrots, chicken, fish, chicken, and prawns.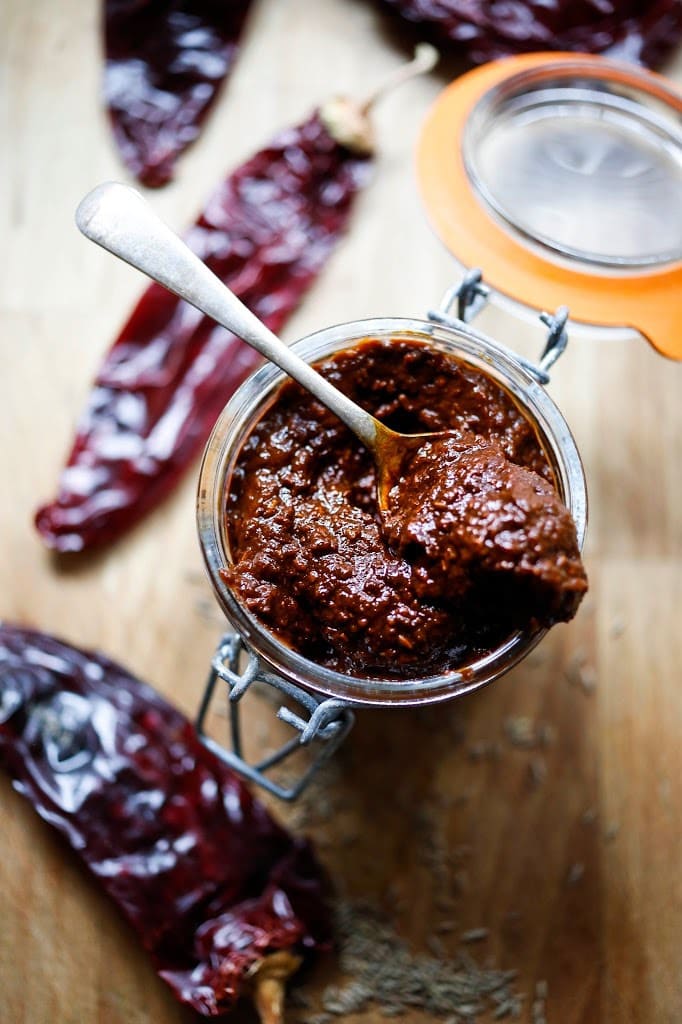 Serve the Harissa Roasted Sweet Potato Hash for dinner alongside your main course or for breakfast- topped with soft poached eggs and flavorful Merguez Sausages. The combination of this unique sausage, harissa roasted sweet potatoes, and soft poached eggs, is a marriage made in heaven.
Merguez sausages, if new to you, are North African Sausages, traditionally made with lamb ( or beef and lamb) originating from the Middle East.  The sausage is often seasoned cumin and coriander, and harissa – and some are spicier than others.
You can always leave it out if you are vegetarian, use soy chorizo, or substitute regular or Spanish chorizo.
Make the Harissa Sauce
I've found the secret to making a good batch of Harissa Paste, one that is flavorful yet not overwhelmingly hot, is to use a mix of different kinds of dried peppers.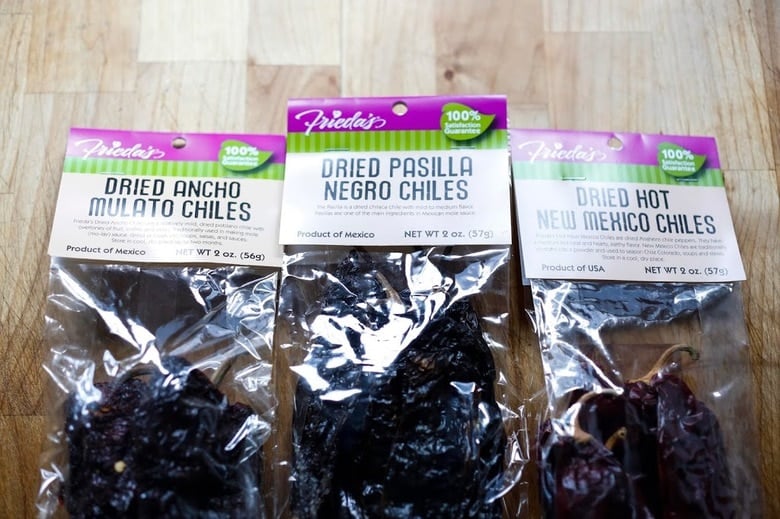 I prefer to use mostly mild to med chilies and just one or two hot ones. Often I will add a smoked chili or two – like chipotles packed in adobo sauce for added depth, smokiness and layers of flavor. The more variety, the more dimensions to the paste.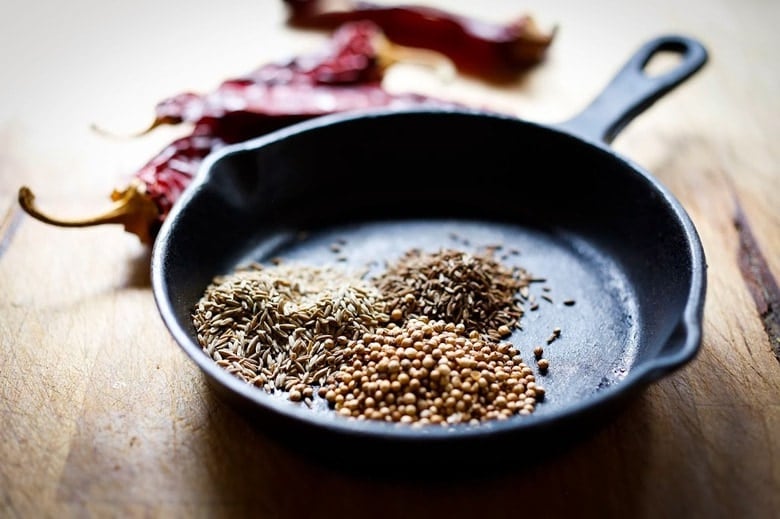 Make sure to toast your spices to add layers of flavor. Traditionally, the three spices of harissa are cumin, coriander and caraway seeds.
But I encourage you to be playful. Listen to what draws you… and create your own version. Sometimes I'll add cinnamon, smoked paprika or even a little clove, deepening on what I'm using it on. Often I'll add fresh herbs…. like cilantro or parsley.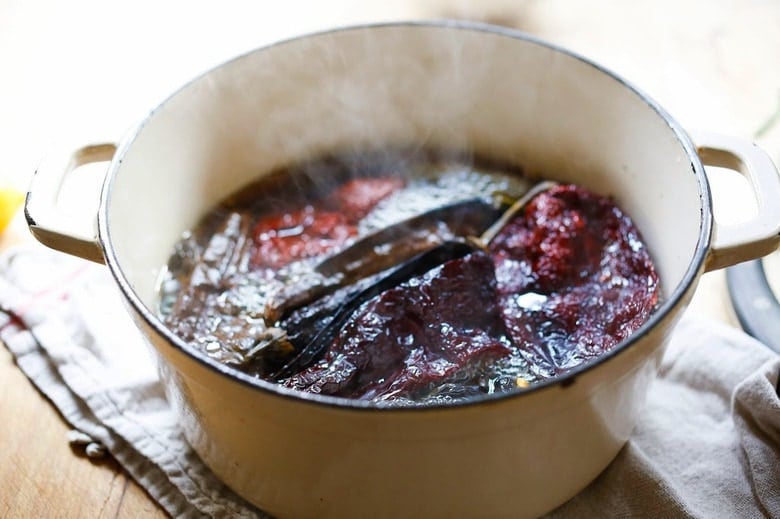 Bring dried chilies to a boil in a large pot of water. Turn heat off, cover and let soak for 1 hour or even overnight.
Remove the seeds and stems.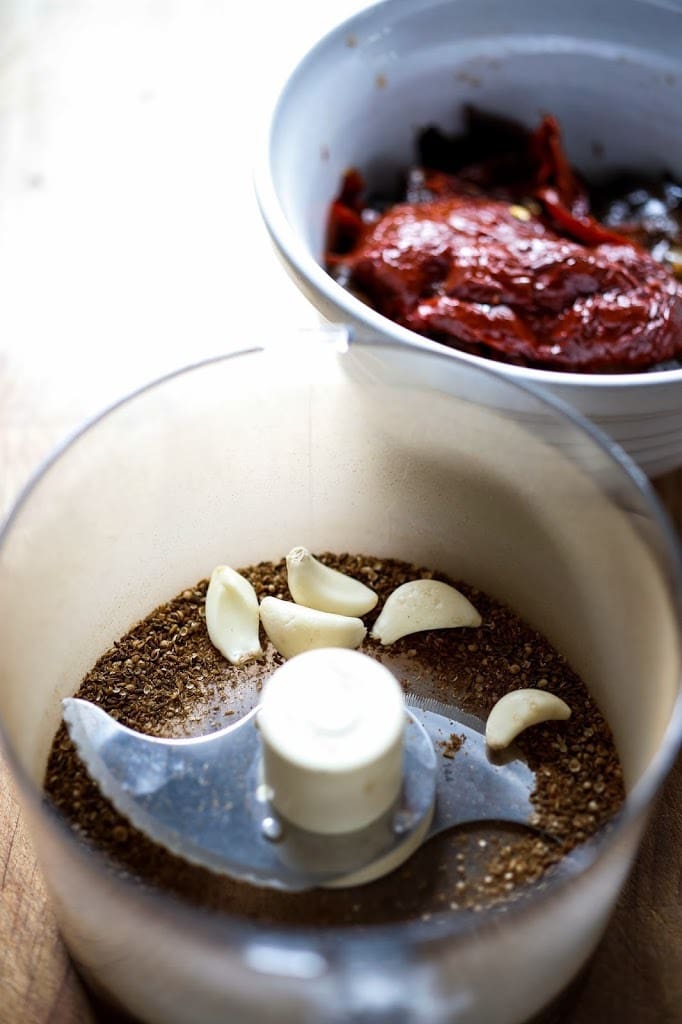 Grind your spices and place in a food processor. Add garlic, salt, chili peppers, olive oil and lemon juice.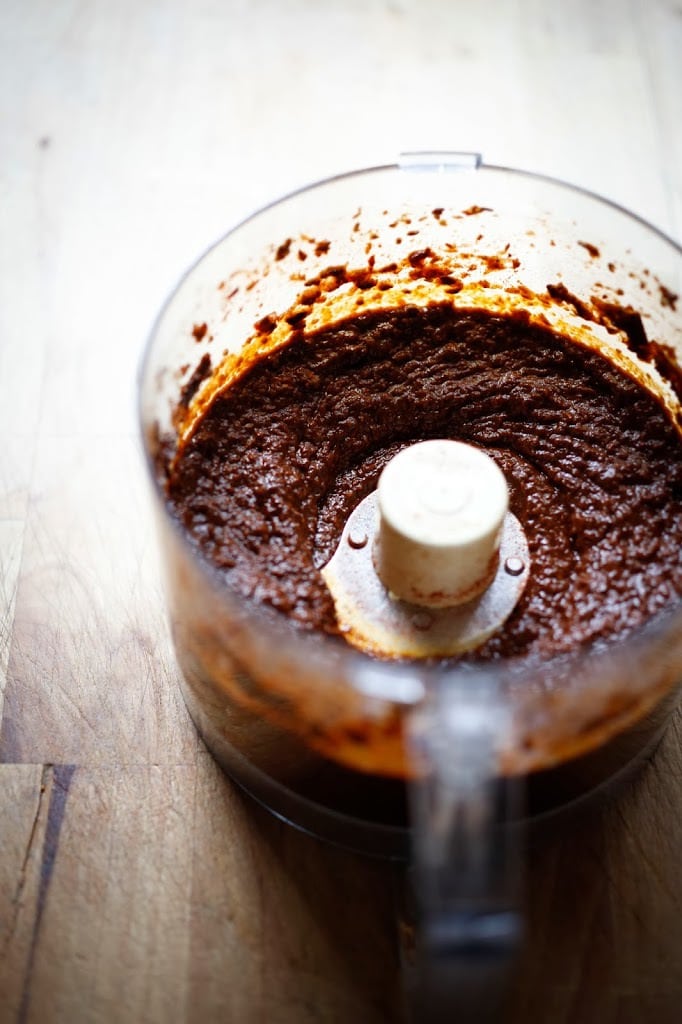 This recipe makes a cup and a half of harissa paste.
Harissa paste can be stored in the fridge for months, by covering the top of it with a thin layer of
olive oil
after each use.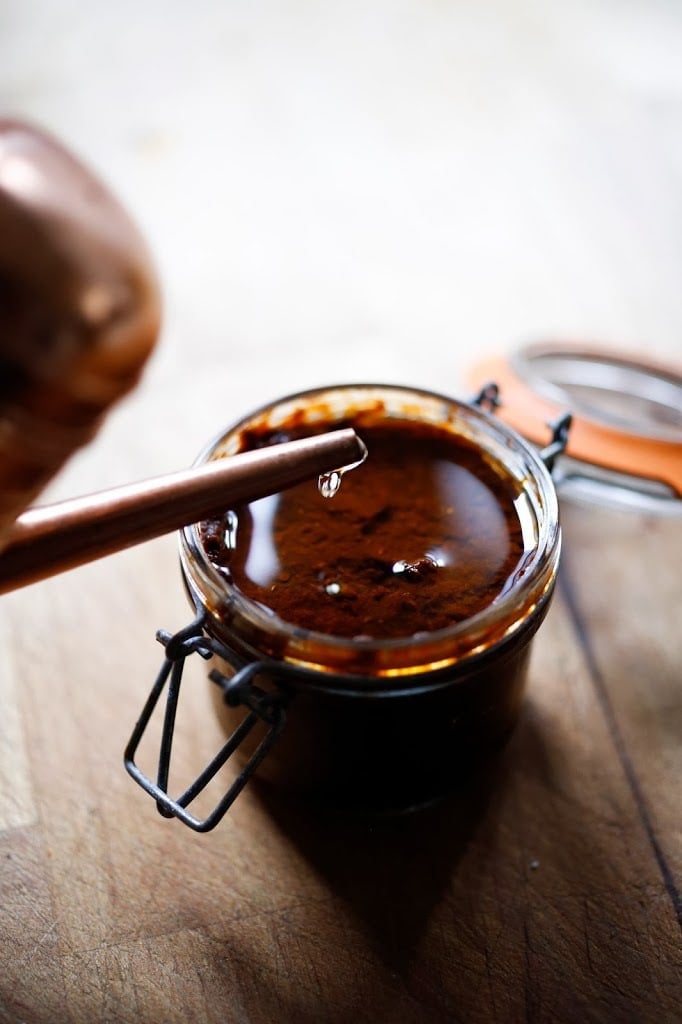 Make the Roasted Sweet Potatoes
To make the Sweet potato hash, I like to roast the potatoes in the oven for the best texture!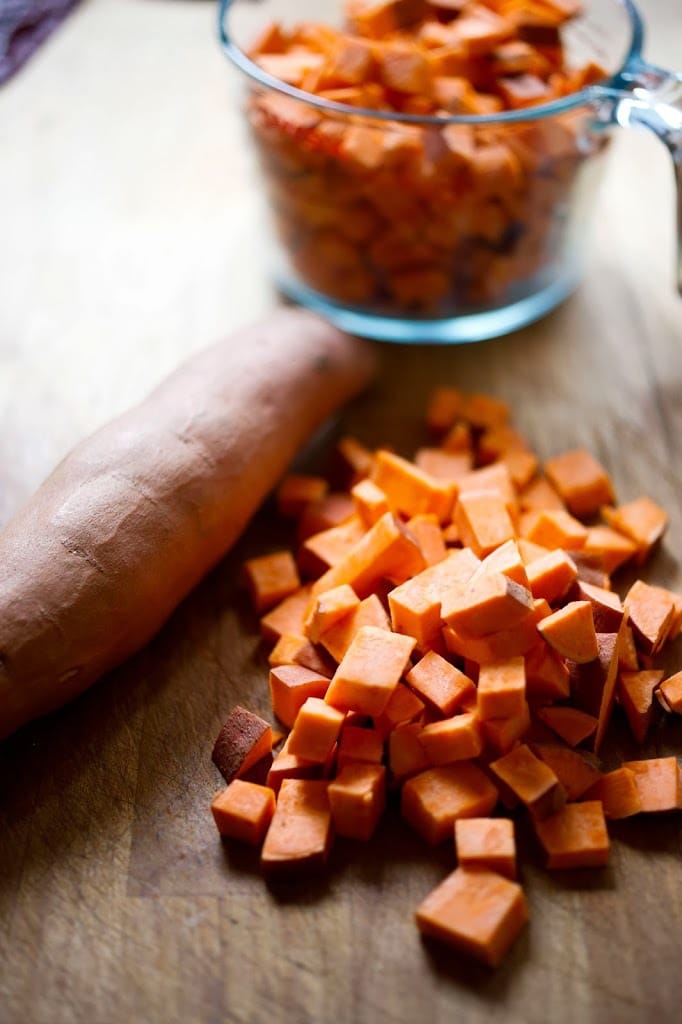 For the potatoes, scrub and cut the yams or sweet potatoes into uniform ½ inch dice. I leave the peels on.
My
harissa paste
recipe was not overly spicy -so I coated them well adding a liberal amount. But yours may be at a different level of heat. If your is fairly spicy, dilute it with a little
olive oil
.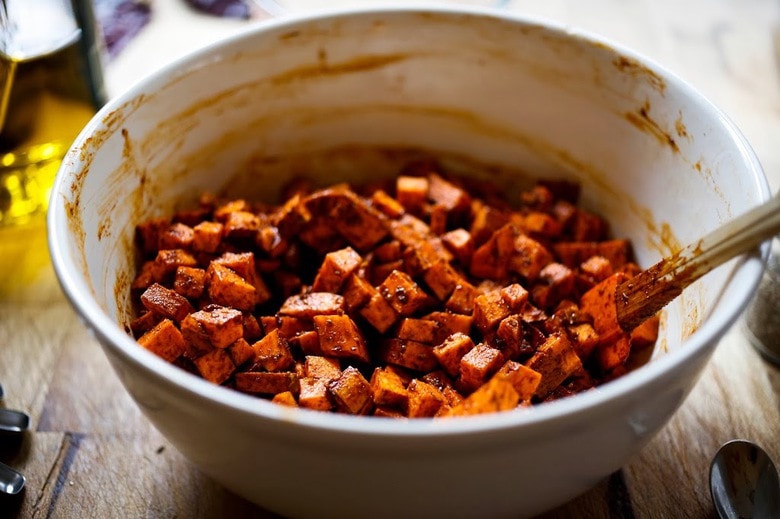 Taste for salt. As all harissas are different, you may need to add more salt.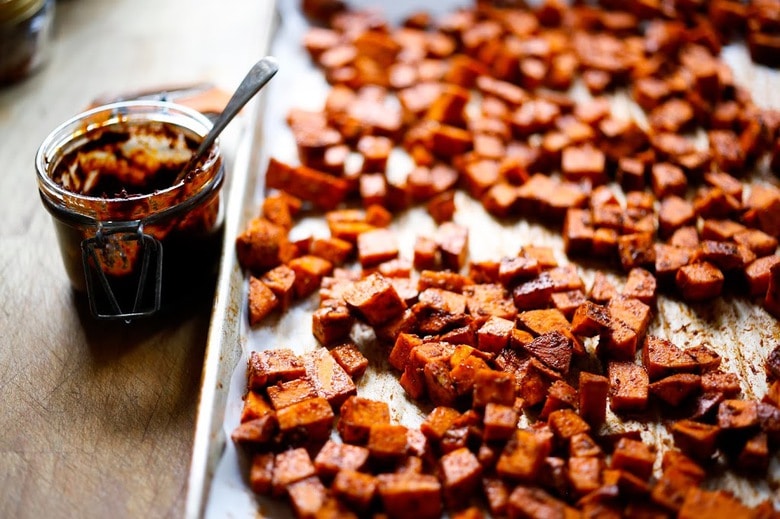 Place on a sheet pan and roast in a 400F oven.
When the roasted sweet potatoes come out, they are crisp, tender and flavorful.
Prepare the Merguez Sausage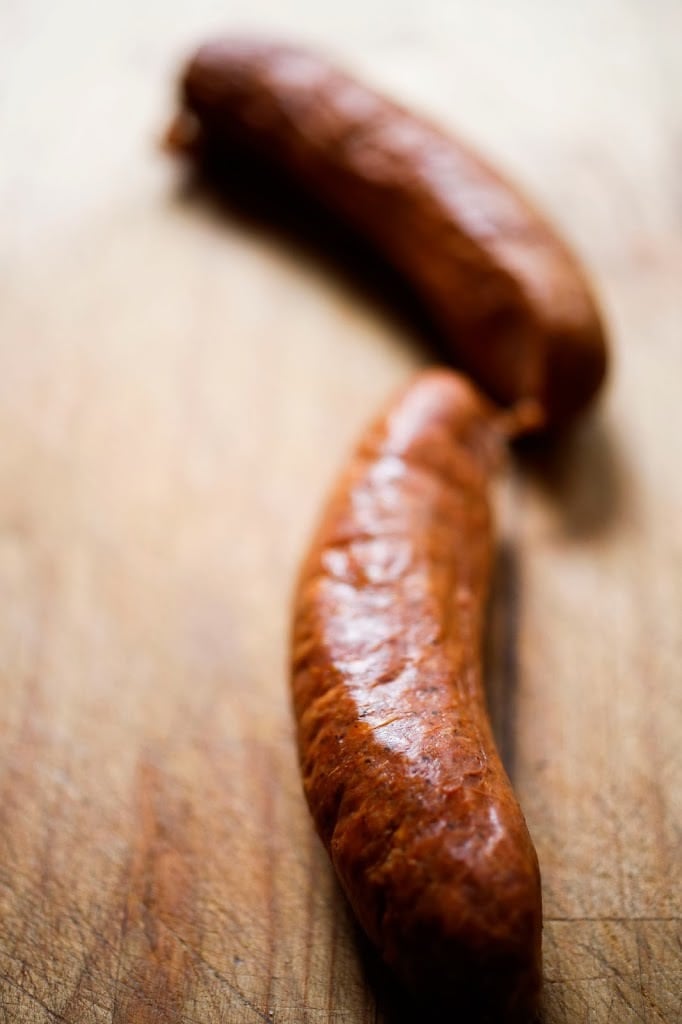 If you use Merguez sausages, cut and brown them in a skillet, adding onions if you like. Toss with the Harissa Sweet potatoes, making a bed for the poached eggs.
Poach the Eggs
You can also cook them sunny side up.
Place the eggs on top of the harissa sweet potatoes and  serve with cilantro and harissa on the side.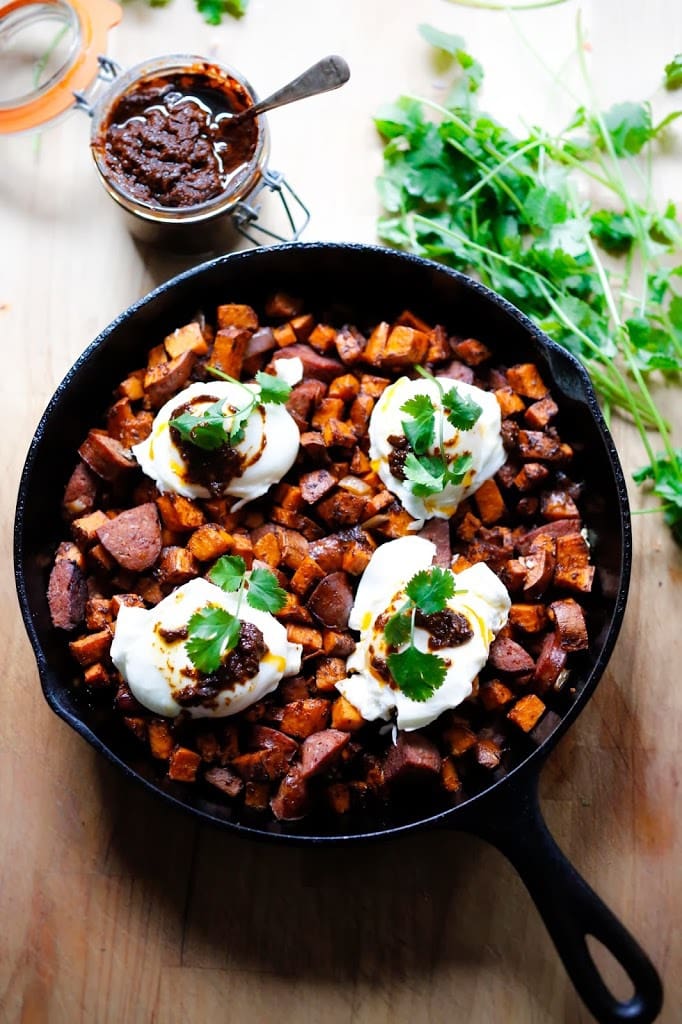 The Harissa Sauce can be made ahead, and then the whole process is much faster.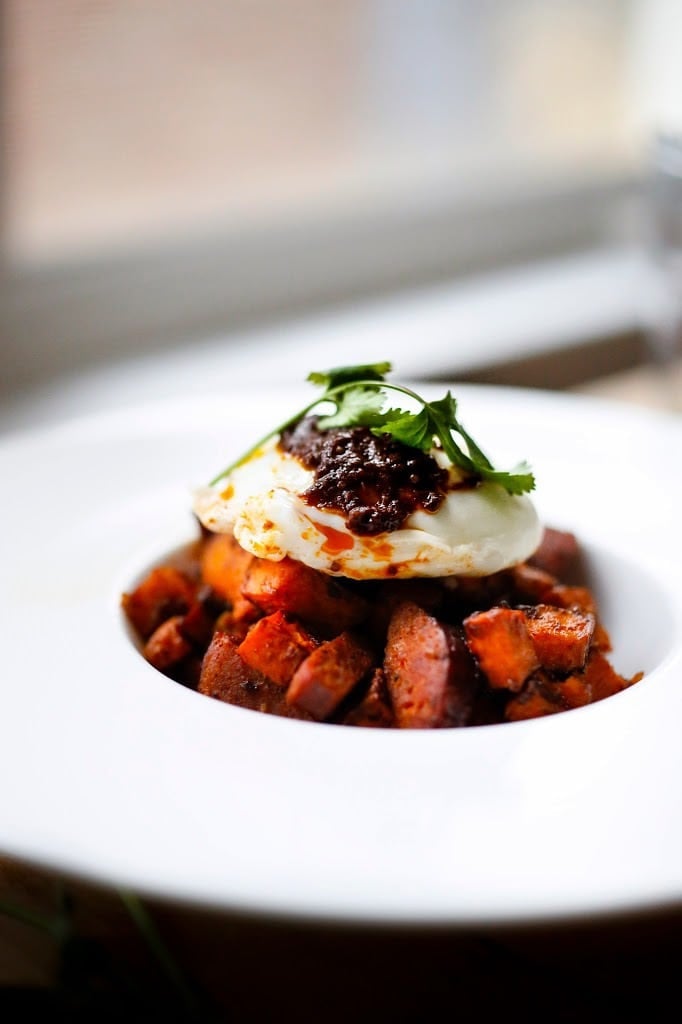 More recipes you may like: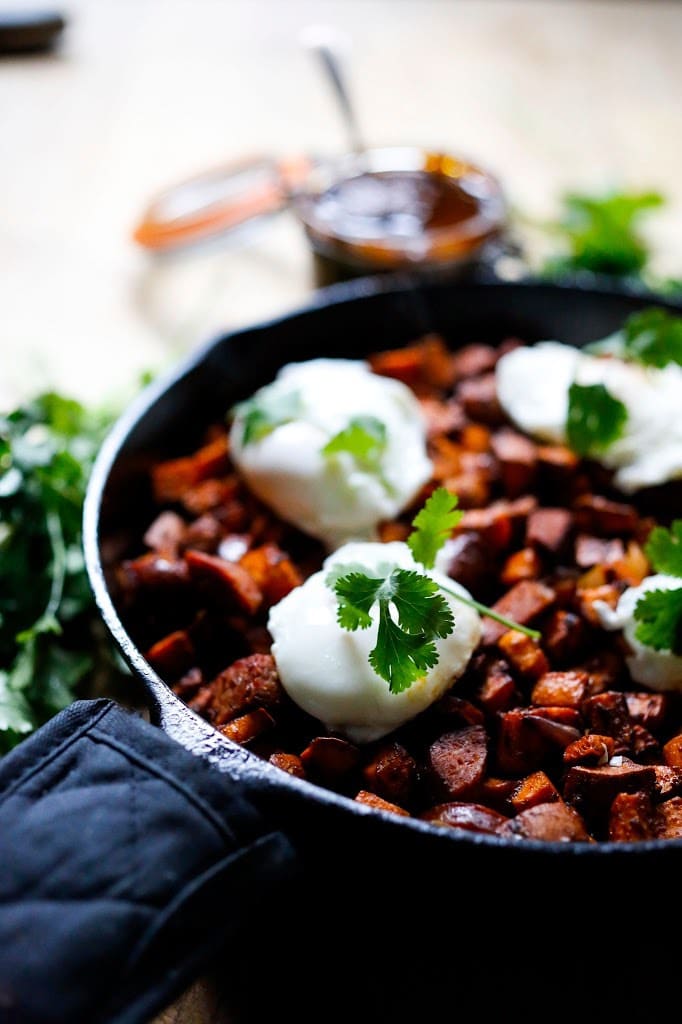 Enjoy the Sweet Potato Hash and let us know what youthink in the comments below!
xoxo
Print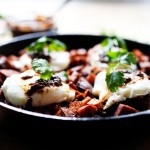 Sweet Potato Hash with Harissa
Prep Time:

20

Cook Time:

40

Total Time:

1 hour

Yield:

4

1

x

Category:

Breakfast, Eggs, gluten-free

Method:

Baked

Cuisine:

Moroccan
---
Description
Sweet Potato Hash with Harissa Paste  and Eggs,  a delicious, North-African inspired, one-skillet breakfast that is bursting with flavor!   Gluten-Free
---
2

medium yams or sweet potatoes ( or

6 cups

1/2 inch diced)

3

–

5

tablespoons Harissa paste ( see recipe below, or use store bought)
Salt and pepper to taste ———

6

eggs- poached or fried sunny side up

2

–

3

Merguez sausages (or sub chorizo, or soy chorizo)

1/2

onion, sliced (optional)
Fresh Cilantro leaves
---
Instructions
Preheat  oven to 400F
Scrub and dice yams or sweet potatoes (leave the skin on) into small, uniform ½ inch cubes. In a large bowl, toss with a few tablespoons Harissa paste. ( Each harissa is different, so taste as you add). My version is mild so I add quite a bit…5-6 tablespoons. Store-bought will be spicier so add to taste.  If very spicy, dilute with olive oil. Make sure sweet potatoes are coated well. Salt and pepper to taste. If using store-bought harissa, check that it contains some oil. If not, make sure to add a little oil when tossing – so the potatoes crisp up in the oven.
Place potatoes on a parchment liked baking sheet, making sure they are not too crowded…this will allow them to crisp, rather than steam. Stir after 15 minutes. Check again after 10 minutes. Roast until crisp and tender.
While roasting, slice and brown Merguez sausage in a skillet with a little olive oil.  Saute some onions along with them if you like.
Poach your eggs, season with  salt and pepper and set aside.
Remove the sweet potato hash from the oven, and fold into the skillet along with the sausage and onions, and mix.
Gently place eggs over top, garnishing with fresh cilantro and if you like, more harissa.
Serve immediately!
To make Harissa Paste:
Bring chilies to a boil in a large pot of water, turn heat off, cover, let sit 1 hour or overnight. Toast spices and grind them
When rehydrated, remove seeds and stems. Place all the ingredients in a food processor and pulse until desired consistency.
To store, place in a sealable jar and drizzle olive oil over top after each use, to preserve. It will last 1-2 months in the fridge.
---
Nutrition
Serving Size:

1 cup hash and 1 egg

Calories:

486

Sugar:

8.7 g

Sodium:

1389.8 mg

Fat:

28.7 g

Saturated Fat:

9.1 g

Carbohydrates:

30.9 g

Fiber:

4.3 g

Protein:

24.8 g

Cholesterol:

535.9 mg
Keywords: sweet potato hash, sweet potato hash recipe, harissa recipe, harissa paste, harissa sauce, moroccan eggs, moroccan recipes