Everyday Kale Salad with simple Lemon Dressing can be made ahead, then used DAILY to top off tacos, wraps, buddha bowls, burgers, and even pizza during the week! Vegan and Gluten Free, this amazing kale slaw keeps for up to five days in the fridge. Meal Prep Savior!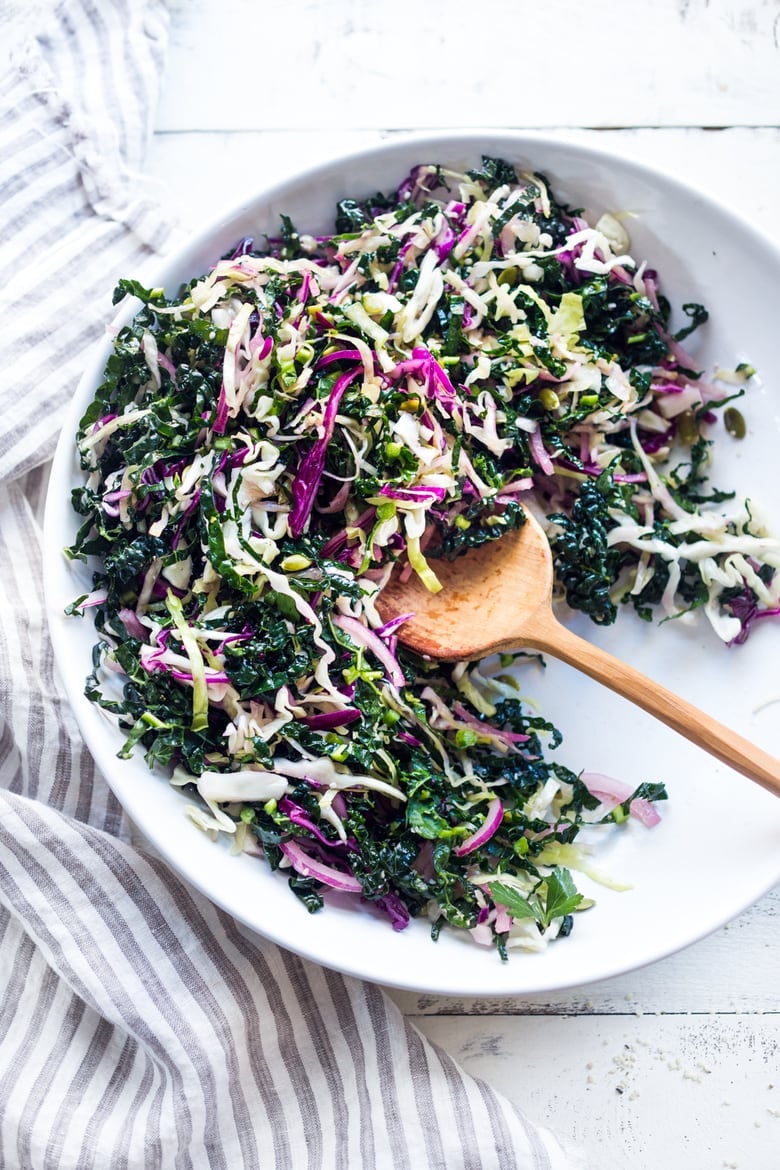 This make-life-simple, Everyday Kale Salad is more about the idea, than the actual recipe. The idea is to make a big batch of this kale salad or slaw, on Sunday and use it daily during the week to top off things you are already making – tacos, avocado toast, buddha bowls, eggplant wraps ….even pizza! A boost of nutrients all ready to go! And this Kale Salad, made with the sturdy green it is….actually holds up in the fridge for 4-5 days. I know, it's hard to believe, but try it and see. Kind of amazing actually!
Instead of thinking of this a "salad" which of course you could,  think of this as a condiment like you would salsa or pickled onions. But this condiment is packed full of nutrients. And the fact that it is all ready to go will mean that you will absolutely use it more during the week. Keeping the dressing simple and basic will allow you to use it on a huge variety of meals.
But the best part is…. kale and cabbage are so hardy, they hold up well in the fridge for days, even with dressing.  Give it a try and see!
Here I've tossed the slaw with a simple Lemon Dressing but with one little twist (of course). I've roasted the lemons first. Optional, but tasty! Roasting the lemons first, intensifies both sweetness and sourness giving the lemon juice a huge burst of flavor. It is absolutely not necessary, but a fun option if you have time.
Olive oil, lemon, garlic, salt, pepper and chili flakes- a very simple dressing that pairs well with so many things!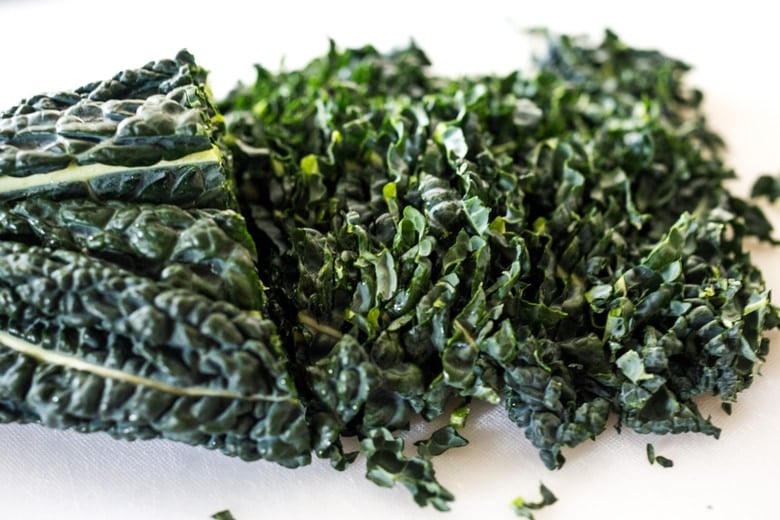 Stack the kale leaves and thinly slice into ribbons.
Finely slice the cabbage and onion and add it to the mix.
Toss with the lemon dressing.
Add seeds and herbs if you like, or keep it simple.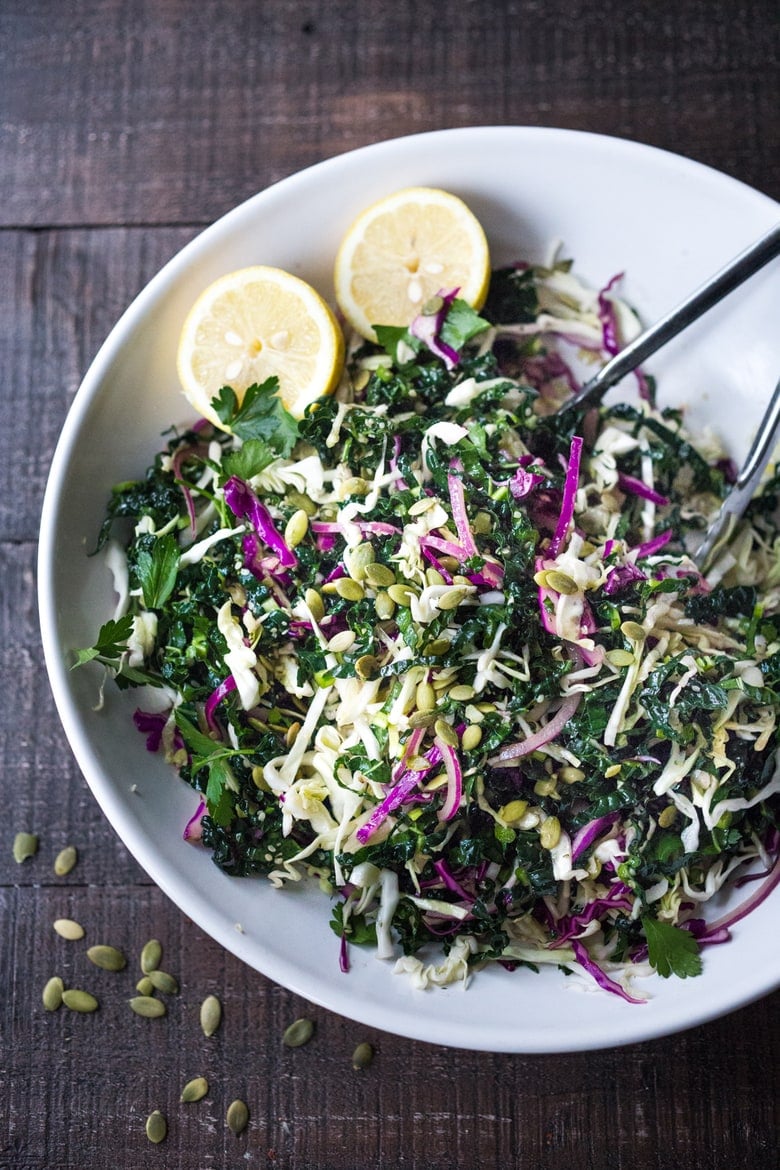 And there you have it….Everyday kale salad!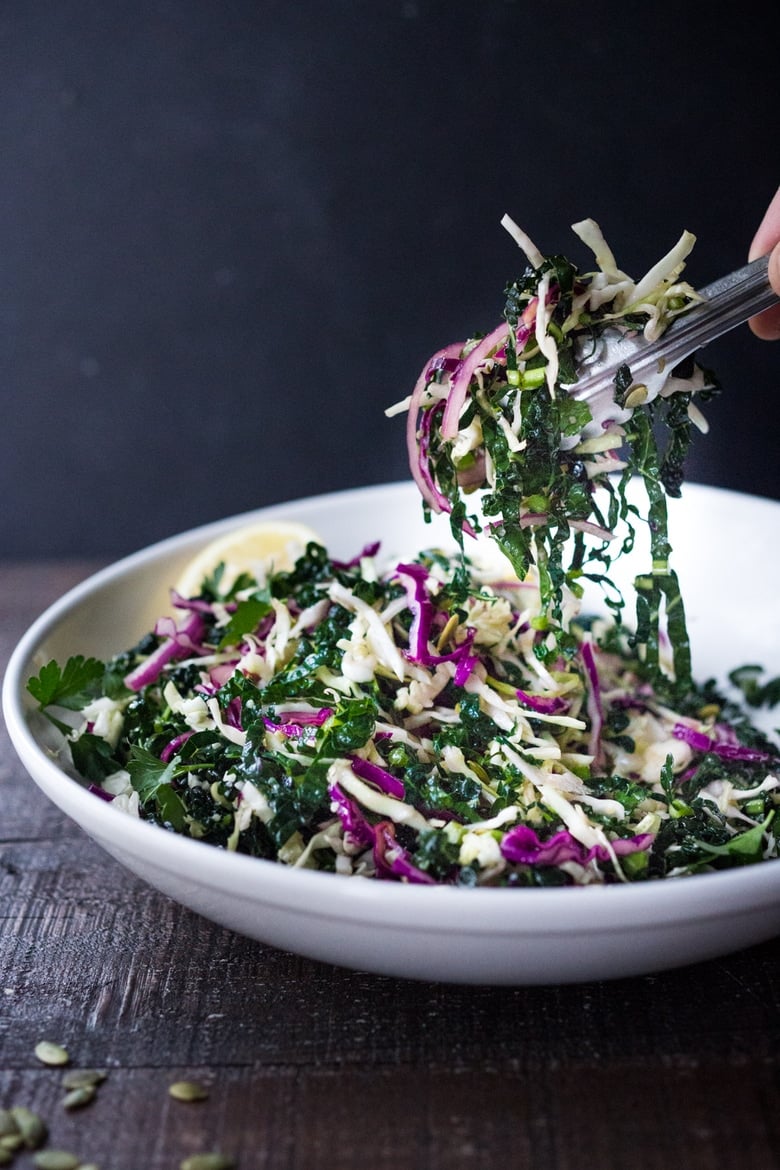 Sore it in the fridge to use throughout the week.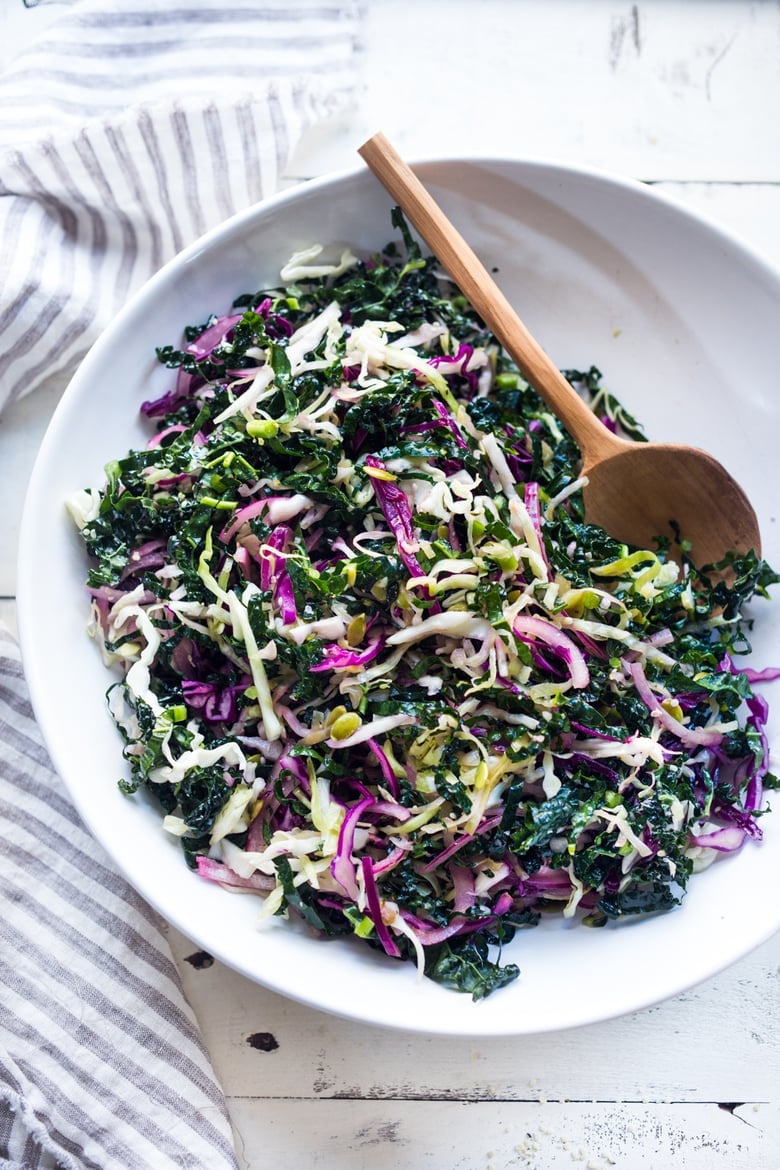 A very simple recipe that is both tasty and quite useful. Give it a try and see!
Print
Everyday Kale Salad with Roasted Lemon Vinaigrette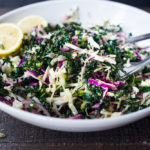 This make-life-simple Everyday Kale Slaw with a simple lemon dressing is vegan and gluten-free and is designed to be made ahead for the busy workweek. It keeps 4-5 days in the fridge and be used daily to top tacos, buddha bowls, burgers, even pizza!
Author: Sylvia Fountaine
Prep Time:

15

Total Time:

15

Category:

Salad

Cuisine:

Northwest
Scale
Ingredients
1

small bunch lacinato kale, cut into very fine ribbons

½

small head cabbage, shredded or thinly sliced

¼

of a red onion,  very finely sliced

¼ cup

tender herbs of your choosing ( optional) cilantro, basil, parsley, chives

¼ cup

olive oil
juice from

1

–

2

lemons ( or limes) – try roasting them first, see notes!

2

garlic cloves finely minced ( use a garlic press)
salt, pepper and chili flakes to taste
Optional seeds for sprinkling – hemp, sunflower , pumpkin seeds
Instructions
Place all slaw ingredients in a big bowl – kale, cabbage, onion, herbs. Toss well.
Add the oil, lemon juice, minced garlic and a generous amount of salt and pepper. Add chili flakes to taste.  Toss well. Taste and adjust the salt and lemon. You want the salad to taste tangy and flavorful!  Store in a sealed container in the fridge for 4-5 days!
Notes
For a boost of lemon flavor, try roasting the lemons. Cut them in half and place them open side down on a parchment lined sheet pan for 25 minutes in a 425F oven. They should darken.
Let them come to room temperature and squeeze into the salad. The flavor will be slightly more intense, with a delicious sweetness. Sweet and sour!