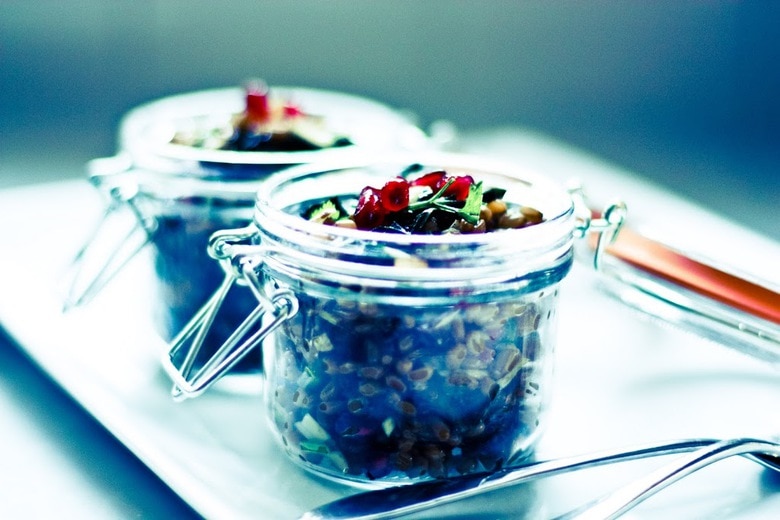 This festive Moroccan
Farro
Salad with kale, pomegranate and almonds is one of my favorites.  It's hearty yet vegan. Served warm, it makes a delicious main, or serve it chilled as a side.
After christmas, I met a dear friend for coffee. We talked about New Year's resolutions and she mentioned that instead of a picking a New Year's resolution, she likes to pick a  word  to focus on for the whole year.
For example, last year her word was "joy".  She was still trying to pick her word for this year. After our coffee, I began thinking about what I wanted my word to be.
If you were to choose one word, to focus on all year, what would yours be?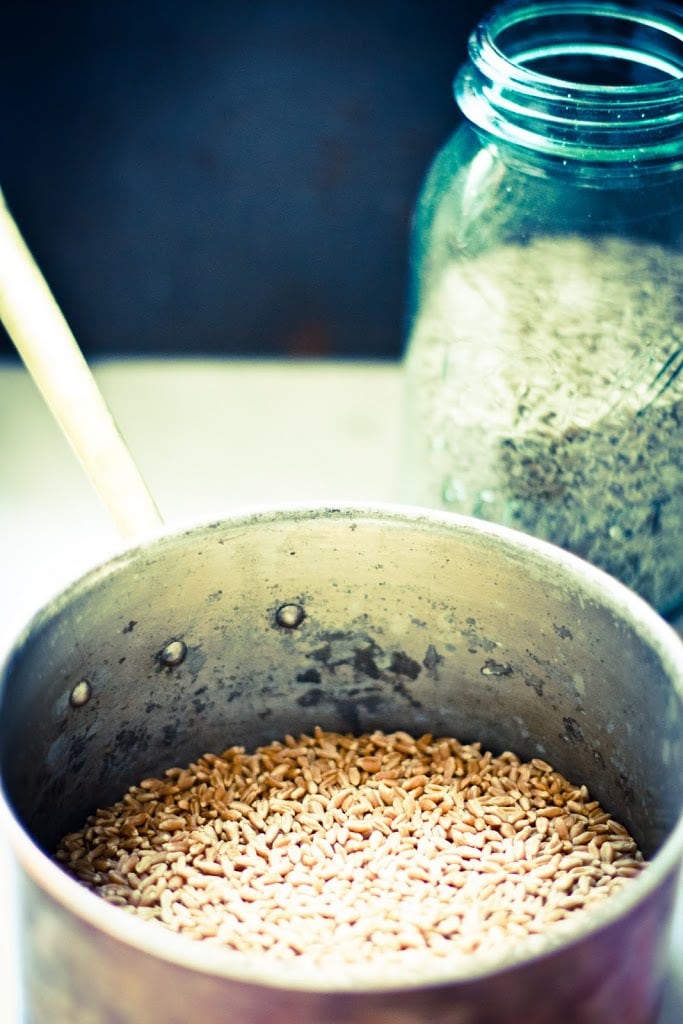 Farro
, if unfamiliar is an ancient grain in the wheat family originating from the middle east and migrating to Europe. Today it is a staple in Tuscany where it also grows, often used in salads and soups.
You can easily substitute wheat berries or rye berries in this recipe, or even
quinoa
.
The leftovers also make a really nice salad the next day.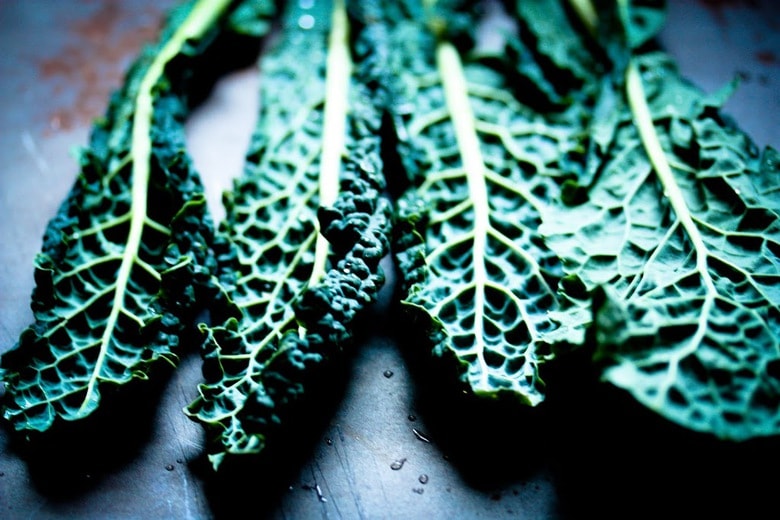 Lacinato Kale is an heirloom variety of kale, dark in color and a little less bitter than curly kale.
It is also used quite often in Italian cooking. It is sometimes called Tuscan kale, black kale or cavolo nero.
Kale belongs the Brassica family, a group of vegetables including cabbage, collards and brussels sprouts. It's extremely high nutrient level, high in Vitamins K, A and C  and I have been trying to incorporate more and more of this super food into my diet. These days, kale is available year round but its true season is in mid-winter thru the beginning of spring, when its at its peak and tastes best.  This is because a light frost is key in sweetening its flavor.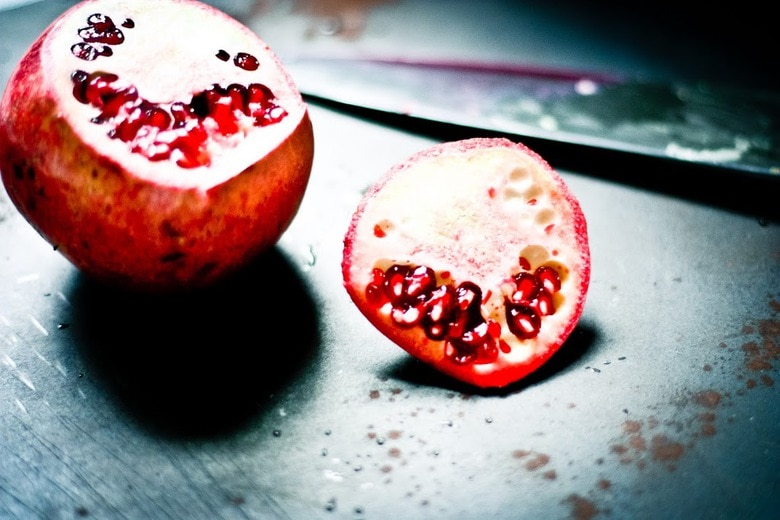 The easiest way to seed a pomegranate without creating a huge mess is to score the outer skin of the pomegranate in vertical wedges with a
sharp knife
 ( like sections of an orange only bigger).
Submerge the entire pomegranate in a bowl of cold water and start peeling the skin off and pulling it all apart -underwater. The seeds will fall to the bottom of the bowl and skins will float.   Just remove the skins and drain.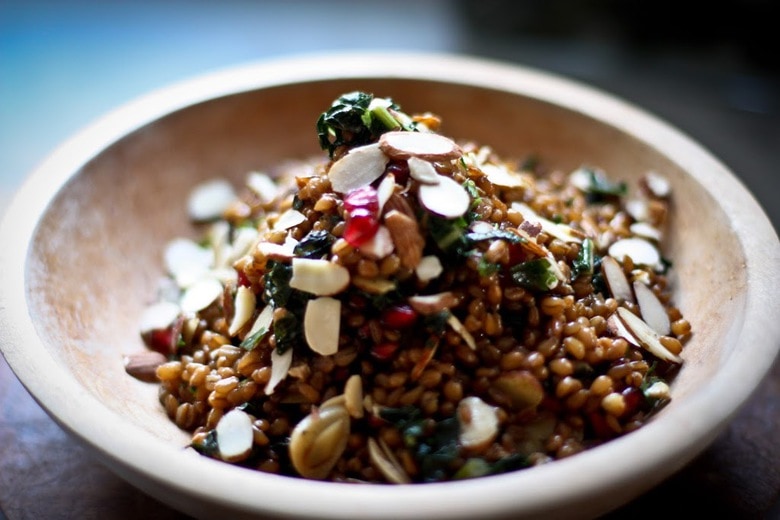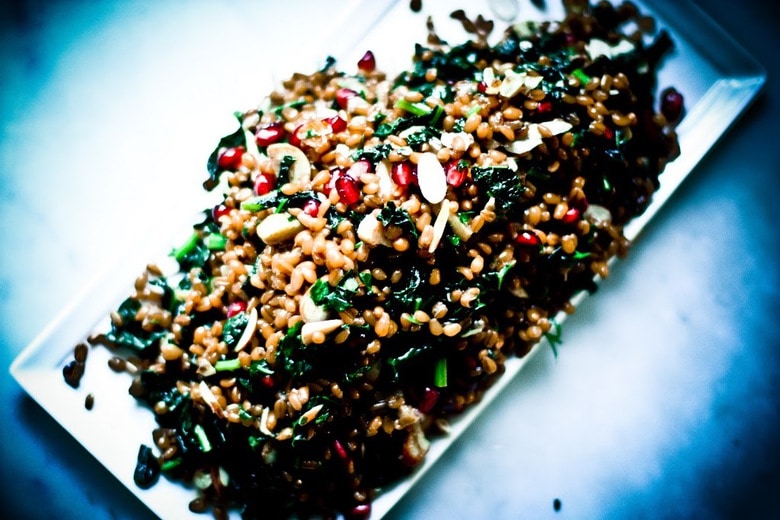 Serve it up on a platter, a large
wooden bowl
….or for a different twist that is packable…
place individual servings in  jars.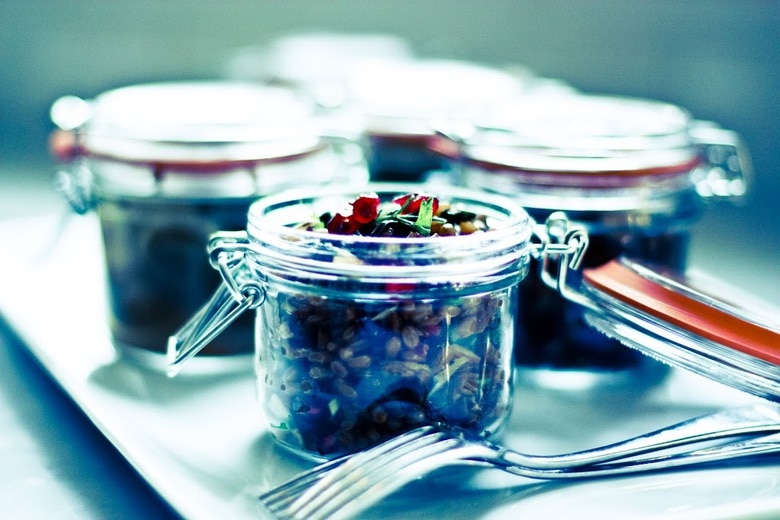 Print
Farro Salad with Kale Pomegranate and Almonds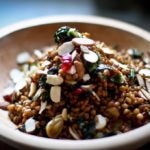 Farro Salad with Kale, Pomegranate and Almonds
Author: Sylvia Fountaine
Prep Time:

20

Cook Time:

45

Total Time:

1 hour 5 minutes

Yield:

6

1

x
Category:

Salad

Method:

Stove top

Cuisine:

Northwest
Scale
Ingredients
1 ½ Cup  Farro ( or wheat or rye berries)
3 Cup  water
1/4 tsp allspice
1/4 tsp salt
4–5 Cups chopped Lacinato Kale ( one bunch)
4 cloves sliced garlic
1 shallot- finely chopped
1 teaspoon finely chopped ginger
1/3 C golden raisins.
3 T olive oil
1/2 tsp salt
1 teaspoon apple cider vinegar, more to taste
1 T honey or maple
1/2 tsp cumin
1/2 tsp cinnamon
1/2 C chopped parsley
1/2 C sliced almonds
1/2 C fresh pomegranate seeds
Instructions
In a small pot bring farro, water, salt and allspice to a boil. Cover and turn heat down to low and simmer for 45 min's or until farro is tender and water is mostly gone.
In the mean time, saute shallot ginger and garlic on med low heat in 3 T Olive oil. When lightly browned add chopped kale. Cook slowly on low heat, stirring often for about 5 min. Add 1/3 C golden raisins. Let simmer on lowest setting until kale is tender …about 15 min.
Seed your pomegranate.
When farro is tender, drain and pour it all into the sauté pan with the kale.  Add the salt, spices,  honey, vinegar and sliced almonds. Let flavors meld for a few minutes on low heat.  Just before serving toss in the fresh parsley and pomegranite