This recipe for Braised Chicken with Figs is simple and rustic and highlights fresh ripe figs-perfect for fall gatherings and entertaining, yet easy enough for weeknight dinners.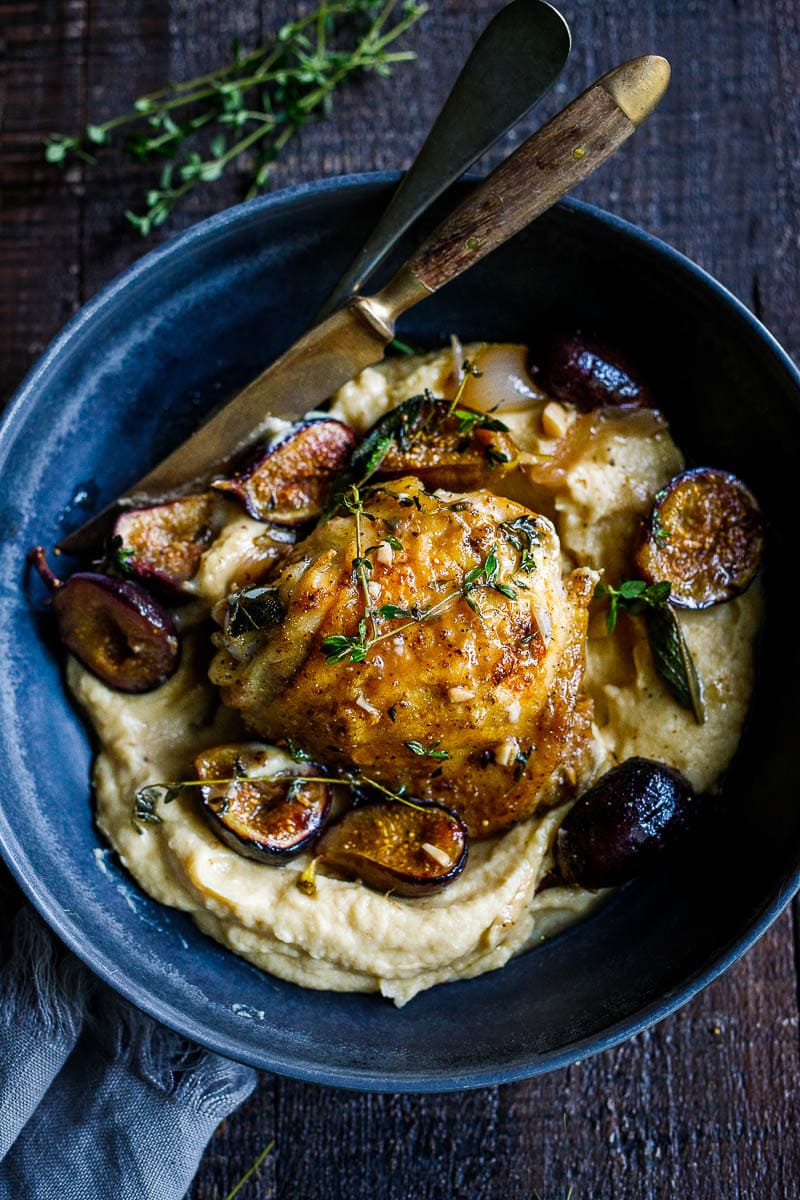 Love in its fullest form is a series of deaths and rebirths. We let go of one phase, one aspect of love, and enter another. Passion dies and is brought back. Pain is chased away and surfaces another time. To love means to embrace and at the same time to withstand many endings, and many many beginnings- all in the same relationship.

Clarissa Pinkola Estés, Women Who Run With the Wolves
Make this recipe for Braised Chicken with Fresh Figs before fig season ends! Chicken is pan-seared on the stove top until golden, then braised in the oven a flavorful broth infused with fresh figs, shallots and thyme.
Serve with a savory starch and a fresh veggie! We loved this with Goat Cheese Mashed Potatoes and Simple Sauteed Greens. So good!
Ways to Serve Chicken with Figs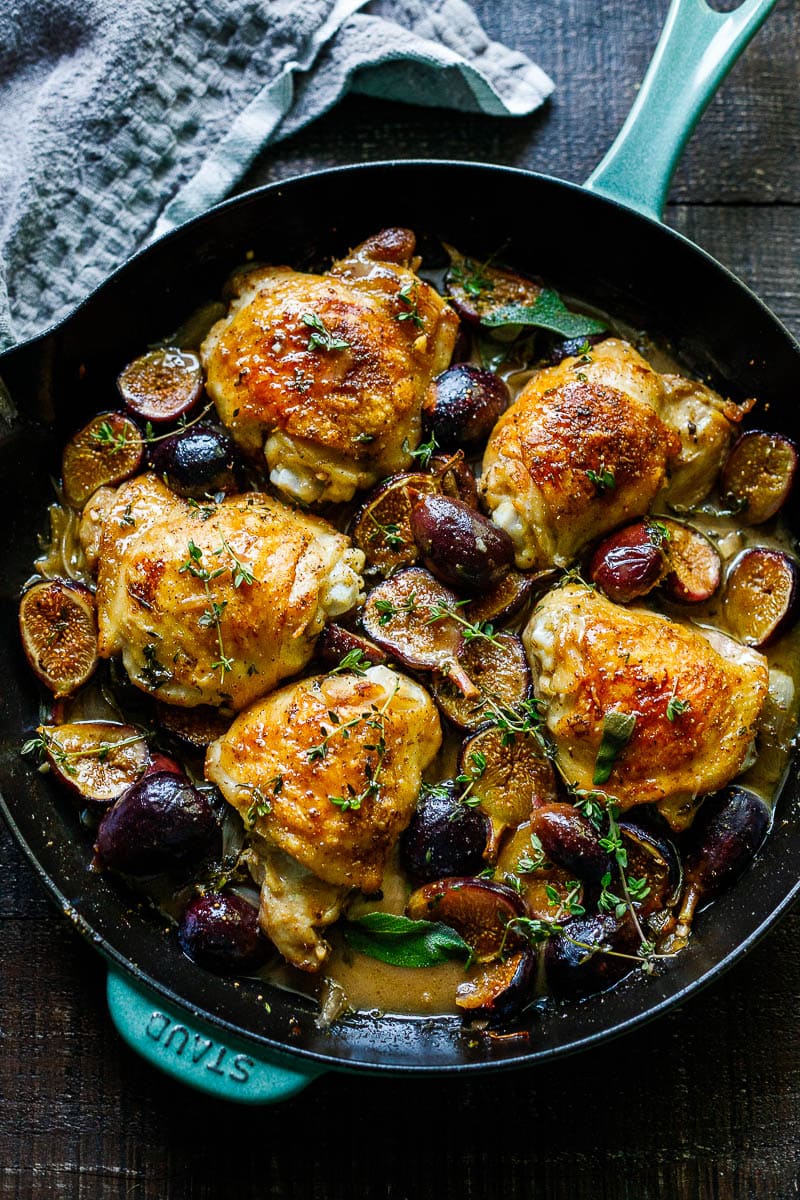 Ingredients in Chicken with Figs
4-6 chicken thighs (bone-in skin-on, or boneless skinless, or sub chicken breasts)
olive oil and butter
shallots or sub-red onion
garlic cloves
fresh thyme- pr sub rosemary or sage
Fresh figs
sherry cooking wine, ruby port, or white wine or (sub 2 tablespoons balsamic vinegar plus 1 tablespoon honey)
3/4 cup chicken broth

How to make chicken with Figs
Step one: Preheat the oven to 400F and season the chicken the salt and pepper.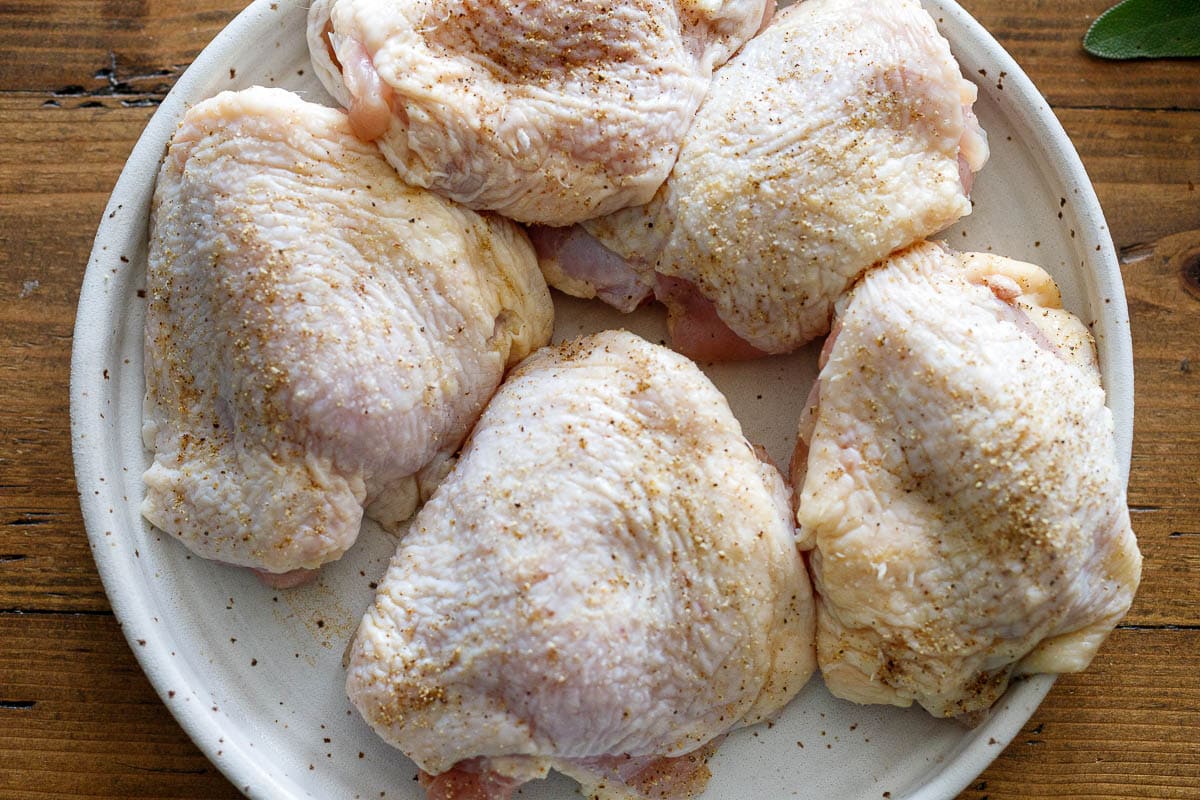 Step two: Heat oil in a skillet and brown the chicken until golden- no need to cook through. Set aside .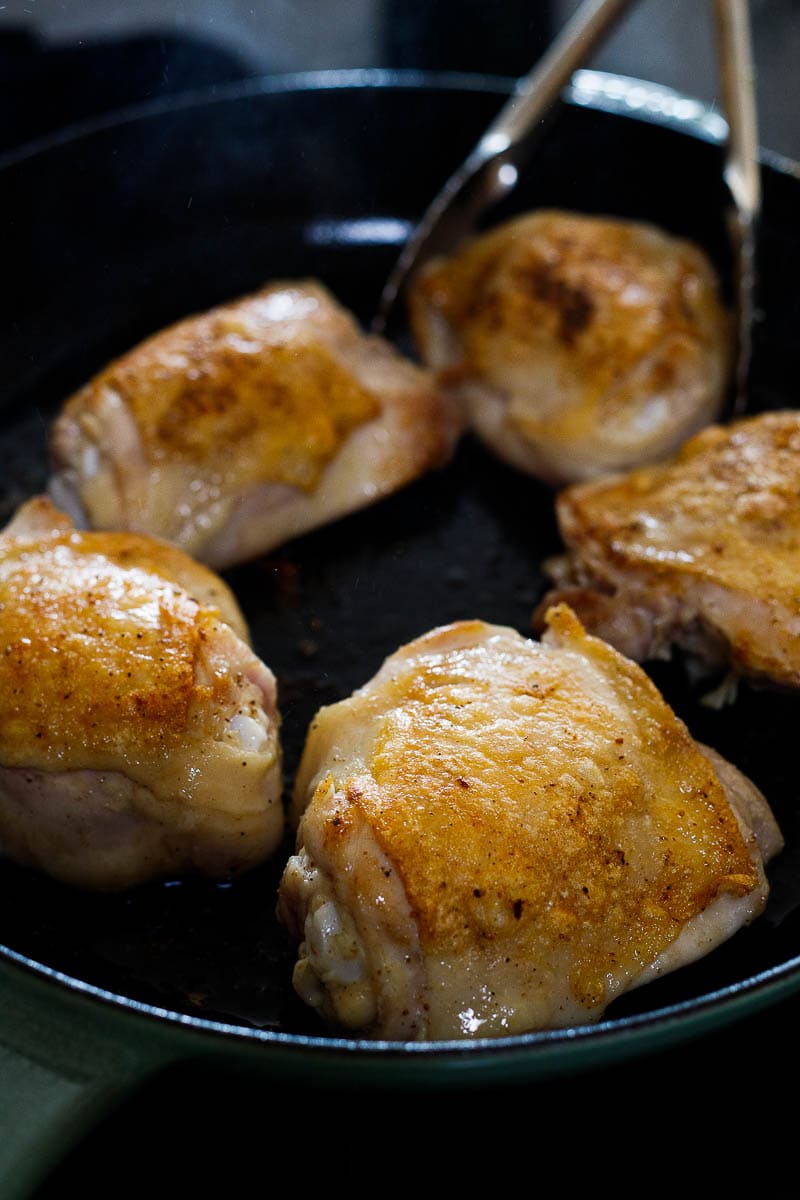 Step three: Saute shallots, garlic, and thyme with some butter, over medium-low in the same pan until tender, about 8 minutes. Add figs, deglaze with wine, reducing by half. Add the broth and give a good stir.
TIP! Taste the broth- you want the broth to be flavorful with a little sweetness. If the wine is very dry, add a little honey. If the broth is bland, add salt.
Step four: Nestle in the chicken, positioning figs around and on top, some with their open side up so they carmelize in the oven. Give the pan a good shake.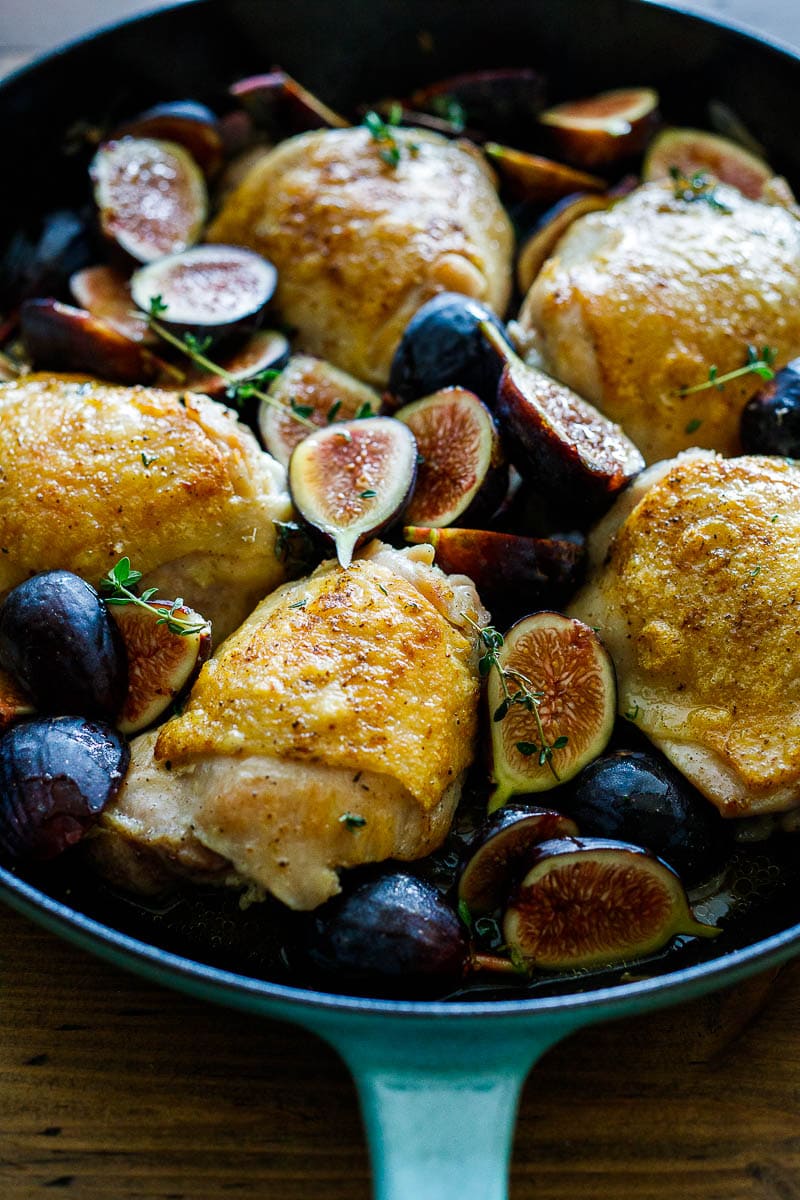 Step 5: Bake at 400F until chicken is cooked through to 165F. Bone-in skin-on chicken thighs will take roughly 20-25 minutes, and boneless thighs and breasts will take less time. Check breasts after 10 minutes to prevent overcooking.
How to serve it!
Serve over creamy mashed potatoes or polenta, spooning the flavorful pan juices over the top. Garnish with a sprig of thyme if you like!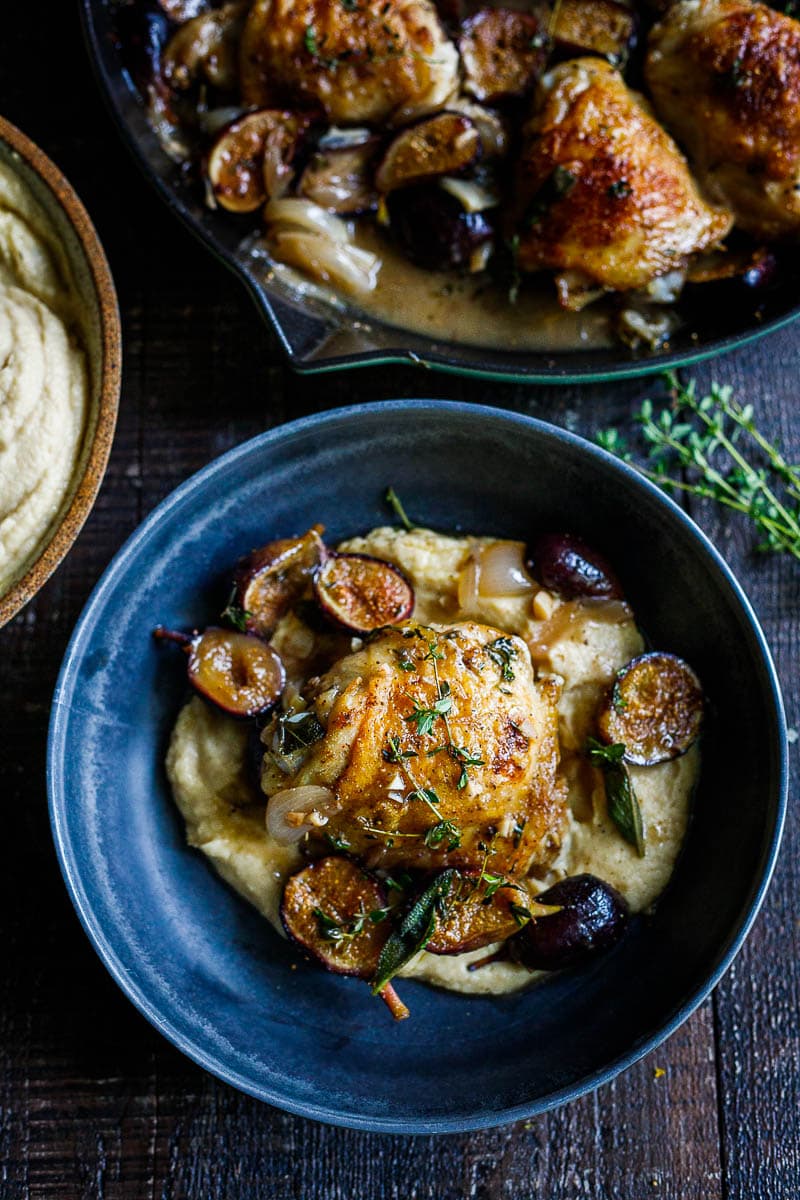 FAQ's
Can this be made ahead?
Yes, make the whole dish ahead and reheat in a 350F oven with a little extra broth.
Can this be made with dried figs?
Yes. Cut the dried figs into quarters or slices, and simmer in the broth (adding a little more broth if needed) covered, until tender. Then nestle in the chicken. This will be a little sweeter, so you may not need the honey- add to taste.
Can this be made with chicken breast?
Yes. pound the chicken breast into equal thickness. You could dredge in a little flour after seasoning. Prepare the same way, browning first, then braising. It will not need as long to bake- check after 10 minutes.
More chicken recipes you may like
Enjoy this and let us know what you think in the comments below.
xoxo,
Sylvia
Print
Braised Chicken with Fresh Figs
Prep Time:

25

Cook Time:

25

Total Time:

50 minutes

Yield:

6

1

x

Category:

chicken recipes

Method:

Braised

Cuisine:

American

Diet:

Gluten Free
---
Description
Elegant yet simple, Braised Chicken with Fresh Figs requires only 25 mins of hands-on time before baking in the oven. Perfect for entertaining.
---
4

–

6

chicken thighs, bone in, skin on ( or sub skinless or chicken breast)
salt and pepper

1 tablespoon

olive oil

3

medium shallots, sliced (or

1

red onion, sliced)

4

cloves garlic, rough chopped

1 tablespoon

fresh thyme- or sub rosemary or sage

10

fresh figs, halved

1 tablespoon

butter

1/4

cup

sherry cooking wine, ruby port, or white wine. ( Or sub 2 tablespoons balsamic vinegar plus 1 tablespoon honey)

3/4

cup

chicken broth
Serve over goat cheese mashed potatoes or creamy polenta with wilted greens.
---
Instructions
Preheat oven to 400 F
Season the chicken generously with salt and pepper on both sides.
In a large, ovenproof skillet, add olive oil and heat over medium-high heat. Sear the chicken on both sides. If using skin-on chicken, take your time here to get the skin crispy and golden and lowering the heat to medium. Once golden, set aside on a plate.
Add the shallots to the skillet and lower heat to medium-low and saute until softened and translucent about 7-9 minutes. Add the garlic, thyme and butter, saute a few more minutes until the garlic is fragrant.  Saute 1 minute. Add the wine, scrape up any browned bit and let it reduce by half. Stir in the figs. 
Stir in the broth and bring to a gentle simmer, taste the broth and season with honey,  salt and pepper if needed. You want the broth to be rich and flavorful and slightly sweet. ( If using wine,  I'll add a bit of honey).
Nestle the chicken, skin side up,  into the simmering pan, arranging the onions and figs around and between, (turn some figs, open side up), and once simmering, give a good shake, and place in the oven, to finish cooking the chicken through to 165F. If using bone-in chicken, allow 20-25 minutes, if using breast or boneless thigh, check after 10 -15 minutes.
Serve over goat cheese mashed potatoes or creamy polenta, with wilted greens, spooning some of the flavorful pan juices overtop.
---
Notes
Leftovers will keep up to 4 days in the fridge or can be frozen for 3 months. 
Nutrition
Serving Size:

1 thigh

Calories:

441

Sugar:

19.6 g

Sodium:

385.9 mg

Fat:

26.7 g

Saturated Fat:

7.6 g

Carbohydrates:

26.3 g

Fiber:

4 g

Protein:

23.7 g

Cholesterol:

135.4 mg
Keywords: chicken with figs, chicken with figs and honey, moroccan chicken with figs