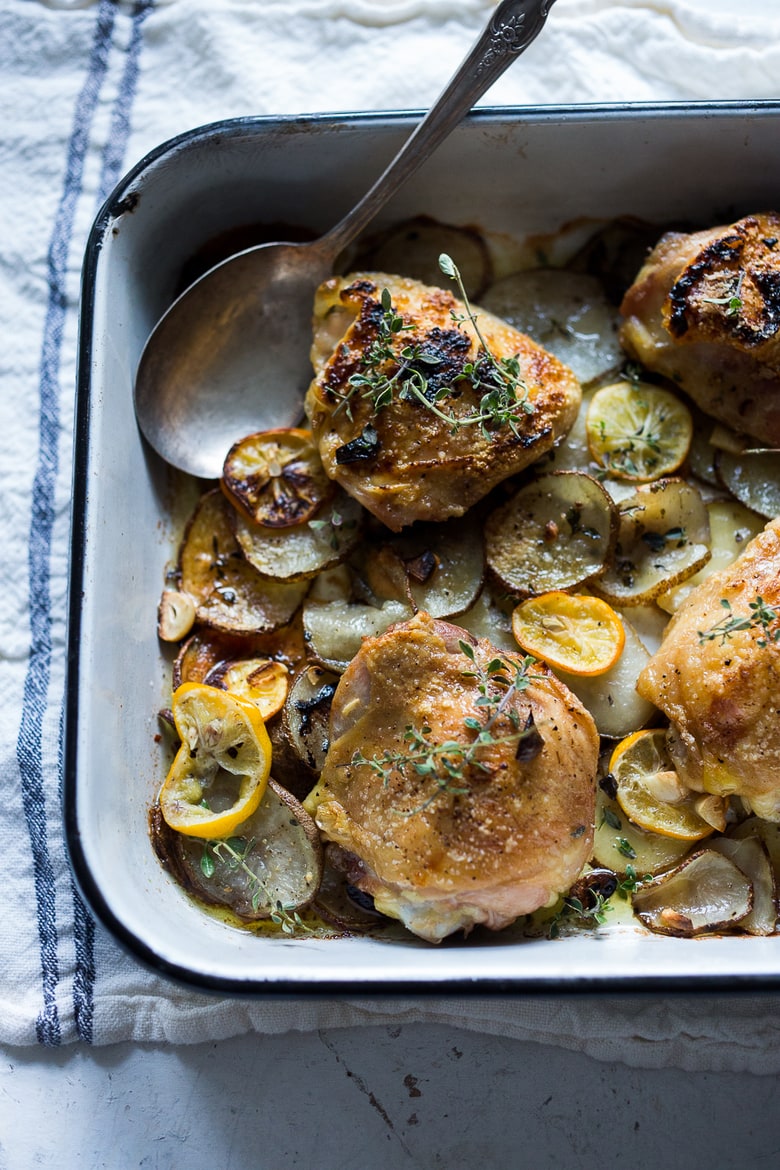 This recipe for Sheet Pan Chicken & Crispy Potatoes with lemon and thyme is sooooo easy. It's surprisingly flavorful too! With just 10 minutes of prep, the oven takes care of the rest. Slices of lemon, rough-chopped garlic and fresh thyme infuse the chicken and potatoes with savory and tangy goodness. As the chicken cooks, the potato slices get crispy around the edges — which is always a bonus with mystery husband Brian. Right before it's done, steam some broccoli to mop up all the flavorful pan juices.
Here are 10 of my favorite Sheet Pan Dinners that make life simple- easy to make and easy to clean up!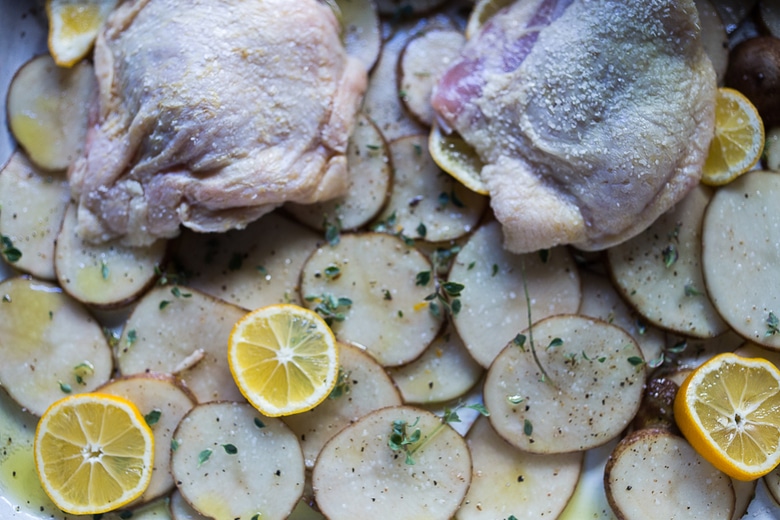 When it comes down to it, my husband loves a "proper dinner." To him, the perfect plate consists of a meat, a starch and a vegetable. Or perhaps, it's a "proper dinner" that makes him feel well-cared for and loved, the way his mom cooked for him growing up. When I've been feeling particularly neglectful (or in this case, absent) in the wife department, I shower him with proper dinners whenever I can. But proper dinners often take more time than I've allotted and more pots and pans than I have time to wash. Some days we all need shortcuts, don't we? Hence, the amazing Sheet Pan Dinner. With simple prep and simpler clean up…every one is happy!
Pre-heat your oven to 400 F. Brush or spray a sheet pan with olive oil. Using a mandolin, thinly slice potatoes and lay them down on the sheet pan, overlapping just slightly. Brush or spray the tops lightly with olive oil. Salt and pepper them, scatter some rough chopped garlic, lemon slices ( don't skip) and thyme. Then place the salted chicken thighs (bone-in, skin on) over top.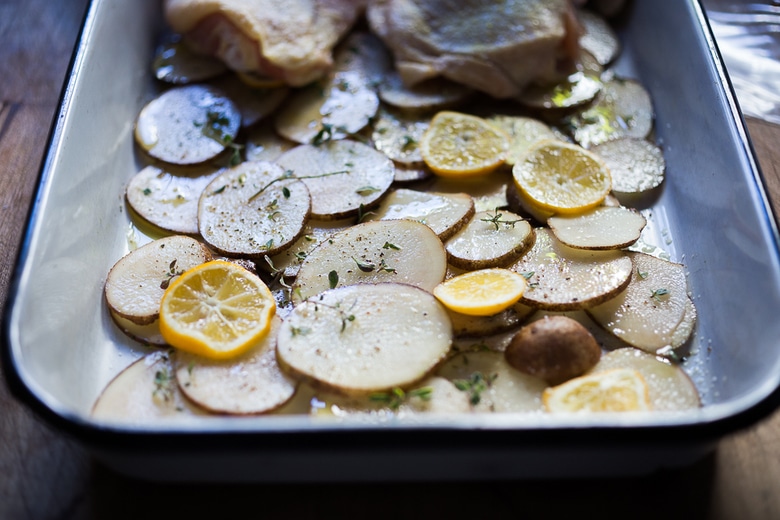 Here I'm using a couple of russet potatoes, skin on. It really doesn't have to be perfect as you can see. The important thing is to use bone-in, skin on chicken, which will take the same amount of time to cook as the potatoes. The skin will lock in the moisture.
Put the sheet pan chicken in a 400 F oven for 40 minutes. During the last 10 minutes, steam some broccoli.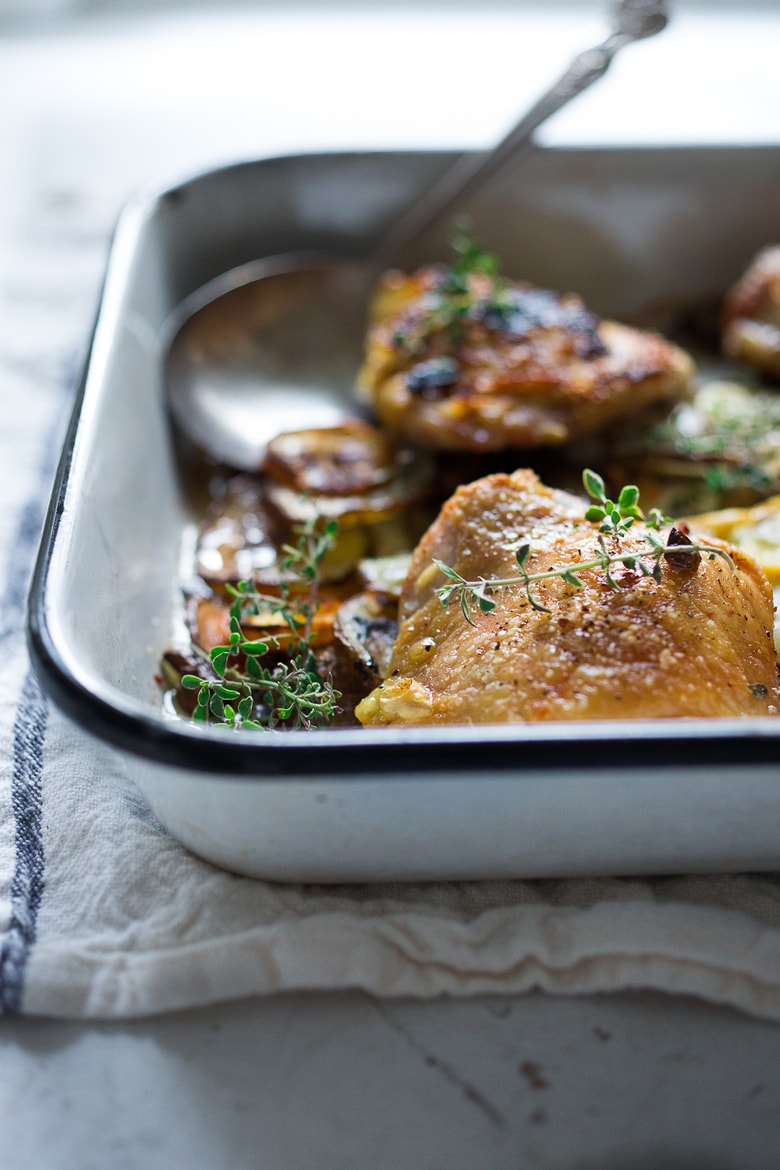 Spoon a little of the pan juices over the chicken and potatoes, and if you want a little more color, continue baking for 5 minutes, or broil for just a few minutes. I love how the lemon slices get tender and caramelized and infuse flavor into the dish. I actually eat them too, rind and all!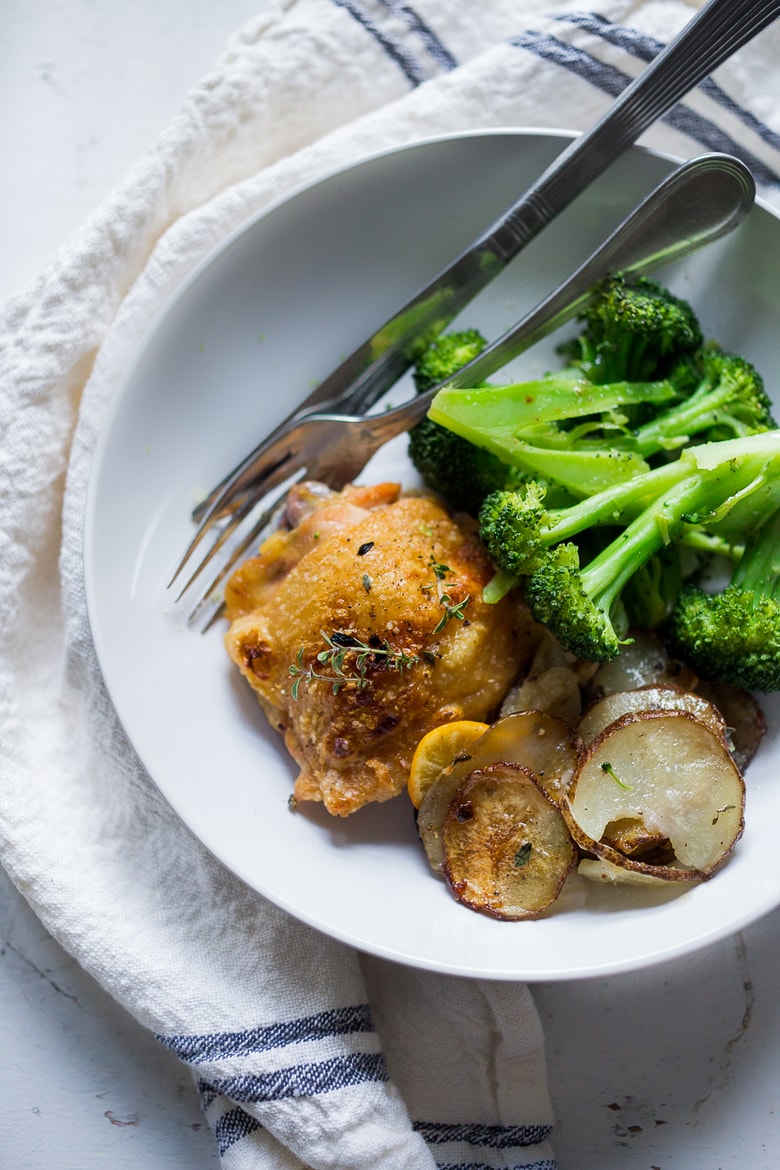 Look how nice and crispy the potatoes are! Look at that golden crust on the tender juicy chicken!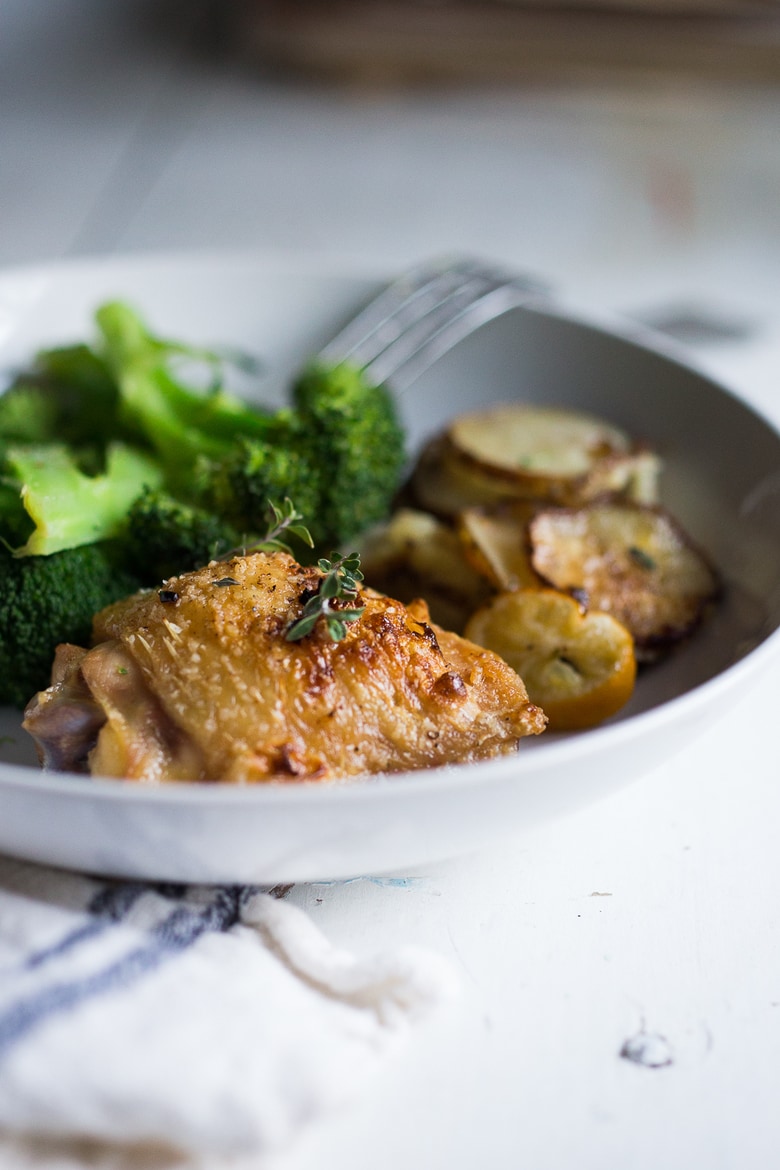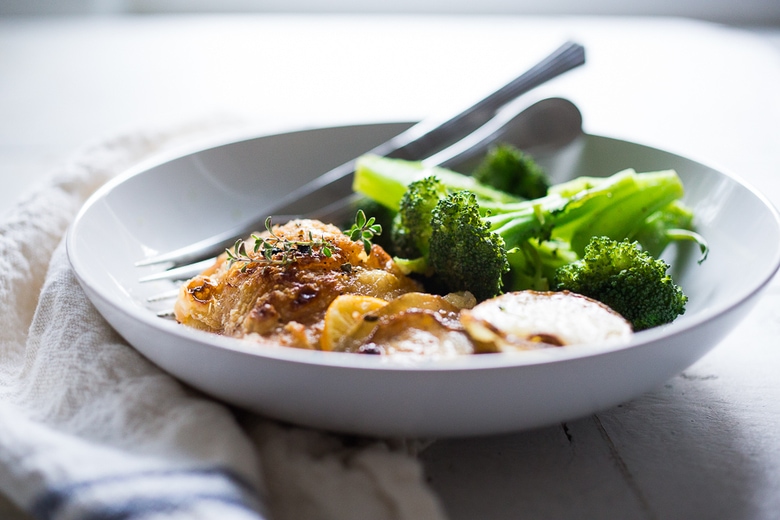 This sheet pan dinner is so full of flavor, you'll be surprised!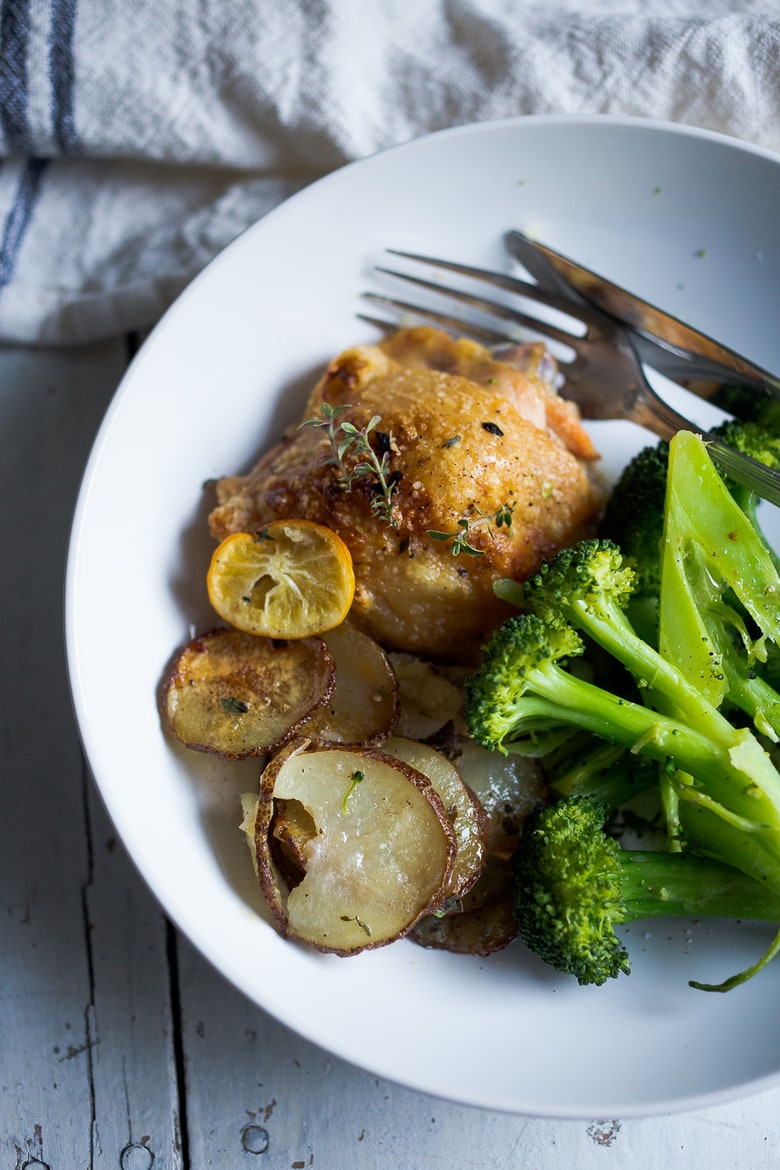 For more sheet pan inspiration go here!
happy week. xo
Print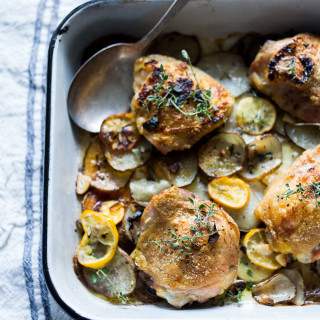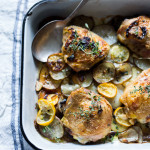 Sheet Pan Chicken & Crispy Potatoes with Lemon, Garlic & Thyme
Prep Time:

10 mins

Cook Time:

45 mins

Total Time:

55 mins

Yield:

2-4

Category:

Main

Cuisine:

Pacific Northwest
---
Description
A simple delicious recipe for Sheet Pan Chicken and Crispy Potatoes with lemon, garlic and thyme.
---
2

–

4

russet potatoes (or enough to cover a baking sheet or larger size baking dish in a slightly  overlapping single layer, see notes)
salt and pepper to taste

1

small lemon, thinly sliced

4

–

5

garlic cloves, very rough chopped (bigger pieces, or slices)
handful of thyme or lemon thyme

4

chicken thighs, bone-in, skin on
Serve with steamed broccoli
---
Instructions
Pre-heat oven to 400.
Brush or spray baking sheet with olive oil.
Using a mandolin, slice potatoes into rounds, leaving skins on. If cutting with a knife, remember thinner is better, about ⅛ inch.
Lay the potatoes down on the greased sheet pan, just slightly over lapping. Sprinkle with salt and pepper. Scatter the lemon slices around, then the garlic and some thyme.
Pat the chicken dry, then generously salt and pepper both sides. Place over the potatoes.
Place in the middle of the oven for 40 minutes.
During the last 10 minutes, quickly steam some broccoli.
Check for doneness, Spoon the flavorful pan juices over the chicken and potatoes and continue cooking for 5 minutes, or broil for just couple minutes to get them deeply golden.
Serve with the steamed broccoli, using the pan juices to dress the broccoli.
Notes: this tends to work better on a metal sheet pan with short edges, versus a ceramic baking dish….the potatoes will get crispier.
---
SaveSave
SaveSave
SaveSave
SaveSave
SaveSave
SaveSave
SaveSave
SaveSave