This post may contain affiliate links. For more information, please see our privacy policy.
Here are our 25 Best Sheet-Pan Dinners that will help make busy weeknights a little bit easier!  All can be made on a single sheet pan, with very little fuss and even less cleanup! Vegan and Vegetarian options. 

This easy sheet pan dinner is sure to satisfy even the most diehard meat-lovers!  Smoky Spicy and "meaty", these sheet pan tacos are vegan and full of flavor. Make this easy weeknight dinner, on a sheet pan, in 30 minutes! So much flavor, so simple and easy!
Sheet-Pan Chipotle Portobello Tacos! | 45-sec video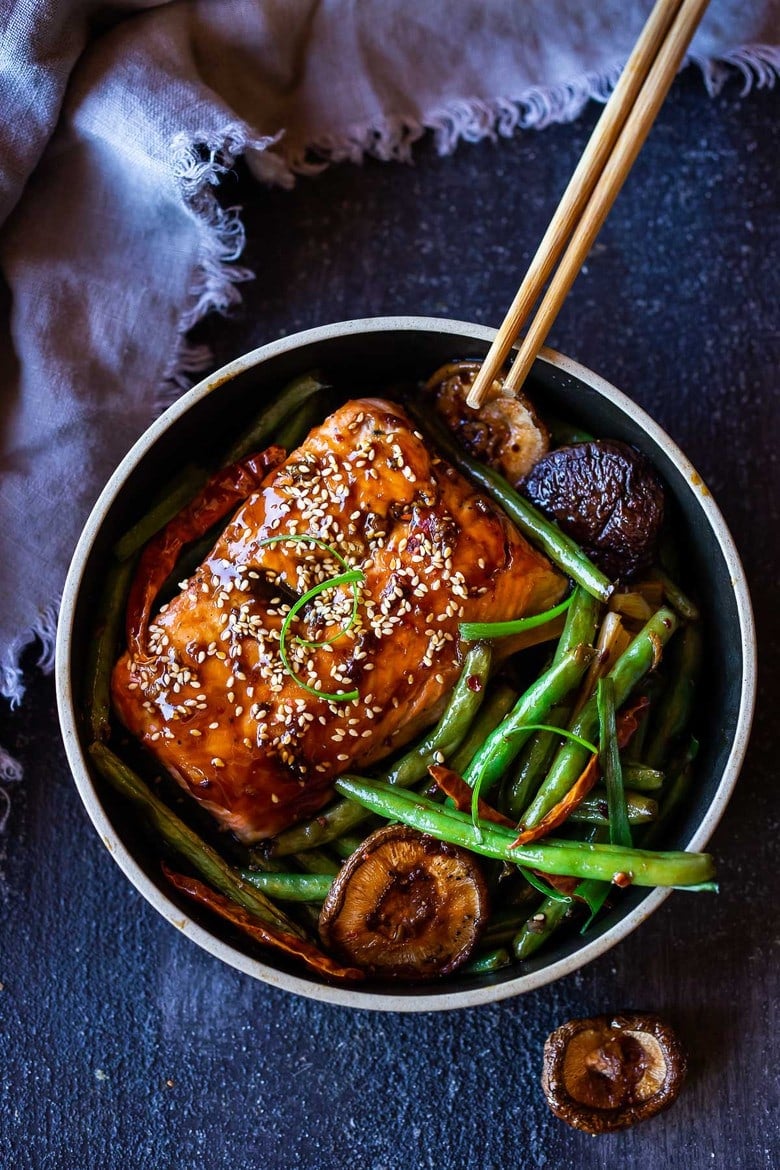 A tasty recipe for Sheet-Pan Szechuan Salmon with Scallion Green Beans baked in the oven that can be made in 30 minutes. A delicious healthy weeknight dinner!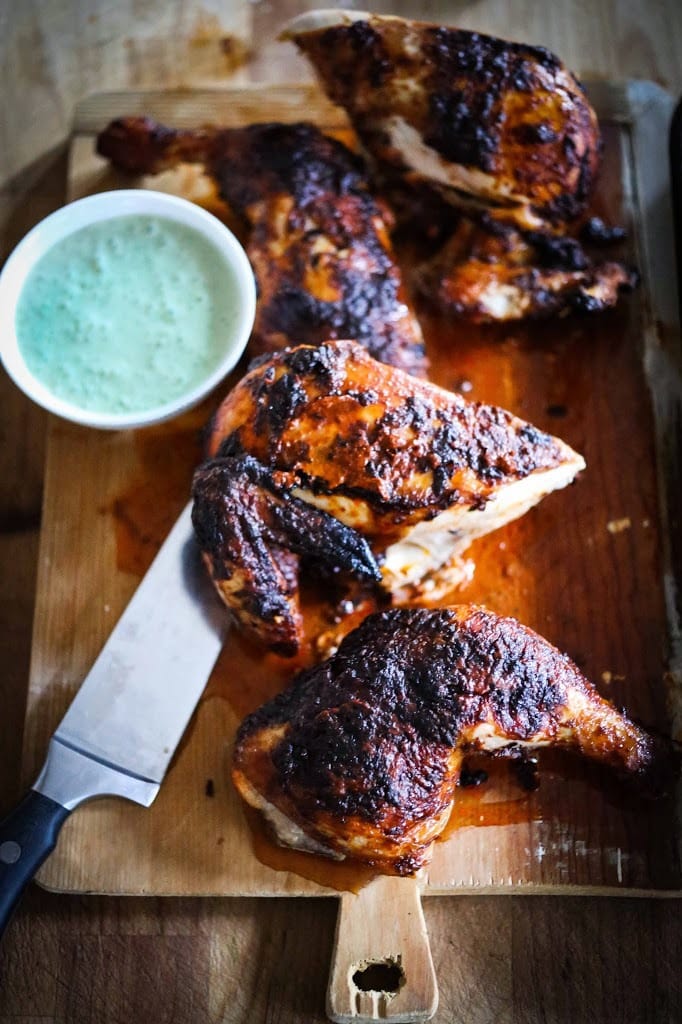 Smoky, spicy, crispy-skinned, tender chicken baked over sliced potatoes that get crispy and flavorful in the oven. A delicious sheet pan dinner, full of rich flavor.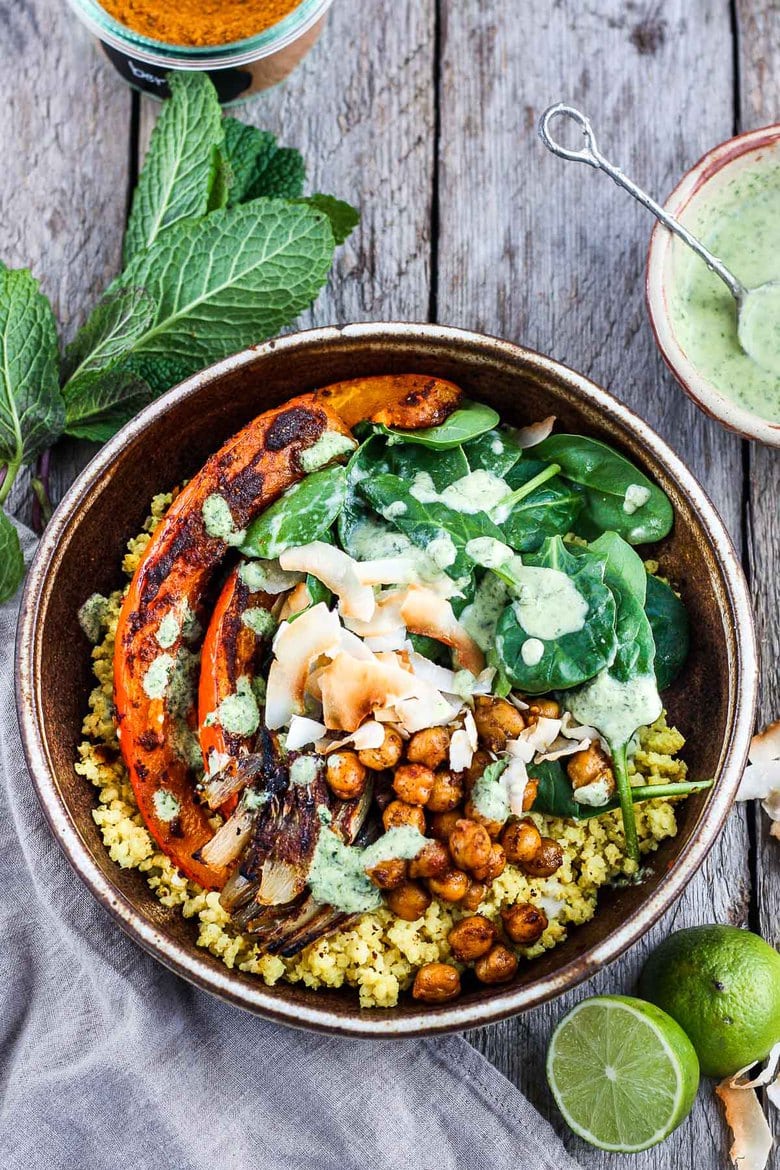 This vegan sheet-pan dinner features Berbere-Spiced Kabocha Squash, chickpeas, shallots, and spinach,  drizzled with coconut lime mint sauce.  A vegan, plant-based meal, full of vibrant flavor and spice.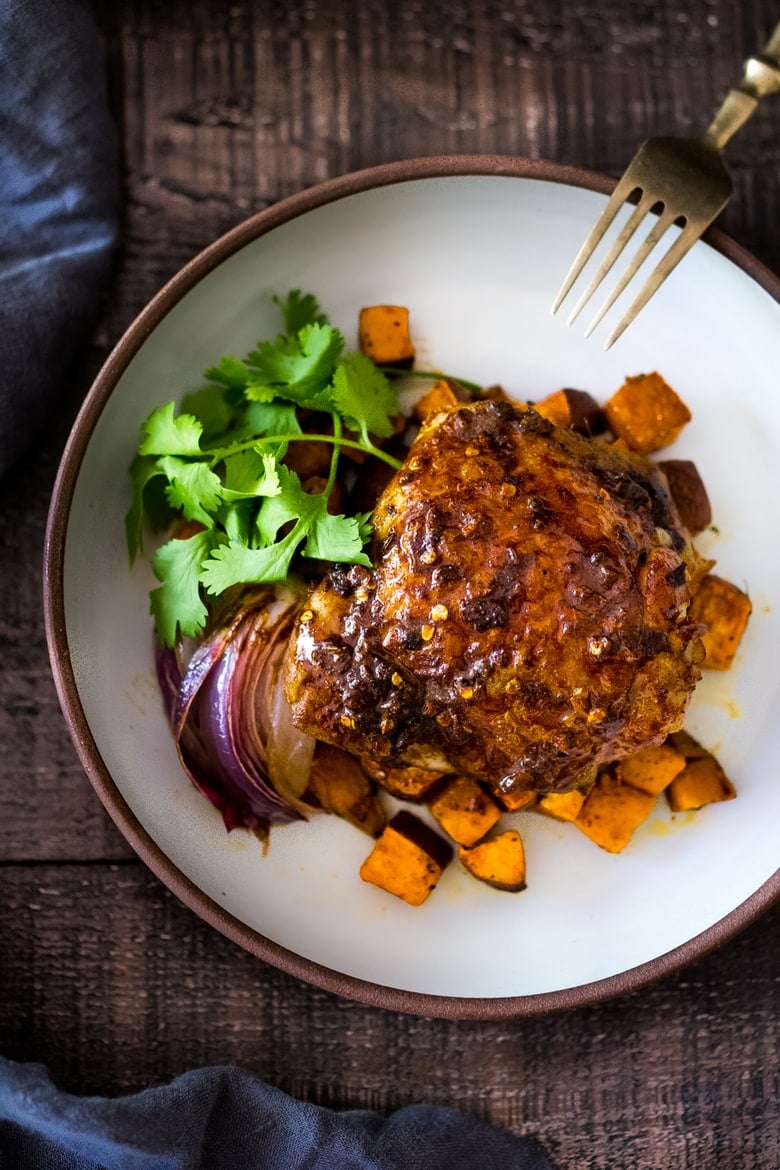 With flavorful smokey flavor and a hint of heat, this one-pan weeknight dinner is hands down one of my all-time favorites! The vegan version is amaaaaaaaaazing.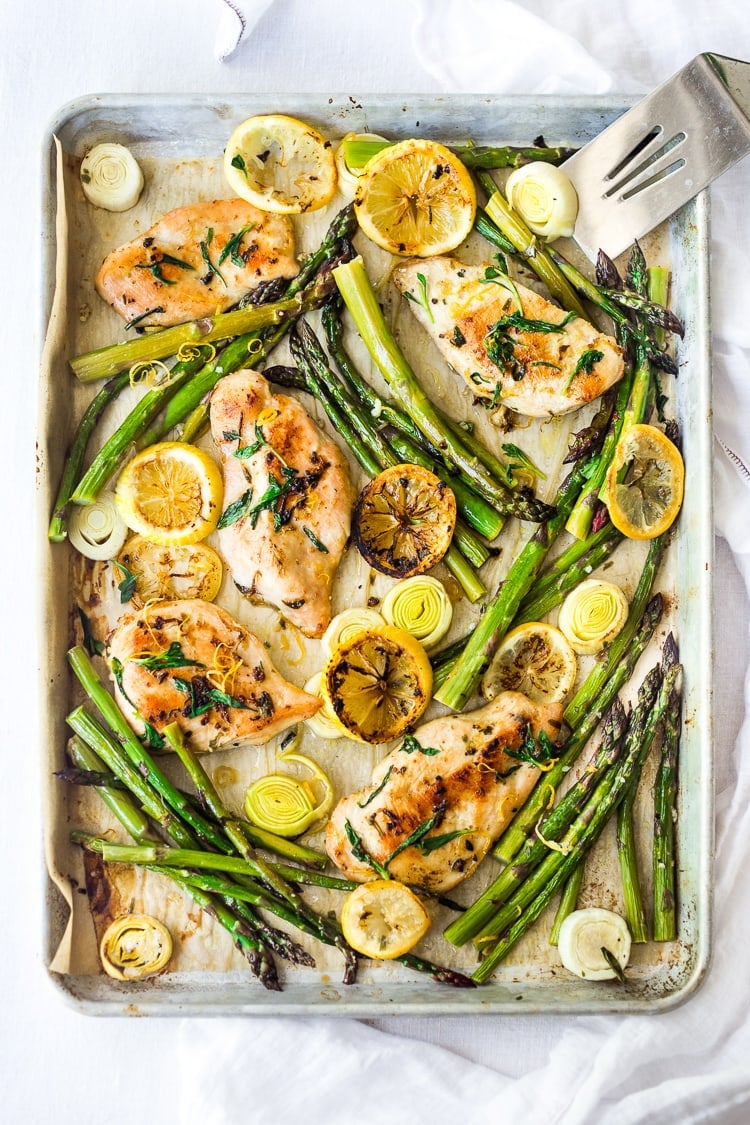 Chicken breast never had so much flavor.  Tarragon Chicken ( or TOFU!) with Asparagus, Lemon and Leeks – all roasted on one sheet pan for a fast and healthy weeknight dinner with minimal cleanup! The tofu version is really really good too and you can bake it on the same pan for mixed households.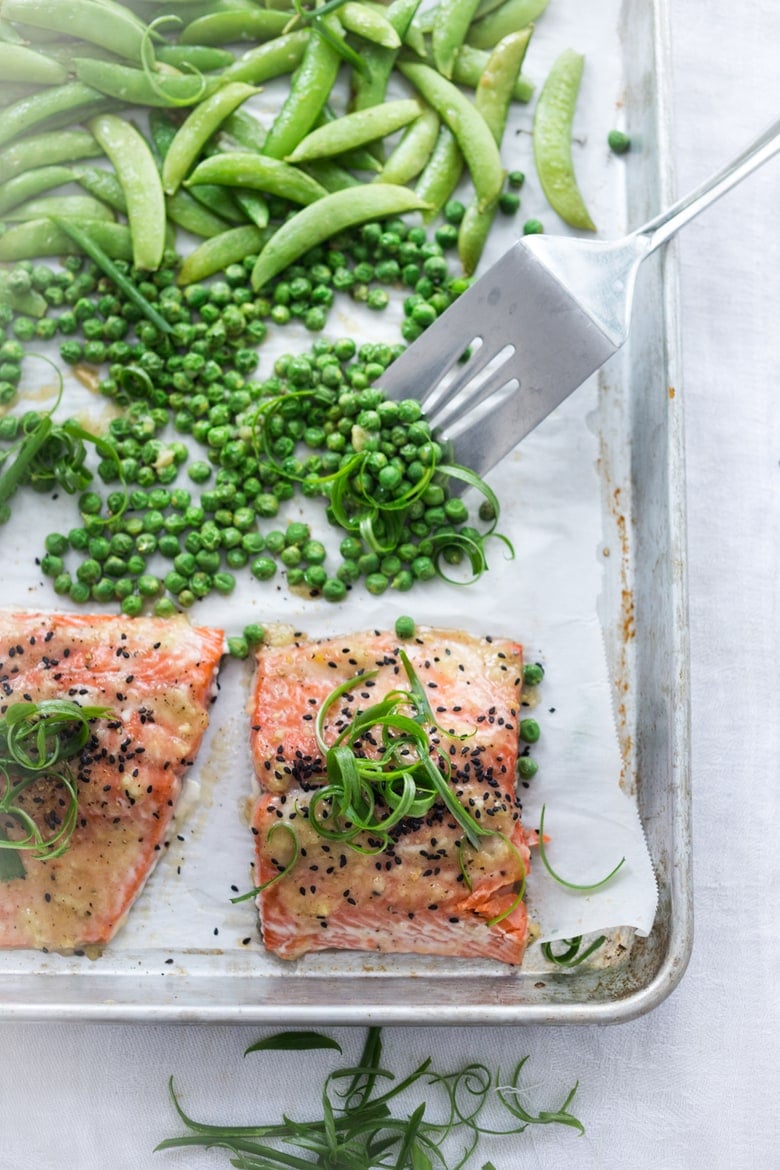 This easy sheet pan dinner is Japanese- inspired and can be made in 25 minutes flat! Substitue shelled edamame, or green chickpeas for the fresh peas if you don't have access where you live.  (Trader Joe's often carries fresh shucked peas!)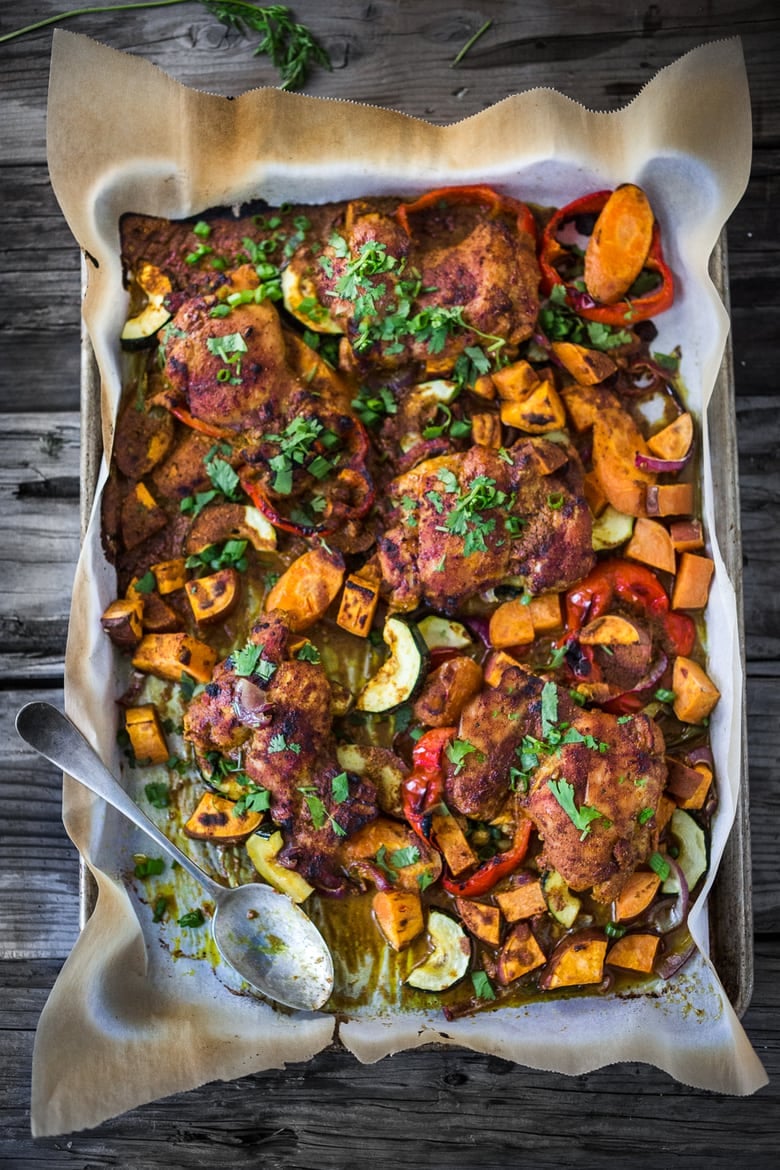 This healthy one-pan dinner,  Sheet-Pan Tandoori Chicken (or Tofu)  is loaded up with fresh veggies and can be made vegan! Full of tasty Indian flavors, it's a good one for cleaning out the fridge. Any stray veggie works! Remember you can always halve the protein and double the veggies- good for cooking for two.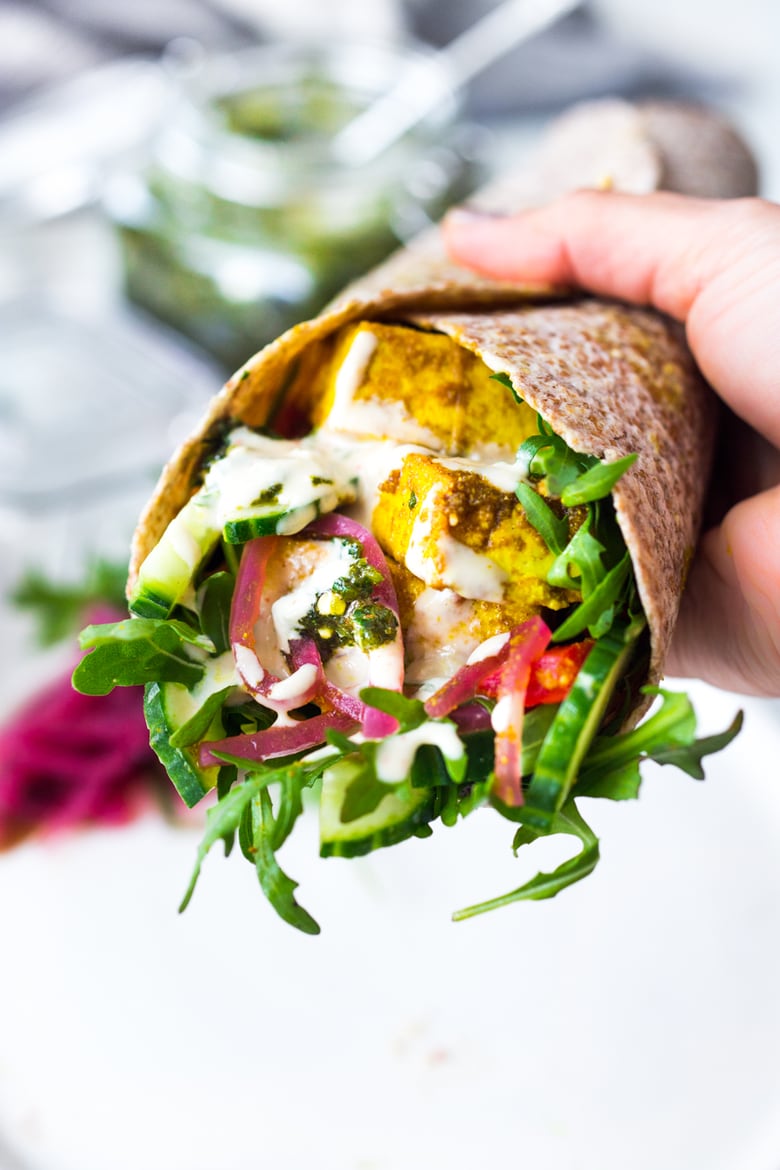 Made with your choice of chicken or tofu (or both) and lots of healthy veggies, this delicious sheet pan dinner is  infused with flavorful Middle Eastern Spices. This easy weeknight dinner is one of my personal favorites! Turn these into wraps or bowls!  Vegan adaptable -perfect for mixed households! GF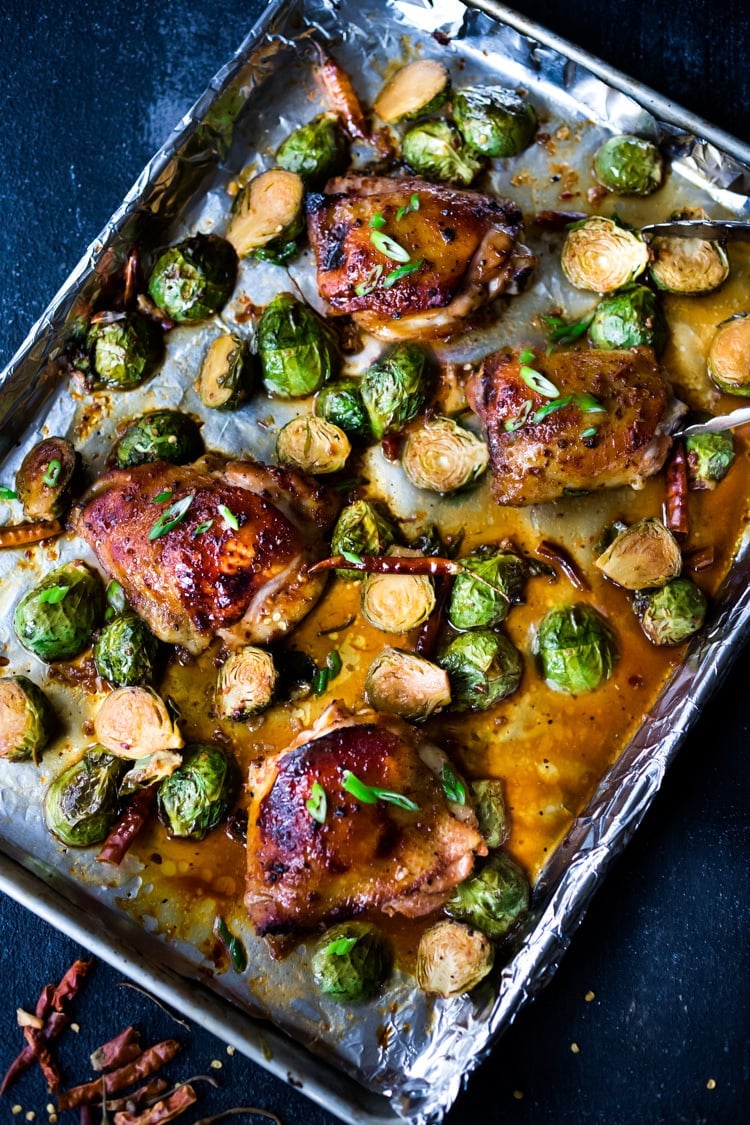 Flavorful Chicken thighs and Brussel Sprouts take only 15-20 minutes of hands-on time before baking in the oven. A full-flavored weeknight, sheet pan dinner your whole family will love!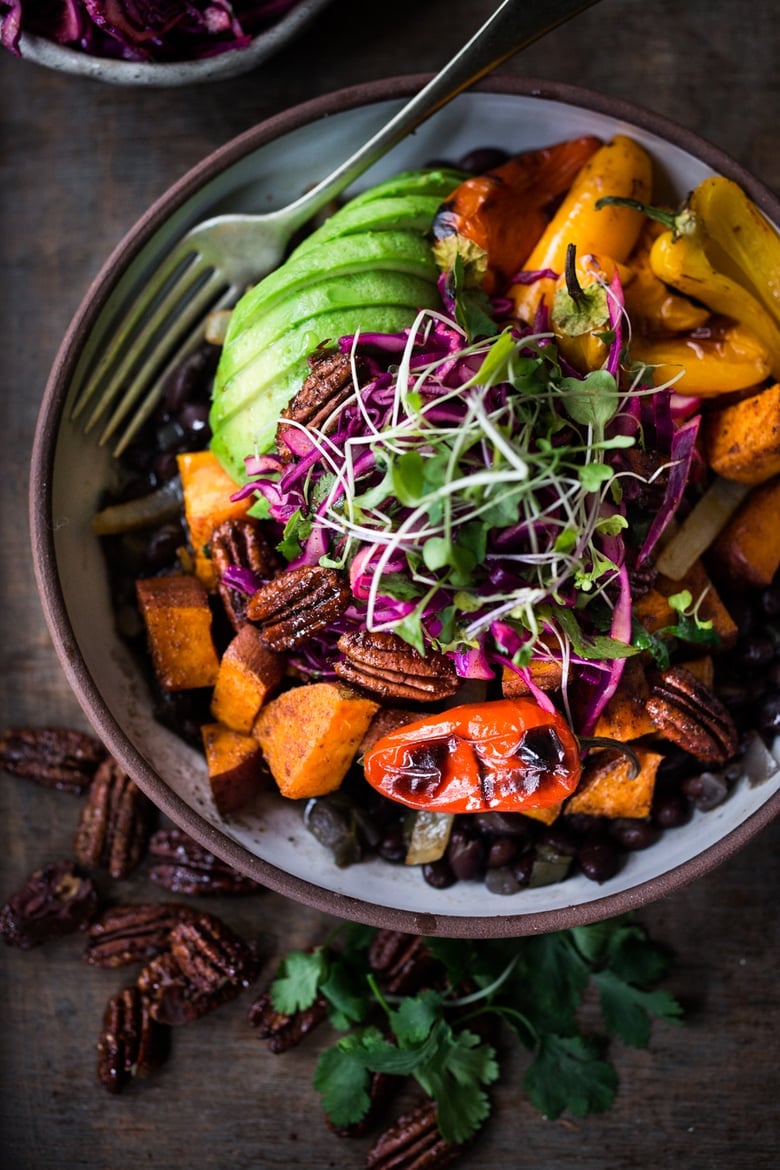 Sweet potatoes, peppers, and onions are baked in the most flavorful Oaxacan marinade! Served over seasoned black beans and topped with chipotle pecans and avocado. GF! Grain-Free. Total YUM. A healthy delicious weeknight dinner recipe!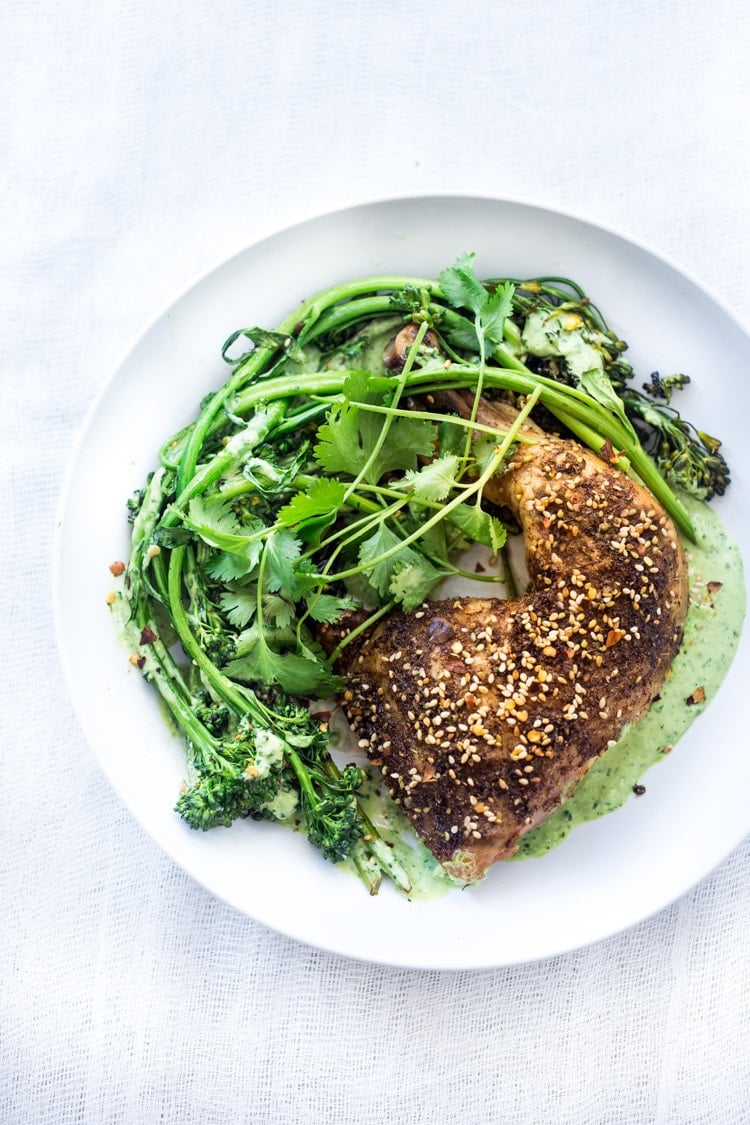 Zaatar Chicken (or Tofu) with Green Tahini Sauce and Broccolini – a simple flavorful Middle Eastern sheet-pan dinner that is vegan adaptable and gluten-free.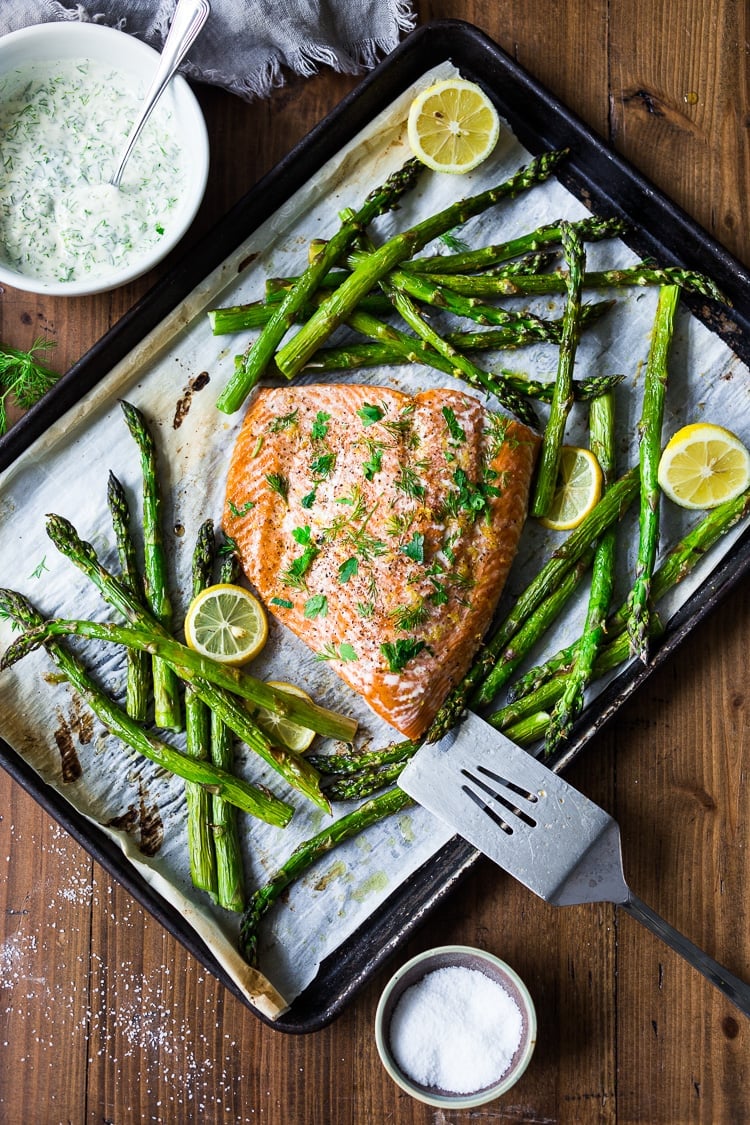 Nothing is better than fresh asparagus and wild salmon. This delicious, easy sheet-pan salmon dinner that comes together in 30 minutes! Keto and low carb.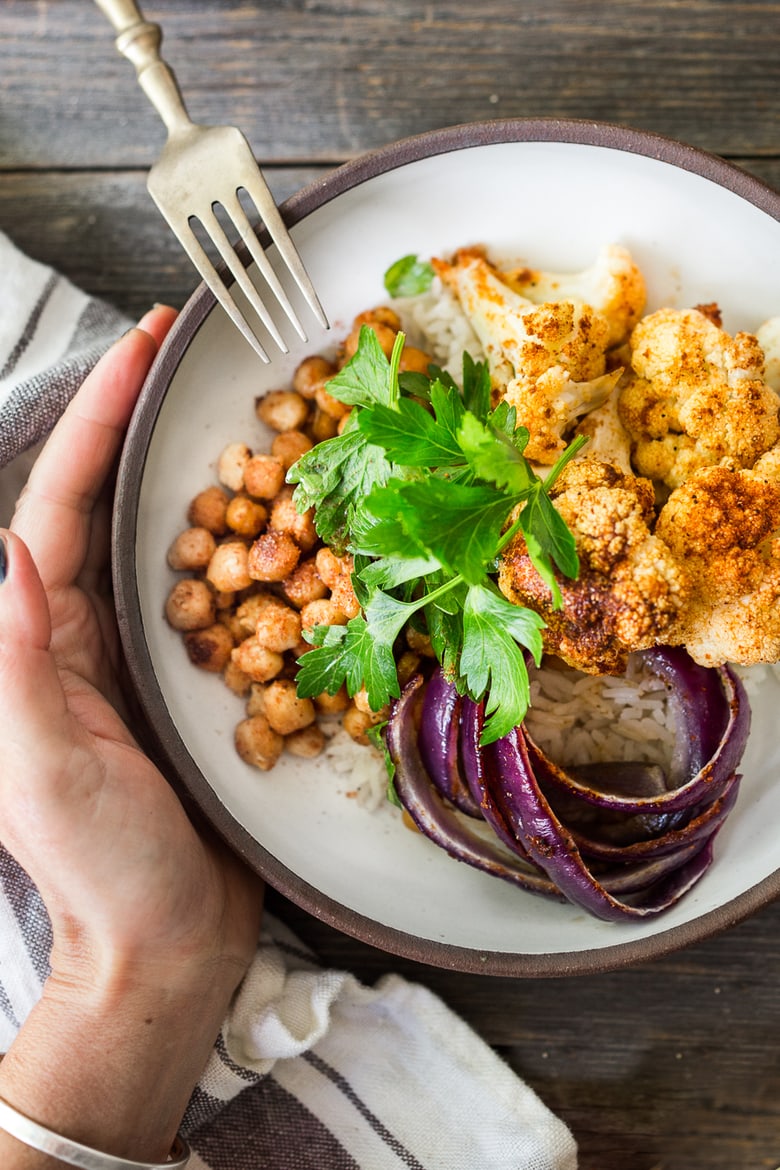 Salsa Macha is a flavorful Mexican condiment made with dried chilies, pumpkin seeds and sesame seeds – used to flavor this Mexican Sheet Pan Dinner, which can be made with chicken or tofu, to create your own "Salsa Mocha bowls"!  Vegan and GF adaptable, super flavorful!!!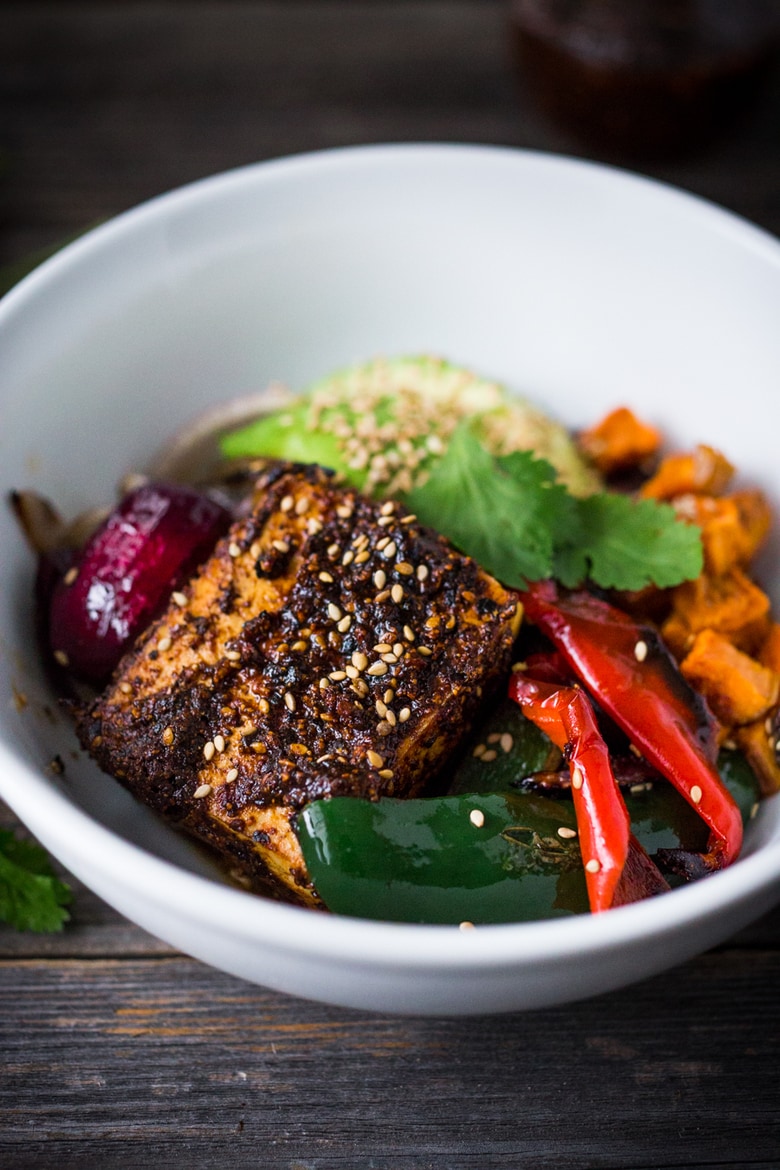 Made with roasted and spiced cauliflower and chickpeas (or optional chicken), served over cinnamon-infused rice. So dreamy. A FAST, healthy flavorful sheet-pan dinner perfect for weeknight meals! Serve it with flavorful Green Harissa Sauce. Vegan adaptable and Gluten-Free!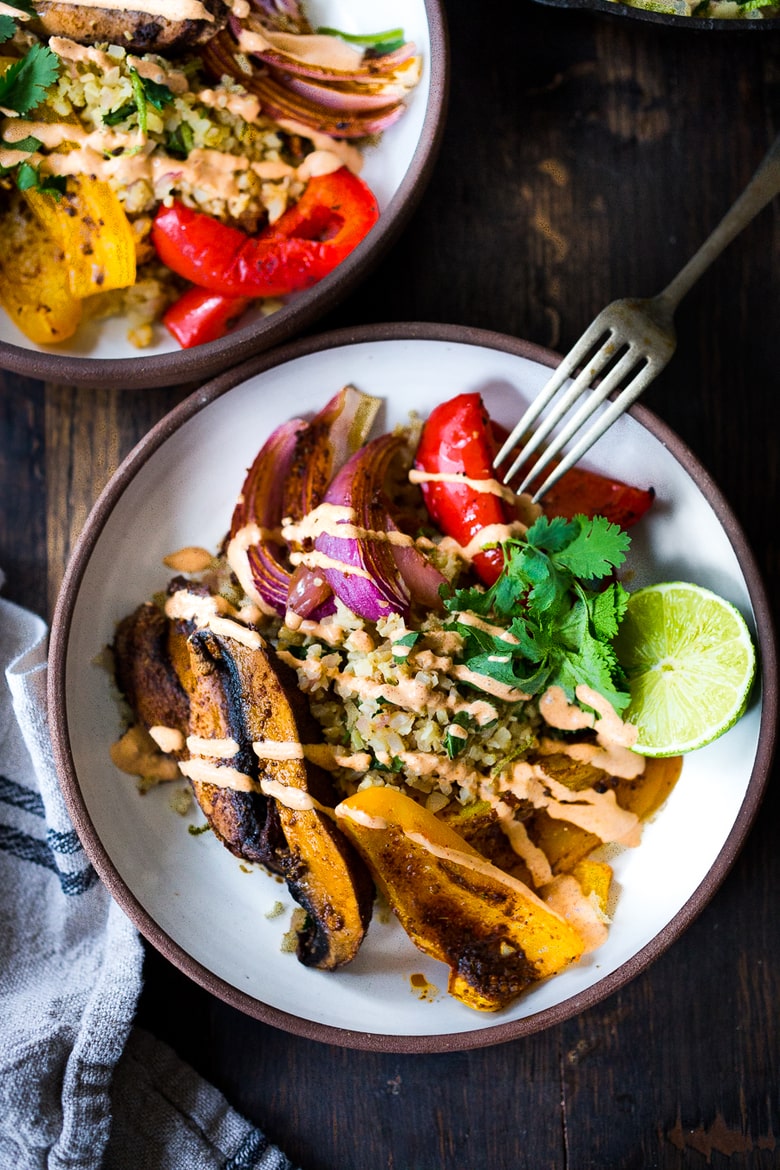 Loaded up with meaty portobellos, healthy veggies, lathered in flavorful Mexican Marinade, served over cilantro lime infused cauliflower rice. A filling, low-carb meal that is vegan & gluten-free and only takes 15 minutes of hands-on time! Keep it vegan or add chicken. A healthy weeknight meal!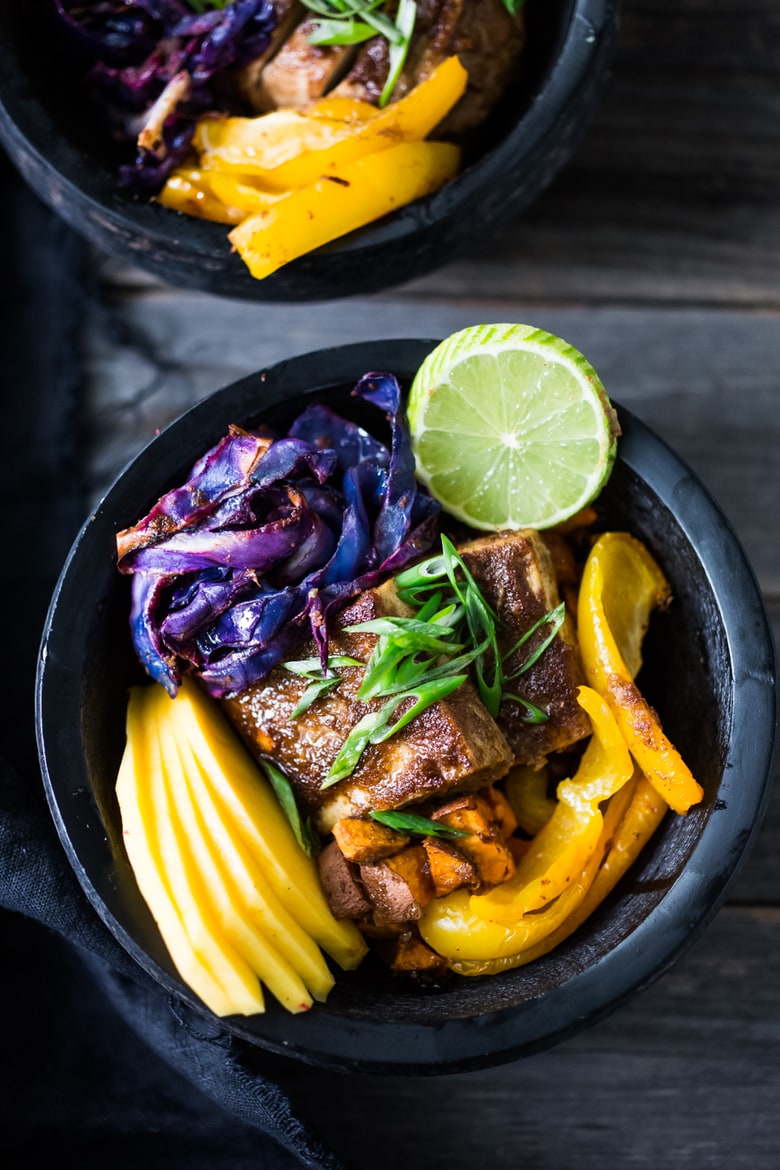 A quick and easy sheet pan dinner that can be made with chicken (or tofu) bathed in a flavorful  Caribbean marinade with roasted cabbage, sweet potatoes and bell peppers, and finished with fresh mango and lime. Delicious Caribbean flavors! Vegan and GF adaptable. Paleo Friendly.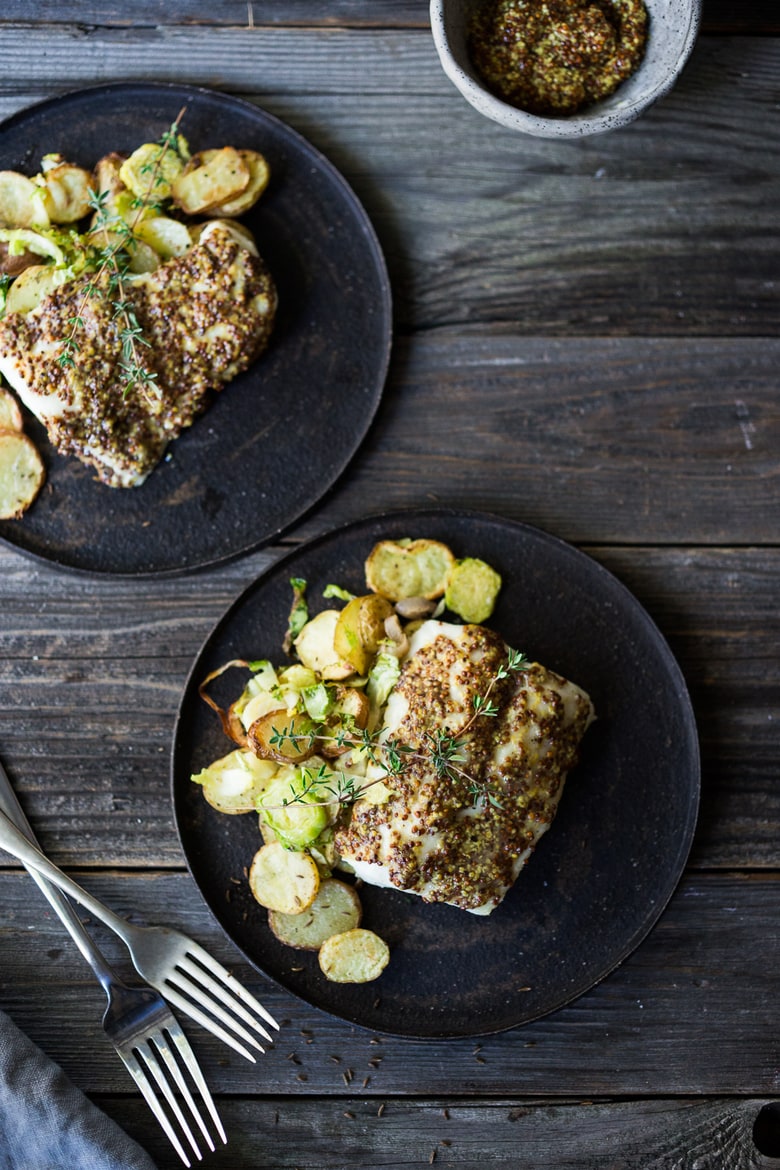 A simple healthy one-pan recipe for Roasted Mustard Seed White Fish with Potato-Brussel Sprout Hash, a quick and easy sheet-pan dinner that is full of flavor. Perfect for mid-week meals! Feel free to use salmon, halibut, or Cod!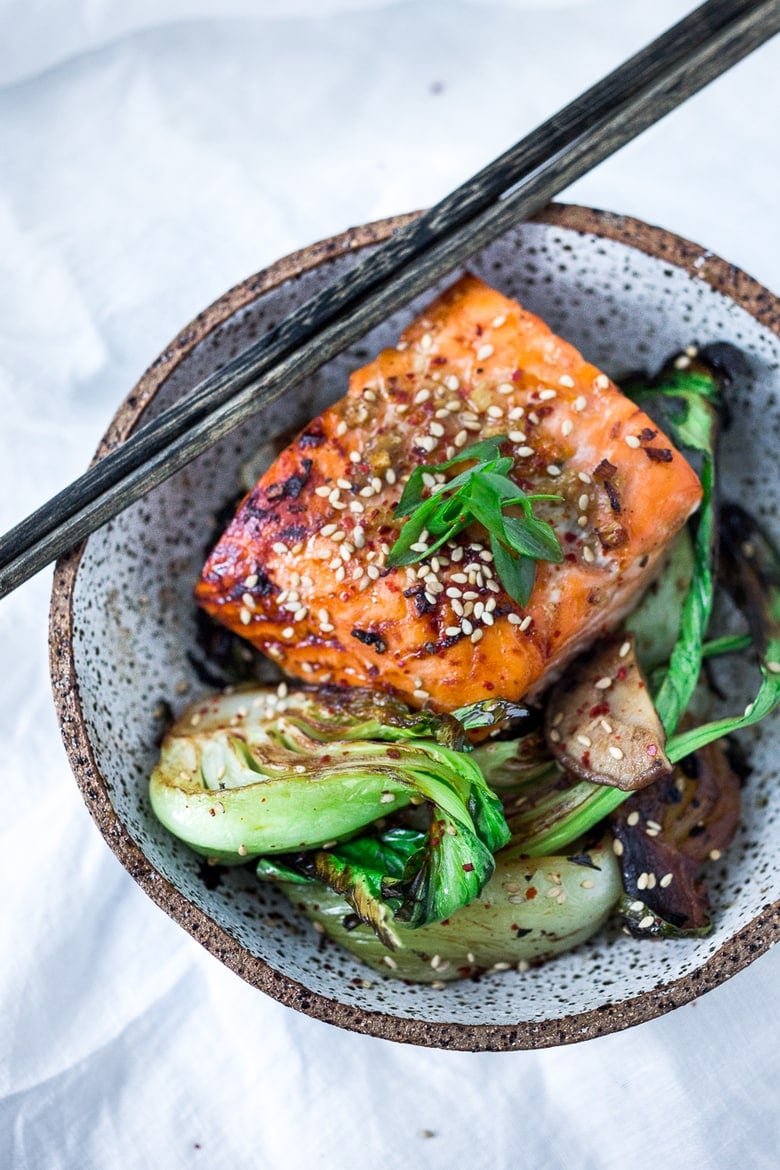 with shiitake mushrooms. Feel free to keep this vegan by subbing Tofu for the salmon! GF, Paleo! A delicious Japanese-style one-pan weeknight meal.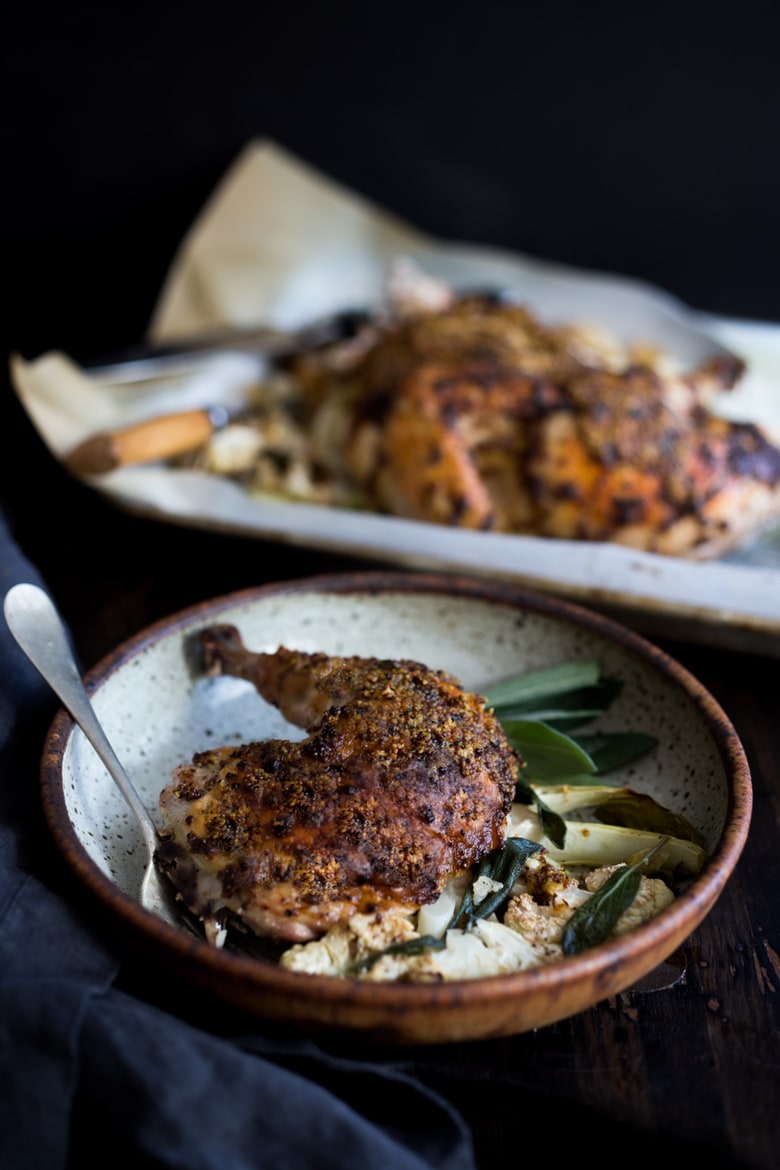 A butterflied whole chicken is slathered in whole grain mustard and roasts over cauliflower steaks. Heavenly. Paleo, Gluten Free. Not vegan. Try to use an organic chicken, it's worth the splurge for this weeknight meal!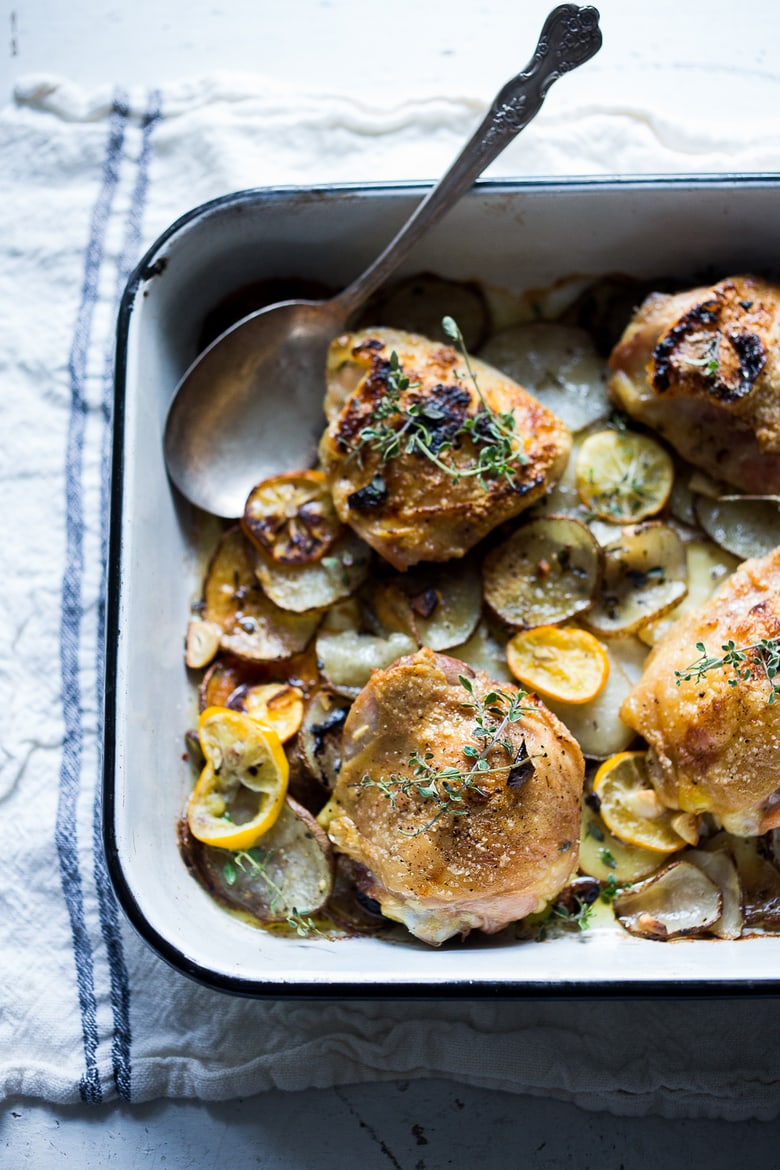 A simple recipe for baked chicken and potatoes, loaded up with Lemon and Thyme- simple and easy! Especially nice with Meyer lemons!
---
I hope these flavorful, easy sheet pan dinner recipes help you save some time and work in the kitchen this week!
Please share your favorites …..and check back for more! I will keep updating!
xoxo
Print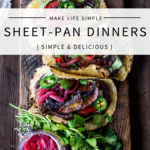 25 Sheet-Pan Dinners
Prep Time:

20

Cook Time:

30

Total Time:

50 minutes

Yield:

4-6

Category:

main, dinner

Method:

sheet pan, baked

Cuisine:

American
---
Description
25 SHEET PAN DINNERS to make life simple! Save time in the kitchen with these healthy, delicious meals that are easy to make and easy to clean up. Vegan and gluten-free adaptable!
---
mushrooms
tofu
chicken
veggies
fish
salmon
---
Instructions
Pick out a couple sheet pan dinners to try out this week.
---
---
Keywords: sheet pan dinner recipes, sheet pan dinners, sheet pan meals, one pan dinner recipes, one pan dinners, sheet pan dinner, best sheet pan dinner