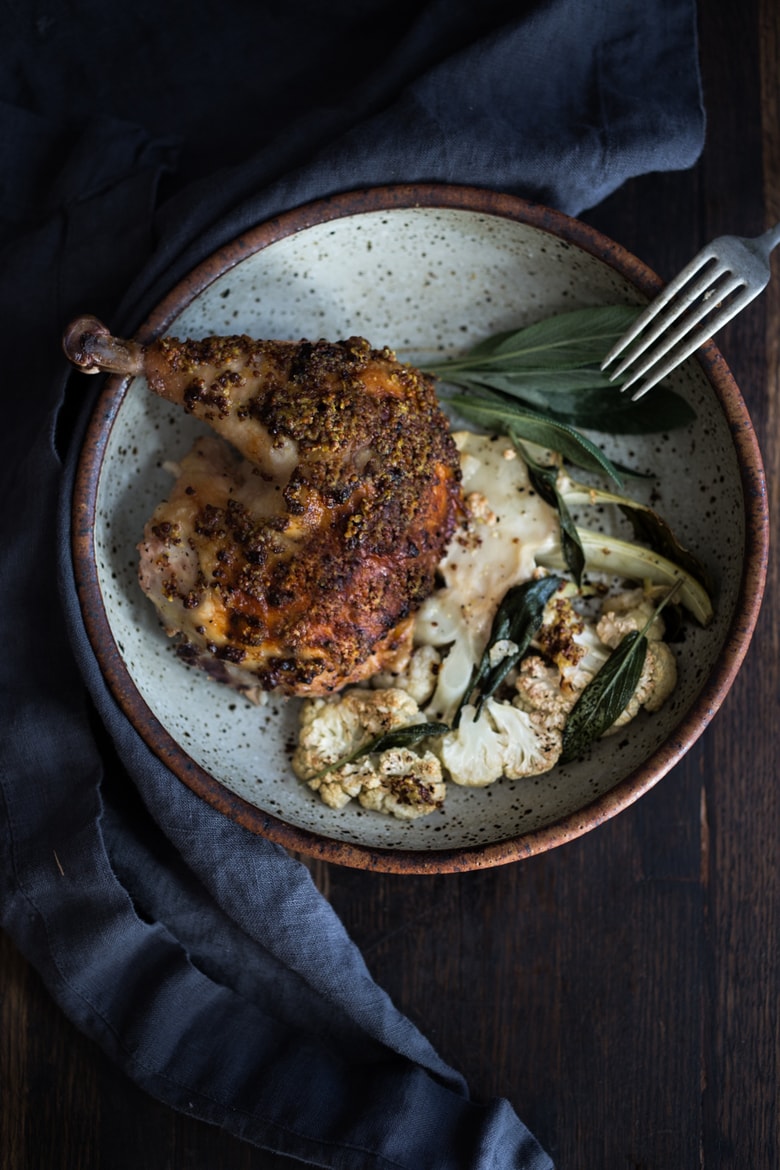 What is it about fall that always makes me want to put a chicken in the oven and bake bread. It is the same each year. Cozy, warm, comfort food – don't you just love this time of year? This little chicken was grown by my friend Ben over at Casa Cano Farms, and I have to say, it must have been a very content little guy, because it was the happiest tasting chicken I've ever had. If you've ever experienced angry chicken, you'll understand what I mean. You really can taste a difference.
This recipe for Mr. Ben's Mustard Roasted Chicken with Drippin's Cauliflower is a cinch to make and perfect for brisk fall nights. The chicken is "spatchcocked" which is basically a fancy way of saying the chicken is butterflied. It's a simple technique – which allows the chicken to cook quickly and evenly, perfect for busy week nights. It requires cutting out the backbone with a sturdy pair of kitchen scissors and then opening it up and flattening it out. Here it's rubbed with a mustard marinade and placed over a bed of cauliflower steaks, then into the oven it goes. It requires about 15-20 minutes of prep, and the oven does the rest of the work. The flavorful juices drip all over the cauliflower and when it comes out, both are cooked to perfection and the house smells divine.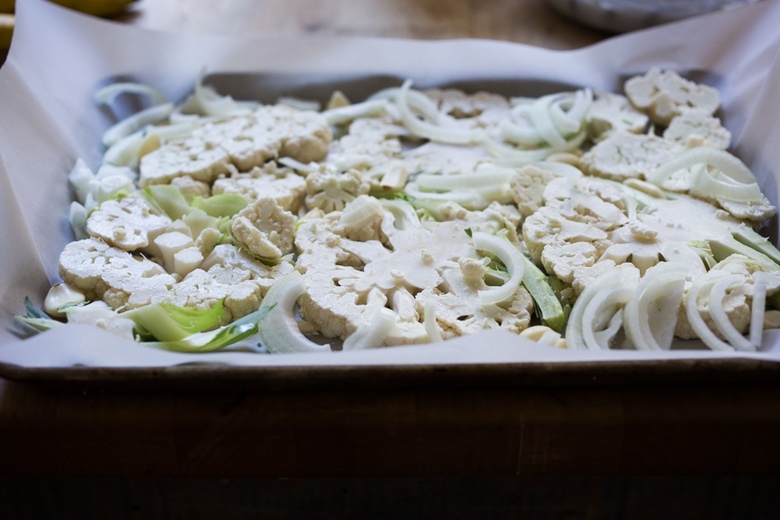 Line a sheet pan with foil or parchment. Slice cauliflower into steaks about ½-¾ inch thick. Sprinkle with salt, pepper and a very light drizzling of olive oil. Add sliced onion and garlic cloves if you like and a scattering of herbs like thyme, sage or rosemary.
To butterfly or spatchcock a chicken, place the chicken breast side down on a flat surface. Remove neck and organs. Cut along both sides of the backbone, removing it and saving it for stock.
Open the chicken up like a book and search for the lower tip of the breast bone in the inside cavity. Slicing the flesh there at that point will allow the bone to protrude out and the bird to flatten more easily. Turn the chicken over and using the heel of your hand, press down hard flattening the breast bone. There are many videos on how to do this if you need a visual. It's a fun technique to learn and preparing a chicken this way is also great for grilling.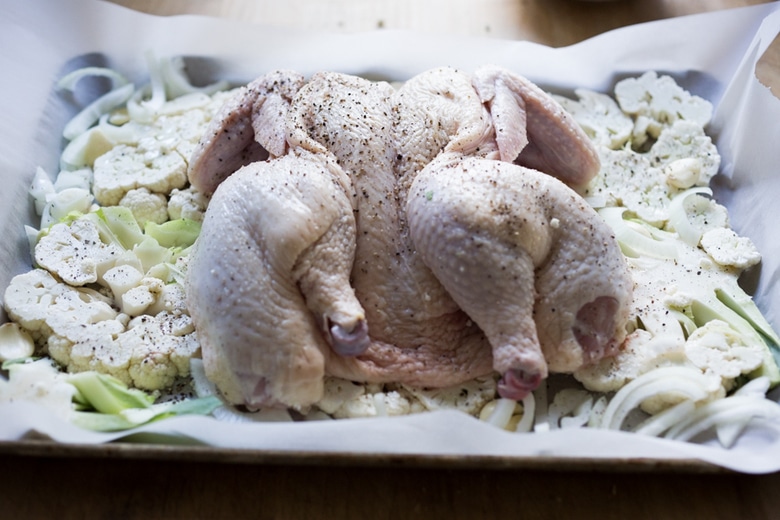 Save the leftover bones and tidbits for chicken broth, which can be frozen and used for soups and stews later on.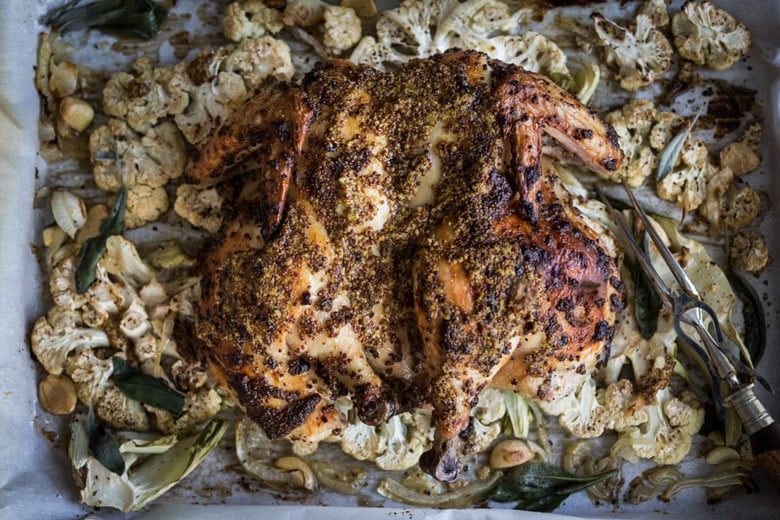 When it comes out, it will be deliciously golden, juicy and tender with tasty browned bits.
Spoon the flavorful pan juices over the cauliflower.
Let the chicken rest for a few minutes before cutting into it. Then go to town.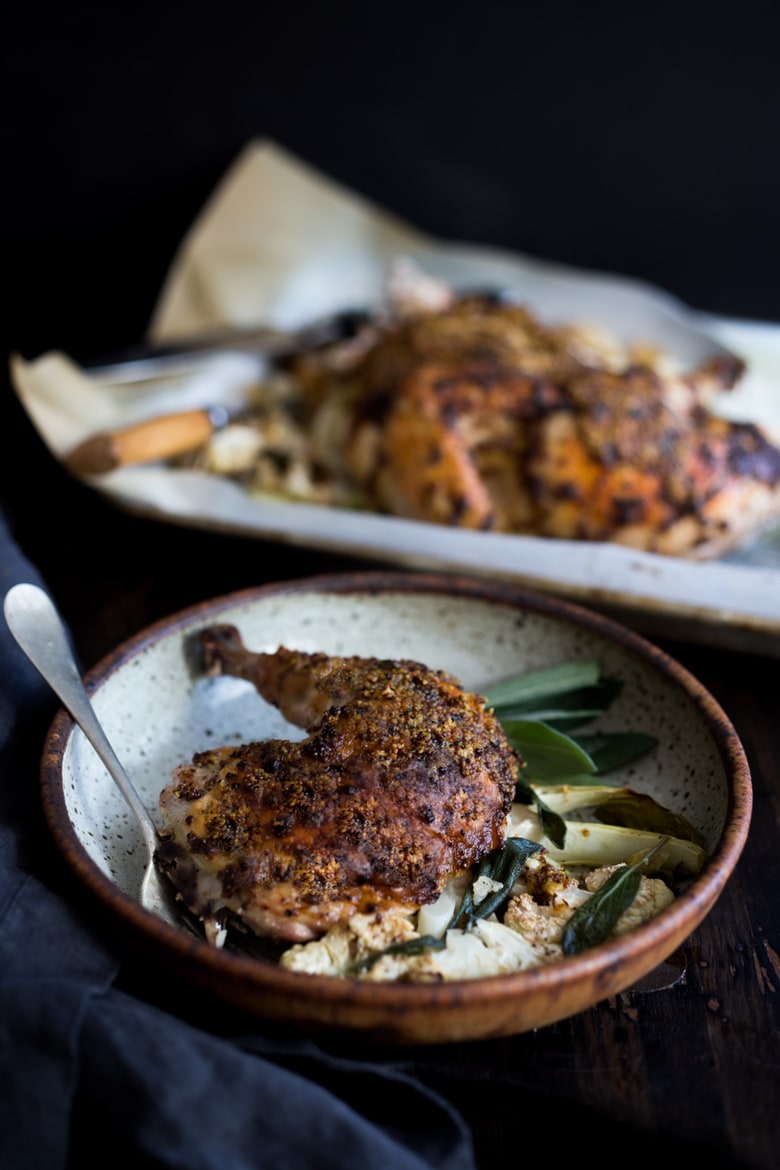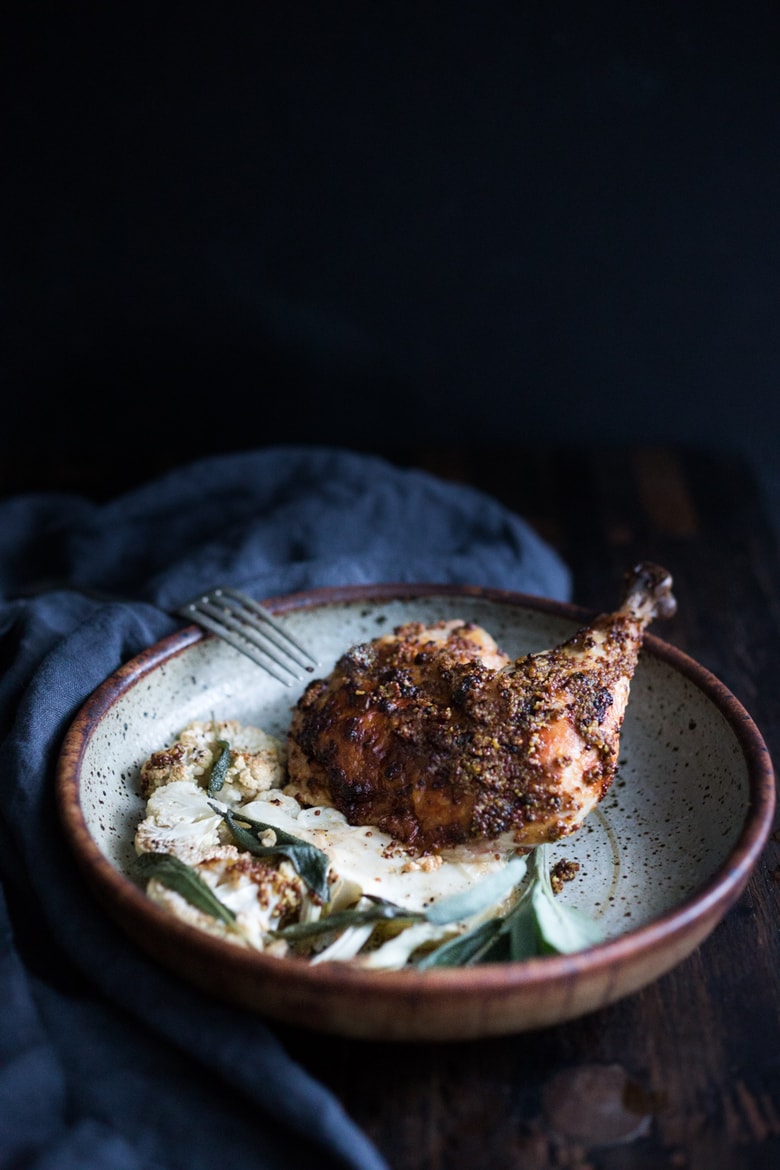 Print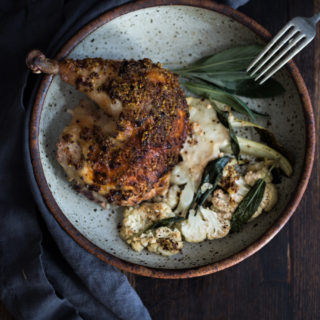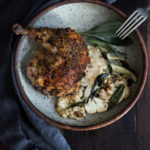 Spatchcocked Chicken with Mustard and Dripping's Cauliflower
Prep Time:

20 mins

Cook Time:

50 mins

Total Time:

1 hour 10 mins

Yield:

4

Category:

Main

Method:

Roasted

Cuisine:

Northwest
---
Description
A flavorful Sheet pan meal with butterflied chicken, coated with mustard, placed over cauliflower steaks.
---
1

head cauliflower ( don't bother trimming)

1

onion, thinly sliced

5

–

8

cloves garlic – whole ( optional)
small handful savory herbs- sage, thyme or rosemary
—-

½ cup

whole grain mustard or a mix of whole grain and dijon

2 tablespoons

oil
—-

1

whole Chicken- Spatchcocked (butterflied)
salt and pepper
---
Instructions
Preheat oven to 400F
Slice Cauliflower into "steaks" about ½ inch -¾ inch thick, green parts and all. Place them on a parchment or foil lined baking sheet with a rim. Scatter sliced onions, whole garlic cloves and sprigs of herbs over top.
In a small bowl, mix mustard and oil.
Butterfly or "Spatchcock" the chicken- place the chicken on a cutting board, back side up. Using sturdy kitchen scissors, cut along each side of the back bone, removing it, saving it for stock.
Open the chicken up like a book, find the lower tip of the breast bone, and slice the flesh open at that point, so the tip can protrude out. Turn the chicken over, press down hard on the breast bone with the heal of you hand, to flatten.
Sprinkle the inside and outside generously with salt and pepper.
Place the chicken, breast side up, over the cauliflower, pushing down to make it relatively flat.
Brush or rub the skin side of the chicken with the mustard mix ( saving 1-2 tablespoons for basting) getting all the nooks and crannies.
Place in the middle of the oven for 40 minutes.
Baste with the remaining mustard, and If there are pan juices ( there may not be yet) spoon some over the cauliflower, and bake for another 10-20 more minutes until cooked through, or thigh reaches 180F
Poke the thigh at the thickest part with a skewer –if juices run clear, then it's done.
Pull it out of the oven, and when you tilt the pan, you will see clear pan juices- spoon this flavorful juice over the exposed cauliflower.
Let rest 10 minutes before cutting.
Enjoy!
---
SaveSave