Portuguese Peri Peri Chicken with Crispy Potatoes…smoky, spicy, crispy-skinned, tender chicken baked over sliced potatoes that get crispy and flavorful in the oven… my favorite chicken recipe EVER!  Video. Looking for more? Check out our 40+ Best Chicken Breast Recipes and our 50+ Easy Dinner Ideas! ✨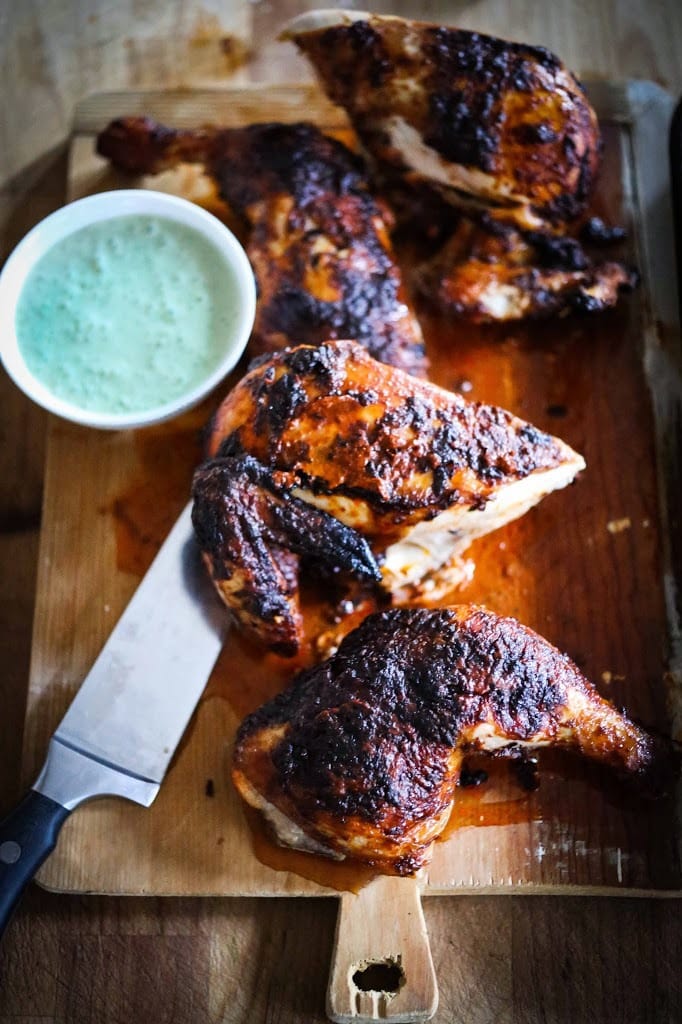 This Portuguese Chicken, also known as Peri Peri Chicken is one of those dishes that makes winter a little more bearable. It's hearty and satisfying and warms the soul with its deep smoky flavors. The prep time is relatively short and the oven does much of the work. During the cold months, I try to utilize the oven as much as possible.
There is nothing quite as satisfying as a simple roast chicken, just pulled from the oven, aromas wafting through house, infusing hearth and home with warmth and comfort. Winter has arrived, dropping snow on the fallen leaves. It seemed to happen so quickly this year, the changing of the seasons. My initial reaction, truthfully, is resistance, to the abrupt ending of fall and the beginning of the long winter to come. And yet, I'm lured into acceptance by little things – the sound of the crackling fire, the snowflakes, the stack of books waiting to be read and warm comforting meals.
Portuguese Chicken (Peri Peri Chicken) | 60-sec video
---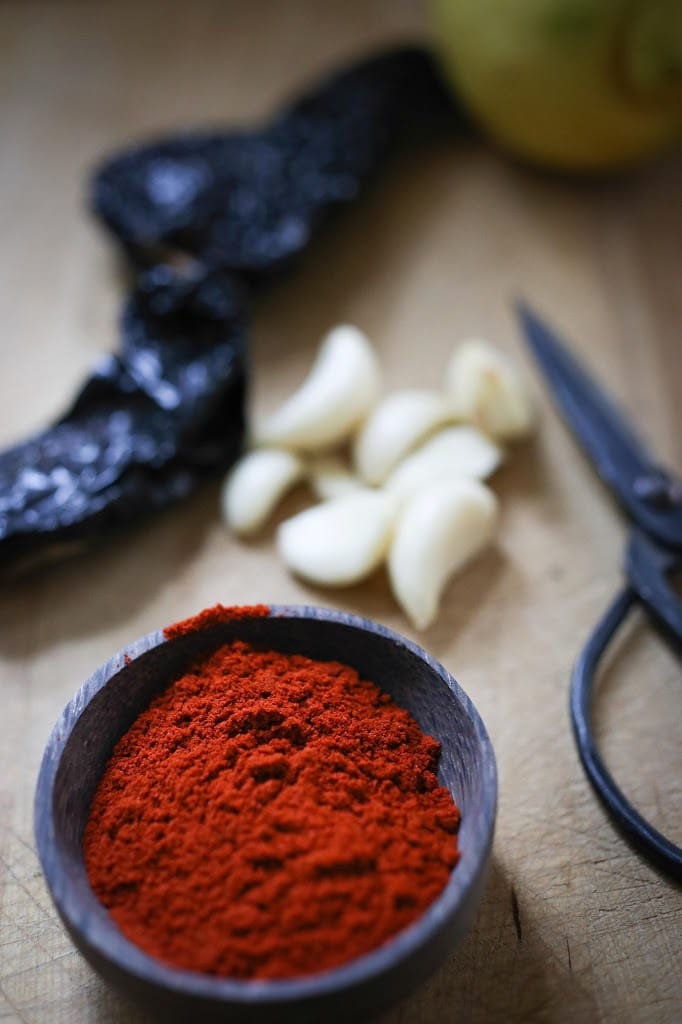 What is Peri Peri Chicken?
Traditional Portuguese Chicken, is called Peri Peri Chicken (or sometimes Piri Piri Chicken) and made with Piri Piri peppers which actually originated in South Africa, and were imported to Portugal from two Portuguese colonies, Angola and Mozambique, on spice ships. Today, the peppers are used widespread throughout Portugal to make marinades, basting liquids, condiments and hot sauces.
Unfortunately, peri peri peppers aren't easily available here, or if they are, I haven't found them, so for this recipe, I substituted less spicy Ancho Chilies. This is a one-star dish, as far as heat goes. So if you like heat, you may want to add more. The Ancho Chilies also add a nice depth to the marinade. I haven't tried it yet, but my guess is that if this marinade were rubbed lavishly on tofu and baked in the oven, it would be just as good as the chicken. So vegetarians, try it on tofu and let me know. And you may want to skip the next few pictures.
Smoked paprika, dried ancho chilies and fresh garlic are at the base of this flavorful marinade. This is  a "manly" dish, meaning, in general, men tend to gravitate towards these deep, smoky flavors.  It looks spicy, but don't be deceived –  this version is not over-the-top spicy, and I'd only call it a "one-star" on the spiciness scale. It really lets the other flavors come through.
How to butterfly a chicken:
You can butterfly a
whole chicken
for this recipe, or roast it whole, or buy pre-cut bone-in, skin-on pieces. Butterflying the chicken (also called spatchcocking)  allows it to cook fast and evenly, and is a fun technique to learn.
You'll need a good pair of kitchen shears, to cut the backbone out of the chicken, which I'll show you below.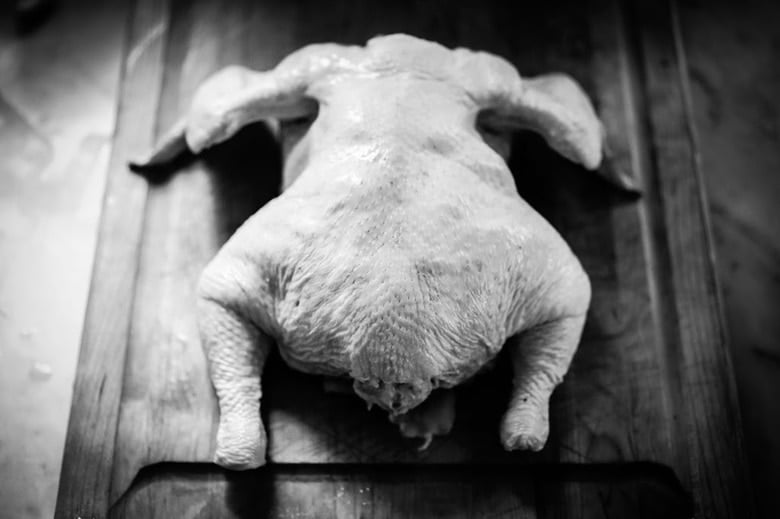 You can also use boneless skinless breast or thighs, to make this a little more healthy, but, I'll be honest, there is something about the crispy skin that is ohhhh so gratifying! We don't eat this too often, so when we do, I want the skin!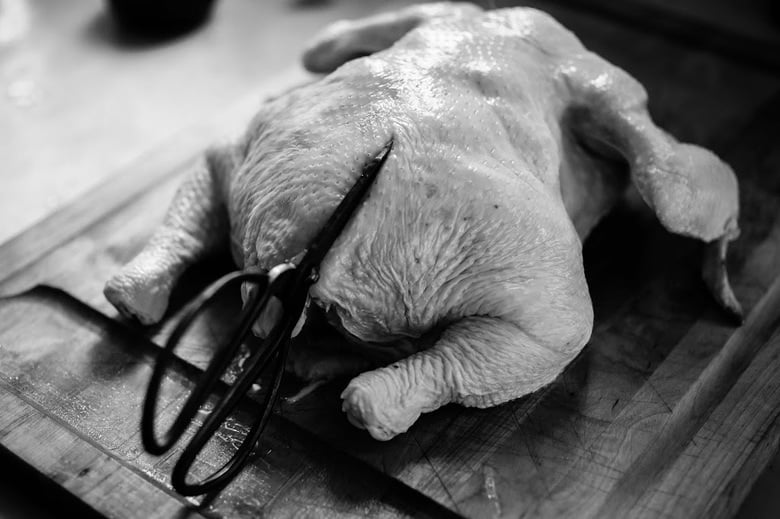 To butterfly, start by placing the chicken (rinsed, patted dry)  breast side down on a cutting board.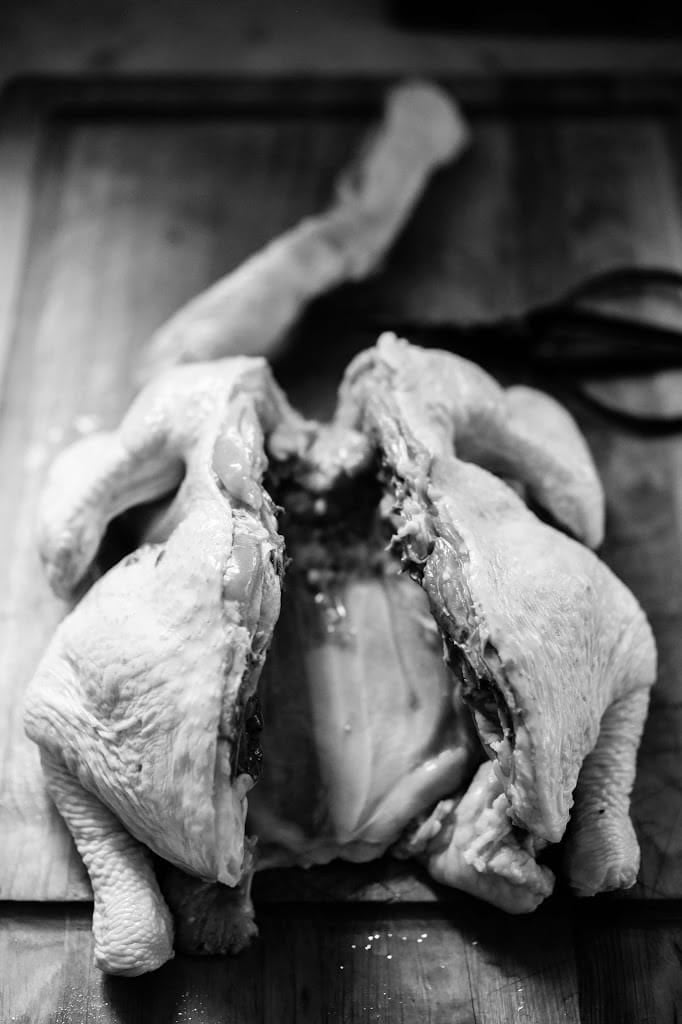 Using sharp kitchen scissors, remove the spine, cutting on one side and then the other side of the spine. Open the chicken wide and turn over, so the breast side is now facing up.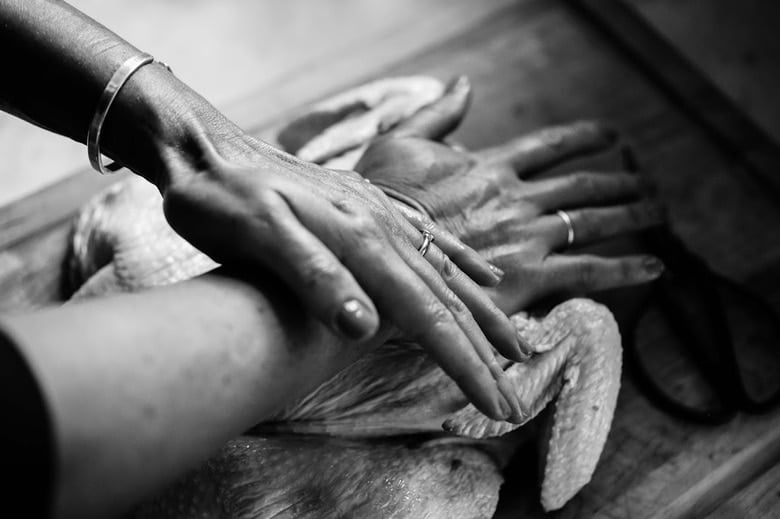 With the backside open and facing down, press down firmly on the breast bone of the chicken to flatten. You may hear some cracking. Press hard.
Make the Peri-Peri Marinade:
In a blender or food processor, blend the marinade ingredients into a thick paste.
Brush the marinade all over both sides of the chicken, saving the rest for basting while in the oven.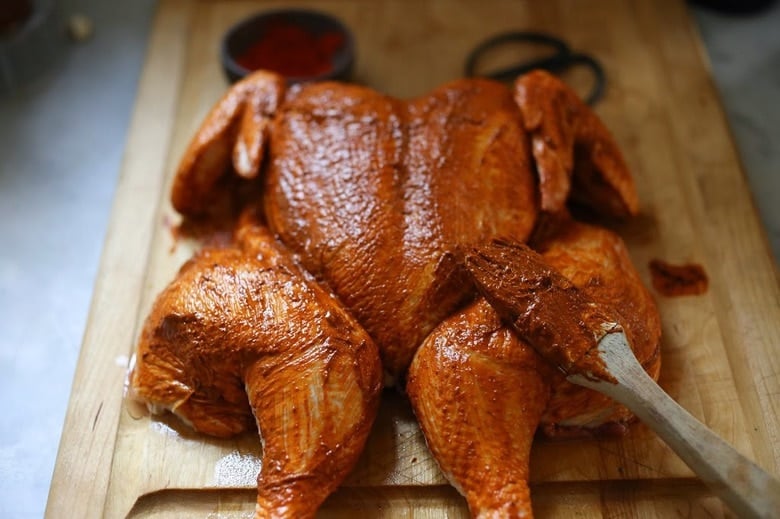 If making the crispy potatoes that go with this, ( which I highly suggest) brush marinade on the bottom of your sheet pan. Sweet potatoes would also work well.
Do not use a ceramic or glass pyrex here- use a large, rimmed, metal sheet pan for best results. This enamel pan is deceiving, it is very large.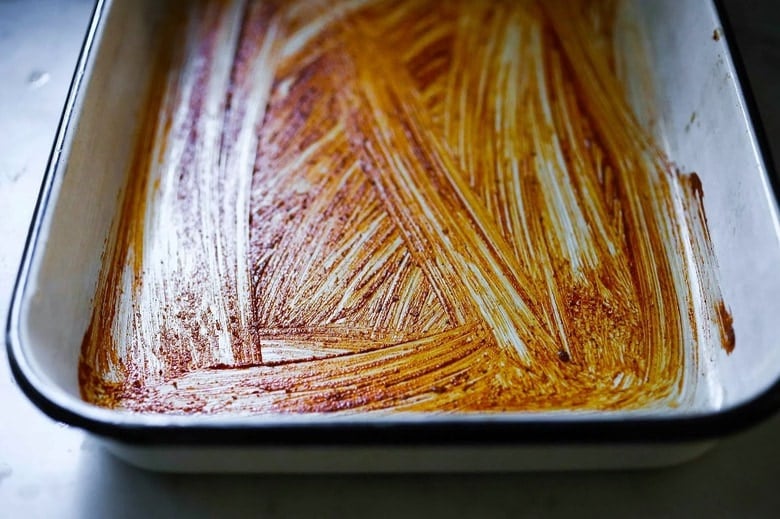 Layer the Potatoes under the chicken
Layer thinly sliced potatoes, overlapping only slightly,  and sprinkle generously with salt.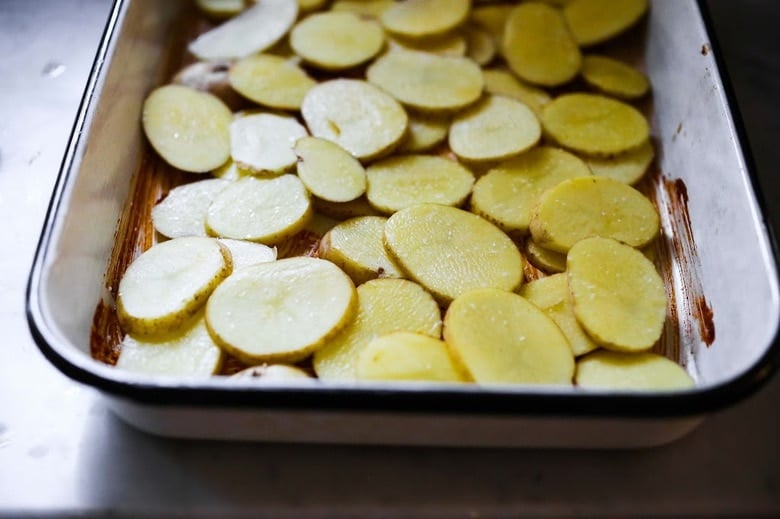 Place the chicken, skin side down, tucking the wings under, over top of the potatoes and place in a 425F pre-heated oven.
After 15 minutes, turn the chicken over and roast for another 15 minutes, basting with more marinade after flipping. Continue cooking until chicken is cooked through, and leg reaches 165F.
Depending on the size of the chicken, this could be 20-50 more minutes.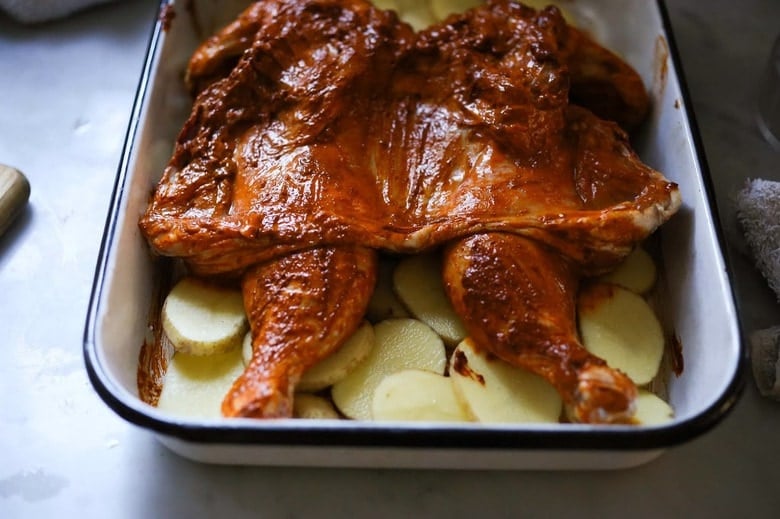 Then give a good broil in the oven so skin gets crispy and slightly charred in places. This is important!
The flavorful juices from the Peri-peri Chicken and marinade will seep into the potatoes which will have softened and also become crispy a nice contrast. Place it in the oven.
Make the Green Sauce!
Cilantro and yogurt are combined to make a delicious cooling sauce- a delicious accompaniment to the smoky chicken.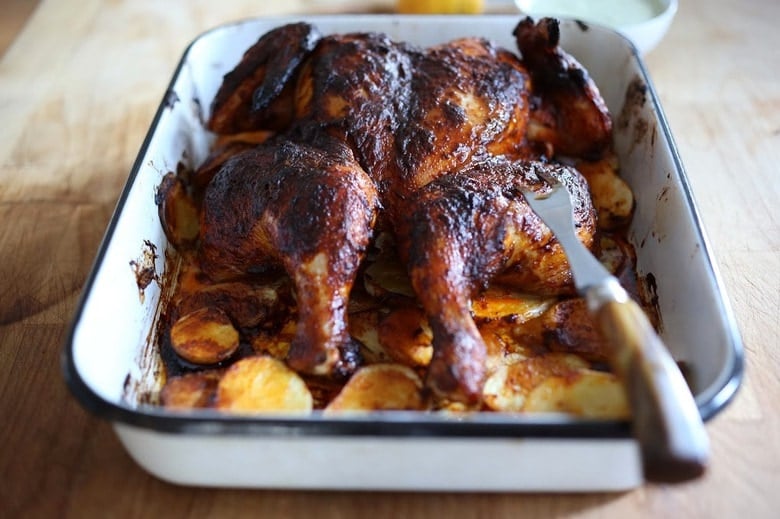 Let the Peri Peri Chicken rest!
Once the Peri Peri Chicken is cooked through, let it rest for 5 minutes, so all the juices don't run out of the meat too quickly. This will ensure a juicier chicken.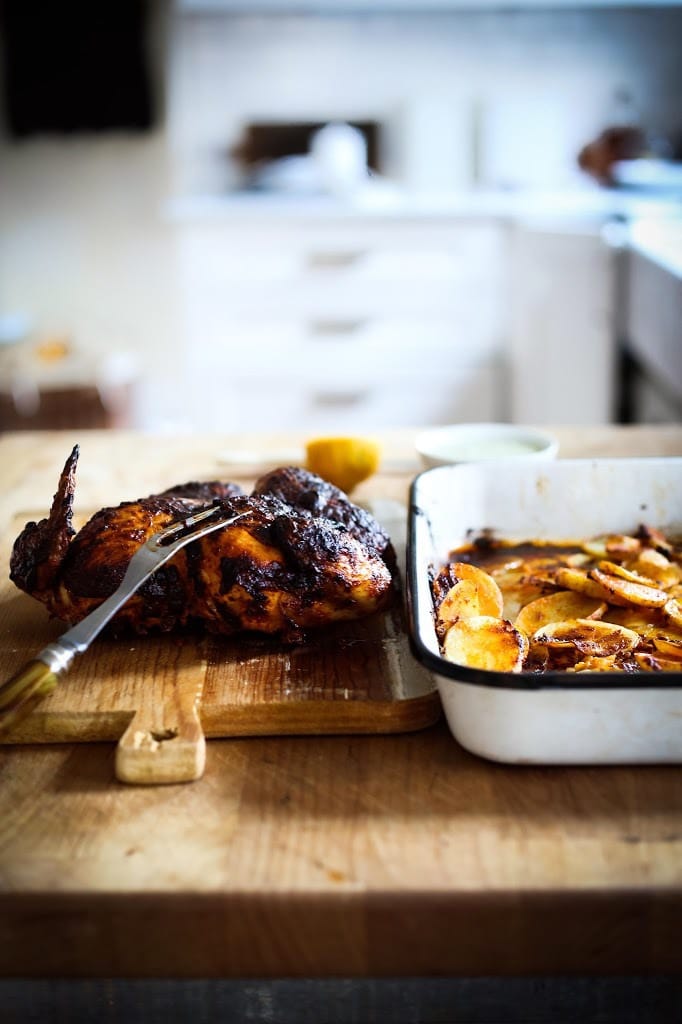 Cut the chicken into pieces and serve with the Green sauce and the crispy potatoes.
The crispy potatoes are deliciously addicting, and the chicken comes out perfectly crispy and delicious.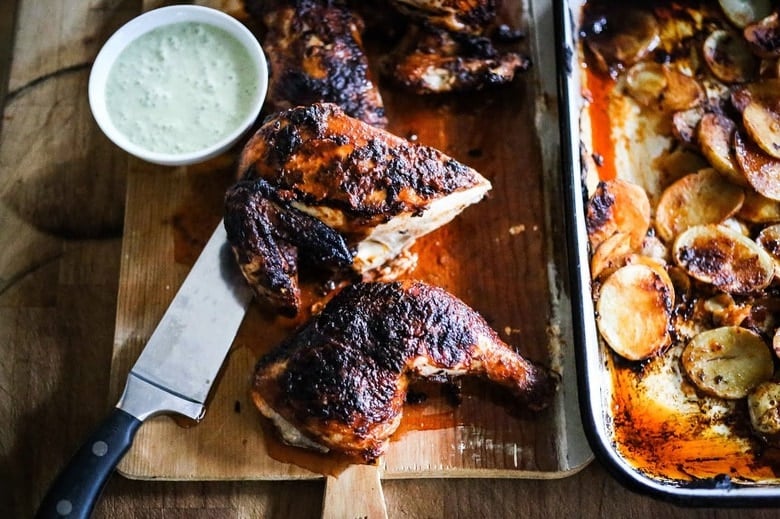 The Portuguese Chicken is delicious with cooling cilantro yogurt sauce (this is not imperative if pressed for time) but does really elevate the meal!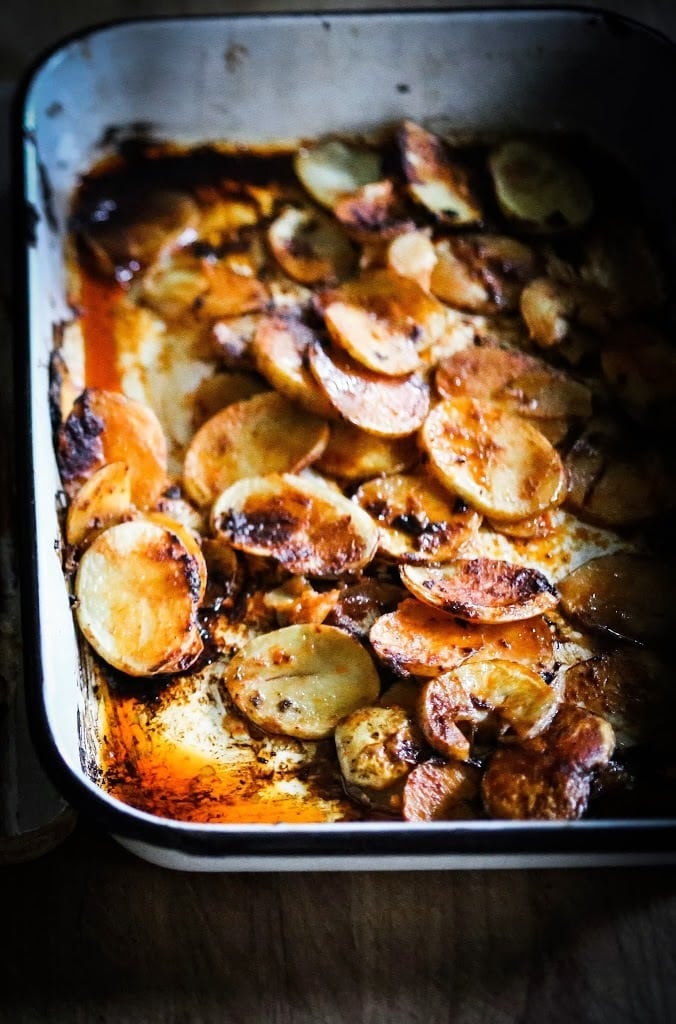 Crispy, smoky, deep and flavorful.
Where to source organic, free-range Chicken?
If looking for a good source of organic, free-range chicken, with no antibiotics, I highly recommend Butcher Box!  They offer whole organic chicken, grass-fed meat and also have seafood.  You can customize your box and the delivery timing. Use this Butcher Box link for a free gift -and in full discloser, this is an affiliate link- we are partnered- but know I use them and highly recommend as far as quality and their sourcing.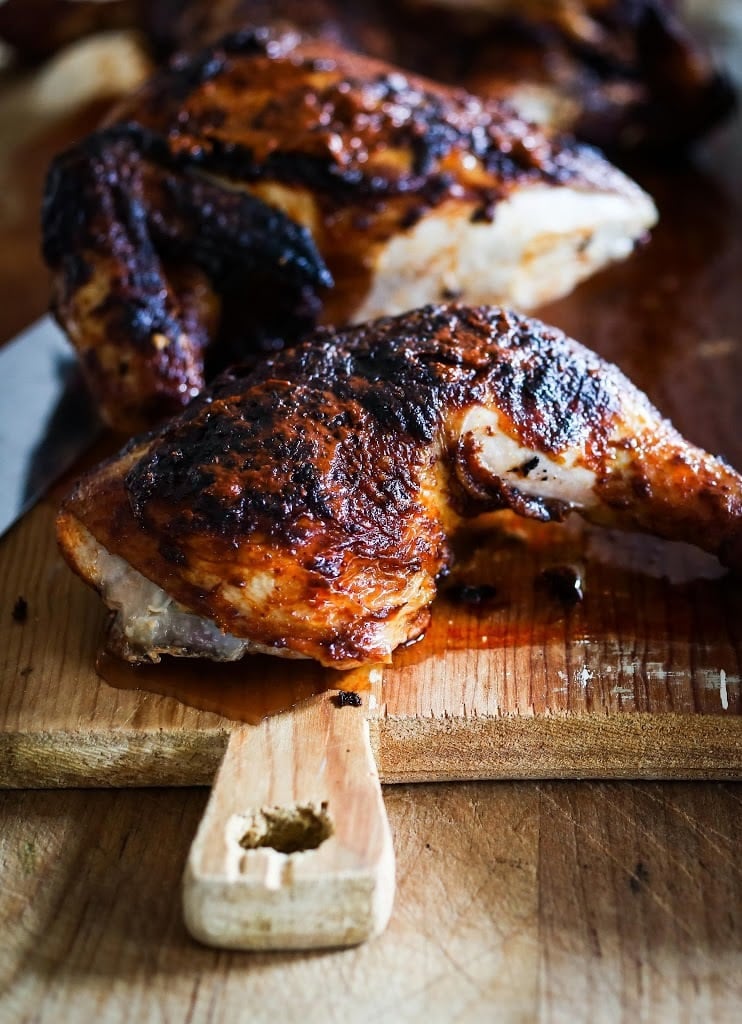 Hope you enjoy the Portuguese Chicken! Leave your comments, adaptions and rating below.
Cheers and love,
More recipes you may also like:
Print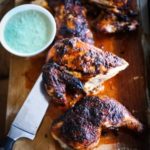 Portuguese Peri Peri Chicken
Prep Time:

20 mins

Cook Time:

70 mins

Total Time:

1 hour 30 minutes

Yield:

6

1

x

Category:

Main, chicken recipe, sheet-pan dinner

Method:

baked

Cuisine:

Portuguese
---
Description
Portuguese Peri Peri Chicken with Crispy Potatoes – smoky, flavorful and delicious, served over crispy potatoes,  with a flavorful cilantro yogurt sauce.
---
1

small Whole Chicken (

3

–

4

lbs) or sub chicken pieces ( see notes)

1 1/2

lbs

potatoes (Yukon or reds), thinly sliced ( 1/4 inch thick)
Marinade:
Cilantro Sauce:
1

cup

plain yogurt

1

bunch Cilantro – finely chopped

1/2 teaspoon

kosher salt

1/2 teaspoon

coriander
Cracked pepper to taste

1 tablespoon

lemon juice

1 tablespoon

olive oil
---
Instructions
Preheat oven to 425F
Rehydrate dried chilies in a small pot of simmering water on the stove for 20 minutes. Remove stem and seeds.
Butterfly the chicken: Rinse inside and out, removing innards. Pat dry. Place on a cutting board, breast down. Using sharp kitchen scissors, cut along both sides of the spine, remove and discard. Turn the chicken over, and placing your hand on the breast bone, press down hard with the palm of your hand, to flatten.
Make the marinade by blending the marinade ingredients into a paste with a blender or food processor. Brush a layer of the marinade on the bottom of your large sheet pan.
Place the thinly sliced potatoes on top of the marinade and sprinkle with a generous pinch of kosher salt,  overlapping slightly but not too much.
Brush all sides and crevasses of the chicken with the marinade, coating fairly heavily. (You will add more marinade during cooking, so be sure to save the remaining.) Place chicken, skin side down on the potatoes and place in the hot oven.
Turn chicken over after 15 minutes, and place back in the oven. After 15 minutes, brush more marinade all over the chicken on the skin side, really lathering it up. Return to the oven and bake until cooked through another 15-30 minutes, or until leg/ thigh reaches an internal temperature of 165 F.  The bigger the chicken, the longer this will take. ( A large, 5-6 pound chicken may take an additional 20 minutes!) To crisp the skin and get it deeply brown, broil for a few minutes. A little char is good here!!! Remove chicken when done and let rest 5-10 minutes before serving. You can continue to cook the potatoes or crisp them up ( with broiler) while resting the chicken and cutting it into pieces.
While chicken is roasting, combine Cilantro Sauce ingredients together, either in a bowl- mixing by hand, or in a food processor. Serve cilantro sauce on the side.
---
Notes
For a healthier version, use skinless boneless chicken thighs, or breast. Feel free to marinate overnight in a zip lock bag. Cooking time will shorten significantly, so you may have to remove chicken and let potatoes continue cooking to get them crispy.
For WHOLE CHICKENS! The baking time for the chicken will vary depending on the size (weight) of the chicken. This one in the photos was a small 3.5 pound chicken. Larger 5-6 lb chickens will take longer in the oven ( 70-90 minutes). So plan accordingly.
***Use a large rimmed metal sheet pan, rather than a glass baking dish so air can circulate and potatoes can get crispy! (This enamel baking dish in the photos is much larger than it looks! )
Nutrition
Serving Size:
Calories:

485

Sugar:

2.2 g

Sodium:

1295.2 mg

Fat:

15.5 g

Saturated Fat:

2.7 g

Carbohydrates:

30.2 g

Fiber:

4.6 g

Protein:

54.3 g

Cholesterol:

165.5 mg
Keywords: peri peri chicken, peri peri chicken recipe, Portuguese chicken, Portuguese chicken recipe, Portuguese recipes, Piri piri chicken,