You'll love everything about this Caprese Salad! Made with juicy summer tomatoes, fresh mozzarella cheese, basil leaves, and a balsamic glaze, we give it a little "upgrade" with Basil Oil.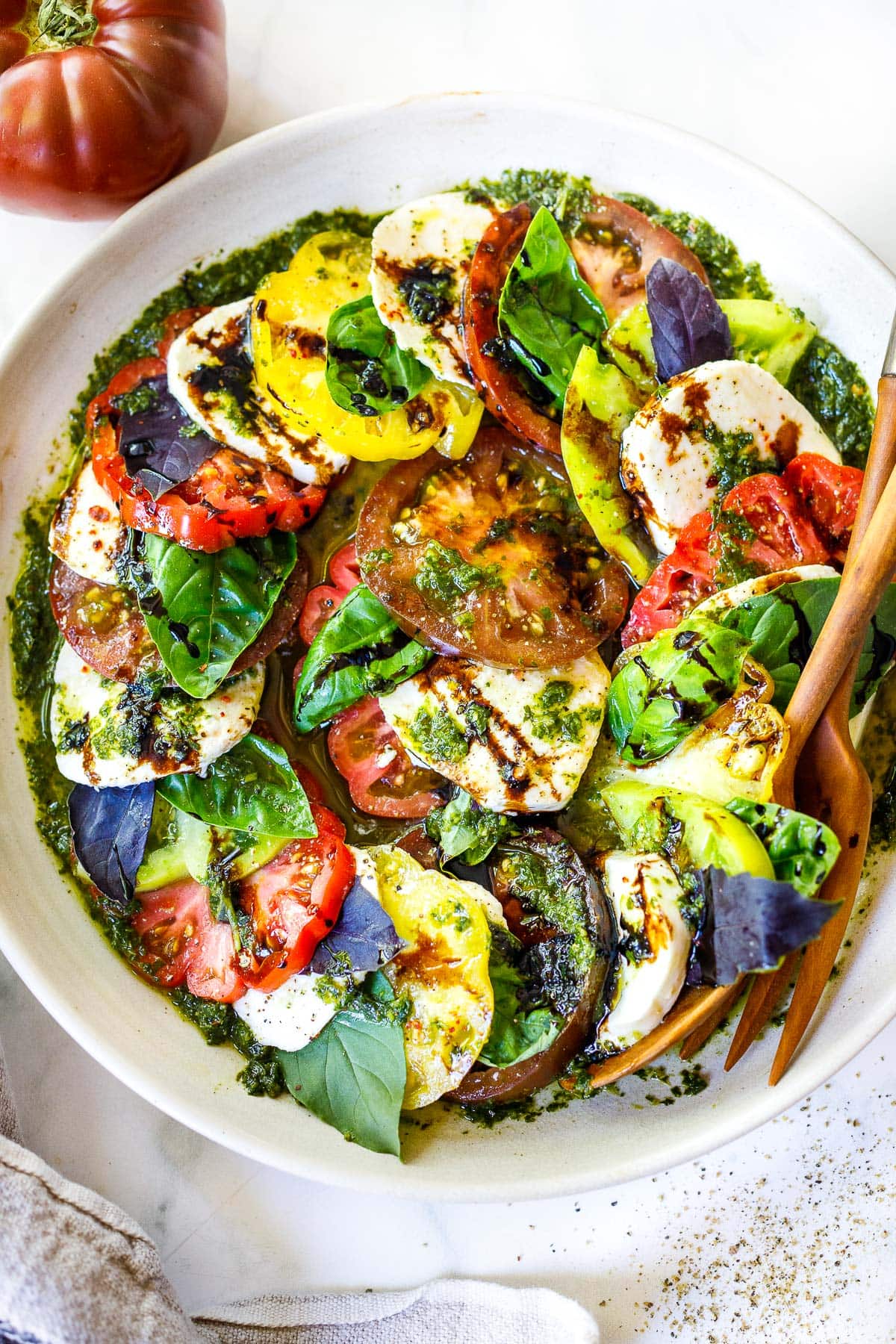 If we lean into what we love instead of soldiering toward what we 'should,' our pace quickens, our energy rises, and optimism sets in. What we love is nutritious for us.

– Julia Cameron
Authentic Caprese Salad consists of the simplest of ingredients; vine-ripened tomatoes, fresh mozzarella cheese, basil, a drizzle of extra-virgin olive oil, and salt and pepper. And if you use high-quality ingredients, there is not much else you need.
But just for fun, we've taken it up a notch. Using juicy ripe heirloom tomatoes in various colors and tucking in purple basil that so many of you are growing in your gardens, give the classic Caprese a little more color. We plate the salad over our flavorful Basil oil, drizzle more on top, then finish with a Balsamic Glaze that you can make at home. Now it's perfect for serving with crusty bread; you'll want to mop up every single drop!
Ingredients in A Caprese Salad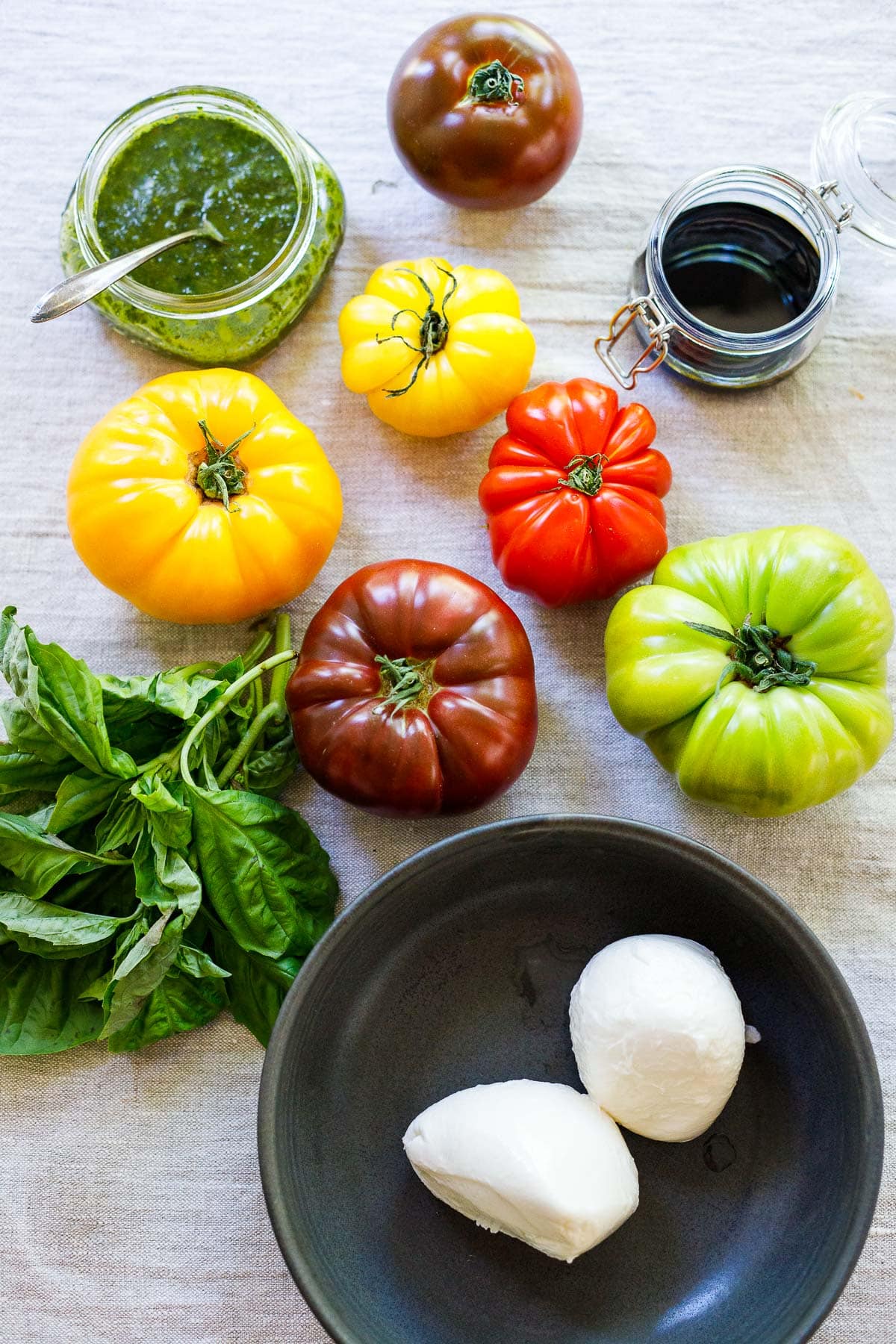 Ingredient Notes
Tomatoes: Use the best tomatoes possible. Any tomato variety will work as long as they are juicy and ripe. We've used organic heirloom tomatoes here, but know that even cherry tomatoes will work. You'll find the best tomatoes at your local farmers' market. Or grow your own!
Fresh Mozzarella Cheese: by far, the best mozzarella cheese is fresh mozzarella- the kind that is packed in water. It's soft, light and delicate tasting… and most of all not, rubbery! Using pre-sliced mozzarella in the log form is fine for large events in a pinch, but if you truly want to elevate your Caprese, opt for fresh! It's delightful.
Basil: fresh basil is a "must" in a classic Caprese Salad, but feel free to branch out from traditional Genovese basil or sweet basil (although both are fine!). Mix in purple basil, Thai basil, lemon basil or even cinnamon basil to add a bit of color and intrigue and if you have them in your garden, it will feel highly satisfying using these here.
Basil oil: We make a quick basil oil with basil, garlic, olive oil and lemon juice, which becomes the base of the salad. This is optional but elevates.
Balsamic Glaze: Reduce balsamic vinegar into a syrupy consistency and drizzle over the salad for a bit of drama. I love the flavor here too.
How to Make a Caprese Salad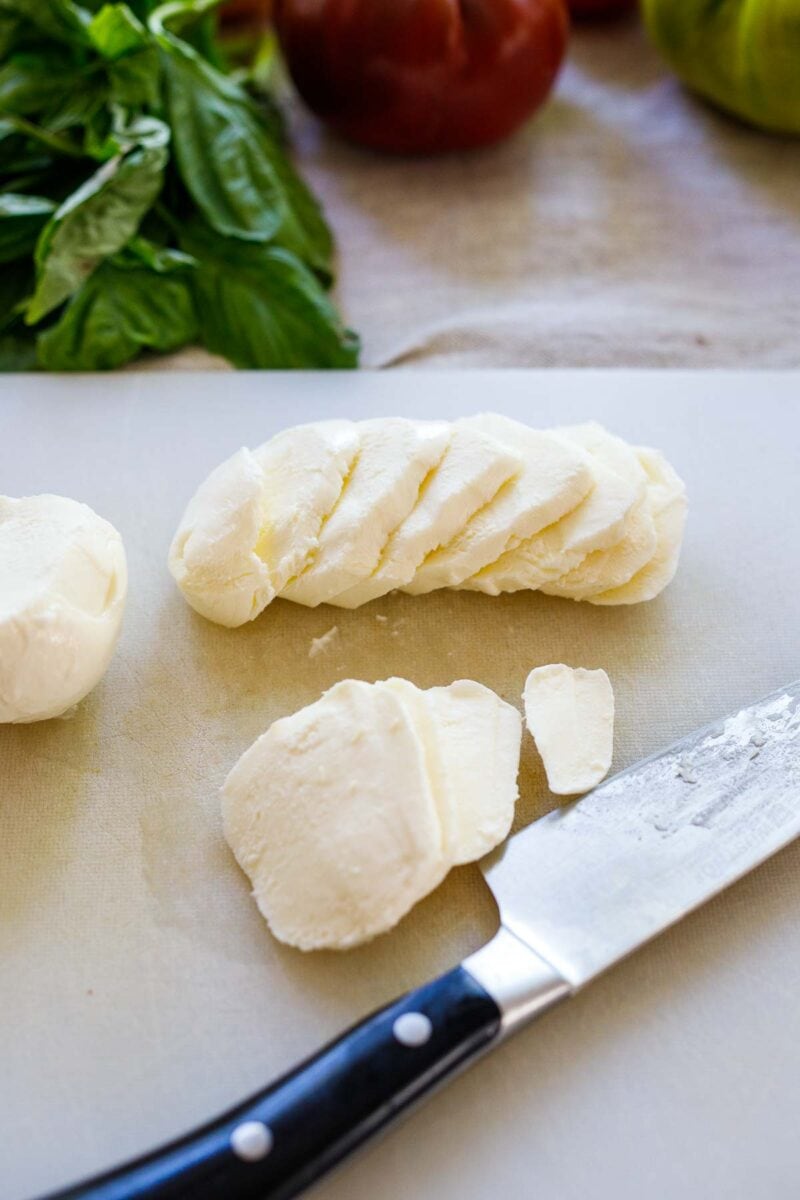 Step one: Slice fresh mozzarella cheese ball into 1/4 inch slices. Slice tomatoes into slices. If tomatoes are very large, cut into half moons or even quarters. If using cherry tomatoes, halve them.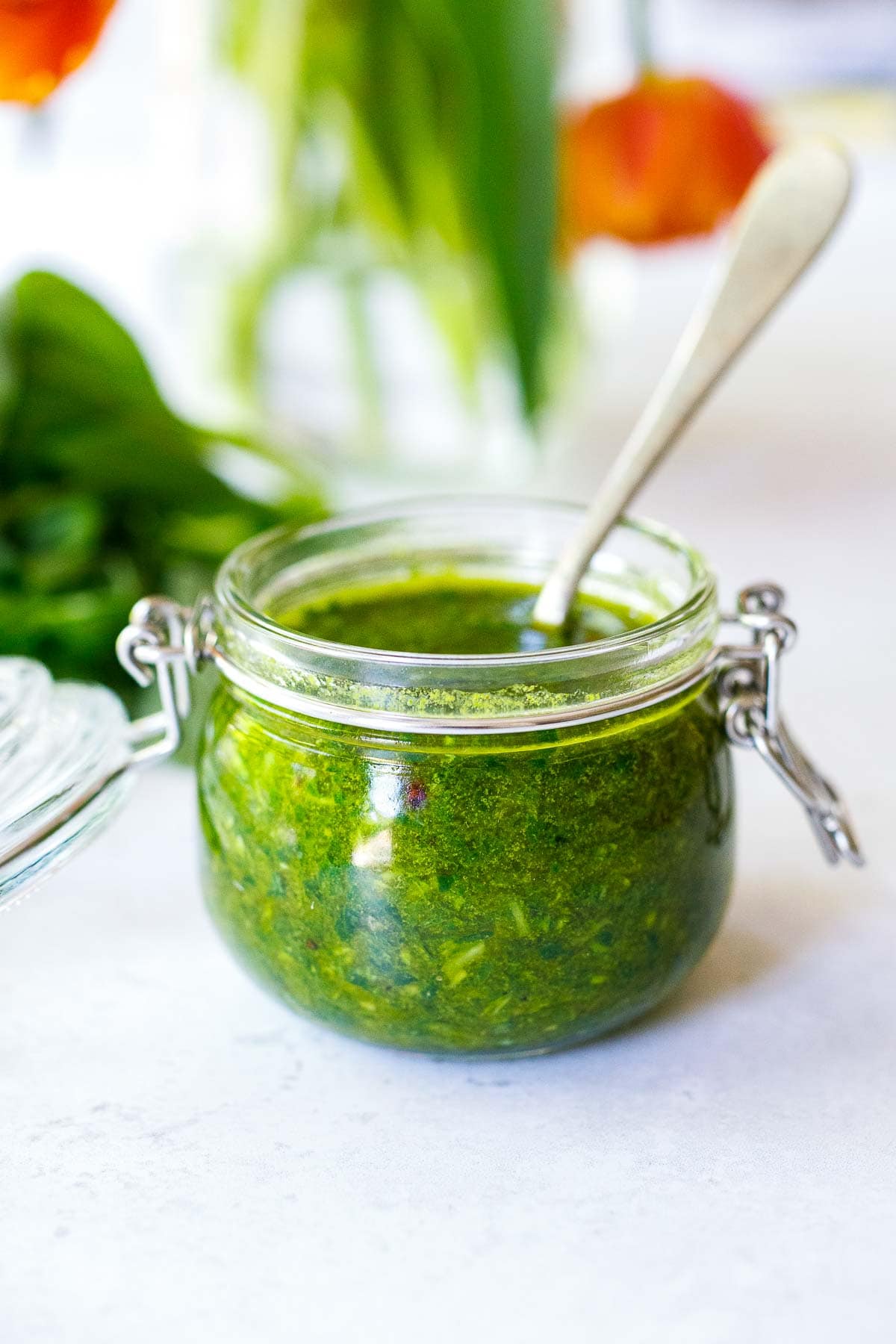 Step two: Make the Basil Oil. Place the basil, garlic, olive oil, lemon juice, salt and pepper in a food processor and blend.
Step three: Assemble. Spoon basil oil over a plate or platter. Layer with tomatoes and mozzarella slices. Sprinkle generously with salt and pepper. Tuck in the basil leaves.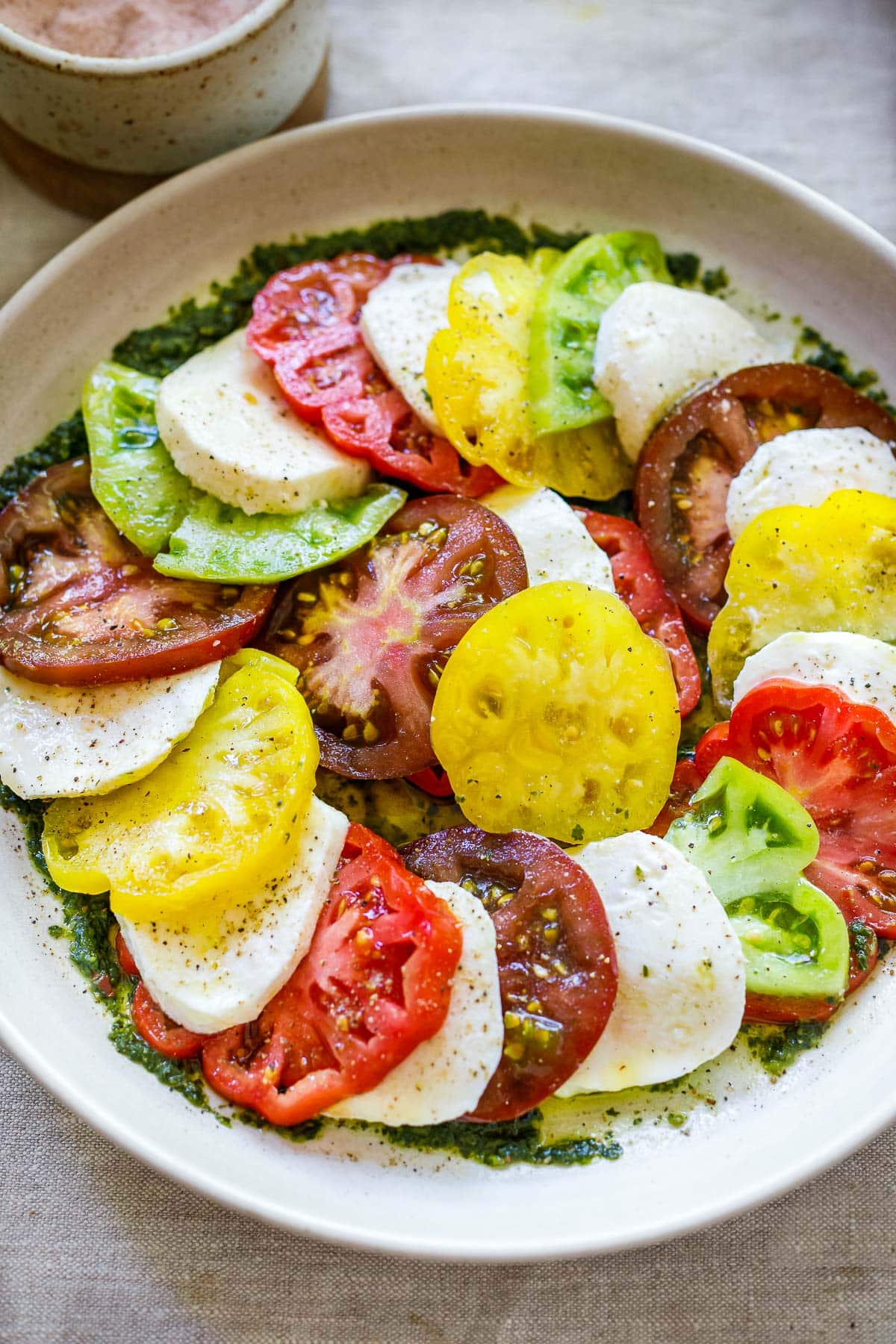 Step Four: Drizzle the top with more Basil Oil and Balsamic Glaze.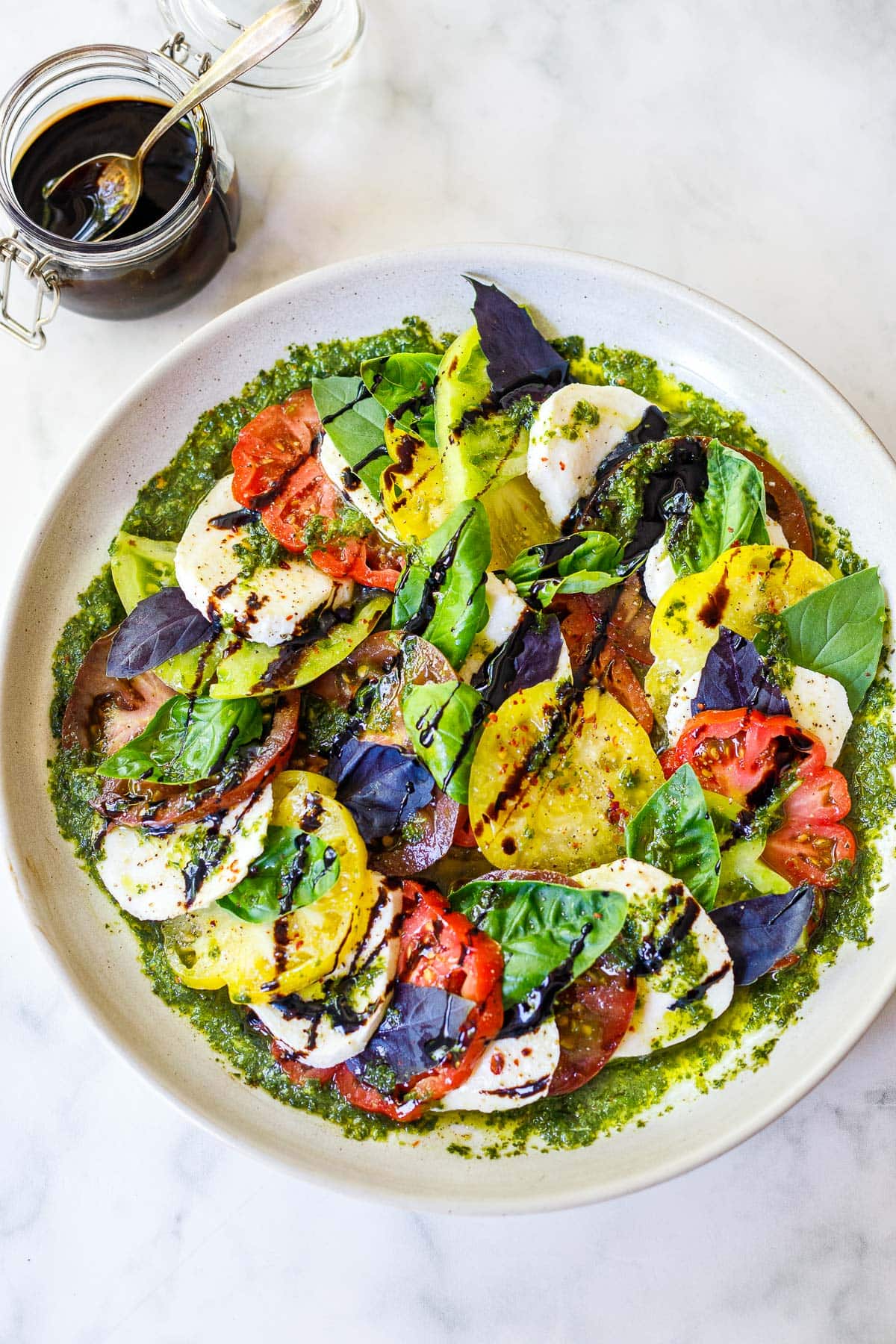 Expert Tips
Use juicy vine-ripened tomatoes and fresh mozzarella cheese balls (in water) for the best flavor.
Caprese Salad is best served at room temperature, not overly chilled.
If making this ahead, assemble the salad but wait to season and drizzle until right before serving. Cover and refrigerate for up to 8 hours. Bring to room temp before serving.
What does Caprese mean?
Caprese means "from the Island of Capri" (in Italy)where the salad is thought to originate.
Is Caprese Salad healthy?
We think so! Fresh summer tomatoes full of lycopene, vitamins A, C and K1. All good for our health.
Can Caprese Salad be made Vegan?
Yes, swap ou the mozzerella cheese for our grilled tofu (chill it) or vegan mozzerella cheese, or even avocado.
What to serve with Caprese Salad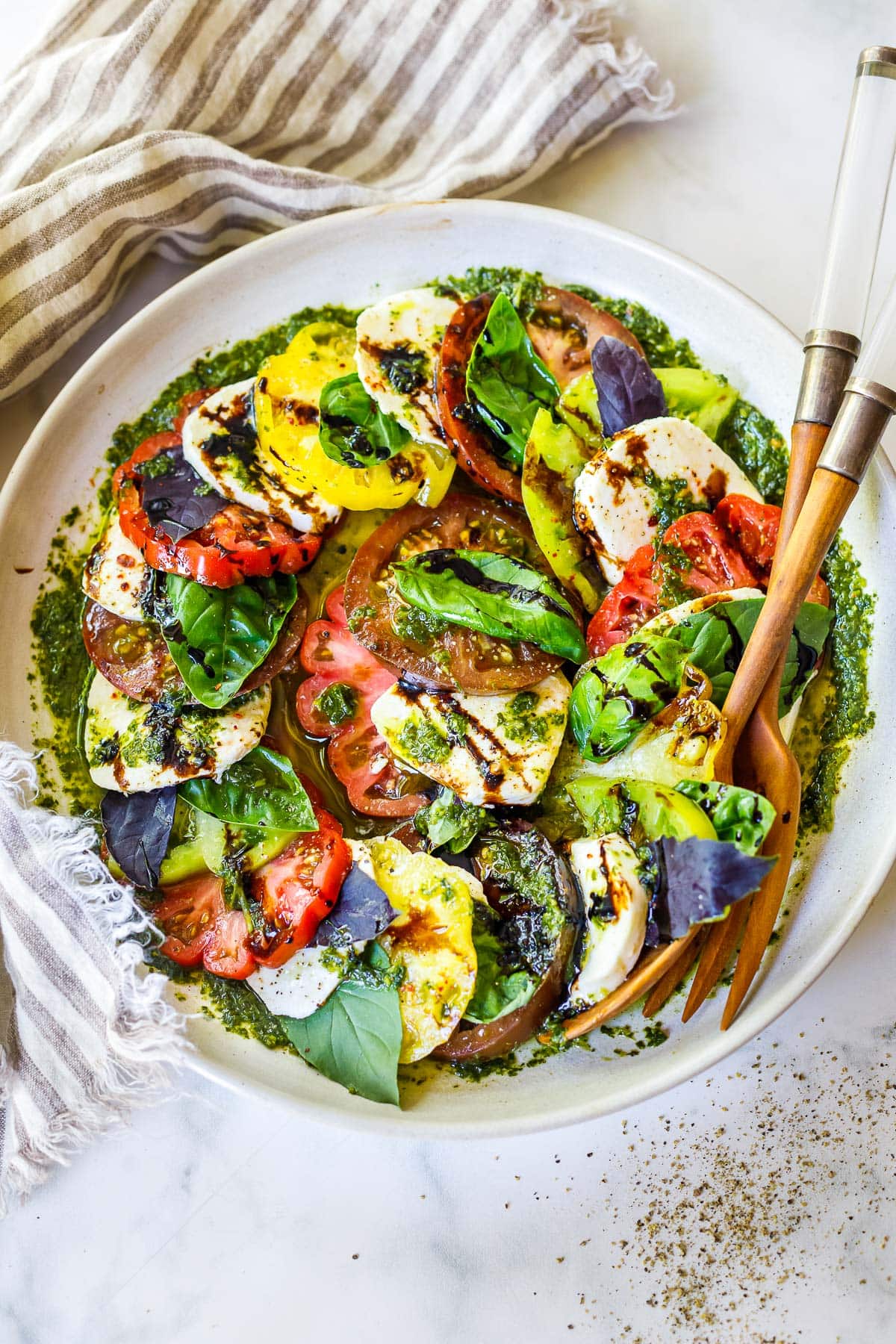 More recipes you may like!
Print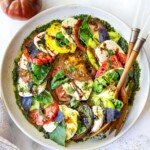 Caprese Salad
Prep Time:

25

Total Time:

25 minutes

Yield:

6

1

x

Category:

salad

Method:

Assemble

Cuisine:

Italian

Diet:

Vegetarian
---
Description
This Caprese salad is made with heirloom tomatoes, fresh mozzarella cheese, basil oil and a balsamic glaze.
---
Two mozzarella balls packed in water (16 ounces)

2

lbs

ripe tomatoes- colorful heirlooms, vine-ripened, cherry, any color or variety will work as long as they are ripe.

20

fresh basil leaves
salt and pepper to taste
extra virgin olive oil or make Basil oil and Balsamic Glaze (see notes)
---
Instructions
Make the basil oil and/or balsamic glaze if using. (see notes)
Slice the mozzarella balls into 1/4-inch slices
Slice the tomatoes into 1/4-inch slices. If tomatoes are extra large, cut into half moons or quarters. If using cherry tomatoes, halve them.
Assemble: Spread a layer of basil oil on the base of a platter or large plate (saving a little for the top). Begin layering tomatoes and mozzarella circularly, or in rows, or in a swirl, or completely randomly. Tuck in basil leaves. At this point, you could cover and refrigerate for 4-6 hours, bringing to room temp before serving.
Season with salt and pepper generously. Drizzle with olive oil or  a little more basil oil, then drizzle with the balsamic glaze.
---
Notes
To make the Basil Oil: Blend 1/2 cup basil (packed) with 1/2 cup olive oil, 1 fat garlic clove, a tiny squeeze of lemon juice, and a generous pinch of salt and pepper. Using a food processor is easiest here since it is such a small batch. It will keep up the 4-5 days in the fridge. You can make this ahead, but it is at its "prettiest" most vibrant green, the day of.
The basil oil will firm up in the fridge, so make sure to bring it to room temp before serving and drizzling.
To make the balsamic glaze, bring any amount of balsamic vinegar to a simmer in a small saucepan and reduce by half. For example, simmer 1/2 cup balsamic vinegar until it is roughly 1/4th cup (about 20 mins) and coats the back of a spoon. It will thicken even more as it cools. If you want it sweeter, add a tiny splash of maple syrup at the end to taste.
Nutrition
Serving Size:

1 cup

Calories:

160

Sugar:

4.4 g

Sodium:

340 mg

Fat:

11 g

Saturated Fat:

5.3 g

Carbohydrates:

6.7 g

Fiber:

1.8 g

Protein:

9.7 g

Cholesterol:

29.5 mg
Keywords: Caprese Salad, caprese salad recipe, tomato mozzarella salad, mozzarella caprese, tomato and mozzarella salad, mozzarella salad, tomato caprese