This Heirloom Tomato, Beet and Burrata Salad with flavorful Basil Oil is not only beautiful, but it is also delicious! Perfect for special gatherings… elegant, healthy and oh soooooooo tasty!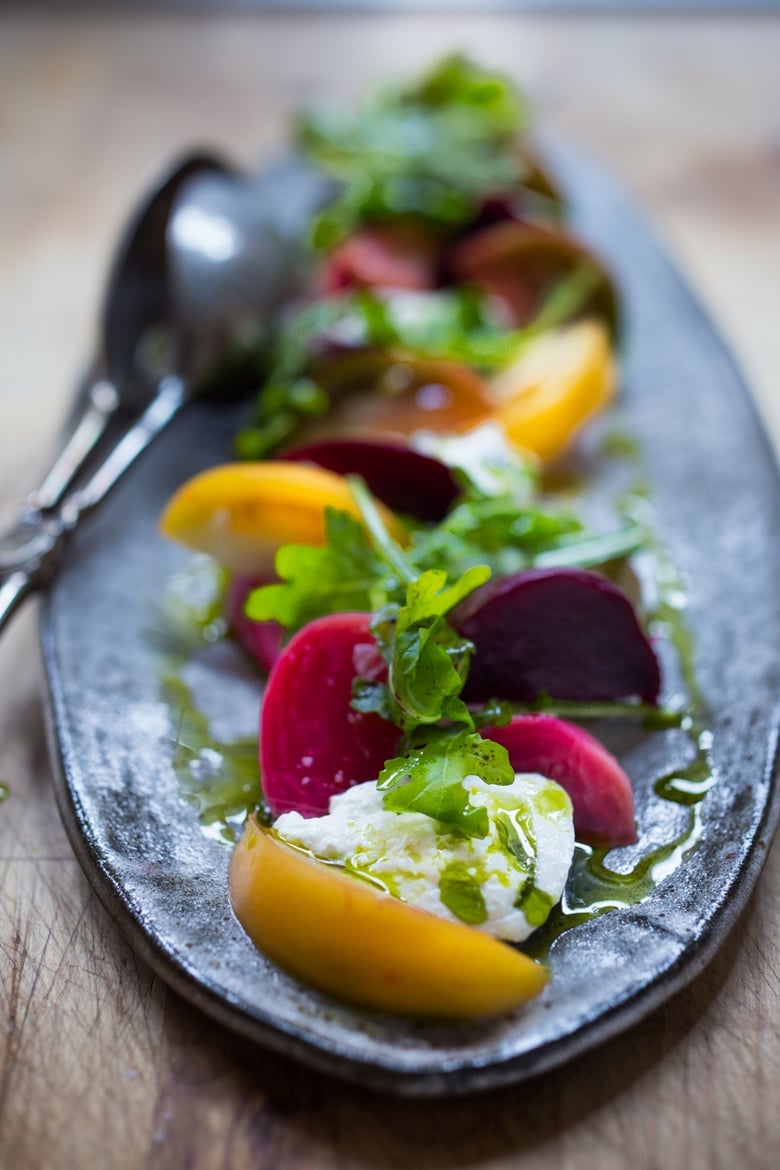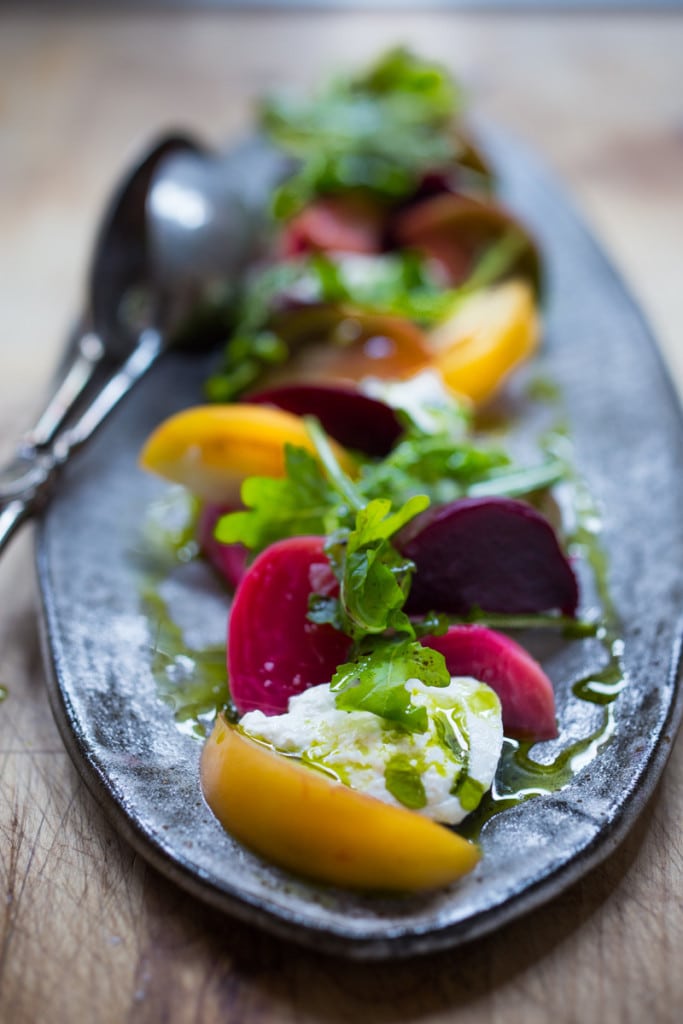 Do not be concerned with the fruit of your action- just give attention to the action itself.
The fruit will come of its own accord. Eckhart Tolle

Tomatoes are at their peak right now. Vine-ripened, juicy and full of real tomato flavor, they are never better than this time of year. Farmers markets are brimming with so many colors, sizes and varieties it's hard to choose between them. Beets and basil are in season too, and so it makes perfect sense, at least in my mind why they taste so good together. This Heirloom Tomato, Beet and Burrata Salad with Basil oil is one of my all-time favorite summer salads and is great for entertaining.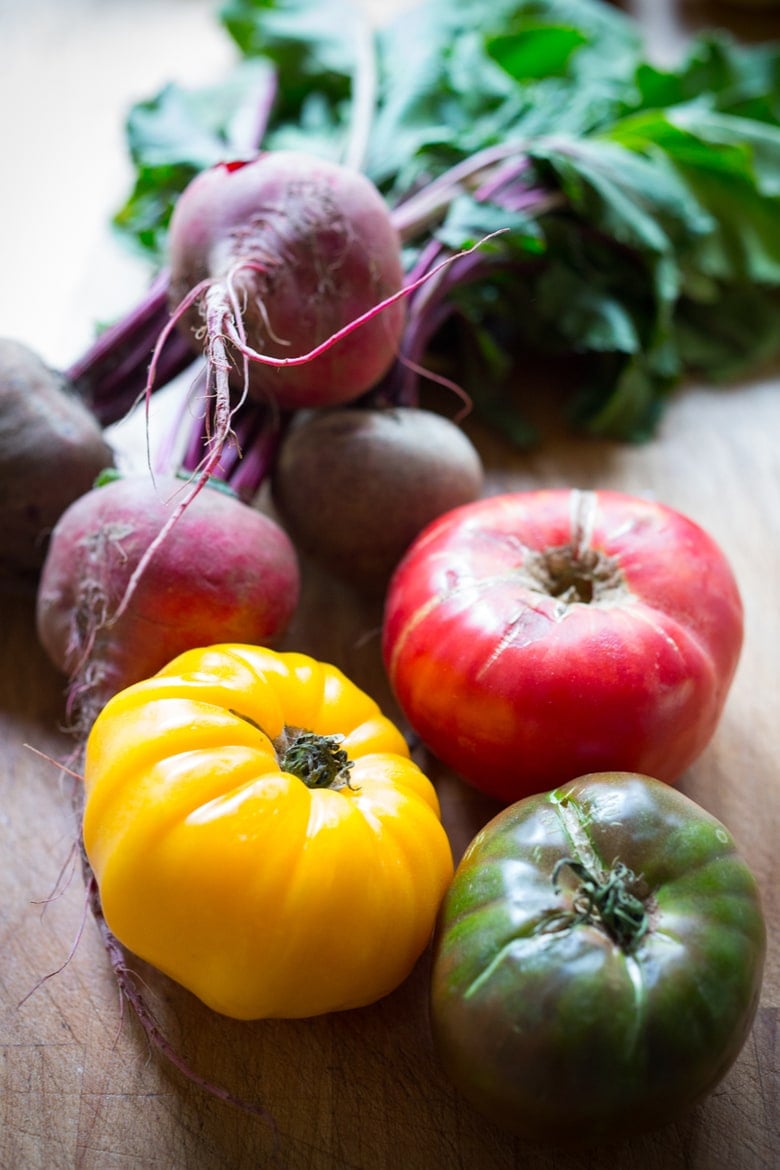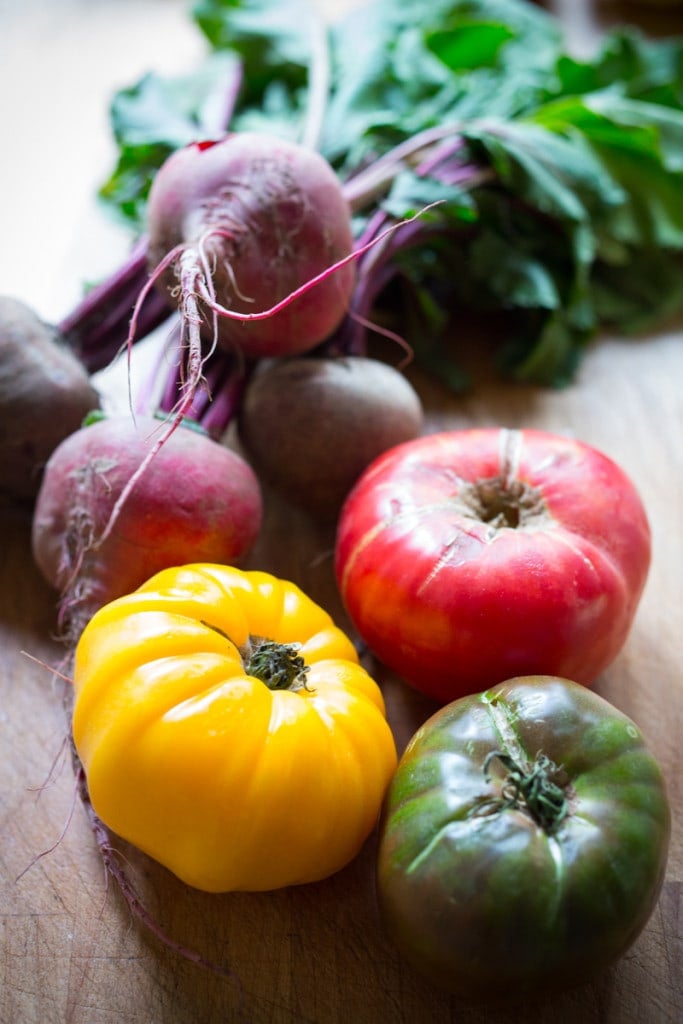 Burrata Cheese, if unfamiliar, is a creamy centered ball of cheese, very similar in appearance to fresh mozzarella, packed in water, but with a soft, creamy ricotta like interior. It's incredibly delicious in this salad, so much so, that I almost want to say, if you can't find the burrata, wait to make the salad until you can get your hands on it. It's really worth the wait. It's available at most upscale markets, and locally I find it at Huckleberries and Trader Joes.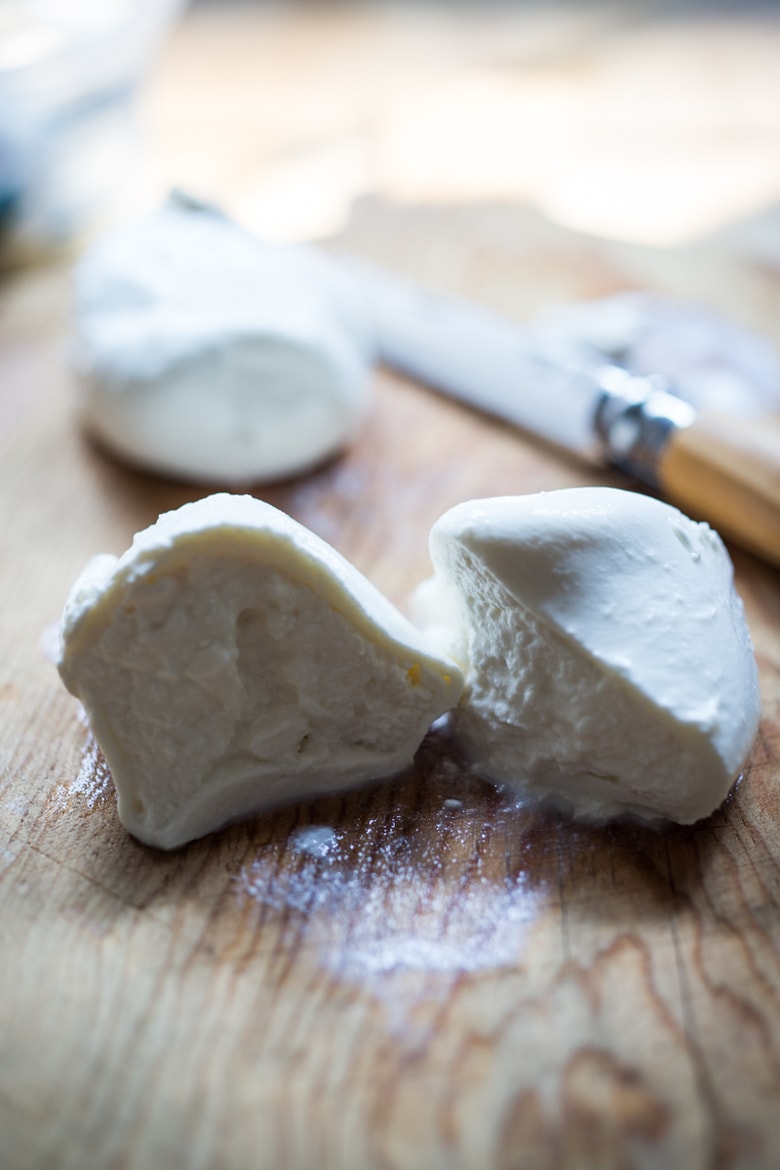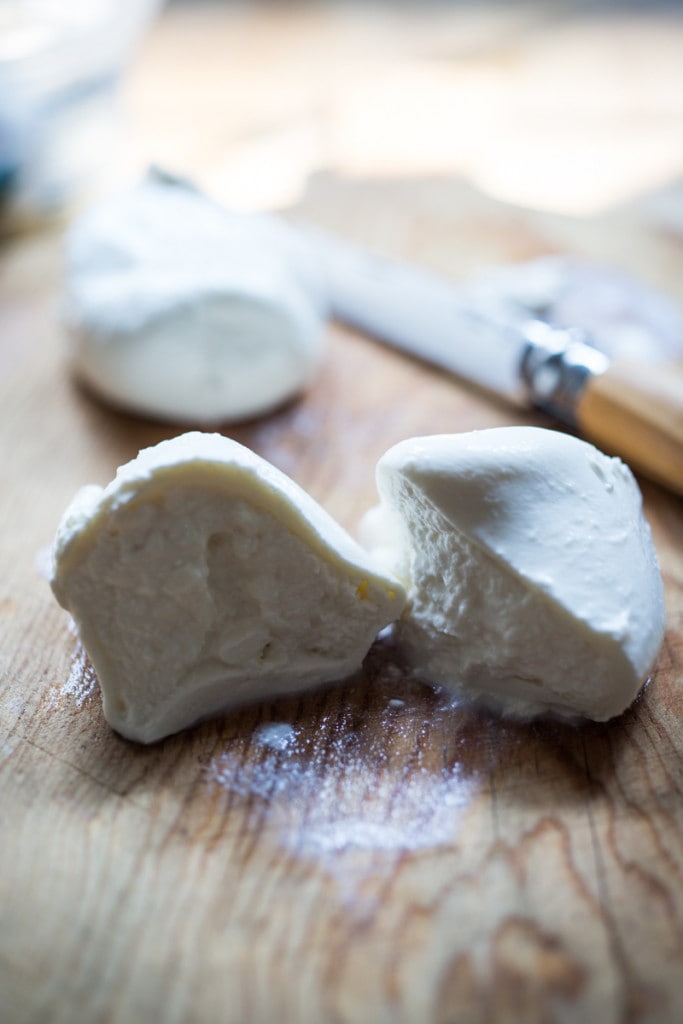 The salad is very easy to make once the vibrant flavorful basil oil is made, which requires an overnight resting period. You can skip the basil oil for quicker preparation, subbing fresh basil ribbons and a balsamic syrup. But learning to make the oil is a fun process, and you can use it later drizzled over so many things–soups, poached eggs or even pizza. If you have garden full of basil, it's a great way to use it up branching out from pesto.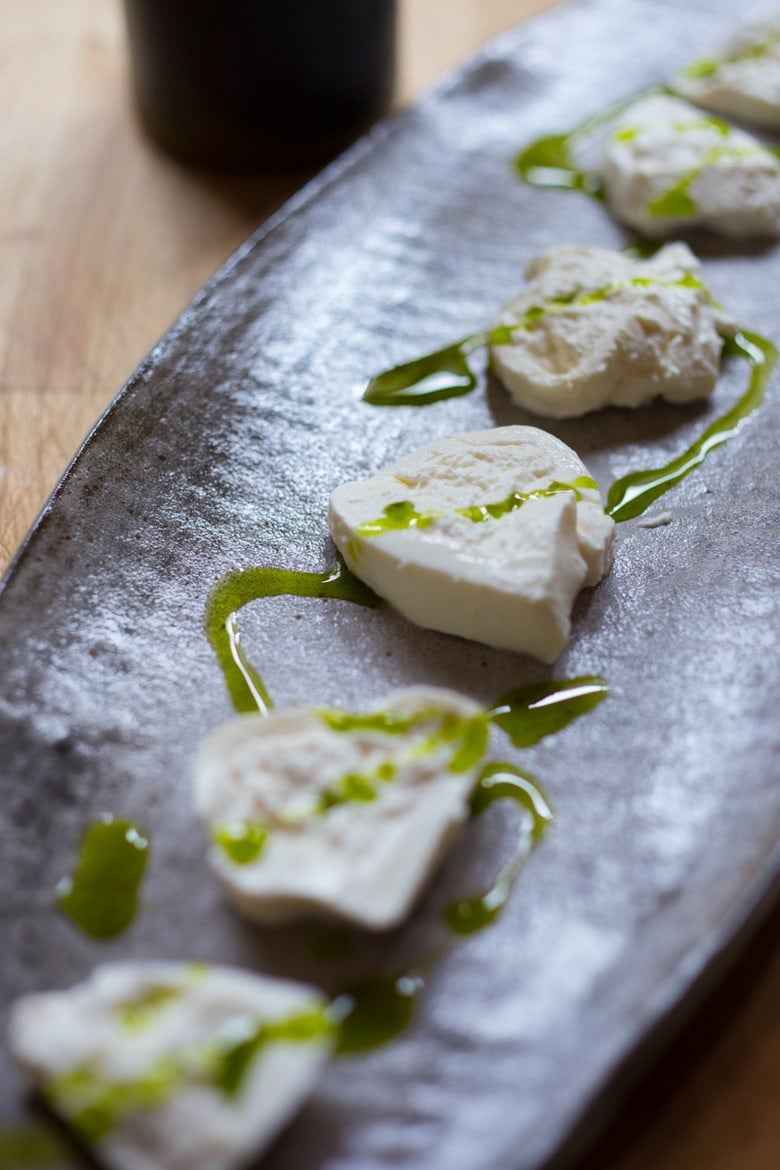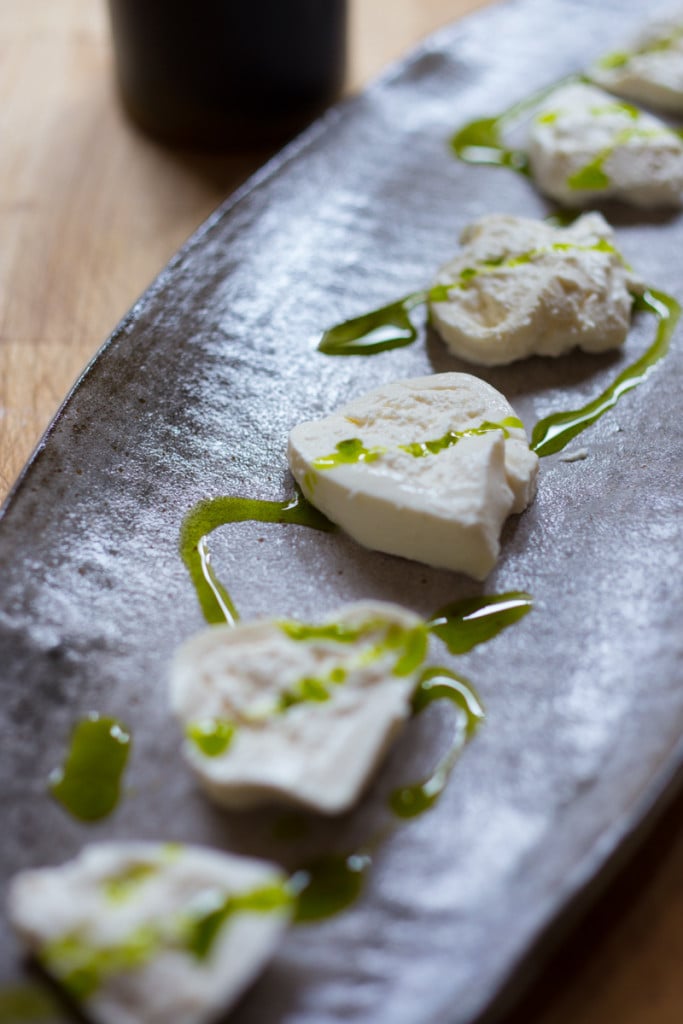 The beets can be roasted or blanched. I prefer blanching in summer, to keep the house cooler. Just boil them until tender, and the skins rub right off, under cool running water. Cut into disks or wedges. Golden beets or chioggia beets are a nice touch here.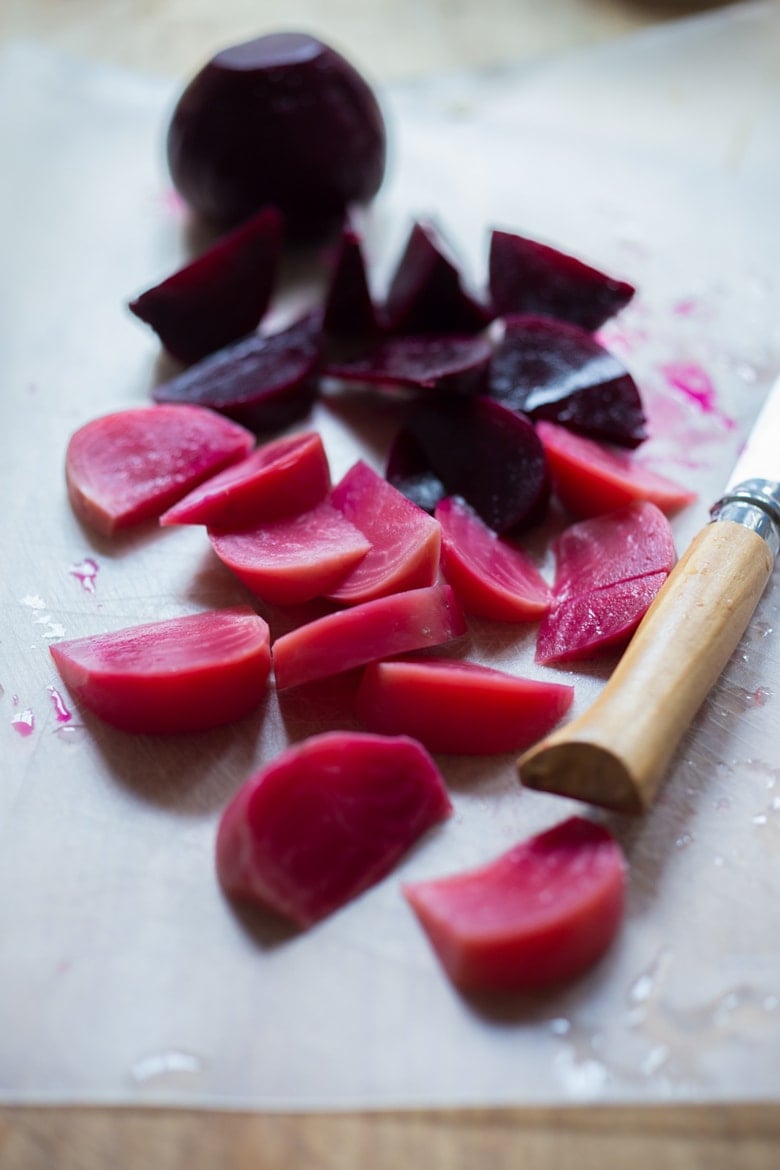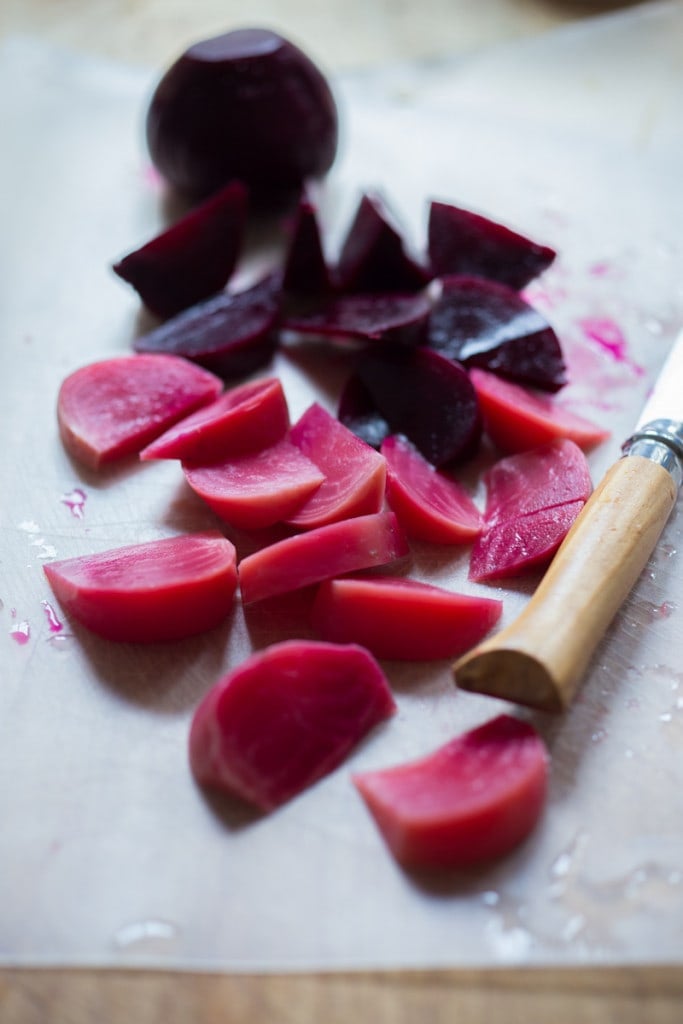 Toss the beets in a little olive oil and balsamic.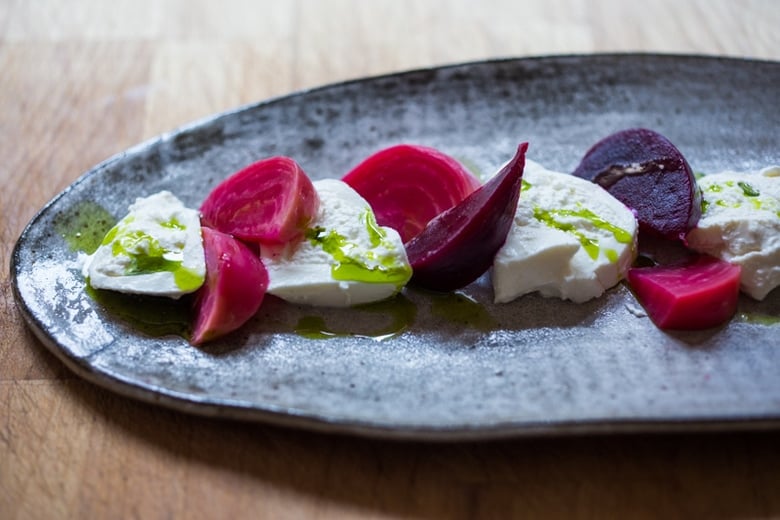 Start tucking them in and around the burrata. Then add the tomatoes.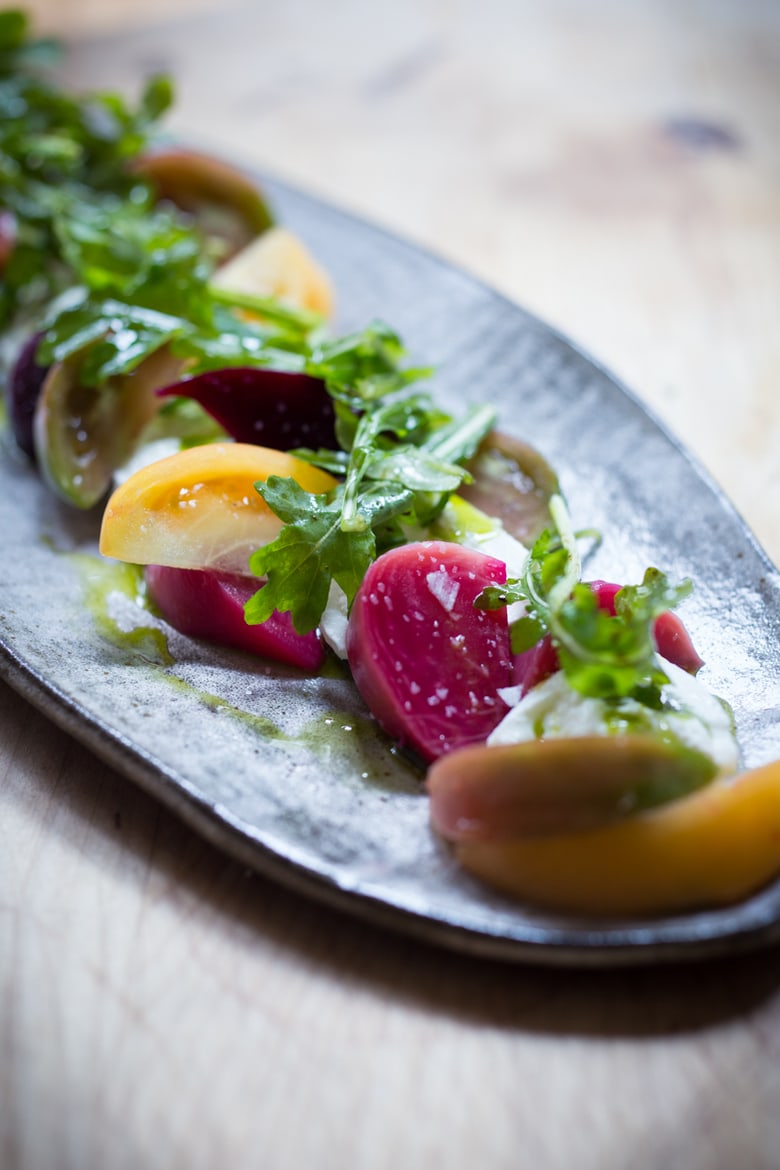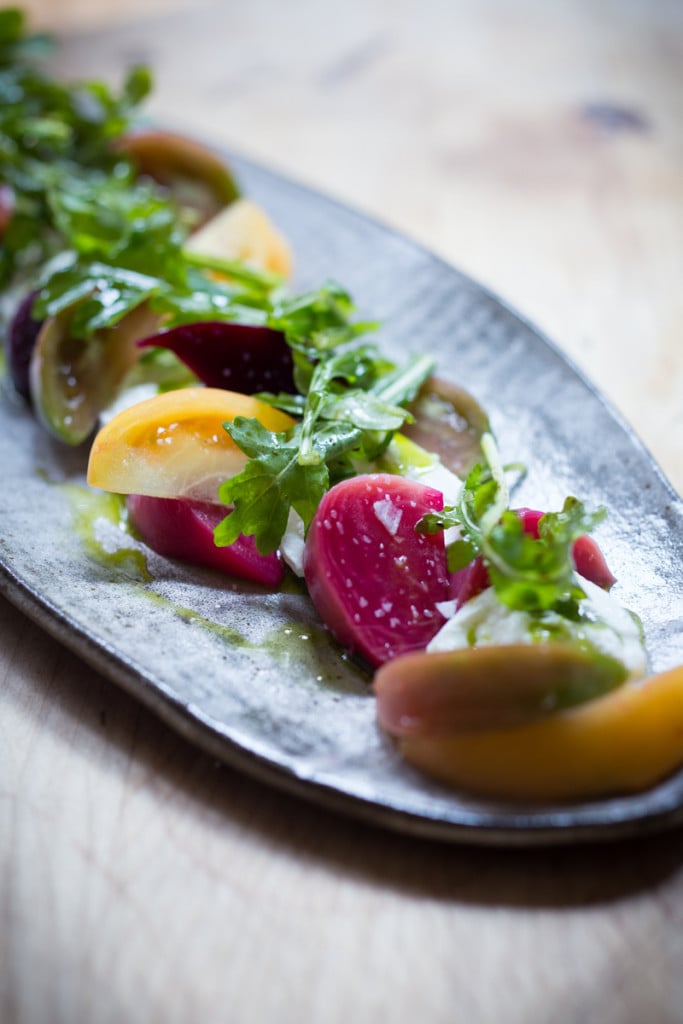 Give the tomatoes a pinch of flaked salt, like Maldon. Top with wisps of arugula or mizuna.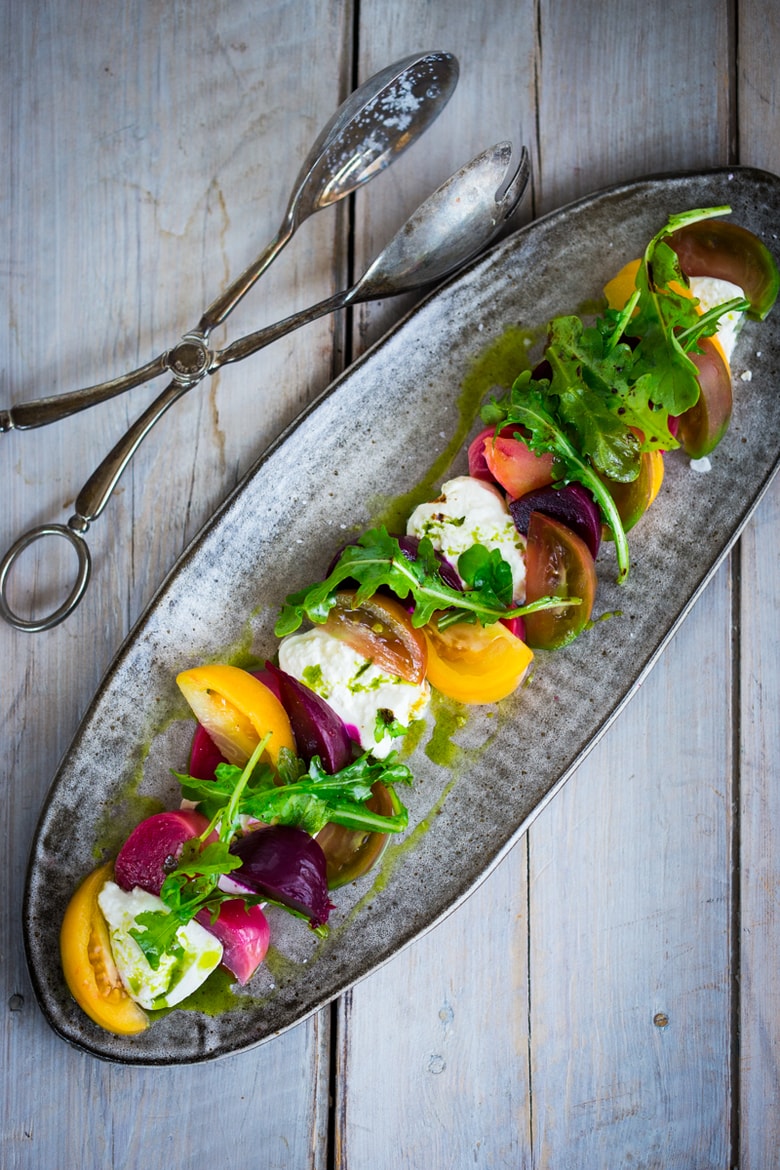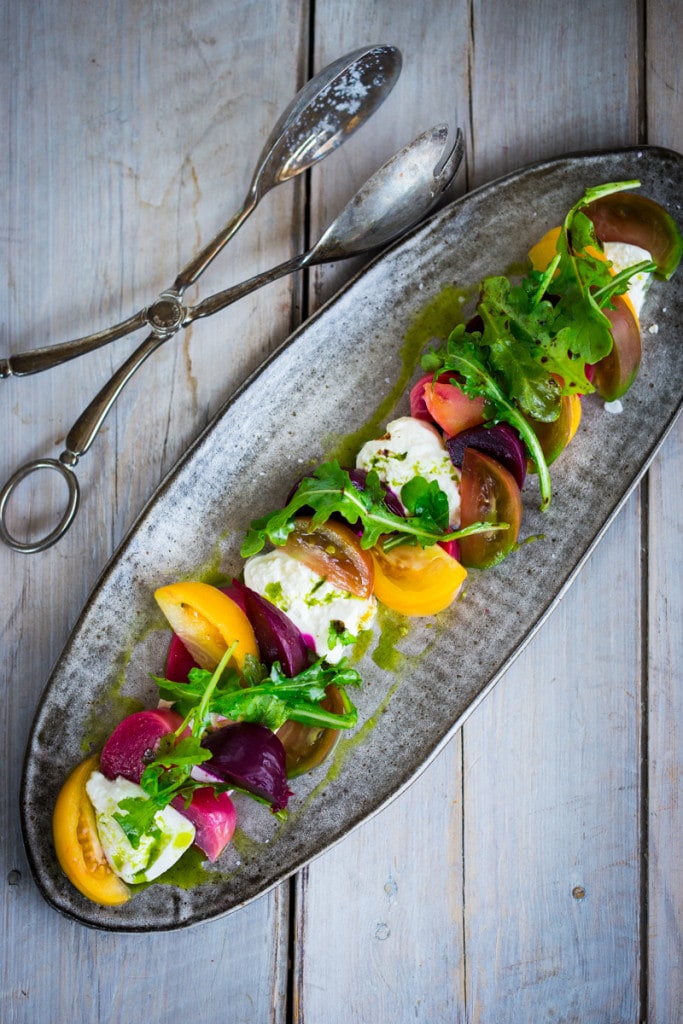 Right before serving, drizzle with more flavorful Basil oil and Balsamic Syrup if you like.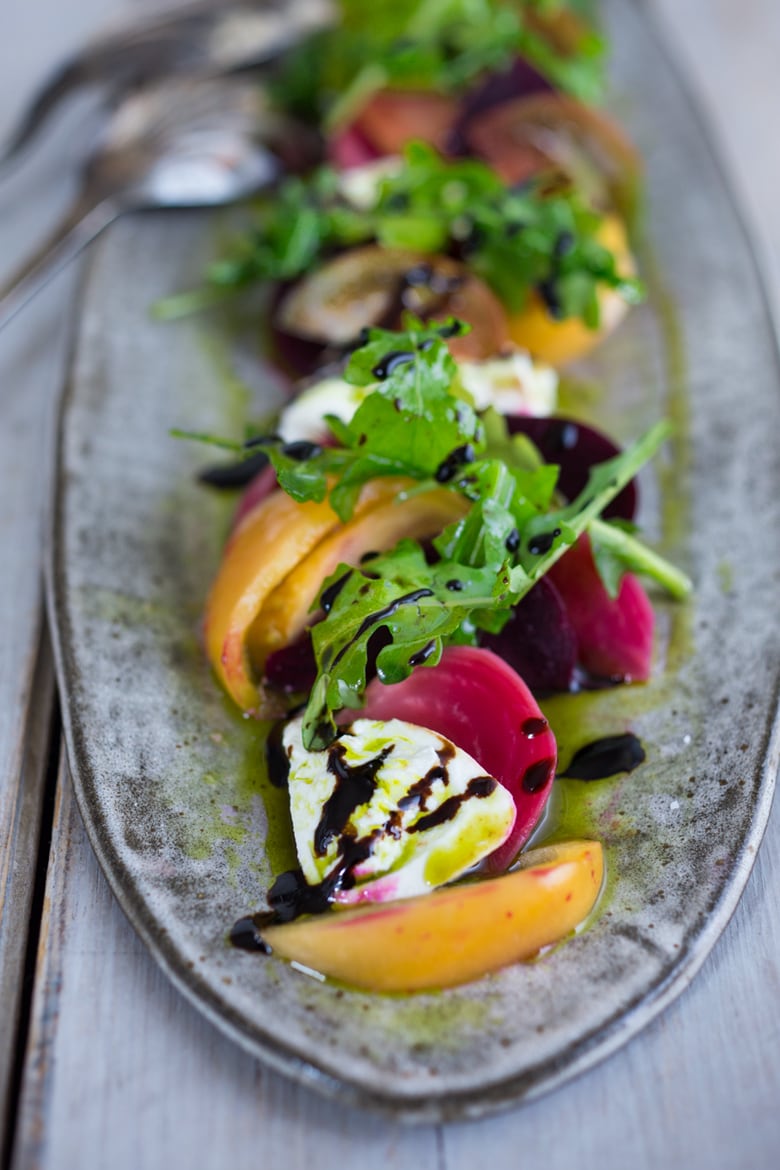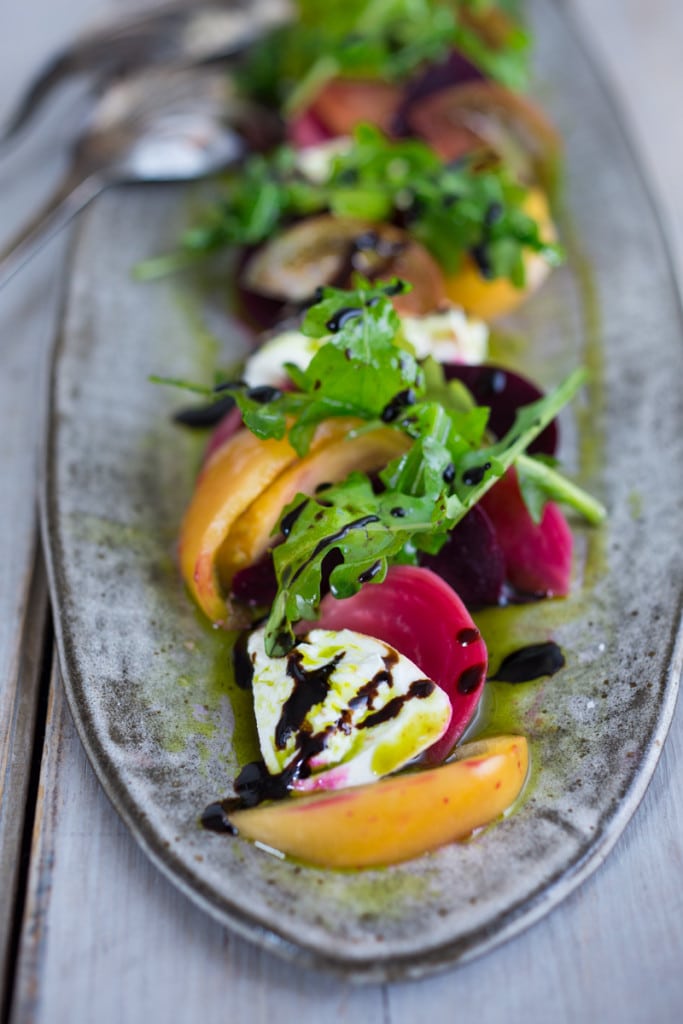 Serve with good crusty bread to mop up all the deliciousness.
Print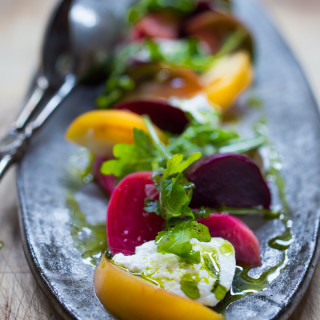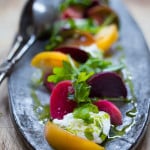 Heirloom tomato, Beet & Burrata salad w/ Basil oil
Prep Time:

20 mins

Total Time:

20 mins

Yield:

4

Category:

Salad

Cuisine:

Northwest
---
Description
A summery salad with fresh tomatoes, beets and burrata cheese and a flavorful basil oil.
---
Heirloom Tomato, Beet and Burrata Salad with Basil Oil

2

lbs heirloom or summer tomatoes

1 ½

lb beets, cooked, skins removed

2

balls of Burrata cheese

1

–

2

cups arugula or mizuna
pinch flaked salt

¼ teaspoon

cracked pepper

1

–

2

teaspoon olive oil

1

–

2

teaspoon balsamic vinegar

½ cup

basil ribbons
Drizzle balsamic syrup- optional
Basil Oil ( optional)

4 cups

Basil, Packed ( or sub

1 Cup

Italian Parsley) small stems OK

1 cup

olive oil
pinch salt
---
Instructions
To Make the basil oil ( requires overnight) blanch basil in a pot of boiling, heavily salted water for 20 seconds. Immediately strain, place under very cold running water, or an ice bath, until leaves feel cold. Gently wring out and place between paper towels, removing the water. Place in a blender with the oil and a pinch salt. Blend until smooth, careful to turn blender off if you feel it getting hot. Any heat will destroy the gorgeous color. So blend until smooth, stopping if necessary…and either place the blender in the fridge, or place the oil in a bowl, and let sit 6 hours, or over night in the fridge. Strain. Using a fine strainer, fit it inside a bowl and pour basil oil over, let it strain, giving the solids a mix now and then or a pressing, to help release more of the oil. I will often place this whole contraption back in the fridge, and let it do this at its own pace. Once the oil is extracted ( about ½ cup) pour it into a bottle with a pour spout, and keep refridgerated. This will keep for a couple weeks in the fridge.
If skipping the basil oil, substitute a ½ cup of fresh basil ribbons and a balsamic syrup.
To make the salad- slice the burrata cheese, in to ½ inch this slices, and carefully place on a platter. Drizzle with a little basil oil. Cut the beets into slices or wedges, place in a bowl and toss with a little olive oil, balsamic, salt and pepper. Arrange on the platter.
Slice the tomatoes or cut into wedges, arrange on the platter with a pinch of flaked salt. Toss the greens in a little basil oil (or sub olive oil and balsamic) and scatter overtop.
Drizzle the whole platter with basil oil right before serving or a balsamic syrup.
This is good served with crusty bread.
---