A delicious Tunisian-inspired Tagine (with your choice of Chicken or chickpeas) Carrots, Cous Cous and flavorful Green Harissa Sauce. A one-pan meal that can be made in 45 minutes! Vegan and Gluten-free adaptable!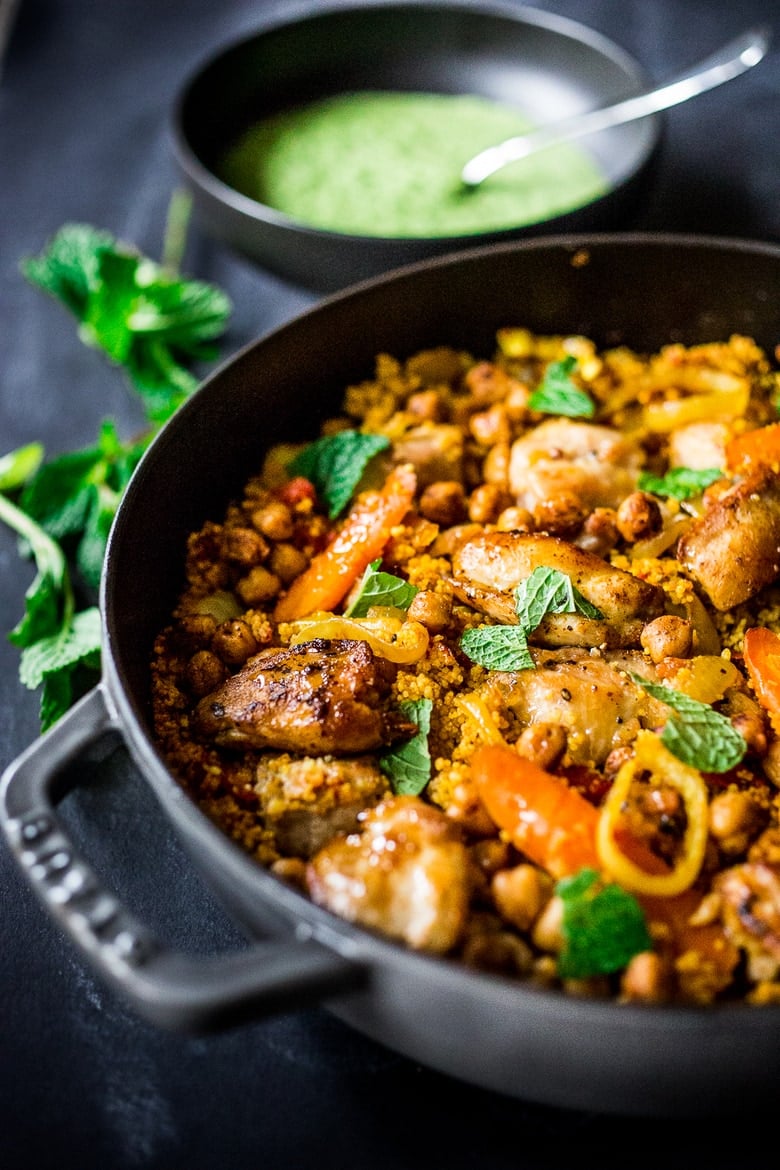 Here's a very simple, yummy recipe for a Tunisian-style Tagine made with your choice of Chicken or Chickpeas, with Cous Cous (or quinoa) and super flavorful Green Harissa Sauce. It's easily adaptable for vegans and gluten-free diets. On a map, Tunisia sits on the Mediterranean Sea, on the Northern tip of Africa, just east of Morocco and west of Egypt so it's easy to see how the flavors and ingredients blur the lines of borders.
Carrots and onions are sautéed with garlic and ginger along with the warming spices of turmeric, cinnamon and coriander. Water and couscous are stirred in, then cooked chicken (or chickpeas ) are nestled in before the whole thing goes in the oven for 15 minutes. From start to finish this takes about 45 minutes – and it's a true "one-pot meal".
Once you get the hang of it, it's easy to use it as a jumping-off point for other flavor combinations. Full of earthy Middle Eastern flavor, it is easy to make, and it's a new favorite around here. Make it with chicken, fish or lamb ….or keep it totally vegetarian adding chickpeas or cauliflower. If you are not a couscous fan, another option is to use quinoa (see recipe notes).
The Green Harissa Sauce is really delicious and simple to make, just blend up the ingredients- which I do while this is baking in the oven. The leftover sauce is great spooned over wraps and pita sandwiches the next day.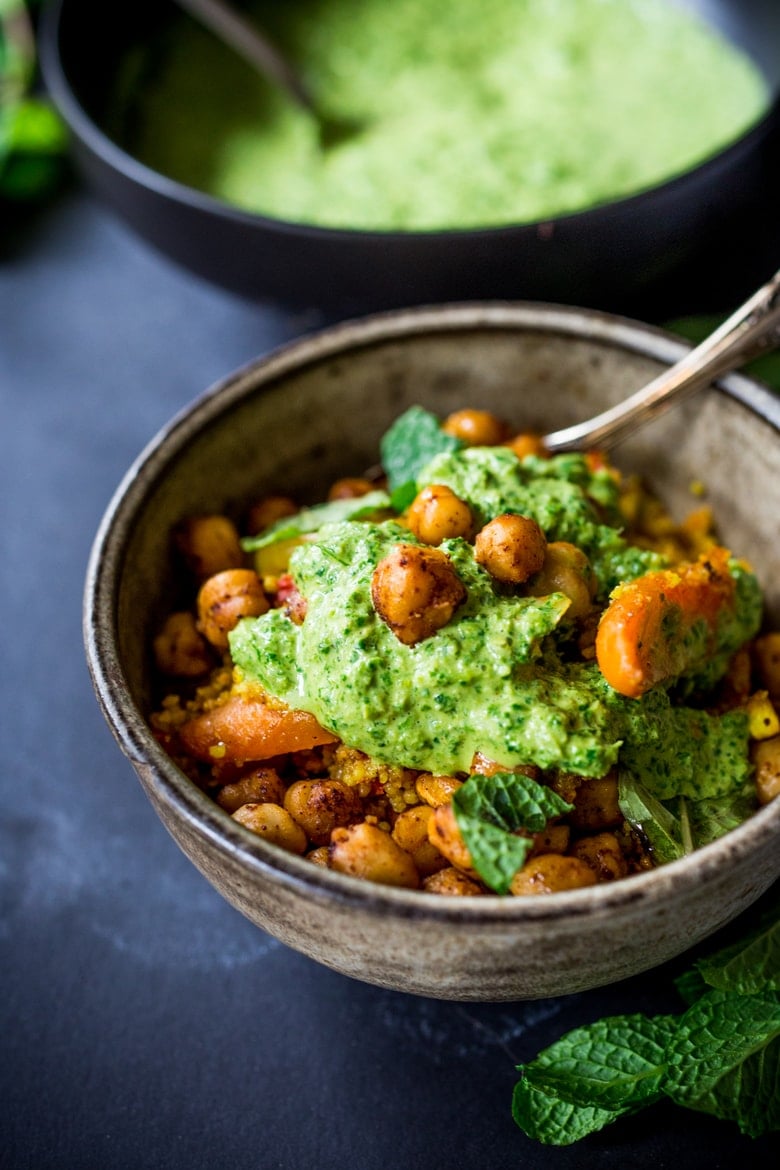 The vegan version above is equally good!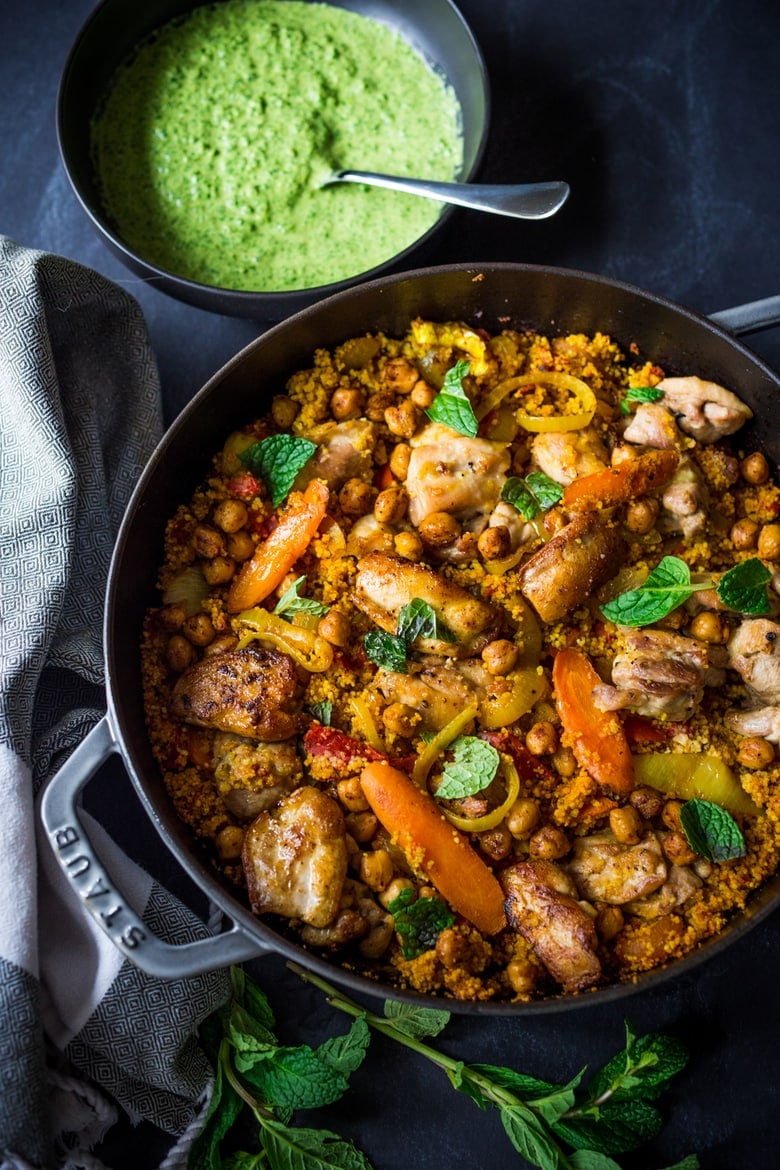 Brian loves his with chicken so often I'll just nestle the chicken on one side for him, and have chickpeas on my side. That way we are both happy. 🙂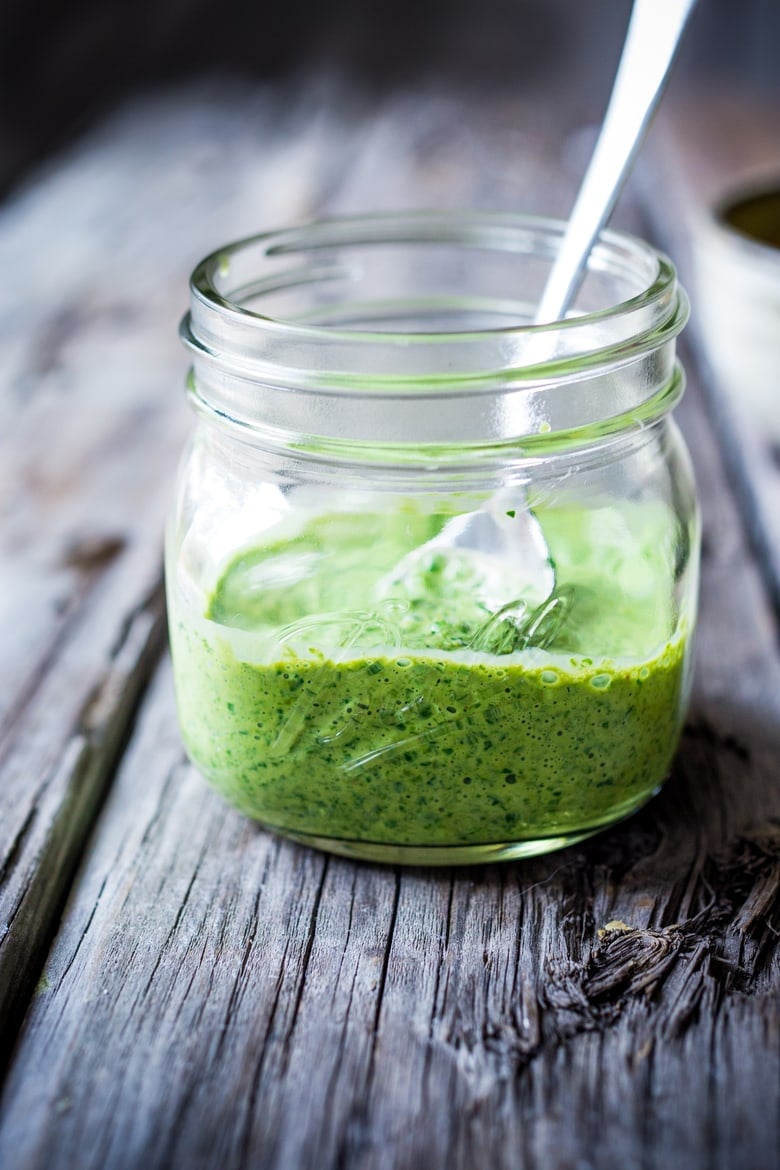 The green harissa sauce is ….to die for. I know you will love it and find a million uses for it. I love it swirled into soups- adds richness and brightness.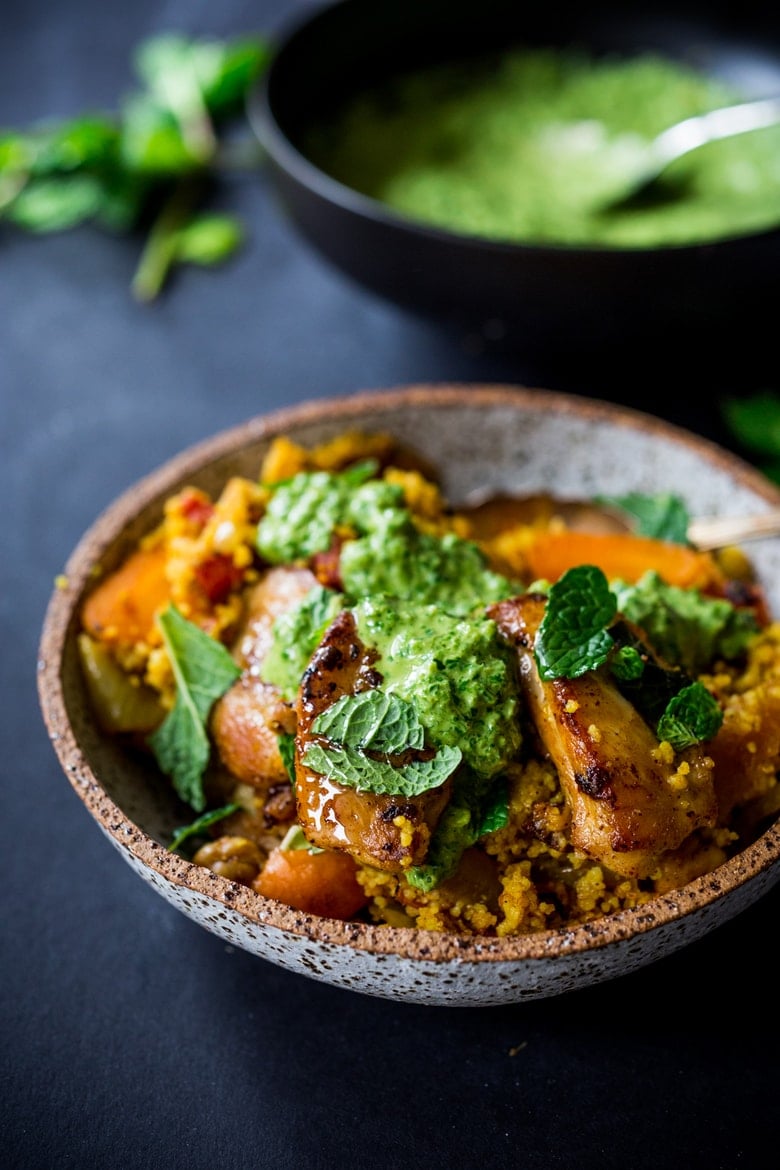 Enjoy this Tunisian Tagine with Green Harissa Sauce…. make it your own and please share how you've adapted it below!
xoxo
Print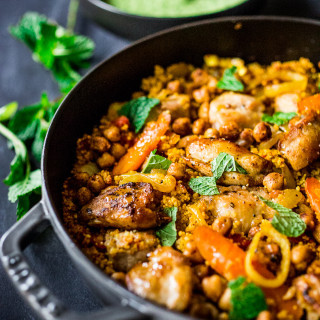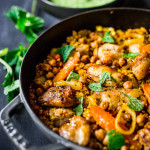 Tunisian Tagine (w/ Chicken or Chickpeas) Couscous & Green Harissa Sauce
Prep Time:

15 mins

Cook Time:

35 mins

Total Time:

50 mins

Yield:

4-6

Category:

Main, One pot meal, Chicken, Vegan

Method:

Baked

Cuisine:

Tunisian
---
Description
A delicious Tunisian-inspired Tagine (with your choice of  Chicken or chickpeas)  Carrots, Cous Cous and flavorful Green Harissa Sauce. A one-pan meal that can be made in 45 minutes! Vegan and Gluten-free adaptable! 
---
Ingredients
1 ½

lbs boneless chicken thigh meat (or substitute

3 cups

cooked garbanzos, 2 cans drained, or a combination of both. Vegetarians could also add cauliflower.)

2 tablespoons

oil
Generous pinch salt and chili powder

3

medium carrots

1

large onion

1 tablespoon

fresh ginger-minced

5

garlic cloves- rough chopped

1 teaspoon

cumin

1 teaspoon

coriander

1/2 teaspoon

ground turmeric

¾ teaspoon

cinnamon

½ teaspoon

caraway seeds, optional but very tasty

1 teaspoon

salt

1 teaspoon

sugar

1

can diced tomatoes ( fire-roasted if possible)

¼ cup

dried apricots, diced (or sub raisins)

1 ½ cups

water

1 ½ cups

couscous ( or sub

1 cup

quinoa- see notes )
GREEN HARISSA SAUCE
1 cup

plain yogurt (don't use zero fat, or if you do, add a tablespoon or

two

of olive oil) or sub vegan yogurt ( like coconut yogurt)

½

–

1

bunch Italian parsley, small stems OK ( or substitute cilantro)

1

–

2

garlic cloves

½

to

1

whole jalapeño

½ teaspoon

smoked paprika

½ teaspoon

salt
Optional garnish: fresh mint leaves, toasted slivered almonds or pine nuts
---
Instructions
Preheat oven to 400F
In a large heavy-bottom, ovenproof skillet or dutch oven heat to the oil. Cut chicken into bigger bite-sized pieces, 1-2 inches, and generously salt and pepper and sprinkle with chili powder (If using chickpeas, see notes). Sear chicken 5 minutes on each side, turning the heat down to medium if necessary until it's golden brown. While chicken is searing, prep the veggies.
Slice the carrots at diagonal ⅓ inch thick. Slice the onions into rings ⅓ inch think, then cut into half-moons. Rough chop the garlic, and finely mince the ginger. Chop the apricots.
When Chicken is golden, remove it from the pan, and set it aside on a plate (it will finish cooking in the oven).  Add the onions and carrots to the same pan (adding a tad more oil if need be) and cook over medium-high heat for 3-4 minutes, stirring very often. Turn heat to medium and cook for just a few more minutes until onions become tender. Add the garlic and ginger, sauté for 2 minutes. Add the spices, and sauté for one minute to bring out their flavor. Add the salt, sugar, undrained tomatoes, dried apricots and water. Bring to a simmer and stir a bit. Once it's simmering, stir in the couscous. Nestle in the chicken cover and place in the oven for 15 minutes.
While it's baking, make the Green Harissa Yogurt Sauce …by placing the parsley or cilantro, garlic and jalapeño in a food processor and pulse (or finely chop) then place in a bowl. Stir in yogurt spices & salt.
After 15 minutes, pull the pan from the oven. If you want the chicken to darken up a bit, broil for a minute or two. Scatter with the mint leaves and serve with Green Harissa Yogurt Sauce.
---
Notes
NOTES: If subbing chickpeas, drain them first. For the fastest preparation, place them directly over the couscous to heat in the oven, sprinkle with a little salt. OR for added flavor, give chickpeas a quick fry: drain, pat dry and sauté with olive oil for 3-4 minutes, then sprinkle with salt, pepper and a little chili powder or cumin, sautéing for just another minute. To keep them crispy, add them to the couscous after it comes out of the oven. Another option is to add cauliflower, same preparation.
If subbing quinoa: Add 1 cup rinsed quinoa and 1 ¾ Cups water. Extend cooking time by 10 minutes.
Keywords: tagine, tagine recipe, moroccan chicken, moroccan chickpeas, tunisian chicken, Tunisian recipes, cous cous, cous cous recipes
SaveSave
SaveSave