This delicious Tunisian-style Chicken Tagine is made with tender pieces of chicken, optional chickpeas, carrots, dried apricots, warming Tunisian Spices, and baked over couscous- a nifty one-pan meal that can be made in 45 minutes! Serve with Green Harissa Sauce. Vegan (use chickpeas) and Gluten-free adaptable! Plus 35+ Must-Try Chicken Thigh Recipes.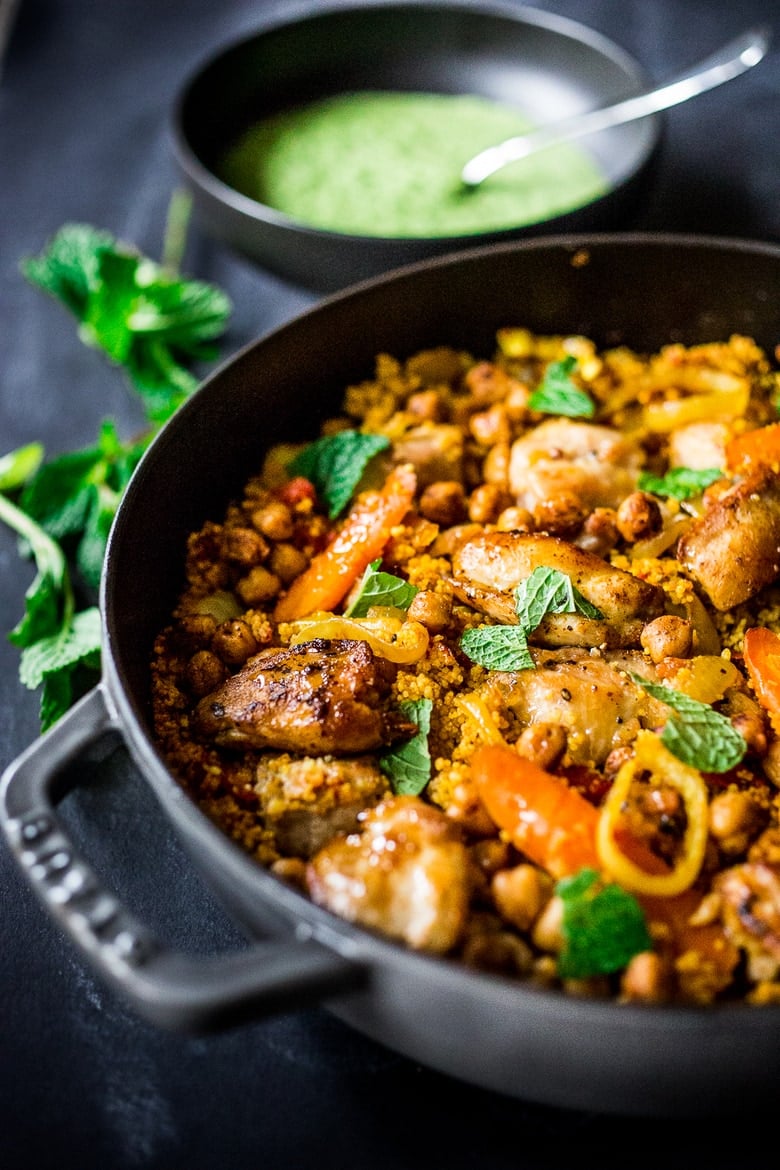 This Tunisian-style Chicken Tagine is made with your choice of Chicken or Chickpeas ( or both!) with couscous, veggies and a and super flavorful Green Harissa Sauce. It's easily adaptable for vegans and gluten-free diets. On the map, Tunisia sits on the Mediterranean Sea, on the Northern tip of Africa, just east of Morocco and west of Egypt so it's easy to see how the flavors and ingredients blur the lines of borders.
But first, What is tagine?
A tagine can be either a type of cooking vessel, typically made of clay or ceramic, or a type of dish, or meal, hailing from North Africa. The vessel consists of a shallow, wide-bottomed dish with a domed or cone-shaped lid. The lid helps to retain moisture and circulate it back into the dish, creating a moist and flavorful result.
The term "tagine" is also used to describe the dishes cooked in this vessel. Tagine dishes are known for their rich, aromatic flavors and tender textures. They often include a combination of meat (such as chicken, lamb, or beef), vegetables, fruits, and a variety of spices and herbs, typically served with rice, or couscous. Tagines are popular in Moroccan and Tunisian cuisine, but they have gained popularity worldwide due to their unique flavors and cooking method.
Why you'll Love Chicken Tagine!
Fast and easy! From start to finish, this Chicken Tagine takes about 45 minutes – and it's a true "one-pot meal". Couscous cooks so quickly- perfect for busy weeknights.
It's VERY adaptable! Make it vegan; make it gluten-free! Once you get the hang of it, using it as a jumping-off point for other flavor combinations is easy. Feel free to add roasted cauliflower or grilled veggies! It is easy to make, full of earthy Middle Eastern flavors, and it's a new favorite around here!
It's incredibly tasty! Warming spices of turmeric, cinnamon, and coriander really elevate, along with the Green Harissa!
Chicken Tagine Ingredients
The Tunisian Chicken Tagine is a flavorful and aromatic dish that combines a variety of ingredients to create a delicious and satisfying meal. Here's a description of the main ingredients:
Chicken: The dish can be made with your choice of chicken or chickpeas, or even both! Chicken adds a tender and juicy protein element to the tagine. Use chicken breast or chicken thighs, or bone-in chicken thighs.
Couscous: This North African staple food is a type of small grain made from durum wheat. It provides a light and fluffy texture to the dish and serves as a base for the other ingredients. You can also use quinoa in the recipe- see recipe notes.
Carrots & onions: Fresh carrots add a slightly sweet and earthy flavor to the tagine. They also provide a vibrant orange color, making the dish visually appealing.
Green Harissa Sauce: This aromatic and spicy sauce is the star of the dish. Made with a blend of fresh herbs, spices, and chili peppers, it adds a burst of flavor and heat to the tagine. The Green Harissa Sauce can be prepared ahead (or make it while the tagine is baking).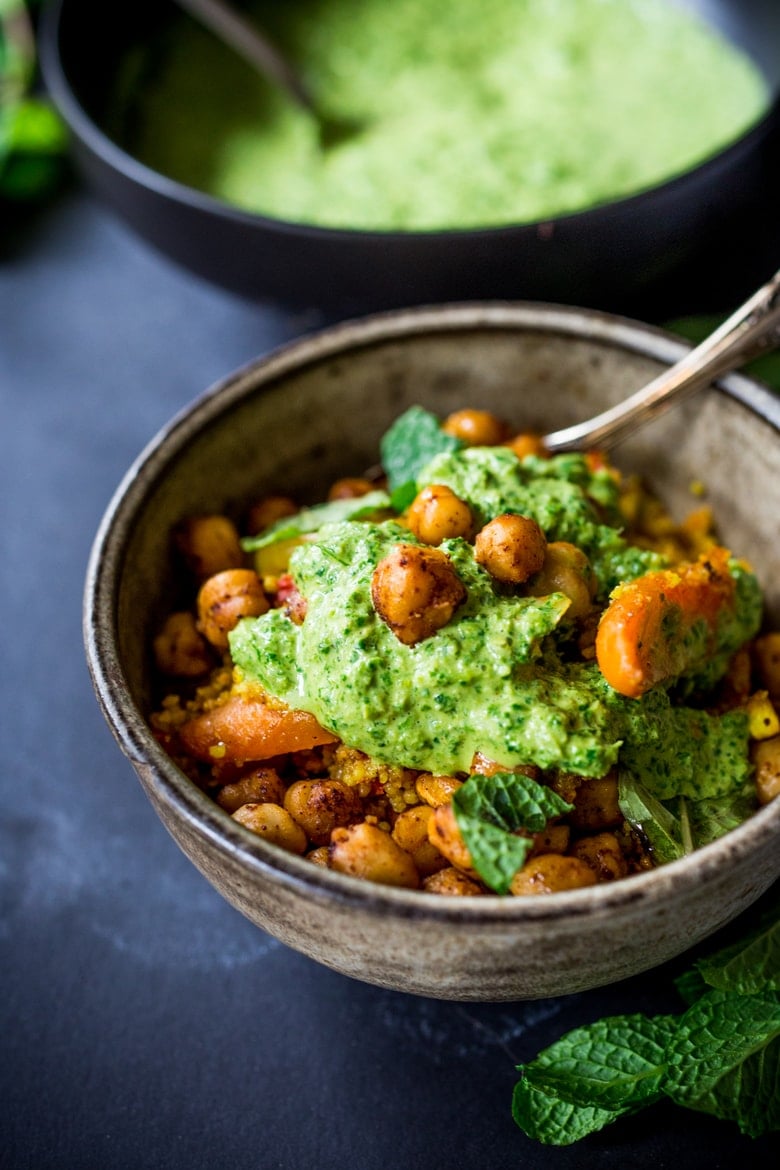 Chicken Tagine Instructions
To make the Chicken Tagine, follow these simple steps:
In a large skillet or a tagine, heat the olive oil over medium heat. Add the sliced onion and sauté until translucent, about 5 minutes.
Add the minced garlic, ground cumin, ground coriander, ground turmeric, ground cinnamon, paprika, cayenne pepper, salt, and pepper to the skillet. Stir well to coat the onions with the spices and cook for about 1 minute until fragrant.
If using chicken, add the chicken thighs to the skillet and cook until browned on all sides, about 5 minutes. If using chickpeas, skip this step and proceed to the next.
Add the sliced carrots and vegetable or chicken broth to the skillet. Cover and simmer for about 20-25 minutes or until the chicken is cooked through and the carrots are tender. If using chickpeas, add them now and simmer for another 5 minutes.
While the tagine is simmering, prepare the Green Harissa Sauce. In a food processor or blender, combine cilantro, parsley, garlic, jalapeno pepper, lemon juice, ground cumin, ground coriander, ground caraway seeds (if using), salt, and olive oil. Blend until smooth. Adjust the seasoning to your taste.
Serve the Chicken Tagine over cooked couscous, and drizzle with the Green Harissa Sauce. Garnish with fresh cilantro or parsley. Enjoy!
Note: Feel free to customize your Chicken Tagine by adding more vegetables like cauliflower or other veggies. Experiment with different spices and herbs to suit your taste preferences.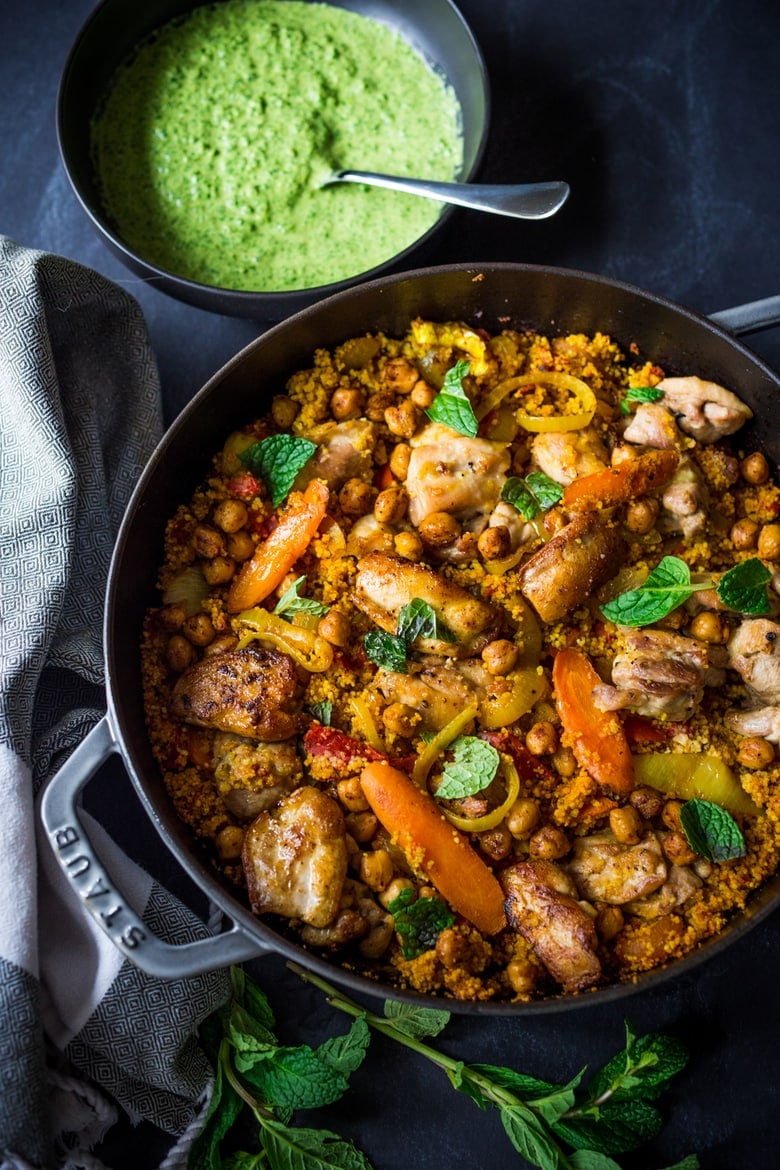 Brian loves his with chicken, so often I'll just nestle the chicken on one side for him, and have chickpeas on my side. That way, we are both happy. 🙂
Green Harrisa Sauce!
While the tagine doesn't need the sauce, the Green Harissa Sauce is ….to die for! I know you will love it and find a million uses for it. I love it swirled into soups- it adds richness and brightness.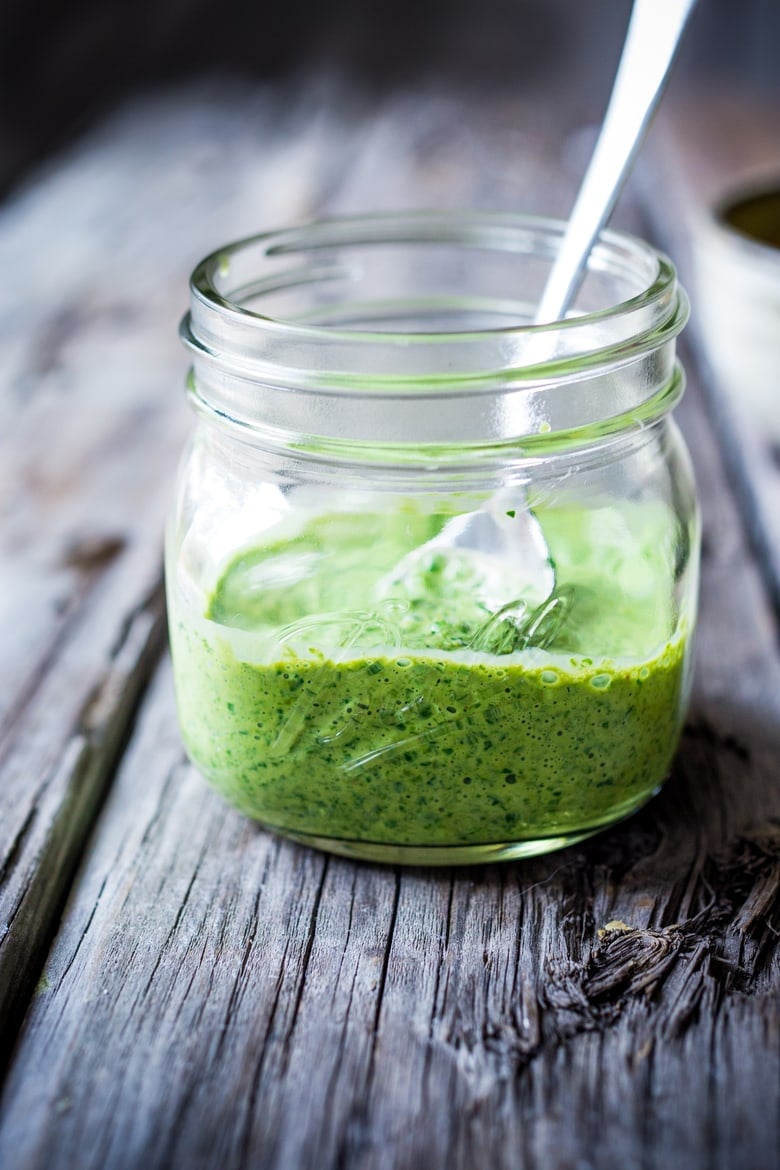 What to serve with Chicken Tagine
Because the couscous is already part of the dish no need to add an extra starch here. I would suggest a salad or other vegetable option: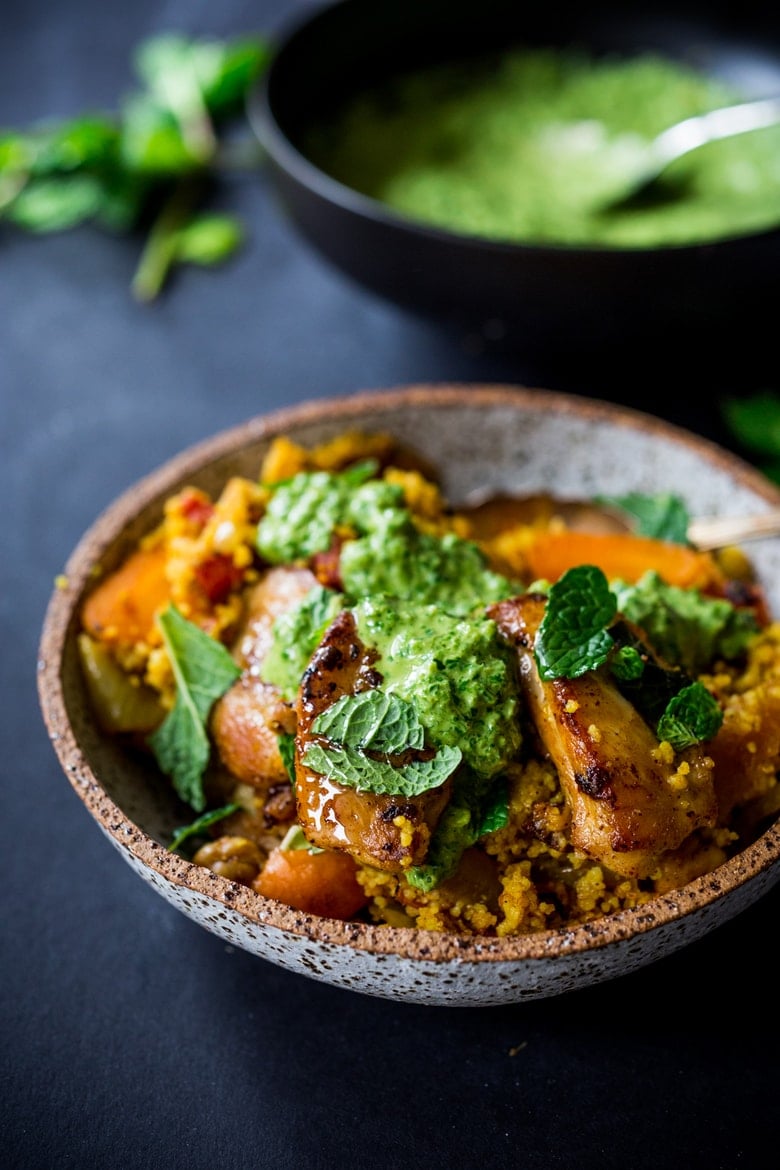 More Chicken Recipes you'll love!
Enjoy this Chicken Tagine with couscous and Green Harissa Sauce…. make it your own and please let us know how you like it and share how you've adapted it below!
xoxo
Print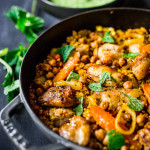 Chicken Tagine
Prep Time:

15 mins

Cook Time:

35 mins

Total Time:

50 mins

Yield:

4

-6

1

x

Category:

Main, One pot meal, Chicken, Vegan

Method:

Baked

Cuisine:

Tunisian
---
Description
A delicious Tunisian-inspired Chicken Tagine (with your choice of  Chicken or chickpeas) carrots, Couscous and flavorful Green Harissa Sauce. A one-pan meal that can be made in 45 minutes! Vegan and Gluten-free adaptable! 
---
1 1/2

lbs

boneless chicken thigh meat (or substitute 3 cups cooked garbanzos, 2 cans drained, or a combination of both. Vegetarians could also add cauliflower.)

2 tablespoons

olive oil
salt and pepper to taste
2 teaspoons chili powder

3

medium carrots

1

large onion

1 tablespoon

fresh ginger-minced

5

garlic cloves- rough chopped

1 teaspoon

cumin

1 teaspoon

coriander

1/2 teaspoon

ground turmeric

3/4 teaspoon

cinnamon

1/2 teaspoon

caraway seeds, optional but very tasty

1 teaspoon

salt

1 teaspoon

sugar

14

-ounce can diced tomatoes (fire-roasted if possible)

1/4

cup

dried apricots, diced (or sub raisins)

1 1/2

cups

water

1 1/2

cups

couscous ( or sub 1 cup quinoa- see notes )
GREEN HARISSA SAUCE
1

cup

plain yogurt (don't use zero fat, or if you do, add a tablespoon or two of olive oil) or sub vegan yogurt ( like coconut yogurt)

1/2

–

1

bunch Italian parsley, small stems OK ( or substitute cilantro)

1

–

2

garlic cloves

1/2

to

1

whole jalapeño

1/2 teaspoon

smoked paprika

1/2 teaspoon

salt
Optional garnish: fresh mint leaves, toasted slivered almonds or pine nuts
---
Instructions
Preheat oven to 400F
 Cut chicken into bigger bite-sized pieces, 1-2 inches, and generously salt and pepper and sprinkle with chili powder (If using chickpeas, see notes).
In a large, heavy-bottom, ovenproof skillet or dutch oven heat the oil over medium-high heat. Sear chicken a few minutes on each side, until golden brown, turning the heat down to medium if necessary. When the chicken is golden, remove it from the pan, and set it aside on a plate (it will finish cooking in the oven).
While the chicken is searing, prep the veggies. Slice the carrots at a diagonal ⅓ inch thick. Slice the onions into rings ⅓ inch thick, then cut into half-moons. Rough chop the garlic, and finely mince the ginger. Chop the apricots.
Add the onions, carrots and a little oil to the same pan and saute over medium heat for 5-7 minutes, until onions become tender and fragrant. Make a well in the center of the pan, add the garlic and ginger, sauté for 1-2 minutes. Add the spices, and toast for one minute to bring out their flavor. Add the salt, sugar, undrained tomatoes, dried apricots and water.
Bring to a simmer and stir, scraping up any browned bits. Once it's simmering, stir in the couscous. Nestle in the chicken (and/or chickpeas if using-see notes) cover and place in the oven for 15-20 minutes.
While it's baking, make the Green Harissa Yogurt Sauce: Place the parsley or cilantro, garlic and jalapeño in a food processor and pulse (or finely chop) then place in a bowl. Stir in yogurt spices & salt.
After 15 minutes, pull the pan from the oven. If you want the chicken to darken up a bit, broil for a minute or two. Scatter with the mint leaves, slivered almonds and serve with Green Harissa Yogurt Sauce.
---
Notes
CHICKPEAS: If using chickpeas, drain them first. For the fastest preparation, toss them with olive oil, salt, chili powder and pepper and place them directly over the couscous. OR for added flavor, give chickpeas a quick fry: drain, pat dry and sauté with olive oil for 3-4 minutes, then sprinkle with salt, pepper and a little chili powder or cumin, sautéing for just another minute. To keep them crispy, add them to the couscous after it comes out of the oven. Another option is to add cauliflower, the same preparation.
If subbing quinoa: Add 1 cup rinsed quinoa and 1 ¾ Cups water. Extend cooking time by 15-20 minutes.
Nutrition
Serving Size:
Calories:

499

Sugar:

11.9 g

Sodium:

819.5 mg

Fat:

11 g

Saturated Fat:

2.6 g

Carbohydrates:

61.6 g

Fiber:

6.9 g

Protein:

39 g

Cholesterol:

88.9 mg
Keywords: tagine, chicken tagine tagine recipe, moroccan chicken, moroccan chickpeas, tunisian chicken, Tunisian recipes, cous cous, cous cous recipes