Moroccan Carrot Salad with Pistachios and Mint- a simple delicious salad that is full of flavor and addicting crunch! Vegan and Gluten-free.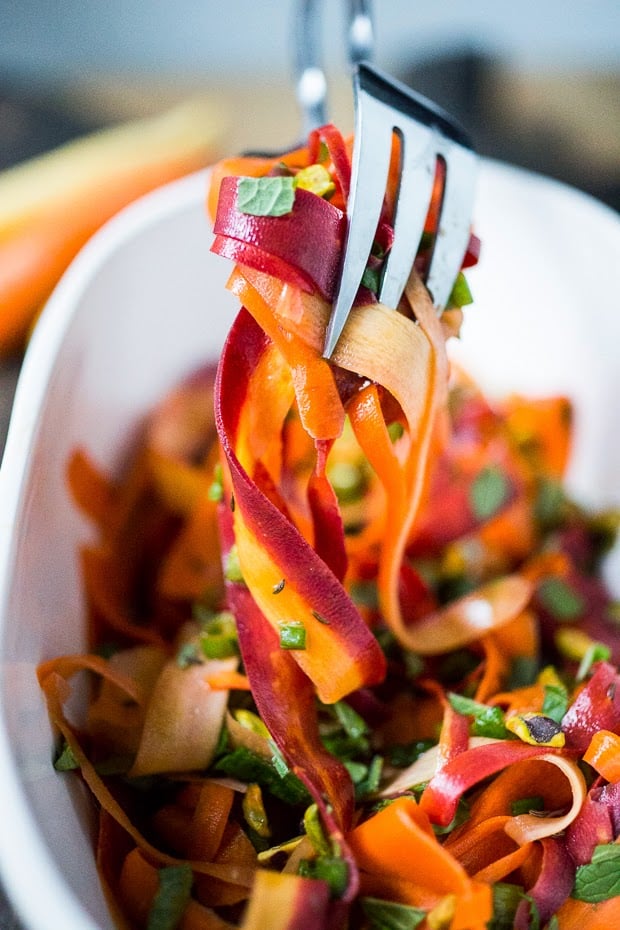 The secret of fortune is joy in our hands.~ Ralph Waldo Emerson
This simple Moroccan Carrot Salad is a joy to make. Shave colorful carrots into paper-thin ribbons, using a vegetable peeler. Let this be the one time today, that you don't rush. Think of each carrot as a precious little life. Honor them. Dress them with fragrant, floral pomegranate vinegar, a little olive oil, salt and pepper. Toss in fresh mint, crushed roasted pistachios and chopped scallions and chill until ready to serve. The vinaigrette tenderizes the carrots gently, while still leaving them a little crunchy. Vegan, raw, and gluten free – this salad is not only tasty, it's healthy and refreshing.
I got lost in the colors of these carrots today. It's so amazing how roots, grown in dark brown earth, can have such vibrant colors. One of the joys of being in the kitchen is experiencing the incredible beauty and essence of nature. And somehow, being here, paying attention to them for just a few moments at the end of the day, refreshes and restores, clearing my mind.
Why you'll love Moroccan Carrot Salad Recipe
Flavorful: This salad is bursting with flavors from the tangy pomegranate vinegar, fragrant mint, and roasted pistachios. The combination of sweet and savory elements creates a delicious and well-balanced taste.
Crunchy Texture: The thinly shaved carrot ribbons provide a satisfying crunch to every bite. The addition of crushed roasted pistachios adds an extra layer of crunch and nuttiness.
Health Benefits: Carrots are packed with essential nutrients like vitamins A, C, and K, as well as fiber. This salad is a great way to incorporate these nutrients into your diet, promoting overall health and well-being.
Vegan and Gluten-free: If you follow a vegan or gluten-free diet, this Moroccan Carrot Salad is a perfect choice. It is free from any animal products or gluten-containing ingredients, making it suitable for a variety of dietary preferences.
Easy to Make: With just a few simple steps, you can whip up this salad in no time. Whether you use a vegetable peeler or a mandolin, shaving the carrots is a breeze. The dressing comes together quickly, and you can customize it based on your taste preferences.
Refreshing and Light: The vibrant colors of the carrots and fresh mint make this salad visually appealing. The light and refreshing nature of the dish makes it perfect for spring or summer gatherings, or as a healthy side dish any time of the year.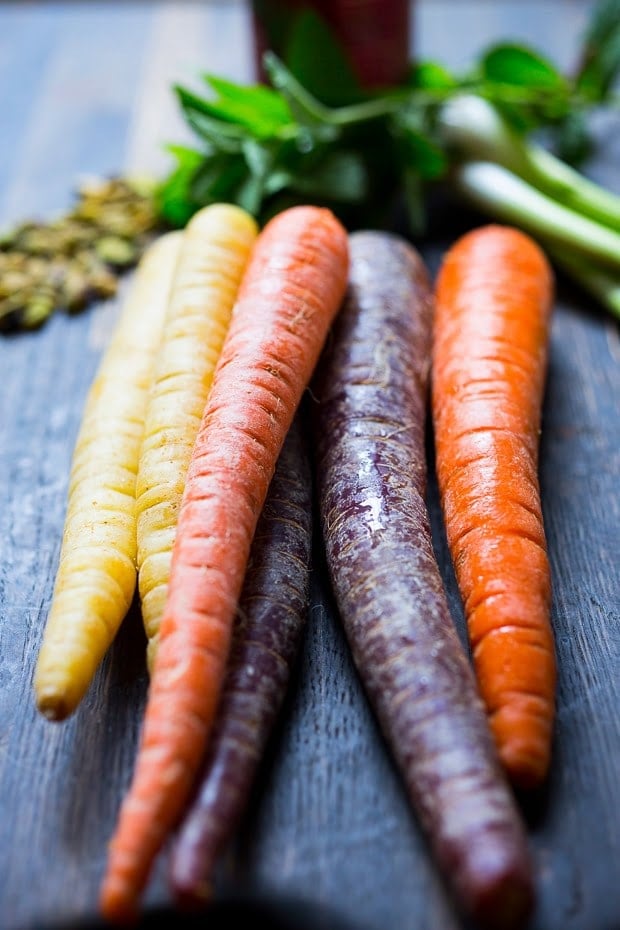 Moroccan Carrot Salad Recipe Ingredients
Colorful Carrots: Carrots are the star ingredient of this salad. They add a vibrant and sweet flavor as well as a crunchy texture. Choose a variety of colors!
Pomegranate Vinegar (or Red Wine Vinegar): Pomegranate vinegar or red wine vinegar is used to create a tangy and slightly sweet dressing for the salad. It adds a refreshing acidity to balance the carrots' natural sweetness.
Olive Oil: Extra Virgin Olive oil is a staple in Moroccan cuisine and it serves as the base for the salad dressing. It adds richness and a smooth texture to the salad.
Salt and Black Pepper: These common seasonings are used to enhance the overall taste of the salad. They provide a balanced and savory flavor.
Fresh Herbs: Fresh mint leaves ( or parsley or cilantro) are added to the salad to give it a burst of freshness and a hint of coolness. Mint complements the sweetness of the carrots and adds a pleasant herbal aroma.
Crushed Roasted Pistachios: Roasted pistachios add a delightful crunch and a nutty flavor to the salad. They also contribute to the visual appeal of the dish, providing a contrasting color to the carrots. Substitute with almonds or pecans.
Chopped Scallions: Scallions, also known as green onions, add a mild onion flavor and a touch of brightness to the salad. They bring a subtle savory element to balance the sweetness of the carrots.
Optional Additions: golden raisins, garlic
How to make it!
It starts with the ribbons! It's easy to make carrot ribbons using a simple veggie peeler. Or feel free to use a mandolin, or grate carrots using a box grater, or food processor with the grater attachment.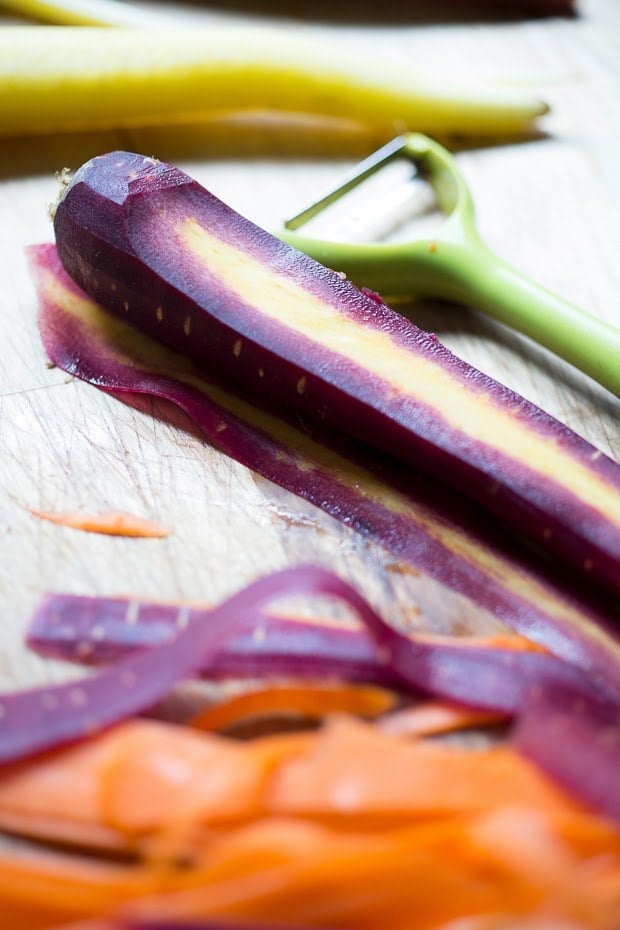 Shave the the carrots and place into a large bowl.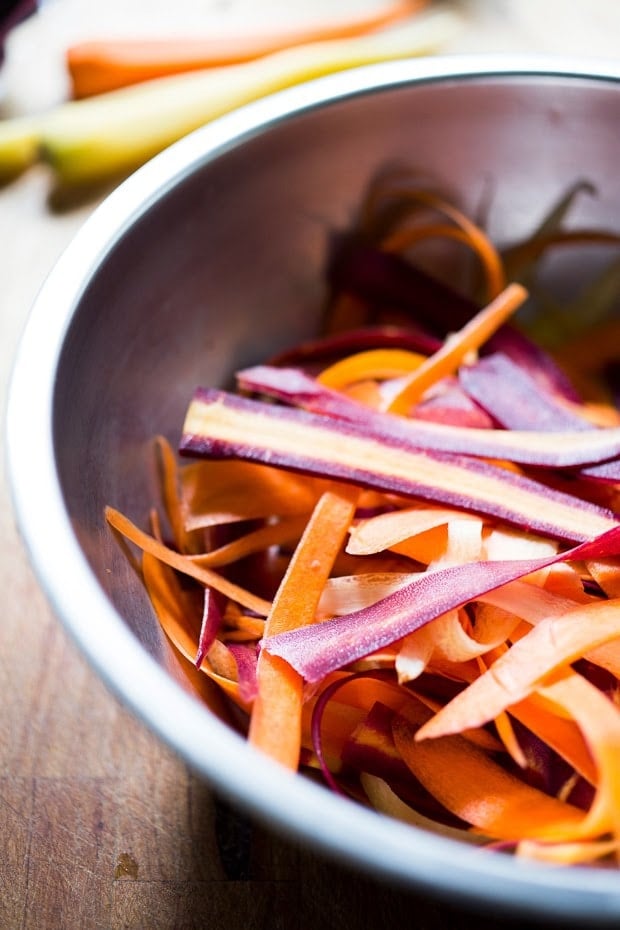 If you can't find pomegranate vinegar, use red wine vinegar and sweeten with a little honey or maple syrup.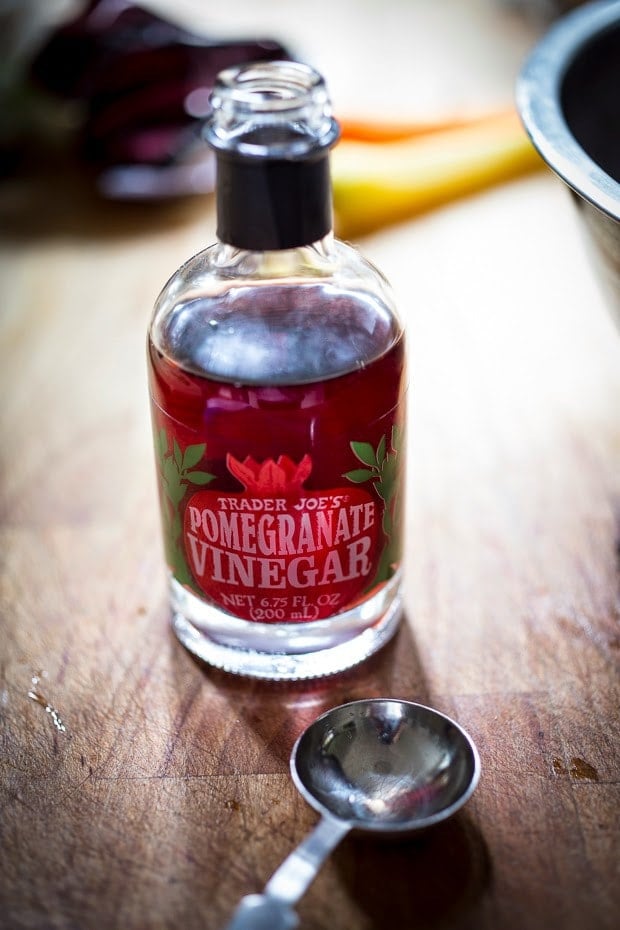 Fresh herbs gives this delicious flavor- really love mint here, so very Moroccan!
Once the Moroccan Carrot Salad is tossed in the simple dressing, chill in the fridge until ready to serve. The leftovers will keep up to three days in the refrigerator in an airtight container.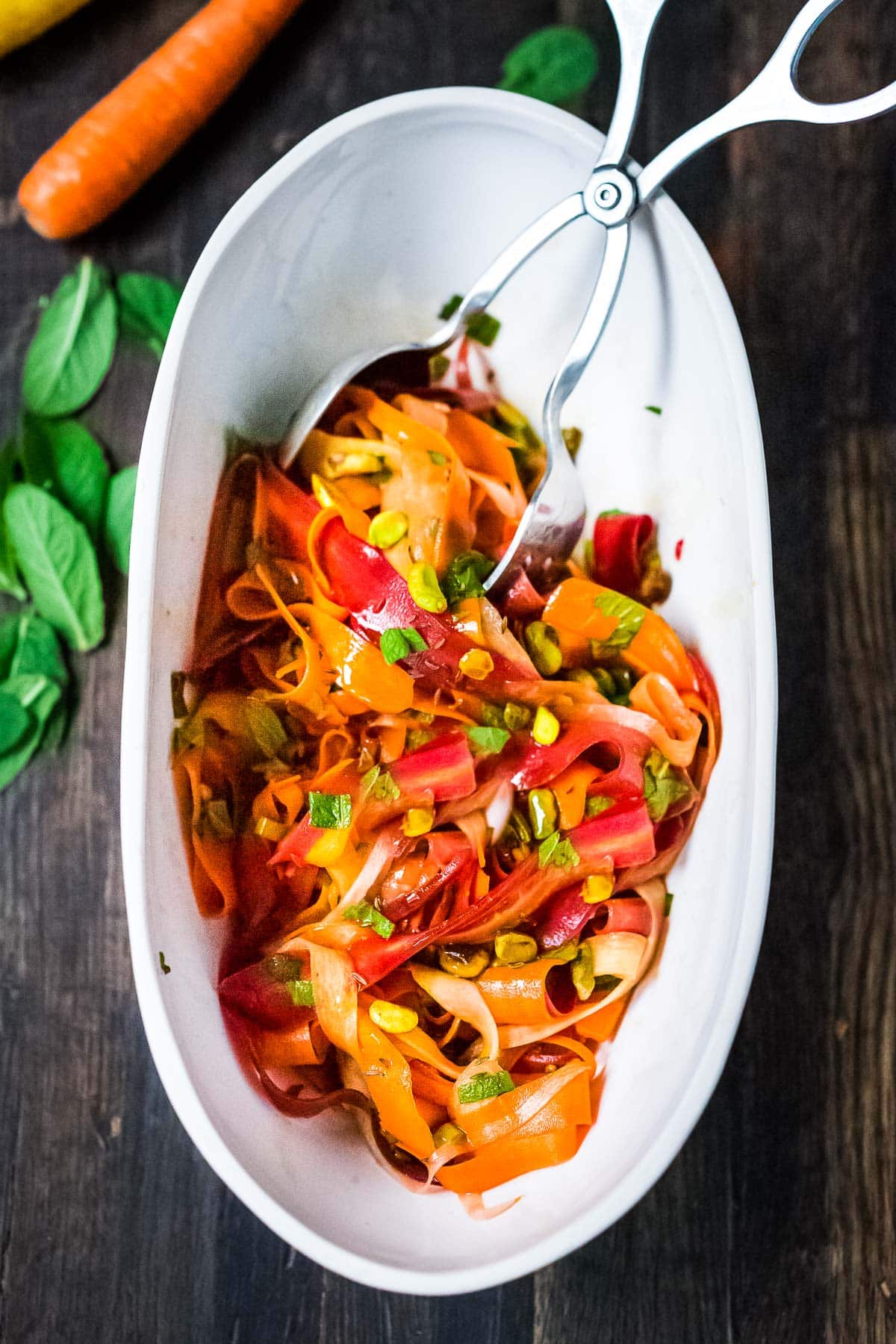 So pretty and delicious!
Health Benefits of Carrots
Carrots are not only delicious, but they also offer a range of health benefits. Here are some of the key health benefits of carrots and why we use have so many carrot recipes on the blog!
Rich in nutrients: Carrots are packed with essential nutrients such as vitamins A, C, and K, as well as potassium and fiber. These nutrients are important for maintaining overall health and well-being.
Promote eye health: Carrots are well-known for their contribution to eye health. They are an excellent source of beta-carotene, which the body converts into vitamin A. Vitamin A is essential for good vision and may help prevent conditions like night blindness and age-related macular degeneration.
Support immune function: The high levels of antioxidants and vitamin C found in carrots can help boost the immune system. A strong immune system is crucial for fighting off infections and diseases.
Promote heart health: Carrots contain antioxidants and fiber, which are beneficial for heart health. Studies have suggested that regular carrot consumption may help reduce the risk of heart disease by lowering cholesterol levels and improving blood pressure.
Aid in digestion: Due to their high fiber content, carrots can promote healthy digestion. Fiber helps regulate bowel movements, prevents constipation, and supports a healthy gut.
Support skin health: The antioxidants in carrots can help protect the skin from damage caused by free radicals, keeping it healthy and radiant. Additionally, the vitamin A in carrots plays a role in maintaining the skin's overall health and reducing the risk of skin conditions.
Promote weight management: Carrots are low in calories and high in fiber, making them an excellent choice for weight management. The fiber in carrots helps promote feelings of fullness, reducing the likelihood of overeating.
Supports oral health: Chewing carrots stimulates saliva production, which helps maintain oral health. Additionally, the natural abrasiveness of carrots can help remove plaque and food particles from teeth.
This Moroccan Carrot Salad is a such delightful combination of flavors, textures, and health benefits! It's a versatile dish that can be enjoyed as a side dish, snack, or as part of a larger Moroccan-themed spread.
xo
More recipes you'll love!
Print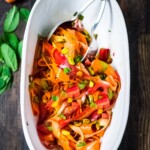 Moroccan Carrot Salad
Prep Time:

20 mins

Total Time:

20 minutes

Yield:

4

1

x

Category:

Salad, side dish,

Method:

tossed

Cuisine:

Moroccan

Diet:

Vegan
---
Description
Moroccan Carrot Salad with pistachios and mint in a pomegranate vinaigrette dressing- a simple delicious  salad that is full of flavor!
---
1

lb

peeled carrots (multi-colored are very pretty, but orange are fine too.)

3 tablespoons

pomegranate vinegar ( or substitute

2 tablespoons

red wine vinegar)

2 tablespoons

olive oil

1/2 teaspoon

salt
Cracked black pepper

1 tsp

sugar or honey

1/4

cup

chopped pistachios ( or toasted almonds)

1/4

cup

chopped fresh mint (or parsley or cilantro)

1/4

cup

chopped chives or scallions
Optional: 1/4 cup golden raisins, sprinkling of toasted Caraway Seeds or Cumin Seeds
---
Instructions
Peel the carrots. Using a vegetable peeler, shave each carrot into long paper thin strips.
Place carrot shavings into a medium bowl.
Add the rest of the ingredients and toss well to coat. Taste and adjust sugar and salt to taste.
Chill until ready to serve.
---
Notes
Salad will keep up to 3 days in the fridge.
Nutrition
Serving Size:

1 cup

Calories:

158

Sugar:

7.1 g

Sodium:

369.8 mg

Fat:

10.8 g

Saturated Fat:

1.5 g

Carbohydrates:

14.6 g

Fiber:

4.2 g

Protein:

2.8 g

Cholesterol:

0 mg
Keywords: moroccan carrot salad, moroccan salad, carrot salad, carrot ribbon salad,