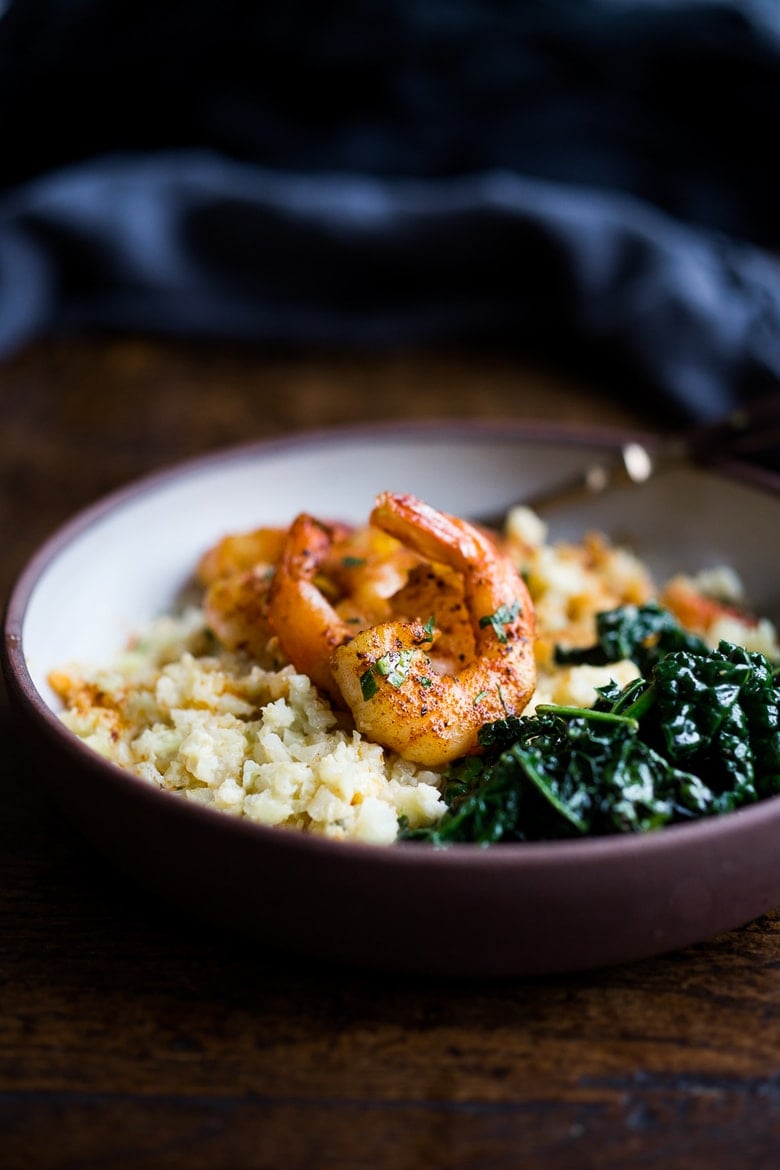 Here's an easy delicious dinner friends, perfect for weeknights, or special enough for Valentines Day. Portuguese Prawns and Cauliflower Grits with Garlicy Kale. This is vegan adaptable and can be kept light and lean if you are eating clean, or the cauliflower grits can be enriched with a little butter and cheese – the way my husband prefers his, a decadent meal for him, while I keep mine little lighter. We both end up happy.
The shrimp or tofu are seasoned with smoked paprika and peri peri chili flakes (or cayenne) and the smoky spicy flavors together with the garlicy grits is divine. Wilted kale is a quick and easy side. The best thing is how fast this comes together. Cauliflower "Rice" can be found already packaged up at Trader Joes and other upscale markets in the produce section, or simply take raw cauliflower florets and pulse them to size of grits or rice in a food processor. Once this step is done, they cook up quickly.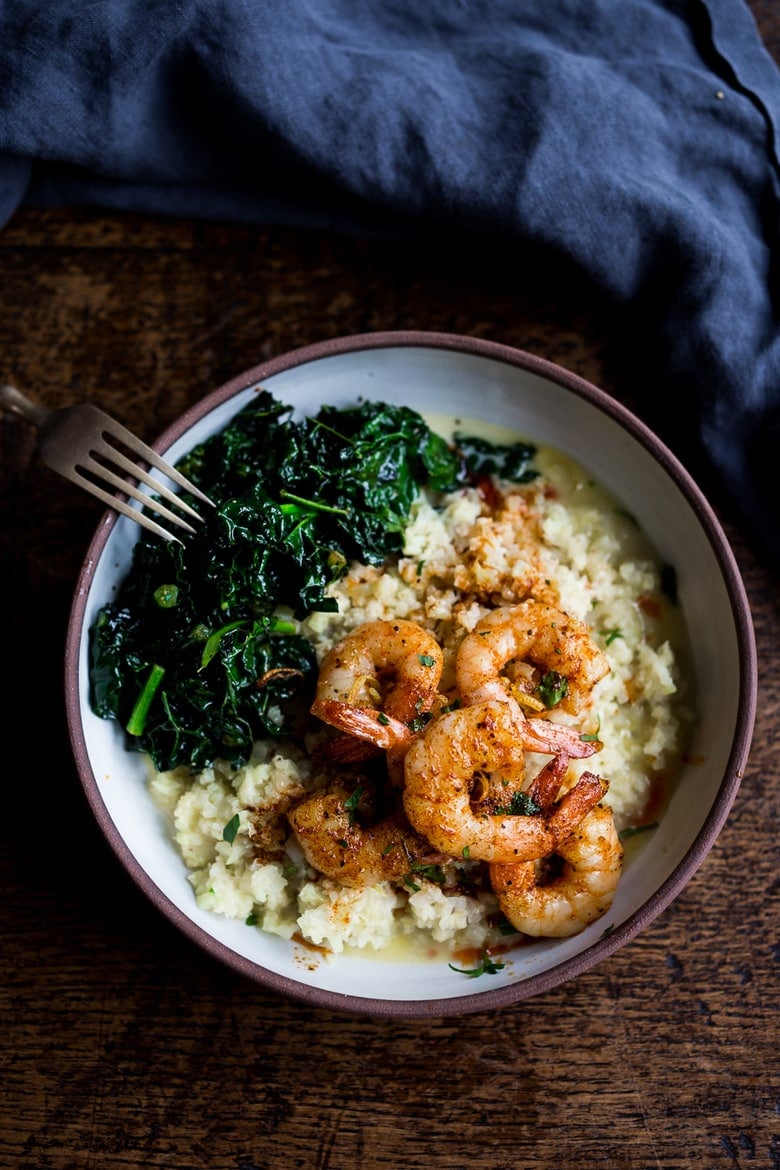 To make the Garlicy kale, heat olive oil in a skillet, smash a few cloves of garlic and adding them to the oil. The oil will become infused with the delicious flavor and scent. Add the kale and gently wilt, seasoning with salt and pepper.  So simple and quick.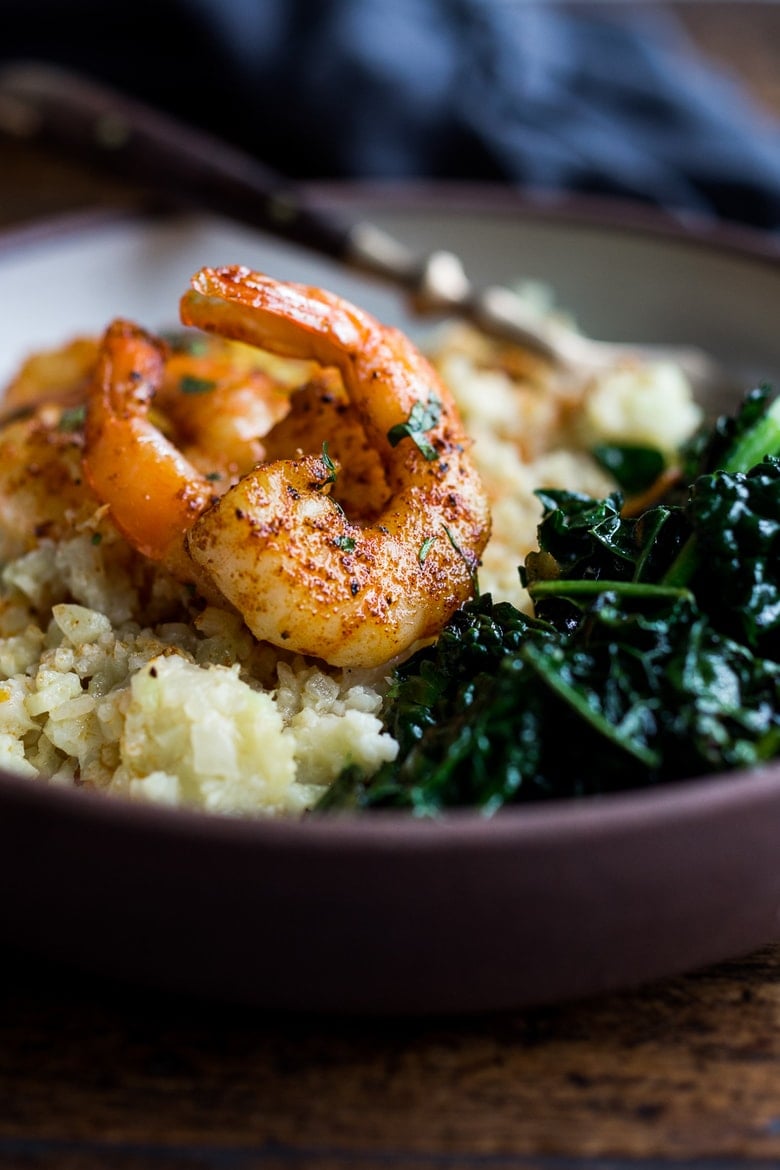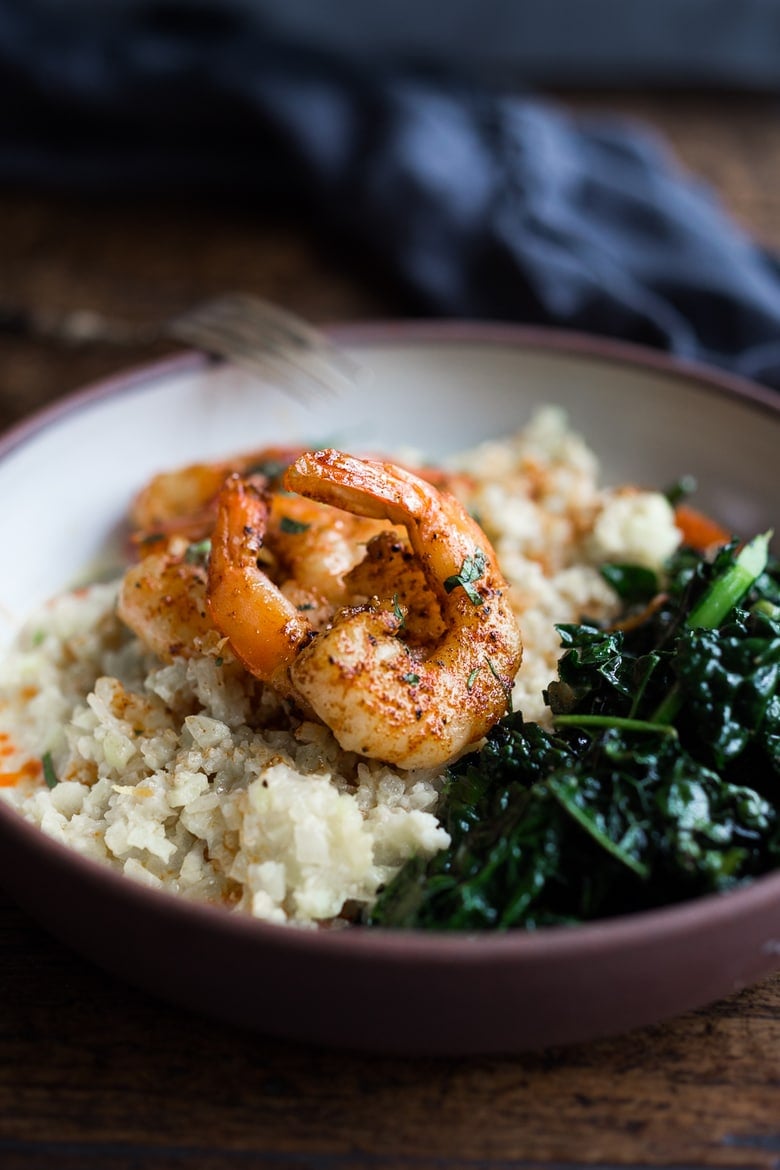 On the home front, we left the cold and snow of the Pacific Northwest and drove down to California to find some sun. We landed in Santa Barbara and stayed for a week, then came to my old stopping ground, Santa Monica. Each day we've walked, biked, hiked and skated – getting outside as much as possible. All I can say is … it's been like medicine, recharging the batteries.
Anyways, thanks for being here, thanks for all your emails and comments, always appreciated.
Love~
s.
Print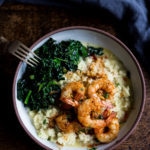 Portuguese Prawns (or Tofu) and Cauliflower "Grits"
Prep Time:

10 mins

Cook Time:

20 mins

Total Time:

30 mins

Yield:

2

1

x

Category:

Main

Cuisine:

Vegan Adaptable, Gluten Free, Grain Free
---
Description
A tasty and main course of Portuguese Prawns ( or tofu) served over Cauliflower "Grits"- with Garlicy kale – vegan adaptable, great flavor.
---
Garlicy Kale

1 tablespoon

olive oil

1

–

2

garlic clove-smashaed

2

–

3

handfuls chopped kale ( tuscan or lacinato)
salt and pepper
Cauliflower GRITS

1 tablespoon

olive oil

2

–

3

cloves garlic -minced

3 cups

cauliflower "grits" – see notes

1/4 teaspoon

salt, more to taste
pepper to taste
Optional additions – butter, milk, cream, cheese- romano, cheddar, parmesan ( or keep it vegan)
——

8

–

10

large raw prawns- peeled and deveined, patted dry. Or use cubed tofu (pressed & patted dry)

1

–

2

tablespoons olive oil
salt and pepper

½ teaspoon

smoked paprika
generous pinch peri peri pepper or cayenne ( optional)

1 teaspoon

lemon zest
---
Instructions
Heat oil in a skillet over medium high heat. Add smashed garlic cloves and swirl until fragrant and the oil is infused, about 1-2 minutes. Season the oil with generous pinch of salt and pepper. Add Kale, and stir and toss until wilted, about 2-3 minutes. Divide among two bowls.
In the same pan add another tablespoon olive oil. Turn heat down to medium. Add minced garlic and stir until fragrant, about 1 minute. Add the cauliflower "grits", salt and pepper. Cook for 4-5 minutes until cauliflower is tender but still al-dente.
At this point you could make this creamy by adding a generous pat of butter, a splash of cream or milk and a ¼-⅓ cup of cheese. Or you can leave as is and keep it light, lean and vegan. I keep my portion lean, dividing it out into a bowl, and then add to the remaining -butter, milk and cheese for my husband.
Divide the grits among the two bowls.
Wipe out the same pan, add 1-2 tablespoons olive oil and heat over medium-high heat. Season oil with salt and pepper. Add shrimp (make sure to pat dry first) or tofu cubes. Sear both sides quickly- Shrimp is done when lightly pink and a "C" shape. If the Shrimp turns into an "O" Shape, most likely it will be over-cooked. Tofu will take longer to get crispy. Once close to being done, sprinkle with smoked paprika ( or optional peri peri or cayenne) and lemon zest. Spooning the oil over top so the smoked paprika and lemon infuses the oil as well. Divide the shrimp or tofu among the bowls, spoon a little of the flavorful oil over top of the shrimp and "grits" and serve with the wilted kale along side.
Notes: Cauliflower "Rice" can be found in some upscale markets like Trader Joes in the produce section. If you can't find it make your own by placing cauliflower florets in a food processor and pulse repeatedly until its the size of rice grains, or grits.
You can keep the grits vegan by simply seasoning with olive oil, garlic, salt and pepper. Alternatively, add a couple tablespoons butter, romano cheese or parmesan, and a splash of cream for a more decadent approach. If you want some vegan, just separate it out before adding the butter and cheese.
---