This Vegan Fajita Bowl with Cauliflower Rice– is loaded up with portobellos & healthy veggies that are lathered in flavorful Mexican Marinade and served over a cauliflower "rice". The best thing? You can cook it all on a Sheet pan! A filling, low-calorie meal that is vegan, low carb, & gluten-free and only takes 15 minutes of hands-on time! Keep it vegan or add chicken!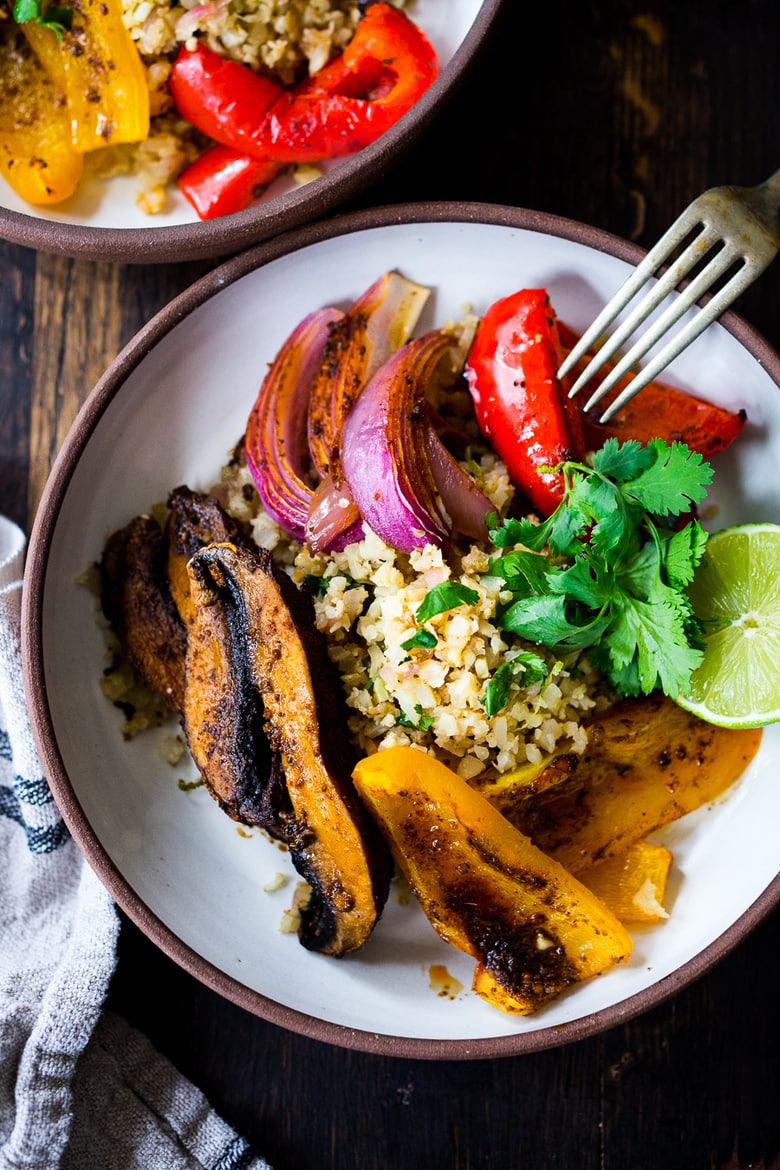 Keep some room in your heart for the unimaginable. ~Mary Oliver~
This Sheet-Pan, Vegan Fajita Bowl with Cilantro Cauliflower Rice is low-carb and gluten-free and takes only a few minutes of hands-on time before going into the oven to bake. The veggies are roasted on a sheet pan, or during the warmer months, grilled for extra flavor.
Add chicken for meat-eaters or if you wish, keep it all vegan.
Up to you. Lots of choices here friends. What I love about this Sheet Pan Dinner is how quick and easy it is to put together and how fast it is to clean up – the very best part! For more easy Sheet Pan Dinners….go here!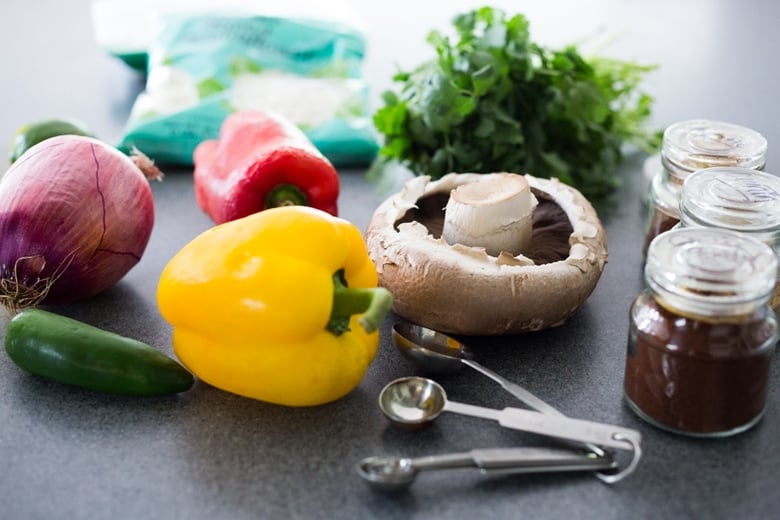 On the home-front: In case you missed it, we are "downsizing". We sold our house. We got rid of a ton of "stuff". We moved. We now live in our much rental smaller house. And we still have too much stuff.
Every day, I shed a little more and each time it feels better and better. Do I need this item? Do I use it? Does it add value to my life or bring me joy? (inspired by the Minimalist's podcast, book and documentary). If not, out it goes.
My pantry is still a huge problem. I hate waste, so I hang on to old things. Very old things. The thought of something like split peas, not fulfilling their purpose in this life (like becoming delicious soup) seriously troubles me. So I end up with 15-year-old split peas. And then feel guilty about it. I have issues here clearly!
But through this whole process, my issues are at least getting clearer. When did it become my job to make sure something or someone other than myself was fulfilling their purpose? Too early to remember.
As I examine my attachment to "things", I begin to examine the thoughts surrounding these things. As understanding arrises, I am able to shed the thoughts themselves. And this shedding of old conditioned thoughts and ideas, has been the golden nugget in this whole process. The key for me.
My mantra lately has been – let go of the things in my life that no longer bring the delight they once did, and make space for what does. Let go of ideas and believes I had about how my life "should be", and make space for what "could be".
Perhaps what is possible, is still unimaginable…
If thinking about downsizing, and interested in our downsizing journey (how we are simplifying our life so we can work less and have more time) go back to this post and catch up.
Bake to the Vegan Fajita Bowls! It starts with fresh veggies. Bell peppers, onions, portobellos. Feel Free to add others! Zucchini or tomatoes would be good.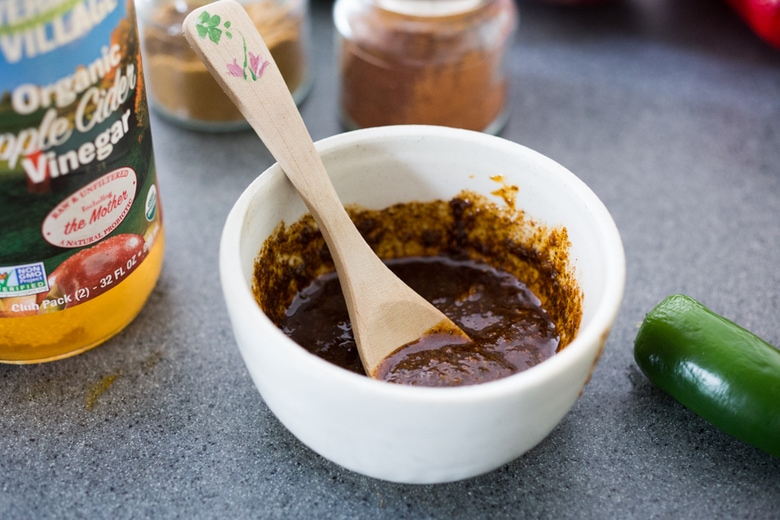 Stir up the flavorful marinade in a small bowl with a fork.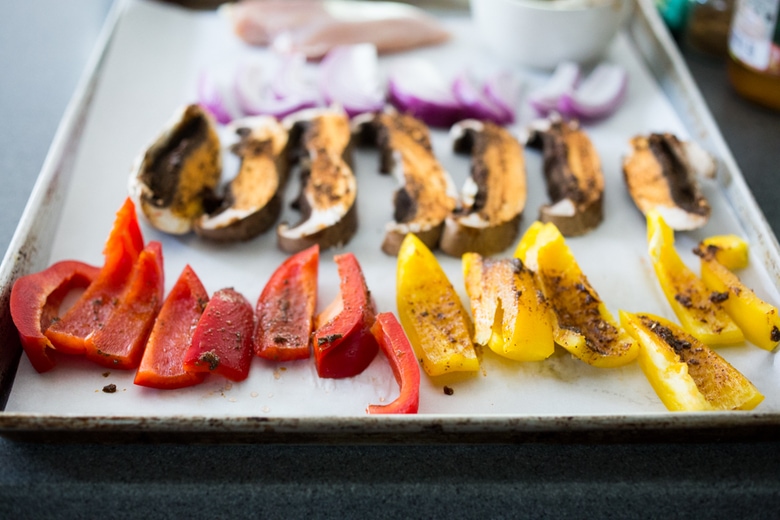 Lightly brush onto the veggies and optional chicken, and place in a 425F oven, until roasted, about 25-30 minutes.
In the summer, fire up the grill.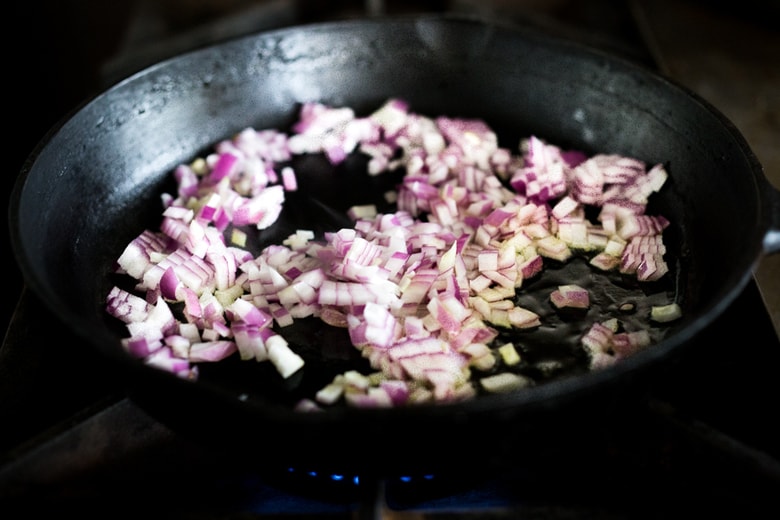 While the veggies are roasting or grilling make the Cilantro Lime Cauliflower Rice.
Now, of course, you can use regular rice, brown rice or quinoa. You can also skip the grains altogether and fold the roasted veggies into warm tortillas, or serve over seasoned beans. Your call.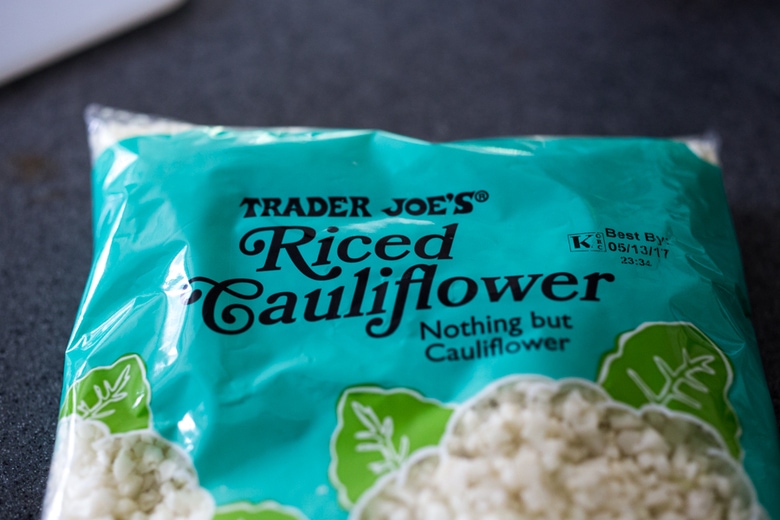 Here is a product that I use out of simplicity and ease. Cauliflower that is already chopped up and prepped. You can also make this in a food processor by pulsing cauliflower florets repeatedly until coarsely ground like you see here.
What I love about cauliflower rice is it's quite filling while remaining low in calories. It's also really good for you, packed with healthy antioxidants.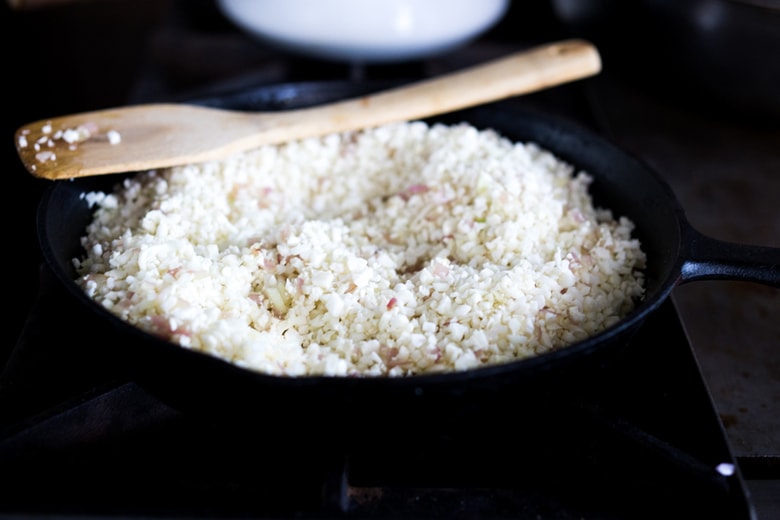 Saute the cauliflower rice with the onions.
Season with salt, coriander, lime juice and zest.
Top with cilantro.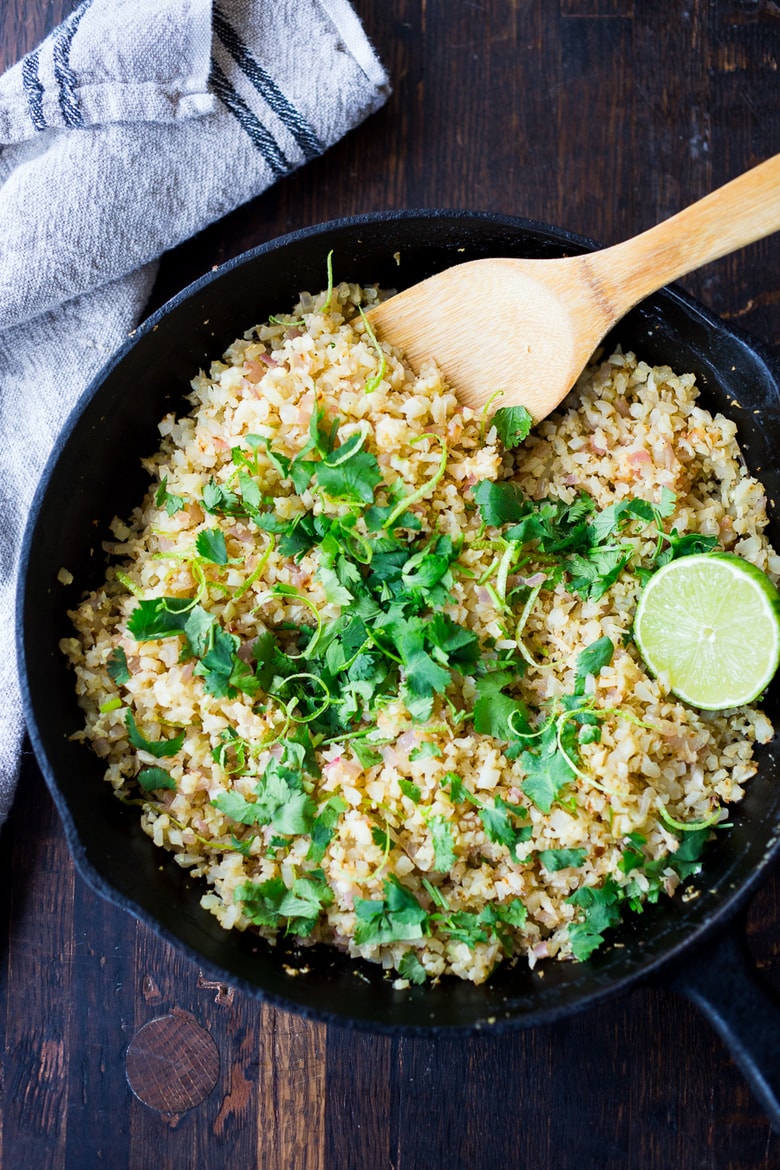 Once the veggies are done, assemble the bowls using the Cilantro Cauliflower Rice as the base.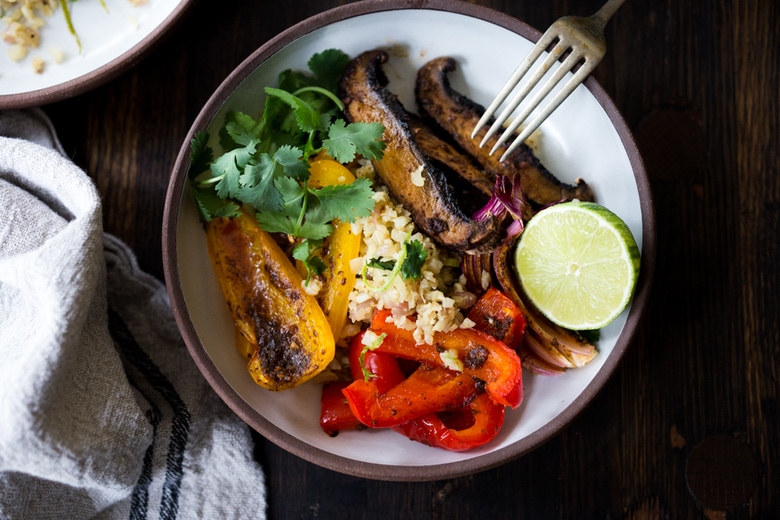 Feel free to add chicken or beans.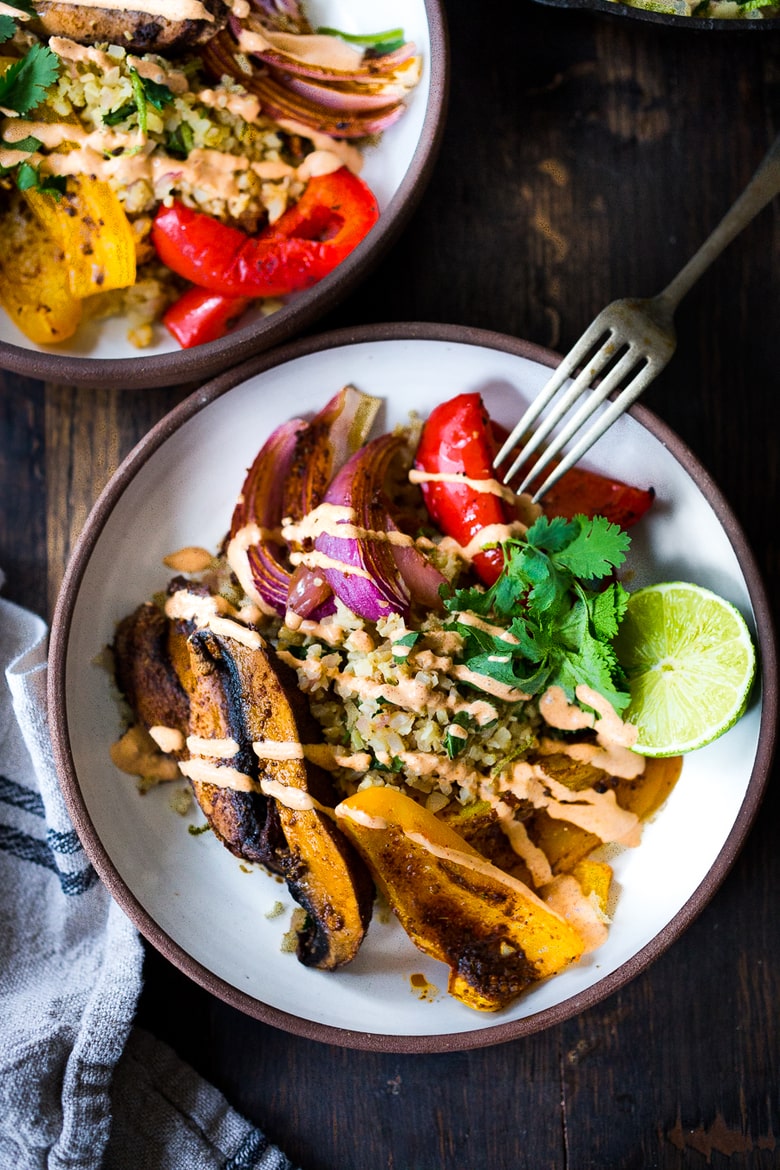 How easy is that?
OH! And the leftovers make a really nice breakfast, with a fried or sunny side egg over top.
For an extra burst of flavor make this smoky Chipotle Mayo ( it's GF and vegan adaptable) and it's a good thing to have on hand – I keep a squirt bottle of it in the fridge for flavor emergencies and it keeps for weeks!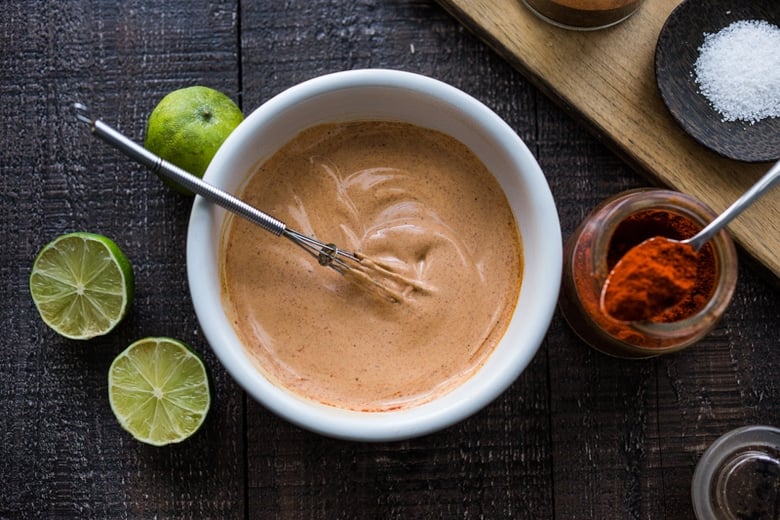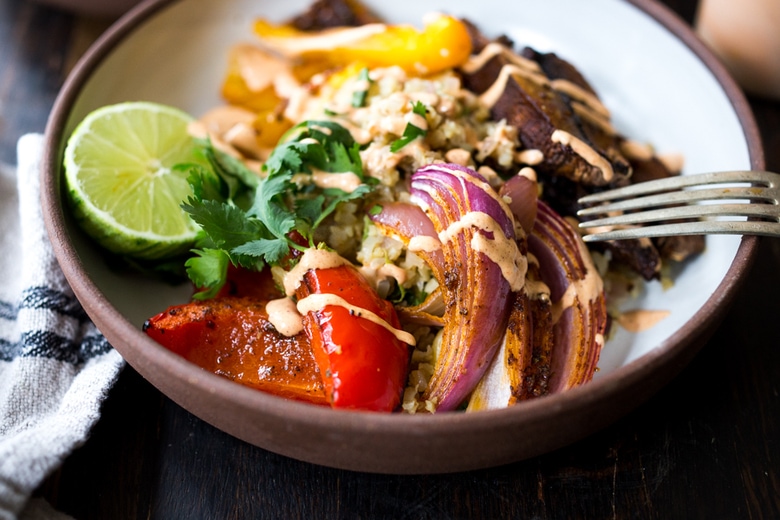 Drizzle the smoky sauce over the bowl for an added burst of flavor and enjoy!!!
More Recipes you may like!
Print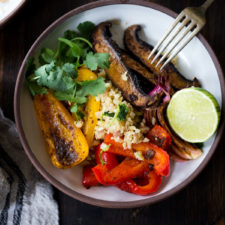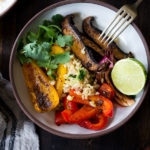 Vegan Fajita Bowl with Cilantro Cauliflower Rice
Author:

Sylvia Fountaine

Prep Time:

10

Cook Time:

25

Total Time:

35 minutes

Yield:

4

Category:

vegan, main, sheet pan dinner, gluten-free

Method:

sheet pan dinner

Cuisine:

mexican
---
Description
Sheet-Pan Vegan Fajita Bowl with Cauliflower Rice– a fast weeknight meal that is vegan and gluten free. Or feel free to add chicken!
---
Marinade:
Fajitas:
2

bell peppers

½

red onion

2

large portobello mushrooms ( or sub chicken breasts)
Cilantro Lime Cauliflower Rice
---
Instructions
Preheat oven to 425F
Mix the marinade ingredients together with a fork in a small bowl.
Cut the bell peppers and portobellos into 1 inch thick slices. Cut the onions into ½ inch thick wedges. ( if using chicken, leave it whole)   Place on a parchment or foil lined baking sheet, not overlapping.  Brush with the marinade.
Roast in the oven 25-35 minutes, checking after 20 and giving a a quick toss if edges seem dark.
While this is roasting, make the Cilantro Cauliflower Rice.
Heat oil in a large skillet over medium heat. Add onion, and saute 3-4 more minutes until tender and fragrant. Add riced cauliflower and salt. Saute over medium heat about 10 minutes, stirring often.
Add coriander, zest and lime juice. Adjust salt and lime. Turn heat off until ready to serve. Garnish with cilantro.
---
Notes
If adding chicken, brush with the remaining marinade and bake along side the veggies.
You can also roast the cauliflower rice in the oven on a sheet pan. Use the same ingredients, but add the lime juice and cilantro after its cooked.
Keywords: sheet pan fajitas, vegan fajita bowls, cauliflower rice, vegan sheet pan dinner, vegan fajita recipe, vegan fajitas
SaveSave
SaveSave
SaveSave
SaveSave
SaveSave
SaveSave
SaveSave
SaveSave