Introducing Salsa Macha! A flavorful Mexican condiment made with dried chilies, pumpkin seeds and sesame seeds – used to flavor this Mexican Sheet Pan Dinner, that can be made with chicken or tofu, to create your own "Salsa Mocha Bowls"! Vegan and GF adaptable, super flavorful!!!
The quieting of the mind is a political act.
(Jack Kornfield, The Wise Heart – page 358)
I'm so excited about this recipe for Salsa Macha! Last week while visiting the little town of San Pancho (in Mexico) I stumbled upon it at the local farmers market- and it was something I've never seen before… Salsa Macha!
It literally blew my mind, it was that good! After asking a million questions to the sweet woman who made it, I took a few notes, bought a few jars, and couldn't wait to replicate it and share it with you.
Such a flavor bomb- but not in an overly spicy kind of way. This has subtle heat, but with depth and complexity….so tasty! Today I'll show you how to make Salsa Macha and then, with this we can create this delicious Salsa Macha Bowl! The bowl can be made with chicken or tofu.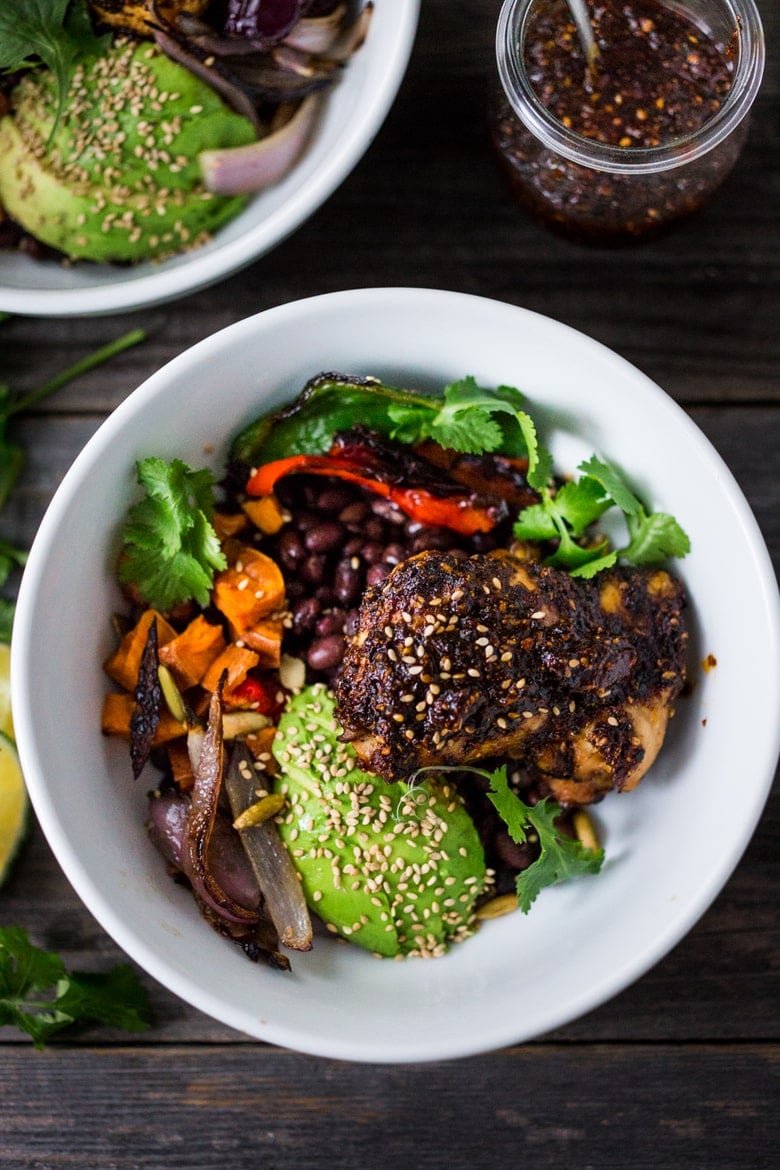 What is Salsa Macha?
Salsa Macha is a Mexican condiment, made with dried chilies, nuts, seeds, and olive oil. Flavorful, yet not overly spicy – it can be used in so many different ways – as a marinade for meats and tofu, a flavorful sauce, a flavor booster for soups, eggs or roasted veggies or a condiment for tacos and grilled meats.
Best of all it's very quick and easy to make and the mild dried chilies, called Guajillo Chili Peppers, can be found in mainstream grocery stores. Yay!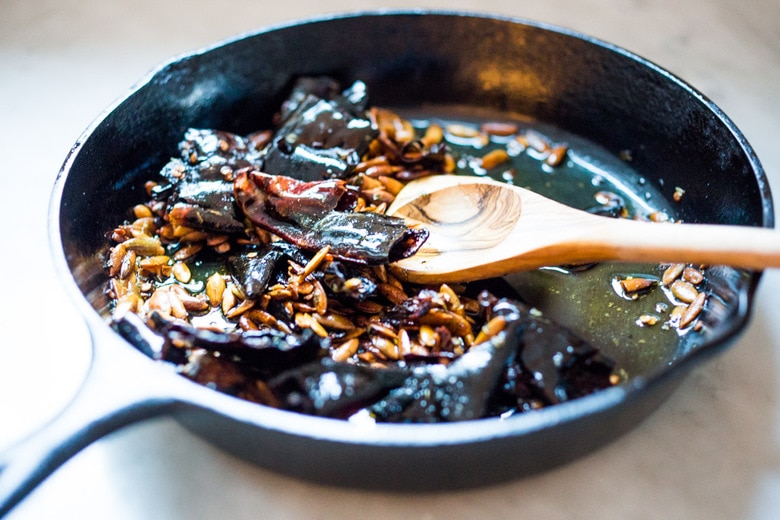 Salsa Macha Ingredients:
raw nuts or seeds- pumpkin seeds, sunflower seeds, peanuts or almonds
garlic cloves
shallot
Dried Guajillo Peppers -or sub other dried mild to medium peppers.
vinegar
toasted sesame seeds ( optional)
How to make Salsa Macha!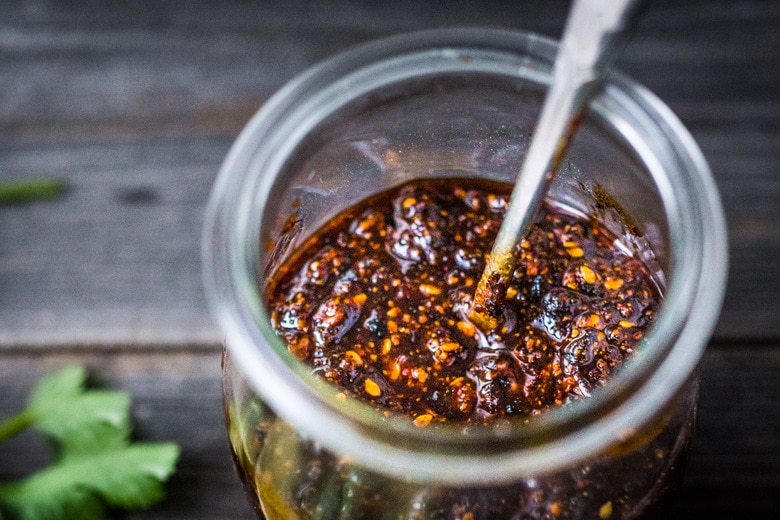 How to USE/SERVE Salsa Macha:
use in tacos, over quesadillas, or burritos as a condiment
swirl into soups
use in Buddha Bowls
drizzle over eggs
spoon over roasted veggies
use as you would hot sauce or salsa!
use as a marinde!!!
Here, I'll show you how to use Salsa Macha in Mexican-Style Bowls that can be made on a sheet-pan with chicken or tofu. Today I've used both, for Brian and I.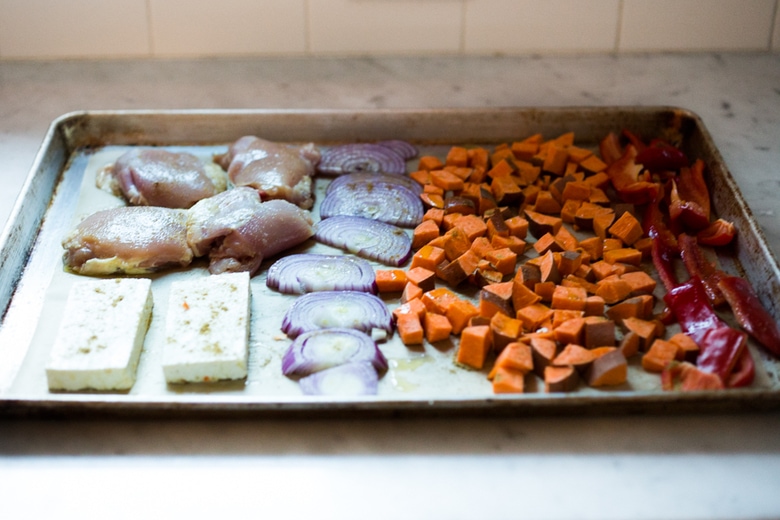 In this simple sheet-pan recipe, chicken or tofu (or both) are baked alongside yams, bell peppers and onions. Make enough to feed your whole family or make one serving, up to you! While it's baking, whip up the flavorful Salsa Macha.
Serve on its own, or for heartier appetites, over brown rice, cauliflower rice, seasoned black beans, or greens with avocado, lime, and cilantro. Spoon a little Salsa Macha over top and sprinkle with sesame seeds.
A delicious, adaptable, healthy bowl that even your kids will like. (Remember this is not overly spicy!)
The BEST THING – leftovers can be heated up and repurposed into delicious tacos the next day. Store the Salsa Macha in an airtight jar in the fridge, with a ¼ inch layer of olive oil over the top and it will keep for several months.
NOTE: you can also bake the tofu or chicken right in the Salsa Macho, using it as a marinade- but to save time here, I am having you make the salsa while the chicken is baking (instead of before). Feel free to make it ahead, or make it during the baking time… spooning it on during the last few minutes of baking or just spoon it over the bowl. It's great either way.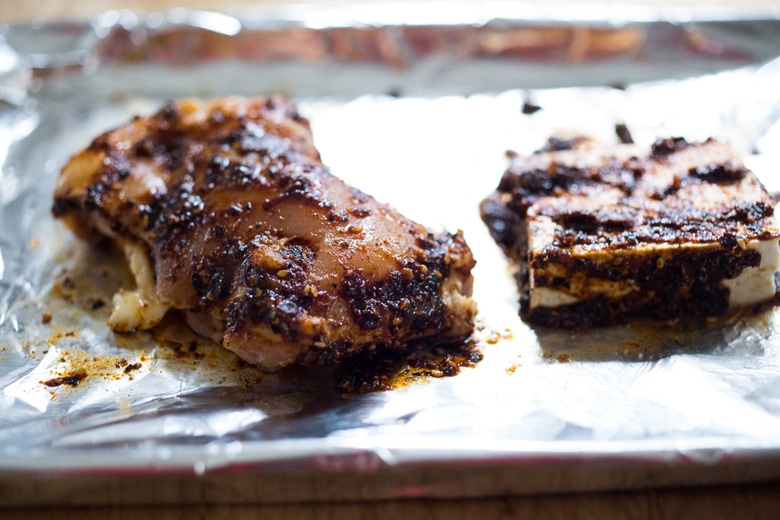 Here below the bowl is made with Tofu.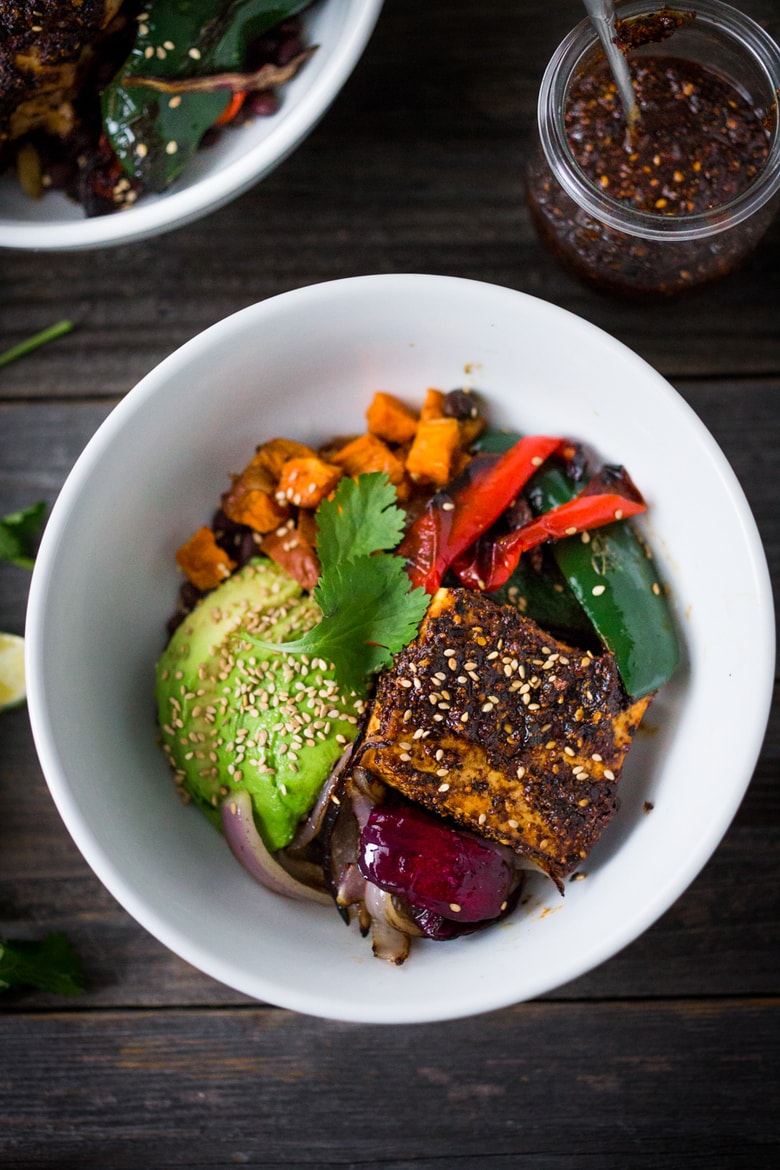 And here it is with Chicken! Remember to save any leftovers and reheat them for tacos the next day. So good!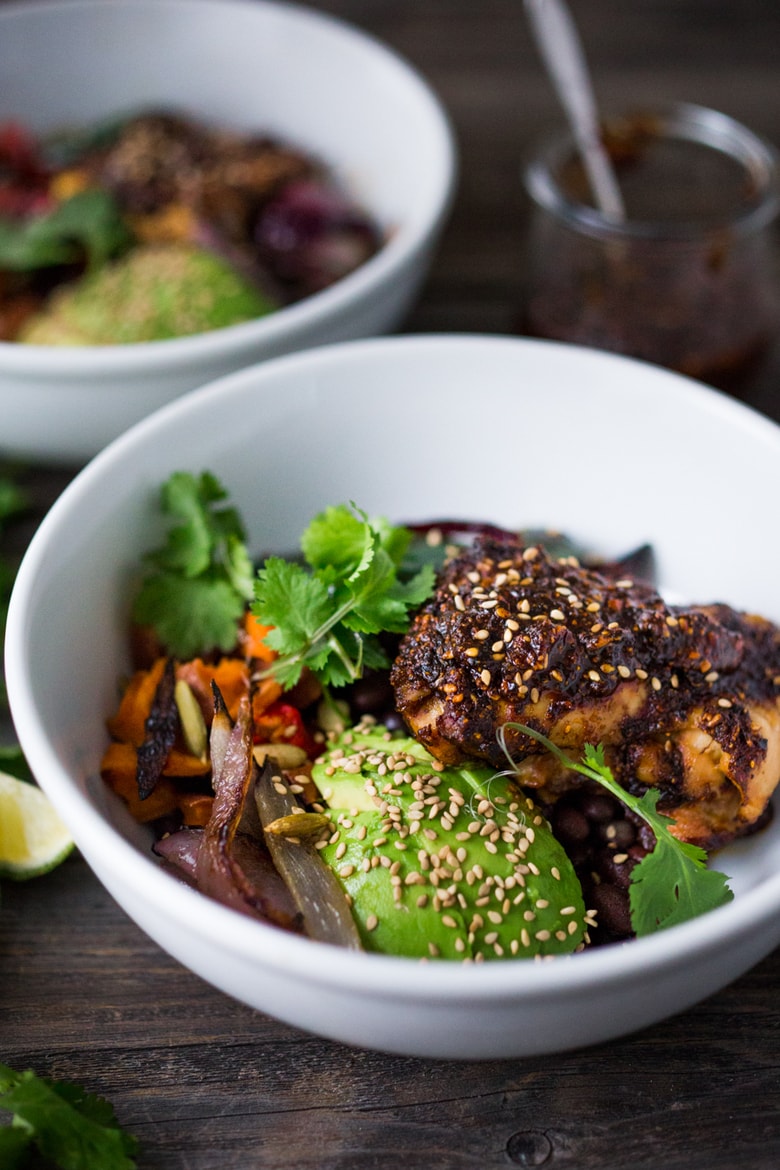 On the Homefront: While in Mexico, I got a year older. It was on the same day as the women's march that happened around the country. Even in this tiny town, women gathered together and walked through the streets, smiling, proud, together. I was moved. I felt the powerful loving energy that flows when women unite.
Throughout history, women's powerful loving energy has often been squashed by religion or culture. How threatening this must feel. But, it is my belief (and honestly, these days, I have few) that this loving heart energy we woman tend to foster is what is needed to unite and heal the whole world.
Look at cultures where women have very little power (like the Middle East) look at the chaos, the unbalance, the discord, the suffering. I often wonder, what would happen if women had a more balanced measure of power. I can't help but feel that forgiveness, reconciliation and peace would inevitably follow. But what do I know…
I do know this- it is a fearful mind that drives us to build walls, keep ourselves safe, and separate us from others. It is the loving open heart that shows us how similar we are, and connects us. I see this daily in my own marriage. My thoughts talk me out of loving, my heart facilitates it.
Shifting from my head to my heart has become my daily practice. I don't always succeed, but I try.
Hope you are having a great week. Hope you give this Salsa matcha recipe a try….it is AWESOME!!!
xo
Print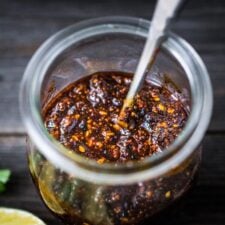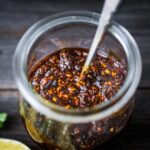 Salsa Macha Recipe ( and Bowls)
Prep Time:

30 mins

Cook Time:

30 mins

Total Time:

1 hour

Yield:

2

Category:

Main

Method:

baked

Cuisine:

Mexican
---
Description
An authentic recipe for Salsa Macha – mexican condiment (oil and vinegar-based, dried chili "salsa")  and how to create falvorful Mexican-style Salsa Macha Bowl, with chicken (or tofu), roasted sweet potato, bell peppers, and optional black beans and rice.
---
SALSA MACHA RECIPE : 
SALSA MACHA BOWLS:
1

medium yam-diced into

½

inch thick cubes

1

red bell pepper- sliced into 1 inch thick wedges ( or use poblano peppers)

½

red onion- into

½

inch thick half moons

2

boneless chicken breasts or thighs, or use tofu filets
Optional Bowl Bases- Seasoned Black Beans, Black Rice, Cooked Rice, Cauliflower Rice, Greens
Bowl Toppings- avocado, sprouts, cilantro, lime, sesame seeds
---
Instructions
Salsa Macha: (see notes)
Discard stems and seeds from chilies and break them into smaller one inch pieces.
In a large skillet add the oil and heat it over medium high heat. Add garlic, shallot and nuts, and stir until golden, about 4-5 minutes.
Turn heat to low, add crushed chilies, stirring for 2-3 minutes. Turn heat off and cool 5-10 minutes. Add salt and vinegar and coriander.
Place all in food processor (or blender) and blend until well combined, but not overly smooth. Taste for spice and add chipotle powder to taste. I added about 1 teaspoon, but start conservatively. You can also add canned chipotle peppers to taste or the adobo sauce they come in, for a nice smokiness.
Pour into a jar, and stir in toasted sesame seeds.
To store: cover with a layer of olive oil before storing the jar in the fridge. This will last 3-4 weeks in the fridge.
To make the BOWLS
Pre heat oven to 425F
Place prepped yams, onions and peppers on a parchement-lined sheet pan.
Place chicken or tofu on the side of the sheet pan.
Drizzle with oil, gently tossing veggies, then chicken and tofu. Sprinkle with salt, pepper and cumin.
Bake in the middle of the oven for 25-30 minutes. Check doneness, and continue cooking if need be.
Assemble Bowls. If using a Bowl Base like rice or beans, divide it among two bowls. Top it with roasted chicken or tofu, veggies. Add avocado, cilantro and a squeeze of lime. Spoon on the Salsa Macha and sprinkle with sesame seeds.
---
Notes
Salsa Macha Notes:
Feel free to use different chilies, or mix of dried chilies, taking care to pay attention to heat levels. Add Chilies de Arbol for heat or dried Chipotles for depth and smokiness.
You can also make the Salsa Macha first and use it as the marinade – coating the chicken or tofu before baking. To save time, here I have you make this while the chicken/tofu is baking, then spoon it on after. It's great either way!
---
Nutrition
Serving Size:

1 tablespoon

Calories:

135
Keywords: Salsa Macha, salsa macha recipe, what is salsa macha? Salsa Macha bowl, mexican condiment, chicken with salsa macha