This Moroccan-inspired Chickpea Bowl is made with roasted cauliflower, chickpeas (and optional chicken), and served over cinnamon-scented basmati rice. A FAST, healthy flavorful sheet-pan dinner perfect for weeknight meals! Serve with flavorful Green Harissa Sauce. Vegan adaptable and Gluten-Free!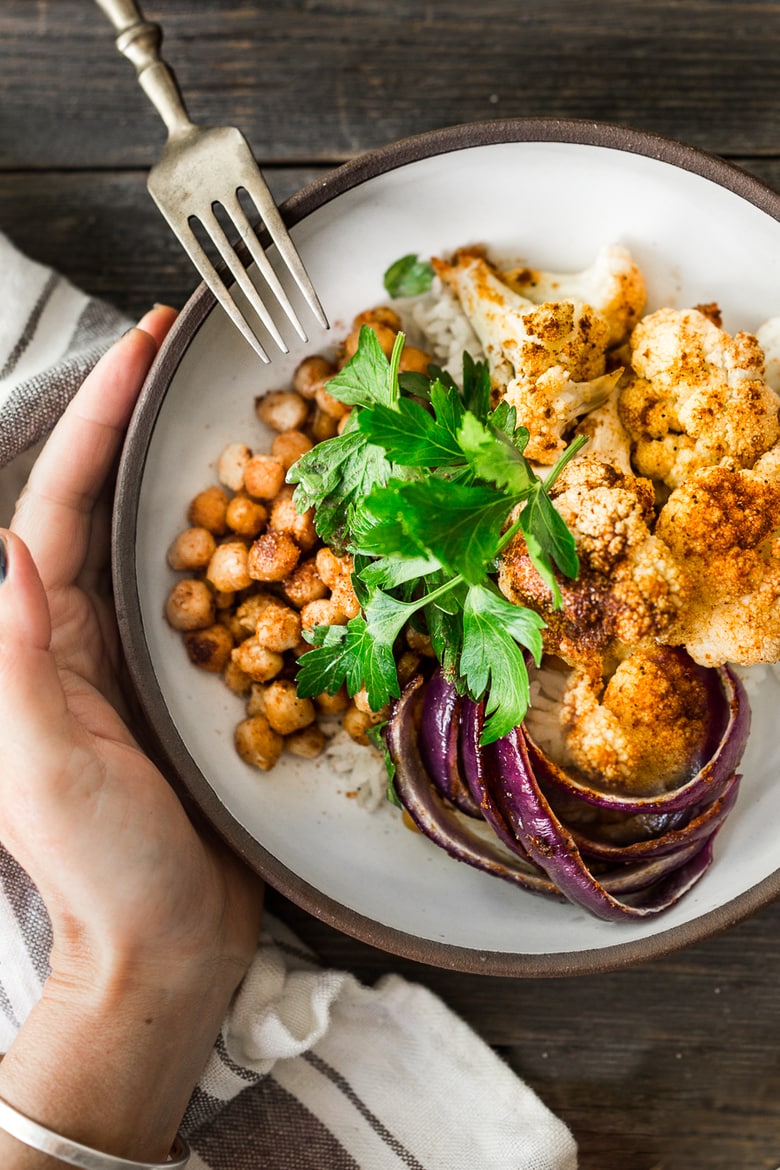 This cozy Buddha Bowl can all be made on one sheet pan, with very little hands-on time before baking in the oven-perfect for busy weeknights. Made with roasted cauliflower, and spicedchickpeas (optional chicken) all seasoned up with Moroccan Spices and baked on a sheet pan before baking for 20 minutes. When it's done, serve it in a bowl with basmati rice and top it with our yummy Green Harissa Sauce. (vegan adaptable!). Leave some vegan, and add chicken to others; easily adaptable and perfect for mixed households. How simple is that?
Origins of the Buddha Bowl
The origin of the Buddha Bowl is rooted in Buddhist tradition and philosophy. While the exact origin is uncertain, the concept draws inspiration from the balanced and mindful approach to eating practiced by Buddhist monks. In the early hours of the day, young monks walk in a line carrying empty bowls that are filled by villagers, and that becomes their meal for the day. The term "Buddha Bowl" itself is said to have arisen from the idea of nourishing the body, mind, and spirit, similar to how Buddha nourished his own body while seeking enlightenment.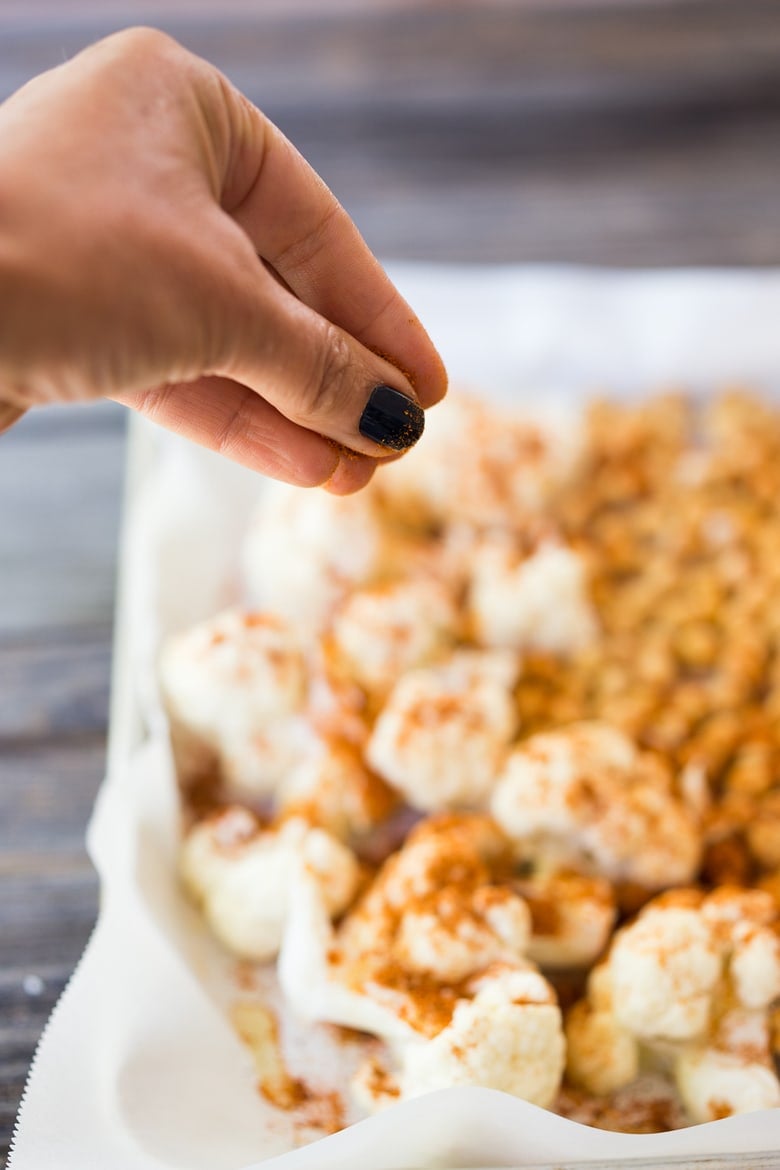 Chickpea Cauliflower Bowl Ingredients
cauliflower, cut into florets (or feel free to cook the whole thing and use leftovers for lunch)
chickpeas, drained, rinsed, patted dry ( or add chicken for extra protein)
red onion, sliced into ½-inch thick rings or wedges
Moroccan Spice Blend
salt, garlic powder, black pepper, brown sugar, cumin, cinnamon, coriander, cloves and ground ginger.
Serve with Green harissa sauce, tahini sauce, feta cheese, yogurt sauce or Greek yogurt, cooked rice or grain (both optional) and optional Green Harissa Sauce, fresh Italian parsley leaves ( or cilantro).
How to make Chickpea Bowl
This really couldn't be any easier! Just place everything on one sheet pan. Drizzle with olive oil, sprinkle with salt and pepper, and the Moroccan Spices. (As you see here, I have chicken on the tray too, but this is totally optional.) And bake!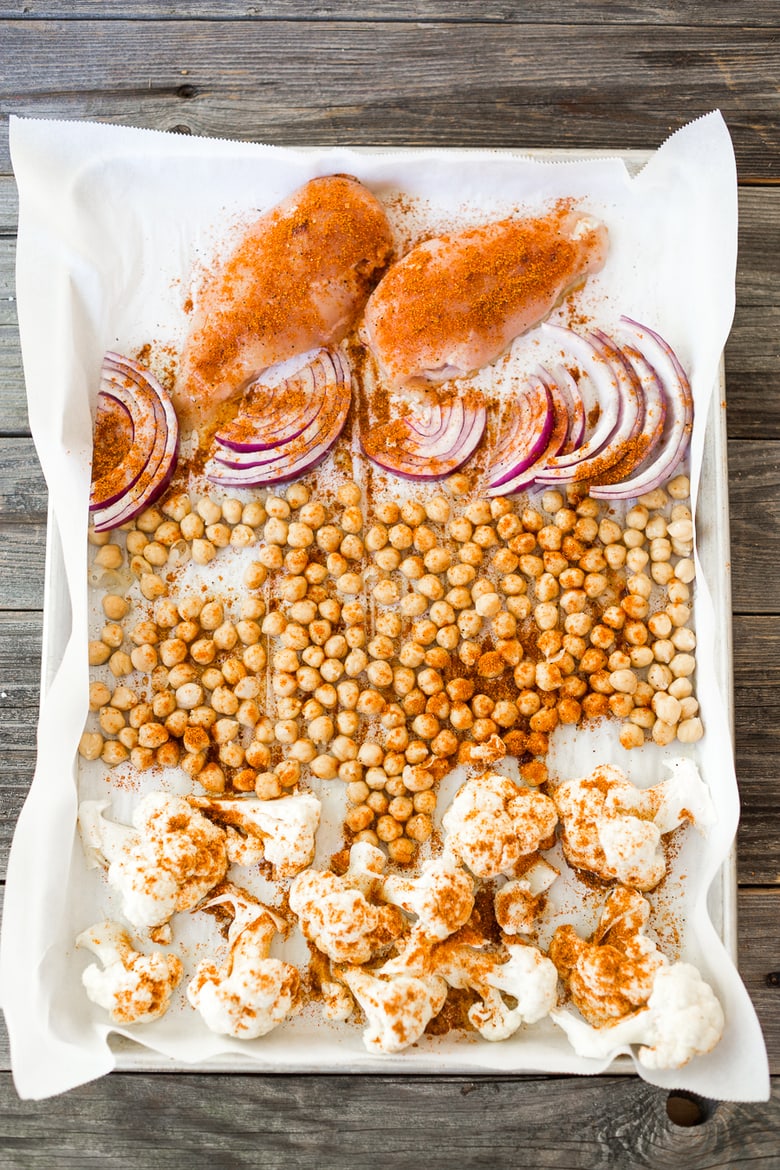 Into the oven, it goes to bake for 20 minutes. At the same time, make basmati rice. Add a cinnamon stick for lovely aroma. If you like bits of sweet, dried fruit like golden raisins or dried apricot are a nice addition too.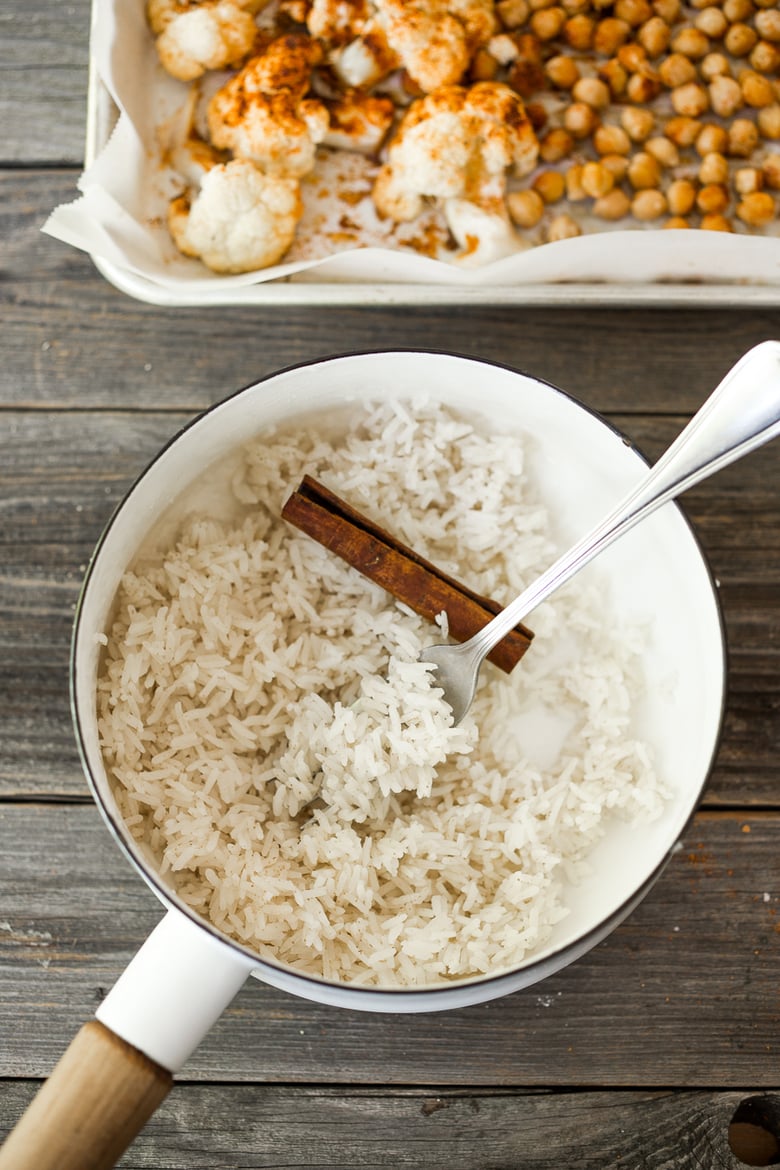 Twenty minutes later, it's done! Serve in bowls over the rice or grain- or keep this totally grain-free. Up to you!
Health Benefits of ChickPeas
Chickpeas, also known as garbanzo beans, are not only delicious but also packed with several health benefits. Here are some of the health benefits of chickpeas:
Rich in fiber: Chickpeas are an excellent source of dietary fiber, which helps promote healthy digestion, regulate blood sugar levels, and support weight management by increasing feelings of fullness.
Plant-based protein: Chickpeas are a great source of plant-based protein, making them a valuable addition to vegetarian and vegan diets. Protein is essential for building and repairing tissues, supporting muscle health, and maintaining a strong immune system.
Heart-healthy: The high fiber and low glycemic index content of chickpeas contribute to heart health. They help in reducing LDL (bad) cholesterol levels and lowering the risk of heart disease.
Regulates blood sugar: The complex carbohydrates in chickpeas are digested slowly, causing a gradual rise in blood sugar levels. This helps in preventing blood sugar spikes and promotes stable energy levels.
Promotes weight management: Due to their high fiber and protein content, chickpeas can make you feel fuller for longer periods, reducing cravings and overeating. Including chickpeas in meals can aid in weight management and may help prevent weight gain.
Rich in essential nutrients: Chickpeas are a good source of essential minerals such as iron, magnesium, and zinc. These minerals play vital roles in maintaining normal bodily functions and supporting overall health.
Antioxidant properties: Chickpeas contain antioxidants that help protect cells from damage caused by harmful molecules called free radicals. Antioxidants may help reduce the risk of chronic diseases such as cancer and heart disease.
Digestive health: The fiber content in chickpeas supports a healthy digestive system by promoting regular bowel movements and preventing constipation. It also provides food for beneficial gut bacteria, contributing to a healthy gut microbiome.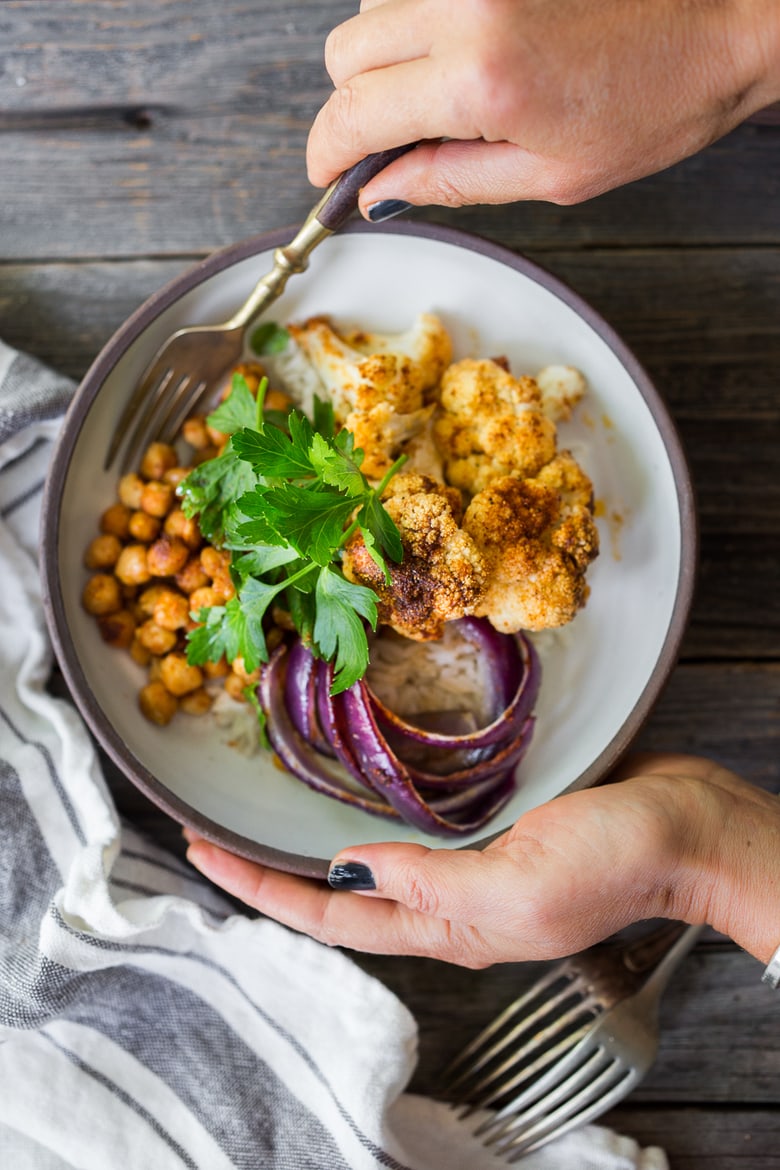 To bump up the flavor add this Green Harissa Sauce! A fast, healthy sheet pan dinner that requires little hands-on time and little clean up….YAY!
Please let us know what you think in the comments below.
xoxo
More recipes you will love!
Print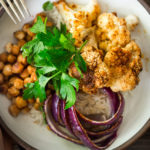 Chickpea Bowl Recipe
Author:

Sylvia Fountaine

Prep Time:

10

Cook Time:

20

Total Time:

30 minutes

Yield:

2

-3

1

x

Category:

vegan main

Method:

roasted

Cuisine:

Indian

Diet:

Vegan
---
Description
Chickpea Bowl with sheet-pan roasted cauliflower, spiced chickpeas and optional chicken, served over cinnamon-scented rice. A FAST, flavorful weeknight meal!
---
1/2

head cauliflower, cut into florets ( or feel free to cook the whole thing and use leftovers for lunch)

1

can chickpeas, drained, rinsed, patted dry

1

–

2

boneless, skinless, chicken breast (optional)

1/2

red onion, sliced into

1/2

inch thick rings or wedges

2

–

3

tablespoons olive oil
Moroccan Spice Blend
1 teaspoon

salt

1 teaspoon

garlic powder

1/2 teaspoon

cracked black pepper

1/2 teaspoon

brown sugar, optional

1 teaspoon

cumin

1 teaspoon

coriander

1/2 teaspoon

cinnamon

1/4 teaspoon

ground cloves

1/4 teaspoon

ground ginger
Serve with basmati rice or grain (both optional) and optional Green Harissa Sauce  ( or tahini sauce, or yogurt)  and fresh Italian parsley leaves (or cilantro).
---
Instructions
Pre heat oven to 425F. If serving with rice, set it to boil on the stove. Add a cinnamon stick for added aroma.
Cut cauliflower and onion and place them along with chickpeas, on a parchment lined sheet-pan, along with the chicken breast if using.
Drizzle all with olive oil.  Mix together the spice blend in a small bowl and sprinkle with the spice blend. If adding chicken, season with additional salt and pepper. Give things a little toss. (Drizzle a little more oil on the chicken breast to coat, rubbing it in a bit to prevent it from getting dry.)
Bake in the oven for 20-25 minutes. Check, toss, cook 5 more minutes if you need to. See notes.
Serve over rice or grain (or go grain- free) with optional Green harissa yogurt. To make Green Harissa Sauce, see recipe.
---
Notes
Small chicken breasts will cook in about 20 minutes at 425F. If they are big, they will take longer. Thighs will take longer still, especially bone-in, skin on. …and you may want to cook them in a separate baking dish, so you can pull the veggies out sooner.
To make this more festive looking add pomegranate seeds! If you like a bit of sweetness, try adding dried golden raisins or dried chopped apricots to the rice. Slivered almonds are nice too as a garnish.
Nutrition
Serving Size:

2 cups without rice

Calories:

340

Sugar:

8.1 g

Sodium:

916.1 mg

Fat:

17.7 g

Saturated Fat:

2.3 g

Carbohydrates:

37.8 g

Fiber:

12 g

Protein:

11.2 g

Cholesterol:

0 mg
Keywords: chickpea bowl, Chickpea bowl recipe, chickpea cauliflower bowl, chickpea bowl recipe, cauliflower bowl,
SaveSaveSaveSaveSaveSaveSaveSaveSaveSaveSaveSaveSaveSaveSaveSaveSaveSaveSaveSaveSaveSaveSaveSaveSaveSave