Crispy Braised Chicken Thighs with Artichokes and Leeks in a light Tarragon cream sauce with baby potatoes. A simple spring dinner to highlight the season's bounty.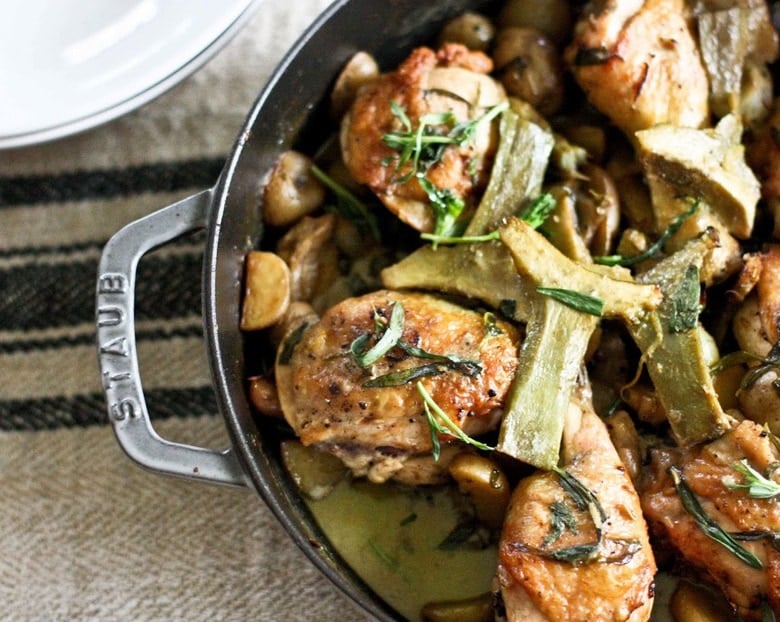 This braised chicken recipe sings of Spring with fresh artichoke hearts, tarragon and leeks.  If you don't have access to fresh artichokes, try subbing frozen artichoke hearts! The star of this dish is easily fresh artichokes- and it's best to save this recipe until they are in season and in abundance, but frozen artichokes will also work in a pinch.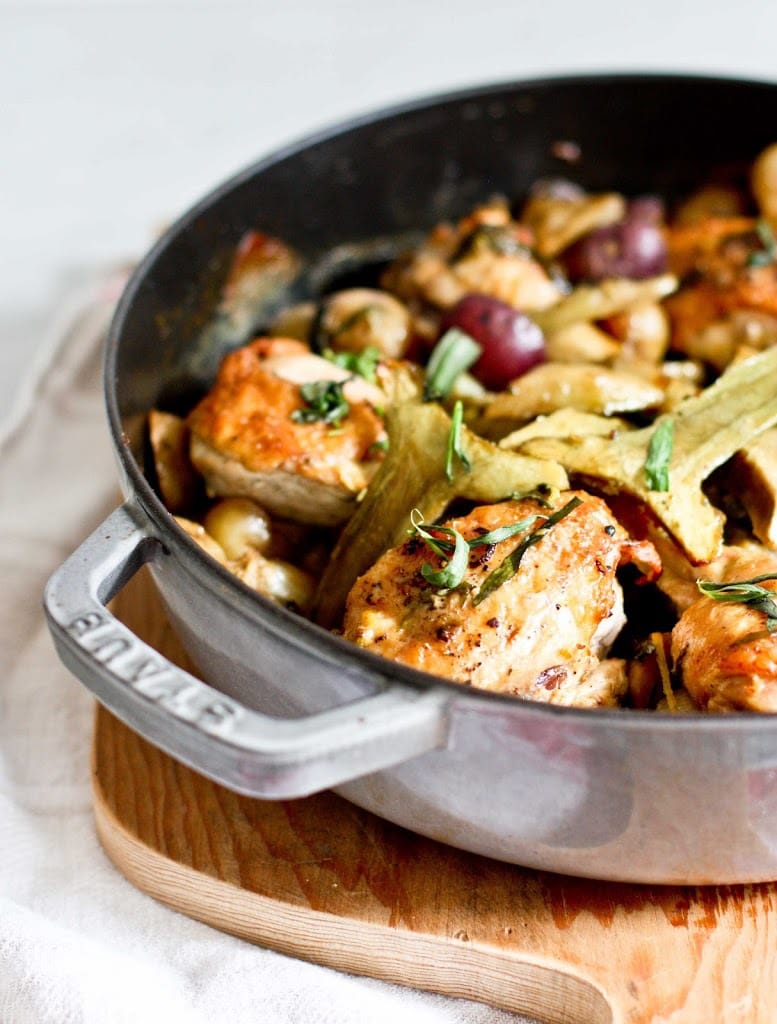 Pieces of chicken thighs are simply seasoned with kosher salt and pepper and seared in a skillet. In the same pan,  artichoke hearts are sauteed with leeks and baby potatoes, then de-glazed with vermouth (or white wine) and chicken stock.
Fresh tarragon leaves and lemon zest are added along with a tiny little bit of cream. The chicken thighs are nestled down in this lovely spring goodness, and it all goes in the oven for a bit. When it comes out, the chicken is juicy and crispy, and the artichokes are flavorful and tender.  A delicious one-pot meal.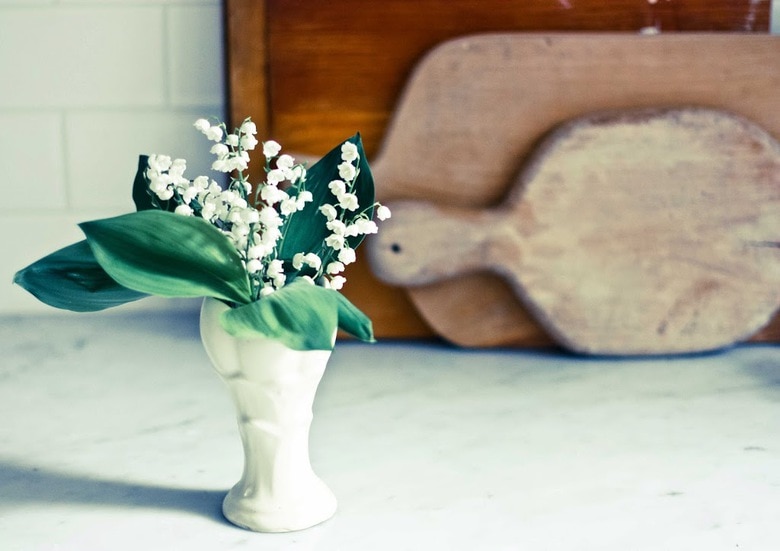 We've had an unusually warm Spring here and our city is exploding with blossoms.
Mother's day came and went, and the dogwood we planted (for my mother) burst out in white, shouting, 
I'm still here. 
The Lilies of the Valley returned quietly, laden with tiny white bells, unbelievably fragrant. 
I've been thinking about flowers lately.  
How quickly they bloom… and then go – 
their sole purpose being opening, 
becoming fully what they are, no matter how temporary.
Last evening, while walking through the lilac grove, smelling each one, I thought to myself (a little morbidly) that I probably only have forty more springs to experience all this loveliness- if I'm lucky. And suddenly, all the blossoms and all the flower smells in the night air…seemed so much more important.
As I study the sleepy blossoms outside my window this morning, I wonder, will I ever fully open? Some things just can't be forced. We are, what we are when we are. But today at least, I feel somewhat willing.
Through the years, I've been a witness to this in others- the gradual opening of those close to me. Watching them become more and more of who they are. It is a beautiful thing to behold. It moves me.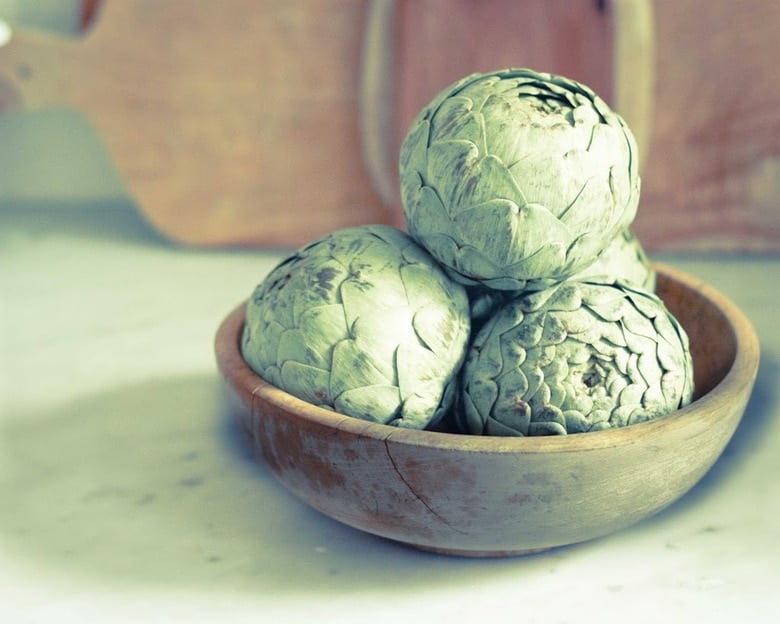 How to make Artichoke Chicken
Prepare a bowl of cold water with lemon juice. This will keep the artichoke hearts from browning. Working quickly, one artichoke at a time, snap off the tough outer petals.  I like to save mine for the next day, in a zip lock bag. These can be blanched, marinated and then grilled for a tasty side or appetizer. Here is a marinade for 
grilled artichokes
 that I use repeatedly with good success.
*See the recipe notes for using frozen artichokes.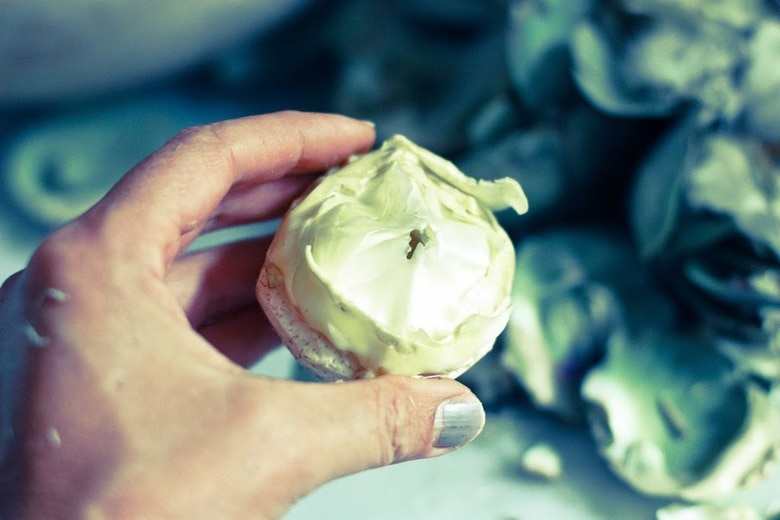 Once the tough green petals are snapped off, you will see silky yellow petals which must come off too. Just pull them off with your fingers. Remember to work quickly to prevent browning.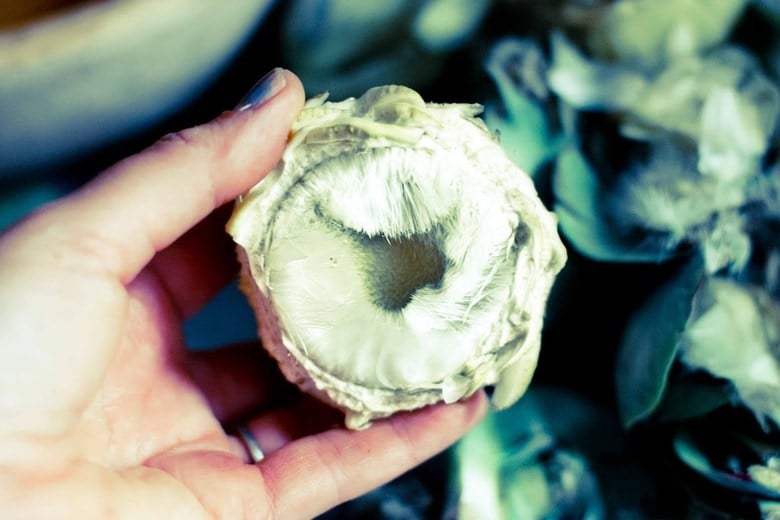 Finally,  you will get to the fine thread-like filaments. These are inedible, even when cooked, so using a spoon, firmly and gently pry them off.
If you get the edge of your spoon, in just the right spot, they will come off easily.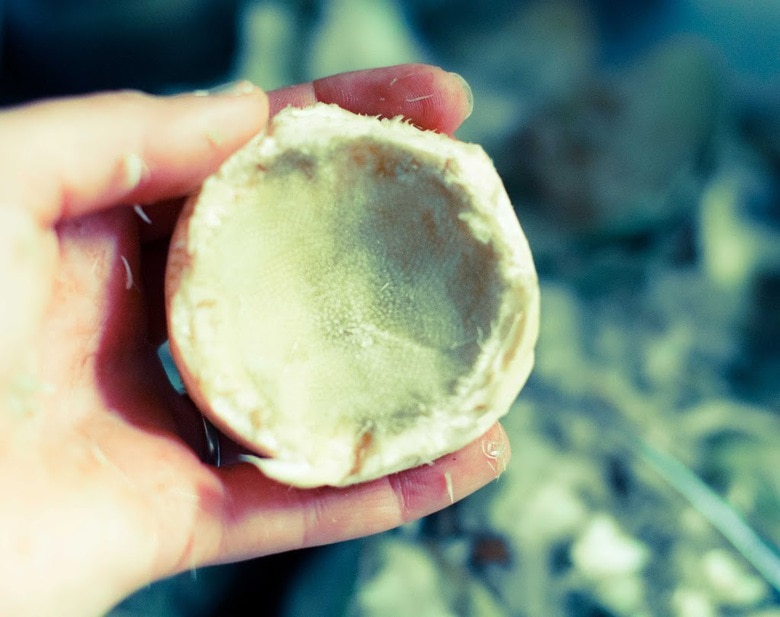 Once these are off, using a sharp paring knife, quickly trim the artichoke edges and stem- removing the tough skin of the stem and the bottom 1/2 inch or so. Immediately immerse in a bowl of cold lemon water, to help prevent browning. You'll want 2-3 cups.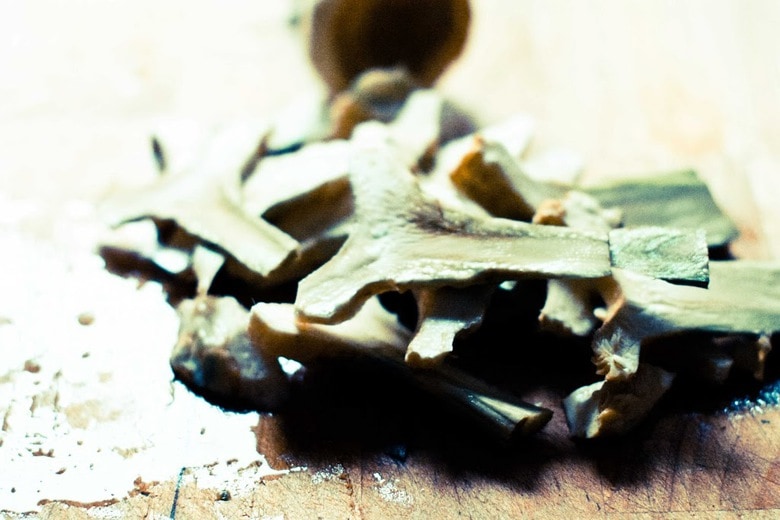 You can cut a whole chicken into pieces or use chicken thighs. Pat dry, sprinkle with kosher salt and pepper and sear in a hot skillet. I usually cook the bottom side longer than the tops, because the tops will brown in the oven, and you don't want them overly brown. Once seared, set them aside.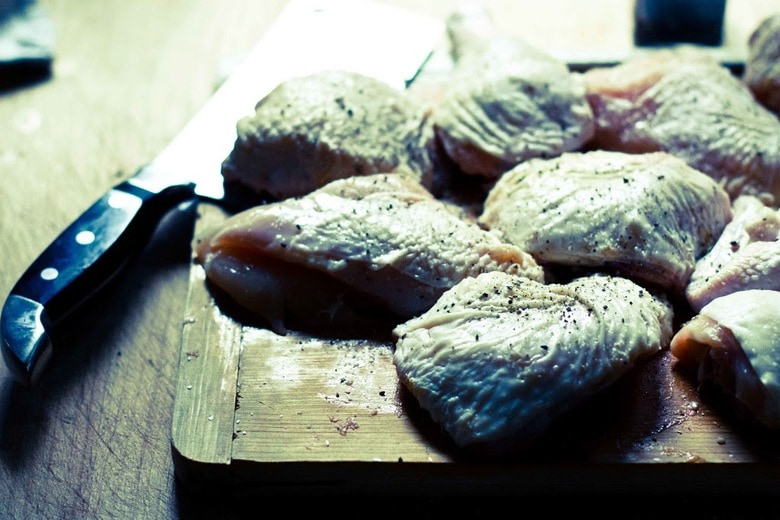 After draining off some of the chicken fat, in the same pan, you will saute the leeks, artichokes and potatoes with a little butter.
For this dish, I use tiny baby potatoes, just cut in half.  Whatever potatoes you use, make sure they are cut to about a 1/2 inch thick,  so they cook to the proper done-ness.
When ready to saute the artichokes, pull them out of the lemon water and slice them to 1/4 inch thick.
Sometimes I'll throw in some pearl onions. Mushrooms would taste good too. Or fresh English peas. Or caramelized fennel bulb. Make it your own.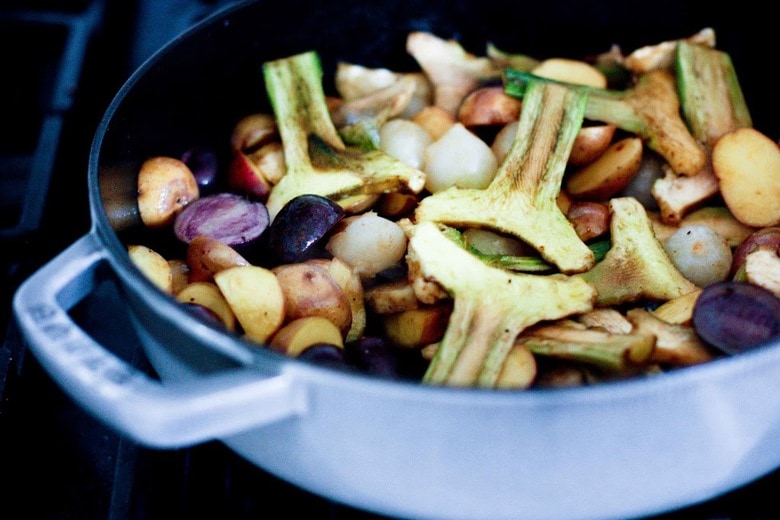 This recipe calls for a 1/4 cup of fresh tarragon, which to me, pairs really well with artichoke hearts. But,  if you are not a fan of tarragon, fresh sage is a really good alternative.
Once the artichokes, leeks and potatoes are just tender, after about 10 minutes, de-glaze with Vermouth (or white wine). Bring to a boil and reduce by half, about 5 minutes.
Add stock, lemon zest and fresh tarragon and a little half and half.
Once simmering, give a quick stir and taste for salt. You may need to add a pinch of salt and pepper. Nestle chicken into it so the undersides are immersed in the liquid and skin sides are up. Place in a hot  425F oven for 20-30 minutes or until thighs register 180F or breasts reach 160F.  If not crisp enough, place under the broiler for a few minutes.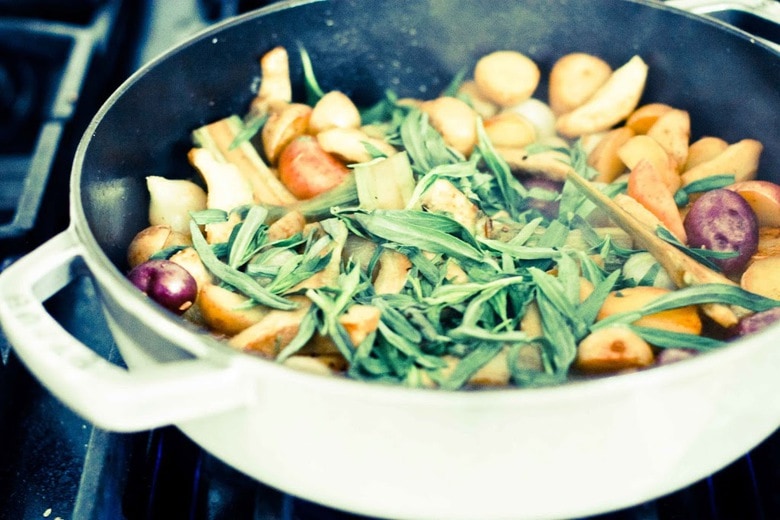 When it comes out, it will be fragrant and delicious. Serve with crusty bread, a salad and white wine.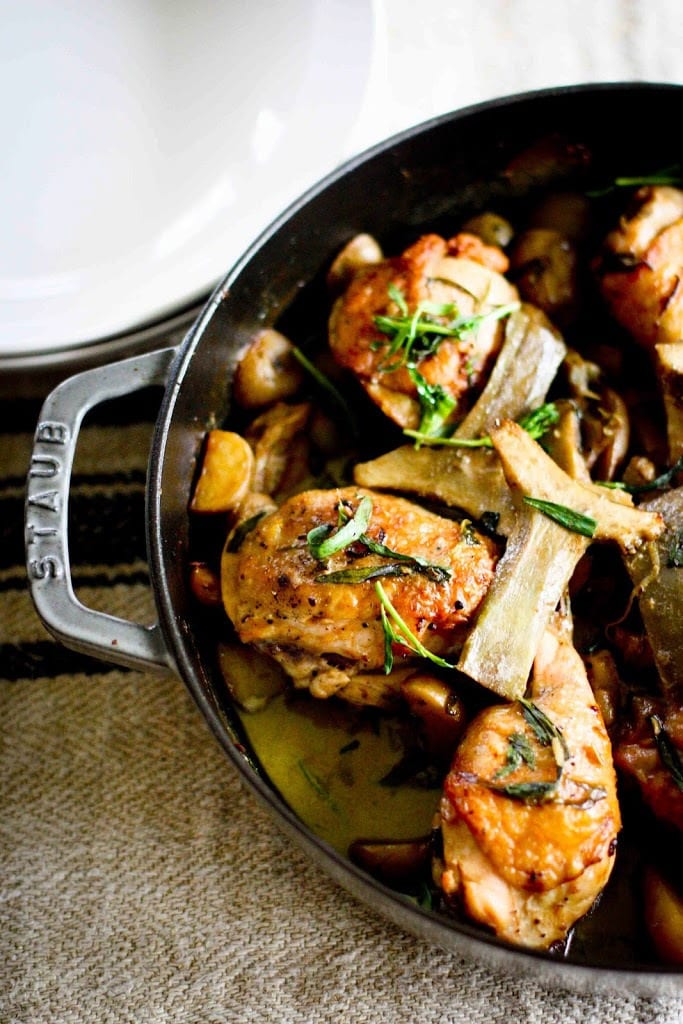 Braised Crispy
Chicken Thighs
with Artichoke hearts, leeks, potatoes and tarragon- a delicious one-pan recipe perfect for spring!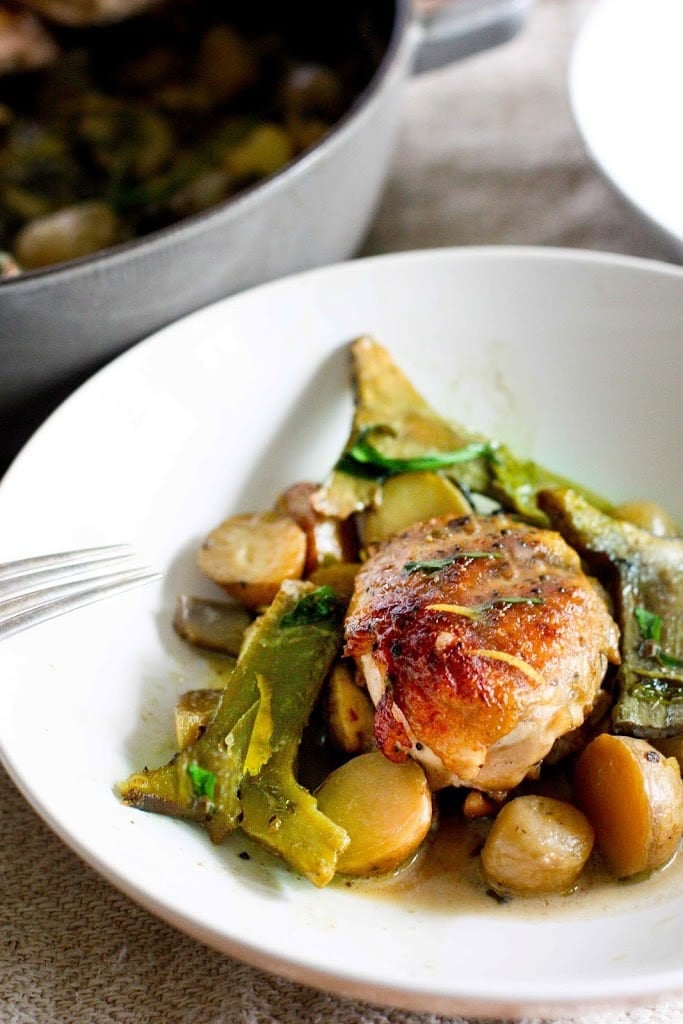 Hope you enjoy this recipe and leave your notes in the comments below!
More recipes you may like:
Print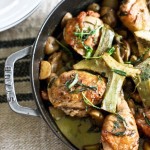 Crispy Braised Chicken Thighs with Artichokes
Author:

Sylvia Fountaine

Prep Time:

30

Cook Time:

45

Total Time:

1 hour 15 minutes

Yield:

4

-6

1

x

Category:

chicken

Method:

braised

Cuisine:

French

Diet:

Gluten Free
---
Description
Crispy Braised Chicken Thighs with Artichoke hearts, leeks, potatoes and tarragon- a delicious, French-inspired one-pan recipe perfect for spring!
---
4

large artichokes, trimmed and sliced (or sub frozen artichoke hearts, see notes)

one

lemon, zest and juice.
6 chicken thighs (bone-in, skin-on)
1 teaspoon Kosher Salt

1 teaspoon

pepper

1 tablespoon

olive oil

2 tablespoon

butter, divided.

1

large leek, sliced and rinsed, drained.

2

cups

tiny potatoes sliced ( 1/4 thick in pieces)

1 tsp

fennel seeds (optional)

1/2

cup

vermouth or white wine.

1

cup

chicken stock

1 tsp

wholegrain mustard

1/2

cup

half and half, heavy cream or dairy-free cream alternative

1/4

cup

fresh tarragon, divided
Optional Additions: Mushrooms, ramps, pearl onions, fresh English peas, fennel bulb
---
Instructions
Zest the lemon, set zest aside.
Prep the artichokes. Fill a med bowl with 4 cups cold water and squeeze with the juice from the lemon. Because artichokes will easily brown, work on one at a time as quickly as possible. Snap off all the hard out leaves using your fingers ( Save for later) With a sharp paring knife, trim off all the outer green skin around the base and stem, keeping the stem in tact. Remove the yellowish soft leaves and using a spoon, gently scrape away the white or purple silk like threads. Immediately place in the lemon water, to prevent browning. Slice just before placing in the skillet. (see notes for frozen artichokes)

Preheat oven to 425F.  Pat chicken dry and season with

kosher salt

and pepper. Heat 1 T butter and 1 T

olive oil

in a heavy bottom oven-proof skillet over med-high heat. Place chicken skin side down and sear for until golden, about 5 minutes. Turn and brown undersides until golden, about 7-8 minutes. Remove chicken and set aside. Drain some of the chicken fat, leaving about 1 tablespoon oil in the pan. Add 1 tablespoon more butter. Add leeks, sliced artichokes, sliced potatoes and fennel seeds. Saute on med heat for 8-10 minutes, stirring frequently, until they just begin to soften. Season with a generous pinch of

kosher salt

and pepper. 

Deglaze the pan with vermouth (or white wine). Reduce by half, about 4 minutes. Add stock, mustard and

fennel seeds

, half and half, half of the fresh tarragon and 1/2 of the zest. Give a stir, bring to a simmer, and taste broth adjusting salt and pepper. Nestle the chicken pieces into the stew with skin sides up, and roast in a hot 425 F oven for 20-30 minutes, until golden, and thigh internal temp is 170F, or breast internal temp is 160F.  If needed, broil for a couple of minutes to get skin extra crispy.

Garnish with remaining lemon zest and fresh tarragon before serving. 
---
Notes
Save the leaves and blanch for another meal!
If using frozen artichoke hearts- nestle in the broth at the same time as the chicken- use 2-3 cups or however many will comfortably fit in the pan.
Nutrition
Serving Size:
Calories:

450

Sugar:

5 g

Sodium:

728.5 mg

Fat:

23 g

Saturated Fat:

9 g

Carbohydrates:

30.6 g

Fiber:

7.5 g

Protein:

51.1 g

Cholesterol:

237.7 mg
Keywords: artichoke chicken, braised chicken thighs, tarragon chicken, french chicken recipes, spring chicken