How to make Chicken Katsu – A Japanese-style chicken recipe, that is breaded with panko and sesame seeds. Serve Katsu over rice, veggies, slaw,  or as a sandwich or burger! A simple easy recipe that can be adapted in many ways- Vegetarian Adaptable!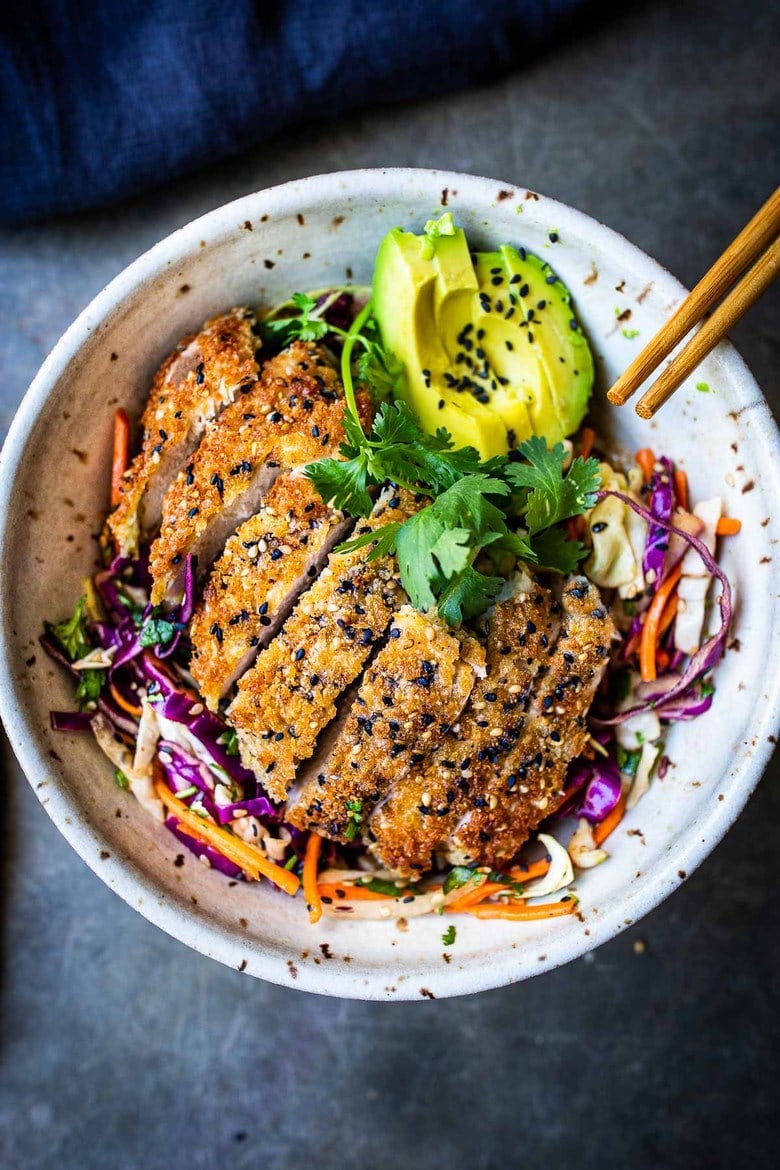 Learning to live with ambiguity is learning to live with how life really is, full of complexities and strange surprises. ~James Hollis
While we were in Japan, we experienced the BEST Katsu! Light, crispy, perfectly seasoned, deliciously crunchy, Katsu is typically made with pork or chicken dredged in an egg batter, then coated in panko before being fried.
There, whole restaurants are devoted to perfecting one thing. There are ramen houses, sushi houses, etc., but one thing that we stumbled on unexpectedly was the katsu houses. DELISH! And Somehow, surprisingly it never felt too heavy.
How to make Chicken Katsu! | 45-second video
---
So I probably don't have to tell you how much my husband and his family LOVE this.
Vegetarians will absolutely love this too, made with tofu filets instead of chicken- totally delicious and can be done at the very same time as the chicken. Great for mixed households. 😉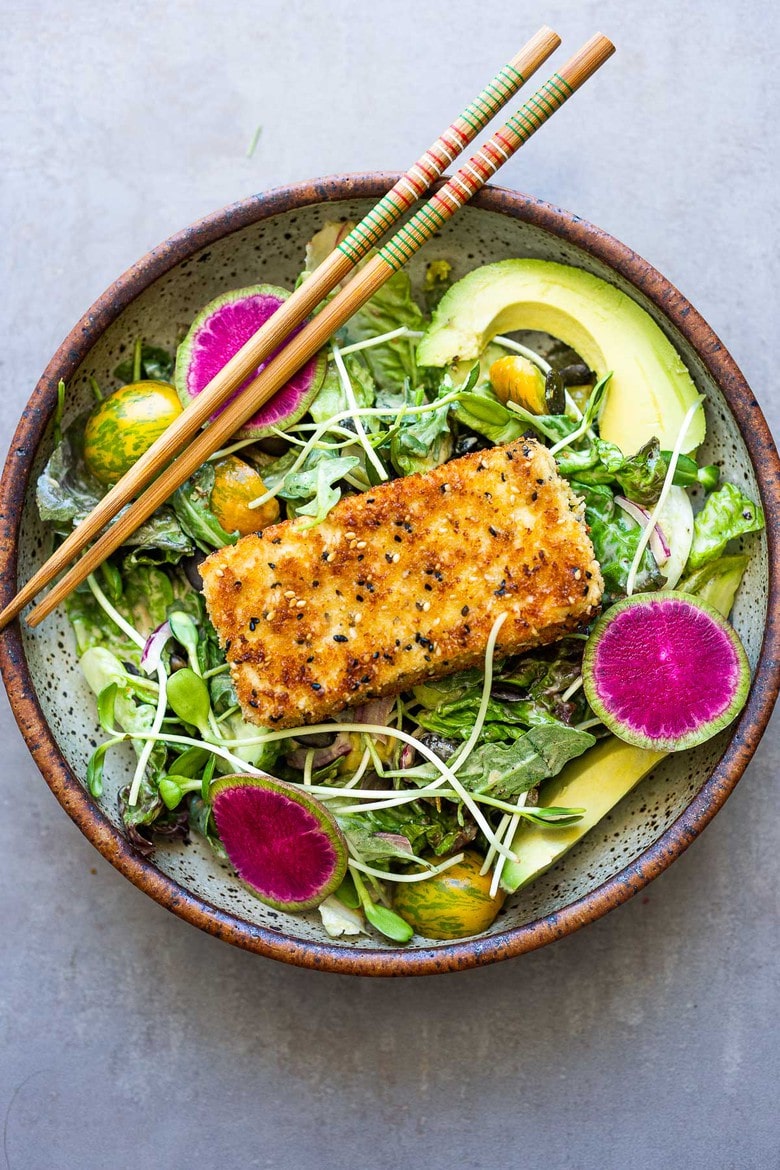 The fun thing here is all the different ways you can serve it.
In the first photo above,  I have Chicken Katsu served over the Asian Slaw. So fresh and light!
In the photo right above this, here is Tofu Katsu served over a green salad. So addicting. Seriously one of my favorite ways to serve tofu!
Below, we made Katsu Burgers or Sandwiches. You can also use tofu katsu for the burgers. Delish!!!
And further below Chicken Katsu Rice Bowls.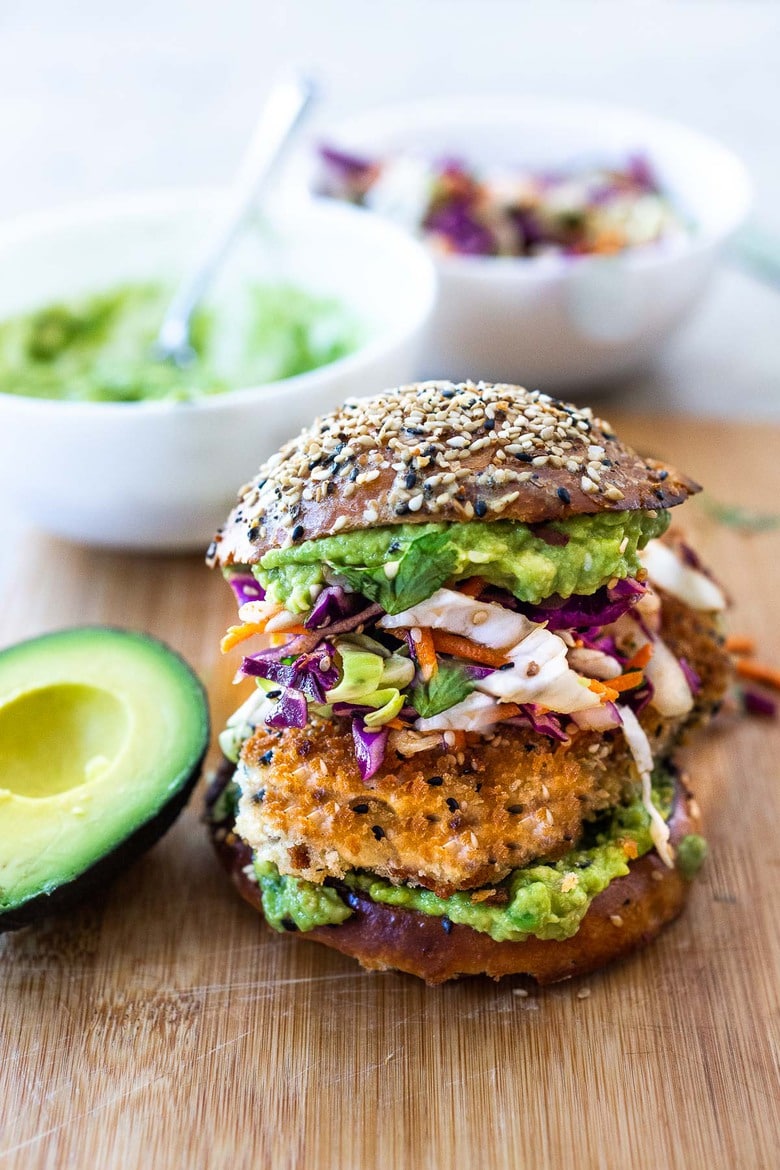 What is Chicken Katsu:
Chicken Katsu is basically Japanese fried chicken made with an egg batter and seasoned Panko or bread crumbs. It is light, crispy and crunchy, never heavy.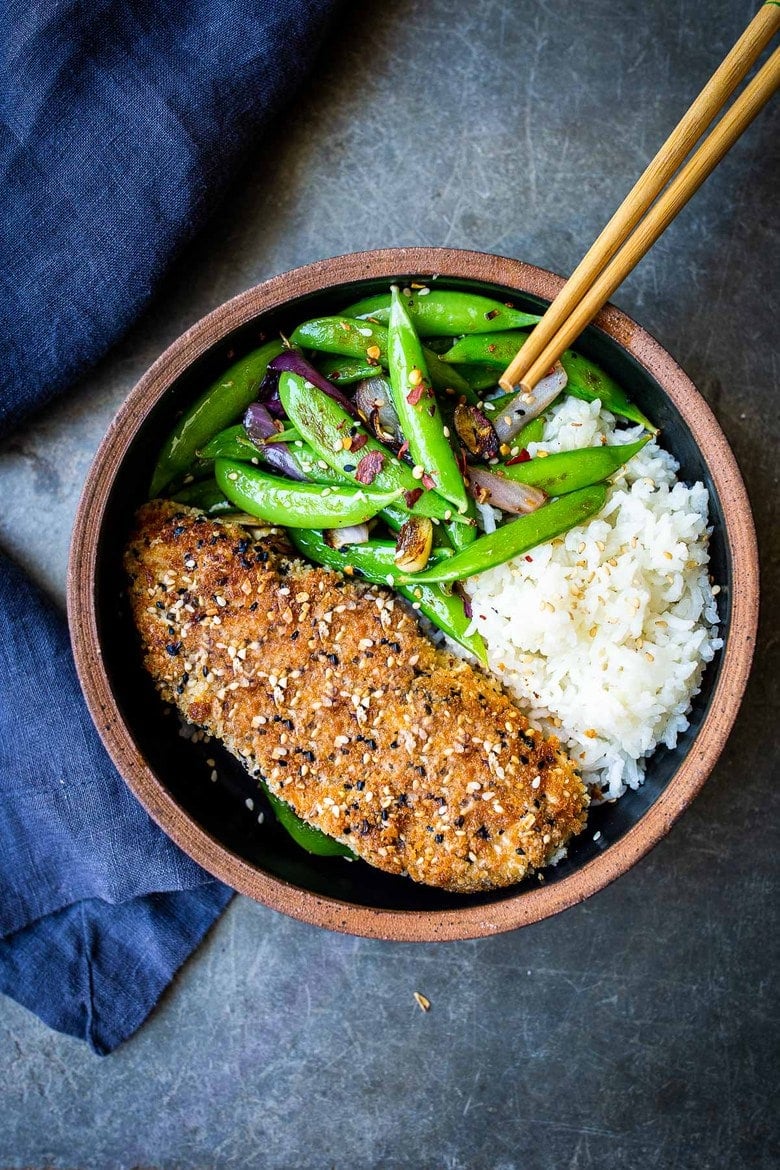 Simple, but satisfying.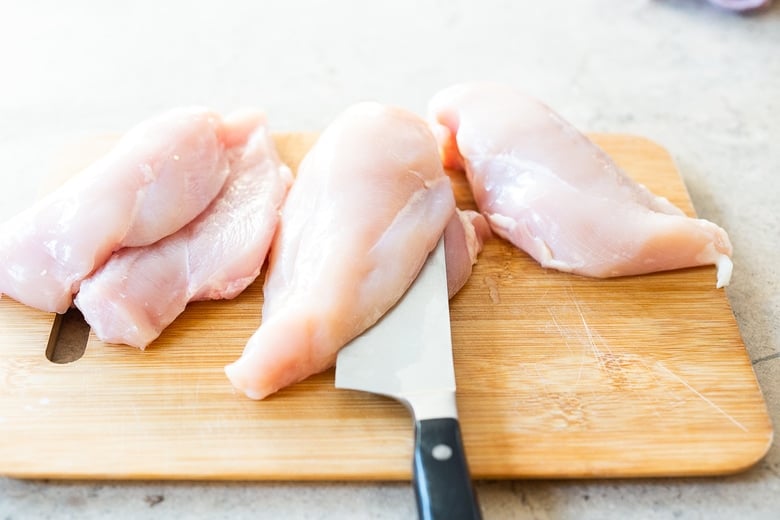 How to make Chicken Katsu:
I prefer to use chicken breasts, rather than thighs. Don't get me wrong thighs taste amazing here and if that is what you have, use them. But I've come to prefer the lightness of breasts here.
You can either pound your chicken breasts into a 3/4 inch thick cutlet or cut them in half as you see here. I prefer cutting them thinner- somehow it feels less abusive, but do as you please. FYI, Trader Joes also offers packaged, thin-cut breasts- these work great.
Then, season your breasts with salt and pepper. Don't skimp on the salt here!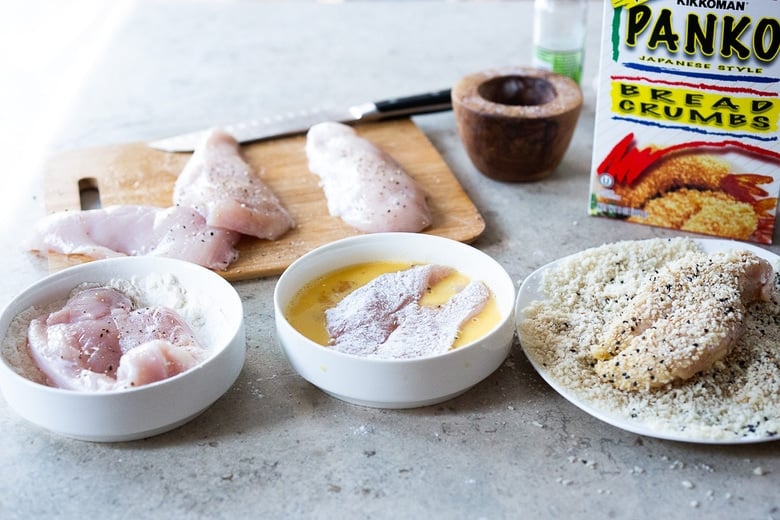 Then you'll make a Katsu "station" – three bowls containing the flour mixture, the egg mixture and the panko mixture, before frying up in a skillet.  If making this with tofu as well, get your tofu coated first. 😉
 Key Chicken Katsu Ingredients: 
chicken breast (or Tofu filets)
salt, pepper
flour mixture
egg batter
panko mixture
Once coated, pan-sear each side until golden and crispy.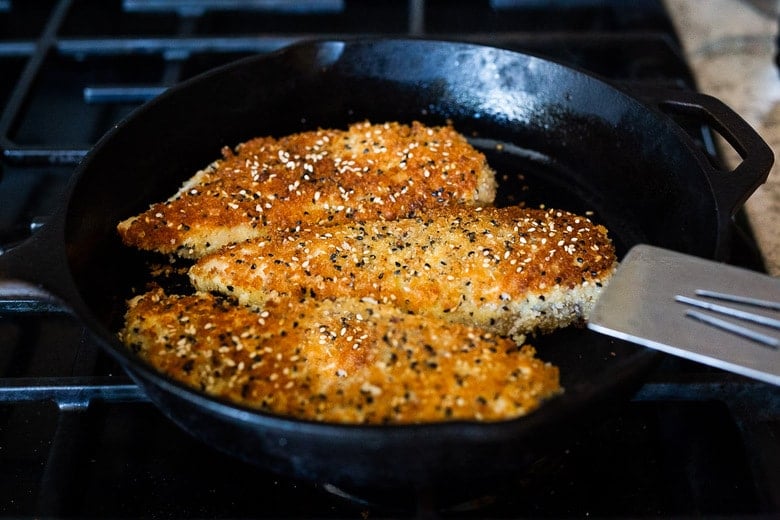 Place the Chicken Katsu in a warm 350F oven to finish cooking through, while you continue to sear in batches.
If using tofu filets, it will work exactly the same way. Just make sure to press some of the water out with paper towels first.
Then serve it up as you please.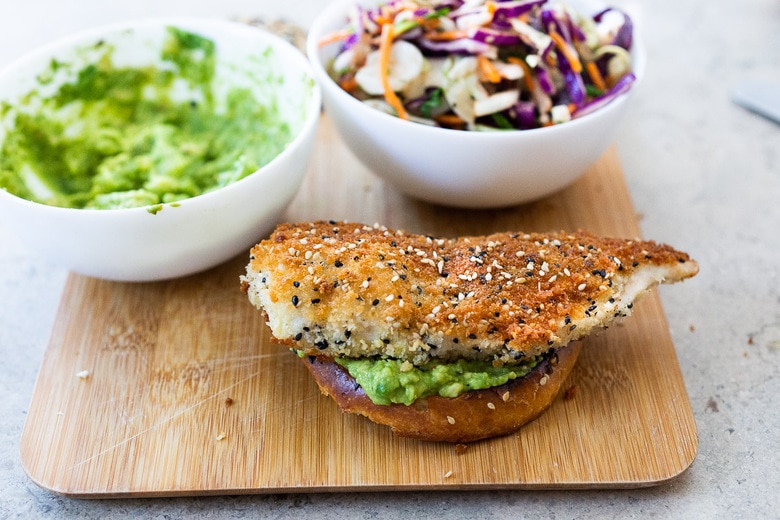 How to serve Chicken Katsu:
Serve Chicken Katsu with rice and vegetables- like steamed broccoli or snap peas.
Serve Chicken Katsu over a  bed of dressed greens or this Easy Crunchy Asian slaw
Serve Chicken Katsu as a sandwich or burger
Make chicken Katsu Tacos!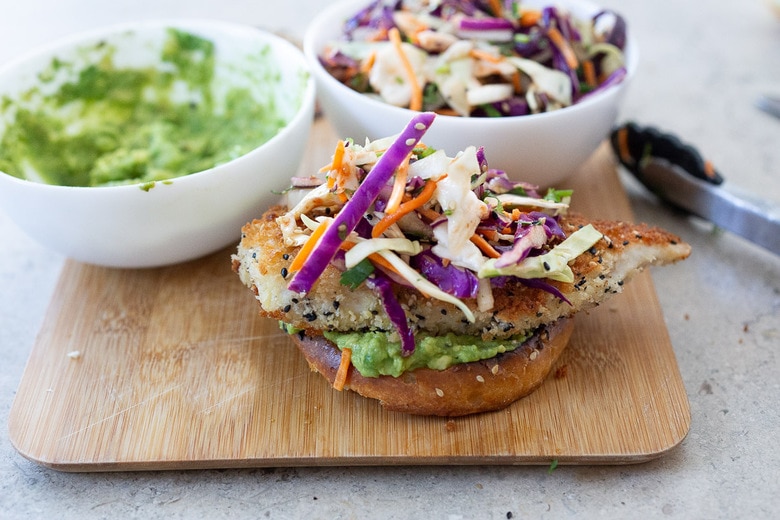 The Chicken Katsu Sandwiches are truly yummy. Here they are served on our Sourdough Buns, this Asian style Guac and the crunchy Asian Slaw. 
Or you can keep it nice and simple, with rice and veggies, up to you!  So hopefully you get the idea.
ALSO, I'm excited for you to try it with tofu! It is over the top good!!!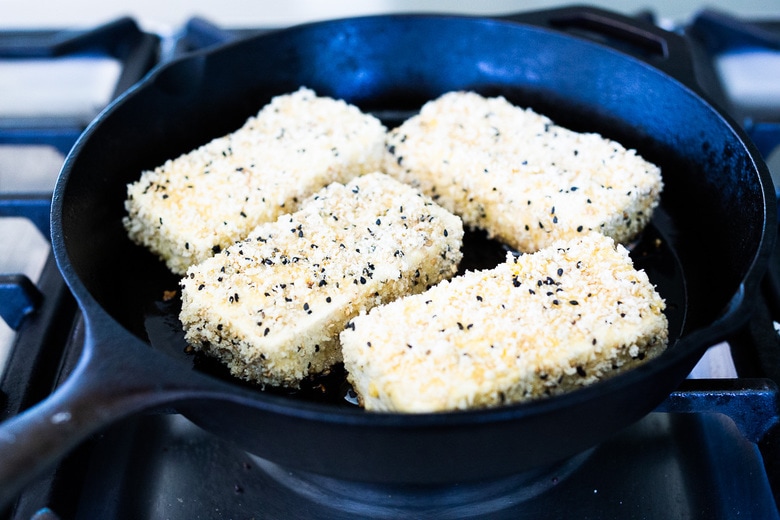 Prepare the tofu the same way as the chicken. One inch thick filets are great here.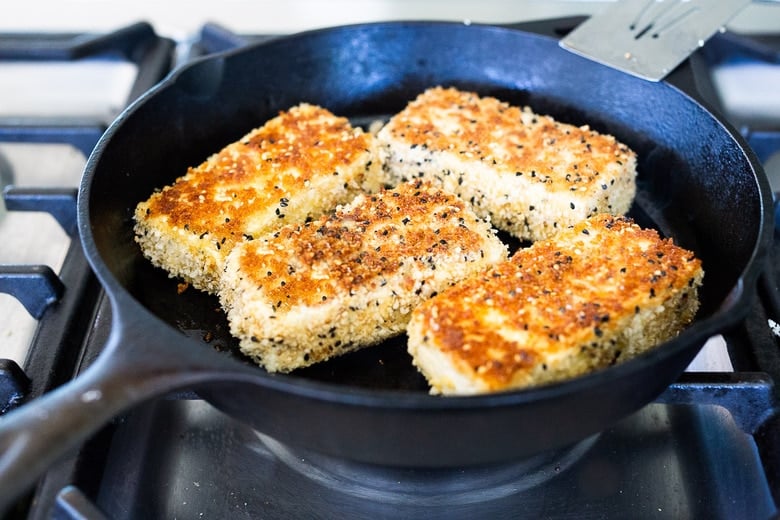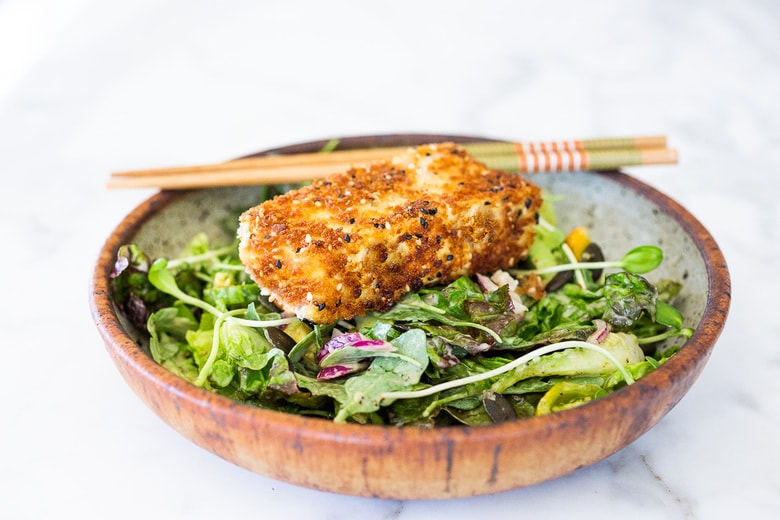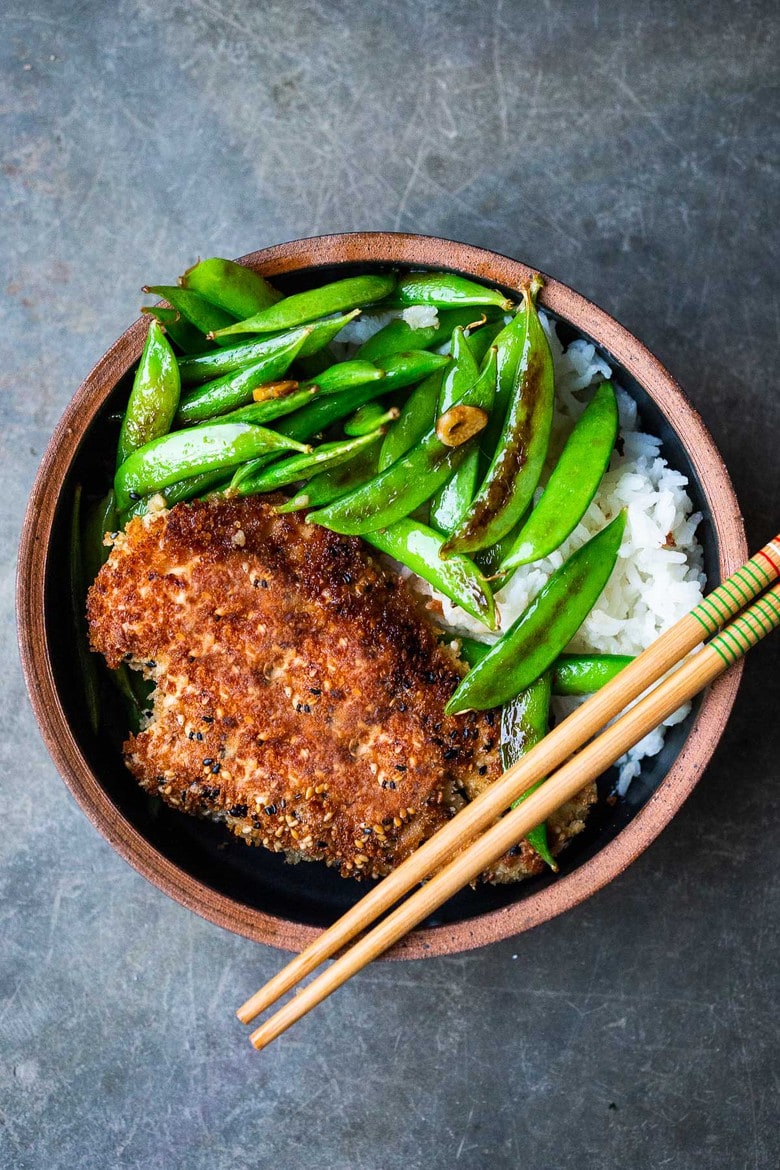 Give the Chicken Katsu or Tofu katsu a try and see what you think. FYI, this is a good recipe to introduce tofu to a newbie. 😉 It's tasty!!!
Print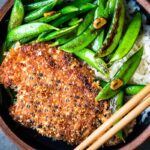 Chicken Katsu (or Tofu Katsu!)
Author:

Sylvia Fountaine

Prep Time:

15

Cook Time:

20

Total Time:

35 minutes

Yield:

4

1

x

Category:

main, chicken

Method:

stovetop

Cuisine:

Japanese
---
Description
How to make Chicken Katsu – A Japanese Style fried chicken breaded with panko and sesame seeds. Serve over rice, veggies or as a sandwich or burger! A simple easy recipe the whole family will love. Vegetarians- use tofu!
---
1 1/2

–

2

lbs chicken breasts (or sub Firm Tofu)
salt and pepper (roughly 1 teaspoon each, per pound of chicken)
Katsu Station (3 wide bowls)
1/2

cup

flour (or sub cornstarch or rice flour)

2 teaspoons

granulated garlic powder (or onion powder)
—–

2

eggs, whisked
—–

1

cup

Japanese Panko (American bread crumbs don't work the same here!!!)

1

–

2

tablespoon sesame seeds

1/2 teaspoon

salt
3-4 tablespoons oil for searing- coconut, peanut, vegetable
Serve as a "burger" in a sourdough bun with mashed avocado (Asian guac)  or Sriracha aioli, with Asian Slaw or kimchi. Serve as an entree with rice or quinoa and a veg. Serve over the Asian slaw or over greens as a salad.
---
Instructions
Preheat oven to 350F
Slice or pound chicken breasts down into 1/2 -3/4-inch thick filets. Season both sides with salt and pepper- this is important. Set aside. See notes for TOFU.
Make your Katsu Station gathering 3 wide shallow bowls: In the first bowl, mix flour and garlic powder. In the second shallow bowl, whisk eggs adding a little splash of soy sauce or sriracha (for heat) if you like. In the third bowl (or plate) mix panko, sesame seeds,  and salt.
Place all three bowls near the stove.
Heat oil in a skillet over medium heat. Once hot, dredge the

seasoned

chicken in the flour mixture, then the egg mixture, then coat in panko mixture. Place in the hot skillet. Repeat and fill the skillet.
Turn over when perfectly golden, about 4-5 minutes. Cook 3-4 more minutes until the other side is golden, then place these on a sheet pan in the 350 F oven to finish cooking through while you repeat with the second batch of chicken, adding more oil if necessary. (To keep them extra crispy you could place these on a rack, set overtop a sheet pan.) Bake until internal temp reaches 160F at the thickest part of the breast.
SERVE: Serve as a "burger" in a sourdough bun with mashed avocado (Asian guac)  or Sriracha aioli, with Asian Slaw or kimchi. Serve as an entree with rice or quinoa and a veg. Serve over the Asian slaw or over greens as a salad.
---
Notes
If making with tofu: Blot dry the tofu with paper towels, lightly pressing down. Cut into 3/4 -1 thick inch "filets".  ***Season generously both sides with salt and pepper. Set up your katsu station: Dredge in the flour mix, egg mix then panko mix. Pan sear until golden, keep in the warm oven until serving.
*** If your katsu tastes bland, it is most likely because you didn't salt your chicken or tofu enough- please don't forget this step. 😉
Nutrition
Serving Size:
Calories:

290

Sugar:

0.9 g

Sodium:

608.7 mg

Fat:

10.8 g

Saturated Fat:

2 g

Carbohydrates:

16.6 g

Fiber:

1 g

Protein:

30 g

Cholesterol:

129.2 mg
Keywords: Chicken Katsu, katsu chicken, Chicken Katsu burger, Chicken Katsu sandwich, best Chicken Katsu, tofu Katsu, Katsu tofu., vegetarian Katsu,