This recipe for Popovers takes just 15 minutes of hands-on time! Light and airy on the inside, golden and crispy on the outside, popovers are a beautiful addition to your holiday table or a simple, easy way to elevate weeknight dinners. The simple batter can be made ahead! Video.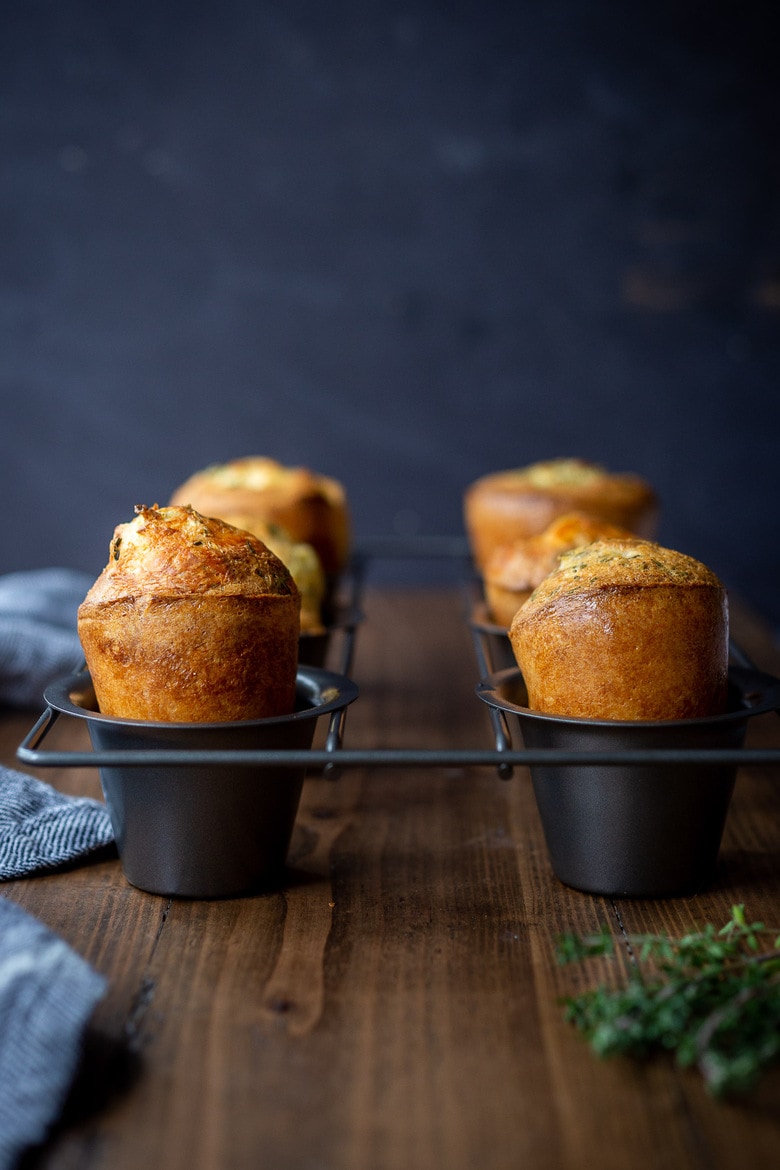 A flower does not have to do anything of service, it only has to be a flower. That is enough. ~Thich Nhat Hanh
Here is one of may favorite holiday sides… Popovers! Popovers are essentially light and airy dinner rolls, with golden crispy exteriors, hollow centers, and buttery flavor.  Does it get any better than that?
What I love about this recipe is how easy it is. Place everything in a blender, let the popover batter come to room temp while the oven preheats, then bake for 30 minutes. A fun and easy thing to make that will absolutely delight your family!
And trust me, they will be delighted. It's an easy way to turn a simple dinner of say something like soup, into a special event.
One caveat- the popover pan. You don't have to have one, but it does make a taller narrower popover (ie, "cuter") vs. using a muffin tin. Up to you. I like this one. And trust me once you make this recipe, you'll probably make it often.
How to make popovers | 45-sec video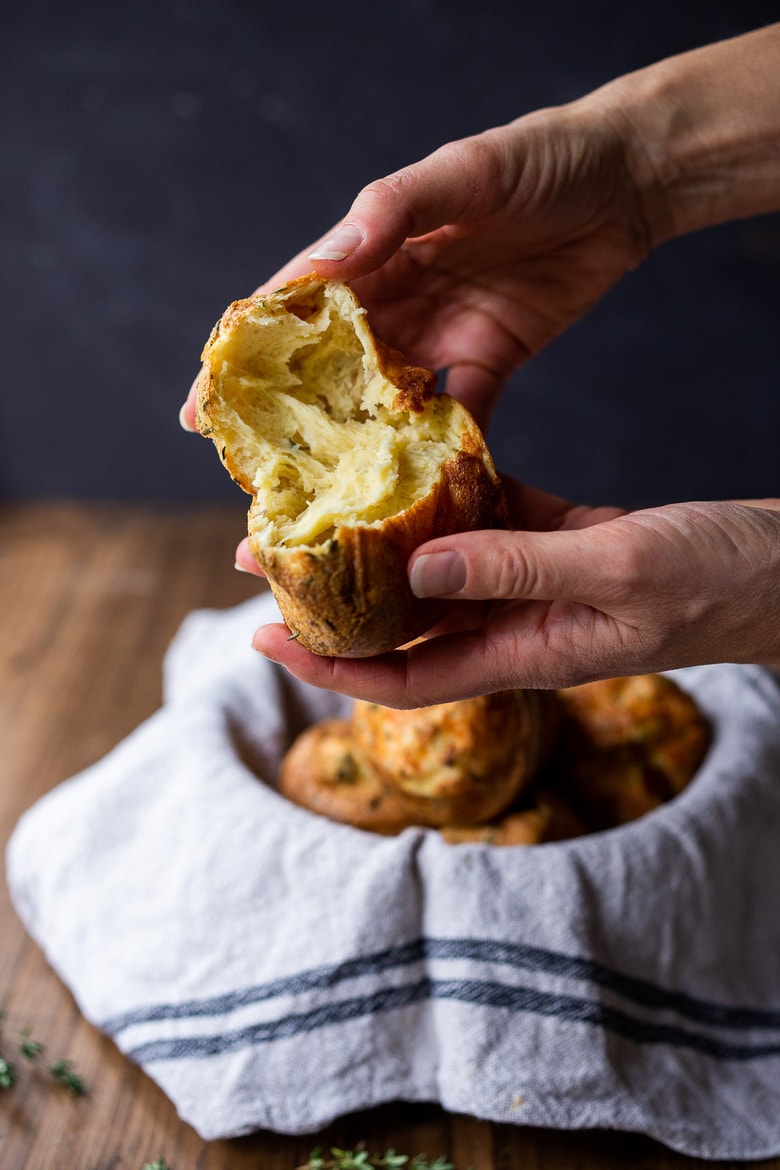 Popovers are made with very simple ingredients you probably have on hand.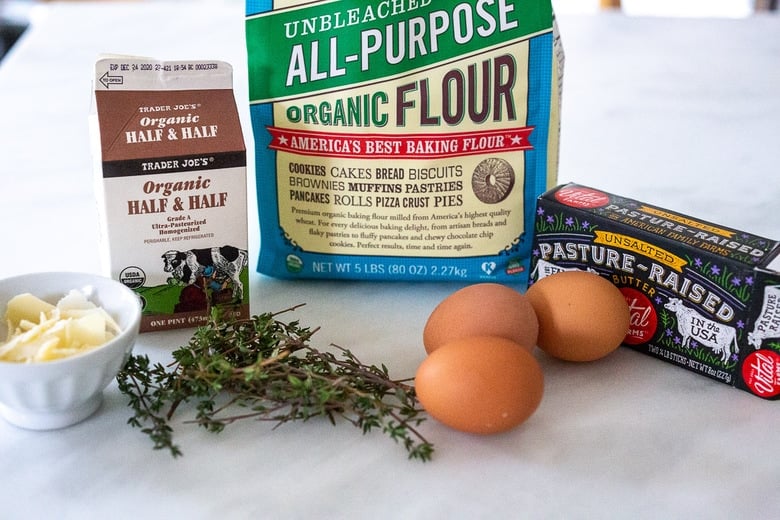 Ingredients in Popovers:
 eggs
 flour
 whole milk (or use half & half and water)
 butter (divided)
fresh thyme
parmesan- optional (leave this out or add pecorino)
How to make Popovers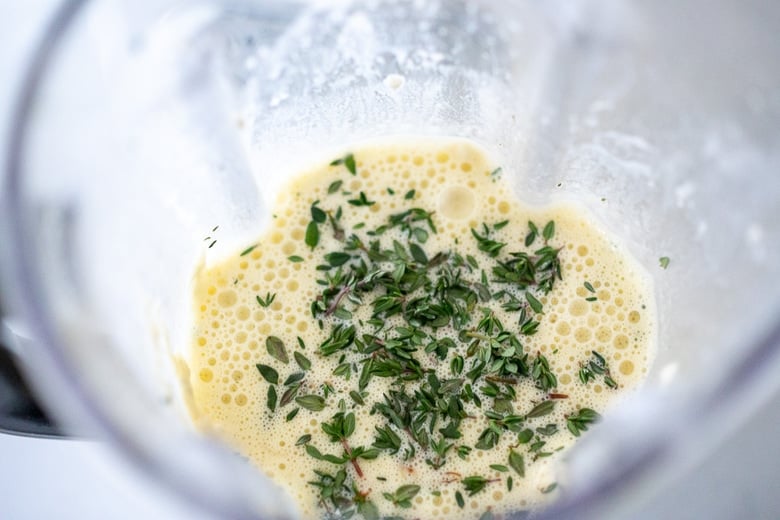 Step One:
Blend the popover ingredients in a blender until smooth.
Let the batter come to room temp.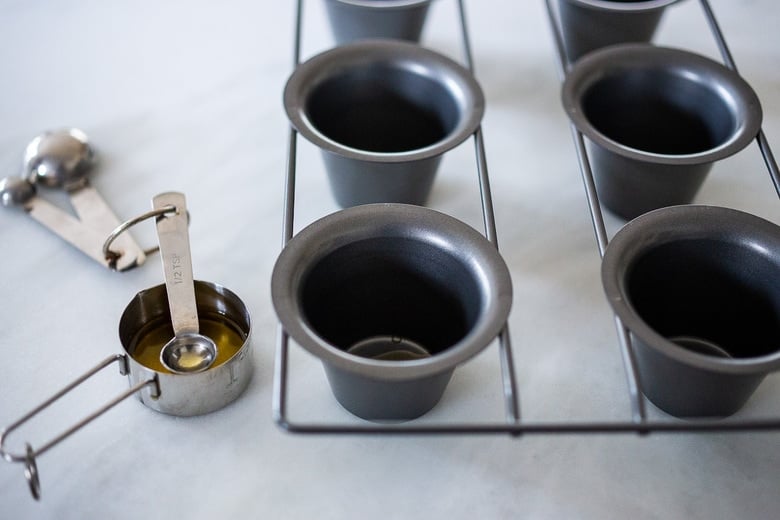 Step  two:
Butter the preheated popover pan – this is what gives the popover its crispy golden exterior.
You can use melted butter or little pats of butter. You'll need to add 1 teaspoon melted butter to each one. For extra buttery, add 2 teaspoons, up to you.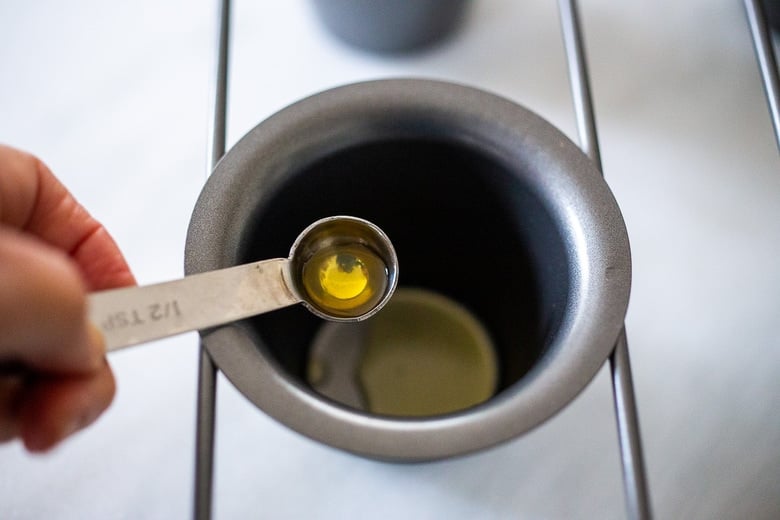 Step three:
Pour in the popover batter.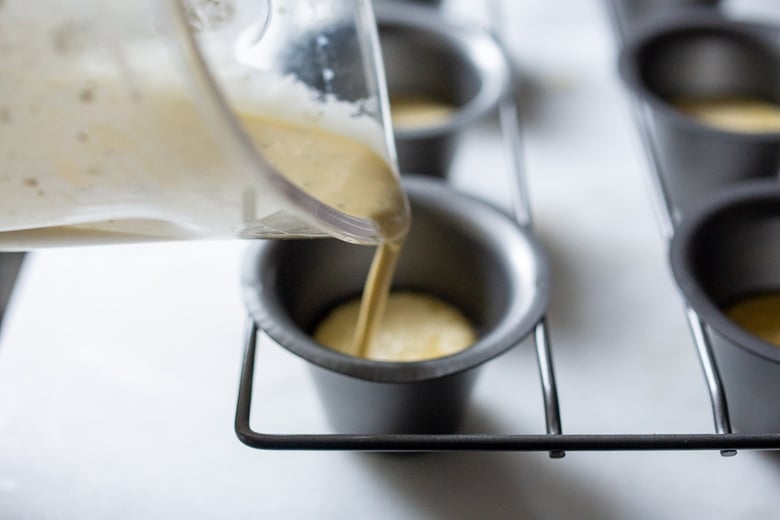 Step four:
Top with fresh Thyme and optional parmesan cheese.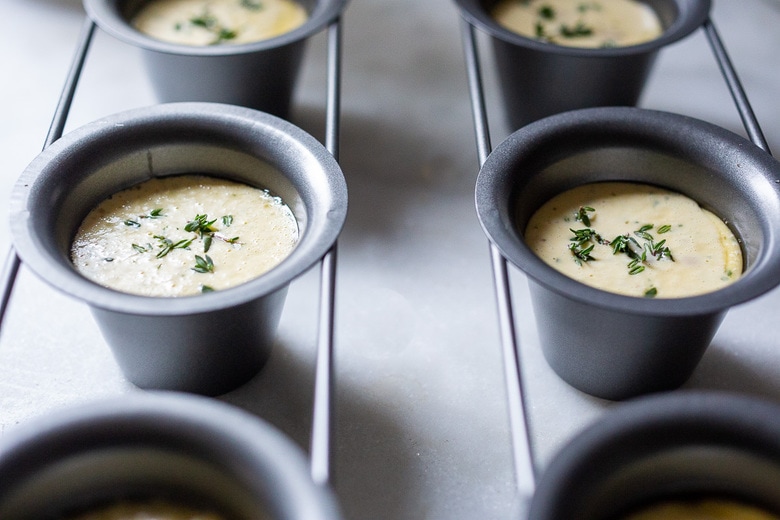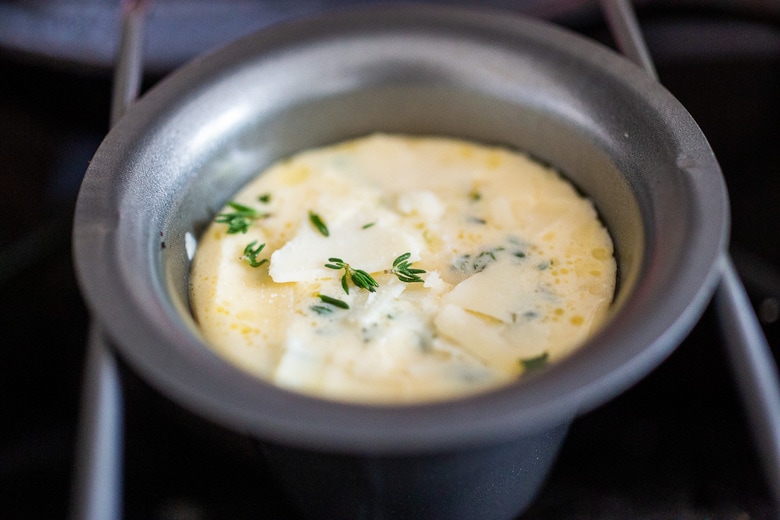 Step five
Place them in a hot oven for 20 minutes until fully puffed and golden. Lower heat and bake 10 more minutes so they hold their shape.
TIP:
Often you'll see popovers that have sunken down, but cutting the slit and baking them just a few minutes longer helps them maintain their beautiful shape.
Step six.
Cut a small, 1/2 inch slit in the top pairing knife. Turn the oven off, and let sit in the oven for 5 minutes.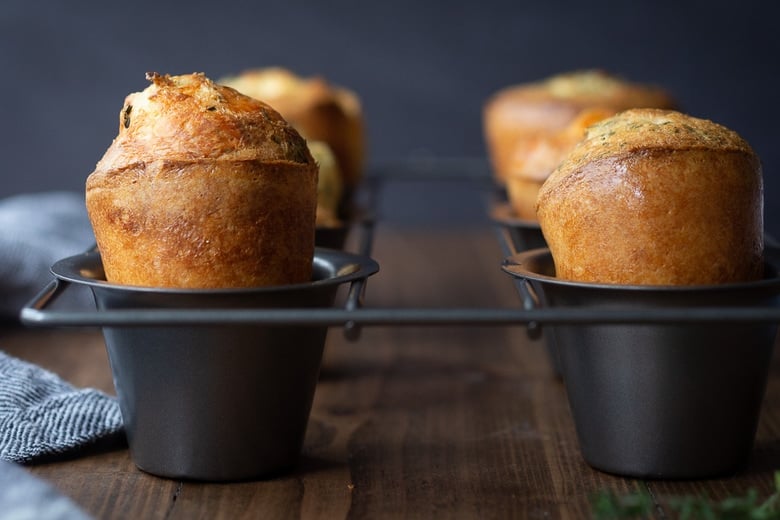 Can popovers be reheated?
Absolutely. Popovers are best right out of the oven, but yes, they can be baked ahead, and reheated in the oven, and will even get crispy again!
Bake directly on the oven rack (or toaster oven)  for 12-15 minutes at 375F or until crispy.
Tips for making the BEST popovers:
Use a popover pan for taller narrower popovers! the BEST.
Make sure the batter is at room temp before baking.
Make sure the oven is preheated sufficiently.
Don't use too much flour or they will be heavy.
After they pop up and are golden poke a paring knife in the top, making a small slit, and leave in the oven for a few minutes so they hold their structure, and don't sink down.
Every oven is different, so make a practice batch. 😉
How to make Popovers Ahead:
If making Popover batter ahead, store in a sealed jar in the fridge.
BE SURE TO Bring the butter to room temp before baking- you can place the jar of batter in a bowl of warm water to hasten this. Mix well.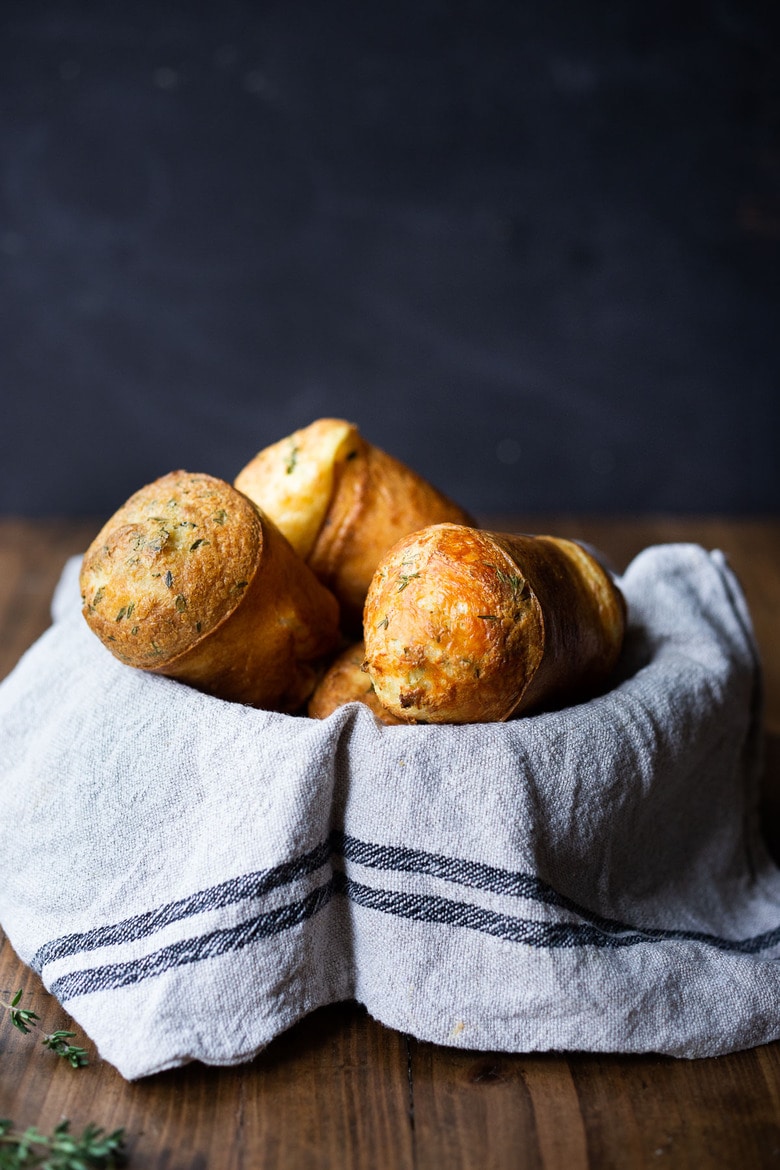 Popover Variations (see notes)
Cheddar jalapeno
Rosemary Garlic
Gorgonzola and Sage
Curry Spiced
Hope your week is off to a fine start! Enjoy the popovers and show them to us on instagram.
xoxo
Print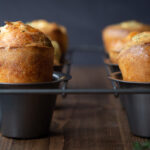 Perfect Popovers (Step-by Step)
Prep Time:

15

Cook Time:

30

Total Time:

45 minutes

Yield:

6

1

x

Category:

dinner rolls, breads, baked

Method:

baked

Cuisine:

American

Diet:

Vegetarian
---
Description
How to make the best Popovers from scratch that are light and airy on the inside and golden and crispy on the outside. An easy recipe that requires only 15 minutes of hands-on time! Using a popover pan makes them extra-stunning. Makes 6 extra-large popovers.
---
3

large eggs

1 3/4

cups

milk (or sub 3/4 cups half & half and 1 cup water)

1 1/4

cup

flour spooned and leveled ( bread flour or AP flour)

3/4 teaspoon

salt

2 tablespoons

melted butter

2 tablespoons

fresh thyme (divided)
—-

1/4

–

1/2

cup

grated parmesan, more for sprinkling (or sub pecorino, cheddar, gruyere)

1

–

2

tablespoons butter (melted, or

6

little slices)
---
Instructions
Preheat oven to 450 F (or 425F with convection on) with popover pan inside, on the middle rack with ample room for expansion. (Please see note for electric ovens).
Place eggs, milk, flour, salt, melted butter in a blender. Blend until smooth, scraping down sides to incorporate all of the flour. Stir in 1 tablespoon fresh thyme. 
Place batter in a warm spot (like on the stove) so it comes to room temp. ( You could also place the blender in a bowl of warm water) while the oven gets hot.
When ready to bake, pull out the hot popover pan, and place 1/2 -1 teaspoon of butter into each tin (either melted or cold). Moving quickly, stir the batter once more, then pour batter into each tin, filling each cup 1/3 of the way up. Divide the cheese into the cups. Fill up with the remaining batter (they should be about 2/3 rds full) then sprinkle with fresh thyme and extra cheese if you like.
Bake for 20-25 minutes or until fully puffed and golden. Turn heat down to 325F (or 300F with convection)and continue baking for 10-12 minutes. Cut a small 1/2 inch slit into the top (poke a paring knife straight in) to allow steam to escape, and turn off the oven, leaving them to rest in the oven for a few more minutes.
You can let them cool in the pan, or serve immediately.
---
Notes
All ovens are different– I find this timing works perfectly in my gas oven, producing a deeply golden, crispy popover that holds its shape after cooling. It may take one practice try to get the timing perfect for your oven.
***If you have an electric oven, when you place the popovers in the oven, lower heat to 425 F, bake 20 minutes or until fully puffed and golden, lower heat to 350F for last 10 minutes.
If making batter ahead and refrigerating, make sure to bring to room temp before using and mix well.
You can bake these in no-stick muffin tins, but may spread wide rather than tall.
Variations: 
Cheddar Jalapeno –  add a couple of tablespoons of grated cheddar to each popover. Stir in finely chopped jalapeno and chopped scallions into the batter.
Rosemary Garlic – Blend 1-2 teaspoons granulated garlic powder into the batter, sub rosemary for thyme and add parmesan or pecorino
Gorgonzola and Sage– Add 1-2 tablespoons crumbled gorgonzola to the middle of each popover and 1 tablespoon finely chopped sage into the batter.
Curry Spiced– add 1 1/2 teaspoon of yellow curry powder to the batter. Use parmesan, gruyere. Sprinkle the tops with whole cumin seeds.
Nutrition
Serving Size:

1 popover

Calories:

233

Sugar:

1.4 g

Sodium:

402.5 mg

Fat:

12.5 g

Saturated Fat:

7.1 g

Carbohydrates:

21.8 g

Fiber:

0.8 g

Protein:

8.1 g

Cholesterol:

121.3 mg
Keywords: popovers, popover recipe, best popover recipe, how to make popovers, what is a popover, how to make popovers form scratch